I've been a fan of 91 Magazine for quite awhile, so when Caroline contacted me and asked if I'd be interested in having my home featured, I was totally flattered. And a little bit terrified. I mean, our house is nothing fancy, so I was worried it wouldn't be "magazine-worthy." Plus, I took all these photos myself--which was so scary, you guys! I am no photographer. But I'm really happy with how the feature turned out, and really, really excited to see my name in one of my absolute favorite magazines. As I promised on Friday, I've got a whole lot of photos to share with you all today. This is the fullest house tour I've shared on here yet, so I hope you enjoy!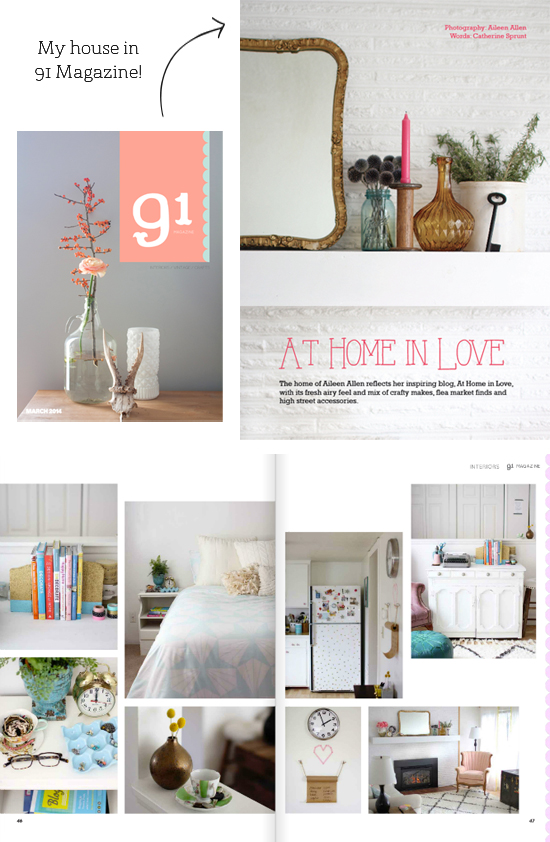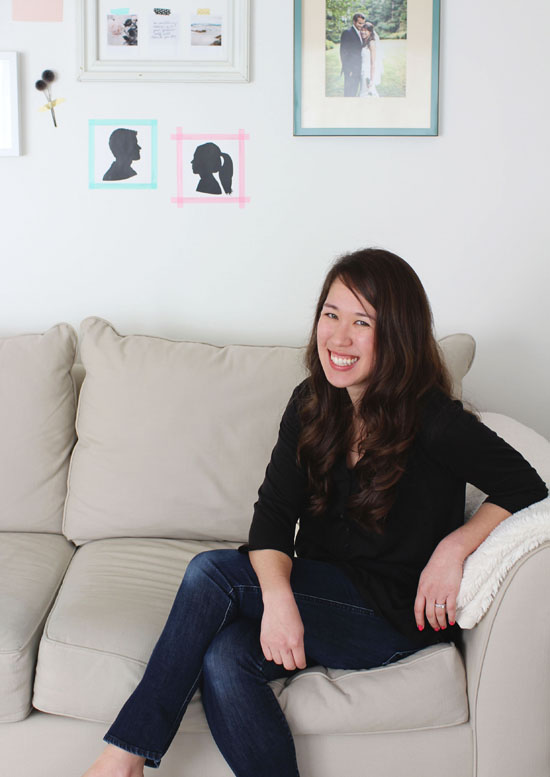 Let's start with the living room. It's the first room you see when you walk into our house, and it's the room that I've done the most with. That sofa is actually the first piece of furniture we bought together. I worked at Pottery Barn at the time and I got a 40% discount, so we just bought the cheapest sofa Pottery Barn had. I don't necessarily love it (I still want an English roll-arm or a Chesterfield), but it's simple and comfy, and we got it for a great deal.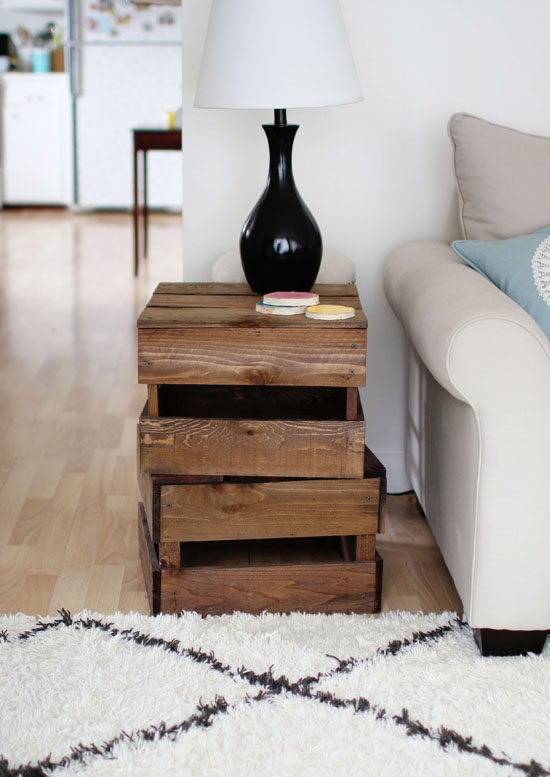 The crate side tables are one of my favorite DIY projects that I've ever done (although, to be fair, mostly it was Ben who executed them). If you look in the photo below, you can see my laptop inside the table. We put little magnets on the front board, so it pops right off. You remember those coasters, too?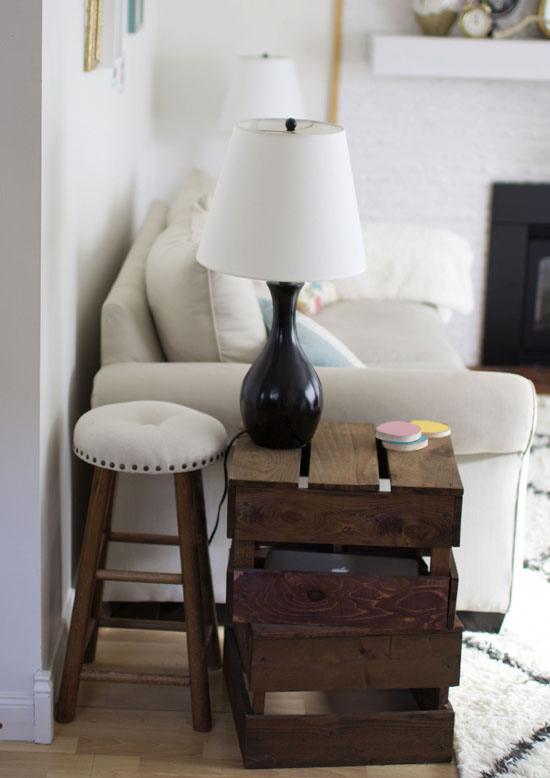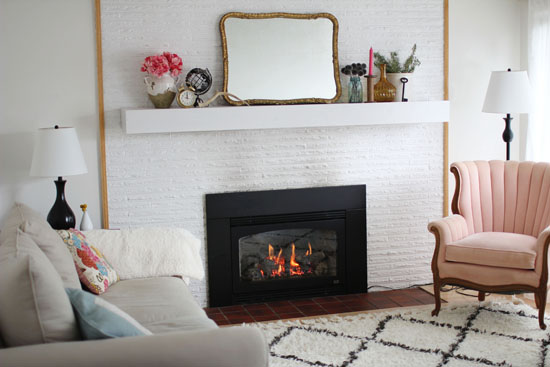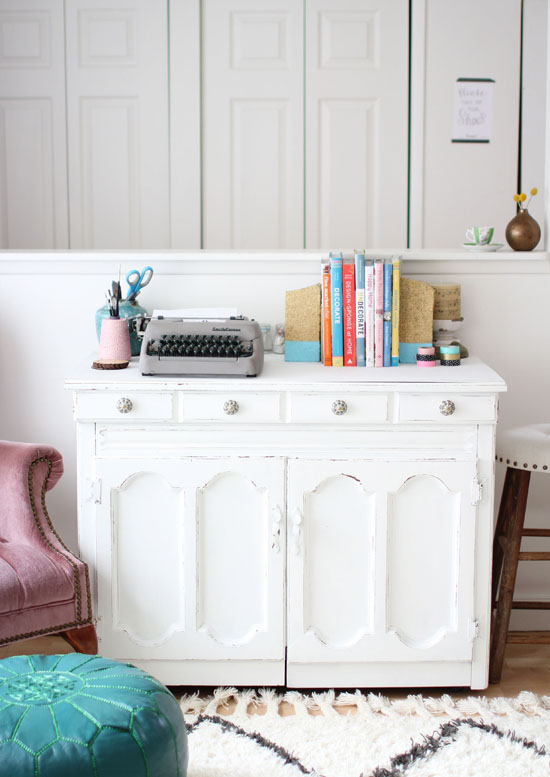 This white table is where I keep all my craft supplies (it's seriously overflowing).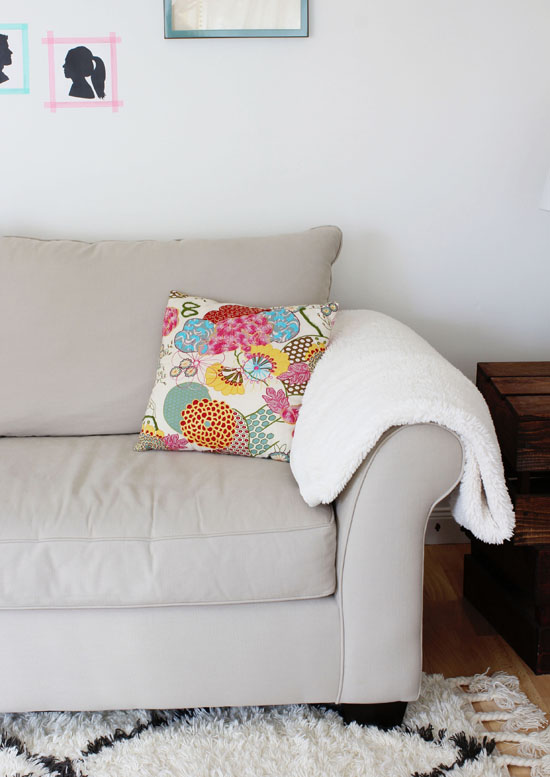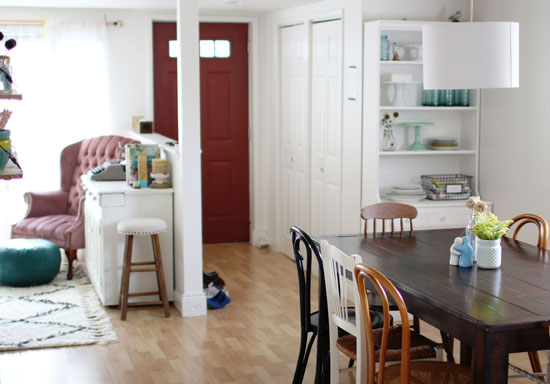 The next room in our house is the dining room. The table is also from Pottery Barn, and I've gotten all the chairs for about $20 apiece or less at thrift stores, antique malls, or Craigslist. I've been meaning to paint my bentwood chairs for ages and keep procrastinating it. I'm now debating whether to just sell them and switch to fake Eames chairs (I bought one to use as a desk chair, and I really like it!) What do you think I should do?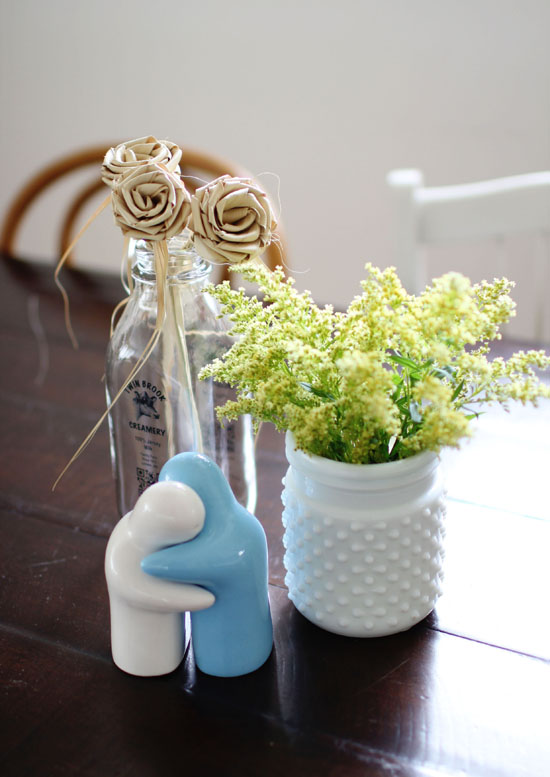 The sweetgrass flowers are from our trip to Charleston, and the hugging salt & pepper shakers are one of my favorite antique mall finds.
Of course, by now you've probably seen my DIY shelves.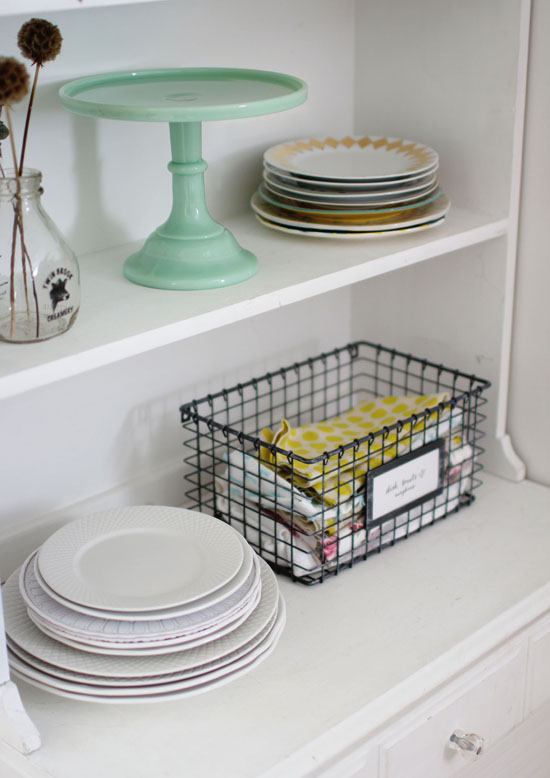 Remember when I talked about different ways to use cake stands, and how much I wanted a jadeite one? I have one now! I actually have three cake stands, but this one's definitely my favorite. I'm also collecting all different kinds of white plates, from thrift stores, Anthropologie sales, Ikea, etc.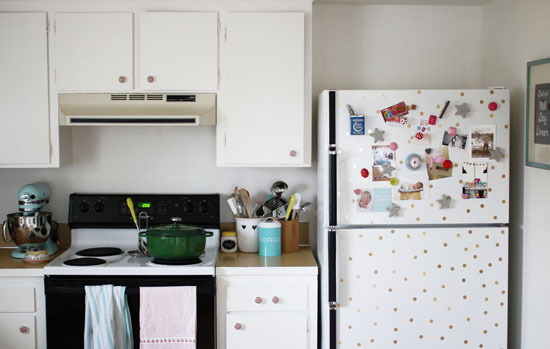 Past the dining room is our kitchen. I'm grateful for the white cabinets (the last apartment we lived in had awful dark wood ones)…but  the hood above our stove is pretty hideous, isn't it? Oh well.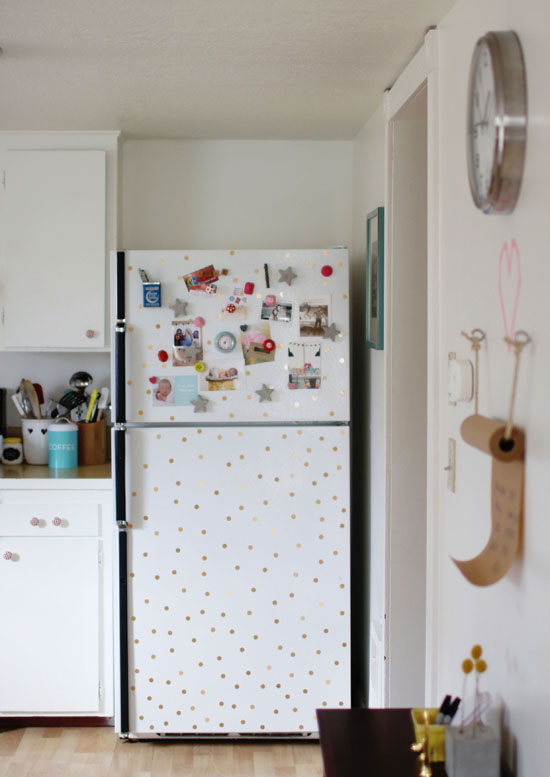 You may remember when I polka-dotted my fridge…and when I made that kraft paper grocery list…and when I made the concrete magnets too (both the stars and the colorful gems). I do love me some DIYs!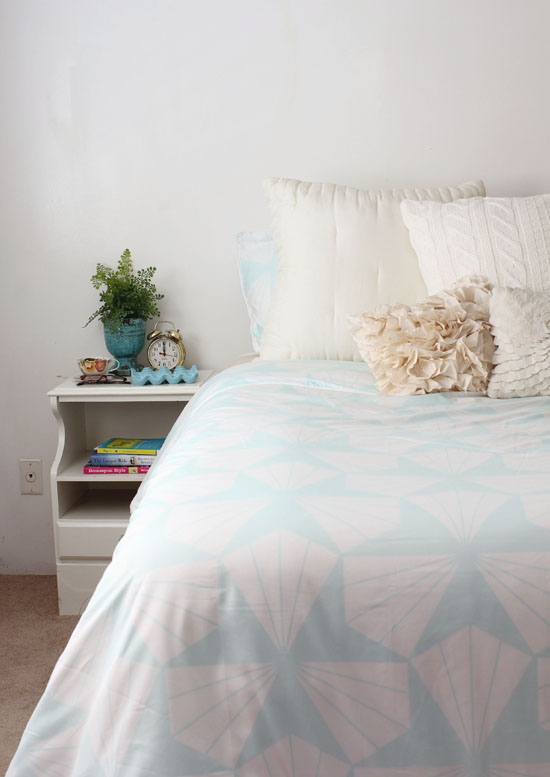 After the kitchen, there's a little winding hallway with a bathroom, a den area that we mostly use for storage, and our laundry room (all of which are not very cute). Then at the very end of the hall is our bedroom. I haven't shared any photos of the bedroom here because I've put pretty much zero effort into this room so far. It needs so much work! I was kind of embarrassed to send any photos of it to 91 Magazine at all, but I figured a house tour would be somewhat incomplete without the bedroom. I'm still planning to get a headboard, some new nightstands, and cute bedside lamps (and I wish we had hardwood floors instead of that gross tan carpet). But there definitely wasn't the time or the budget to do all that in time for this shoot.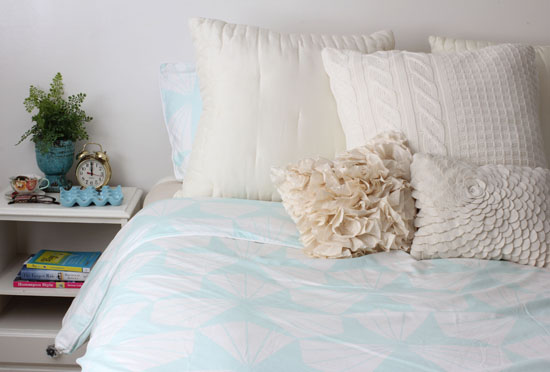 The one thing I do really like about our bedroom is the mint green duvet cover, which was a gift from Crane & Canopy. Remember it from this post?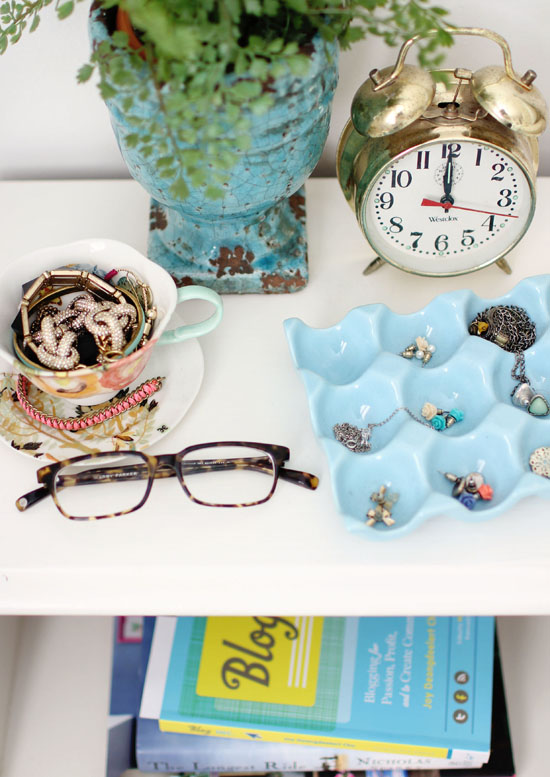 And that's my house! Or at least, my house as of a month ago. A lot of things have already changed since then, but that's to be expected. I'm always switching things around!
I also took some time to read through the whole issue of 91 Magazine yesterday, and it's a really good one!! I highly recommend getting yourself an issue, right here. A huge thanks to Caroline for having me in the magazine--it's such an honor. And thanks to Catherine, who wrote the article, as well! She made me sound much cooler than I actually am.