A few weeks ago, I wrote a post with some bedroom inspiration and talked about my plans to whip our bedroom into shape. I haven't gotten very far yet, but I did get some new bedding that I really love (yay)! We're taking steps in the right direction. Today, I thought I'd share some of my tips for choosing bedding that you'll love now and for years to come. After all, it's a pretty big purchase that can make a world of difference in your bedroom! I rounded up some great bedrooms to use as examples, and some gorgeous duvet covers to help you achieve the look.
1. Splurge a little. I am all about budget-friendly decorating and creative, DIY options…but your bedding is not the place to skimp. Scratchy, low quality sheets are no fun to crawl into! I promise, you will not regret investing in some luxurious bedding that you really love. It's worth starting and ending every day on a good note.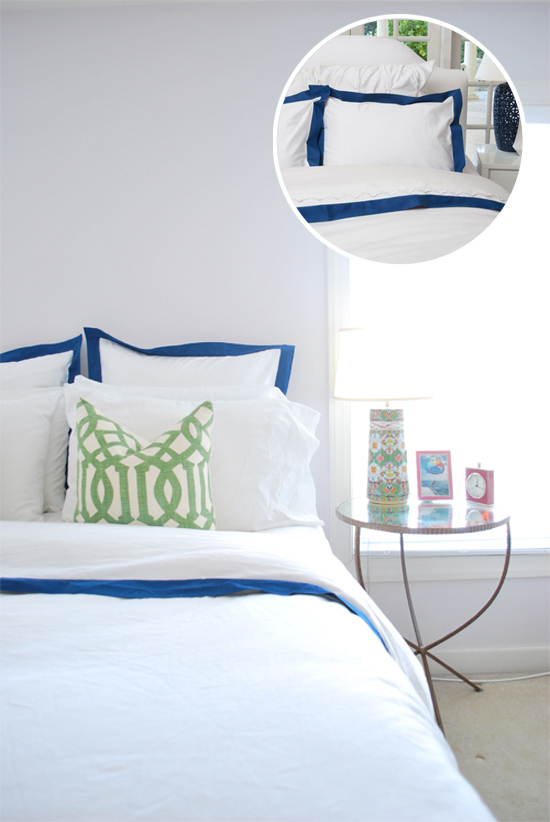 2. Check the thread count. Thread count refers to the number of horizontal and vertical threads in one square inch of fabric. The higher the thread count, the softer and more durable your bedding will be. Anything over 200 is considered high quality (and our new bedding, which has a thread count of 300, feels absolutely wonderful). But don't just grab the highest number you see! Apparently, 400 is about as high as a thread count can realistically get, yet some companies are claiming to have higher thread counts by counting not just each thread but each fiber in the thread. So if you see someone claiming to have 1200 thread count sheets, be skeptical.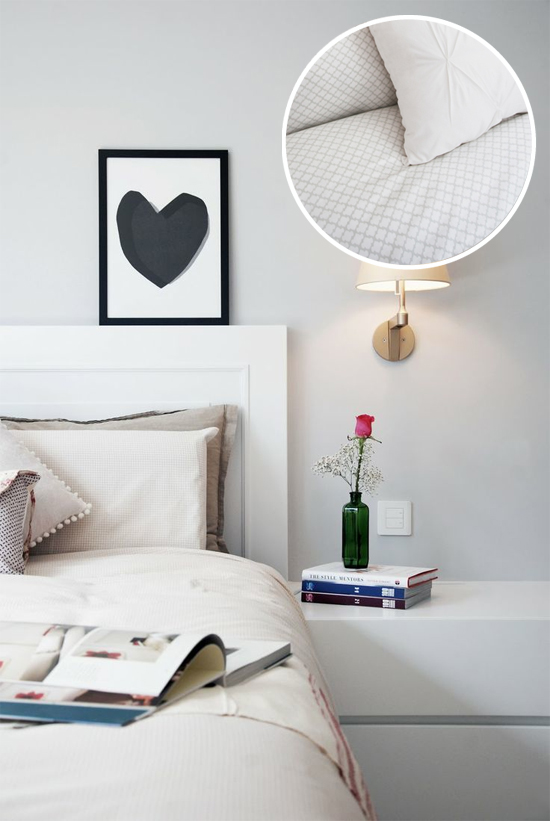 3. Consider something with texture. I love white bedding--it makes it really easy to change up your look with new throw pillows, blankets, etc.--but Ben thinks that white is boring. Choosing bedding that has some texture to it, like ruching or pintucks, adds interest to a white bed…and as a bonus, it won't show wrinkles either!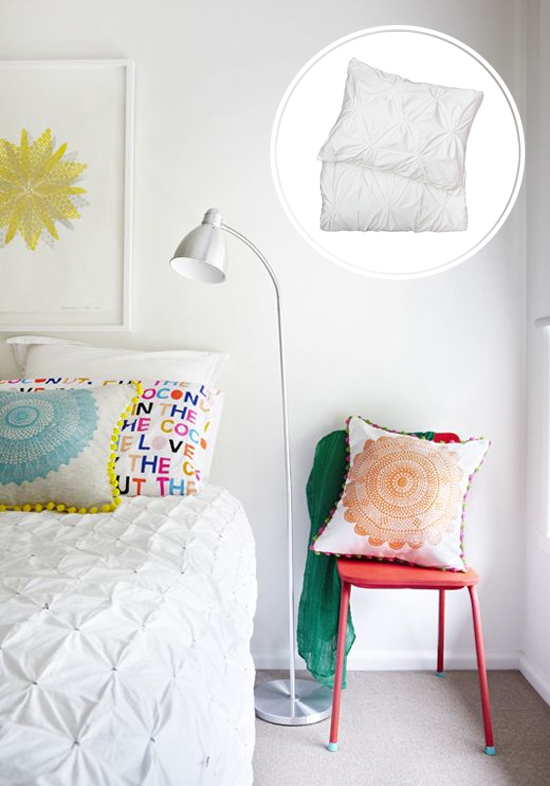 4. Mix patterns and styles. It might sound counterintuitive, but I think a bed always looks more chic and put together if it's got some mix-and-match going on. Especially if your bedding is patterned already, I think it's kind of boring to just use the matching shams and not mix in anything else. Some Euro shams in the back (in a different pattern or a plain color), throw pillows in front, and a textured blanket across the foot of the bed will make it seem finished. Switching up these "accessories" on occasion will make your bed feel fresh, new, and seasonally appropriate--without having to go out and buy all new bedding!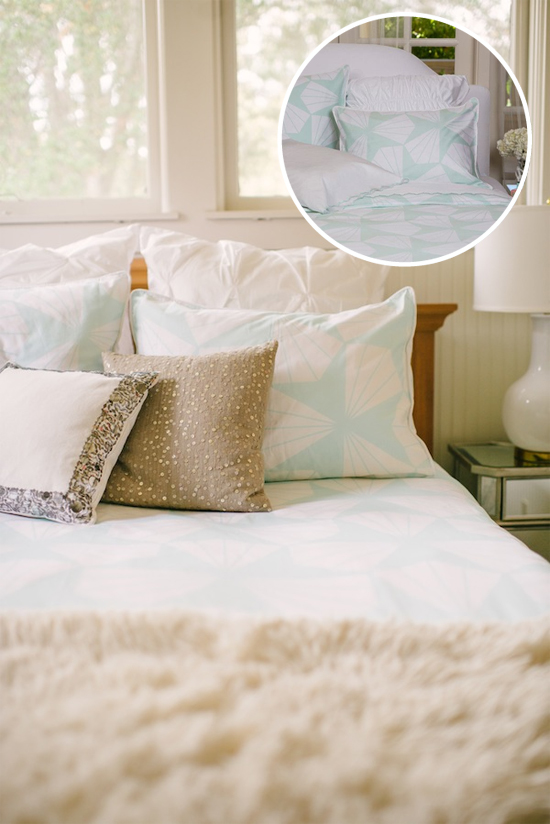 5. Look for duvet covers with ties in the corners. This is a small detail that I think makes a big difference. It's a huge pet peeve of mine for the comforter to move around inside the duvet cover during the night, and it's so irritating to try to smooth it out and get it all in place again. Find a duvet cover with interior ribbons in each corner, so you can tie the corners of the comforter in place. You'll be grateful every morning when you make the bed!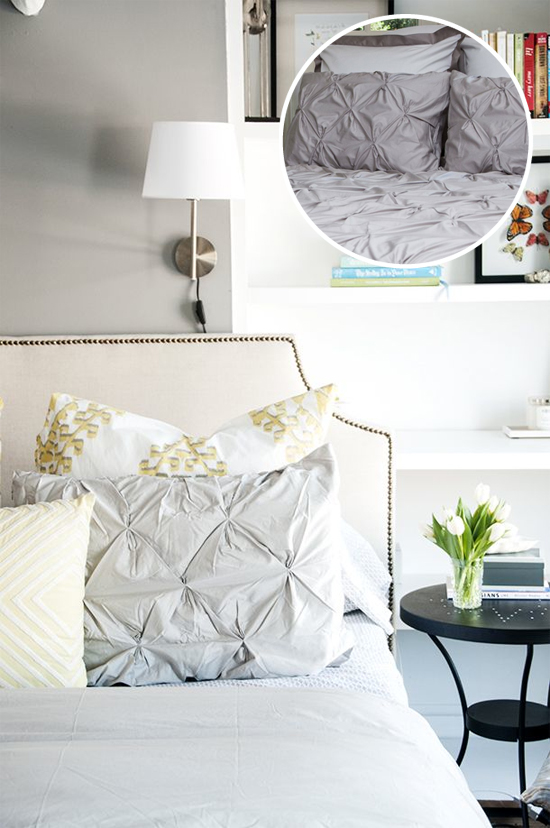 All of the bedding in the circles above are from Crane & Canopy, an online shop full of beautiful, high-quality bedding options--all 100% cotton, 300-400 thread count, and totally affordable.The bedding that Ben and I chose is actually one of the sets pictured! Can you guess which one?
1. The Linden Monaco Blue Border / 2. The Page Gray / 3. The Valencia White Pintuck / 4. The Taylor Mint Green / 5. The Valencia Dove Gray Pintuck
I'd also love to hear what kind of bedding you have, what you would get if you were to change it up, and if you have any tips for choosing bedding that I didn't mention!
Sources for inspiration photos: 1 / 2 / 3 / 4 / 5
This post was written in partnership with Crane & Canopy, who sent me the luxurious Taylor Mint Green duvet! Did you guess it??