It's been awhile since I did my last "reading and watching" post! To be honest, I've been really busy, so I haven't been reading nearly as much as I would like…but I've still managed to squeeze in a few good books. As you can probably tell, I gravitate more towards light reading than long, serious books. Here are some of the ones that I've read lately (plus some shows and movies, too). Do you have any suggestions for me?? What have you been reading and watching?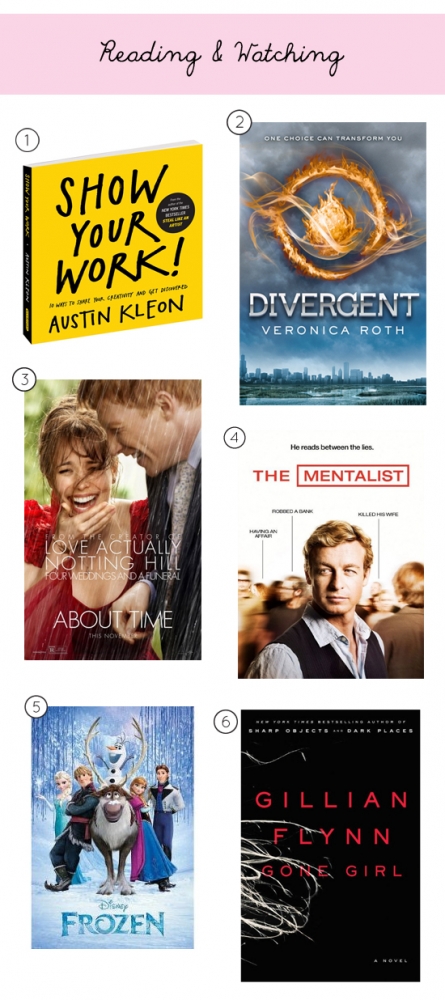 1. Show Your Work, by Austin Kleon. I wrote a whole post about Austin's first book, Steal Like An Artist, so of course as soon as I saw this one at the bookstore, I had to buy it! / 2. Divergent, by Veronica Roth. I'm in the middle of this one right now. So far, I'm interested. / 3. About Time. I mentioned in this post that I couldn't wait to see this movie, and I rented it the day it came to Redbox! It totally lived up to my expectations. Watch it now, if you haven't already. / 4. The Mentalist (love this show). / 5. Frozen. Another good one at Redbox. The snowman is my favorite!  6. Gone Girl, by Gillian Flynn. I kept hearing about this one, so I finally read it last month. It was goooood. Thought-provoking, unpredictable, and well-written. I totes recommend.
And here are a few of the books and shows that are next on my list: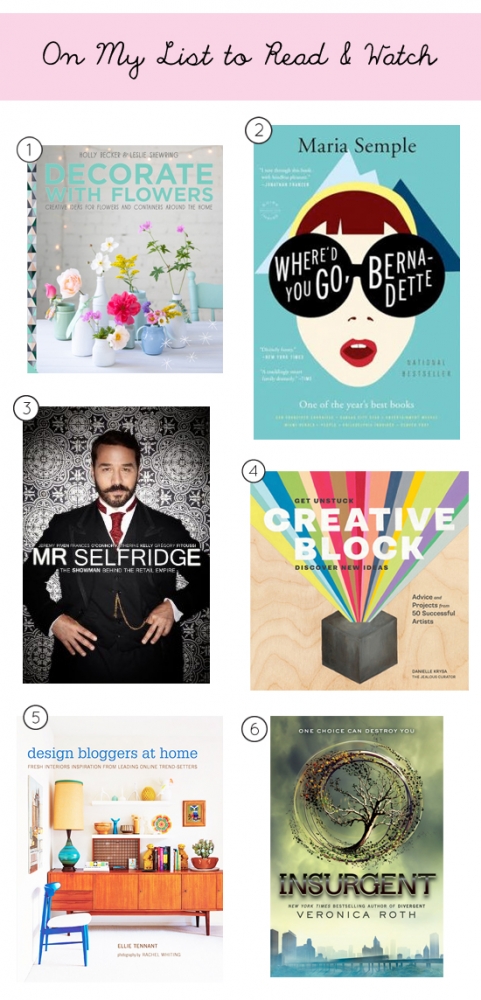 1. Decorate with Flowers, by Holly Becker and Leslie Shewring  / 2. Where'd You Go, Bernadette, by Maria Semple / 3. Mr. Selfridge. I think this show is somewhat similar to The Paradise, another show I wrote about awhile ago and really like. / 4. Creative Block: Get Unstuck, Discover New Ideas, by Danielle Krysa / 5. Design Bloggers at Home, by Ellie Tennant. / 6. Insurgent, by Veronica Roth. The next book after Divergent…of course.
So! I'd love to hear your recommendations. What books, movies, and shows have you been enjoying lately?