So, did you make New Year's resolutions? If so, I bet at least one of them involved saving money, right? Let's be honest...even if you're not a resolutions type of girl, just about everyone could benefit from a tighter budget after the holidays. Ben and I have a lot of things we're trying to save for this year, so we've already tightened our budget belt several notches (I wrote a post about it here). It's been good, and we're feeling really proud of ourselves--but still. Being on a restricted budget can be reaaaallly hard. So sometimes, little inexpensive treats can help you stay on track without totally crushing your soul. Here are some little luxuries that I love--they're all under $10!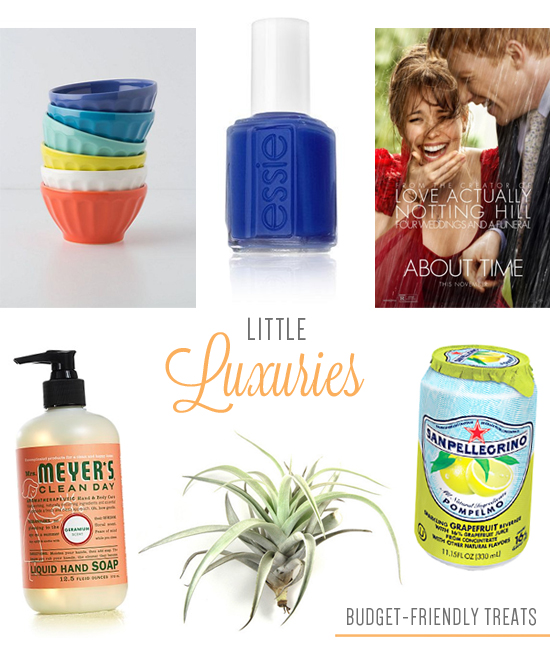 1. Latte bowls - I love these colorful bowls--and they're only $5 each, which is not bad at all (I buy them individually in the store). We have a few colors, and I eat my cereal in them just about every morning--starts my day off pretty! / 2. Good nail polish. I used to always buy cheap $3 nail polish, and then get annoyed at how runny/clumpy it was. I finally started buying good nail polish (Essie and OPI are the two brands I buy now--both are still under $10). Painting my nails is sooo much more frustration-free! Totally worth it. And a new polish color can really put a spring in my step, even if I can't afford to buy a whole new outfit. / 3. A movie from Redbox. Can't beat a $1.50 date night! We recently saw The Internship, which we thought was funny, and Wolverine. The next one I'm really looking forward to is About Time (I love Rachel McAdams). / 4. Mrs. Meyer's Hand Soap - At $3.99, these are totally worth it to me! The labels are so pretty and well designed--and after I wash my hands, I find myself coming up with excuses to sniff my fingers (ha! anyone else?). Seriously--they all smell sooo good. / 5. Air plants. I really like having fresh flowers or plants in the house, but that's kind of hard in the winter if you have a black thumb like me. I've been wanting to get an air plant for awhile (I posted about them here) and my friend Renae reassured me that they are really, reeeeaaaaally easy to keep alive. So I think I'll take the plunge. After all, they're not that expensive, especially compared to getting fresh flowers every week--these Harrisii ones are cute and only $6.50. / 6. San Pellegrino - There's something about that foil top that makes these seem fancy to me…if you can call a canned beverage fancy. Grapefruit is my favorite flavor, but blood orange is a close second.
And of course, there's something to be said for the simple pleasures that are absolutely free--hot towels fresh out of the dryer, climbing into a bed with clean sheets, convincing your husband to give you a back rub……you know.
What little inexpensive (or free) things do you treat yourself with?