Sometimes, when we're sick of watching movies at night and have nothing better planned, Ben and I like to go to the bookstore and each pick out a new book. Then we come home, get some snacks, and settle in on the couch to read together. It's a cheap, relaxing, and low-key date. This past weekend, it was raining on Friday night so it seemed like the perfect time to do just that. I picked out this book that I'd heard of, which looked intriguing: Steal Like An Artist, by Austin Kleon. And I loved it! It's a quick and interesting read--easily finished it in one night--but the concepts in it were so good, I really wanted to discuss them with someone. I kept reading quotes aloud to Ben, but he was engrossed in his own book, so I thought...why not talk about it on the blog? But first, how cute are those blue thistles I got a couple weeks ago? I saw them at the farmer's market and asked if I could get a bunch of just the thistles. People looked at me kind of funny as I was walking around with my "bouquet," but it was worth it! I got all those and more for $5, and dried them out so I can have "flowers" all year long!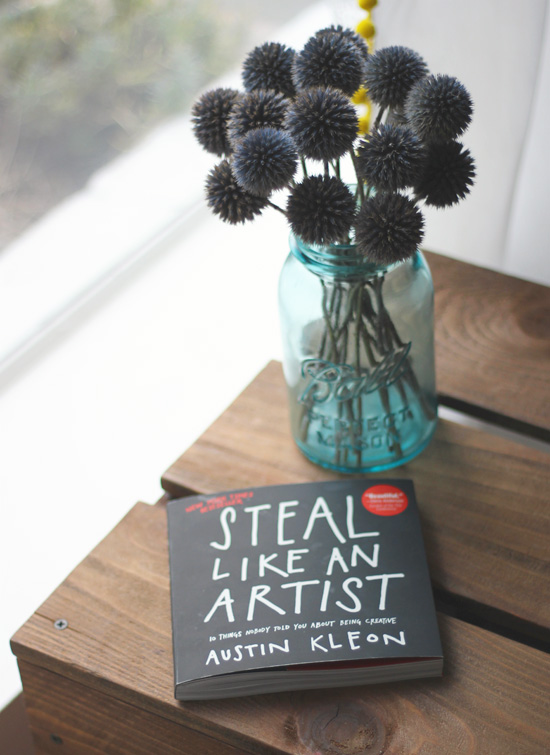 Now back to the book. Here are some quotes that really resonated with me:
1. Nothing is original. "Everything that needs to be said has already been said. But, since no one was listening, everything must be said again." I love that quote (from a French writer, Andre Gide). I think this concept is really freeing! In the blog world, there is this big emphasis on original ideas, and it can make me feel a little paralyzed sometimes. I'll have a great idea (sparked by something I saw on Pinterest, on another blog, at a restaurant, etc.)...but then someone will do that very same idea before I do. I'll feel like they beat me to it, and I can't do it anymore because it's no longer original. But the truth is, nothing is original! Every idea is sparked by something. I was thinking about the mini caramel apples I posted on Monday: I got the idea from Pinterest (and maybe you did too) but even if we both made them, our photos would each have a unique spin just because of who we are. Maybe you'll add salt to yours or drizzle them with chocolate, or maybe you'll take pictures with your kids eating them. No ideas are original, but our execution is still unique. If we're free from the burden of trying to be completely original, we can stop trying to make something out of nothing, and we can embrace influence instead of running away from it.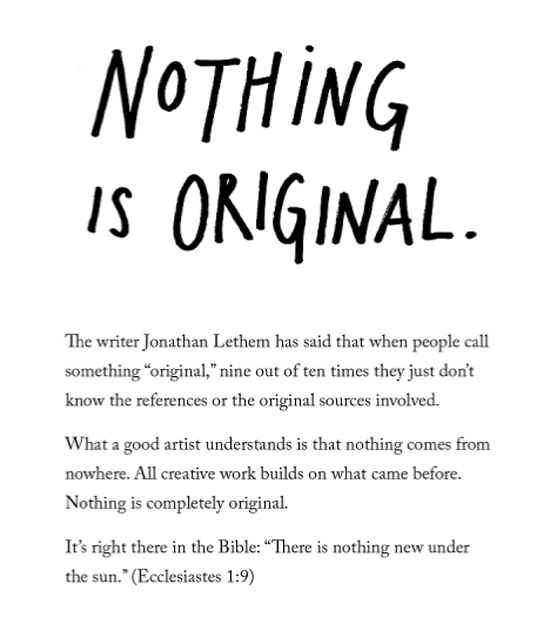 2. Fake it 'til you make it. Austin talks about the "impostor syndrome" that so many of us have (myself included). It's the feeling that you're a phony, you have no idea what you're doing, and you're just winging it. It makes us insecure and can stop us from ever getting started down the path we want to pursue. I've played around with the idea of starting an interior decorating business, but I often get doubts about myself: I'm not a professional. I didn't even go to school for interior design. How can I pretend to be an expert? Well, here's the thing: if I waited until I was an expert, I'd never get started. If you know what you want to be doing, you have to start doing it.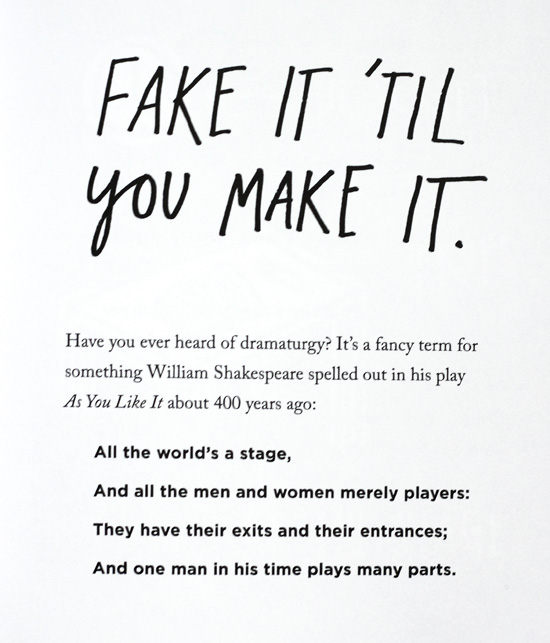 3. Start copying. This is how we learn--like a mechanic taking apart a car to see how it works. And here's the trick: don't just copy from one of your heroes--copy from all of them! The cartoonist Gary Panter said, "If you have one person you're influenced by, everyone will say you're the next whoever. But if you rip off a hundred people, everyone will say you're so original!" I like that. And the thing is, you can never perfectly copy someone else's style anyways. Where you "fall short" in copying them is what makes you different. Merely imitating your heroes is not flattering them. Transforming their work into something of your own is how you flatter them. Adding something to the world that only you can add.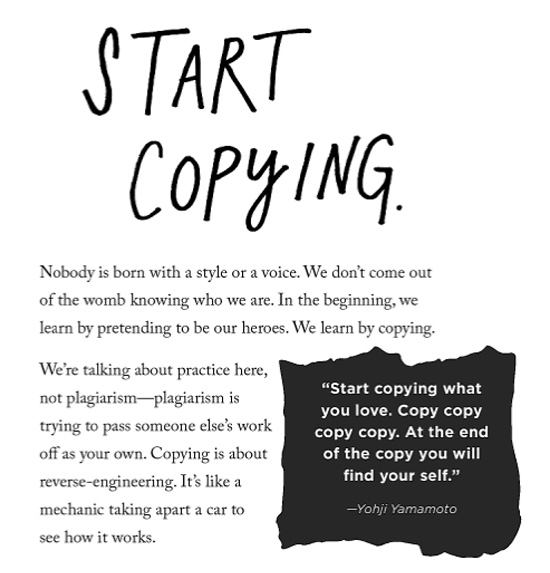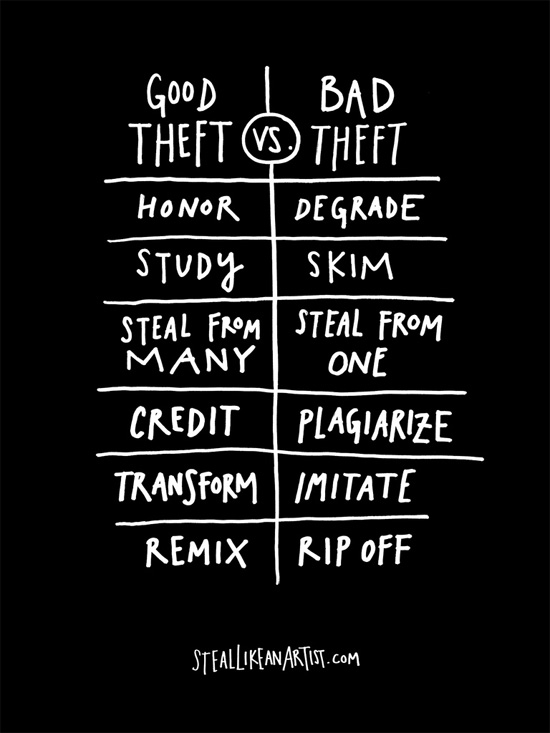 4. Build your own world. This is one that I'd like to work on. Thanks to the Internet, our world is not that limited by geography...which means that even if you're tied down to a place, you can still make connections. You don't have to live anywhere other than the place you are to start connecting with the world you want to be in. That's encouraging, don't you think? I would really like to get to know more of you bloggers, crafters, decorators, and creative small businesses, wherever you may be from! It can be so nice to have a community of fellow-minded creatives that "get" you, who can give you a boost when you're feeling unmotivated and get excited over the kind of things that your "real-life" friends might think are a little silly. If any of you would like to connect with me, look me up on Twitter, Facebook, or Instagram and say hello!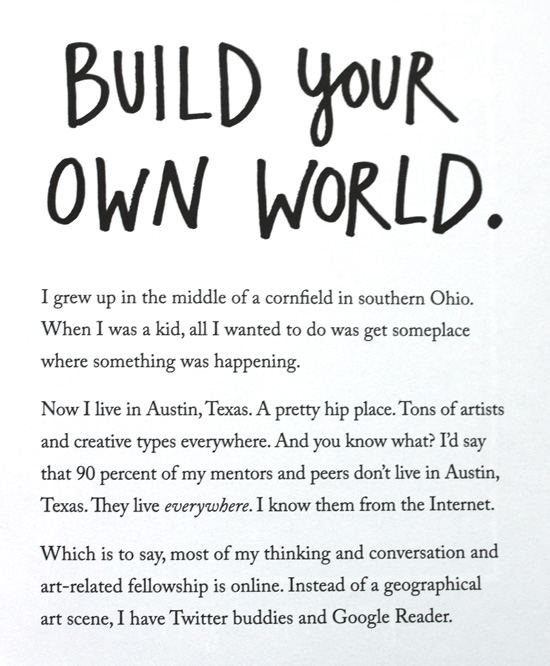 5. Keep your day job. Those of you who have started your own businesses, what do you think of this one? I'm really curious, because part of me really wants to scale back or quit my day job eventually. But I do worry about not having a steady income where I know I'll make such-and-such amount every paycheck. Austin says, freedom from financial stress also means freedom in your art. He says day jobs give you a regular routine, a connection to the world, and a chance to get paid to learn new things that you can apply to your creative work. As far as having time for your creative pursuits? Work gets done in the time available. What do you guys think of that? I think it's true that routine can be helpful--and certainly, it's less stressful to have a regular income...but sometimes my day job leaves me feeling so drained and tired. Those of you are self-employed, when did you feel you were ready to let go of your day job?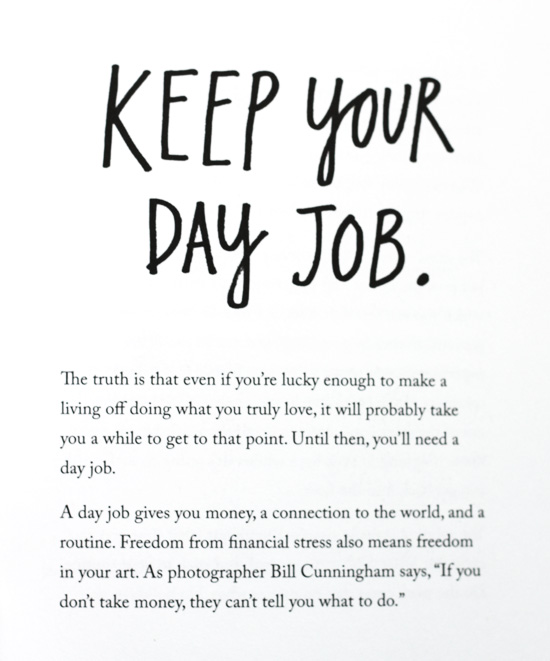 If you've read Steal Like An Artist, tell me what you thought of it! Did you have a favorite piece of advice? Anything you disagreed with? I'd love to hear!
Also, I'm curious: who are some of your heroes, the ladies (and gentlemen) that you would "steal" from? Some of mine are Victoria of sfgirlbybay, Holly of decor8, and Bri of Designlovefest. I love how each of their blogs are very approachable and personal. They have great style, each of them, and their posts are always total eye candy--but they also share glimpses into their personal lives and thought processes, which makes their blogs so much more interesting.