I grew up without a TV, which meant as a kid I spent a lot of time reading. We'd go to the library with big paper bags and leave with them full. My love for reading waned a little in college, when I had so much required reading that I got burned out. Now that I'm out of school, I've been trying to read a bit more, and I'm feeling that old love resurge. There's something about getting lost in a book that is so relaxing! But reading is a solo activity (for the most part), so I also really love being able to cuddle with Ben and watch a movie or a good TV show together. Here are some of the books, movies, and shows that I've enjoyed lately, as well as some that I'm looking forward to. What have you been reading and watching? Any recommendations for me?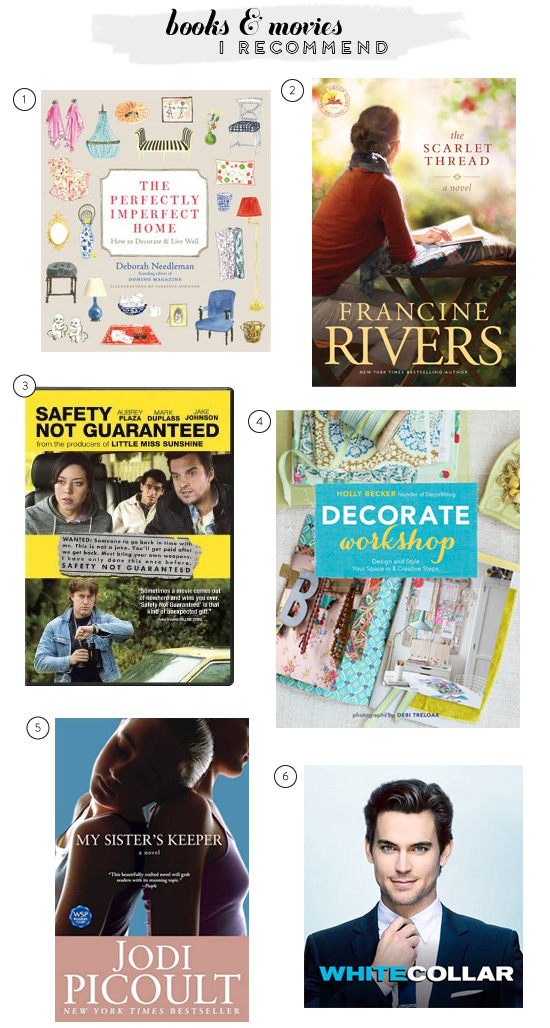 My recent favorites: 1. The Perfectly Imperfect Home
 by Deborah Needleman. I love all the pretty illustrations! / 2. The Scarlet Thread by Francine Rivers / 3. Safety Not Guaranteed
. Cute feel-good movie, and it's set here in Washington state! / 4. Decorate Workshop
 by Holly Becker / 5.  My Sister's Keeper
 by Jodi Picoult / 6. White Collar
. Season 5 starts on Tuesday! I'm pretty excited...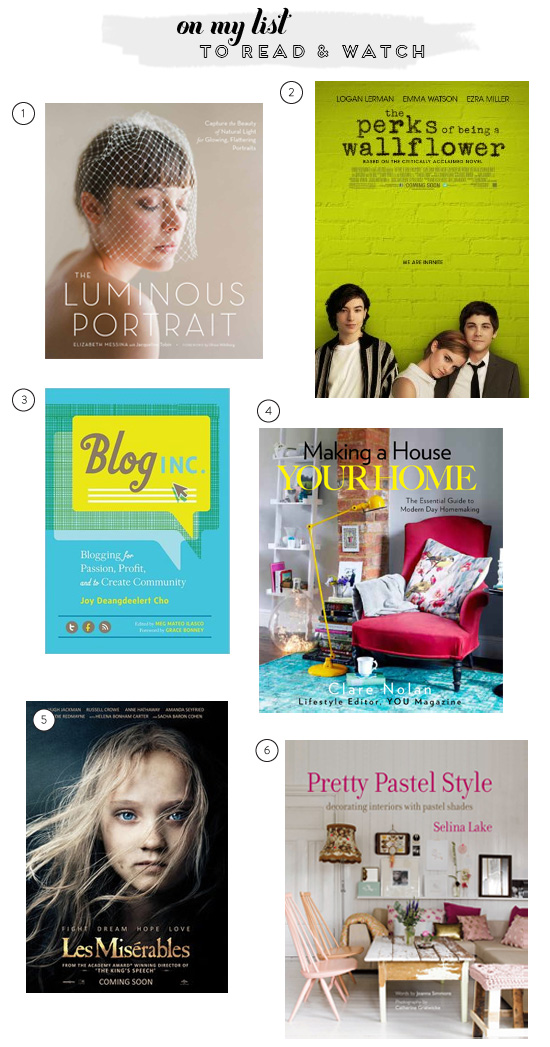 On my list: 1. The Luminous Portrait
 by Elizabeth Messina / 2. The Perks of Being a Wallflower
 / 3. Blog, Inc.
 by Joy Cho / 4. Making a House Your Home
 by Clare Nolan / 5. Les Misérables
 / 6. Pretty Pastel Style
 by Selina Lake