This post is sponsored by Bali Blinds. All opinions are my own.
Now that the guest room, living room, and family room are basically finished, I'm excited to get started on our own bedroom! We've made the mistake in the past of making the master bedroom our last priority since "no one sees it but us." That's not actually true (everyone wants to see a tour of the house, which obviously includes the master bedroom), but even if it were...our bedroom is where we start and end each day. So I want it to be a restful, beautiful space that we enjoy! We haven't done much so far, but here's what the room looks like now, and what our plans are for the future.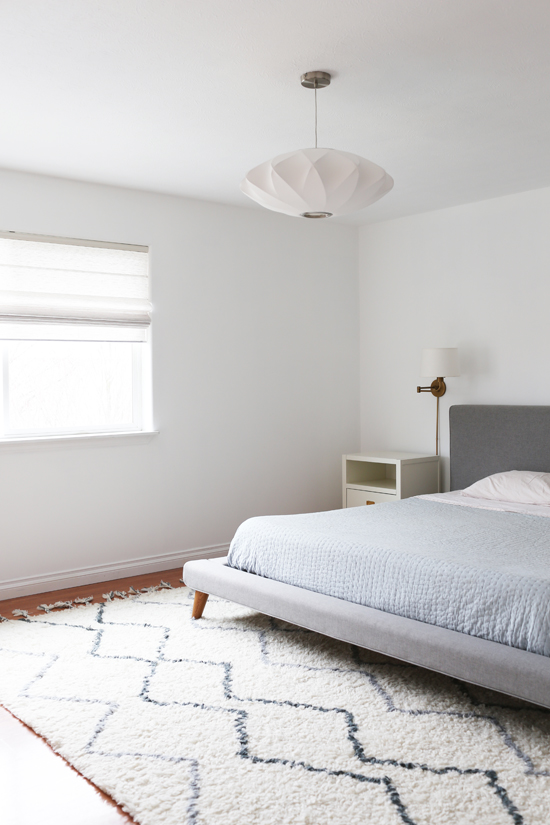 We co-slept with Ian for most of his first year, and once he started scooting I was always nervous about him falling off the bed during naps. Knowing we have another baby coming, we decided to get the Mod Upholstered Platform Bed from West Elm. It's lower to the ground since it doesn't require a box spring, and the design is simple yet beautiful. Ian uses the extra step around the edge of the bed to get up and down easily, and I think the neutral grey fabric will suit us for longer than our blue velvet bed did.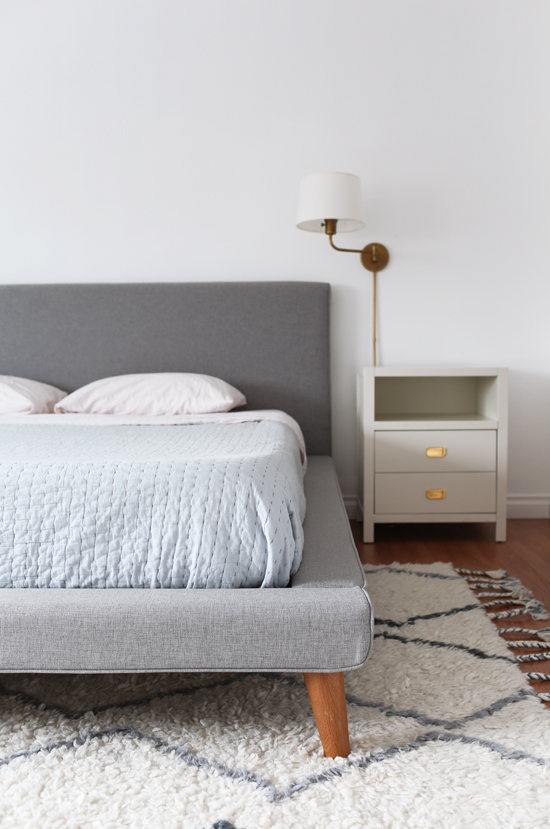 On either side of the bed, we installed the same sconces from our old bedroom. I still love them! And sconces are nice with a toddler--no worrying about him knocking a table lamp off the nightstand.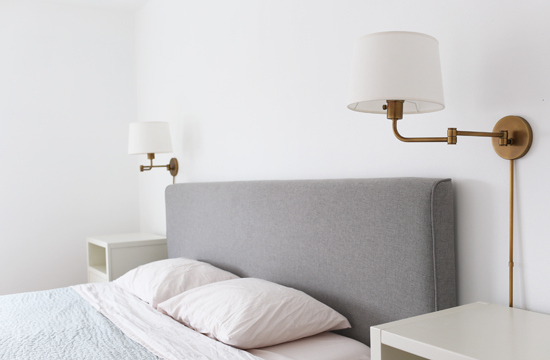 Above the bed, we hung the Flower Cloud pendant from Lamps Plus, which I love. I'm thinking of adding a fancy ceiling medallion to juxtapose with the modern design...what do you think?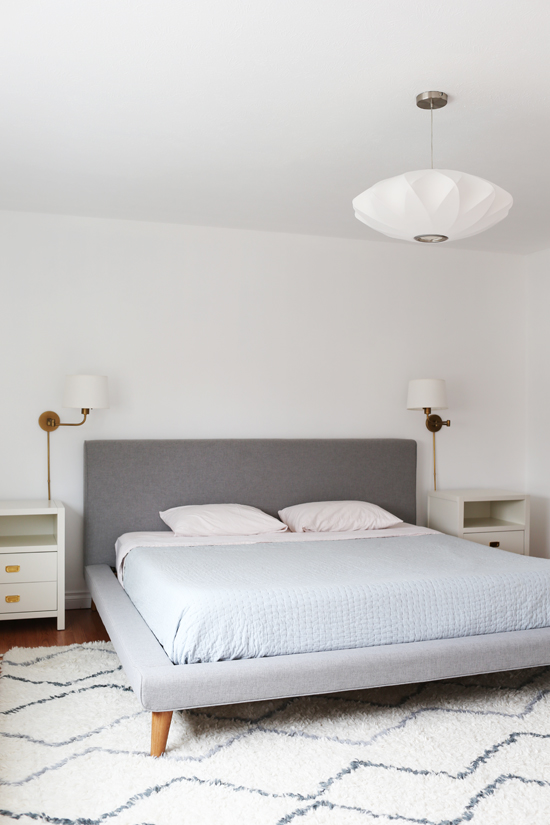 For our bedroom window, we got a classic Roman shade from Bali Blinds in the Dunes Pearl fabric. It's a beautiful fabric with a subtle but interesting texture. The Pearl color mixes in strands of grey, ivory, and beige so I'm confident that it'll blend with any decor we choose for this room. We chose the cordless lift to keep it safe for kids--plus it's really convenient and looks nice and clean. No unsightly and annoying cords, yay!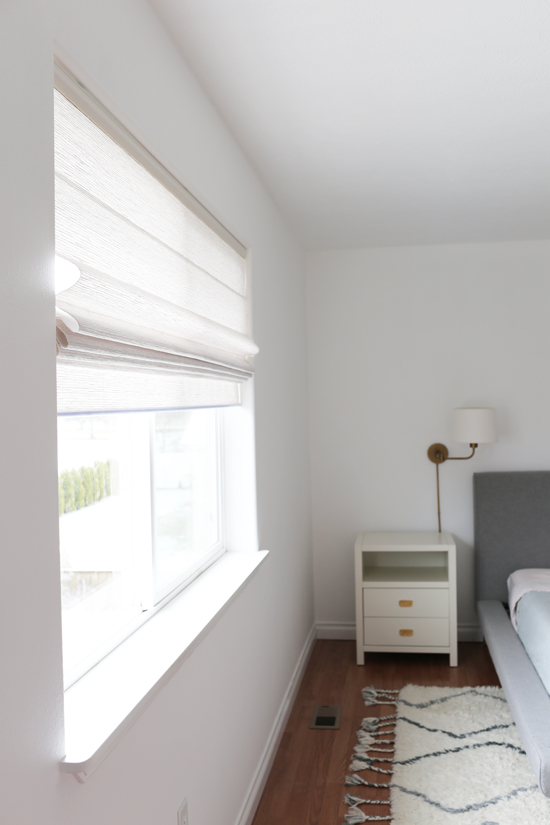 Roman shades have become my go-to window treatments. They blend with a variety of different styles, from modern to traditional. They're easy to open and close. They work for just about any size of window. And they look great on their own, or layered with drapes (like in our living room!). I'm actually considering getting drapes for our bedroom too, since I love the ones in our living room so much. And maybe instead of white or ivory, I'll try a soft color this time! Blush pink? Pistachio green? Dusty blue? Who knows.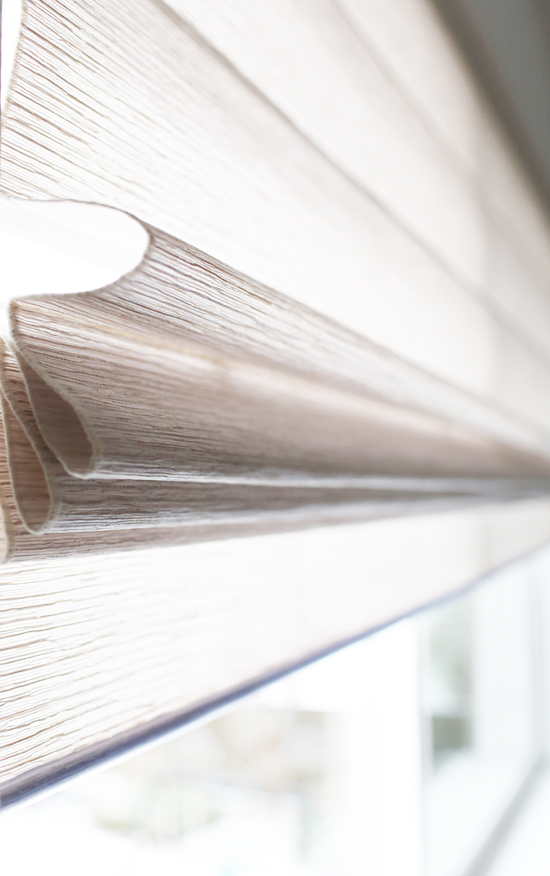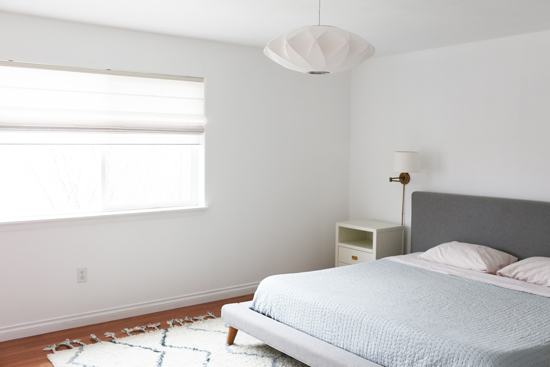 This is what our bedroom looked like before, so we've made some progress--but there's still a lot left to do! Everything in this room is pretty neutral right now, which is nice and peaceful, but also a little boring and plain. I would say this is Phase One of our bedroom: getting the basics in place.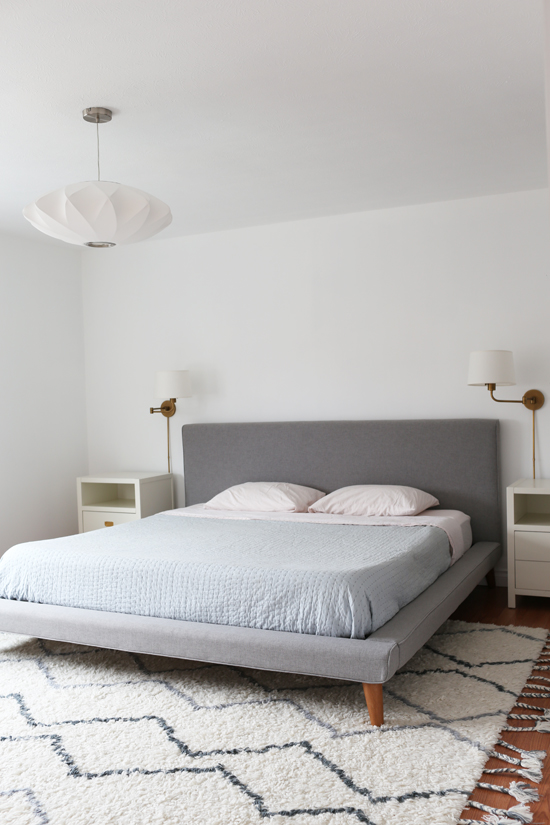 For Phase Two, we need to hang art on the walls and bring in some color and personality with throw pillows, books, and accessories. I'd love to get a big chunky knit blanket to lay over the foot of the bed, hygge-style. And we're getting a new dresser and some x-benches for the foot of the bed, plus I'm on the hunt for a big pretty floor mirror.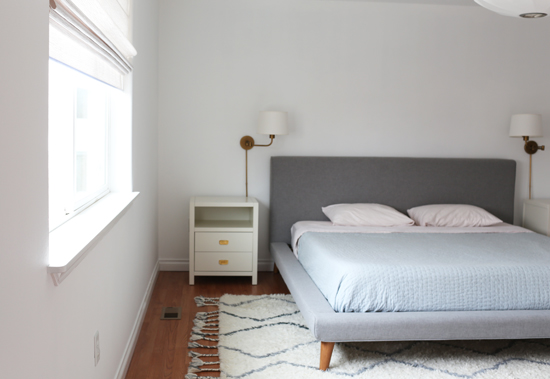 What do you think? Is a neutral bedroom lifeless? Or calm and restful? Should we get drapes for the windows, or keep them simple with just the Roman shades? Anything else this room is missing? Gimme all your opinions.