This post is written in partnership with Leesa. They provided a free mattress for us to review. All opinions are my own.
Our guest bedroom is the first room in the house to be DONE! Or at least, done for now--I'm never truly finished. We had been slowly working on our to-do list without really focusing on any particular room, until Ben's sister and her husband told us they wanted to come visit. Our thoughts quickly went from, "Yay, houseguests!" to "Uh oh, the guest room is not even close to ready." We hadn't painted it yet, and we'd let it become a dumping grounds for all the boxes we were working on unpacking. And since we never had a REAL guest room in our last apartment (the second bedroom was so small, it could only fit a twin bed), we needed to get a bed and a mattress for them to sleep on...asap! Honestly, my sister-in-law and brother-in-law are really laidback people who would have been totally fine with an unpainted room and a mattress on the floor. But still, we wanted to get everything nice for them. Having people over is often my main motivation to get things done around the house, anyways...I'm not the only one, right?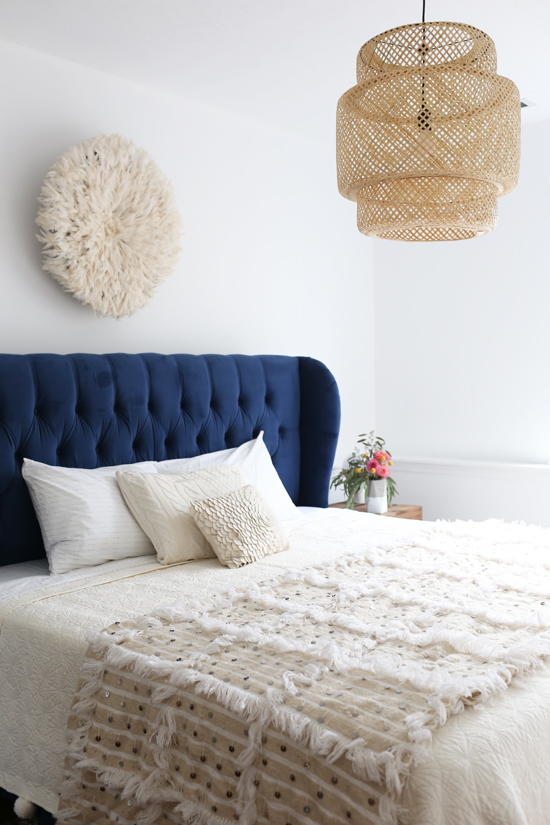 Ben quickly painted the room (white again, we're a one-note band) and then it was time to furnish and decorate! We already wanted to get a new bed frame for ourselves, so since our old bed is still in great shape, we decided to set it up in the guest room. I still love this bed, but was getting kind of tired of our own bedroom being so blue. However, I think a guest room is a great place for a colorful piece of furniture (or any bold choice). Since you don't use the room daily, you don't get sick of things as quickly.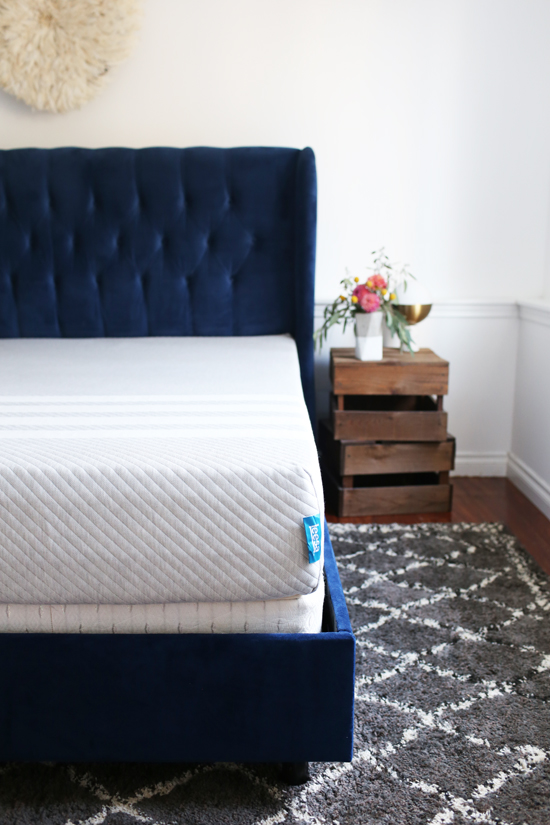 For the mattress, I wanted to get something really comfortable, but not ridiculously expensive. I had already heard good things about the Leesa mattress, so I was thrilled when I got the opportunity to review one. I love that it's 100% American-made, they give one mattress to a shelter for every ten they sell, and it gets delivered to your front door compressed in a relatively small box (that's a KING size mattress below!).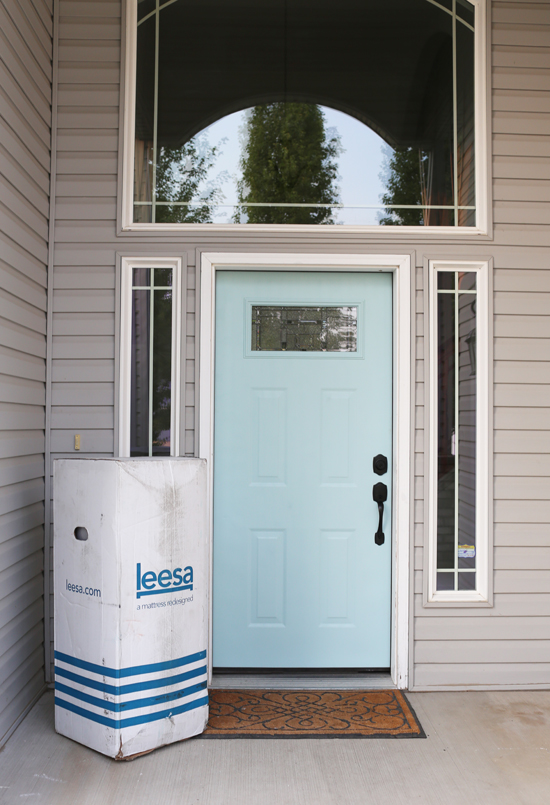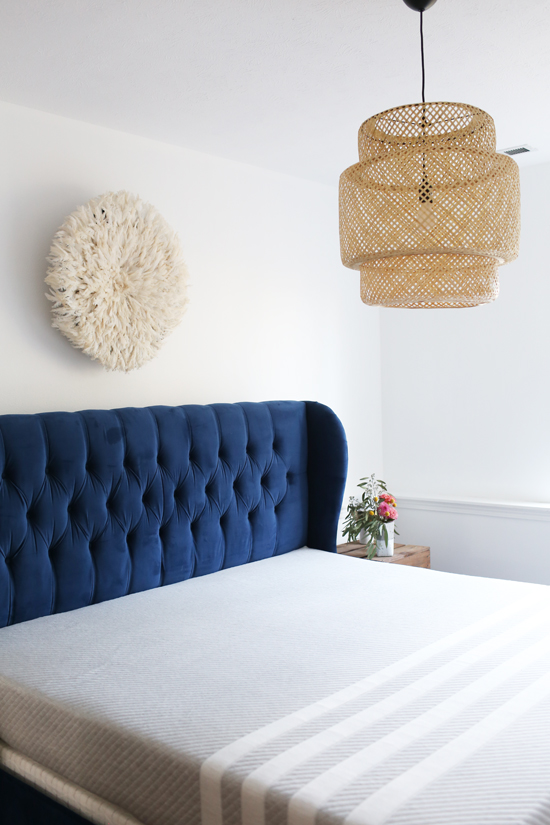 Plus it's so good-looking and commmfy! Once we laid down on it, we both had the same thought: okay, we got this for the guest room, but...should we steal it for our own bed??? We're seriously considering it. If you're shopping for a new mattress, my only complaint with our Leesa is that it had a strong chemical smell out of the box. I looked it up, and that's just a by-product of the manufacturing process...all the materials Leesa uses are certified CertiPUR-US(R) so it's nothing to worry about. I would just say, if you're preparing for houseguests, make sure it gets delivered with enough time to air out (it took a couple weeks until I didn't notice any smell).  Other than that, I really love this mattress! There are three layers of foam: a 6" dense foam core that provides a firm, supportive base (a must for us--we're both firm mattress people); a 2" memory foam layer for body contouring and pressure relief; and a 2" Avena® foam top layer for cooling and breathability--yay for a memory foam mattress that doesn't sleep too hot!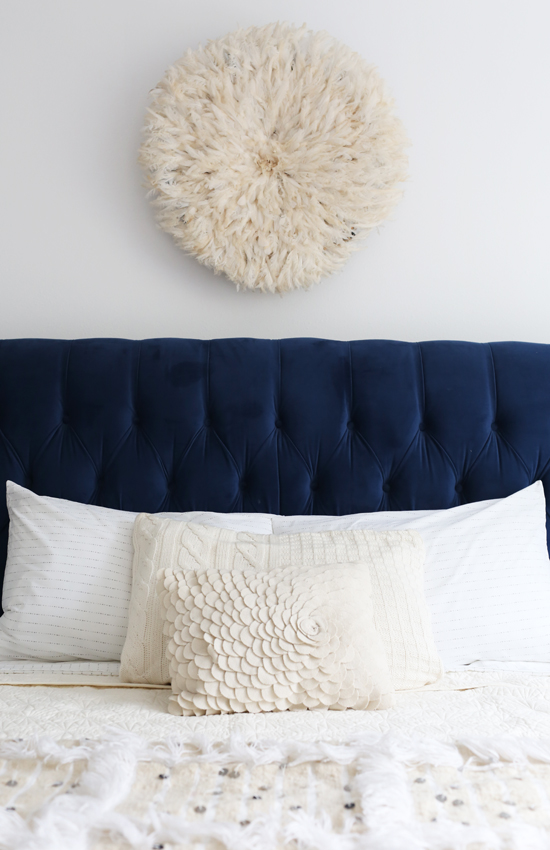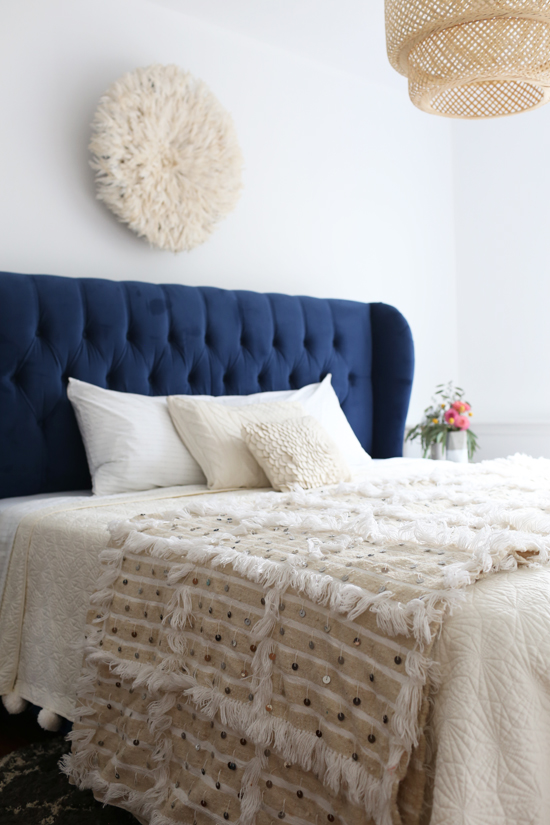 Since the bed itself is a deep, rich blue, I wanted to keep the decor light and neutral. I chose an ivory quilt with oversized pom pom trim, some simple striped sheets, and a few cozy throw pillows. When decorating with neutrals, using texture keeps it from being boring. A Moroccan wedding blanket across the foot of the bed and an ivory "juju hat" on the wall were perfect for this. We also brought in the wood crate side tables from our old living room to use as nightstands, and switched out the overhead light for a big woven pendant.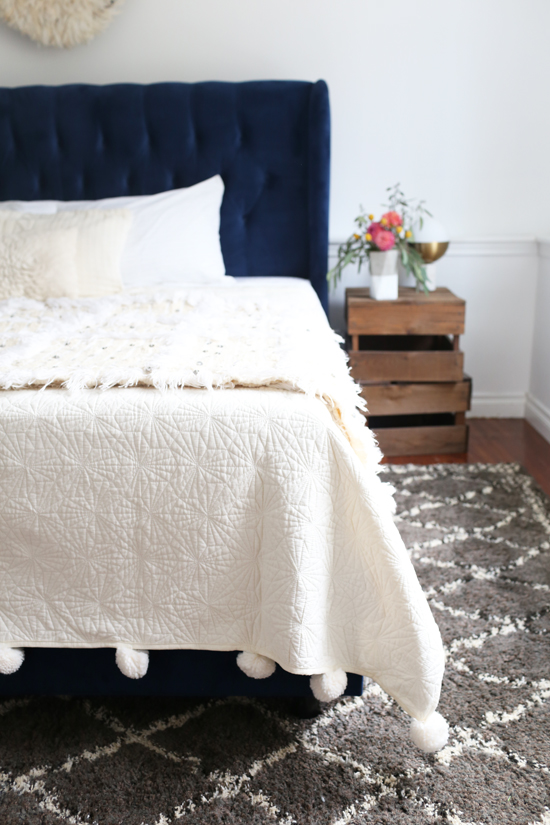 I also think rugs are super important for bedrooms, since they give your feet somewhere cozy and soft to start the morning (instead of landing on a cold, hard floor). I picked out this neutral, patterned rug from Mohawk, a brand we used in our old bedroom and loved. The rug is suuuper soft, especially with the addition of their premium rug pad underneath...and it's really affordable too. Plus it's also made in the USA! Win-win-win.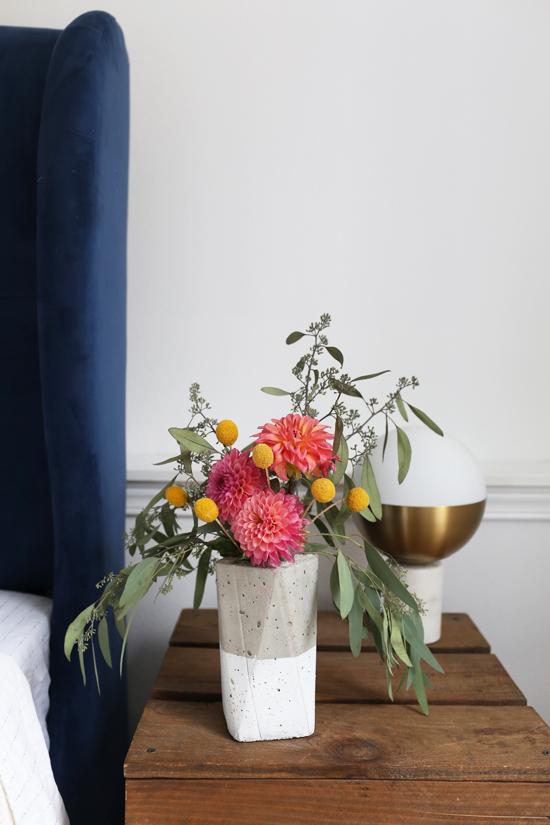 My sister-in-law and her family are coming this weekend, and we're super excited to show them around Spokane! It's their first time visiting us here, and I think fall is the perfect season to see Spokane. We're planning go apple picking, pumpkin patching, leaf peeping, coffee drinking, and all the fall things. I hope they'll have a good time, and I'm so relieved that we finished the guest room in time. Who wants to stay with us next??? We're ready for you! :)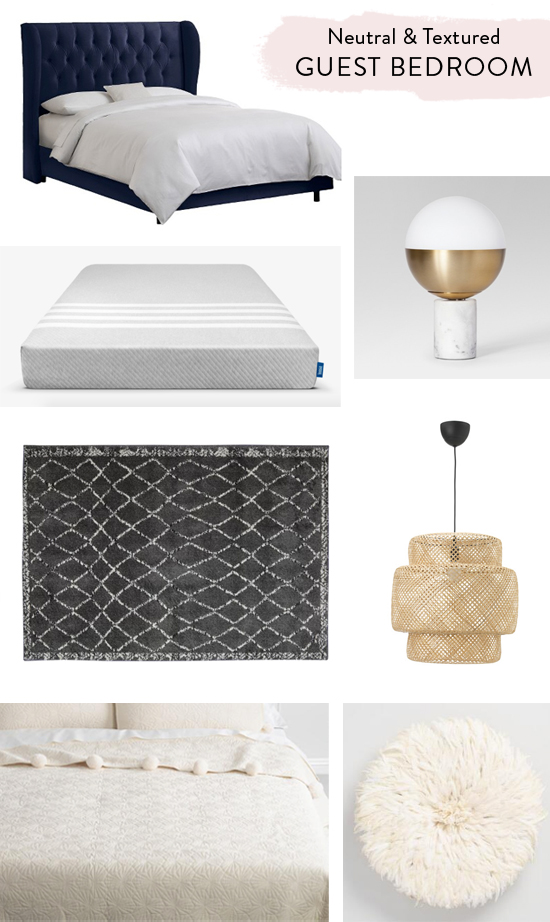 Sources: Bed frame / Mattress / Bedside lamps / Rug / Pendant light / Quilt / Juju hat