This post is written in partnership with Hayneedle.com. All opinions are my own.
I'm taking a break from gift guides to show you guys our living room, decked out for the holidays! I'm not a fan of storing bins of decor for eleven months out of the year, so I'm pretty moderate with how I decorate for Christmas--in fact, we actually don't even put up a tree (are you shocked?). Still, this is our first holiday season in the new house, so of course I couldn't resist doing something! I worked with Hayneedle.com to make our living room feel festive...but instead of classic red and green, I went with a cheerful, candy-colored palette of robin's egg blue, mint green, mustard yellow, and soft pink (basically the same colors I decorate with all year). I added in metallics, garlands of greenery, and cozy sheepskin, and I made some DIY yarn wrapped trees and accordion snowflakes to add budget-friendly winter cheer. I love the results--it still feels like Christmas, but in a way that fits my style and aesthetic.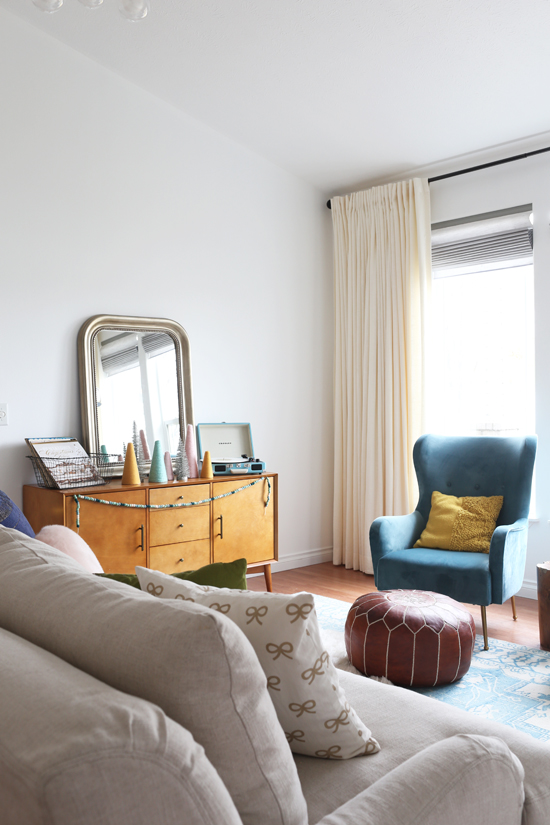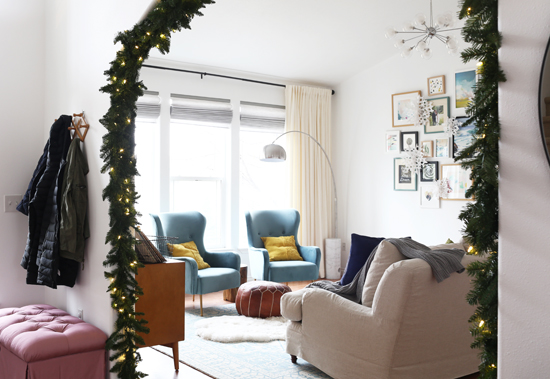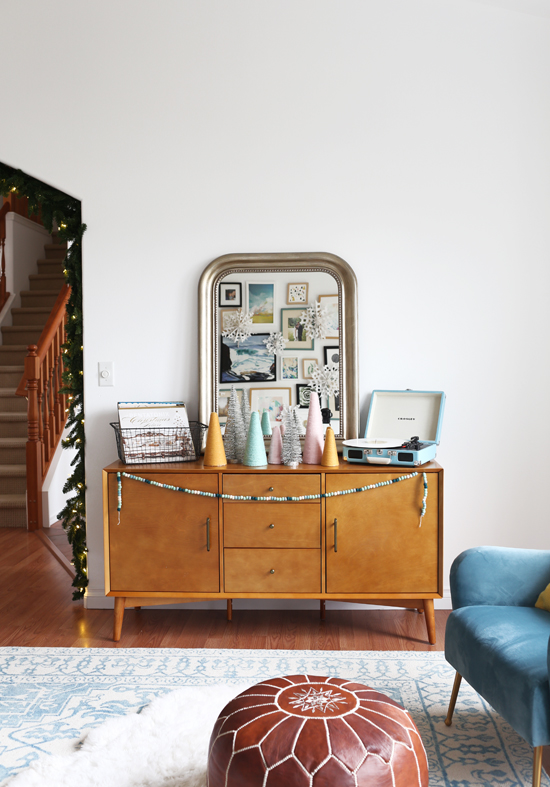 One of my favorite pieces we picked out is the Crosley Landon Buffet--a beautiful midcentury style table with room for storage. Eventually I plan to put it underneath the gallery wall, but for the holiday season I wanted to set up a station for playing Christmas music and setting out drinks and snacks when we have guests over. I topped it with a French-style mirror, our record player, and a basket of holiday vinyl records (there's just something nostalgic about records that is more fun than a playlist on your phone). I added some colorful yarn trees and silver bottle brush trees, and I strung a garland of cheerful green felt balls in the front.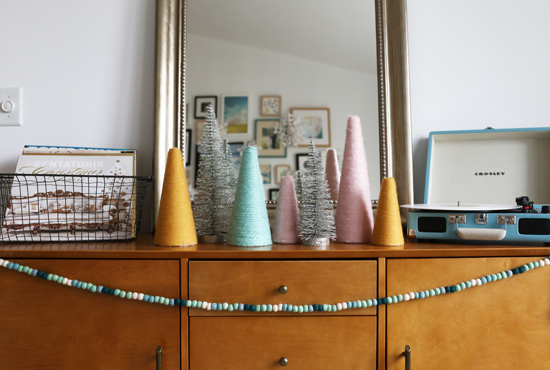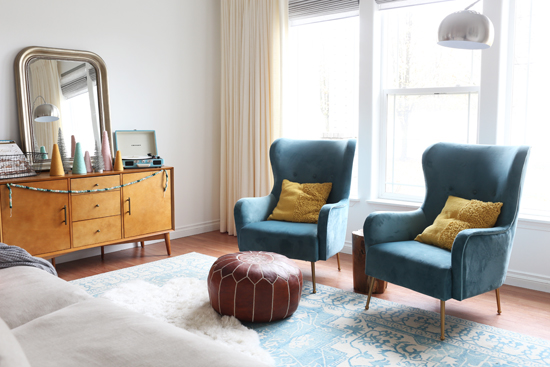 Another big change in our living room is the new velvet armchairs, by TŌV Furniture. They're an absolutely gorgeous color ("Sea Blue"), and they have cool brass legs that make them feel more unique. It's so nice to finally have a pair of armchairs, after years of mismatched ones! And these are super comfy too--I couldn't be happier with them.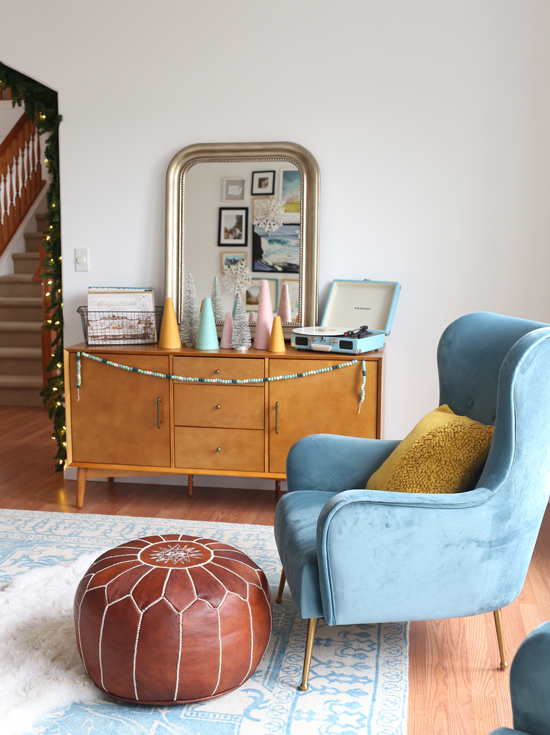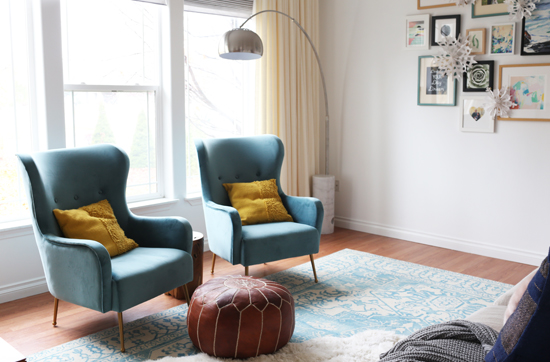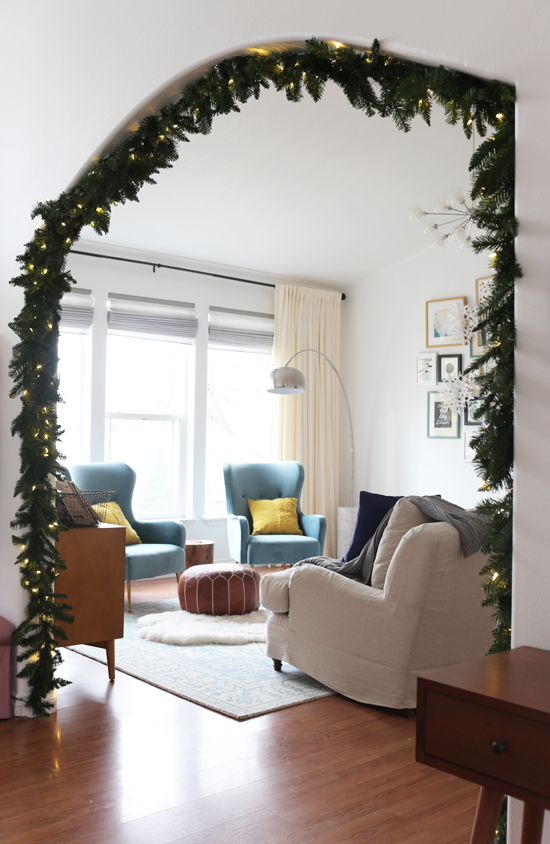 On the big arched doorway that leads into the living room from our foyer, we strung up this pre-lit spruce garland. I looove the effect it has...it instantly made the whole space feels so festive and grand. It's a faux garland, so we can use it year after year.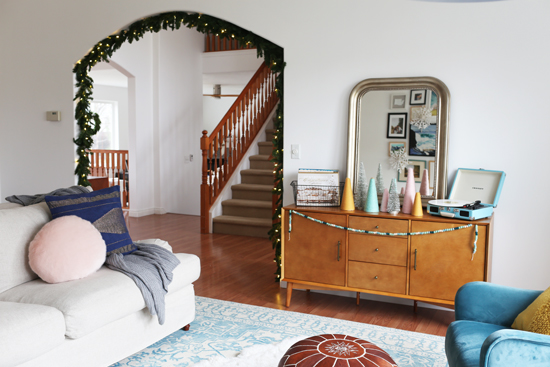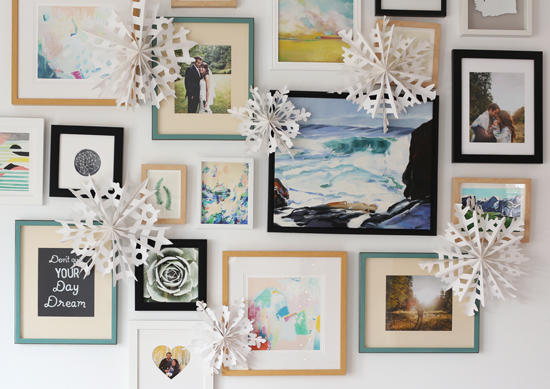 I also taped some large accordion paper snowflakes on our gallery wall, and added knit throws on the sofa and a soft sheepskin on the floor for cozy texture and warmth. I just love how this room turned out, and since most of it is more seasonal and wintry, I won't feel the need to take it down right after Christmas.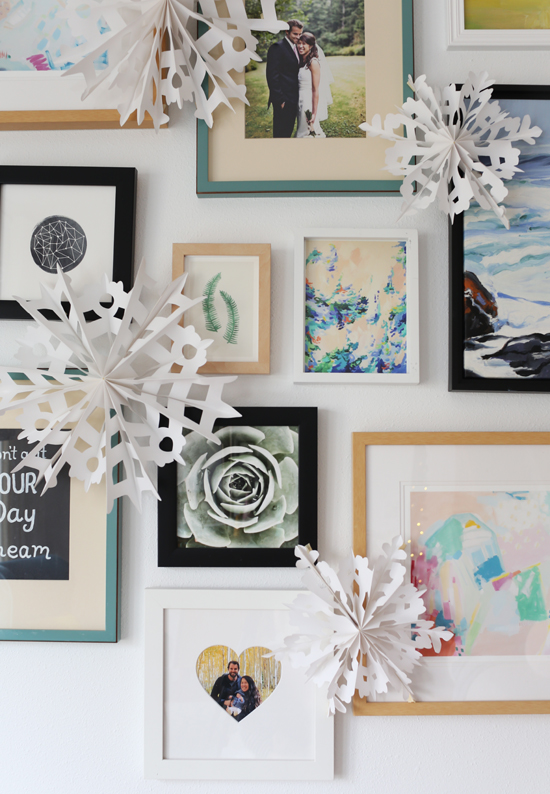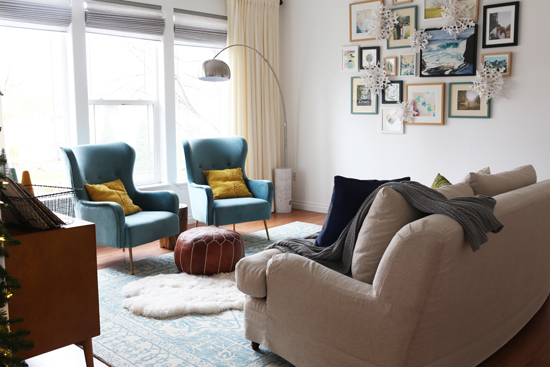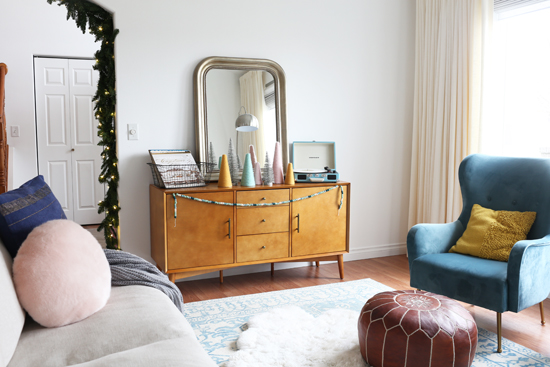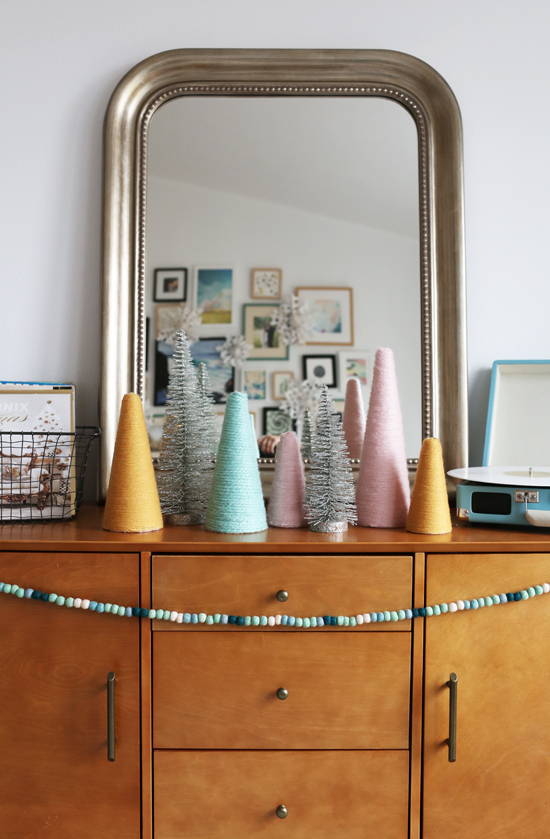 There's nothing wrong with going all out decorating for Christmas--a nativity scene, nutcrackers, Santa pillows, the whole nine yards. Especially if it brings you joy, go for it! But if that doesn't fit your style, I hope this gives you some ideas to decorate for the holidays in a more subtle way...no red and green plaid required. :)
P.S. See more on the Hayneedle blog.