The Home Depot provided me with product and compensation for this post. All opinions are 100% my own​.
For today's post, The Home Depot challenged me to create a room that exemplifies "west coastal style." Being from Washington, I'm sure my version of that is a little different than someone from California, but overall, I think of the west coast as laidback, casual, and in touch with nature. When it comes to houses, the east coast and the south are full of stately, historical homes that lend themselves to traditional decor. In the PNW, the quintessential house is more like a cool modern home or an A-frame cabin in the woods. And with less history to be mindful of, there are less rules to follow when it comes to decorating. Colors drawn from the outdoors, natural elements like wood and stone, and a overall a more minimal, modern, and relaxed aesthetic all say "west coast style" to me.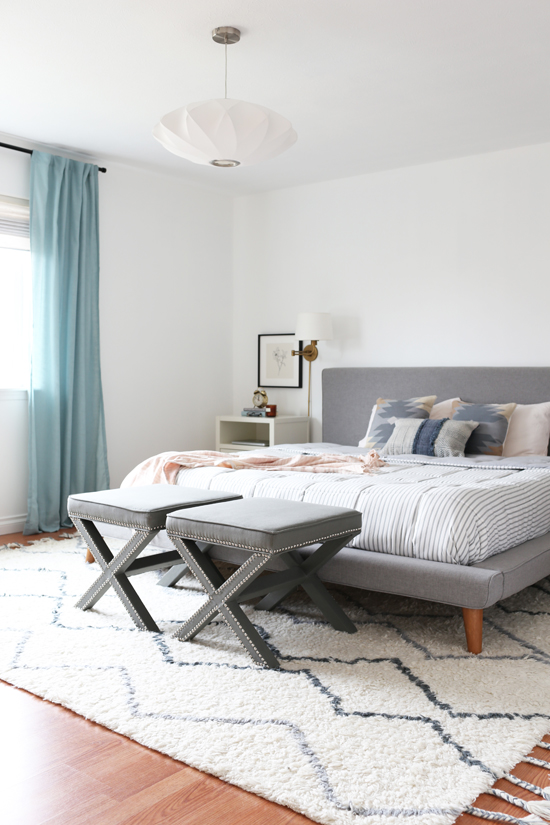 For our bedroom, I pulled in soothing hues of blue, green, and grey--colors that remind me of Washington beaches and forests. To keep the room from being too cool, I added blush pink, brass, and warm wood tones.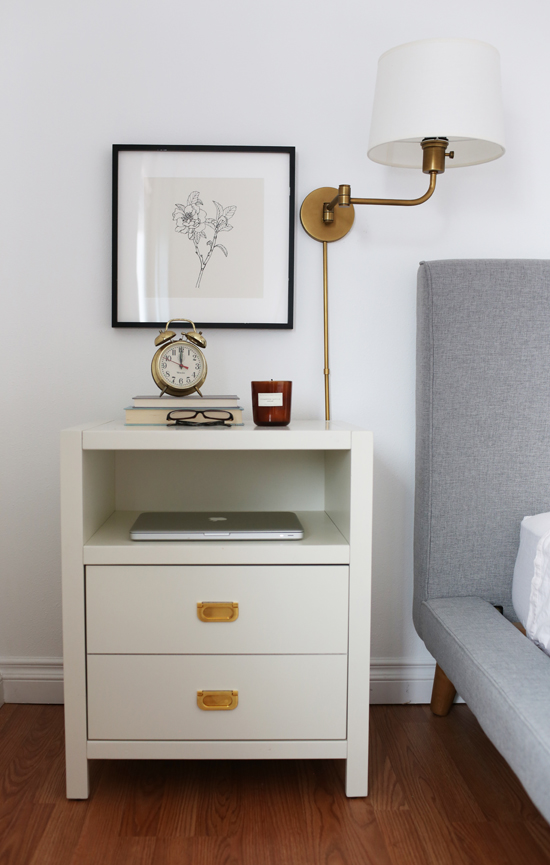 I purposely kept the decor simple and minimal. Since it's our bedroom, I want it to be relaxing and easy on the eyes. I have to admit it probably won't always be this tidy...but I'm trying not to add clutter with unnecessary decorative accessories. Soothing and restful is the goal.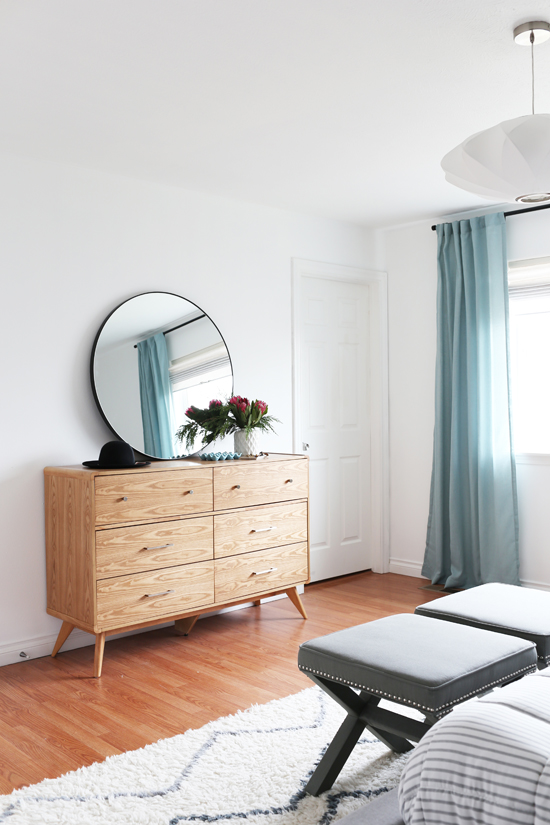 Most of the furniture and textiles in this room are from The Home Depot, including the midcentury style dresser, the white nightstands, the blue drapes, and the upholstered x-benches at the foot of our bed.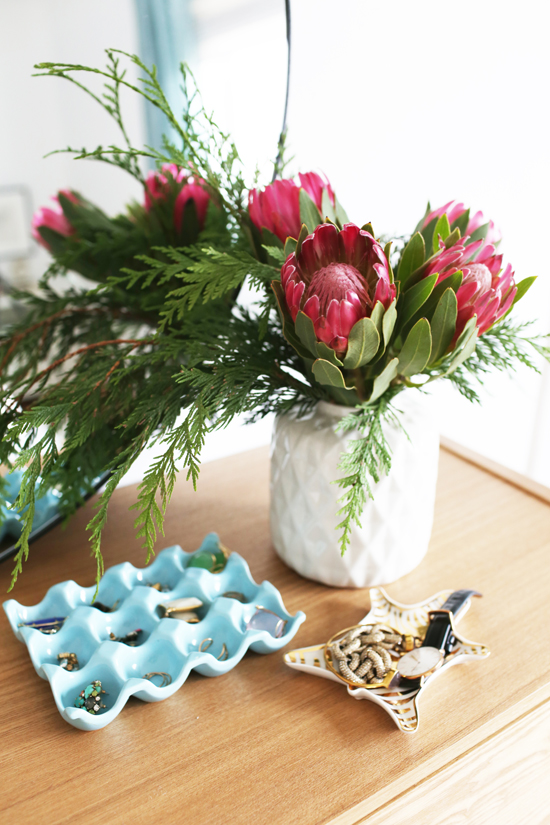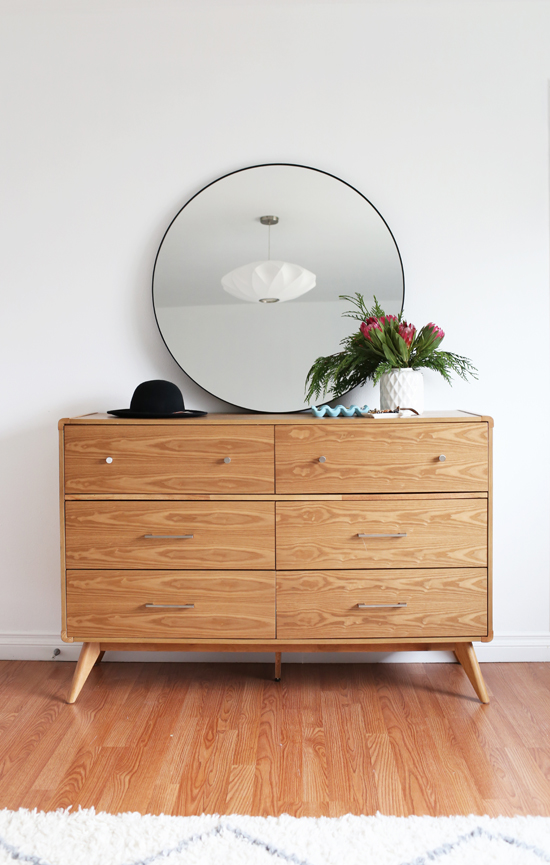 I'm really happy with how the master bedroom is coming together and I would say it's mostly complete now. I'm still hunting for the perfect mirror to go above the dresser (the round one here is actually from our entryway--I just borrowed it for photos), and I need to figure out what to do with the pillows. I hate having extra pillows that are just for looks; they're a pain to move every night. But a king size bed just doesn't look right without a WHOLE bunch of pillows. It's my only complaint about having a king! I know there are king size pillows that would fill up the bed more proportionately, but I've tried those. They're huge and floppy and annoying to flip over at night. So, I'll just have to play around with it and figure something out.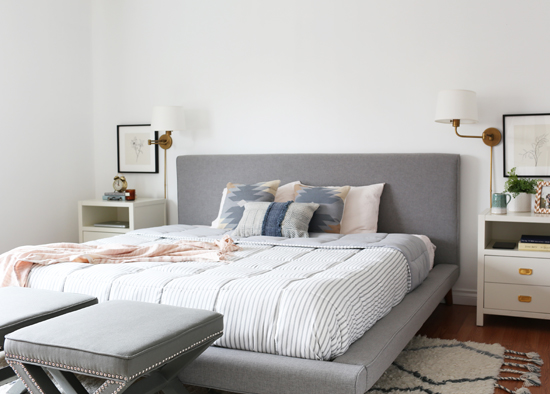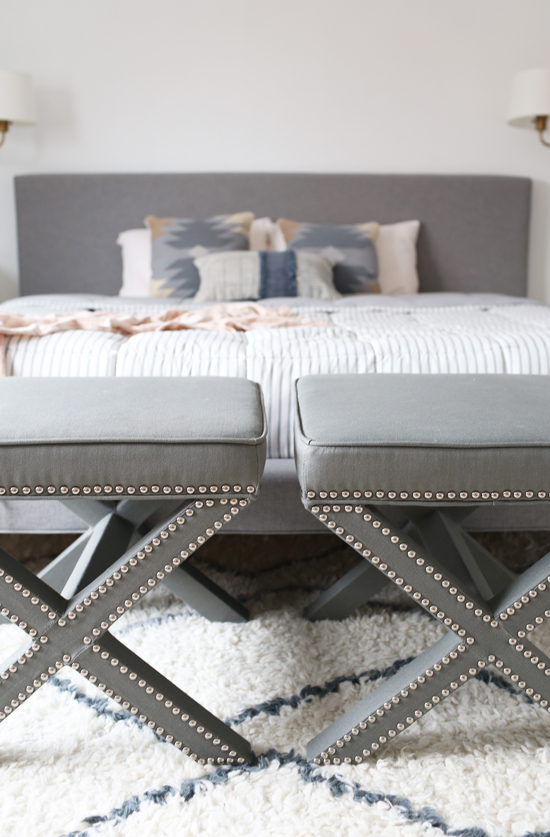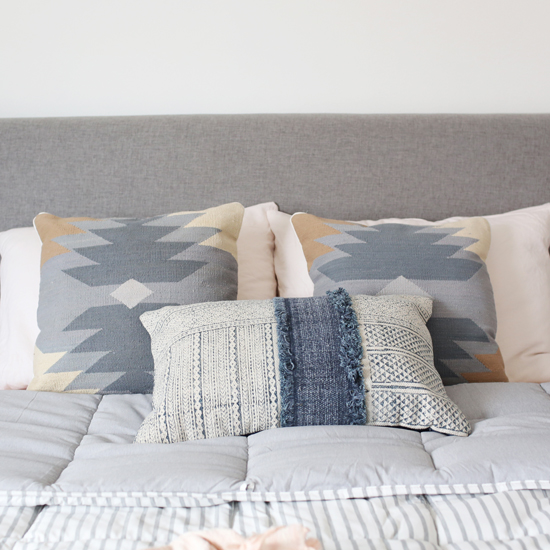 It feels good to have more color and pattern in here than we did a few months ago...and I like that this room still has a serene, calm vibe that feels right for the bedroom.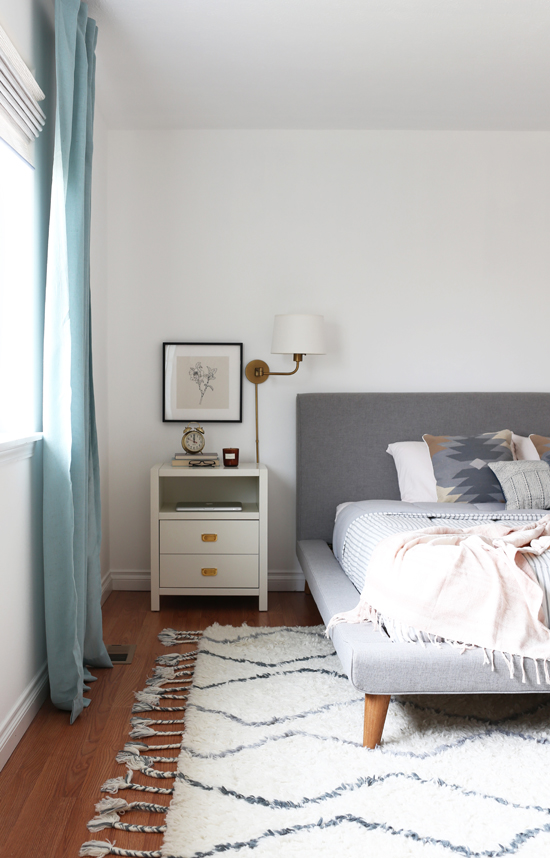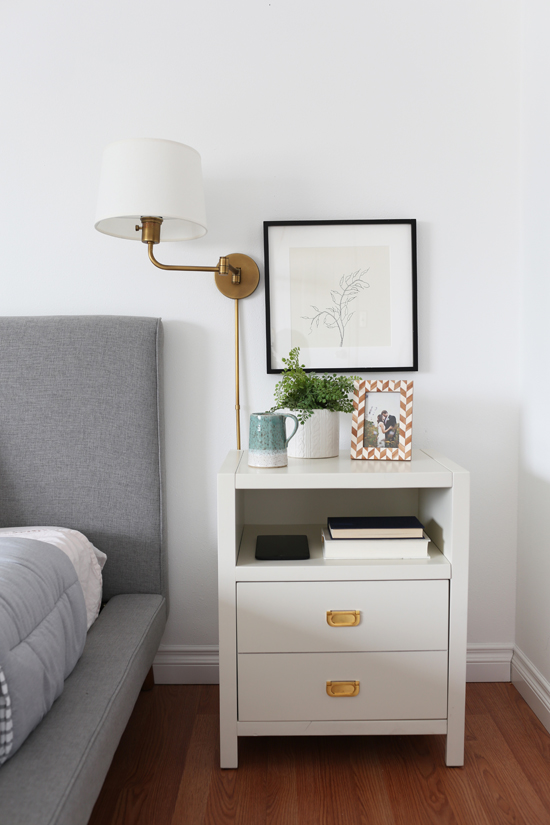 It's interesting to think about how the place we live influences our design choices. I have to say, I am definitely a Northwest girl. You're way more likely to find me in jeans and Converse on any given day than a dress and heels. And when it comes to interior design, I do find that I'm drawn more to clean lines and a laidback, mix-and-match approach more than elegant curves and matching furniture sets.
What about you? Where do you live, and do you think your decorating style reflects that?
Shop our room: Bed / Nightstands / Dresser / X-Benches / Drapes / Comforter / Square pillows / Lumbar pillow / Pink throw / Rug / Sconces / Pendant light / Round mirror