The Home Depot provided me with product and compensation for this post. All opinions are 100% my own​.
I'm welcoming in the new year by welcoming you into our entryway! When we first moved in, we loved the tall ceilings and all the natural light this space gets, but other than that it was looking pretty blah. Enter a fancy new light, a pretty tufted bench, and some other decor pieces from Home Depot, and it's making a muuuuch better first impression on our guests. I still have dreams of ripping out the boring brown tile and doing something prettier here, but other than that I'm very happy with this space.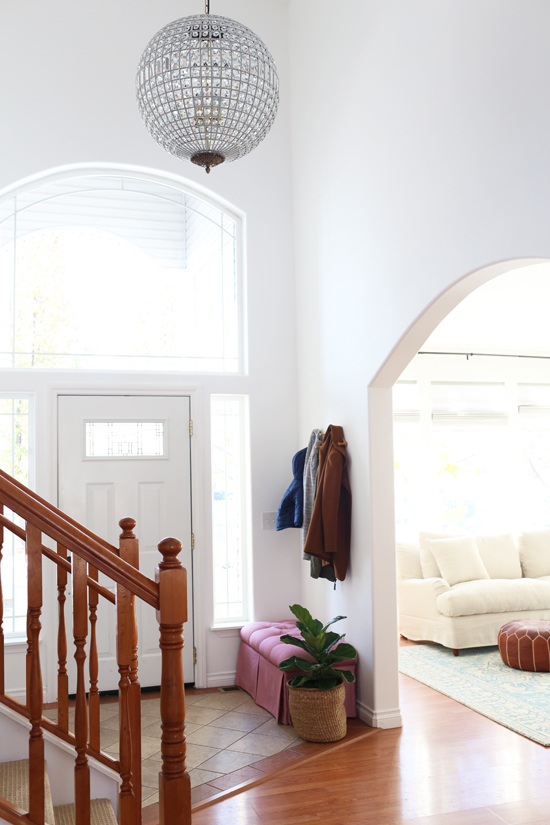 When you come in the front door, there's now a pink upholstered bench to your left, where you can sit to put on/take off your shoes. Best of all, the top lifts so we can store hats and gloves in there. It's been really handy to have that extra storage space this winter. Above the bench, there's a simple wall mounted coat rack for the coats we wear regularly (the rest of them are still in the coat closet, on the opposite wall).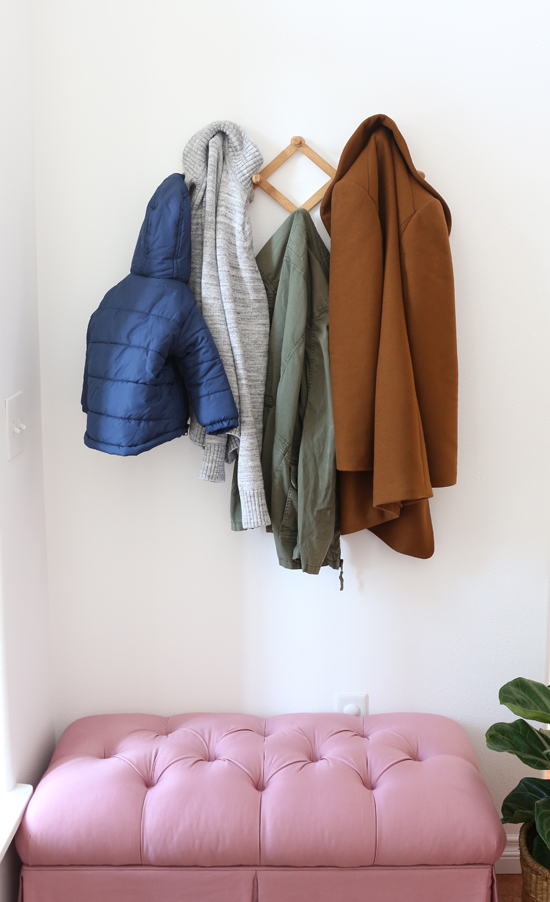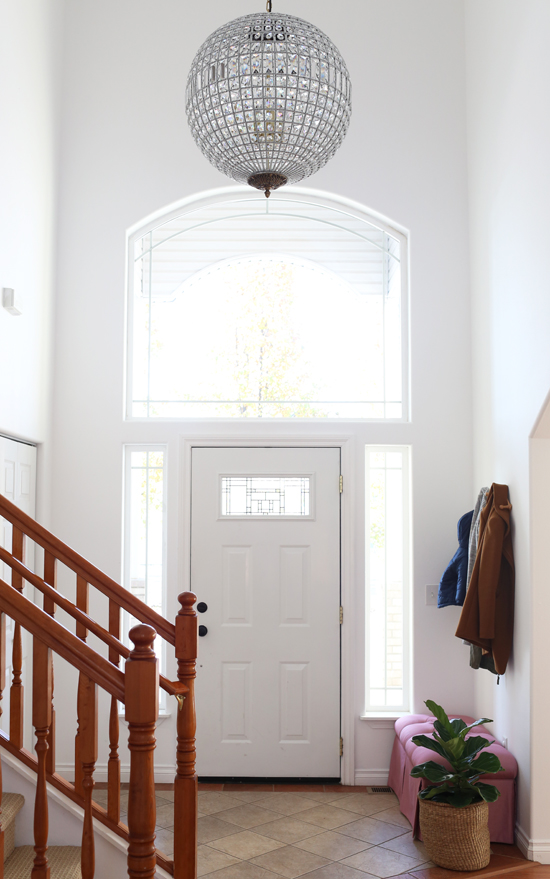 The biggest difference, and my favorite part of the whole entryway, is the new chandelier. It's the Olivia 5 Light Crystal Chandelier, and it's gorrrrgeous. It was a bit of a challenge figuring out how to wire a new light on a 17 ft ceiling...but we did it. Or rather, I should say, Ben did it with the help of his brother and two extra-tall ladders. We wanted something grand and dramatic (but not gaudy), and I think this chandelier fits the bill perfectly. The crystals feel really fancy, but the simple sphere shape keeps it from being over-the-top. A huge improvement on the light that was there before.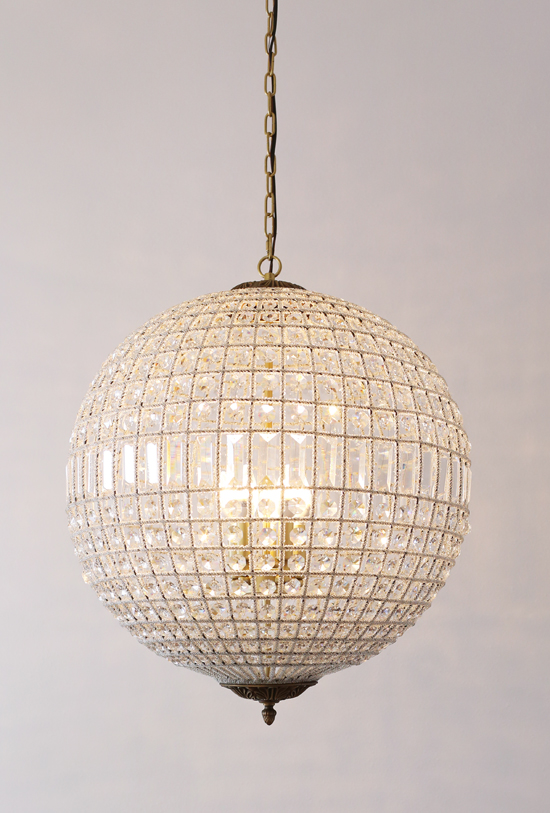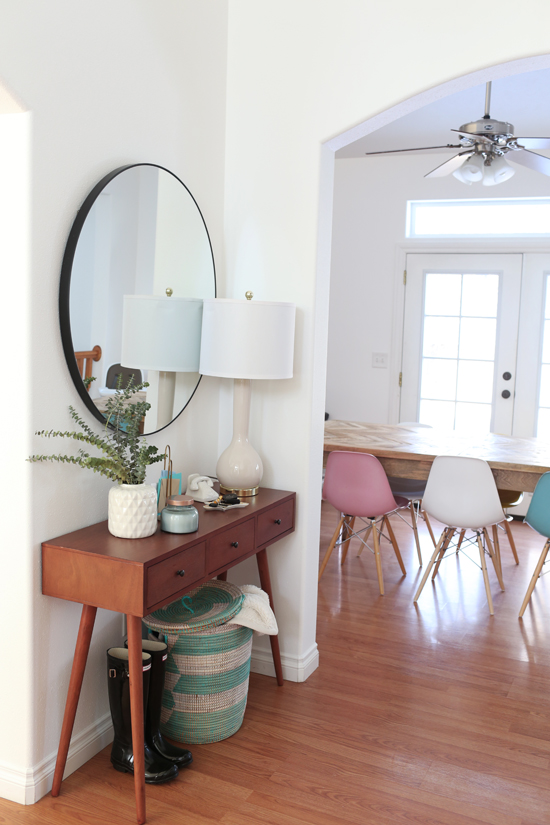 Past the stairs, we have a midcentury style console table with drawers for envelopes, stamps, and other small items that are nice to have accessible. Above it we hung a big round mirror with a simple modern frame. On the table, I put a skinny table lamp for extra light, plus a few small organizers for holding things like keys and mail. And under the table, I put a bigger basket for extra storage (right now we have throw blankets in there).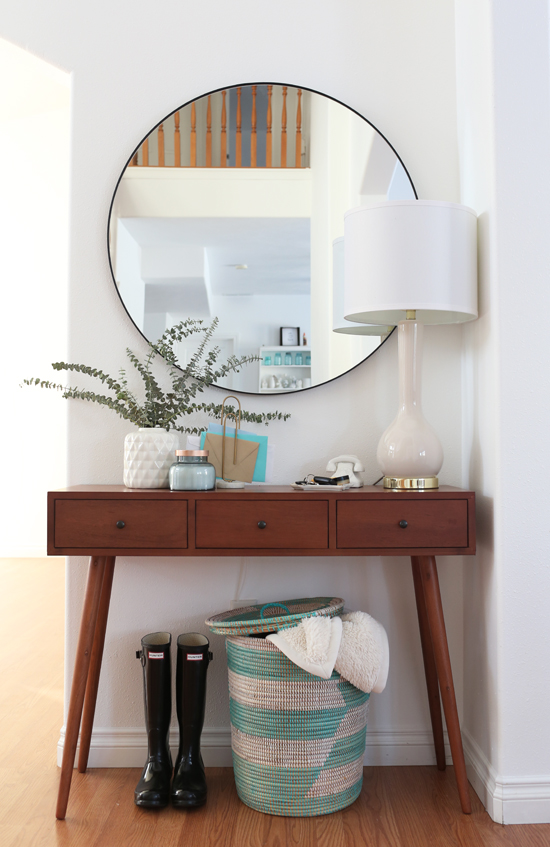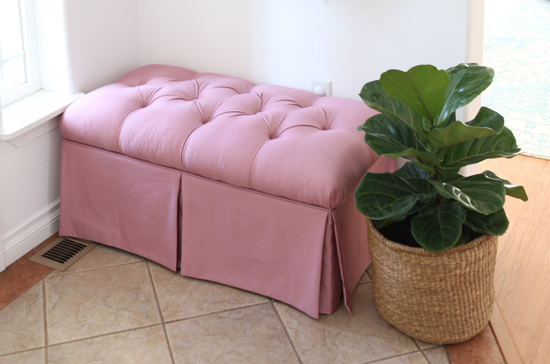 The last addition to the entryway was a fiddle leaf fig plant. I've wanted one of these for years! We killed all our old houseplants in the move (terrible) and at first I thought I should just admit my plant-killer status and start over with fake plants. But I decided to give it another try, and so far this guy is doing great! I think he likes all the natural light that the entryway gets.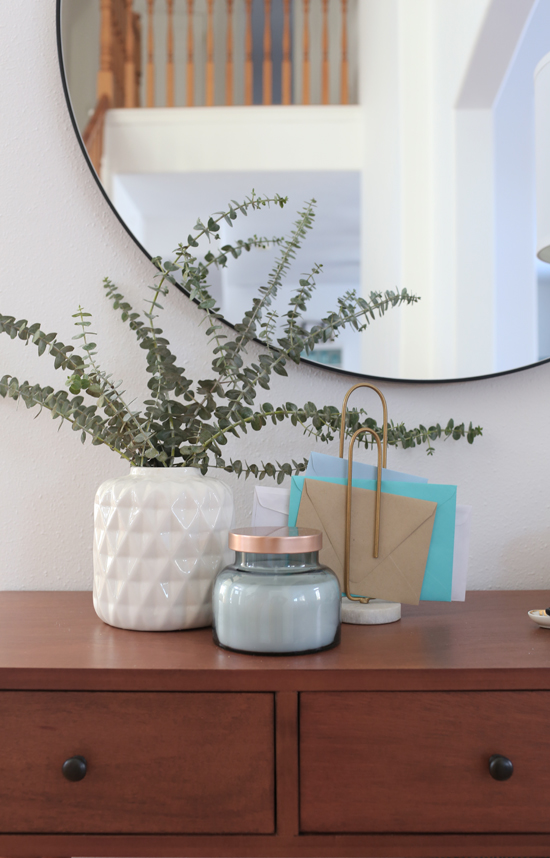 This space is so much more welcoming now! Since the entryway is the first thing people see when they come into your house, I think it's well worth spending a little time, effort, and money to make it feel decorated and considered.
P.S. Have you ever browsed The Home Depot site for decor? I think most people think of them as a destination for big renovation projects involving lumber, tile, paint, etc. Maybe plants and lighting too. But they have so much more online than what you see in the stores! I've been really impressed with their selection of decor and furniture. Definitely worth checking out! You can shop all the items from our entryway and see more ideas here.