Did you guys see Aramide Esube's gorgeous living room makeover on The Everygirl? It is pretty much my dream living room and I'm equal parts jealous that she won this awesome $5000 makeover and inspired by how pretty every last detail of it is. Well done, girl, well done.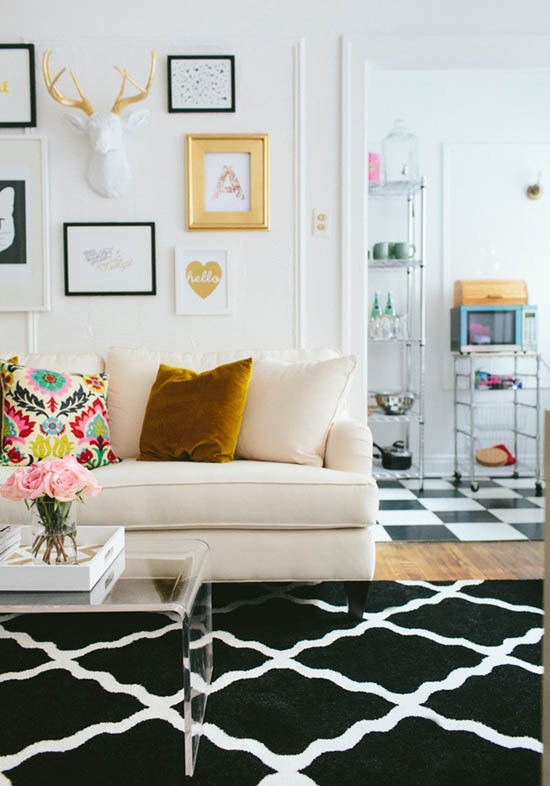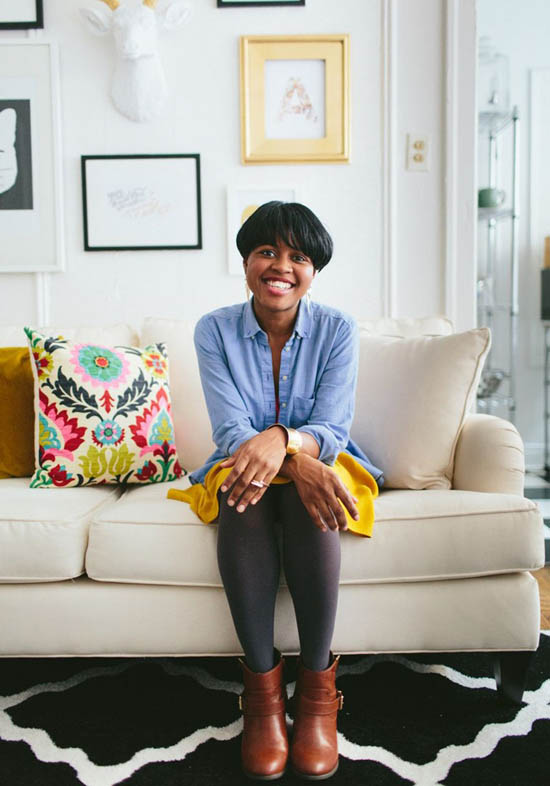 Aramide has a studio apartment, so this space needed to be multi-functioning--it's both bedroom, living room, home office, and storage. The Everygirl did a great job of pulling together pieces that wouldn't overpower the space (or the budget!). From an apartment sized sofa (which I am totally drooling over), to a Lucite coffee table that doesn't take up much visual weight, to a daybed that can function as extra seating if need be, each piece of furniture was carefully chosen to work hard and work well.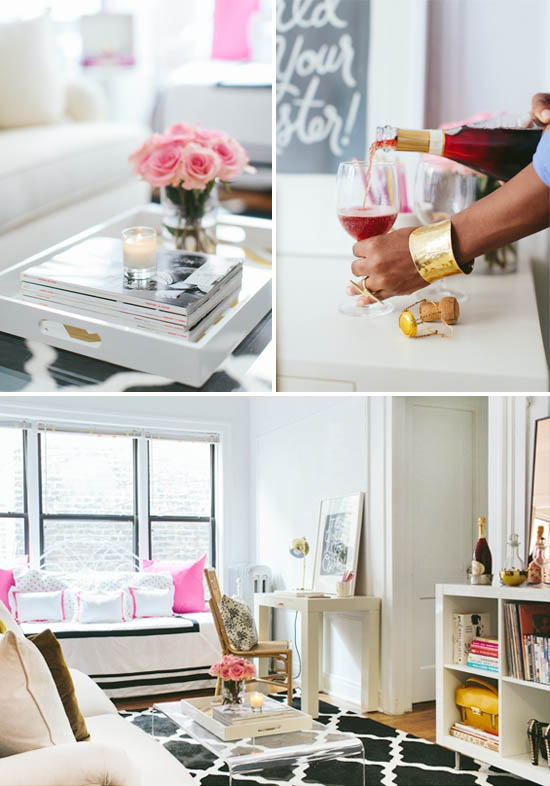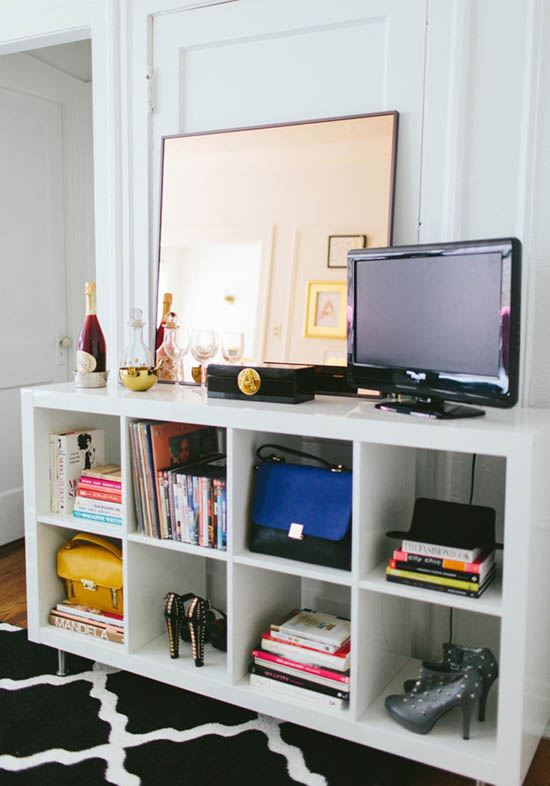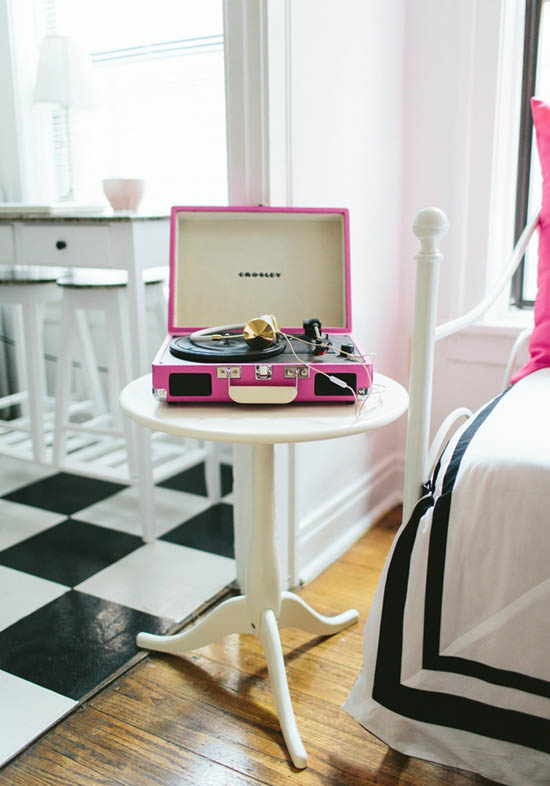 A pink record player?! I want!!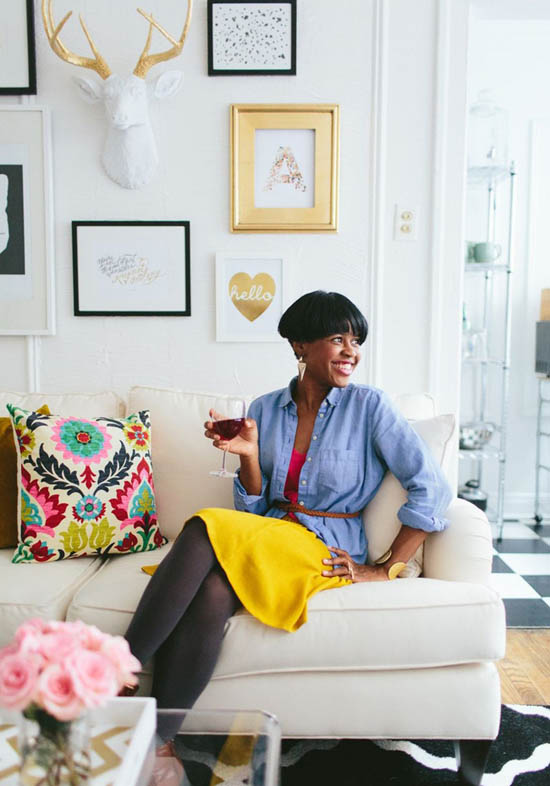 Isn't Aramide so cute? She writes a style blog, so of course her outfit is totally perfect.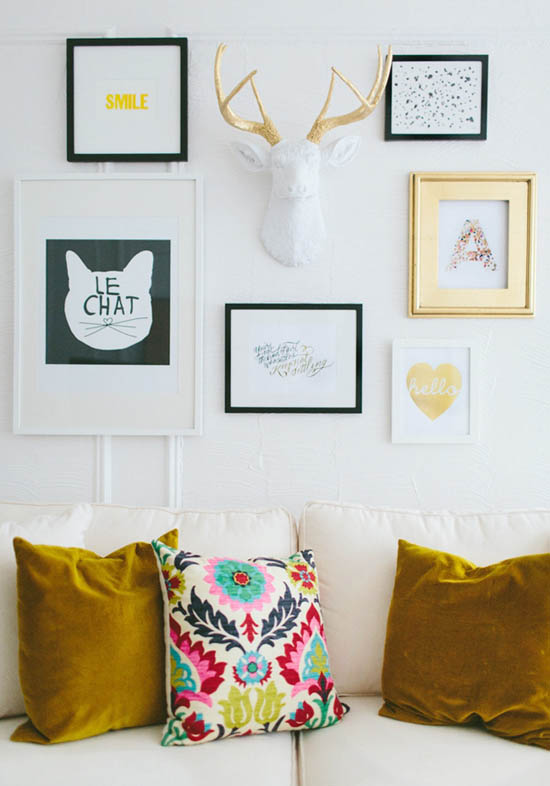 Love this gallery wall, especially the White Faux Taxidermy deer head.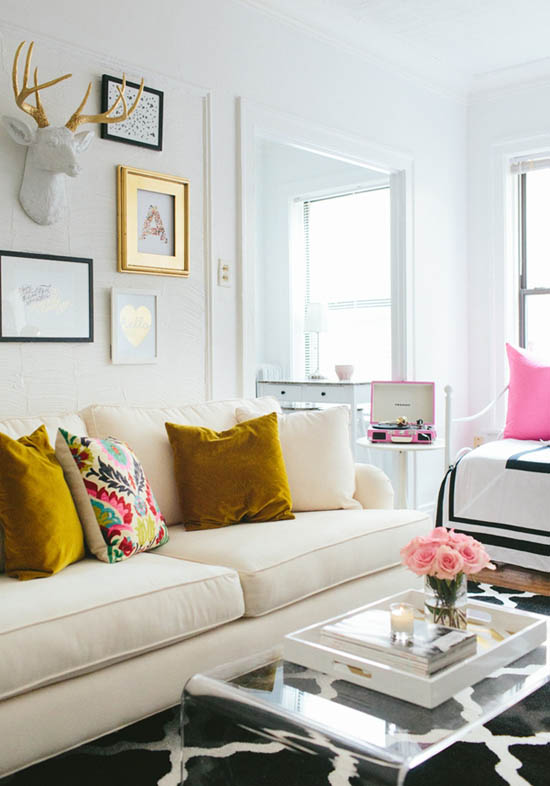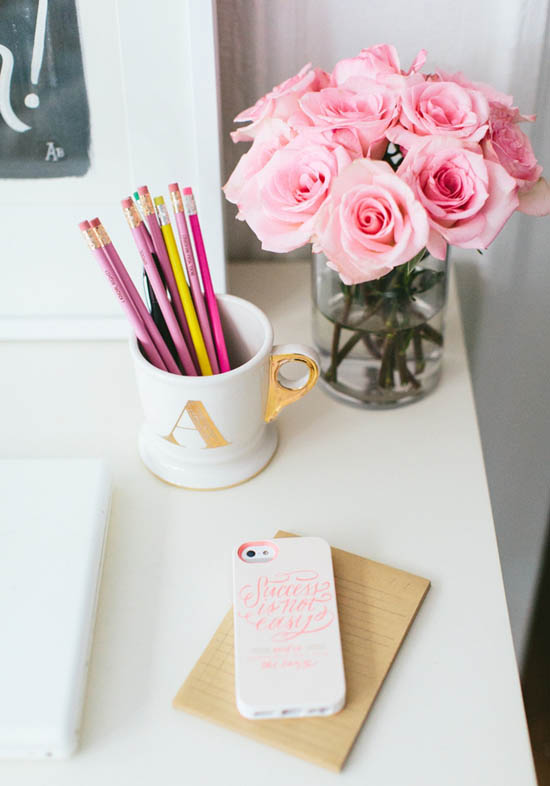 Some colorful pencils, pink roses, and a gold Anthro mug. You know, just the regular desktop essentials :)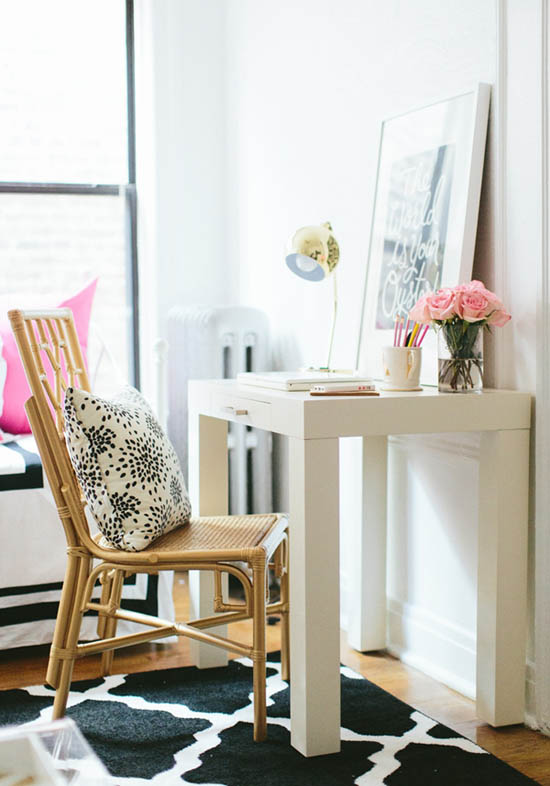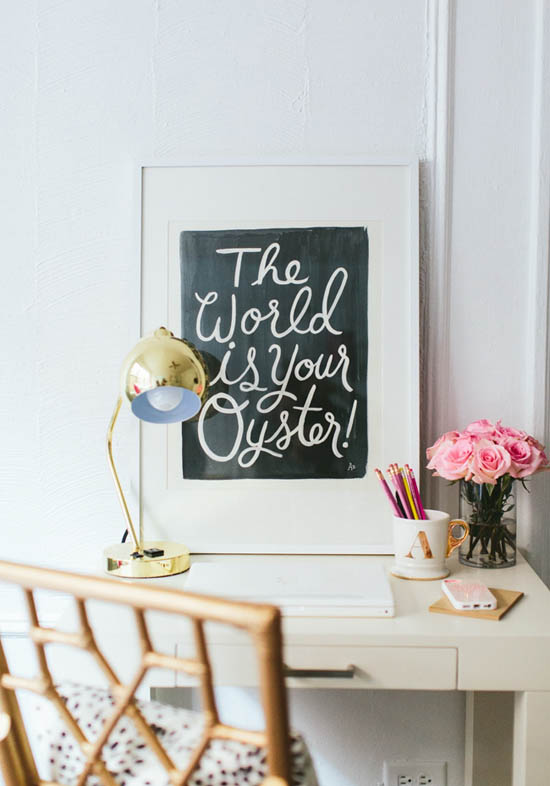 Sooo pretty, feminine, and stylish! I'm loving all the gold and pink, and I really want to get one of those "The World is Your Oyster" posters from Rifle. What do you like best out of this room?
And here's what I'm really impressed by--check out how budget-friendly all of these product sources are! I see they got a few things from PBTeen, which is totally one of my favorite tips for decorating on a budget. I'll have to check out the rest of these shops too. Most of them I'm familiar with, but there are a few names in there that are new to me. I love finding stylish shops that are easy on the eyes and easy on the wallet!
LIVING SPACE: Sofa: Home Decorators $999 / Rug: RugsUSA $218 / Gold floor lamp: Urban Outfitters $98 / Floral pillow: Willa Skye Home on Etsy $42 / Velvet pillows: World Market $29.99 (Aramide already owned) / Coffee table: CB2 $279 / Chevron tray: C Wonder / Antlers: White Faux Taxidermy $119.99 / Le Chat poster: Mini and Maximus $50 / SMILE print: Heartfish Press on Etsy $6 / Keep Not Settling print: The Everygirl Shop $30 / Hello print: SS Print Shop $35 / Dots print: MadeByGirl $17.95
BEDROOM: Daybed: Macy's $349 / Black and White Duvet Cover: Pottery Barn Teen $99 / Pink Euro shams: Babun on Etsy $20 / Gold polka dot pillowcases and sheets: Pottery Barn Teen $79 / Pink trim boudoir shams: Biscuit Home $55
OFFICE: Desk: Pottery Barn Teen $199 / Chair: Society Social $275 / Fireworks pillow: Society Social $125 / Desk lamp: Urban Outfitters $69 / Oyster print: Rifle Paper Co. $50 / Initial mug: Anthropologie $10 / iPhone case: The Everygirl Shop $34
MEDIA STAND/BAR SHELVES: Lacquer shelves: Ikea $89.99 / Rose colored mirror: CB2 $149 / Decanter: Target $10.48 / Monogrammed lacquer box: C Wonder $78 / Gold bowl: CB2 $4.95
All images via The Everygirl. Head over there to see the before and read more about Aramide and the inspiration for this room.