Two DIYs in one week? I know!! This project is actually one that I created for The Proper Pinwheel awhile ago. I thought I'd share it with you guys as well--plus show you how I'm using these mini pallets in my house. I originally thought they'd be cute as a table runner, placemats, or a cake stand…then I ended up mounting them on my wall and sticking my new airplants in them. I like this look even better! We also considered turning one into a mail organizer and adding hooks at the bottom for keys and stuff. The possibilities are…well, not endless, but there are a lot!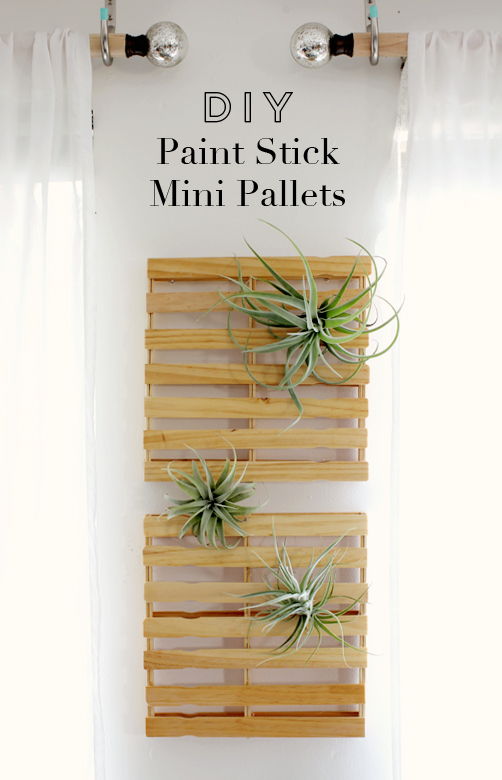 What sparked this idea was all the different shipping pallet DIYs that I've seen over the last couple years. Seriously, pallet projects have been all over Pinterest and the blogosphere--don't tell me you haven't noticed. I really like the way they look, but Ben is firmly against bringing a pallet into our house. And after hearing about all the chemicals and grossness that are on shipping pallets, it's probably for the best (although I have to say…the pallet bed I posted awhile ago is super cute). So when I thought of this idea, it seemed like the perfect way to get my pallet fix in a clean, cute, and Ben-approved way. Plus, anything miniature is always a win in my book.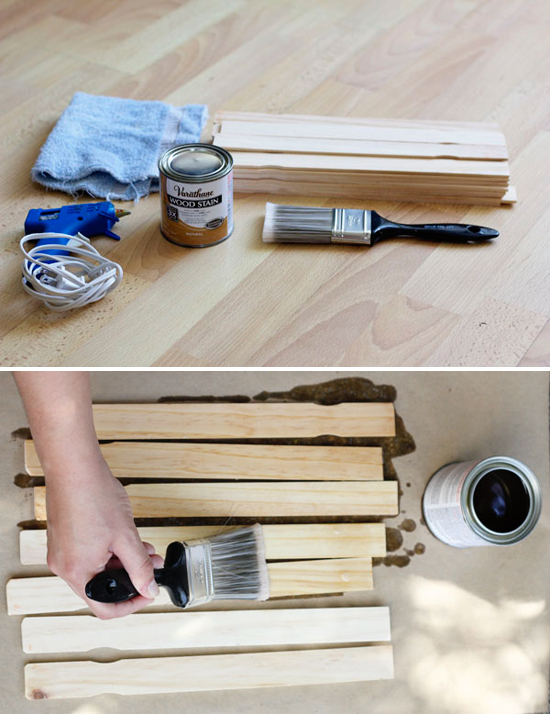 You will need:
16 paint stir sticks per pallet. You can buy them in bulk online, or pick them up for free at your local hardware store
Natural/light colored wood stain (optional)
Hot glue & hot glue gun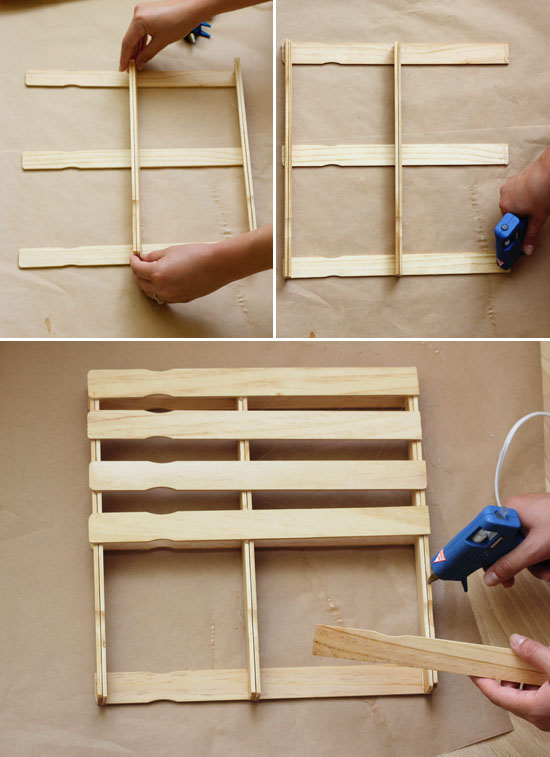 Directions:
Stain the paint sticks for a more realistic color. You can skip this step and leave your wood untreated if you'd like. If your stir sticks have writing on one side, glue together three sets of two, writing side in. Lay down three stir sticks (writing side down), at the length of one stick. Glue crosswise the three sets of sticks that you already glued together–one on each end and one in the middle. I didn't measure where to put the middle set, and mine turned out just a little bit off. It's probably a good idea to measure where the middle is and mark it first, so you know where to place the glue. Don't be impatient like me! The last step is to glue the last seven sticks on top, laying them flat with the writing side down.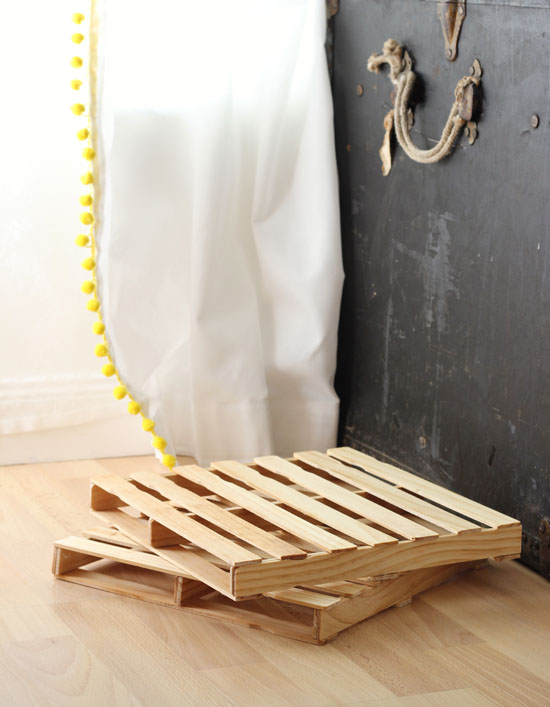 And that's it! Super easy, miniature pallets.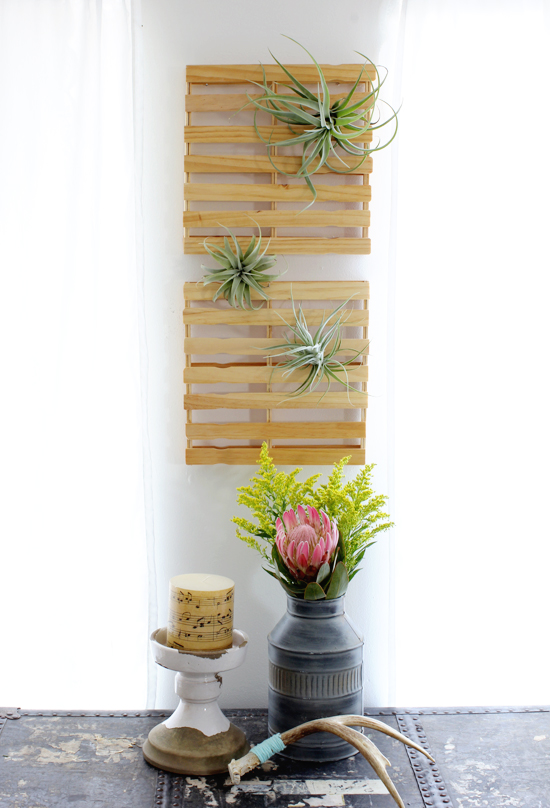 And here they are in my house! Aren't my new airplants cute? I just love them. Fingers crossed that I won't kill them!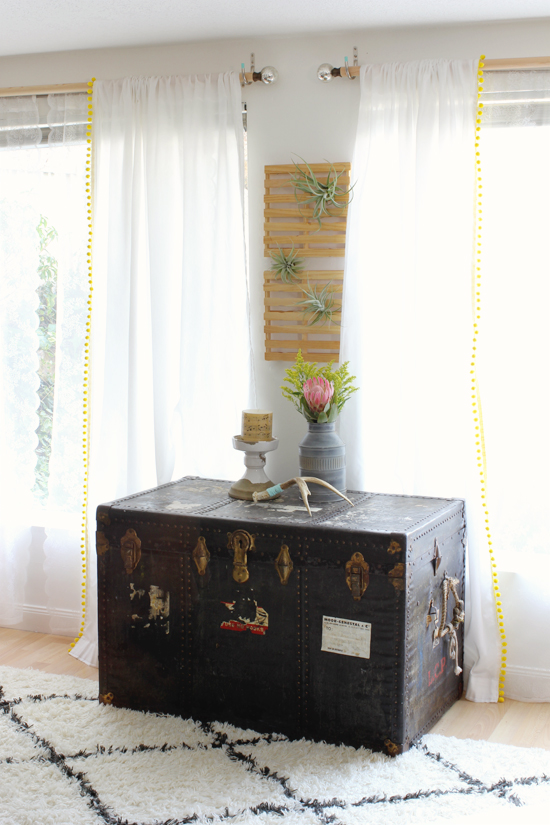 What do you guys think of this project? See how I originally envisioned them (as a table runner) on The Proper Pinwheel.