It's that time of year! One of my favorite New Year's "rituals" is reading my goals from the past year and seeing how my reality matched up, then setting goals for the next year. I also love chatting with Ben about our big combined goals and making plans for how to reach them. It's so helpful to talk through these kind of things with someone else...whether it's your husband, a friend, or even a blog. :) Honestly, that has been one of my favorite things about blogging throughout the years. It's like an online diary where I can record my hopes, dreams, and goals, and refer back to them in the future. And what's even better is when it's a conversation, not just one-sided. On that note, I would loooove it if some of you take the time to comment with your feedback, advice, and your own goals for 2017. It seems like these days, all the conversation is moving to social media, and that's cool too...but I kind of miss getting comments in response to my blog posts. Is traditional blogging dead? Oh well, at the very least, I'm posting this for my future self. Here we go, my top ten goals for the new year!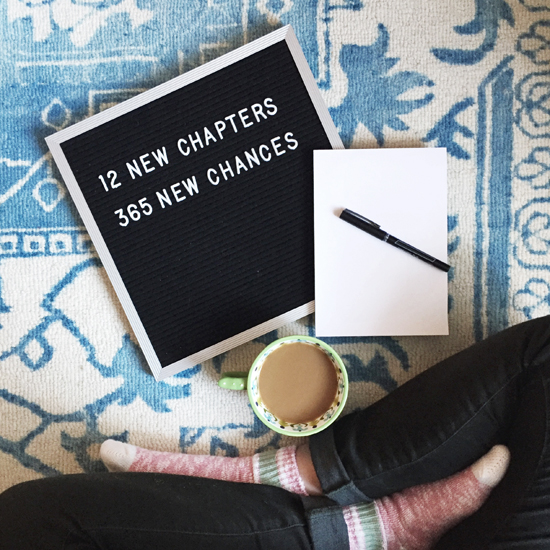 1. Figure out where we want to live - The housing market in the Seattle area has exploooded over the past few years, and we feel like it's a bad time to be first-time buyers here. We could keep renting and see if prices drop...or we could move even further out, making Ben's commute super sucky...or we could get a house where the mortgage really stretches us. But none of those options are very appealing. We're both open to moving to a more affordable area, and the more we discuss it, the more we're actually excited about the idea. We'd like to raise our kids somewhere with a slower pace of life, less traffic, good schools, and the possiblity of owning some property. More affordable areas often check those boxes. So we've pretty much decided that we want to move...now we just need to decide where. We're looking for the right mix of cheap(er) housing, good jobs (at least one), people we know, beautiful nature, and things to do.
2. Buy a house - Obviously this goal is dependent on #1, but I'm hopeful that we can accomplish both in 2017. After all, housing prices are a big part of the reason why we'd be moving in the first place. If we go somewhere cheaper, we should have a lot more options within our price range which should make house hunting more fun and successful than our experience in 2016. Theoretically, anyways. Fingers crossed!
3. Get smarter about how we spend money - Now that we're down to one full-time income, we're trying to get smarter about how we spend our money. We quit a few subscriptions that we didn't use enough to be worth it, started shopping at a less expensive grocery store that's a bit farther away (go WinCo), and have been making coffee at home. I'm also looking into a less expensive phone plan (anyone tried Google Fi, Republic, or Cricket?) and have been checking for coupon codes every time before I make an online purchase.
4. Continue traveling - This goal has been on my list the last two years, and I want to keep making it a priority. Ian can fly for free on our laps up to two years old, so I really want to take advantage of that while we can and squeeze in a few more big trips (maybe even an overseas one?). At the very least, we've promised my brother that we'll visit him in Illinois this year.
5. Lose weight - Yet another classic resolution that I've had on my list for years. Argh. Last year, I learned some healthier recipes, went on lots of walks, and started eating more veggies--but I also had a baby. I would really like to get back to my pre-pregnancy weight (and ideally, my wedding weight) before I get pregnant again. It's tough though, because I'm still breastfeeding Ian and I don't want to lose my milk supply. Or maybe that's just my excuse and it's actually tough because I just want to eat sweets and be lazy in the house...haha.
6. Get out of the house every day - Speaking of being lazy, I'm a total introvert and a homebody, and I would probably be happy to just hang out at home for days on end. My tendency to stay home has gotten even worse with Ian, because it takes even more effort to get us both ready and out of the house. But I'm usually happier when I do manage to get out, whether it's going for a walk, getting together with a friend, doing errands, or just stepping outdoors for a bit. So I'm challenging myself to get outside every day this year. I know that might sound pathetically easy if you're a naturally energetic and outgoing person, but honestly this will be hard for me. I'm hoping it will end up helping with other goals though--help me to exercise more, help me remember to set up dates with friends, and help Ian experience lots of different environments and conversations.
7. Document daily life with our "big camera" - This was one of my mini-goals last year too--to take more pictures of our everyday life with the big camera instead of my phone. This is for two reasons: 1) so the photos will be better quality and 2) so I'm on my phone less. Sometimes I pull out my phone for a quick picture of Ian and fifteen minutes later, I'm still on it, checking Instagram or email or whatever. With the big camera, I feel like I'm more in the moment. Also, I'd really like to improve my photography this year and the first step to that is taking more photos.
8. De-clutter - It's starting to look like we're hoarders...we've definitely accumulated too much stuff for our little 1200 sq ft house. If we stay here, then we absolutely need to pare everything down. And if we move to a different place, I don't want to pack up a bunch of stuff that we'll just end up storing or getting rid of there. Might as well deal with it now so we have less to move!
9. Update this blog - I'm super excited about this goal, and the fact that I'm finally in a place where I can put a little more effort and focus into blogging. It's always been a side hustle for me, squeezing in DIY projects on weekends and writing posts in the evening after my "real job." I haven't put any significant effort into the behind the scenes stuff since 2012, when I started this blog...and everything has evolved a lot since then. There's a laundry list of things that I've been meaning to do: make my site mobile friendly, update my about page, put some work into my social media channels...I could go on. It's actually pretty embarrassing. So this year, I'm hoping to tackle that list and make this blog feel more professional. 
10. Less comparing, more community - I have a tendency to compare myself with other bloggers on Instagram, and I hate it. There's always something to covet, something to be jealous of, someone who seems to be doing life "better." I know social media is just the highlight reel of people's lives (and sometimes it's staged anyways--not real life)...but it's hard to keep perspective when you're scrolling through sooo many perfect photos. When I started blogging, part of what I liked was the community and connecting with like-minded people all over the world. There were a limited number of bloggers I followed, but I felt like I "knew" each one a little bit, and reading their blogs made me feel inspired and connected. Gradually, I've stopped reading and commenting on blogs as much, and instead have followed more and more people on Instagram. It's easier and quicker, but it's emptier and more superficial too. This year, I want to go back to engaging with people in a more meaningful way: actually reading their blog posts, getting to know them, and leaving comments, rather than quickly double tapping photo after photo. I'm hoping that will help me feel less jealousy and more camaraderie!
I have lots of other little goals and to-do's, but these are the ten that I really want to focus on this year. I'd love to hear what your resolutions are too! Cheers to a great 2017.