Hi guys! Sorry, I don't have a "real" blog post planned for today. I've been spending the last few evenings trying to plan our itinerary for our Southern road trip in October! Honestly, trip planning is not my favorite thing to do, so I've procrastinated this for way too long. I love vacations, I just don't like all the research and planning beforehand--and I never feel like I have a good chunk of time to work on it. But since the trip is coming up really soon, I've finally been making it a priority to get some plans squared away. I know you all have great taste, so I thought I'd enlist your help and ask for your recommendations! I posted about our trip awhile ago when we were just starting to think about it, but since that post was fairly general, I'm hoping some of you may have specific recommendations for the cities we are planning to visit. I'm looking for things to do, restaurants that we shouldn't miss, and places to stay. I'm struggling most with where to stay. We were hoping to find places for under $100/night, although we could go a little above that if the place was worth it...but all the hotels I saw recommended were more than a little out of our budget. I also checked out airbnb, which looks promising, but there aren't too many options for apartments/homes that we'd have to ourselves (which would be our preference). Do any of you know of a great hotel in the cities below--or someone that rents their place out? If so, please let me know!! We don't need a place to be fancy or luxurious, just clean and maybe a little fun and unique. We're renting a car, so it's ok if it's not downtown.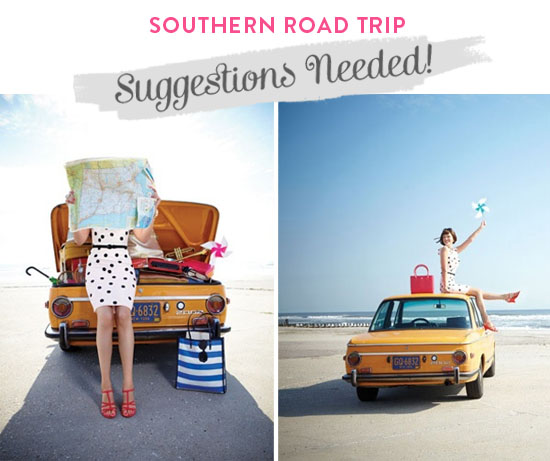 Here are the cities on our list:
Nashville, Tennessee / Chapel Hill, North Carolina / Charleston, South Carolina / Savannah, Georgia / Pensacola, Florida / New Orleans, Louisiana / Atlanta, Georgia ... and then back to Nashville!
Do any of you have recommendations for me??
I'm also curious, how do you guys normally find places to stay? Do you ever do the "name-your-own-price" thing on sites like Priceline? We've done it once before and were happy with how it turned out, but I'm nervous that we might not get so lucky the next time. Also, have you guys used airbnb? If so, what was your experience? Please share your trip planning tips with me! I totally need your help...
Photo via The Weekend File.