I haven't posted our dining room since we moved in, because not much has changed in there...yet! But it's on my list of rooms to tackle this year, so I thought I'd remind you what it looks like now, and share what I'm thinking for the future. I've been craving spring, so I laid down a breezy white linen tablecloth and arranged some fresh flowers to go on the table. I don't usually go for roses, but I think all the Valentine's Day vibes at the store nudged me toward them. And I'm glad--they smell so good! Fresh flowers are THE best way to make a room feel cheerful and beautiful, which is especially necessary this time of year. So don't wait til Valentine's Day--go get yourself some flowers now!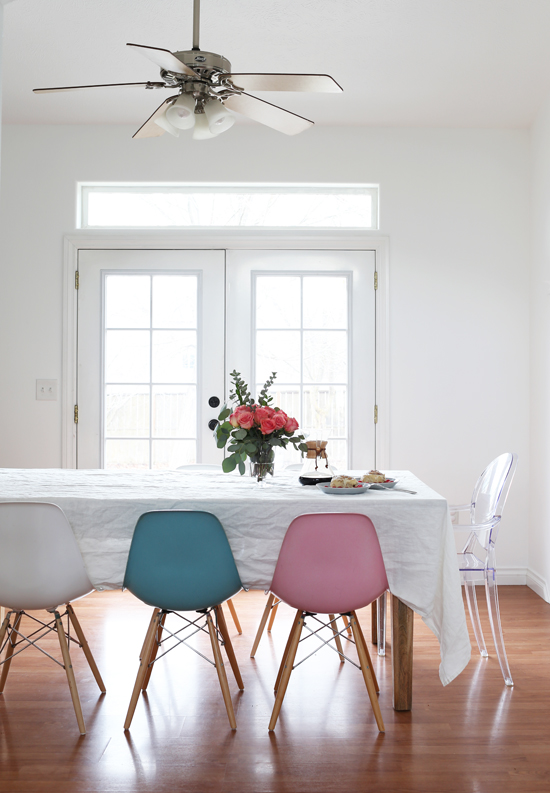 Here's our dining room currently. It's the first thing you see as you enter the house (see how it connects with our entryway here). It works for everyday family meals, but it's pretty cramped but for larger gatherings and we can't extend the dining table fully in this space. It's also kind of annoying to have a big table blocking the French doors when you're going in and out of the backyard.
My plan is to put a smaller round table here instead--one that will take up less space and be easier to navigate around. I'm thinking the round table will become our "casual" dining room, for family meals, games, and kids' crafts/coloring. I want to keep the Eames chairs here and get a white table with a flat surface that's easy to wipe (maybe a Tulip table?). And we need new lighting. Ben likes the fan in here, but eventually I want something prettier!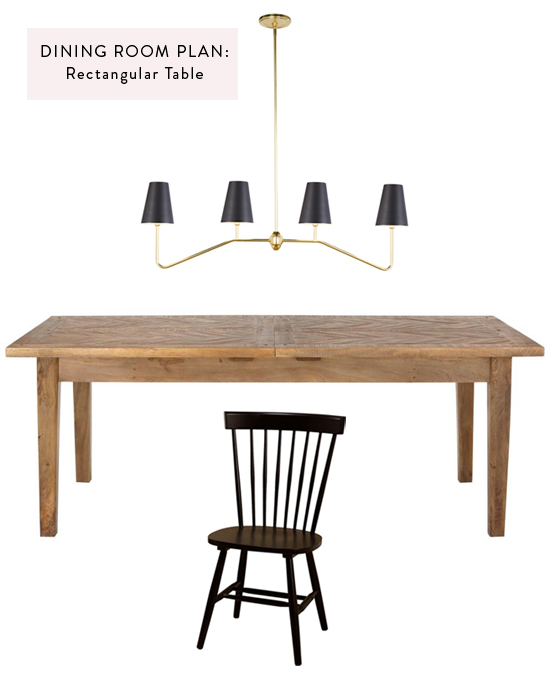 I still love our current table, and I want to move it once we remodel the kitchen. It will go in between the kitchen and the living room, so we end up with one big great room (similar to this layout). I'm thinking of getting some black Windsor chairs for this table. I realize that's a really trendy look right now--but Windsor chairs are a classic silhouette and they're pretty dang affordable, so I don't care. I haven't decided what to do about lighting, so if you have an opinion on this, please let me know! We already have a Sputnik pendant in our living room and I want to hang pendants over the kitchen island too. I'm worried that adding another fixture will make it look busy and cluttered...but I also love beautiful lighting over dining tables! And I wonder if the dining room will feel unfinished without any lighting. If we do anything, I like the idea of a linear pendant that matches the proportions of the table. Do you have an open concept space? If so, what's your lighting situation?
I'm also curious what you think about dining room rugs. I think they look great, especially in open concept spaces. A rug can really help to define the dining room as a separate area from the living room and kitchen. But Ben thinks a rug in the dining room would get nasty really quickly, what with crumbs and spills (especially since we're going to have two young boys pretty soon). And I have to admit, he's probably right. Do you have a rug in your dining room? And if so, what kind of rug is it and how is it holding up?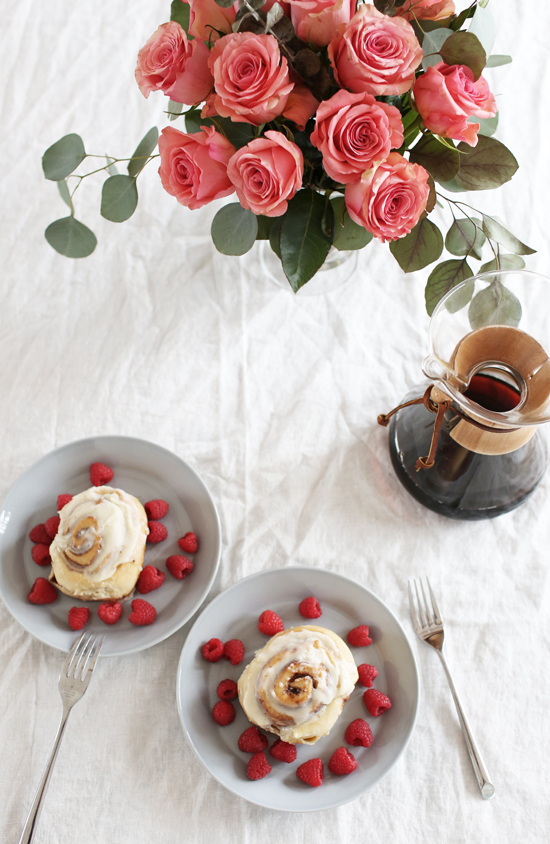 I'll end with a couple more photos of our current dining room. I made cinnamon rolls the other day, and I finally found a good recipe for big fluffy ones that don't require you to spend all day waiting for the dough to rise! Add some cream cheese frosting and some red raspberries, and it feels like a festive Valentine's Day breakfast. So easy and yummy.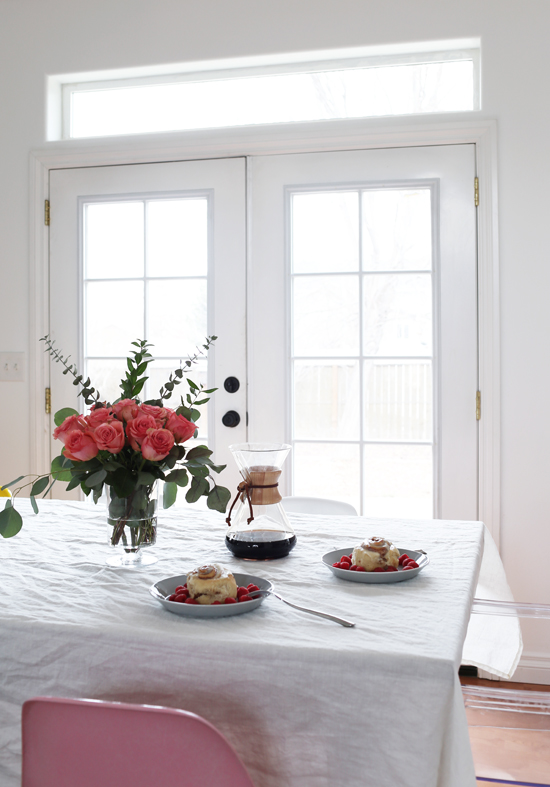 And I love having fresh flowers in the house, especially in the winter when there aren't any flowers to enjoy outside. This arrangement was super easy to put together. I just criss crossed the stems of some eucalyptus, then added the roses. A combination of greenery + one type of flower (in one color) is the easiest way to create a floral arrangement that looks good...at least if you're a beginner like me. This took me no time at all! I'm going to leave the roses out so we can enjoy them with our meals for as long as they last. But the tablecloth, to be honest, is already gone. With a grabby toddler, it's just not realistic. :)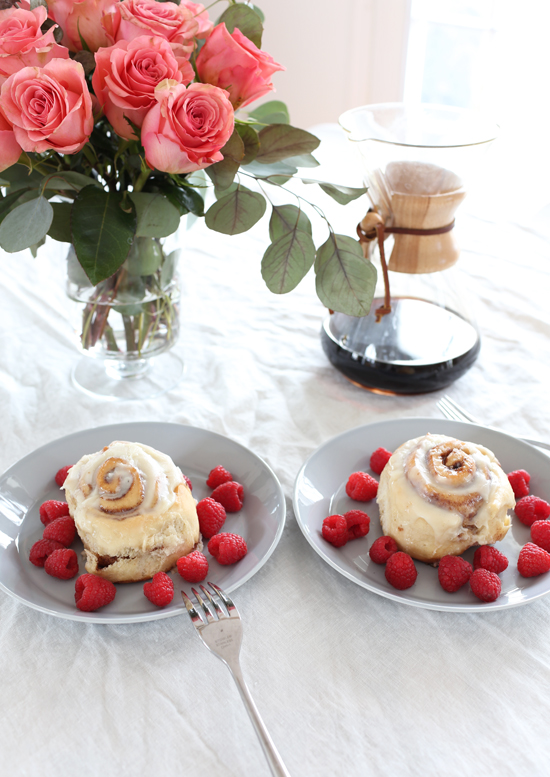 I always love getting your feedback, so tell me--what do you think of my dining room plans? Do you think it's too much to have a casual dining space, a kitchen island, AND a rectangular dining table? Would the dining room feel naked without lighting? And should we give a rug a try (or heck no)? Gimme all your opinions!