This post contains some affiliate links, and I was sent some products to review. All opinions are my own.
Happy December! It's time for gift guides! The ones that are most fun to write are the categories that I fall into (after all, it's pretty easy for me to brainstorm things that I would like to get), so I was excited to put together a gift guide for new homeowners. It seems like this year, SO many of our friends and family members bought houses, and I'm guessing you know a few people who jumped into homeownership this year too. Here are some gift ideas that would be great for Christmas, or as housewarming gifts anytime!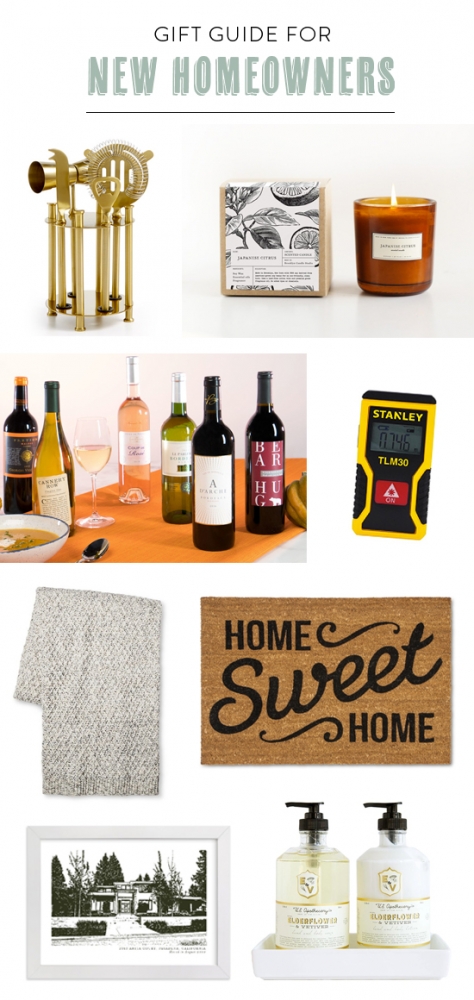 1. Pretty bar set - Because buying a house is something to celebrate!
2. Fancy candle - These smell SO good, plus I love the amber glass they come in.
3. Curated wine pack - Let an expert take the guesswork out of choosing which wine to give...these are all sure favorites.
4. Laser measurer - So handy for measuring rooms and spaces (you don't need someone else to hold the other end of the tape measure).
5. Cozy throw - Every home needs some soft and snuggly throw blankets!
6. Cute doormat - Because they probably got rid of their old doormat when they moved, plus this one is perfect for a new house.
7. Custom house portrait art - A really sweet and personalized idea that the new homeowners will treasure.
8. Good quality soap & lotion set - One of those things that everyone loves, but no one buys for themselves.