Yesterday was the official first day of fall, so to celebrate I decided to make a classic fall treat...but with a twist! I love caramel apples, but I hate trying to bite into them (they're so big!!) and when you cut them, they can get messy and aren't as cute anymore. So when I saw this picture on Pinterest, a lightbulb went off. Mini caramel apples--of course! I love miniature and bite-size desserts, like cake pops--they're adorable and the smaller portions mean you won't feel so stuffed (or just that you can eat more). Plus, they're less messy, since you can just pop the whole thing in your mouth!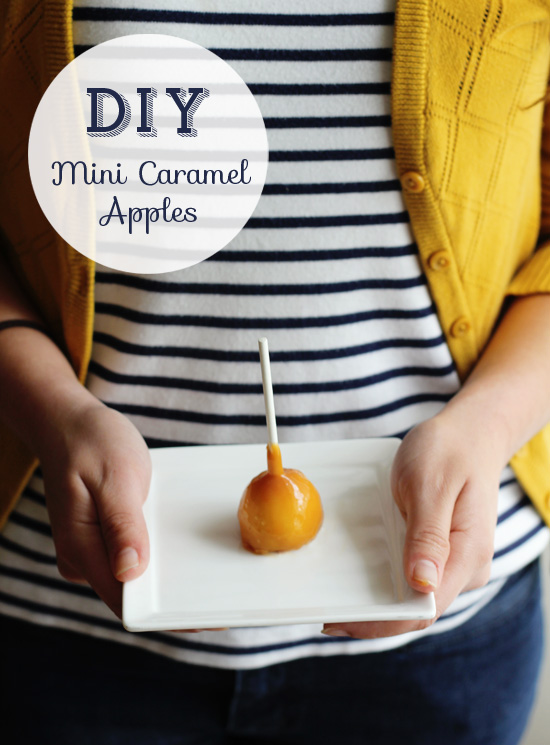 Now, to be perfectly honest, I had some trouble with the caramel sliding off on these, but if you're planning to eat them quickly, they're adorable and lots of fun to make. If you're making these for a party or something where they need to hold up for awhile, try dipping them in chocolate first, so there's something for the caramel to grab hold of.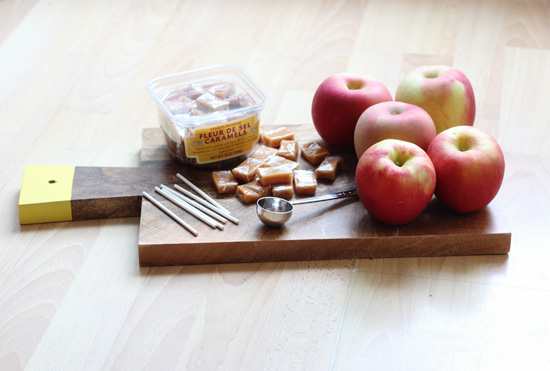 Here's what you'll need:
Extra-large apples (I actually only ended up using 3, to make 20 mini caramel apples).
Caramels + 2 Tbsp milk
Lollipop sticks
A metal Tbsp coffee scoop
Wax paper & plates or a cookie sheet (not pictured)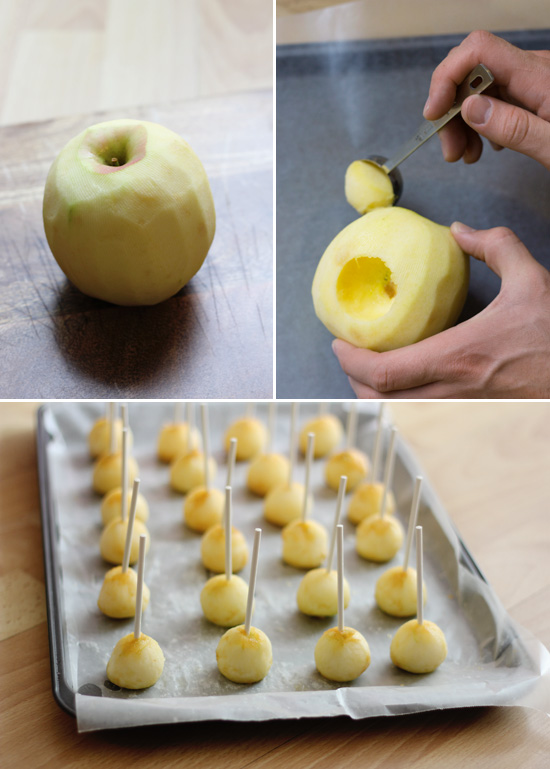 First, prepare a cookie sheet or some plates with wax paper on top. Peel the apples, then scoop balls out of them with the metal coffee scoop. Push a lollipop stick into the middle of each ball. Pat them dry with a paper towel and put them in the fridge or freezer while you make the caramel.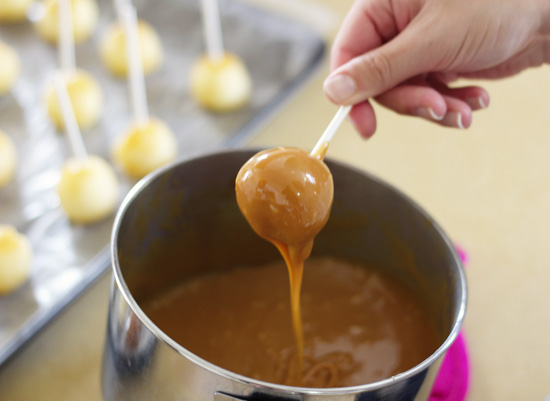 Unwrap the caramels and melt them in a pot over medium-low heat, with 2 Tbsp of milk. You can buy bags of caramel bits too if you don't want to go through the trouble of unwrapping them. Once the caramel is smooth and melted, remove it from heat and dip the apple pops one by one, letting the excess caramel drip back off them into the pot. Place the dipped apples back onto the cookie sheet, and repeat.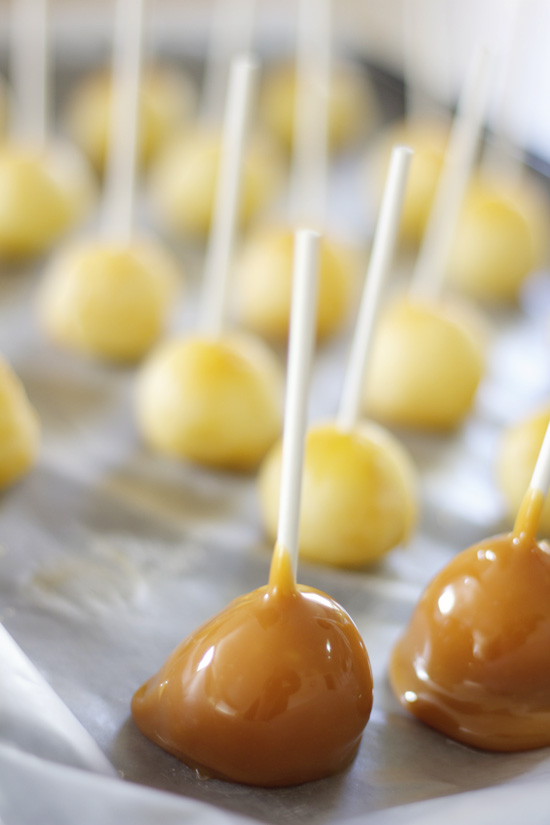 Warning: because peeled apples are a lot more slick and wet than apple skin, you might want to pat the apple pops dry with a paper towel one more time before you start dipping them, and you should put them back in the freezer right after dipping to let the caramel set. Otherwise, it will just slide off. Leave them in the freezer for about 15 minutes, then transfer to the fridge for another 30 minutes or until the caramel is hardened.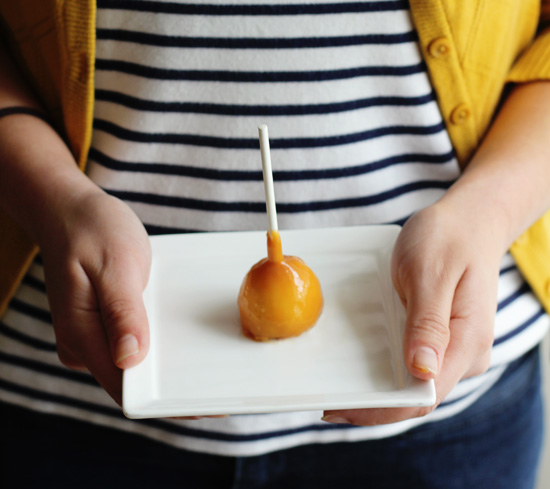 Once the caramel is hard, take them out of the fridge and peel them off the wax paper. If you have a lot of caramel pooled around the bottom, you can cut it away with a knife. Then, enjoy the sweet fruits of your labor (hardy har).
You could also dip these in nuts, chocolate bits, crushed pretzels, or salt for fun variations!
What did you all do this weekend? Did you do anything to celebrate the first official day of fall? Besides making these, we went for a walk through some crunchy fallen leaves, turned our new gas fireplace on for the first time, and read books by the fire with cozy throws over us. It really did feel like fall! We also visited my friend Jenn's new baby girl, who is adorable, and went to a sweet wedding...plus my dad stayed with us Saturday night. All in all, it was a fun weekend! Hope yours was too.
P.S. If you like this post, you may also like my summery version--star-spangled watermelon pops!