Finally, a new blog post!!! Sorry it's been so long, this post took me forevvver to finish. If you follow me on Instagram, you know we recently took a cruise to Alaska, to celebrate Ben's 30th birthday. We got super lucky with the weather and didn't hit any rain at all, plus we got to see tons of amazing scenery and wildlife. And we ate to our heart's content (and then some)...so overall it was great! :) I've had multiple people tell me they're considering a trip like this, so I wanted to share a full and honest review of all the good and the bad of cruising to Alaska. Take it for what it's worth--it's just my opinion, after all. For reference, we did a round trip from Seattle through the Inside Passage, and we went with Princess Cruises (we were on the Emerald Princess ship).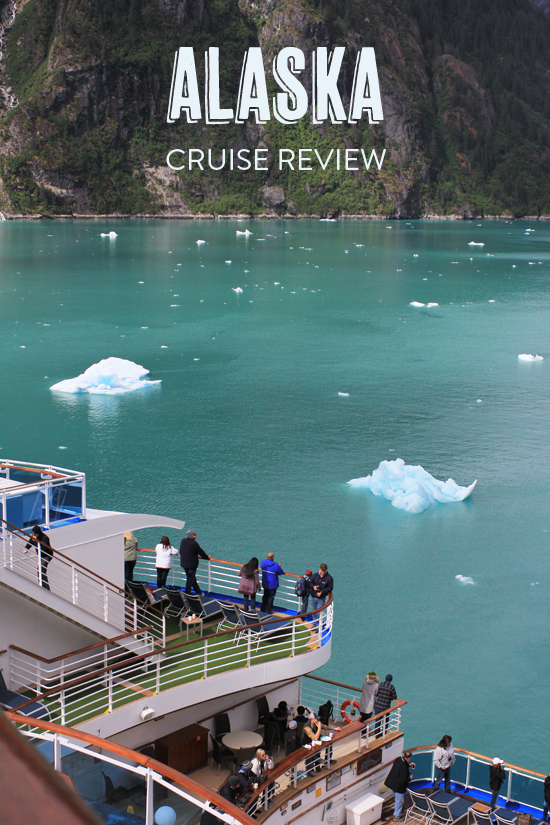 Going into this trip, we were sort of skeptical about cruising in general. We tend to prefer traveling on our own and getting away from the crowds, so we weren't sure if we'd like being stuck on a boat with thousands of other people. But we both wanted to see Alaska, and since we live in Washington state the logistics were super convenient! Ben's dad dropped us off at the Port of Seattle and we got on the ship--easy as that.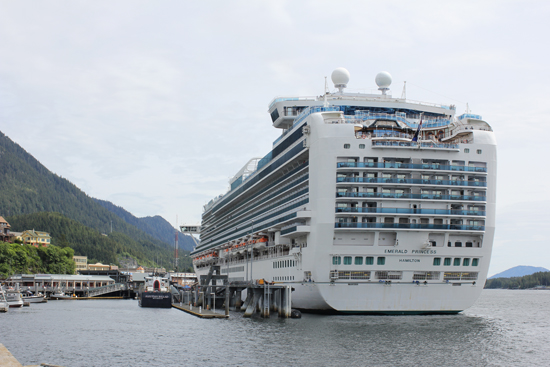 I was super happy with the room we got. For those of you considering a Princess cruise, we were in room D735, which is an "aft" balcony (in the back of the boat). It was sooo nice because there's hardly any wind back there, plus we could see to either side and enjoy the view of the wake. Also, our room was next to that middle section where there's no rooms (four levels down) so we had no neighbors on one side! I would definitely pick that room again, or any aft balcony.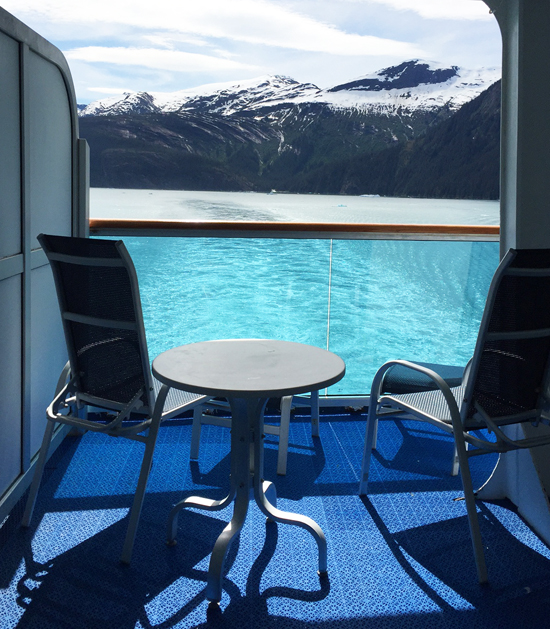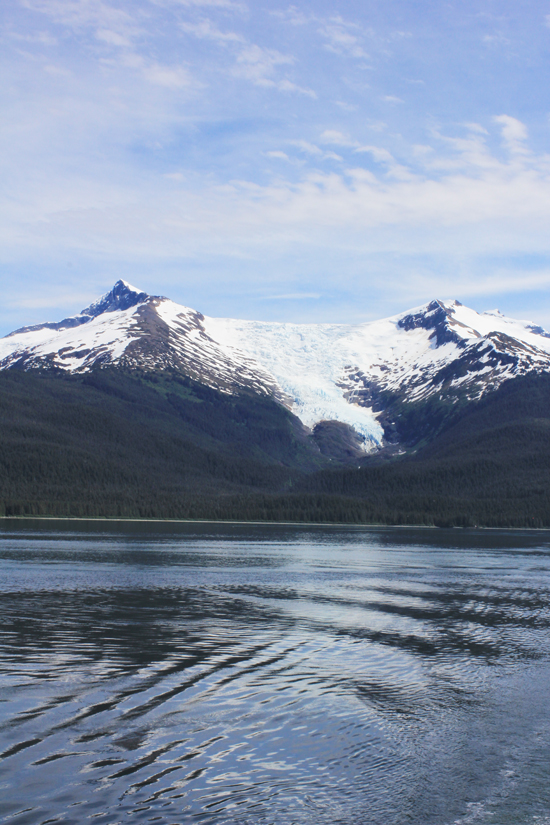 And the views were AMAZING. Endless mountains, glaciers, waterfalls, islands, lighthouses and more. The best part of cruising to Alaska in my opinion was seeing so many beautiful places that you wouldn't be able to get to otherwise. Our itinerary included Ketchikan, Tracy Arm, Juneau, Skagway, Victoria, and Seattle. Three of those destinations (Ketchikan, Tracy Arm, and Juneau) are not accessible by car. Plus along the way we passed by so many gorgeous places that you can't even fly to. Not to mention all the wildlife! We spotted multiple humpback whales, sea lions, porpoises, and bald eagles, just from the cruise ship. So the journey itself is at least half the fun.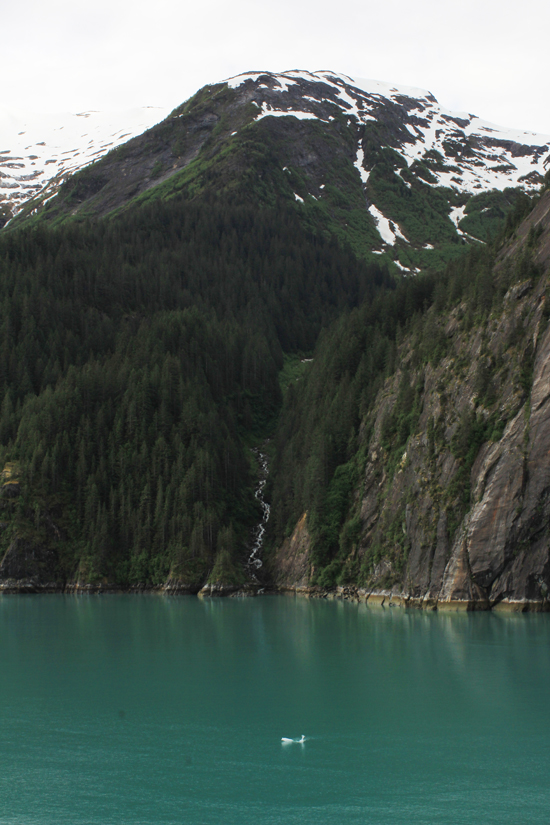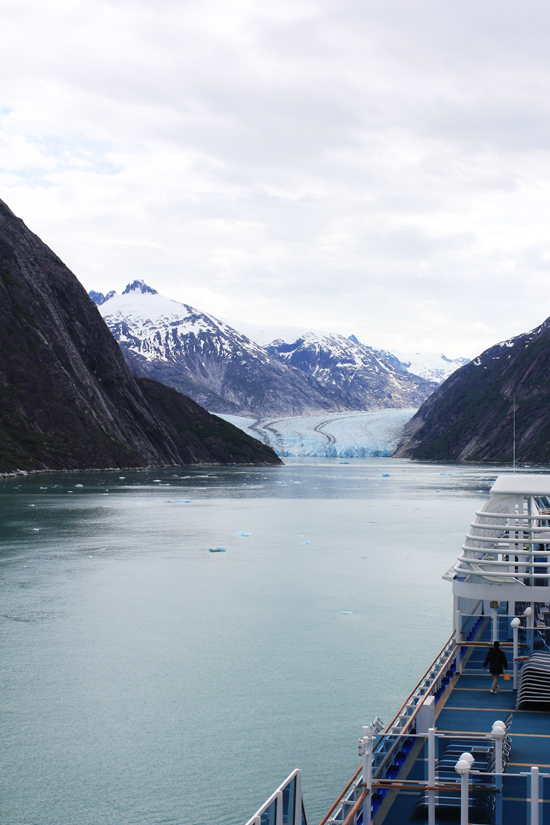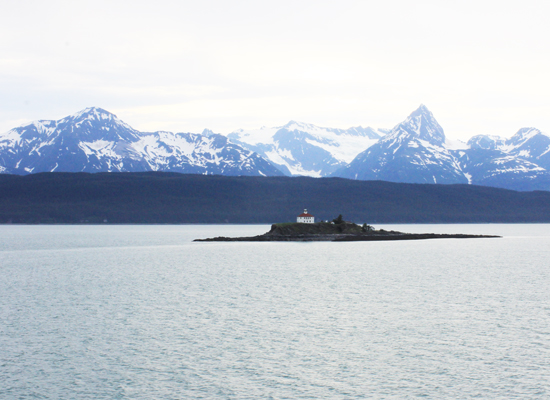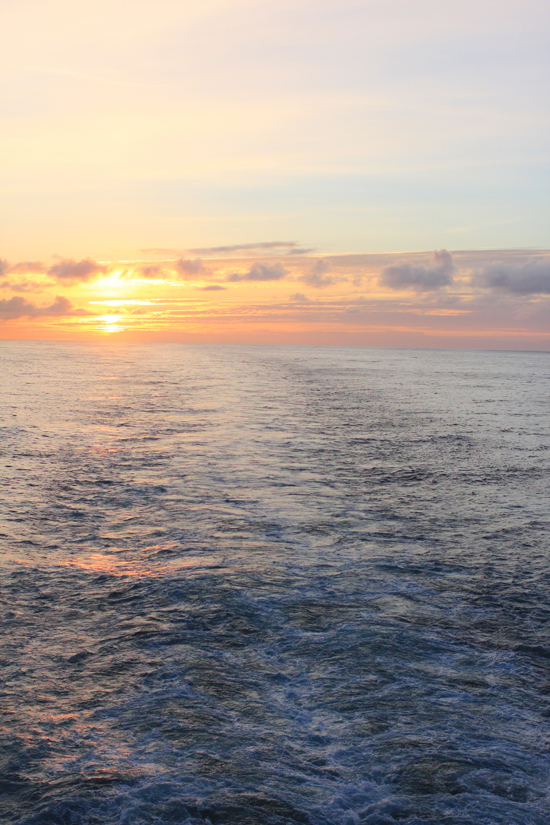 All of the pictures above? Taken from the ship. For that reason, I would say a balcony truly is sooo worth it. We went back and forth on this, and originally I wanted to keep the trip as cheap as possible with an interior room. But some of my favorite memories are from sitting on our balcony watching the scenery go by, playing games with Ben, sipping coffee and indulging in free dessert. SO relaxing and fun! It was especially nice for us because it meant we could still enjoy the views while Ian was napping. I think we might have felt trapped and stir-crazy in an interior room.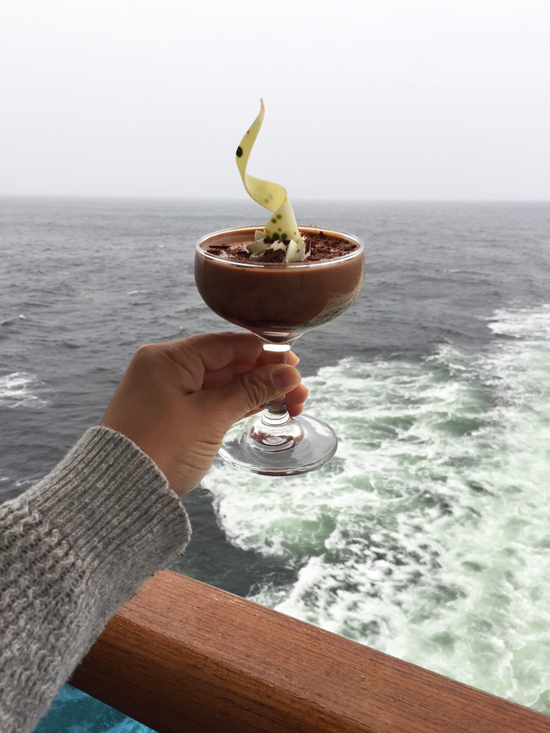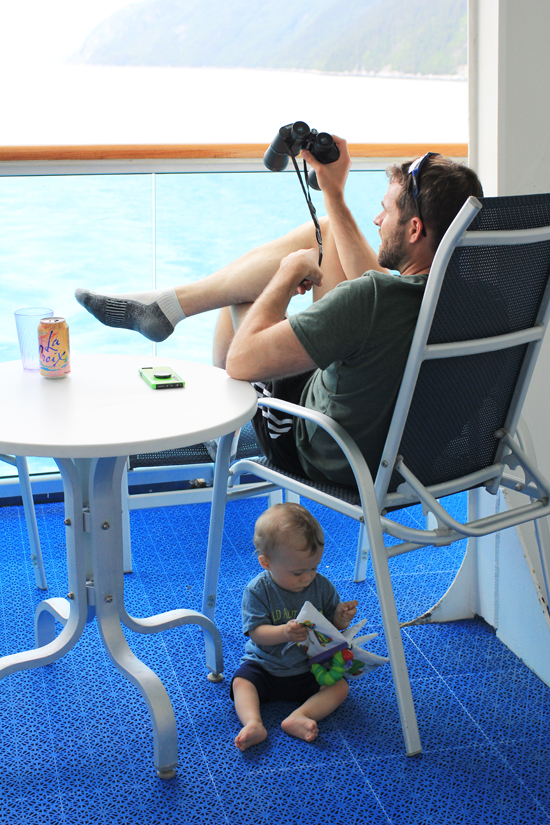 Speaking of Ian, I would say that a cruise is a great trip to take with a baby. It's just so easy. There's no driving necessary, no lugging a car seat and stroller through the airport, no checking in and out of multiple hotels. Ian had a great time, and we were able to do (pretty much) everything we wanted to!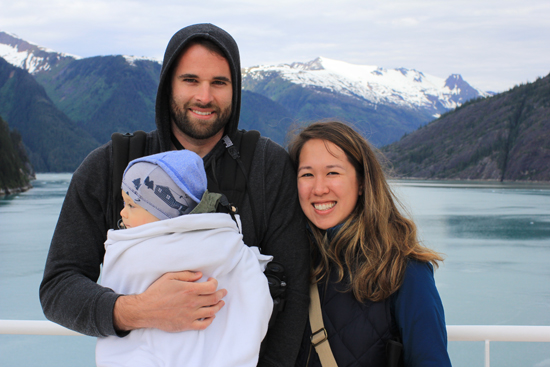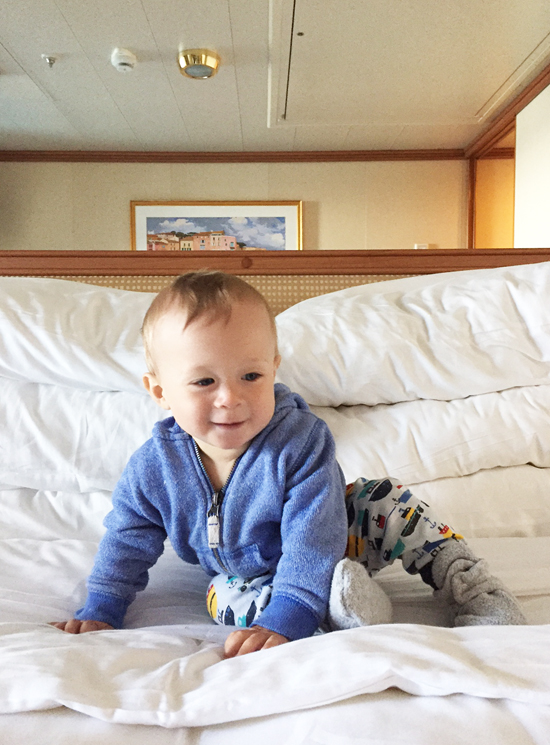 On the flip side, one of the hardest parts for me was the tight itinerary. All of our stops were beautiful places, but we were only allotted a few hours in each (I think our longest time at port was 10 hours, but when you count the time it takes to get on and off the boat, it's less than that). I always felt a little panicked, like we had to hit the ground running and cram in as much as possible. And I never felt like we fully explored an area to our heart's content, the way we would if we were road tripping and on our own schedule. One piece of advice to help with this: room service is free, so on the days that you arrive early to a port city, order room service for breakfast so you can eat in your room and don't have to wait in line.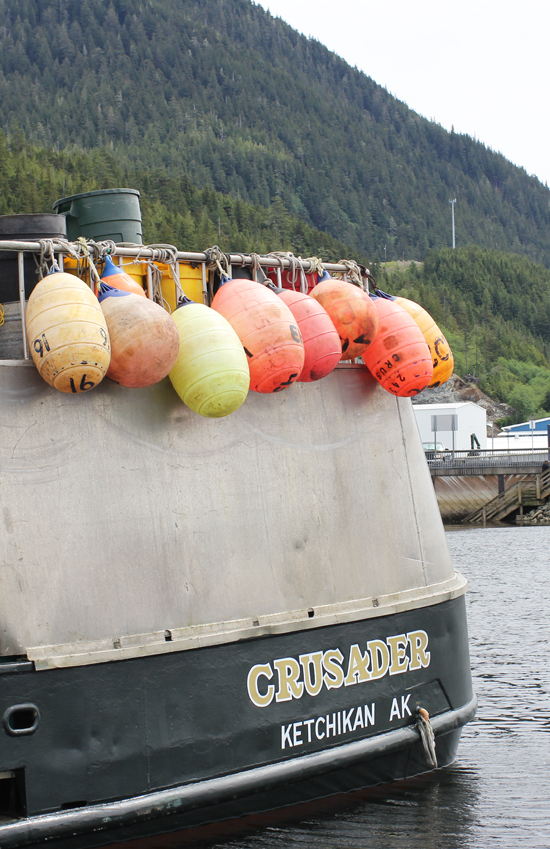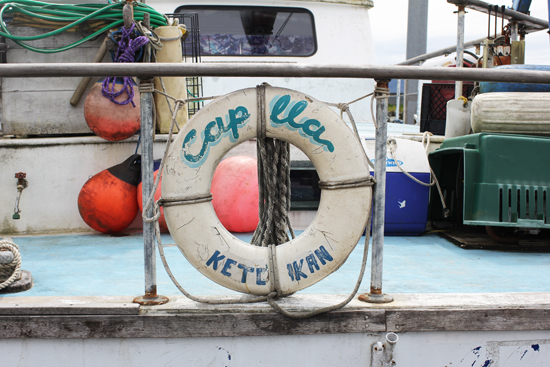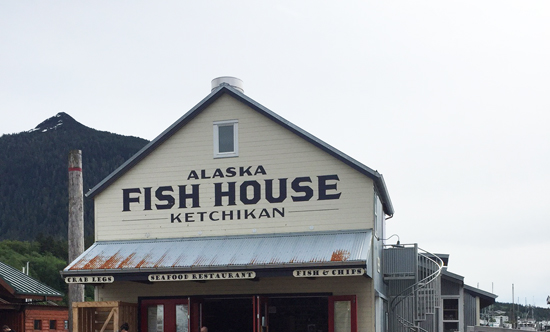 The first port we stopped at was Ketchikan. It's a picturesque town that faces the Inside Passage, with the Tongass National Forest behind it. We didn't do any excursions here--just walked around the town and the harbor, took a little tram to see the view from Cape Fox Lodge, ate fish 'n chips and yummy chowder, and got some hot and fresh caramel corn (so good). There were bald eagles everywhere, which was cool. And there's a street of colorful houses that used to be Alaska's red light district, now turned private residences and tourist shops. Kind of interesting.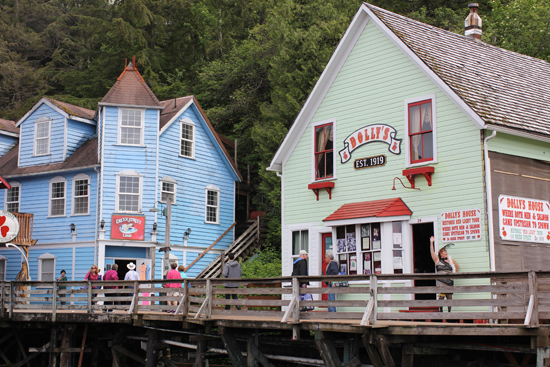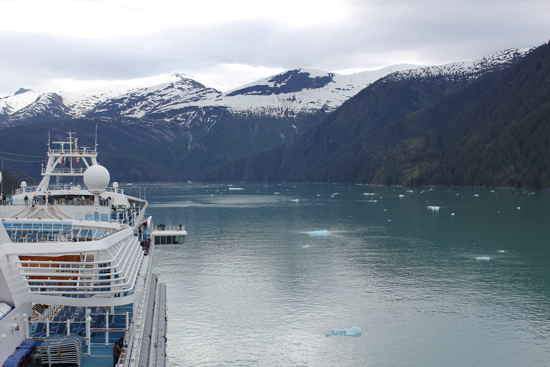 The next day, our ship we were supposed to sail down Tracy Arm and see Sawyer Glacier, but they announced that due to the amount of ice blocking in the channel, we would go to Endicott Arm instead. I was a little disappointed, but I do have to say that Endicott Arm was gorgeous. It's a narrow fjord with mountains on either side, beautiful azure water, and chunks of blue ice floating along that hint at the spectacular grand finale at the end of the fjord--Dawes Glacier. The cruise ship got about as far away as the photo below, then a smaller boat came and picked up the passengers who had paid to see the glacier up close. I have to say, that excursion might have been worth it. I would have loved to get a closer look at that beauty.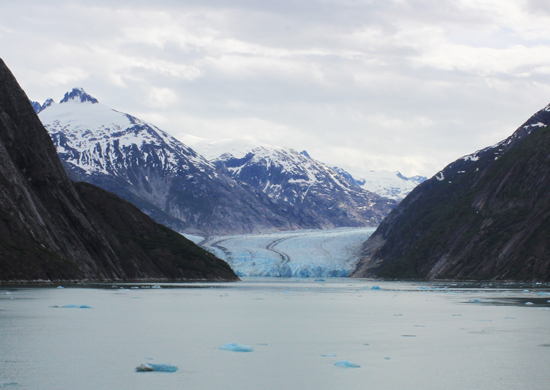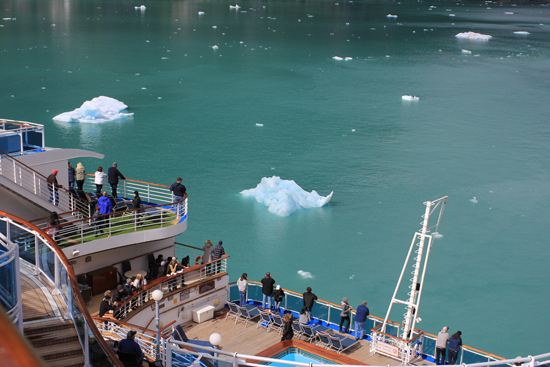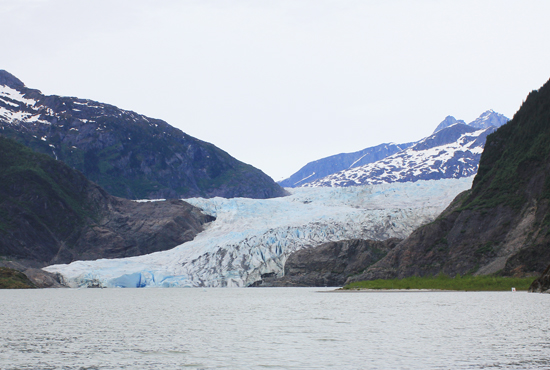 That same day, we sailed into Juneau, where we saw another stunning glacier: Mendenhall Glacier. If you go to Juneau, it's definitely worth seeing and very easy to get to. There were lots of tour buses taking cruise passengers there--and at the park, we saw two bears! One was up in a tree right next to a hiking trail (there were rangers blocking off the path so it felt safe...ish) and another crossed the road right in front of our tour bus. So cool! Unfortunately, I was not fast enough to get a photo.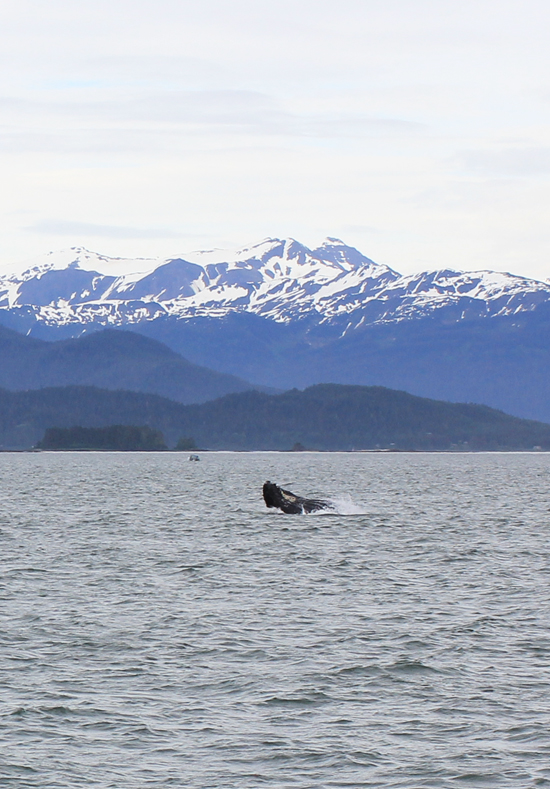 After the glacier, we went on a whale watching tour. This was the only excursion we paid for because I love whales and totally wanted to see a humpback breaching. And it was cool! We saw lots of whales--blowing water, flipping around, and diving with their tails up. But I have to say, if I was to do it again I would pick a different excursion (especially if you're only paying for one). We had already seen SO many whales from the cruise boat, and we couldn't get super close to them due to whale watching regulations. So I kind of felt like it wasn't much different from what we'd already experienced, albeit a little closer. Also, we had just gotten off a big boat, and here we were getting on another boat. Don't get me wrong, it was fun...but in hindsight I think I would do an excursion that's more different from the general cruise experience. Maybe going a float plane, or getting up close and personal with a glacier...something more unique like that.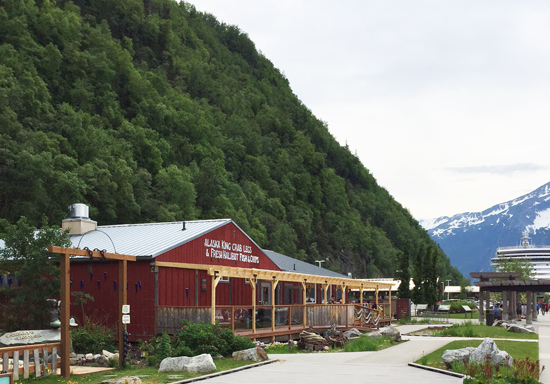 Our last port in Alaska was Skagway, and it turned out to be our favorite! It's a tiny little town of less than 800 people, with buildings maintained from its heyday during Klondike gold rush. The town is charming and cute, but the surrounding area is really what we loved. Gorgeous mountains, blue-green waters, and some beautiful hiking trails that were an easy walk from town.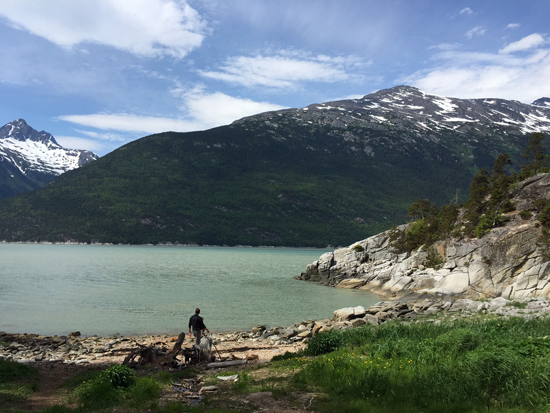 There were three cruise ships docked there when we arrived and the town was FULL of people, but we hiked out to this spot (Smuggler's Cove) and had it entirely to ourselves! It felt really good to get away from the crowds. If you're like us, I would recommend asking locals for recommendations or looking up things to do besides the popular cruise excursions. It seemed like almost everyone was getting off the cruise ship and going straight into another crowded mode of transportation--a tour bus, the historic train in Skagway, or a helicopter tour. While I think all those would have been fun, we got to enjoy some tranquility and stunning scenery without spending a penny.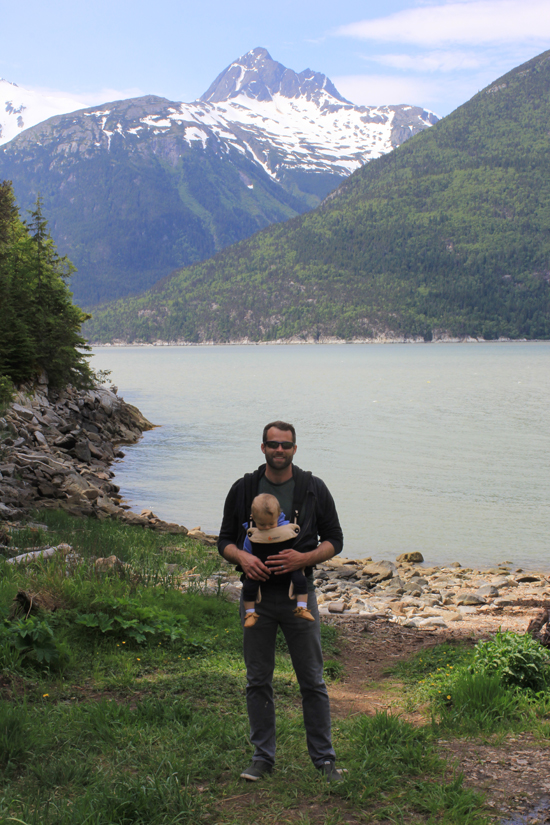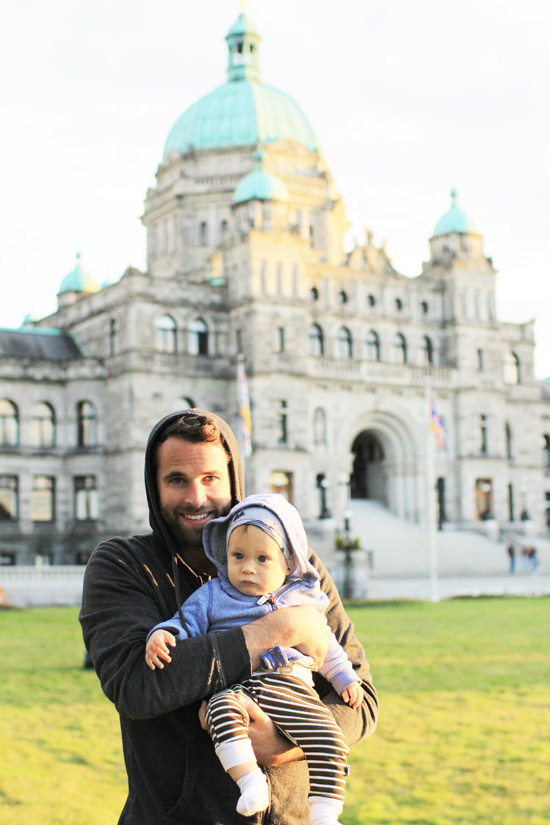 Our last stop of the cruise was in Victoria, BC which is one of my favorite cities! We went there for our babymoon last year when I was 31 weeks pregnant (little did I know I would give birth in just two weeks!). Since we'd already explored Victoria before, we didn't feel as frantic about seeing all the sights. We walked to Red Fish Blue Fish and stood in line for our favorite fish 'n chips, got some fancy dip cones at Chocolats Favoris, and showed Ian the Inner Harbor and the stately Parliament Building. It was lovely!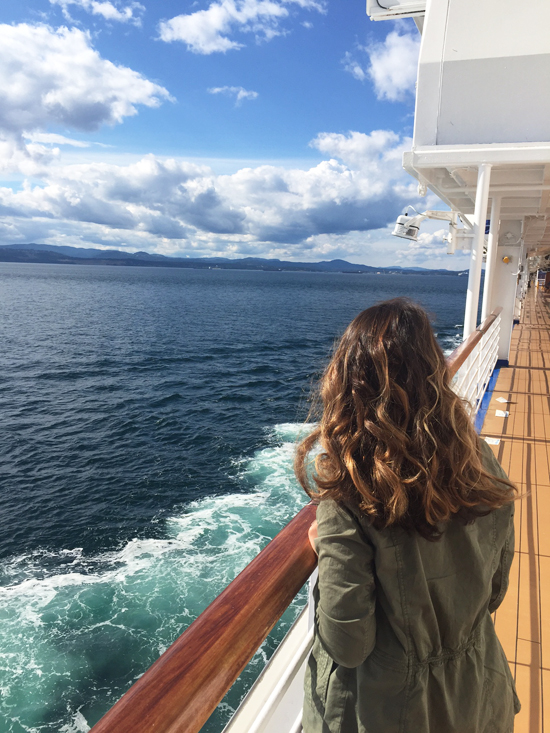 A few more things about the cruise in general...I was worried that we'd get sick of the food and bored of the ship by the end of the week. But Princess does a great job of mixing it up so there's always something new to try every day. There's multiple sit-down restaurants and a buffet with an ever-changing menu, a pizza place, a cafe with deli food and baked goods, and a grill with burgers and hot dogs (and on one day fish tacos)--all for free. Plus, there are several specialty restaurants with more upscale food that you can pay for (a crab place, a steakhouse, a restaurant by celeb chef Curtis Stone, and more). We liked the free food and it was varied enough that we never felt like it would be worth paying for one of the specialty restaurants--but it's nice that there are additional options to switch it up if you want. The regular coffee is free and unlimited, but you can pay for espresso drinks. Alcohol and soda are not included, but you can bring one bottle of wine per adult for free, as well as your own soda. Overall, I thought the food was a pretty good deal!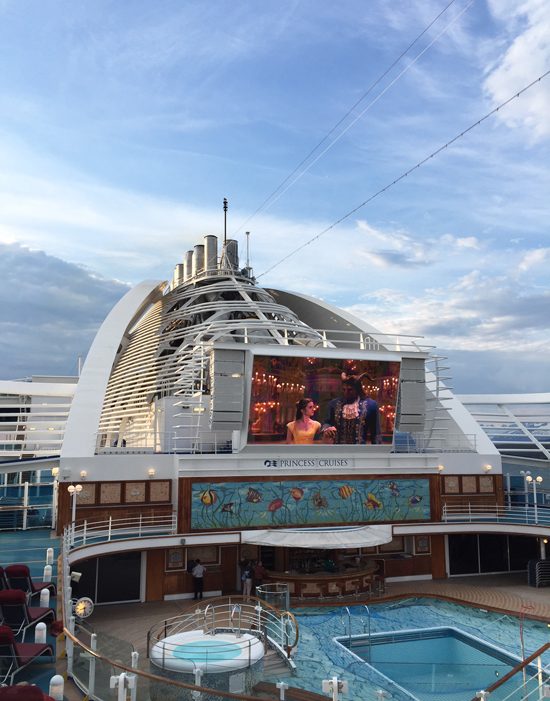 The entertainment was also different everyday, and most of what we wanted to do was baby-friendly so that was great! We got to see a musical/magic show by an award-winning Broadway composer, listen to an expert naturalist talk about Alaskan wildlife, watch our fellow passengers compete in an entertaining singing competition, and see some outdoor movies from the deck (they even bring around hot cocoa, cookies and popcorn!). There's also multiple pools and hot tubs, a gym, mini golf, ping pong, and of course just wandering around taking in the views from different sides of the ship. I'm probably missing something too. So we didn't get TOO stir-crazy, even on the days that we were at sea. Also, all the different options meant that the crowd was pretty well dispersed, so it never felt like we were on a ship with thousands of other people.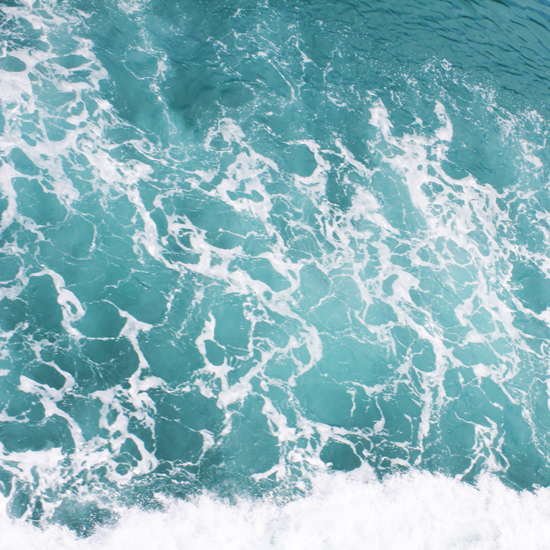 Overall, we had a great experience! I'm really glad we got to go take this Alaska cruise adventure as a family. Although one week was too short! We've got to go back and explore more of this majestic state sometime...
Hope this helps anyone thinking about taking a similar cruise. I'm happy to answer any q's! Just leave me a comment.