You guys, I'm so excited to finally share my 24 Merry Days giveaway! And it's a really good one--$100 to spend at Baba Souk, which is seriously the cuuutest shop ever. I hadn't heard of them til about a month ago, but I'm obsessed now. They have a great variety of fun, quirky, products that you won't find anywhere else: from clothes and accessories to paper products and goodies for your home. And I love that their wares are all made by independent designers and creatives, both in Montreal (where they're based) and around the world--including products hand-picked from traditional Moroccan souks! I could easily pick out approximately 100 things that I want, but that would be a lot of scrolling for your poor little fingers...so here's a short list of my favorites!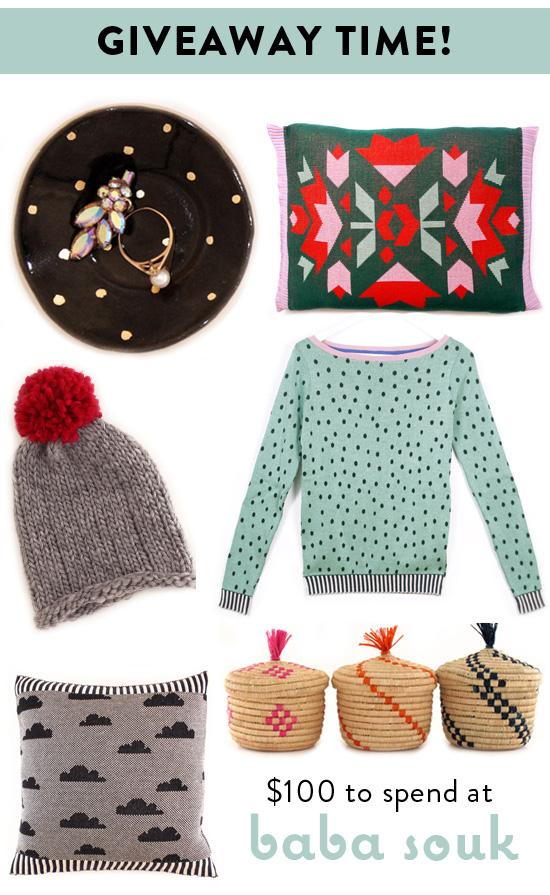 polka dot ring dish / enchanted forest pillow / hat with giant pom / imaginative rain sweater / partly cloudy sky pillow / small treasure baskets
Enter the giveaway below (open to readers in the US and Canada only). Plus! Use the coupon code 24MERRYDAYS and you'll get 15% off your order from now til December 22nd.
P.S. Check out yesterday's giveaway too, on one of my favorite blogs--Oh Hello Friend!