Do you guys send out holiday cards? Honestly, Ben and I never have...maybe once we have kids, we'll do them, but right now it doesn't feel all that necessary. But if we were doing holiday cards, you'd better believe I'd be DIYing my own with the help of some cute free fonts! So I've rounded up some pretty options that would be perfect for whatever project you're working on, whether it's holiday cards, gift tags, or invitations for a Christmas party!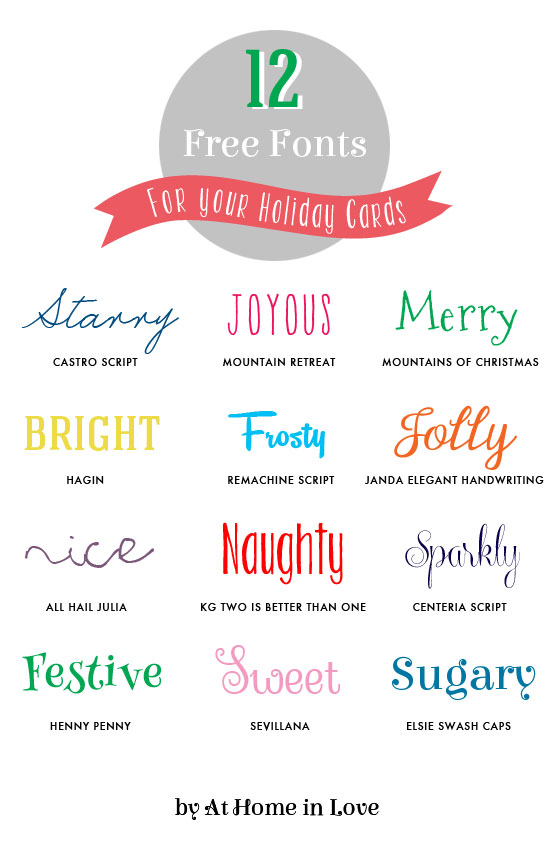 1. Castro Script  / 2. Mountain Retreat / 3. Mountains of Christmas  / 4.  Hagin / 5. Remachine Script / 6. Janda Elegant Handwriting / 7. All Hail Julia / 8. KG Two is Better Than One / 9. Centeria Script / 10. Henny Penny  / 11. Sevillana / 12. Elsie Swash Caps
You can also find more of my favorite free fonts here and here!
Oh, and I had someone ask me for directions on how to download fonts. I use a Mac and it's super easy. Just open the downloaded folder and double click on the .otf or .ttf file. This will open a preview box. Click the button on the bottom right corner that says "Install font." And that's it! I'm not as familiar with what to do for a PC, so I found a tutorial for you PC-users. Trust me, once you figure it out, you'll be hooked. There are so many fun free fonts out there--there's no reason you should be stuck with just the fonts that came with your computer (bo-ring!)
Are any of you designing holiday cards this year? Any other typographic projects you've got going on?
Don't forget to enter today's 24 Merry Days giveaway on 1000 Threads. Have you guys been entering these? If not, better get on it! Visit the website to catch up.