I was looking at my Google Analytics over the weekend and noticed that my post on 15 fabulous free fonts is one of the most popular posts all-time on At Home in Love. So I thought I'd put together another round for you guys! I love fonts, but it can be hard to justify spending $20+ when there's nothing tangible to show for it...especially to my husband, who thinks the fonts that came with his computer are just fine. I do think it's worth it to pay for fonts that you really love on occasion. But for the most part, I satisfy my font obsession with nicely designed free fonts. Here are some of my favorite ones (some recently discovered, some that I've been using for awhile). I hope you guys like them too!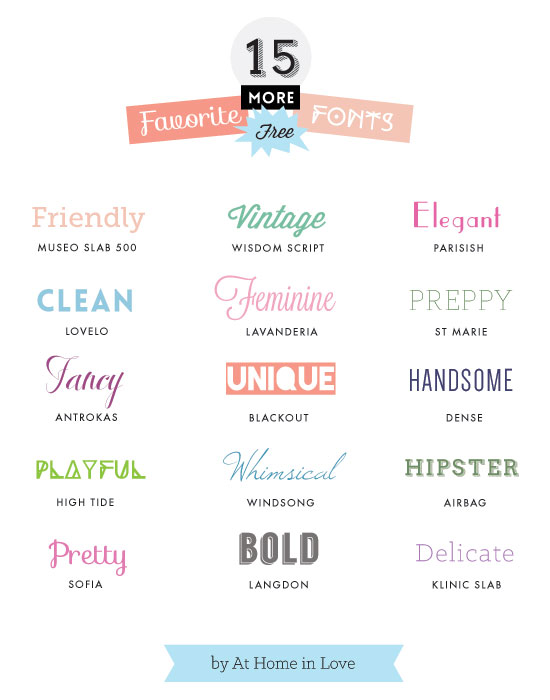 1. Museo Slab 500 // 2. Wisdom script // 3. Parisish // 4. Lovelo / 5. Lavanderia // 6. St Marie // 7. Antrokas // 8. Blackout. I found this one through the photo editing app Over. I loved it, looked it up, and was thrilled to discover it was free! // 9. Dense // 10. High Tide. This funky font is a lot like the one used in this poster I have. // 11. Windsong // 12. Airbag // 13. Sofia. I love this pretty, upright script. It's pretty similar to another one of my favorites, Mishka--but you'd have to pay $45 for that one. // 14. Langdon. Another lookalike, this one reminds me of Cheap Pine--the font I used in my header! It comes with both the drop shadow (lowercase letters) and no shadow (uppercase). // 15. Klinic: This one comes with a lot of weights, and italics as well. It reminds me of Archer--the font originally developed for Martha Stewart Living--which I really wanted to buy until I realized it was $199 (!!)
Now go forth and download! See my first post of 15 free fonts here.
I'd love for you to leave me the names of your favorite fonts as well--whether they're free or not. I could always use more!