I've never really worked with wallpaper before--ever. For awhile, I thought it was just for old people, but that's definitely not the case anymore. There are so many gorgeous and totally modern wallpapers out there now! But I'm still too intimidated to try wallpapering a whole wall myself. Plus we rent our house, so it hardly seems worth it to pay for nice wallpaper we really love if we won't be here much longer. That being said, I think I'd like to try dipping my toe into wallpapering--but maybe on a smaller scale. So I've pulled together 10 creative ways to use wallpaper! All of these projects seem pretty doable.
1. Update a dresser. Use wallpaper to line the front of the drawers, or for a more subtle look, line the sides so you don't see the wallpaper until you pull the drawers out!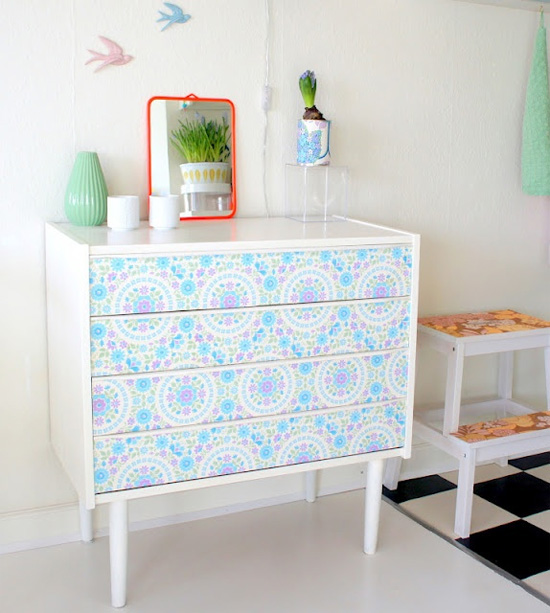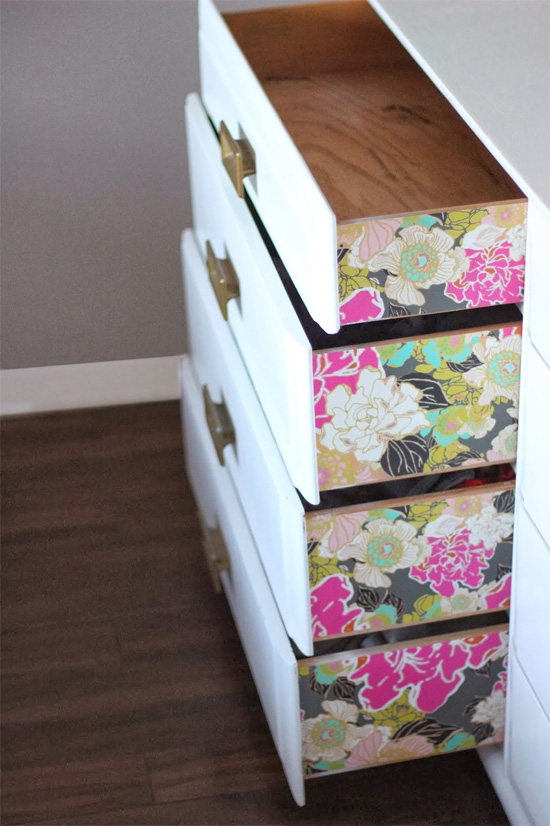 2. Decorate a plain serving tray. This one was actually made with patterned paper and Mod Podge, but I think wallpaper would work perfectly.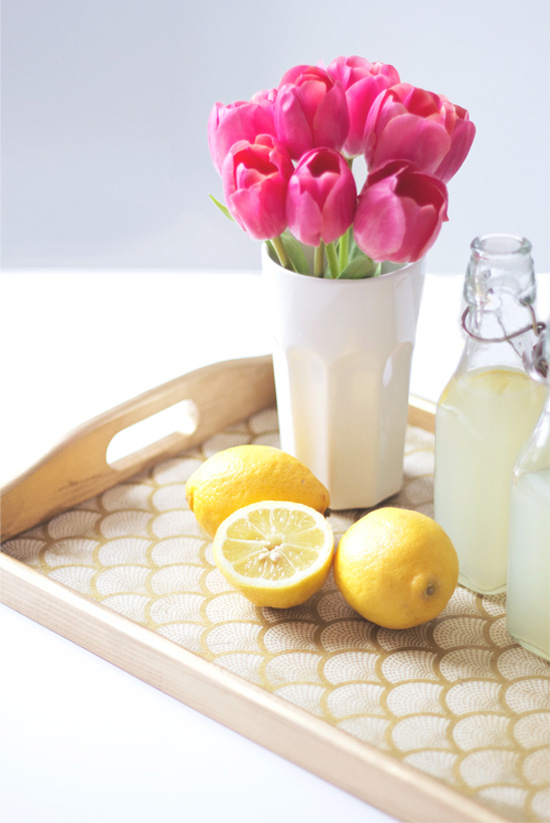 3. Do a small band of wallpaper instead of the whole wall. This seems a lot less overwhelming, and you don't have to try to line up each strip perfectly.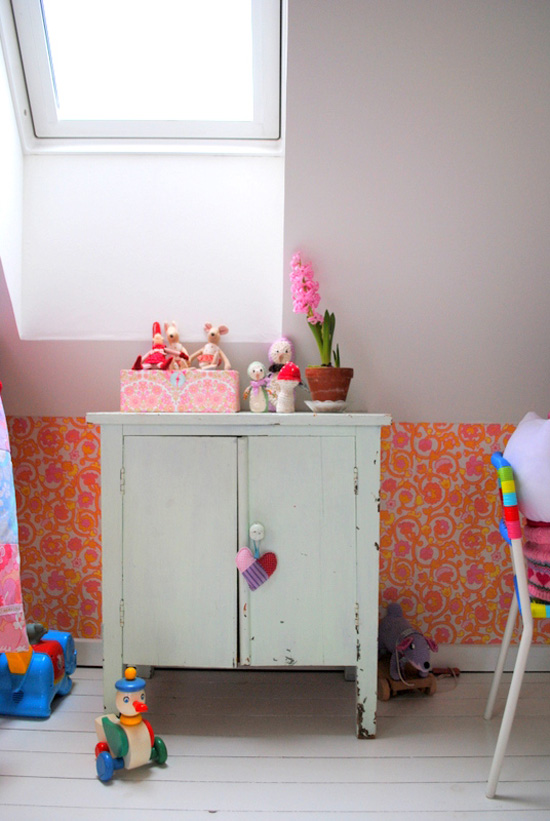 4. Wallpaper the closet door. Here's another way to avoid trying to line up the pattern…do a mishmash of a bunch of different patterns! If you can find swatches that are big enough, you might even get away with getting all the squares for free...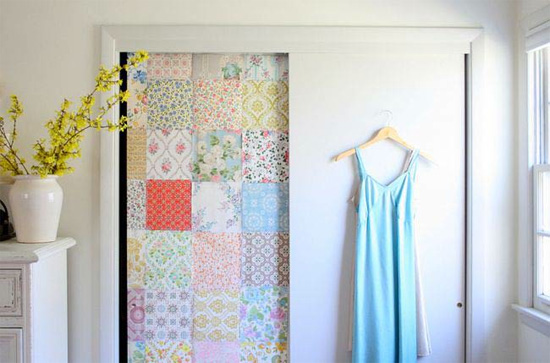 5. Line the back of a hutch. I love this look. It's such a great way to update a piece of furniture without having to repaint the whole thing. And it's perfect for letting white dishes stand out! You could also line the back of bookshelves for a similar effect.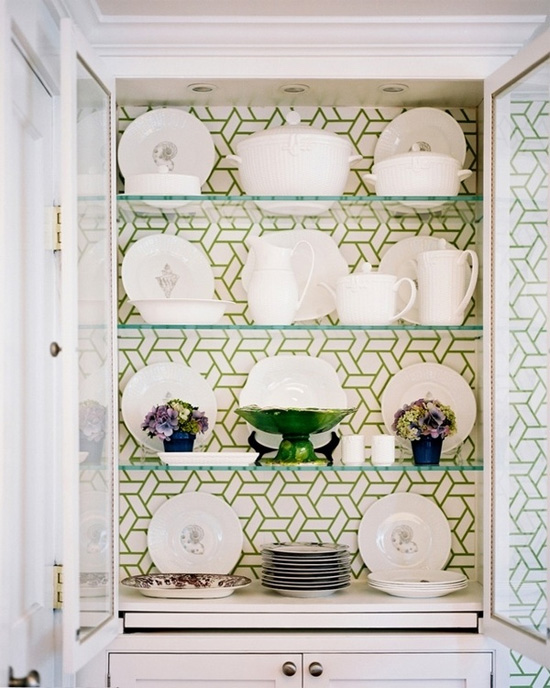 6. Use a mix of wallpaper patterns. Similar to the patchwork closet doors in number four, this wall is a mix of several different patterns--but in the form of strips! It's a little bit too bright and busy for my taste, but I like that you wouldn't have to struggle to get each strip of wallpaper lined up just right with the one next to it.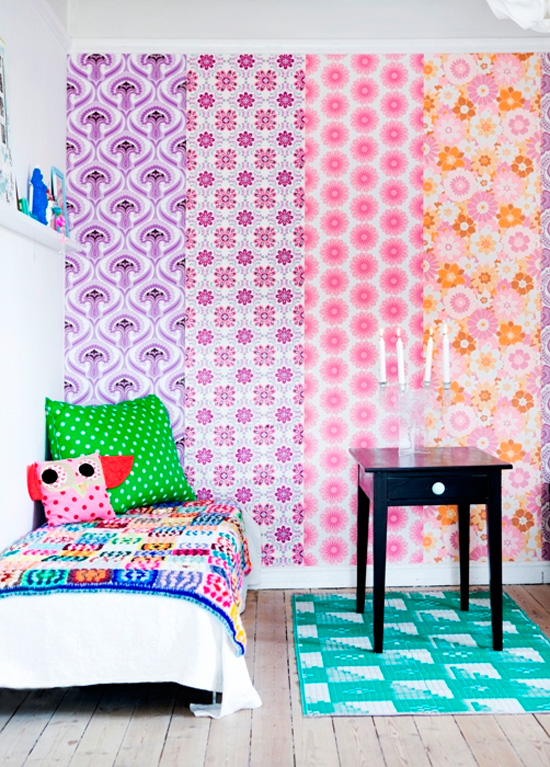 7. Create a wallpaper headboard. Now, this bedroom is perfectly subtle and gorgeous. I especially love that simple headboard, which looks totally possible to DIY…just wooden boards + pretty wallpaper! I like that it forms a little shelf for decorative items, too. If you want more wallpaper headboard inspiration, I also shared another (easier) version in  this post.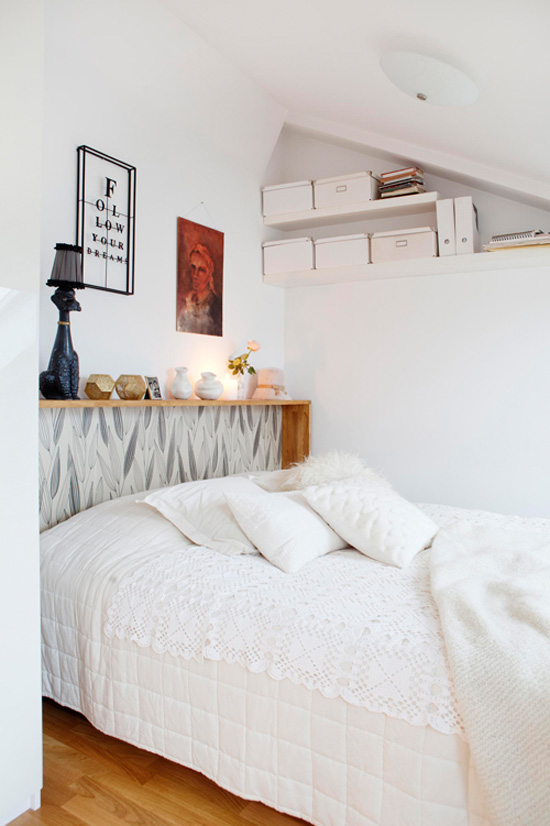 8. Put it on the ceiling. Who says wallpaper has to just go on the walls? Why not put it on the ceiling?! This can actually make a room appear larger, as it draws your eye up. And it's perfect for a nursery, where a kid would spend a lot of time lying down and looking up at the ceiling.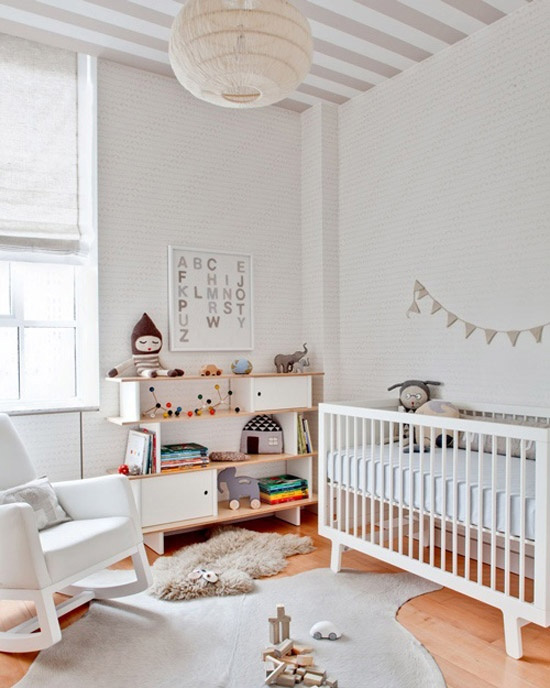 9. Make a wallpaper table runner. Wallpaper is perfect for inexpensive table runners--for a wedding, bridal shower, dinner party, etc. It looks really chic too, don't you think?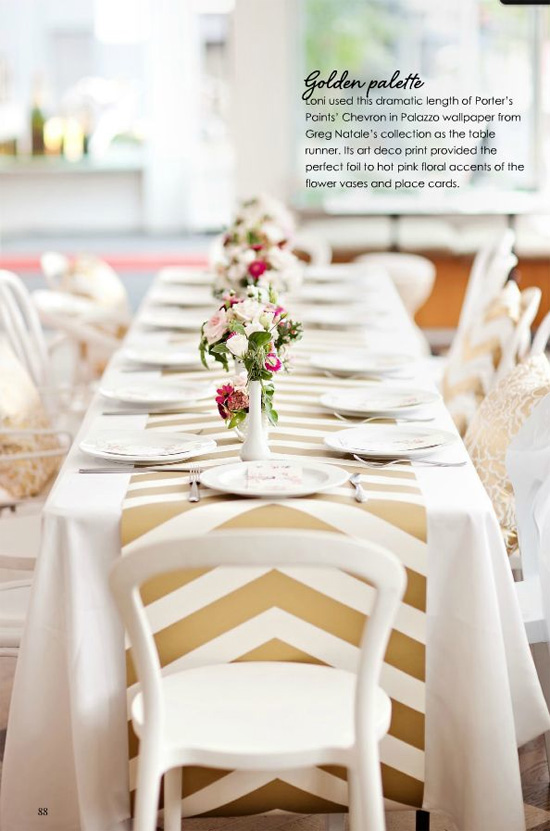 10. Stair risers. Last but not least, I still love the idea of wallpapering your stair risers. We don't have any stairs in our current house, but in the future, I could definitely see myself doing something like this.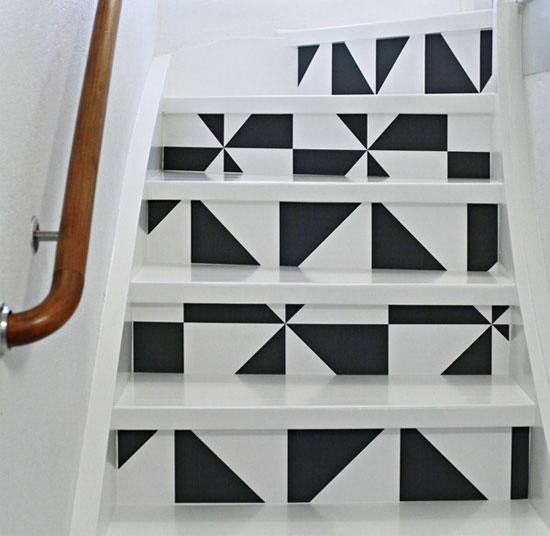 There are lots of other ideas too! I've seen wallpapered clipboards, boxes, switchplates, matchbooks, and more. I also really like the idea of framing a piece of wallpaper as artwork…and I wrote a whole post about wallpapered fridges here!
Plus,  I thought it would be fun to share some of my favorite wallpapers with you guys. Here are 10 that I think would be perfect, both for small scale projects and for covering an entire room.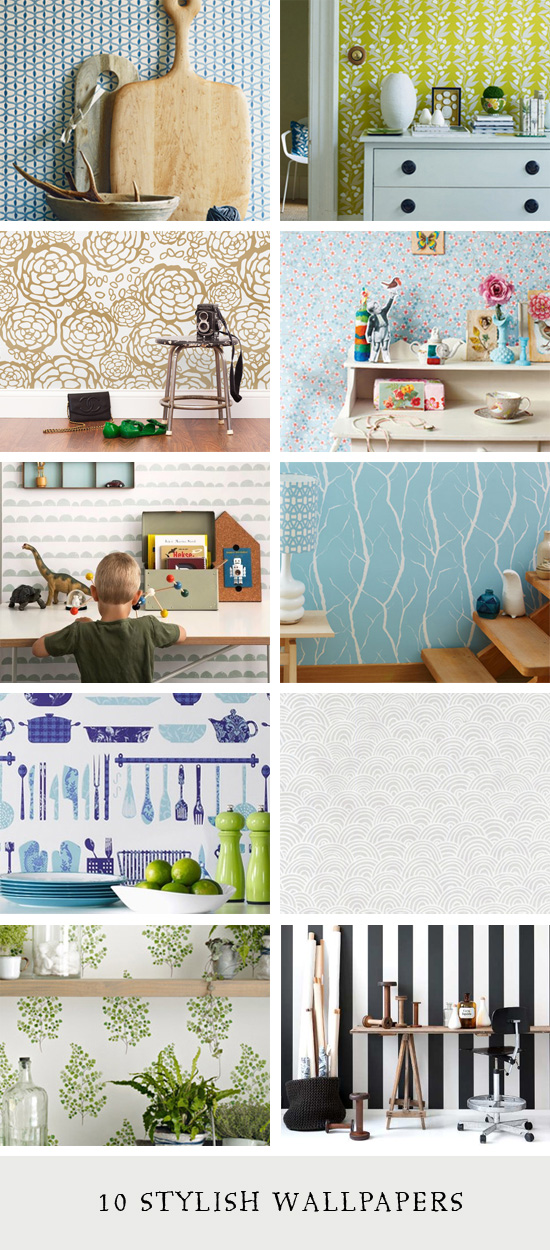 Do you have a favorite out of all the projects I shared? Do you have any wallpaper in your house?
1. Coffee Bean / 2. Bell Flower / 3. Petal Pusher / 4. Cherry Blossom / 5. Half Moon / 6.  Branch / 7. Making a Crockery / 8. Shanghai Bows / 9. Angel Ferns / 10. Vertigo
Thank you to Wallpaper Sales for partnering with me on this post! I hope you all have a wonderful three day weekend!