Happy Friday! Hope you had a great week. I thought I'd share a bunch of random things that have been on my mind lately, interspersed with Ian pics that may or may not relate. Since we're living at my parents house, I don't have any house projects or updates to share, so my blog posts are probably going to be similar to this for awhile...super casual. I have to say, it's kind of nice to have no deadlines in the queue stressing me out! On the other hand, I'm itching to do something creative, and I'm anxious to start looking for a house over here. I've been on Zillow of course, but it's almost too overwhelming because then I have ideas for aaaalllll these different houses running through my head, instead of focusing on just one. So far, I have a couple favorites that I'm keeping an eye on, but I'm also hoping more inventory comes on the market once the weather warms up (it's STILL snowing here, gahhh), because I haven't seen anything yet that makes my heart pitter patter. At least, not in our price range. ;)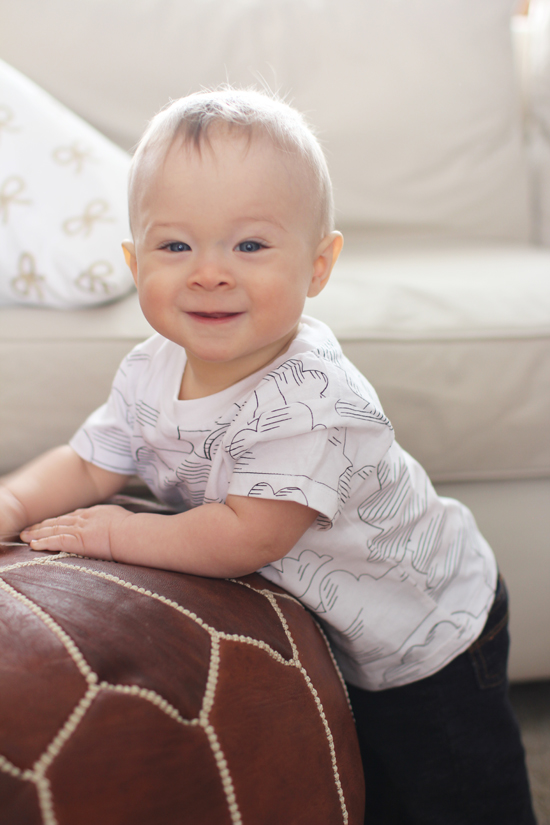 We still haven't decided what our ideal neighborhood is, because, well...we want to be in the country but also close to Ben's work, but also in a good school district, but also in a walkable neighborhood, but also have a view, but also get a great deal, but also be close to our friends, but also be close to our other friends who live on the opposite side of town. You know the struggle! Haha. At least we've narrowed it down to a few general areas that we like, and we'll probably just look in all of them and see how it goes.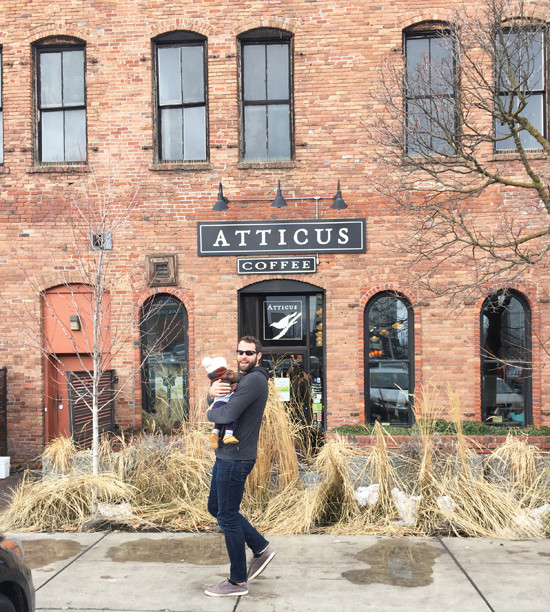 On the topic of houses, because I'm obsessed lately...I've been kicking around the idea of not using a real estate agent. Is that crazy!?! Let me try to justify. We had one in Seattle while we were (briefly) house hunting there but he never actually suggested any of the houses we were interested in. We found them ourselves through Zillow or Redfin, and for the most part, we went to open houses ourselves too. He was definitely knowledgeable about all the paperwork and legal stuff, but I read that you can hire a real estate lawyer for that and they cost way less than the 3% commission that typically goes to an agent. I know that commission gets paid by the seller, so you might say why not use a real estate agent when you're the buyer? My thought is...can we offer less for the house and save ourselves that 3% (or so) off the purchase price? Because if so, I'm willing to do a little more legwork on my end. My parents have sold their house by owner and bought their current house without a real estate agent, so maybe I'm less weirded out by the idea because I've seen it work. But I know a lot of people would never feel secure making such a big and important transaction by themselves. What do you think??
Here's another thing I've been struggling with. We've shared a car for our entire marriage (6 years!) and it's worked out because we always commuted together or Ben took the train/public transportation. But now, he definitely needs the car for work which leaves me stranded at my parents house unless I drop him off and pick him up. It's been ok so far but we will definitely need another vehicle eventually. Sooo we are trying to decide: car, SUV, or minivan? A car is the cheapest option and fits our needs for now. An SUV would be nice for driving in the snow. And a minivan would be the best when our family gets bigger. We rented a minivan for the majority of our road trip in the fall, and it was sooo convenient (seats that drop into the floor! automatic sliding doors! a plethora of cupholders!) so that's where I was leaning until now, but we don't really need a minivan yet with only one baby. What would you do?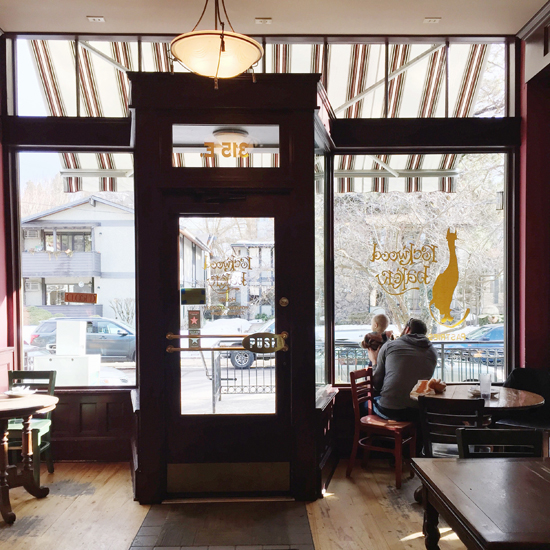 Along the theme of spending money smartly (is that a word?)...Ben turns thirty in June and I'm trying to plan a fun birthday trip that will be awesome but also not crazy expensive. Now that we live in eastern Washington, one idea is to do a big road trip (can you tell we like road trips!?) to Glacier, Banff, and Jasper. We also have a companion pass and lots of points on our Alaska Airlines credit card, so maybe we could go to Hawaii. We've also tossed out the idea of an Alaska cruise, because cruises can be a pretty affordable way to travel and we'd love to see Alaska. On the more expensive side, we have some friends living in Germany, so I thought it could be fun to visit or meet up with them. And last but not least, I know Ben would loooove to go back to Iceland. June is coming up, so we gotta decide soon!
You might be wondering how it's going staying with my parents as grown, married adults? So far, surprisingly well! I'm sure eventually we will be chomping at the bit to have our own space again, but right now it's nice to have other adults around during the day to talk to/play games with/watch Ian so I can take a shower. And they're enjoying all the time with their first grandbaby! My mom has been "teaching" him Chinese, and my dad pulled out some old toys from when I was a baby to play with Ian.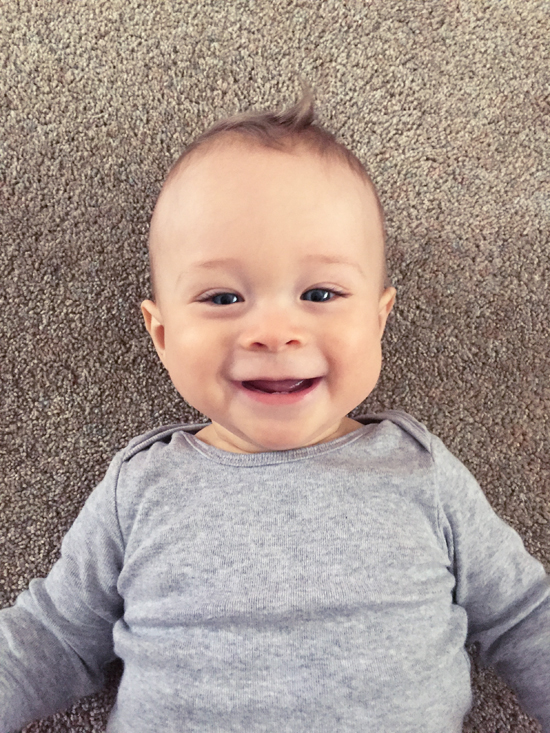 The Bachelor finale is on Monday, anyone watching? Honestly, it's been one of my least favorite seasons but I've gotten this far so I obviously have to see who he picks! I'm rooting for Raven, mostly because Vanessa annoys me (sorry if you love her). Ok, and then I need recommendations for new shows to watch! Including older shows to binge watch. I've heard good things about Victoria, and I think Parade's End looks interesting. But I'd also like something light hearted and funny (I already watch New Girl and Modern Family). Recommendations??
I've also been loving podcasts lately for entertaining me while still leaving me free to play with Ian. My favorite ones currently are about personal finance, parenting, and (surprise, surprise) home design. Any recommendations in those categories?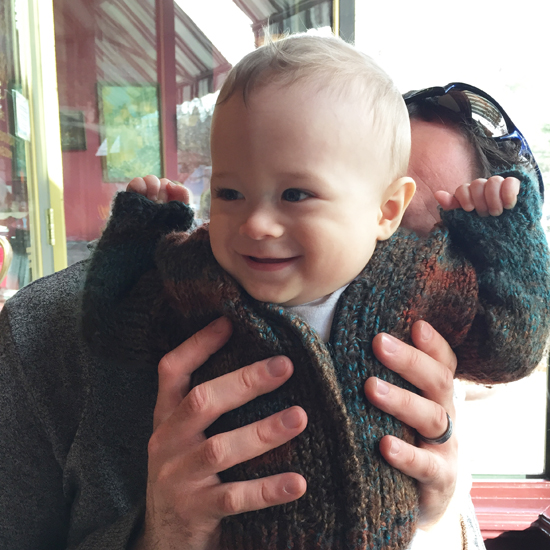 Ok, now I gotta talk about Ian!!! The other night when he was sleeping, we started looking through photos and videos from when he first came home and I can't believe how much he's already grown. He's so big now! It makes me proud, but also a little sad that time is going by so quickly. He's 8.5 months now, which means he's been out of me longer than he was inside. When he was born, we got a bunch of clothes as gifts or hand-me-downs, and I remember looking at some of them and thinking it would be foreverrr until he could wear them. Lo and behold, he's already wearing most of them and I'm running out of clothes to put him in! Crazy.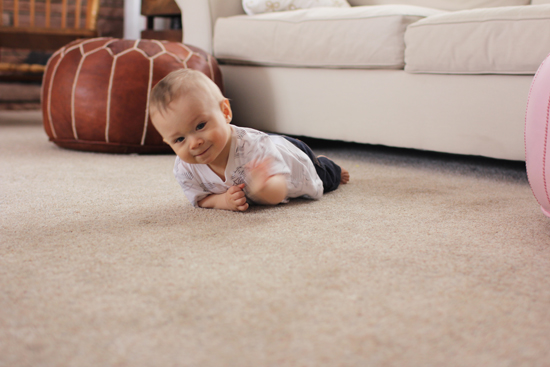 He's mastered sitting, and loves trying to stand (not quite there yet, unless he's holding onto furniture). Lately, he's really gotten the hang of scooting and can move fast when he's trying to reach something. And he has his first two teeth! Soooo cute. He's still super happy and good-natured, and is probably the most friendly baby I've ever seen--he gives everyone big smiles and doesn't have a lot of stranger-danger around new people. He doesn't say any words yet, but he babbles a lot and does fake coughs and funny noises, which I love. And he still has blue eyes! They've actually lightened up even more as he's gotten older, and his hair is coming in lighter too (!!!).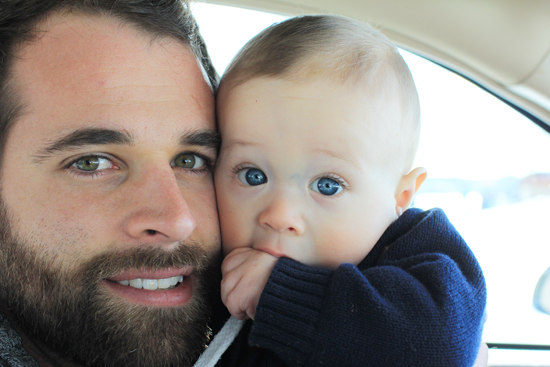 A friend asked me the other day whether becoming parents has been a strain on our marriage. We were together for 10 years before Ian, so on the one hand, yes...it's definitely been an adjustment finding our new rhythm. But on the other hand, I think having a baby has brought us even closer. It's been so fun for me to watch Ben as a father (he's so good at it!), and it makes me love him all the more. One of the biggest changes for both of us has been going from having similar roles (both working and sharing household duties equally) to having very different roles (me at home with Ian, and Ben as the wage-earner). We're still getting used to that, as well as living in a new city and figuring out how to be parents...so yes, there's a lot of adjusting. But I think going through life changes together only makes a relationship stronger. We got married young (21 & 23) and someone told us we "didn't know who we were yet" and we were bound to grow apart. I disagreed then, and still do. I think as long as you go through changes together, you grow even closer!
So anyways, now you know what's been running through my head this week! How are you all??? What's on your mind?
P.S. Next time I'll try to include pictures of myself--I always forget to have people take pictures of all three of us and I feel awkward in selfies!
P.P.S. This post ended up being way longer than I expected. Tell me the truth...do you like wordy, meandering posts? Or do you prefer ones that are more succinct and cohesive?