I have been patiently waiting to tell you guys something really exciting...we're having another baby!!! I'm 20 weeks pregnant, due March 25th. We had our anatomy ultrasound on Monday, and found out that little bean is a BOY!!! We did not guess right at all, haha. I've felt pretty different from when I was pregnant with Ian (I was nauseous a lot during the first trimester, and had different cravings) so we totally thought it was a girl. But I'm really excited that Ian will have a brother so close in age! It's going to be fun to see them become buddies. And I'm about to get seriously outnumbered! Oh boy...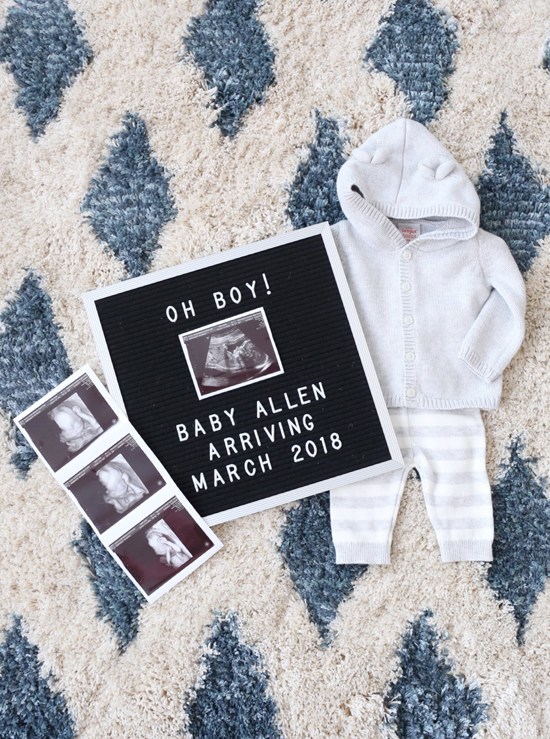 I'm at the fun stage of pregnancy now where I have some energy back, my belly actually looks pregnant (but isn't huge), and I can feel the baby moving regularly. Yay for the second trimester! And I'm SO excited to be pregnant during the holidays, aka the best time of the year not to think about how many calories you're consuming. Haha!
Those of you who remember Ian's birth story might be wondering about my chances of having preeclampsia again. I do have a higher risk than the average person (it's somewhere around 25%), but I've always wanted more than one kid so that's a chance I'm willing to take. We've chosen the hospital in Spokane with the best NICU just in case, and I'll have more frequent doctor's appointments going forward. Obviously I really hope I don't develop it this time, but there isn't much you can do ahead of time to prevent it (they still don't even know what causes preeclampsia). I'm taking a low-dose aspirin every day, which has been shown to help, and we have a blood pressure cuff at home that we're using to monitor my blood pressure.
At this point, we're just keeping an eye on things (at least I know what to look out for this time) and planning for a second baby the same as anyone else would. I'm thinking of switching Ian into a twin bed, so we can use the crib for the new baby, and we're making a list of the things we'll need to get this time around...like a double stroller, an infant car seat (we borrowed the one we used with Ian), and of course I'm gonna shop for some new baby clothes! It's nice that we can probably reuse a lot of the same things we already have, but I want this baby to have some new outfits and toys too.
We're also starting to think of names! It took us a long time to come up with Ian's name, and now it's even harder--especially since we're having another boy. I don't to use any of the names we rejected for Ian, so we're trying to think of a whole new batch of boy names, with the added challenge of finding one that "goes" with Ian.
I can't believe that in March, we will be a family of four! It already snowed in Spokane, so I feel like winter is already here...which means March is, like, in no time at all. Ahhh!