I've always had a philosophy that you should get your basics really cheap, then occasionally spend more on a really special outfit--like a dress for a wedding or a fabulous pair of shoes. But I've noticed that lately, I'm only wearing my cheap basics (something to do with becoming a new mom?) and I never actually look forward to getting dressed. So I'm thinking it's time that I upgraded my basics to ones that are still comfortable, casual, and easy to throw in the wash...but also make me feel good about myself. Because this Forever21 t-shirt + old jeans thing that I have going on right now? Is starting to make me feel like a real schlub. So I've been thinking about wardrobe staples that I want to invest in...the classic, essential pieces that I'll wear over and over again, year after year. Here are some items that are on my wish list.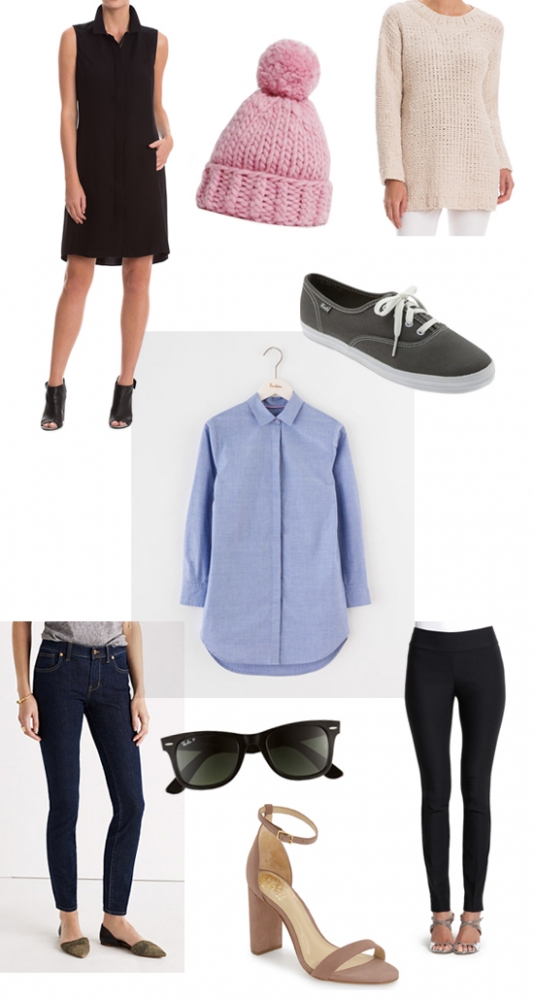 Flattering LBD / Chunky knit hat / Oversized sweater / Canvas sneakers / Classic button-down / Dark skinny jeans / Polarized sunglasses / Strappy nude heels / Stretchy black pants
It's definitely a shift in my mindset to realize it's okay to spend some money on the basics. And actually, they're probably the items I should be willing to spend more on. After all, basics are classic, won't go out of style, and are the ones I wear the most. Those special-occasion dresses, statement jewelry, and trendy shoes? They'll probably be out of style before I ever get my money's worth out of them.
I know building up a wardrobe is never actually done--obviously, I won't be wearing the same pair of sneakers for the rest of my life. But I'm hoping to collect a few more quality pieces this year that'll last me for awhile. After all, I'm creeping up on 30, so I should probably start shopping like an adult instead of a teenager!
What about you? What are your favorite wardrobe staples that you reach for time and again? And do you have a favorite place to shop for them?
Thanks to NIC + ZOE for partnering with me on this post.