The Home Depot provided me with product and compensation. The opinions I have shared about the products are my own​.
When we first moved into this house, we had some friends over and were giving them a tour. As I was opening doors and showing off various rooms ("this is the guest room, this is the laundry, the is the garage" etc.), I opened the door to the closet under the stairs and said "and this is just some random closet that we'll probably fill with junk." My friend immediately said, "Oh I know what you should do with that space!" and told me about a similar closet she'd seen on Pinterest that was turned into a kid's clubhouse. I loved that idea! I decided I wanted to make ours into a reading area, because I've always enjoyed finding cozy little nooks for curling up with a book. Right now we're the ones reading to Ian, but eventually I like to imagine him hanging out here with a good book. I was lucky to partner with Home Depot on this project, which really helped us to get it done. Our unused closet under the stairs (which I never expected to spend time in) is now transformed into a sweet, cozy book nook where we actually like to hang out!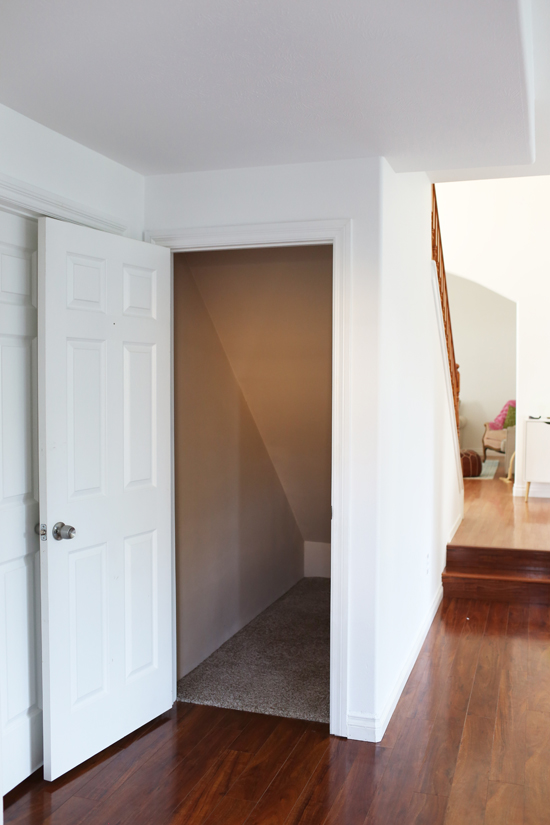 Above is the before--and this is when it was already all cleaned out. We'd started throwing random things in there--shower curtains from the previous owners, nearly-empty paint cans, and other junk. I could already see where this poor little closet was headed...but then it was rescued and transformed into THIS: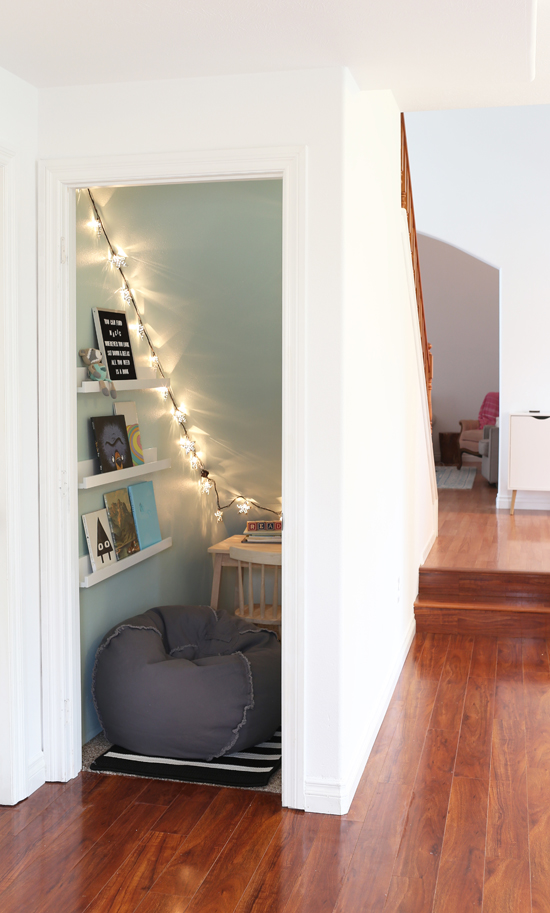 So much more inviting, right?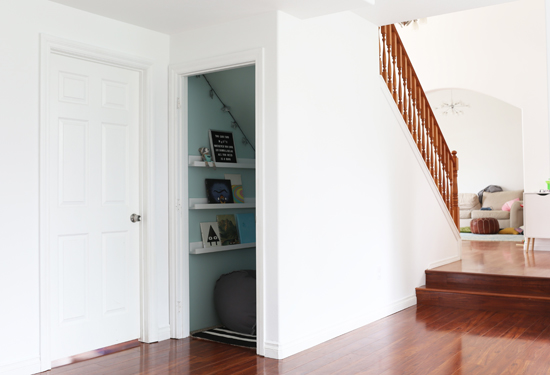 Here you can see where it fits in with the rest of the house. The closet sits in the family room, right next to the guest bedroom. In the background, you can see the staircase, the entryway, and the living room (I took these pictures before we rearranged it).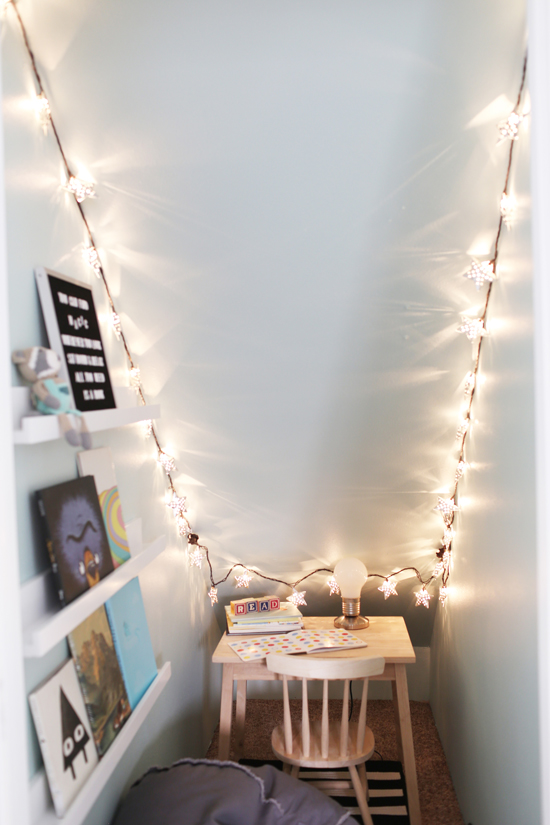 You may think it's weird that we already finished decorating this extra little closet when we still need to work on the big, important areas like the kitchen and living room. But everything in the big rooms is so EXPENSIVE, I'm scared of making the wrong decision and regretting it later. It just seemed so much more manageable to tackle a smaller project. And it felt really good to actually finish it! So if you're feeling overwhelmed by decorating your whole entire house, maybe try starting with a small space that feels super doable...and that might get you in the mode of decision-making and doing, instead of staying stuck in "analysis paralysis." I hope it works that way for us, anyways!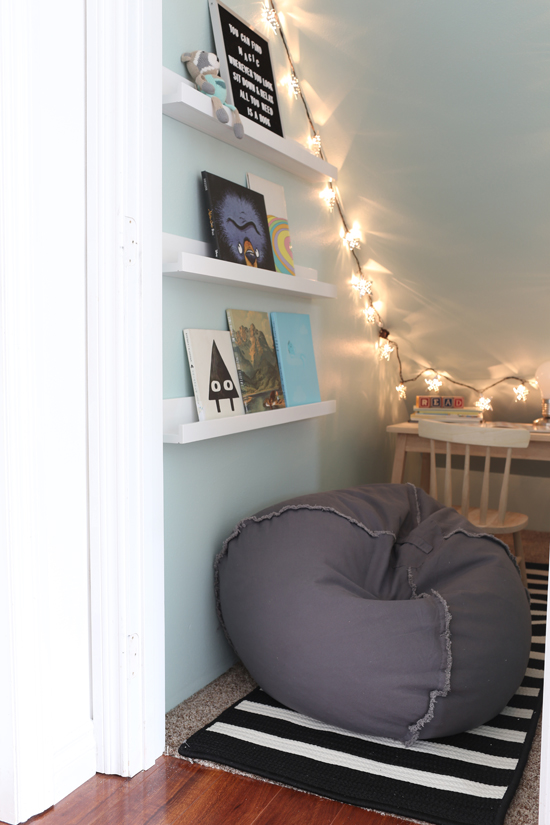 We started by painting the walls a soft mint green (Behr Whipped Mint). Then we laid down a black and white striped runner, and strung up some whimsical star lights. Next, we hung three 36" photo ledges on the wall and filled those with some of our favorite kids books and a Dr Seuss quote. Next, we brought in some furniture--a comfy, squishy beanbag chair, and a kid-sized desk + chair set.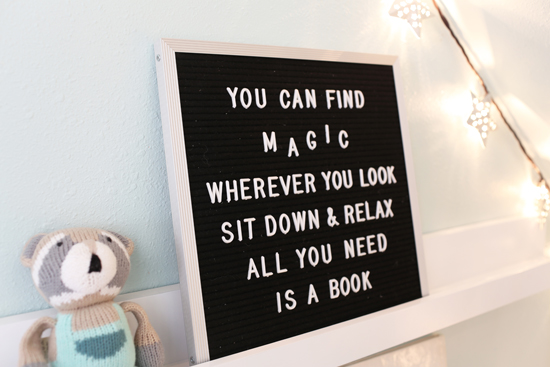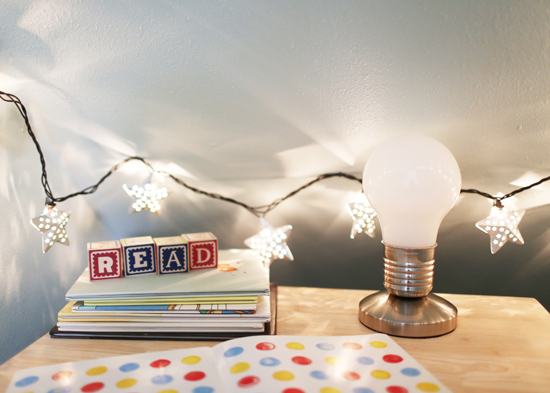 The lightbulb lamp was a final touch I couldn't resist. I think it's super cute and clever.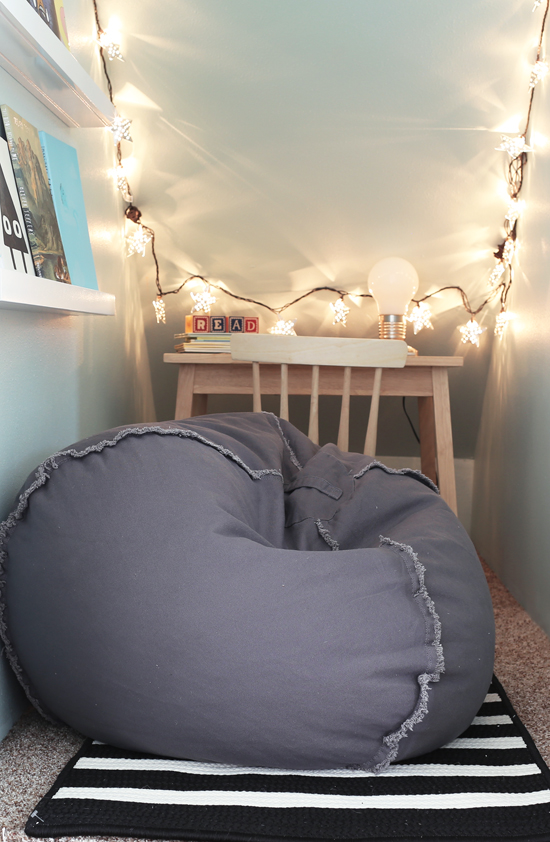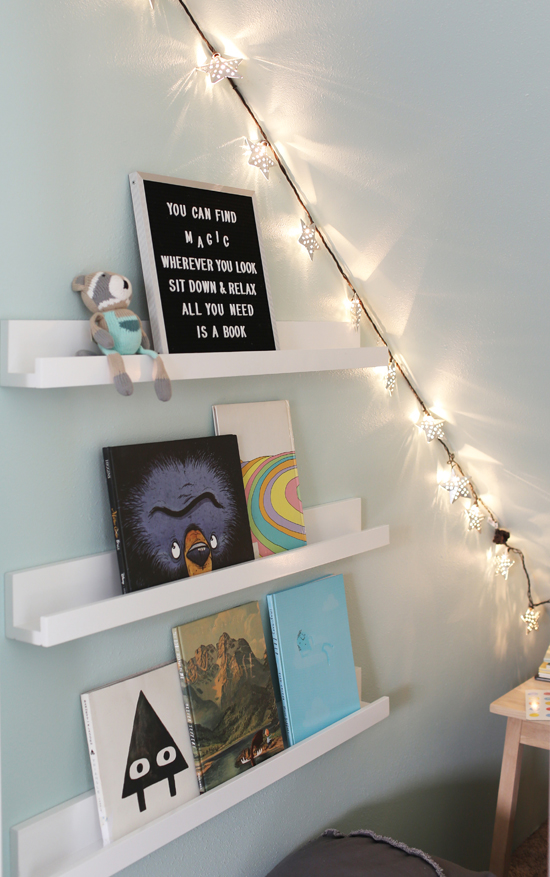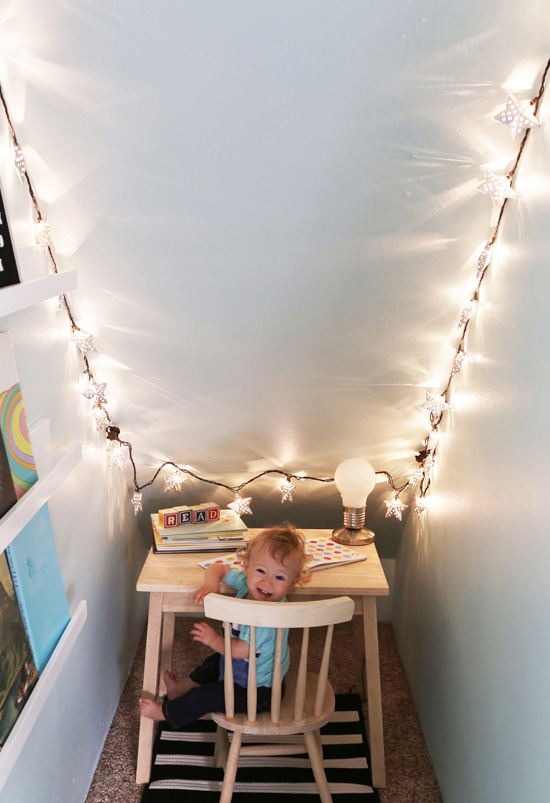 I love how this sweet little space turned out. It makes me smile every time I walk by, and Ian thinks it's pretty cool--especially with the string lights turned on. Even better, it's like we gained some square footage in the house, since it's an area we weren't using at all before!
Is there an area of your house that's unused and unloved right now? Think about how you can bring it to life! I've seen closets turned into home offices, awkward kitchen nooks become awesome pantries, and more. I'd love to hear if you've done any projects like that...or have any planned for the future. :)