According to your answers in the survey I did (which is still open, if you'd like to add your two cents), the majority of you are interested in seeing more giveaways. Well, this post is for you! With Halloween over and Thanksgiving right around the corner, it's time to start thinking about gifts! In my opinion, gifts needn't be expensive to show that you care. In fact, I think fun, inexpensive gifts are the best--that way, no one feels bad if they can't afford to get you something fancy in return, and no one feels obligated to hang onto a gift they don't really like just because it was expensive. Handmade gifts are always a good way to go if the project is simple (like these wood round coasters I made)...but 20 hand-knitted wine cozies for all your co-workers? Ain't nobody got time for that! So I rounded up some super fun and quirky items from Uncommon Goods that would make great gifts or stocking stuffers for anyone on your list--and they're all $30 or less! In case you can't tell, I really like clever, tongue-in-cheek designs like the toast coasters and the glass milk carton (this pick punch would also be cute for your guitar-playing friend). And how hilarious is that door mat? That would make me smile every time I came home.
Update: The winner of this giveaway is Kim Winnubst. Yay! Congrats, Kim.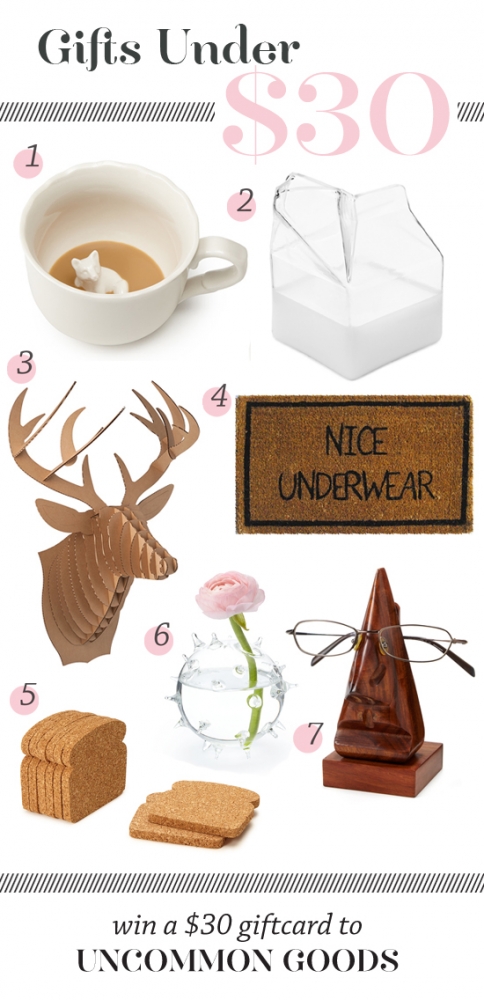 1. Hidden animal mug - $21 / 2. Clever creamer carton - $14 / 3. Cardboard taxidermy - $30 (I have one just like that in my living room) / 4. Cheeky doormat - $24 / 5. Sputnik vase - $15 / 6. Toast coasters - $10 / 7. Glasses stand - $18
Today, I'm giving away a $30 gift card to Uncommon Goods so you can cross a gift or two off your list--or give yourself a little treat! Enter the giveaway below (it's my first time using Rafflecopter so let me know if you have any issues). Good luck!
This giveaway is sponsored by Uncommon Goods--a Brooklyn, NY based company that features unique designs and handcrafted gifts created in harmony with the environment and without harm to animals or people. Most of their products are created here in the US, and about a third are made of recycled or upcycled materials!