I've been thinking a lot lately about gratitude and contentment. Ben and I commute to work together (30 minutes to an hour each way, depending on traffic), and we often get into long conversations about life in the car. I tell you what, a long commute is never fun, but it definitely makes it better to share it with someone you love and enjoy talking to! Anyways, we've been talking lately about how the current of this age is to never be satisfied. To always want more, to feel like you've never accomplished enough, to constantly chase that next thing. To some extent, I think that's just human nature. But I also think that it's a recent shift with my generation. Am I wrong? I feel like not too long ago, people were more content with what they had…but our generation has been so groomed to dream big and do it all, that "settling" for anything less feels like failure. Don't get me wrong, I think it's great to believe in your dreams and to make them happen, but I'd also like to feel more contentment and satisfaction with my life as it is now, rather than always looking forward to tomorrow. So what's the key?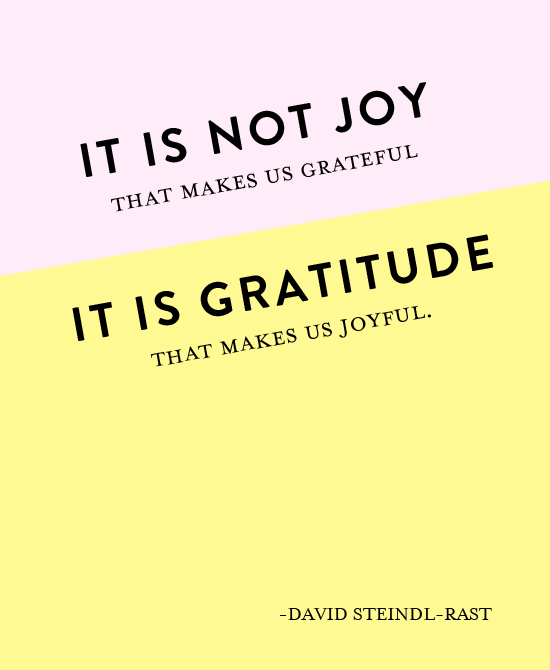 There are probably a million things that contribute to feeling satisfied--but today I want to talk about one point in particular that makes a big difference: gratitude. I really like this quote, by David Steindl-Rast: "It is not joy that makes us grateful, it is gratitude that makes us joyful."
I recently read this post on Apartment Therapy, about being positive when it comes to your home. It talked about how when guests come over, so often we'll immediately launch into apologies for all the things we don't like about our home--the mess, the unfinished projects, the items that need fixing, etc. And if they say something positive about our place, we laugh it off or dismiss it. We might think this is being humble, but in actuality it's not very kind to the person paying you the compliment, and it just perpetuates a standard of perfection that no one can actually attain to. Wouldn't it be so much better to simply say, "Thanks so much! That really means a lot," when someone pays you a compliment? I think so.
And I think you can apply that same principle to just about anything. If someone tells you that you look beautiful, just say "thank you!" rather than talking about how your shirt is actually two years old, or you have a zit, or you ate a huge dinner and you feel fat, or whatever. I'd like to practice this--being grateful for what I have, appreciating it, and enjoying where I'm at, without thinking about what could be better.
What are your thoughts on this topic?? I'd love to hear how you stay positive in the present. How do you work toward your goals while staying joyful and satisfied in your current situation?