Whew, this week has been another busy one!! I'm still catching up from our weekend away...I finally finished putting away all the laundry we'd left in a big heap, only to put another load in! And last night I had to do a bunch of grocery shopping because the fridge was nearly bare. Needless to say, I didn't have a lot of time to put together today's post--but it worked out, because I've been wanting to do another "Thoughts for a Thursday" anyways! And the quote I picked is right along those lines: "Taking time to live life will only inspire your work." Don't you think that's a good reminder? I can tend to be a bit of a perfectionist and a workaholic when I'm in the zone and having fun with what I'm doing. I'll admit, sometimes I find it hard to tear myself away from the computer (or whatever task I'm working on). But there's always something more to get done! So I've been trying to say "yes" to life more, and I'm loving it. Every time I've worked out with Ben, hung out with friends, gone for a walk in the sunshine, taken a weekend getaway, etc. it's been really refreshing and rejuvenating. Plus, getting out there sparks fresh ideas--after all, the internet can be a stagnant pool with the same things recirculating over and over again. So living a little is not only good for your body and soul--it's good for your work too!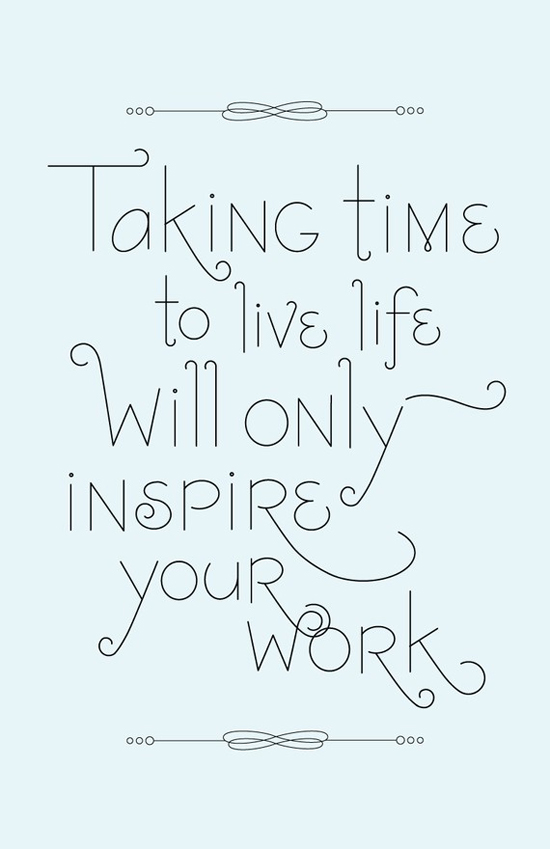 How have you all been? Are there any words of wisdom that have been resonating with you lately? What are your thoughts or experiences with this topic?
Poster via Etsy. See my first Thoughts for a Thursday here.