It can be hard to reconcile your Pinterest-perfect dream house with your reality--especially when you live in a rental plagued with cheap blinds, outdated light fixtures, plain white walls, and (my least favorite) ugly tan carpet. But never fear, renters, there are some things you can do to add some style to your rental and make it feel more like home (without losing your damage deposit!). Here are my favorite tips & tricks for decorating a rental. What are yours?
1. Be patient and resist the urge to buy too many cheap furnishings. I know the temptation is great when your place is empty and your budget is small. But don't just go out and fill it with Ikea or Target, unless you want it to look like a dorm room! It's totally fine to get some things from Ikea--but mix them with pieces from other stores. Your house will look so much more homey and collected, I promise. If your budget is small, don't despair--thrift stores, Craigslist, and flea markets have an abundance of well-made pieces for a bargain (check out more of my budget decorating tips here). And be patient. You don't have to furnish the entire house in one shopping trip. It's worth waiting to get pieces you will love for years to come.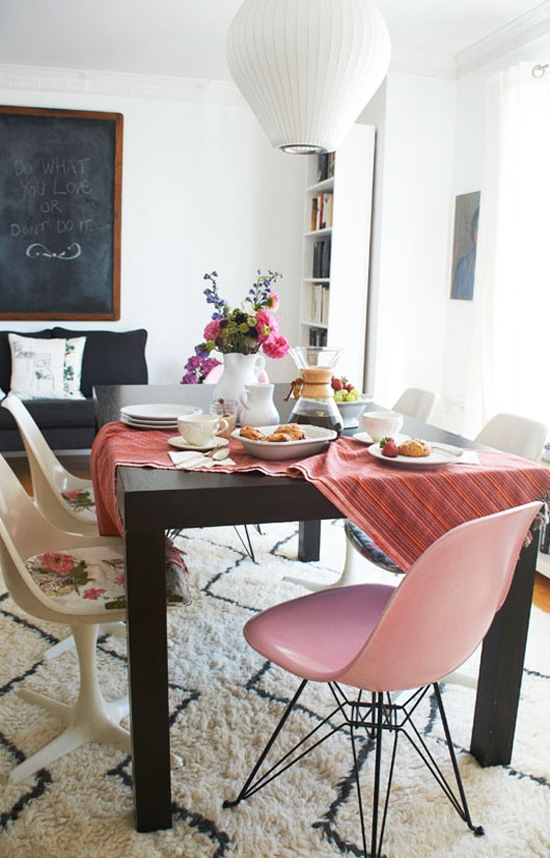 2. Change out the lighting. Don't just deal with the boring, outdated lighting fixtures that come with most rentals. Lights are so easy to change, and they make a big difference (check out Kichler lighting, it's a great place to start)! Plus, they're something you can take with you when you leave. Just store the original lights somewhere and put them back when you move out.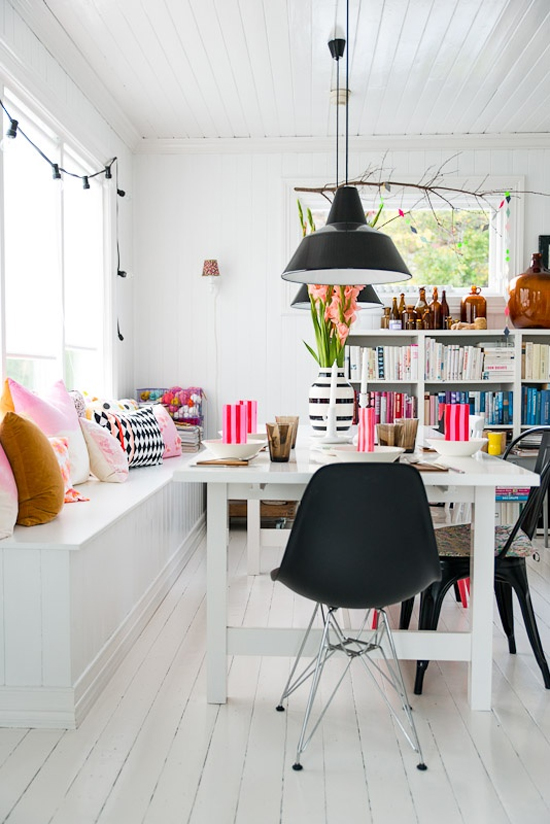 3. Hang things on the walls. Don't be afraid to make a few holes--that's what spackle is for! Honestly, nothing is more depressing than blank walls. Artwork, photos, and decorative touches are the soul of a house.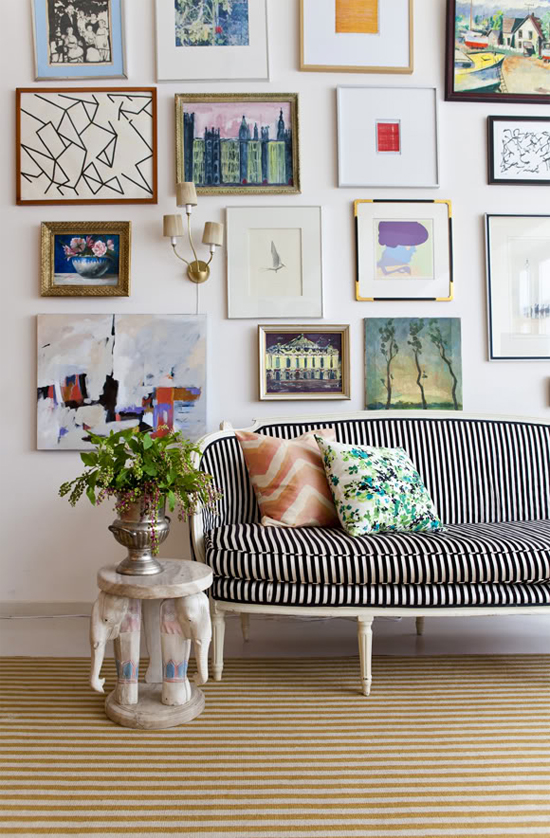 4. If you can't paint the walls, paint some furniture! Not being able to paint is one of the biggest things renters complain about. But your landlord can't stop you from painting your own furniture--and a coat of paint can really breathe new life into your thrift store finds, anyways. Having some big painted pieces (like a hutch, a desk, or an armoire) goes a long ways toward cheering up a blah apartment.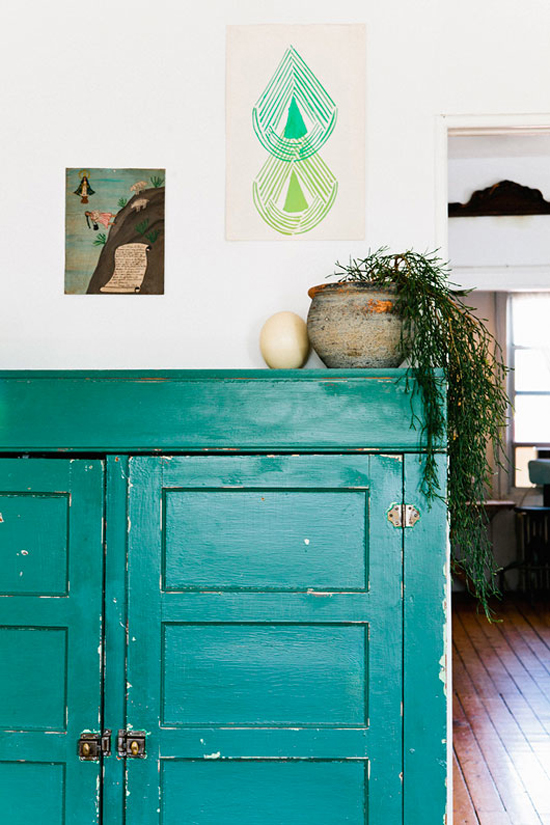 5. Removable wallpaper. If white walls really bum you out, try the new trend of removable/temporary wallpaper
. There are quite a few companies that sell it, in lots of stylish patterns that will add instant style to your walls! They're easy to install (just peel & stick) and just as easy to remove when you move out.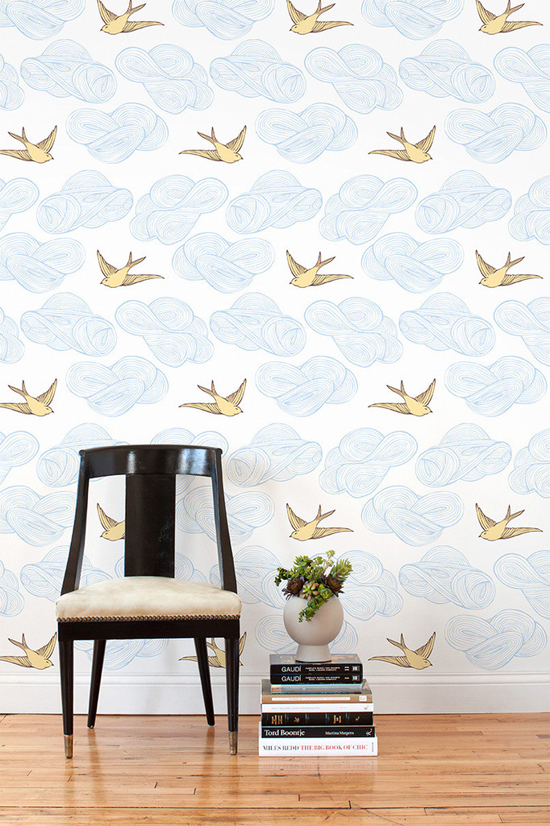 6. Don't wait til you're settled somewhere "permanent" to buy furniture you love. I know a lot of people who have put off investing in nice furniture because they're waiting til they buy a house. They get by with stuff they hate because they're worried whatever they buy won't work in their someday house. But unless you're literally on the brink of buying a house, I think that's silly! Sure, you might not want to get a giant sectional or custom bookshelves that are very specific to the apartment you're renting. But invest in a nice, quality sofa that you love, maybe a bed frame, and a good dining table. Chances are, if you love them now, you'll find a place for them in your future house. Or you could always sell them! But really, just because a place is temporary is no reason why you should live with furniture that you dislike.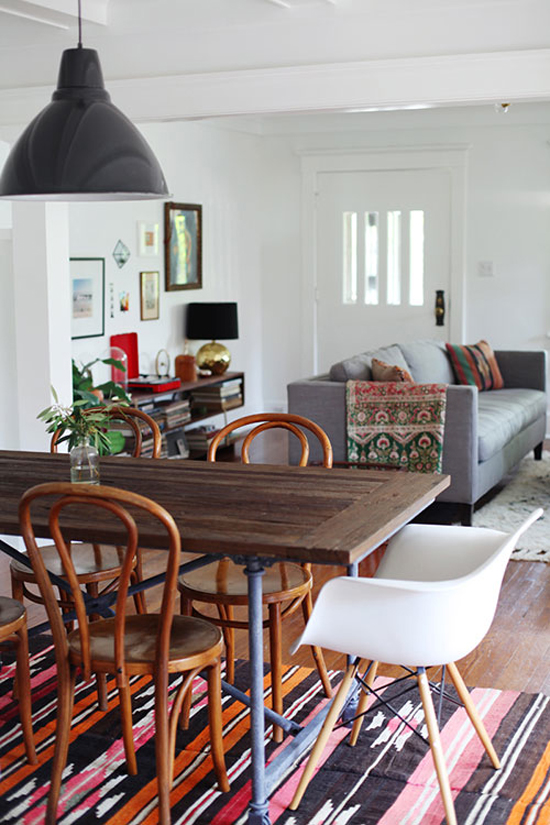 7. Use rugs to add color and cover ugly carpet. Wall-to-wall carpet is my biggest pet peeve in rentals. Of course, if you can find a place with gorgeous hardwood floors, get it!!! But if you can't, spruce up all that beige blah-ness with a colorful and stylish rug. I know, you might be thinking that a rug over carpet is a design no-no, but you can make a rug look stylish and purposeful over carpet--as long as the carpet is neutral and low-pile (which most rental carpet is) and the rug is interesting and different enough.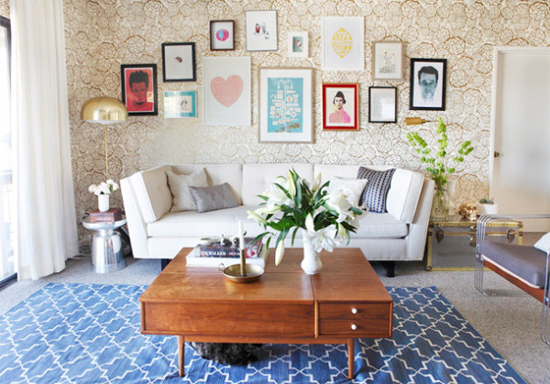 8. Similarly, use drapes to cover ugly blinds. Nearly every rental comes with some sort of beige blinds--vertical or horizontal. Not stylish!! Install drapes right over those to hide them. They don't have to be expensive either. I know I said not too much Ikea, but they have some great basic white drapes that are super inexpensive ($9.99 for a pair!)...and you can customize them by adding your own ball fringe. That's exactly what I did in my living room (except my fringe is yellow)!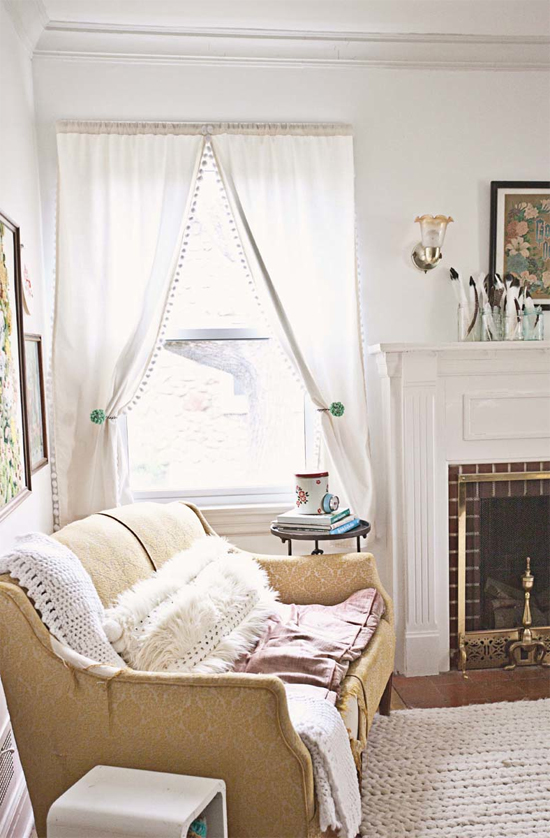 9. Store your stuff in "collections" that double as decor. If you're in a small space that's short on storage, a great trick is to group your things so they can be stored in the open and double as decor. The kitchen is the perfect place for this, with cake stands, mugs, glassware, and so many other things that are both practical and beautiful. But it also works in other rooms of the house--like a group of empty white vases displayed artfully on a table, ready to be put to use when the need arises.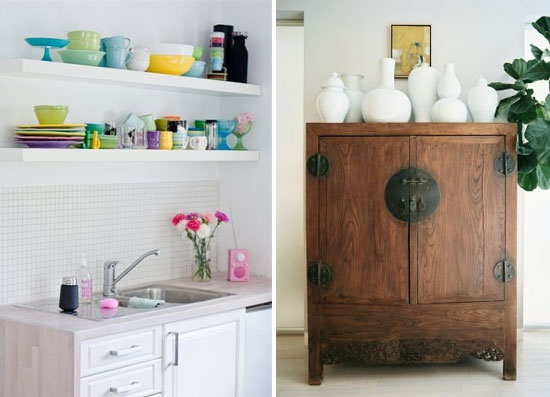 10. Fresh flowers & plants. Fresh flowers and plants are one of the best ways to make a place feel homier--rental or not. If you live in an apartment without a backyard to connect to the outdoors, they're even more essential! Of course, dead plants are even more depressing than no plants, so try ones that are easy to keep alive--like succulents, cacti, air plants, and african violets...or buy fresh cut flowers from the farmer's market or grocery store and switch them out when they start to wilt. Trader Joe's usually has a good selection of pretty flowers at fair prices.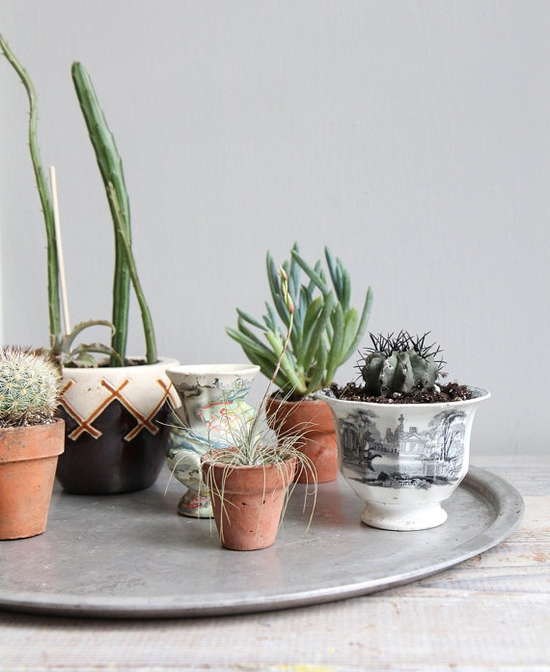 I'm curious, how many of you are home owners and how many are renters...and if you rent, what are your biggest pet peeves? What advice do you have for fellow renters to make their place feel more like home?
If there is a topic you'd like for me to share advice on next, please let me know!
1 / 2 / 3 / 4 / 5 / 6 / 7 / 8 / 9 / 10 / 11