This has been one busy summer so far! Ian turned one last week, and a few days later our house closed (we get the keys tomorrow). We're trying to squeeze in as much travel as possible, while also getting started on house projects and plans. In the whirlwind, I'm aware that I've been neglecting the blog. But even though I'm not posting very often, I still think about it every day! I'm trying to figure out what direction to go in the future. Now that we own a house, will I go back to posting more interior design inspiration? Should I share more personal, family related posts? Or do I want to do something else entirely??? I'm not sure yet. For today, I'm keeping it simple and just sharing a few snaps from our family life over the past few months. Hope you all are doing well!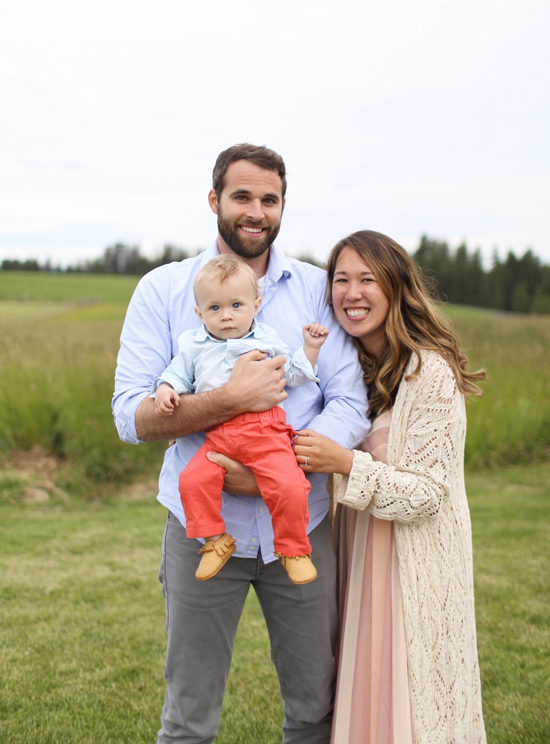 Here we are at a good friend's wedding. It's rare that we get a non-selfie photo of all three of us, especially one where we actually made an effort. ;) Thanks, Corlana.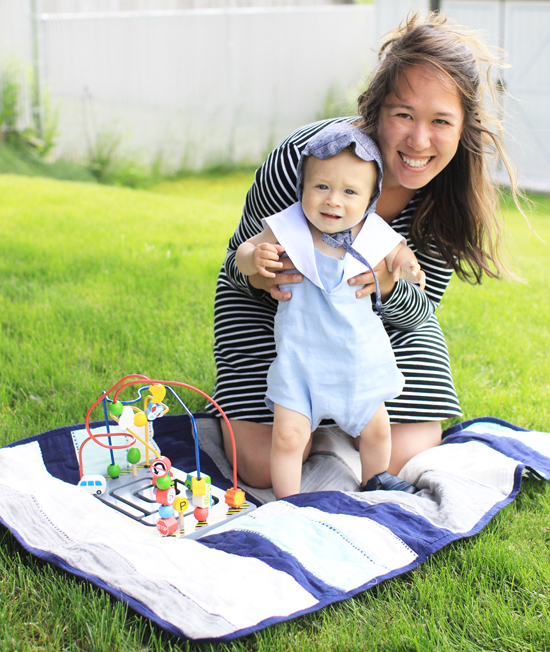 Hanging out in my parent's backyard (we've been doing a lot of that this summer). I just love Ian's outfit in this photo. Who says you can't put little boys in bonnets?!? Ok, Ben says. But I'm disregarding him. :) The bonnet and jumpsuit are from Little Goodall (who makes the sweetest baby clothes), and the sandals are from Pediped. The bead coaster is Ian's latest favorite toy...it's from Svan Toys.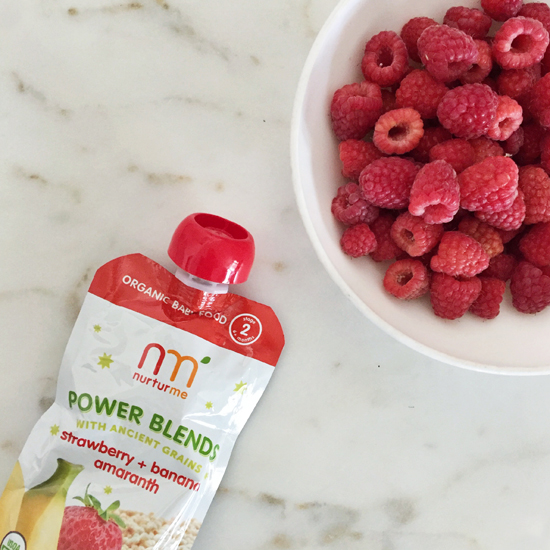 We harvested our first bowl of backyard raspberries the other day and Ian loved them. I've been trying to increase his solid food intake now that he's one, and these organic NurturMe packets have been awesome for when we're out and about. They're so convenient you don't even need a spoon, and they're all-natural so I don't feel bad about feeding them to him. I had originally planned to start weaning Ian when he turned one, but now that the time is here I think I might make the transition a slow one. I still enjoy the bonding time with him when we're at home, but I would looove to stop breastfeeding in public places and friends' houses. What with pregnancy and nursing, I haven't worn half of my wardrobe in the last two years, and let me tell you, stretchy t-shirts are getting O-L-D...I'm ready to bust out my dresses again!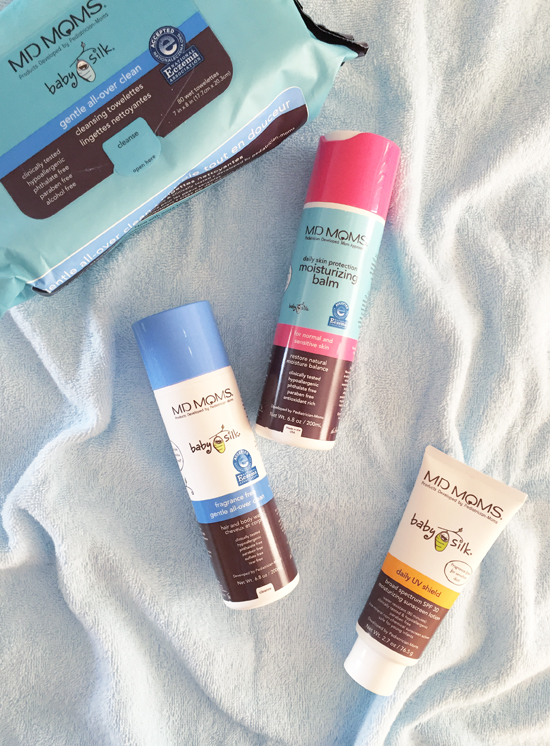 Speaking of all-natural, I found a new brand for baby skincare that's made with better ingredients. I never used to be the kind of person who was particularly concerned about getting organic products, but there's something about a sweet and innocent baby that makes you want to get the safest, best stuff.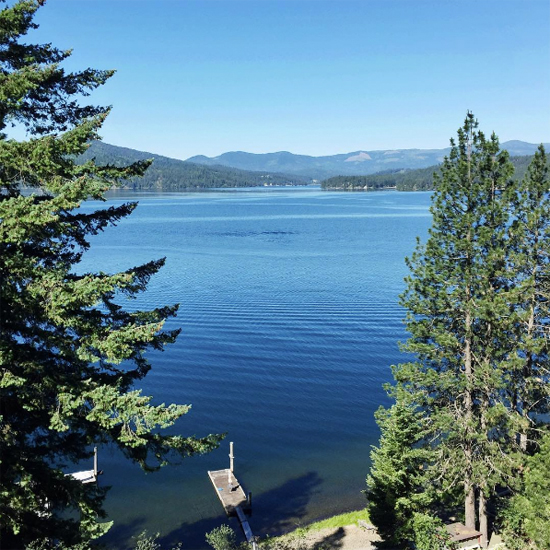 Last weekend, we took a spontaneous trip to Coeur d'alene and stayed with some friends at their family lake cabin. It was beautiful and relaxing and just what we needed...a lovely spot to spend Ian's first birthday.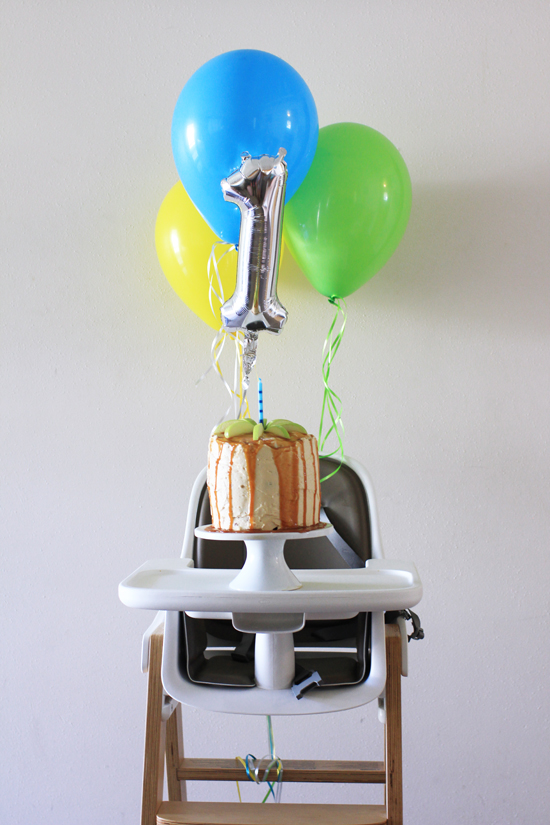 When we came home on Sunday, we threw Ian a little birthday party with my family. I thought about trying to do a bigger party with friends, but I'm glad we kept it simple. Burgers in the backyard and salted caramel apple cake were all we needed for a good time. Ian loved the balloons and splashing around in his new kiddie pool. And this mama shed a few tears over the fact that her baby is already ONE! We did a lot of reminiscing and looking at old photos of Ian. What a difference a year makes!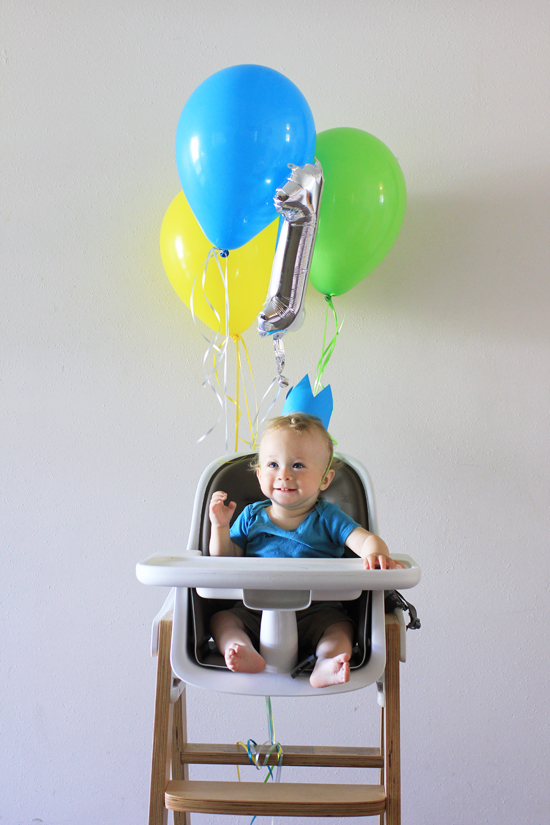 Look at my cutie now! So proud of him.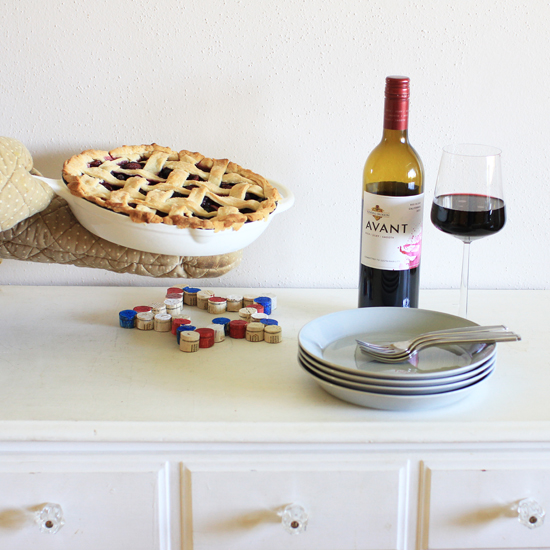 And can you guys believe the 4th of July is this coming Tuesday?!?! Summer is flying by already. If you're looking for some ideas, get the recipe for this "red wine & blue" pie over on the Kendall-Jackson blog. It's super delicious if I do say so myself.
What do you guys have planned for this weekend and the 4th? Ben gets both Monday and Tuesday off (woohoo!) so we're trying to decide if we should go somewhere and take advantage of a rare 4-day weekend...or if we should be practical and get started on house stuff (painting, moving, etc.) We'll see, either way should be fun!