When Ian was born, I didn't buy him a single article of clothing. We got a bunch of preemie and newborn clothes as hand-me-downs and gifts from friends, and he was swaddled most of the time at the hospital anyways. But now that he's home and has outgrown his preemie clothes (yay!), I've been doing a little shopping. And let me tell you, shopping for baby clothes is FUN. Way more fun than shopping for myself--especially since I'm definitely in my "fourth trimester" and not feeling the most svelte. I'm trying not to spend too much, since I know Ian will outgrow these clothes soon and will probably also poop/pee/spit up on them too. So I've been looking for shops with cute clothes at reasonable prices. Here are my favorites, so far!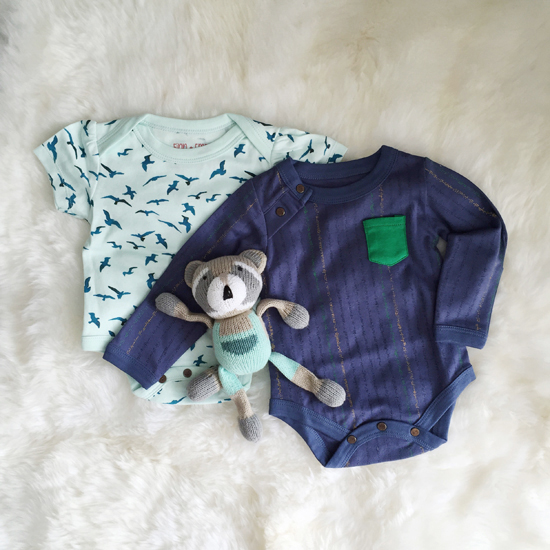 Basic - For the majority of his wardrobe, I'm getting Ian clothes that are basic, inexpensive, and not too trendy, so we can use them again with future kids. That mostly means lots of cotton onesies in simple patterns and colors.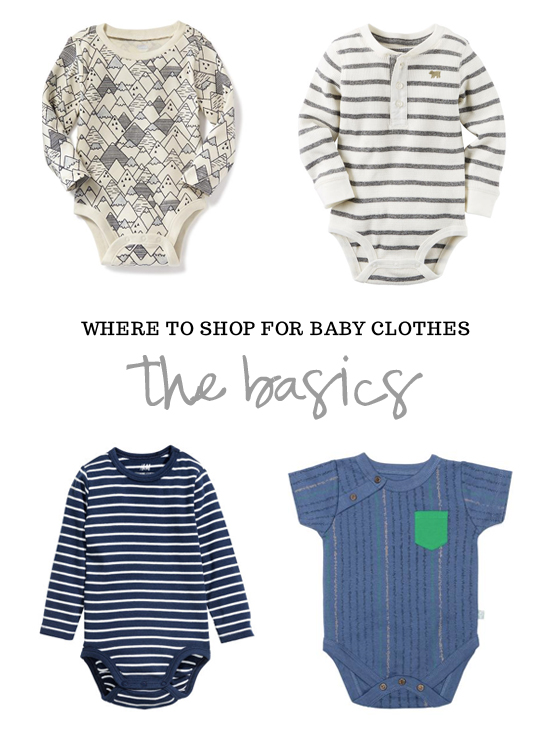 1. Old Navy - I haven't shopped at Old Navy for ages, but I was pretty impressed with their baby section...they have some really cute designs at great prices!
2. Carter's - This brand is sold at lots of different stores, but you can also shop directly on their website. They're one of the few brands I've found so far that make preemie and newborn sizes, in case you need that.
3. H&M - Another good source for inexpensive baby basics, as well as some trendy stuff. No surprise there.
4. Finn & Emma - I recently came across this shop and adore everything they sell. Their clothes are not as cheap as some of the brands above, but are well-made from 100% organic, super-soft cotton.
Special - I would never buy anything really expensive for a baby, but it's nice to have a few pieces that are a little more unique--for baby photos, special occasions, or just for fun. Here are a few shops that are great for that.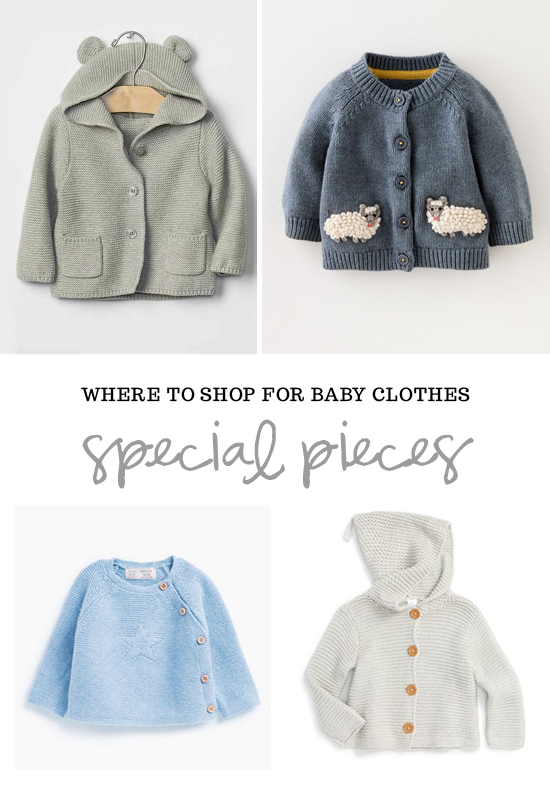 BabyGap - This has been my go-to for baby shower gifts in the past. They have so many cute, on-trend pieces!
Baby Boden - I absolutely love Boden, both for adults and little ones. A great source for pieces that have that special attention to detail.
Zara - Lots of stylish pieces at fairly reasonable prices. I especially love their knitwear (you can probably tell, I think baby knits are just the sweetest).
Nordstrom - A one-stop shop for a variety of price points, brands and styles--all in one place. They also have their own Nordstrom Baby brand that's pretty cute. We were gifted a bunch of clothes from there since Ben works at their HQ--super soft and nice quality.
Where are your favorite places to shop for baby clothes? Any other cute, affordable brands that you love? Let me know in the comments!