Ok, yes, I know it's not September yet. But I'm already thinking of what I want to get with next month's budget! First things first, our bedroom. I won't be able to buy everything from the boards that Decorist put together for us, but I do want to get started. I liked the headboard from their first design board, but we're thinking of doing a full bed frame instead, so we can hide our box spring and so it feels more finished. And instead of white, I'm thinking maybe blue…or grey...or yellow…or beige. Which color you prefer with my bedding? The prices also vary a little by color.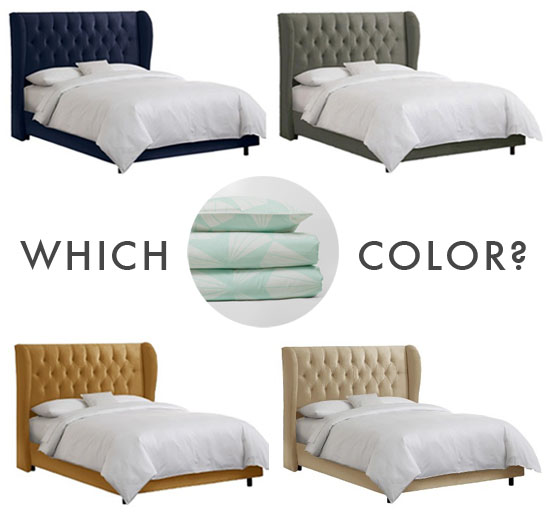 Blue - $711.55 / Grey - $730.95 / Yellow - $899 / Beige - $854.05
I also want to get a few accessories for our bedroom. I won't be able to get all these items this month, but I'd like to get a few. We're thinking of putting sconces on either side of the bed and moving our current lamps to the living room instead. Do you know of any good sources for wall sconces? I'm not sold on the ones I put in this round-up…they're just an example.
After that, I'd like to set up my dressing table area with a pretty mirror and a lidded basket for my curling iron, blowdryer, and straightener. I also eventually want to get a rug. The one I picked out from Lulu & Georgia is currently sold out, but I've been wanting it for awhile, so I'd be willing to wait a little longer.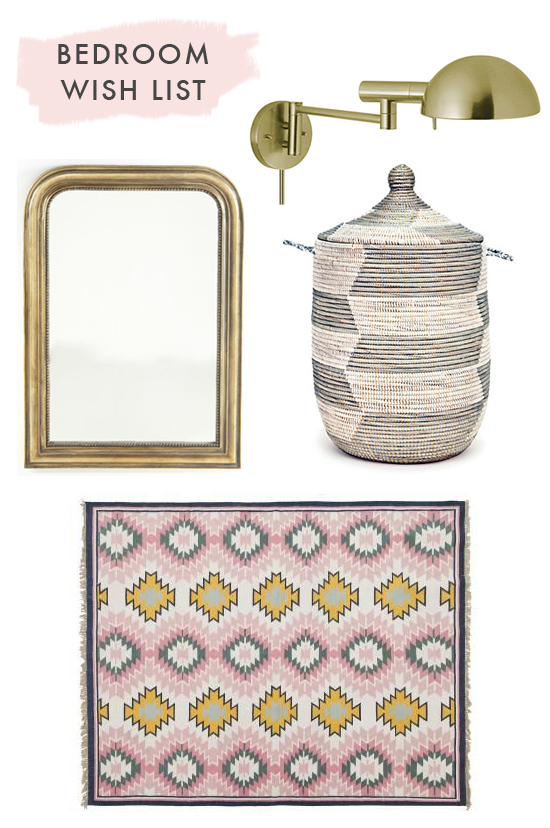 Brass swing-arm sconce - $109 / French gilt mirror - $419 / Lidded basket - $115 / Painted desert rug - currently sold out
Lastly, I have a few things I want to get for fall, wardrobe-wise. I'll definitely be looking for coupon codes or waiting for sales before I can get most of these...but since it's only a wish list, why not? Here are the pieces I have my eye on.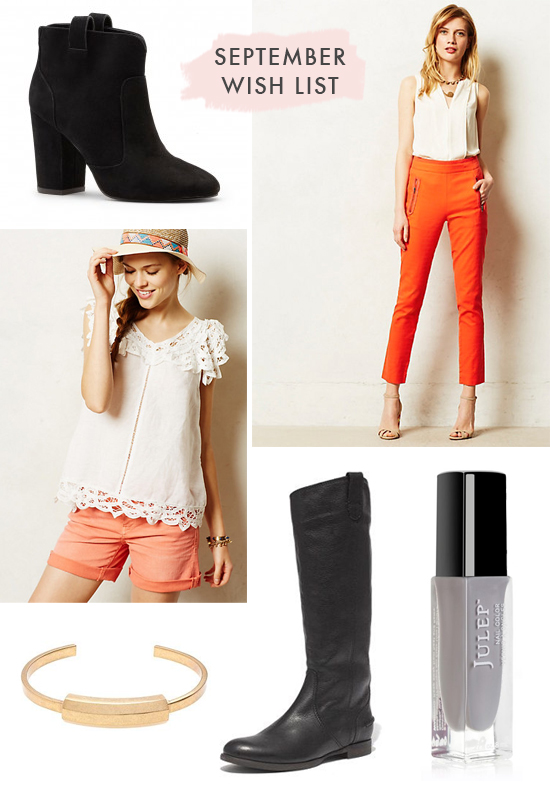 Black suede booties - $169.95 / Orange high-rise trousers - $49.95 (plus 20% off sale) / Lace top - $49.95 (plus 20% off sale) / Faceted cuff - $55 (plus 25% off) / Black Archive boots - $298 / Grey polish - $14 (coming soon)
So…that was a huge list and I obviously don't have enough money to get all of it! What should I get first? I'm thinking the bed…and maybe that Anthro top. Don't forget to tell me which color you think would be best for the bed!
And I'd love to hear what's on your wish list for September, too.