Happy Tuesday, you guys! I am so excited to share this awesome giveaway with you today. I'm partnering with PlushRugs.com, who have generously offered to give one of you $300 toward any of the rugs on their site. If you're in the market for a rug, you've got to check them out. They have a huge selection. And let me say, even if you haven't been actively looking for a rug, you should still enter this giveaway. Because every room of the house can be improved with a cute rug! Yes, bathroom, kitchen, and your outdoor patio included. Since there are a ton of options, I thought I'd show you some of my favorites, with some inspiration photos from real homes that have similar rugs. Ready? Let's do some rug shopping.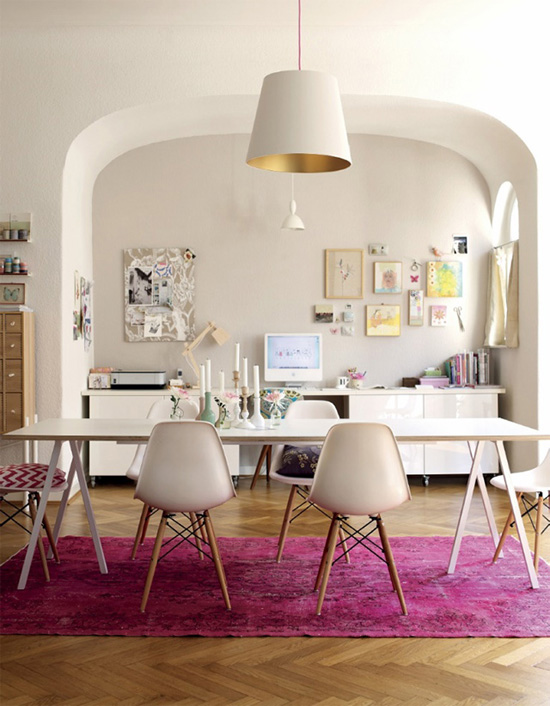 1. Overdyed rugs. I've been kind of obsessed with overdyed rugs ever since I saw the one above in Holly Becker's house. Remember how I mentioned that I wanted to get a pink one in this post? Yeah, Ben nixed that idea, but I'm still hopeful that I can sneak an overdyed rug into our house somewhere. They're a great way to add color!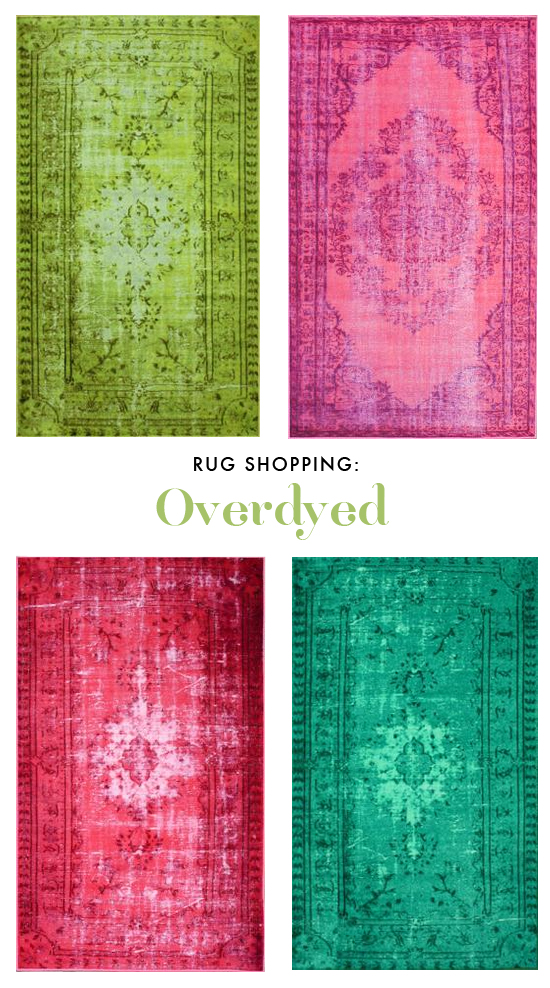 Rug Sources: 1. Demi Overdyed (Funky Yellow) 2. Genisa Overdyed (Pink) 3. Demi Overdyed (Pink) 4. Demi Overdyed (Turquoise)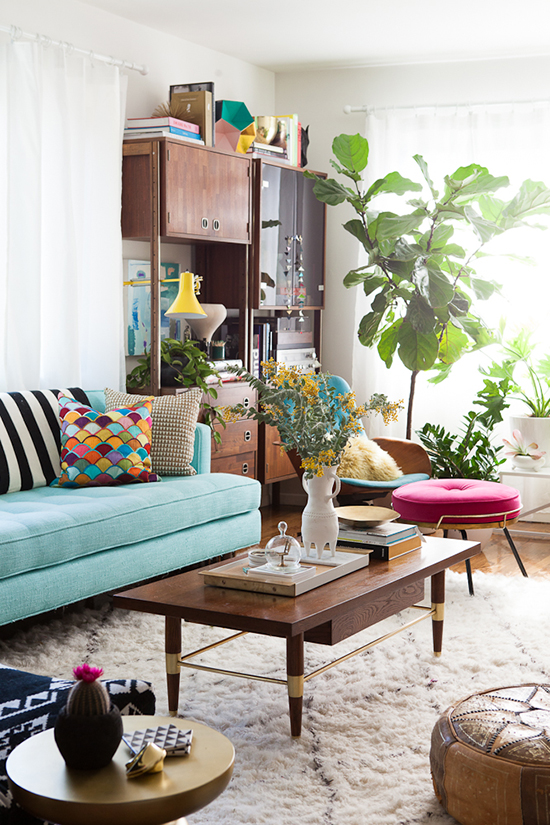 2. Black and white shag rugs. This type of rug is hugely popular right now, and for good reason! They're neutral enough that they can mix with any kind of decor, but quirky enough that they add some visual interest. And they're sooo cozy and soft underfoot. See how well a black and white rug works with all the bright colors in Bri Emery's living room?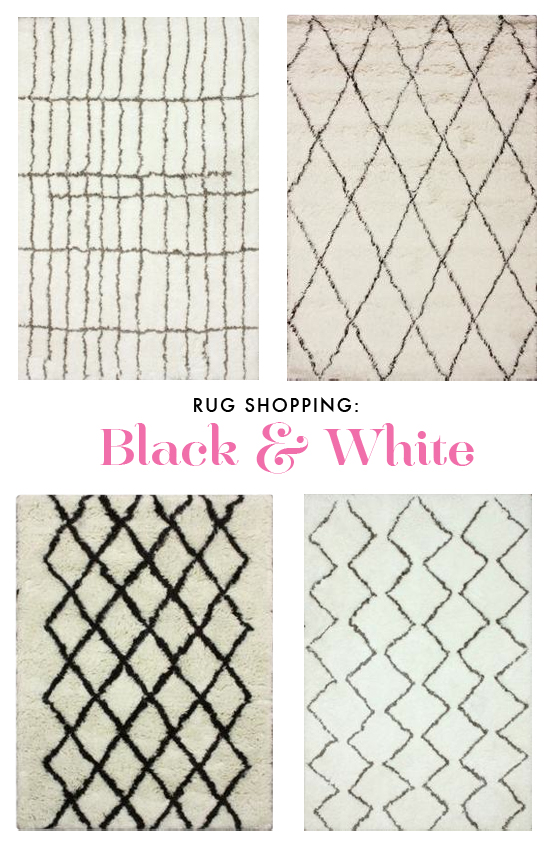 Rug Sources: 1. Square Plush (Natural) 2. Aklim Shag (Ivory) 3. Tifelt Shag (Ivory) 4. Three Row Plush (Natural)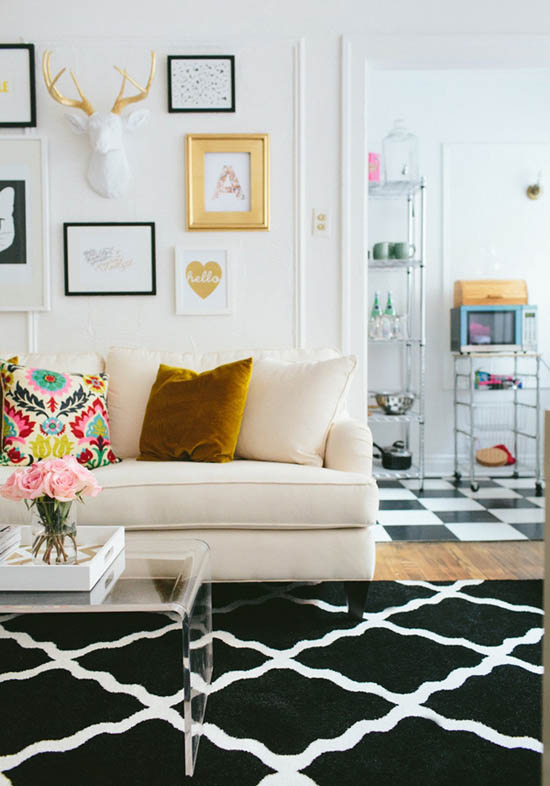 3. Geometric rugs. Geometric rugs are bold, youthful, and modern. And I love all the fun, fresh colors that they come in. The bright ones would be perfect for a kid's room (or any room where you want to add some color and pattern). If you prefer a darker, more grown-up version like the one above (from Aramide Esube's living room), check out this navy blue one. It's practically identical.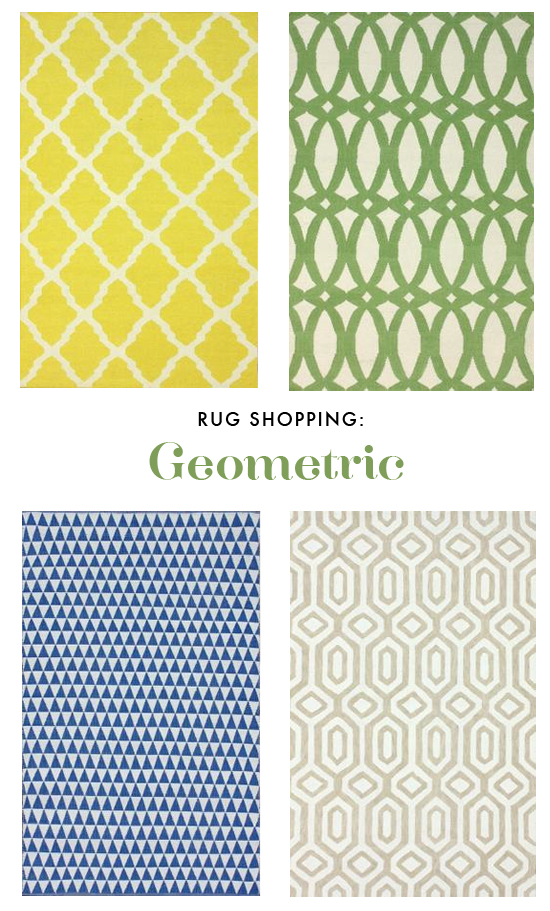 Rug Sources: 1. Bold Curve Trellis (Yellow) 2. Interlocking Swirl (Green) 3. Spectrum (Royal Blue) 4. Capella (Dove Grey)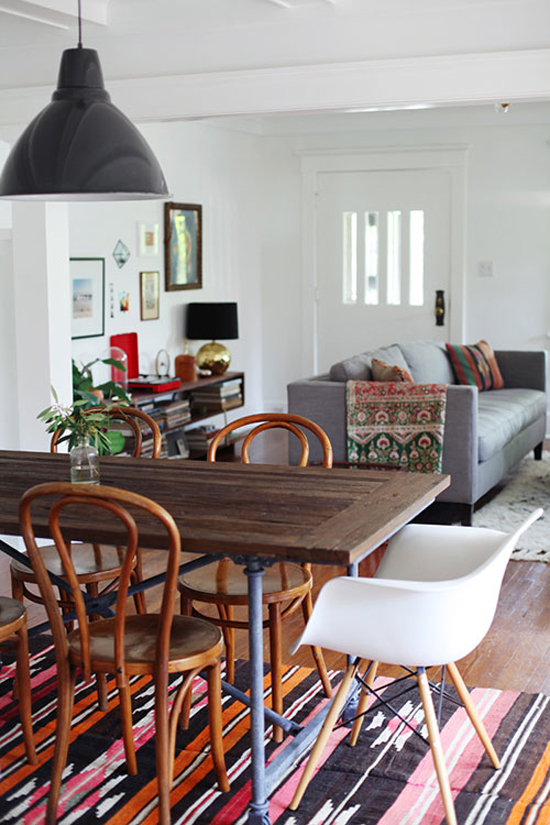 4. Kilim rugs. Kilim rugs are flat-woven tapestry rugs. They're thinner and not as plush, but that can make them really great for rooms where you don't want something with a thick pile (like the dining room). It also makes them perfect for layering over another rug, like a sisal! I think that black floral kilim is just gorgeous. In fact, if I won this giveaway--which, obviously, I can't--I'm pretty sure that's where I'd spend the gift card.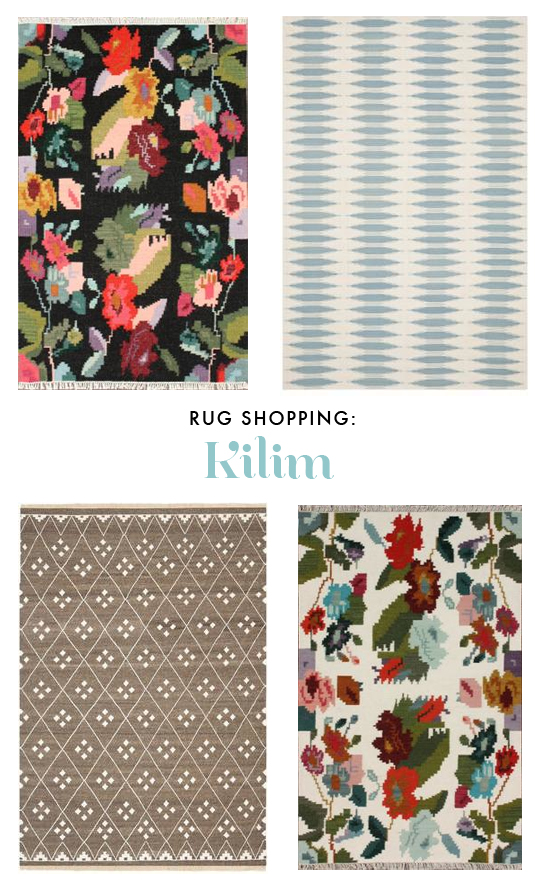 Rug Sources: 1. Blossoming Kilim (Black Multi) 2. NVK179A (Multi) 3. NKM316A (Brown, Ivory) 4. Blossoming Kilim (White Multi) 

Sooo you want to know how to enter that giveaway? I bet. I'm already jealous of the winner!
Here's how it will work:
PlushRugs is developing a discussion & review section where customers can post comments, questions, etc. about any rug on the site. To enter the giveaway, head over to their site and post a comment on the rug that you like best. Make sure you enter your email address so they can confirm your entry. Come back here and paste the url of that rug in the Rafflecopter below. That will unlock 5 additional ways for you to earn entries! The contest will run for one week. Good luck!!
This post was written in partnership with PlushRugs.com.