Yesterday, Rue Magazine came out with out with their 25th issue, all about small spaces. Did you see it? Decorating a small space can certainly be a challenge--but the beautiful apartments in this issue prove that small spaces can definitely still be big on style. In fact, since you have less rooms to fill, you can be more intentional about the space that you do have. If you moved into a big, empty house, you'd probably feel the need to buy lots of furniture to fill it. And you might not have the budget to buy the kind of furniture you'd really want, or finish each room with all the layers that make a house a home--like rugs, pillows, art, and accessories. As Rue's editor, Crystal Palecek said: Our world is often swept away by the notion that "bigger is better." But when it comes to interiors…a small space can be just as marvelous as a palatial estate. There comes a certain contentment when you manage to make every nook and cranny work for your needs, while reflecting your personal style in the process…small spaces are not an obstacle; they're a design lover's best friend! Here's a little sneak preview into this issue to prove just how right that is.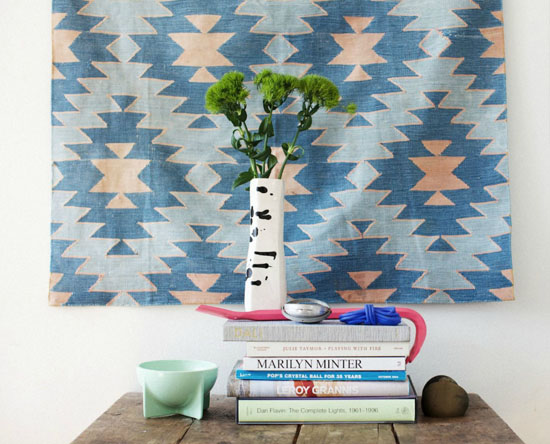 My favorite apartment featured was this one, the home of artist Caroline Z Hurley. Her walls are (fittingly) filled with art from top to bottom: her own paintings interspersed with those of her friends and artists she admires. I love how she's completely utilized the whole wall! That's a great way to pack a lot of punch in a small space.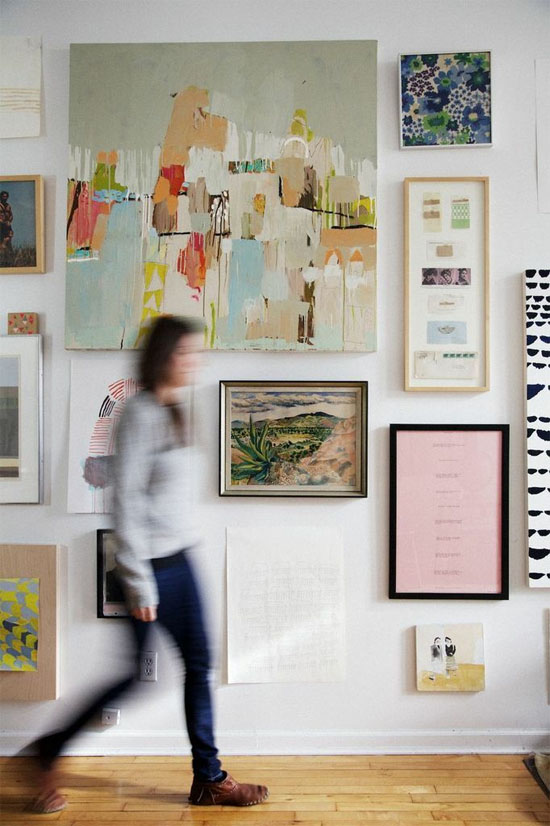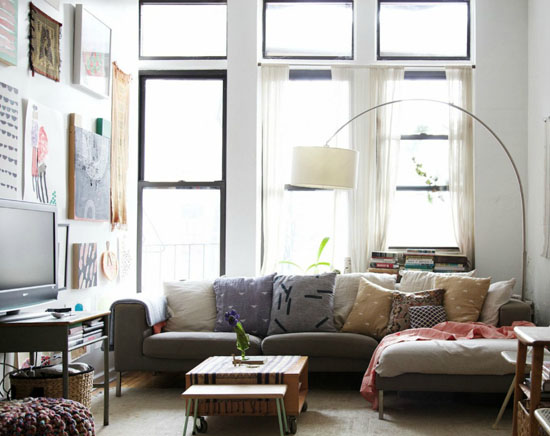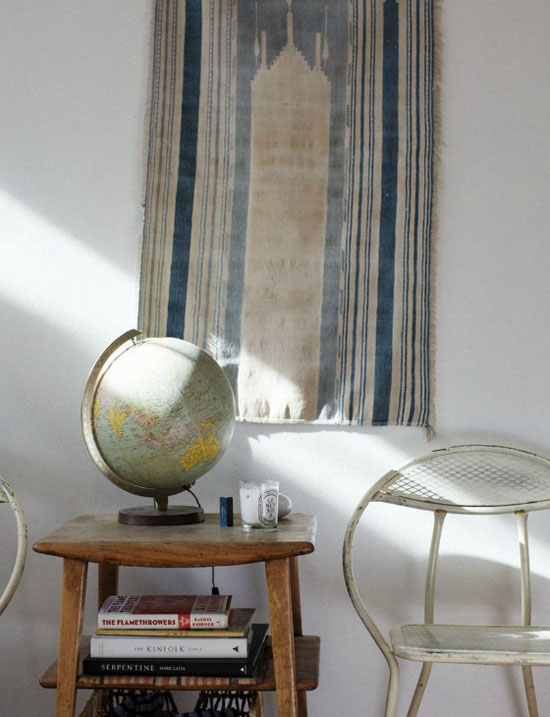 I also really liked the stylish 490-square-foot studio of Dru Ortega. On his tips for small space living, Dru says, "I don't live with or introduce anything into my space that doesn't serve a specific function…and I think of every surface as an opportunity: my windowsill, for example, serves as a mini cocktail station when I entertain."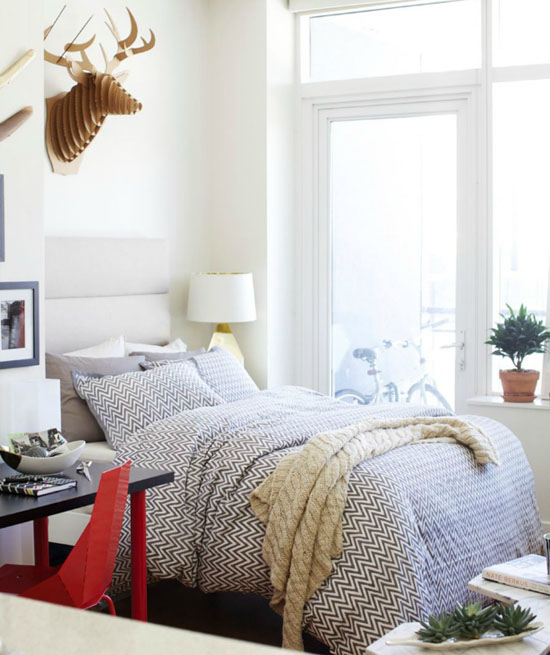 I love the vibrant, cheerful look to his space--a style he describes as "industrial prep." And I really want his bedside lamp!!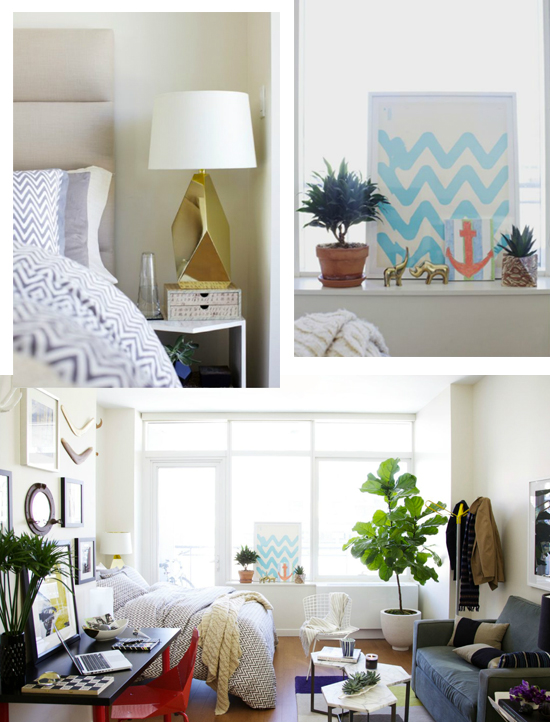 Last but not least, I loved all the painted brick walls in Emily Johnston's 430-square-foot apartment.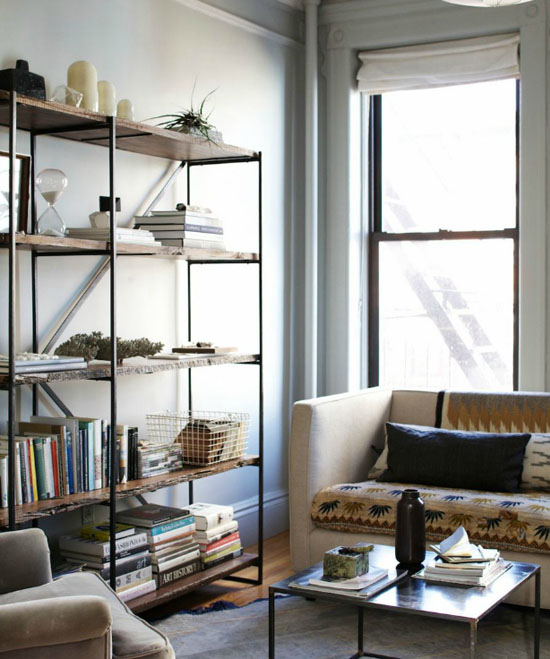 Her kitchen is a great example of open storage too! Open shelves can make a small kitchen seem brighter and more spacious--but most foods don't come in very attractive packaging. By putting things like flour and grains in glass jars, Emily turned them into a pretty display.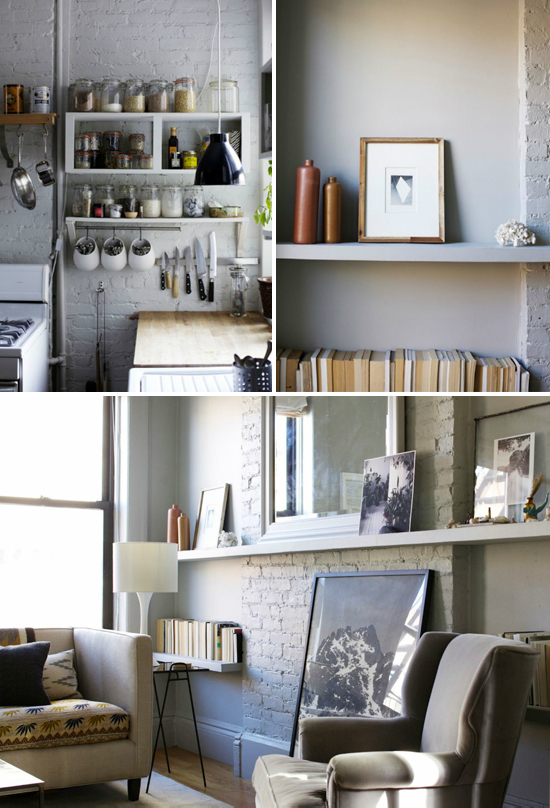 And her cozy bedroom's pretty great too. I've been seeing so many bedrooms with dark walls lately! I really like the look. Do you think black walls would help you get a good night's sleep? You know, being like night and all?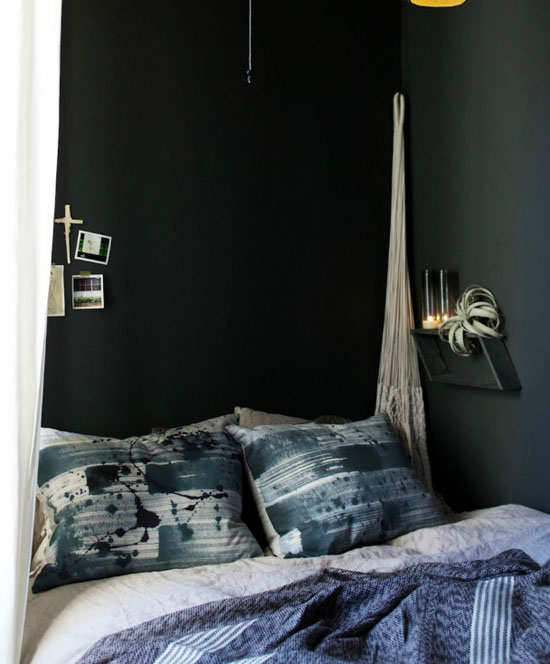 Which of these three spaces is your favorite? Check out the full issue here.