Over the weekend, I stumbled across a new blog that I think you guys are going to love: Room for Tuesday. I asked Sarah if I could feature her and give you guys a little house tour, and luckily for all of us, she said yes! Sarah and her husband Kalyn (who was her high school boyfriend--so cute) recently bought their first house, and have been in the process of renovating it. Have I ever mentioned before that I love renovation stories? Especially the before & after photos. Who doesn't love a good transformation? I think it's partially because I'm pretty sure that when Ben and I are finally able to buy a house, it's going to be a fixer. So it's encouraging and fascinating to see how other people have turned their own ugly ducklings into swans. And you guys…this house is definitely no ugly duckling anymore.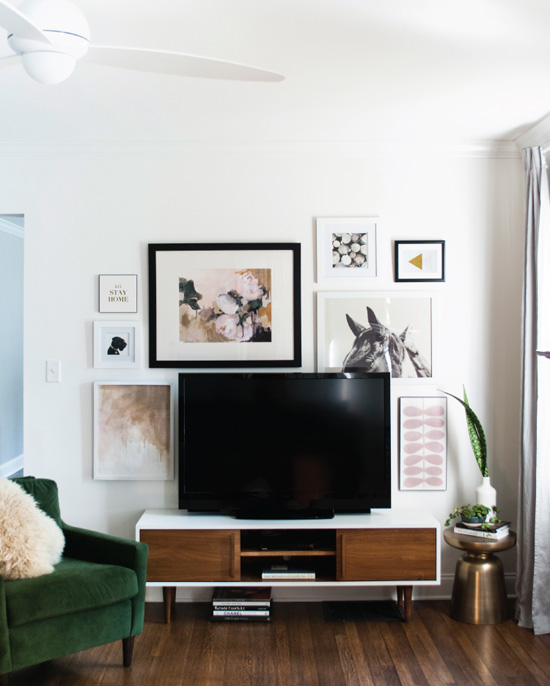 I am obsessed with how she incorporated her TV into a gallery wall. Such a great way to work with technology, instead of trying to hide it. Ben and I just redid our gallery wall too! I can't wait to show you.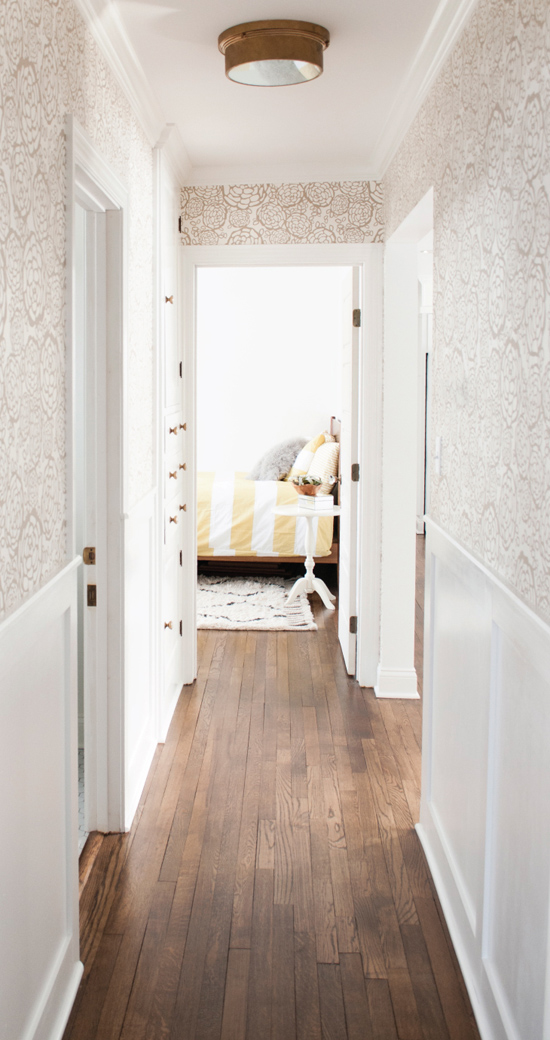 And this hallway…gorgeous, right? The wallpaper is Petal Pusher, by Joy Cho. You've probably seen it around, gracing the walls of only the most stylish people of the internet. It makes such a statement, and is a great blend between whimsical and elegant.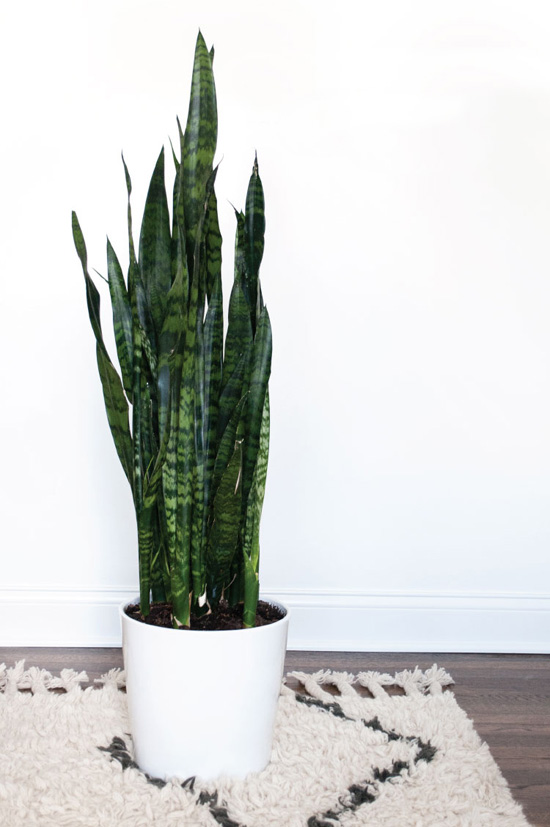 Oh, and Sarah also has a green thumb, which I am very jealous of. Check out this post she did about houseplants. All those plants are actually alive and thriving in her house. And here I am, struggling to keep air plants alive…*insert grimacing emoji*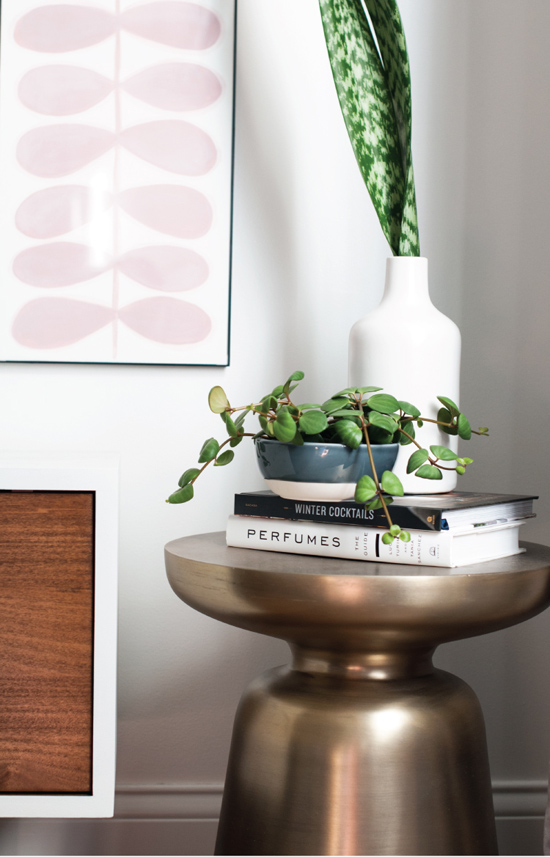 Ok, but enough of me talking! Sarah was kind enough to answer a bunch of questions I had for her, so let's get to that!
1. Can you tell me a little bit of your background, and how you got started with Room for Tuesday? 
I've always been interested in design and knew I wanted a job that allowed me to be creative. I went to art school at Indiana and received my BFA in Graphic Design. After graduating, I landed a design job for a chocolate company. A dream combination! Aside from branding, packaging, and lots of sampling, working in the chocolate industry allowed me to learn the basics of food photography and styling. In fact, I enjoyed it so much- I decided I would like to explore other creative mediums. This is when Room for Tuesday became a reality; it is my place to explore and share creative inspiration.
2. How did you come up with the name Room for Tuesday?
During college, one of my design professors made us create a blog to record our weekly inspiration. Our assignment was to blog once a week; I set up a Tumblr and blogged during class on Tuesdays. It was a bit of an ongoing joke in the beginning that I had to "make room" in my schedule to blog on Tuesdays. I also love interior spaces, so I tagged my blog "Room for Tuesday" and it kind of stuck when I moved over to WordPress to blog seriously.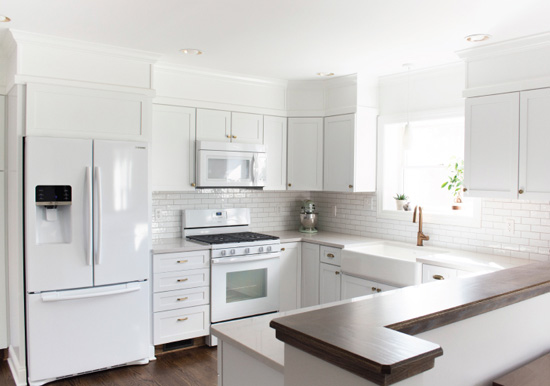 3. Your home is so gorgeous. How do you go about decorating a room? Do you have a process?
Thank you!  I typically find a couple pieces I really love and work around them. Sometimes it's something small- like a rug, accessory, or a piece of art. Other times it's a larger item, such as furniture. It can be anything that really speaks to me! From there, I usually pull a color palette and begin putting the pieces together. My home is so small, it's important for me to keep functionality in mind. Accessorizing and styling comes last; I especially like adding texture with pillows, throws, plants, and other objects.
4. Do you have a favorite room or favorite item in your house?
The kitchen is my favorite space. I love baking and food photography; my bright white kitchen is the perfect place to capture a new recipe. We haven't even lived in our home for a year and it's already the place with the best memories.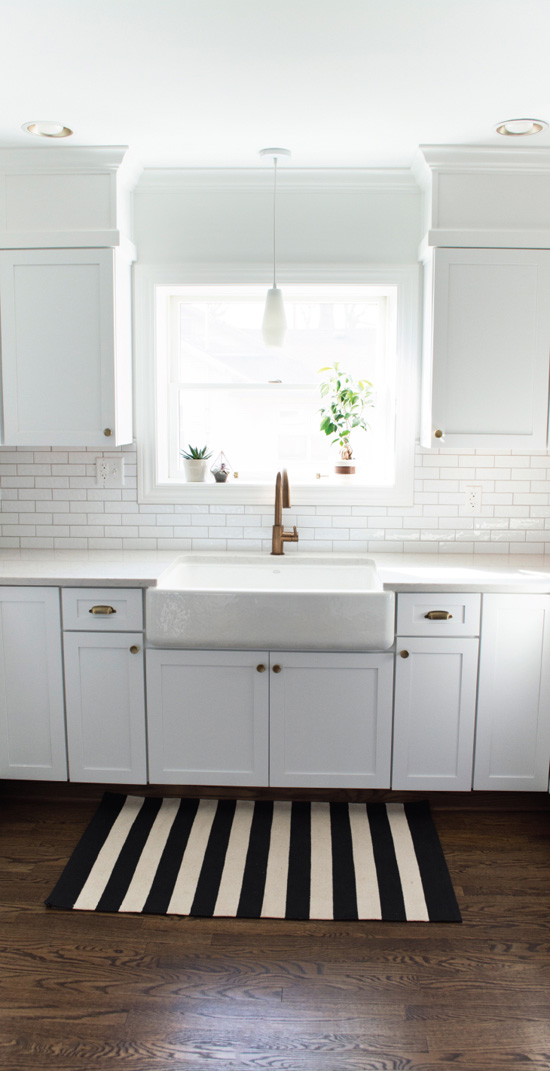 5. Where do you find your inspiration?
As a print designer, I'm subscribed to a lot of magazines. There's something about turning pages I'll always love! I'm currently getting Elle Décor, Domino, Real Simple, Food&Wine, Bon Appetit, Architectural Digest, Kinfolk, Martha Stewart, Vogue, Harpers Bazaar, and a few local reads. I told you I'm a sucker for print, haha! Of course, like everyone else, I also spend a lot of time browsing online.
6. What are some books, movies, and/or blogs that you recommend?
I really enjoyed reading #Girlboss by Sophia Amoruso. I posted my favorite coffee table books on the blog a few weeks ago; see them here.
Kalyn and I don't have "real TV" so we watch a lot of Netflix. After renovating, we binged on Mad Men and Breaking Bad. I've been watching New Girl and lots of documentaries lately, Blackfish being the latest.
I have so many favorite blogs: Smitten Studio, Katies Pencil Box, Style by Emily Henderson, The Fresh Exchange, The Jealous Curator, Oh Joy (who was nice enough to feature my hallway), and Little Green Notebook, to name a handful.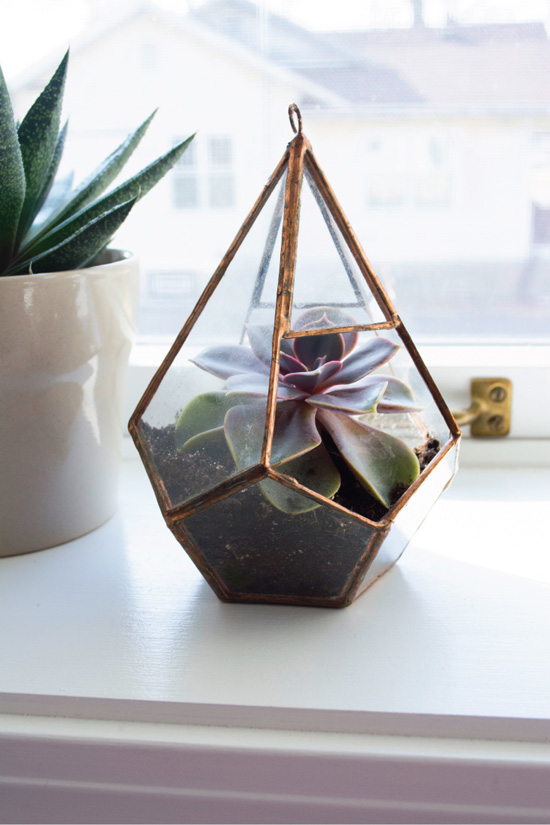 7. What are some of your favorite places to shop for your home?
Working for an interior design firm gives me access to so many great resources. I'm going to High Point Market in North Carolina next month, which features all things interiors. Vintage items will always be my favorite; I scour Ebay, Craigslist, and Etsy for one of a kind pieces. As a young homeowner, budgeting is always on my mind- stores like West Elm, Target, and CB2 are always good for filling in the gaps. Lately, I'm noticing amazing things at General Store, Lulu & Georgia, the TRNK store, and Schoolhouse Electric.
8. What are some trends that you're loving right now?
Right now I'm really into slab wood. I think my next big project will be designing a bed or headboard made from a large slab. It's gorgeous- you have to Google it!
Wall hangings- I absolutely love them. During college, I was the nerd in the studio hand dying, spinning, and weaving on a five-foot loom. I took a ton of textile classes and you'll probably be seeing one of my wall hangings on the blog soon.
I'm also working on making my home cozy for the fall season, so I'm recently drawn to throws, pillar candles, rugs, and fireplace accessories (weird, I know!).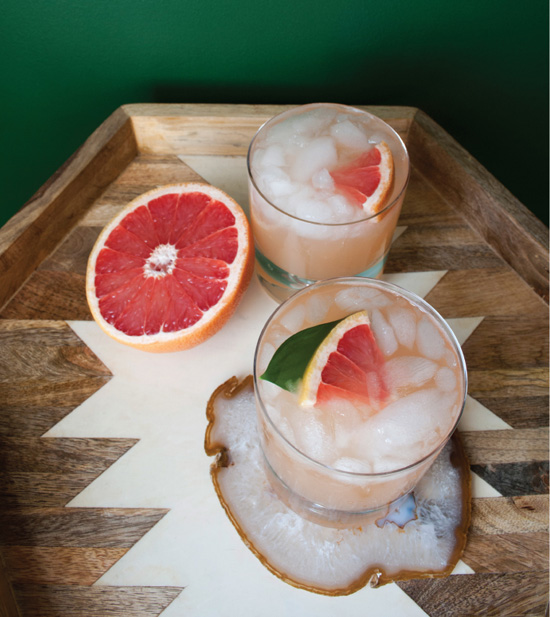 9. I saw that you have a day job as well. How do you balance your job and your blog? Do the two go hand-in-hand, or are they totally different?
I do have a day job. After renovating my house, I fell in love with interiors. I decided to transition my full-time job from graphic to interior design. I recently joined an interior design firm, which has been really fun! I also have my own company, Sarah Gibson Design, where I take on freelance graphic design projects such as identities, branding, packaging, and creative direction.
My blog is really my outlet for inspiration; it gives me a break from forced creativity, so I try to keep it separate from my day job. My goal is to set aside time for at least one post per week. Sometimes I have time for more, and other times it's less. It is time consuming to create content, style and shoot photos, as well as maintain the site, but I wouldn't trade it for sleep! I love making connections with readers and other bloggers.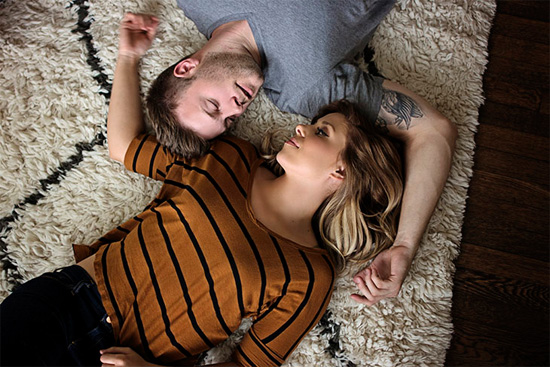 10. You and your husband are working on renovating your house (and the before and afters are amazing--you're doing such a great job). What advice would you give to someone who is starting the renovation process?
Thanks! This is our first home and we purchased it as a foreclosure. It's the best way to get exactly what you want for a small amount of money. However, we didn't intend to gut the entire house. Long story short- we took out the walls, the floor, the plumbing, and the electrical. Nothing stayed, which meant a lot of time, energy, and money. Luckily, my husband Kalyn is incredibly handy and he saved us so much money doing most everything himself. The downside? It took us almost two years to move in. My advice: don't bite off more than you can chew, especially if you're in a hurry to see results. I would also say with a project of this size, when you feel burnt out- take a break, step back, or go away for the weekend.
11. What future plans, projects, and goals have you most excited right now?
The basement renovation! I really wanted to have a cool attic studio space, but the amount of work it would take is way out of our budget. This means the basement will become my new workspace. It's going to be pretty industrial looking, but I can't wait to move my working area from the dining room table. Our basement is huge, so we are dividing it into sections: a laundry room, Finn's dog area, storage, and the larger part will be my studio.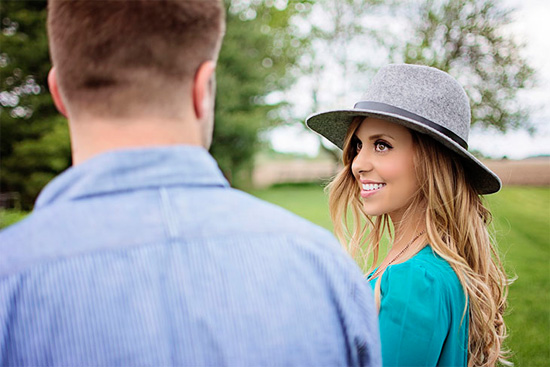 Isn't Sarah just the cutest? You have to head on over to her blog now, follow her on every form of social media, drool over her food photography, and check out the "befores" of some of these rooms. You will be so impressed.
All photos via Room for Tuesday.