I shared a photo of these roasted pears with mascarpone on Instagram last week, and I promised that I'd give you guys the recipe...so here we go! This dessert is so easy to make and super delicious. Plus, since it's mainly fruit, I like to think of it as healthy (don't tell me if that's not true...I don't want to hear it!). I always make extra of the granola topping to snack on. It's so addicting, I usually end up eating it all that same day! Don't say I didn't warn you...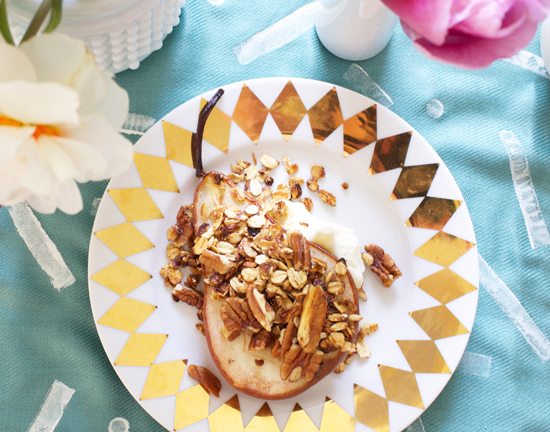 You will need:
2 Anjou or Bartlett pears
2 Tbsp olive oil
¼ cup pecan halves, coarsely chopped
2 Tbsp brown sugar
¼ cup old-fashioned oats
½ cup mascarpone
3 tsp sugar
To make:
Preheat the oven to 375°.
Cut pears in half and scoop out the cores with a spoon. Place them cut side up on a baking sheet and drizzle with olive oil. Roast in the oven for 20-30 min, until soft.
Meanwhile, toast oats, brown sugar, nuts, and olive oil in a cast iron skillet over med-high, stirring often, until golden (10-15 min).
Whisk mascarpone and sugar together in a small bowl.
Spoon the mascarpone onto dessert plates, top with the hot pears, and sprinkle on a generous amount of the granola topping. YUM!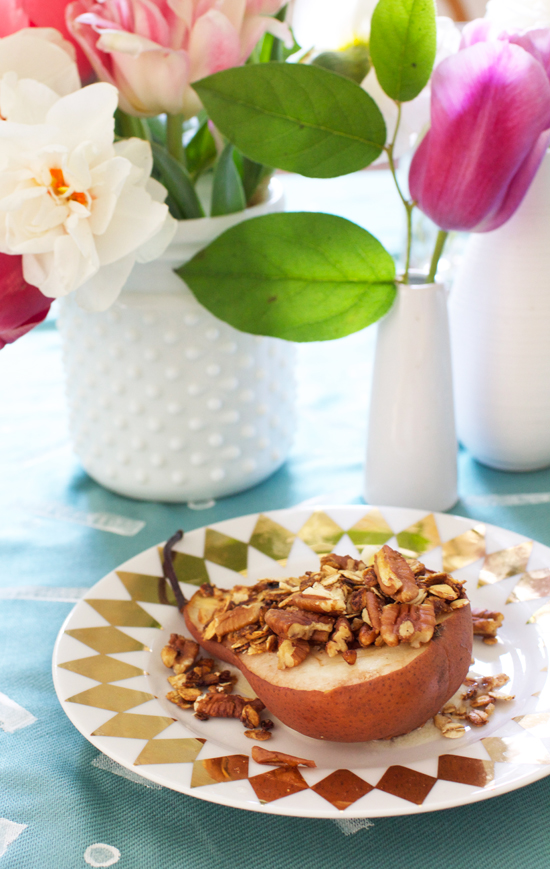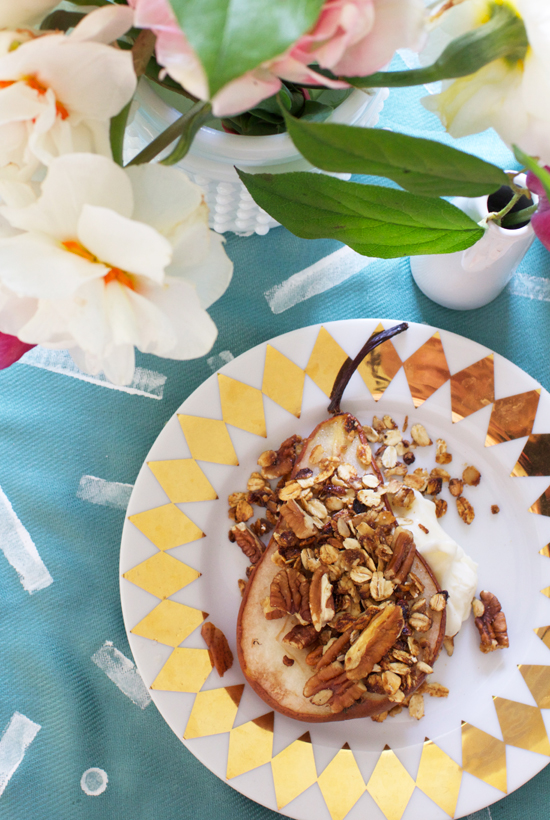 Hope you enjoy this recipe! I got it from a friend of mine who got it from Bon Appetit. If you check out their recipes, both of them do the granola a little differently. You can totally play around with it and load yours up with whatever you want: pumpkin seeds, hazelnuts, almonds, walnuts, coconut oil, etc. Have fun! And let me know if you try it.
What are your favorite easy dessert recipes? Send me links, if they're online! I'd love to try them.