Alright, I finally took some time to cull through the photos from our big road trip! It was a bit of a daunting task as we had 1,650 photos overall (!!!). I'm sure we would have taken lots of Ian pictures no matter what, and of course, there were some similar shots...but still. If the number of pictures is any indication of how good the vacation was, ours was reeeaaal good. Before we left, we were pretty worried about taking Ian to higher elevations and more extreme temperatures (both hot and cold). But he did GREAT and we had so much fun. It turned out to be one of our favorite vacations yet--I'm so glad we didn't chicken out! I'll share some tips for road tripping with a baby soon (we definitely learned some things), but first...pictures.
We started and ended in Spokane, WA (where my parents live). Some of the legs were just stopping points on the way to our next destination, so for the sake of keeping this post semi-short, I'm going to skip the places where we did nothing significant.
Destination: Boise, ID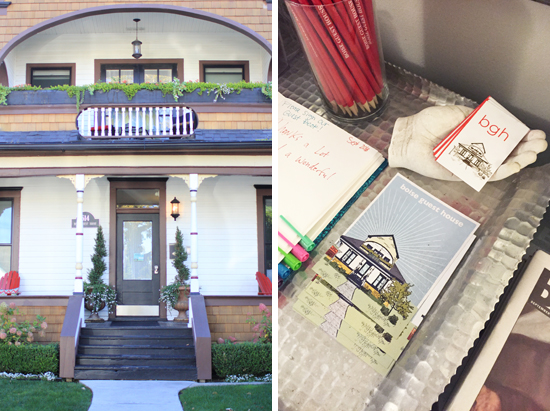 Where we stayed: Boise Guest House. I loved staying at this cute old house right by the state capitol. We didn't have a lot of time in Boise, but if we go back I would definitely stay here again. It seemed like the perfect location to explore the city!
Destination: Salt Lake City, UT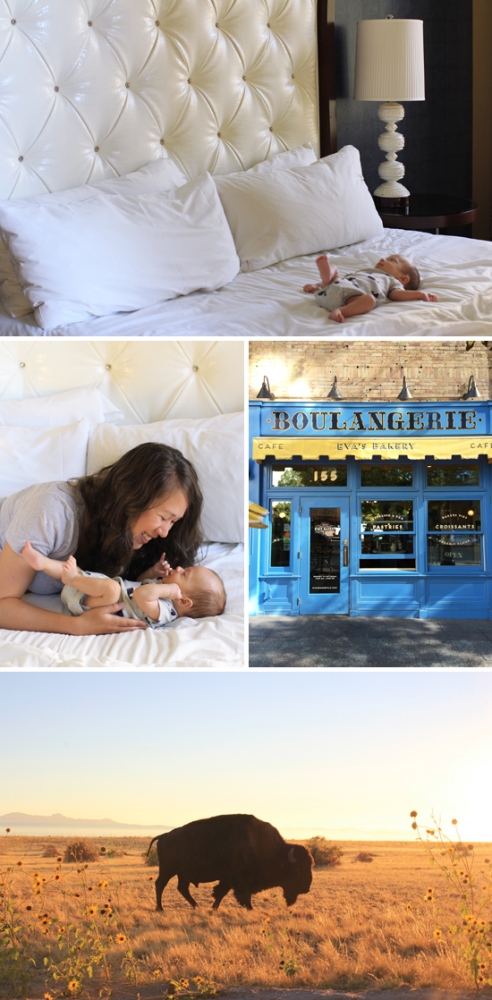 Where we stayed: Hotel Monaco. We only spent one night here, but it seemed like a great location as well (right in downtown SLC) and was really beautiful inside. I especially loved our big bed with the fabulous tufted headboard!
What we did: Antelope Island. We made a last minute decision to go here, and I'm so glad we did. It was amazing! We saw tons of free-ranging bison and a couple of graceful antelope. Plus, the whole park was just beautiful.
Where we ate: Eva's Bakery for breakfast. Loved their croissants, and it was just a few feet away from our hotel!
Destination: Moab, UT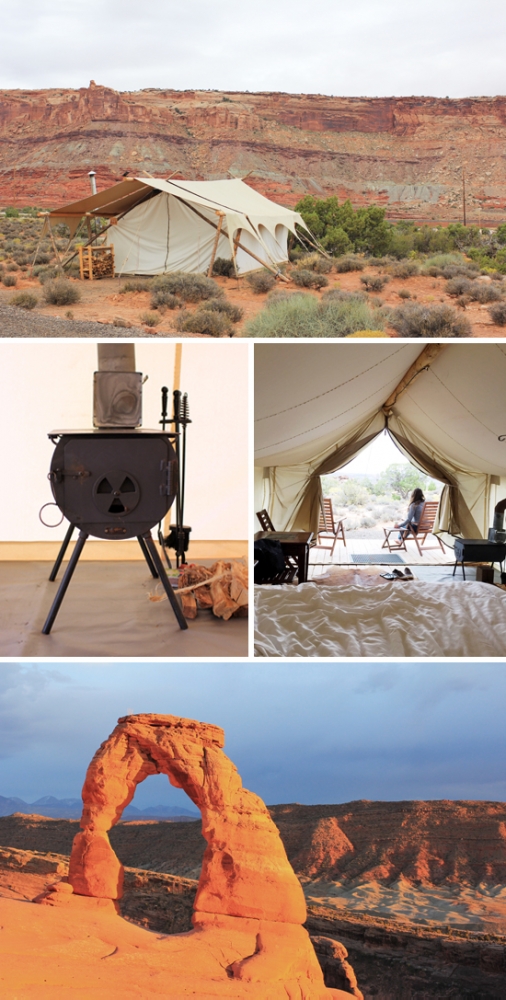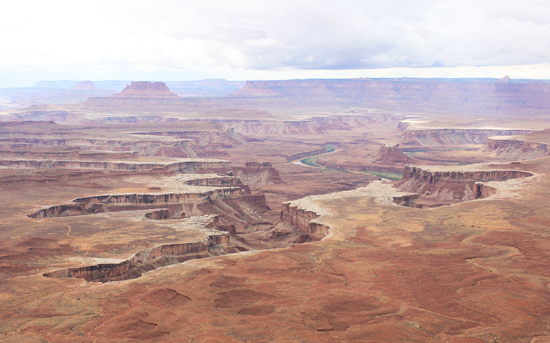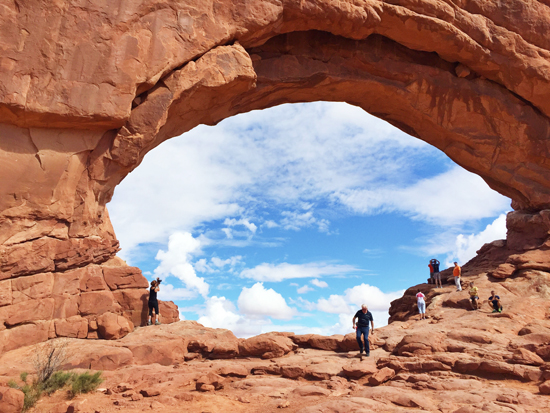 Where we stayed: Moab Under Canvas. This was probably our favorite lodging of the whole trip. It was so unique and memorable to be "glamping" under a canvas tent in the desert, with red rocks surrounding us. We got a deluxe tent with a king-sized bed, a private bathroom and shower, and a front porch...it was awesome!
What we did: Arches National Park and Canyonlands National Park. Both were beautiful, but Arches was my favorite. I especially loved watching the sunset light up Delicate Arch on our first evening there! This whole area was incredible though--we saw really cool formations everywhere, even just along the side of the road.
Where we ate: Milt's Stop & Eat for burgers, Jailhouse Cafe for breakfast.
Destination: Bryce Canyon, UT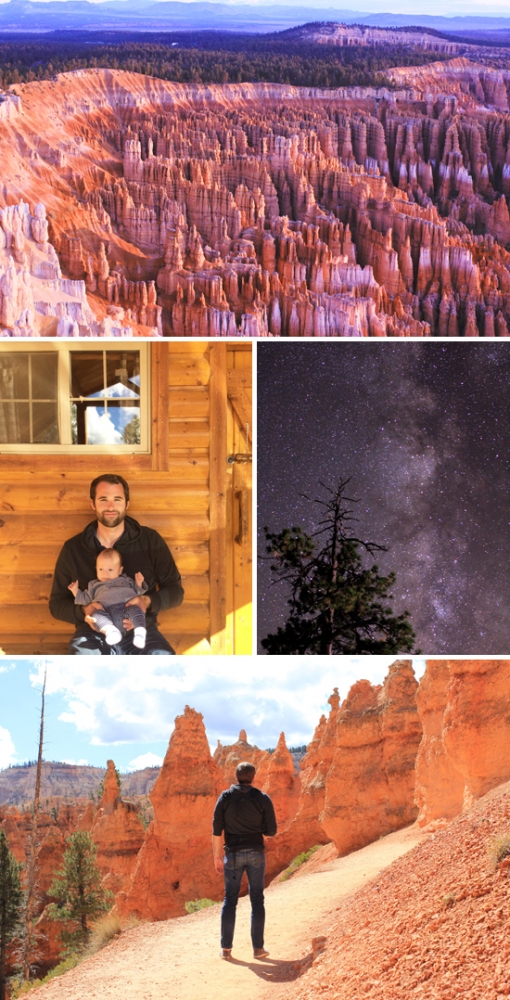 Where we stayed: There weren't a lot of options in Bryce Canyon, so we decided to get a cabin at Ruby's Inn Campground. It was the most rustic place we stayed, but it worked out fine and was a great location--about as close to the canyon as you can stay!
What we did: Explored Bryce Canyon! This was our favorite destination of the whole trip; it was so unique and otherworldly. We did some stargazing at night (I've never seen the Milky Way so clearly!), watched the sunrise from Inspiration Point, and hiked among the hoodoos (we did the Navajo Loop and Queen's Garden trails).
Where we ate: Bryce Canyon Pines.
Destination: Grand Canyon North Rim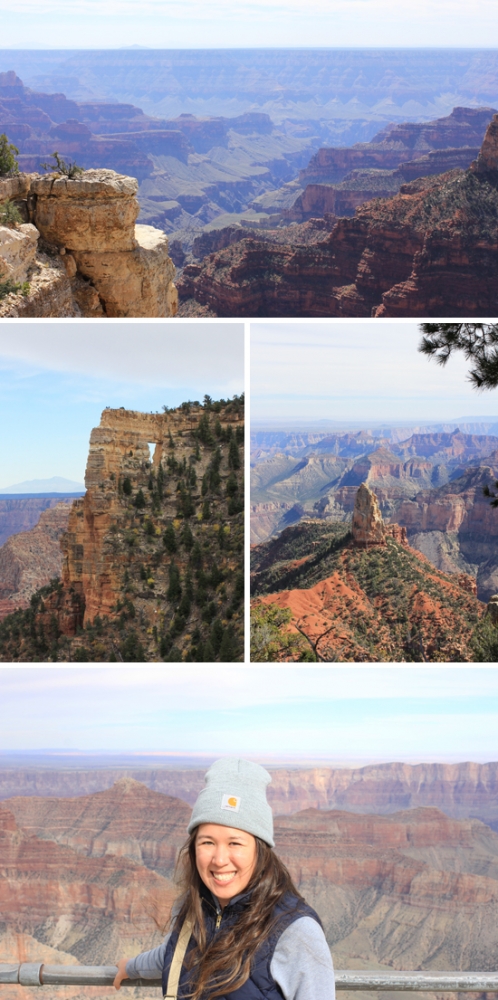 We couldn't get a room at the North Rim Lodge, which is the only hotel in the park (I guess it books up over a year in advance?!) so we visited during the day and stayed the night elsewhere, on the way to our next destination.
What we did: Drove to several scenic viewpoints and marveled at the size of the Grand Canyon. It's truly awe-inspiring. This was my first time seeing it, and wow...pictures don't do it justice.
Where we ate: Grand Canyon North Rim Lodge
Destination: Page, AZ

This wasn't one of the original destinations we planned, so we didn't stay the night--but after seeing Antelope Canyon on Instagram, I told Ben I really wanted to make time for it on our way to Sedona.
What we did: Antelope Canyon and Horseshoe Bend. Antelope Canyon was super cool--it's a narrow slot canyon that turns beautiful colors as the sun hits the sandstone walls. Horseshoe Bend was also worth seeing since it's only about 10 minutes away (and free to visit). It's a u-shaped bend in the Colorado River that you can view from the cliffs above.
Where we ate: River's End Cafe
Destination: Sedona, AZ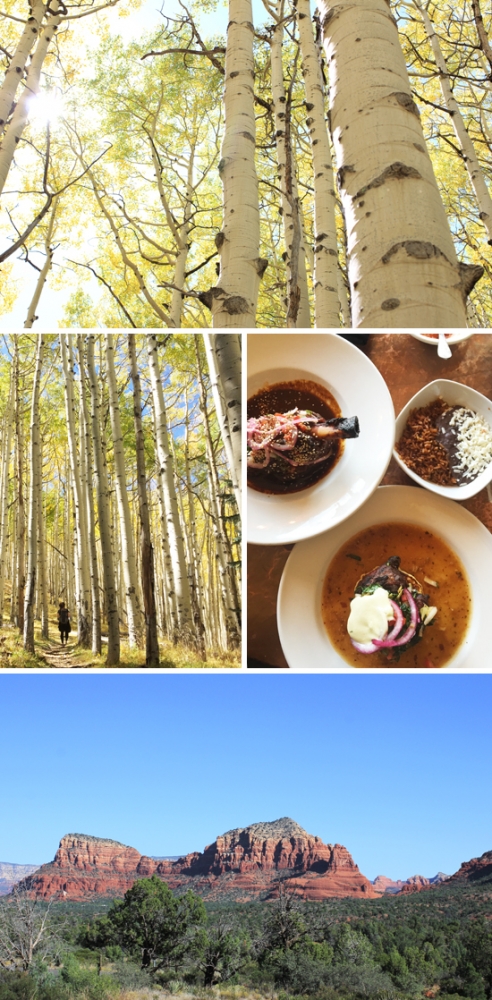 Where we stayed: Holiday Inn. There are a bunch of cool resorts in Sedona, but we decided we should probably save money.
What we did: Hiked Lockett Meadow and drove around to see the red rocks in Sedona. We had originally planned to go to the South Rim of the Grand Canyon one day, but since we'd already seen so many canyons (including the North Rim of the Grand Canyon), we decided to do something different. We randomly found Lockett Meadow when looking up things to do in the area, and it turned out to be one of our favorite memories from the whole trip! Hiking through miles of tall aspen trees in full fall color was so magical.
Where we ate: A Taste of Marrakech and Elote Cafe. These ended up being my two favorite restaurants of the whole trip...both were delish.
Destination: Albuquerque, NM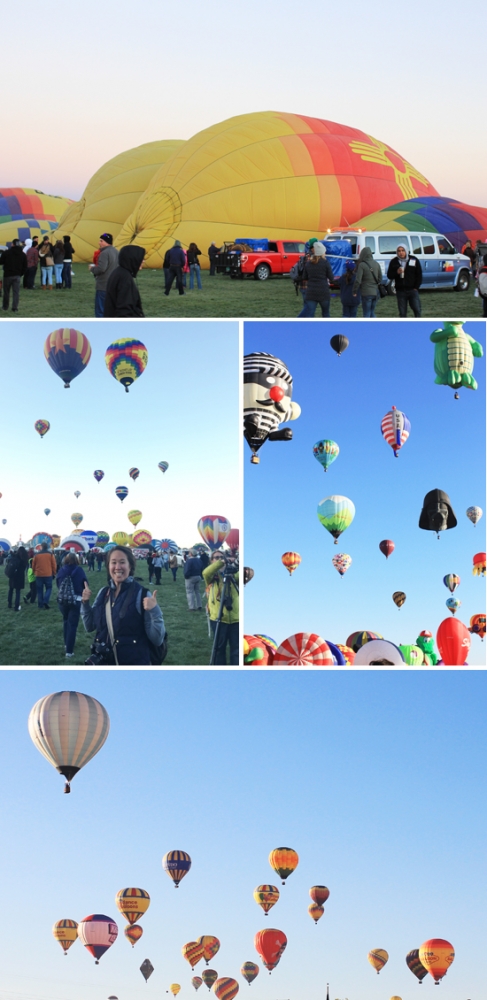 Where we stayed: Holiday Inn
What we did: The Albuquerque Balloon Fiesta! We got so lucky to be there during that week. Definitely worth waking up at 5am...it was such a fun experience to be down on the field as the balloons went up. We went on the "Special Shapes" day, so in addition to the regular balloons, we also got to see a bunch of unique balloons, like a flying witch, a bunch of different animals, Darth Vader and Yoda, and more.
Where we ate: Cocina Azul
Destination: Lago Vista, TX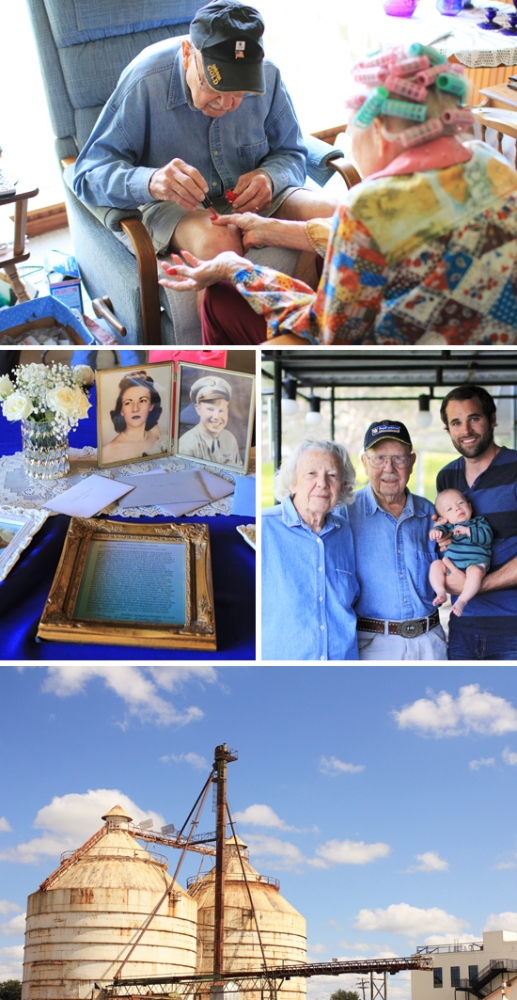 Where we stayed: with Ben's family
What we did: This was the reason we planned our trip to begin with. It was Ben's grandparents' 70th wedding anniversary, and a bunch of their friends and family came in to celebrate with them. I just love how sweet they are to each other...like how he painted her nails for the party (so cute, right?!). And I was really happy that Ian got to meet his great-grandparents. On the way out, we stopped by Magnolia Market in Waco. No Chip and Joanna sightings, but it was fun to see.
Where we ate: Cooper's BBQ (best brisket!)
Destination: Colorado Springs, CO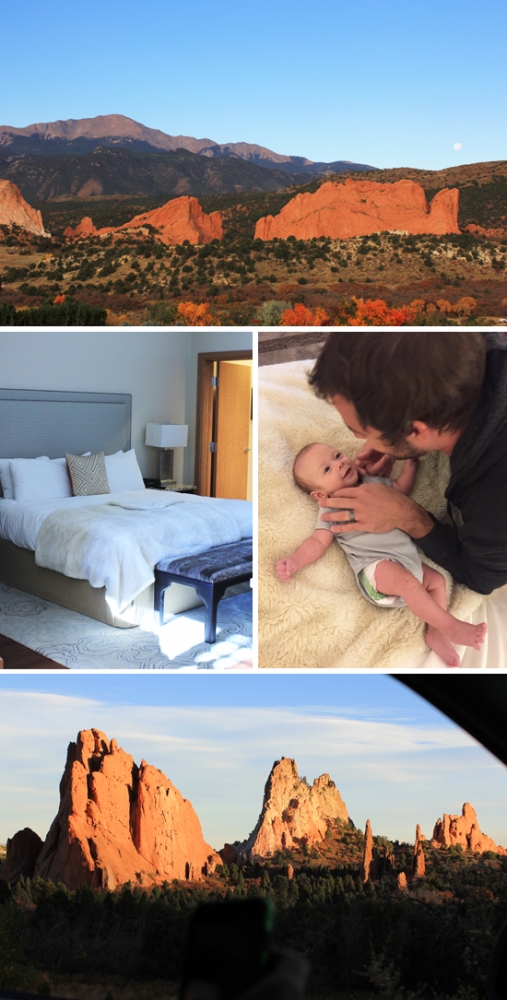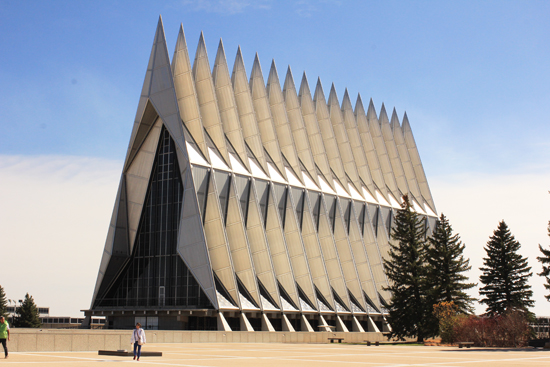 Where we stayed: Garden of the Gods Resort. This was the fanciest place we stayed, and we looooved it. That top picture was the view from our balcony...plus, they gave us chocolate-covered strawberries and a stuffed camel for Ian! Little extras like that really win me over. We both wished we had booked one more night...it was so hard to leave.
What we did: Hiked in Garden of the Gods, and visited the Air Force Academy. We considered driving to the top of Pike's Peak as well, but decided not to since it's over 14,000 feet and we didn't want to risk Ian having any trouble with breathing. We'll have to go back sometime when he's older!
Where we ate: Garden of the Gods Gourmet
We did some fun things the rest of the way back, but none of them were really "destinations." We originally thought we'd go through Jackson Hole and Yellowstone, but in the end, we decided to stick to the main interstates in case of snow. One of my favorite places we stayed was Bozeman, MT (it's surrounded by the Rockies--so gorgeous) but we didn't take any pictures. The drive itself was awesome, too! We decided that road trips are our favorite way to travel...you see so much along the way. These larches on the side of the freeway in Montana were such a pleasant surprise.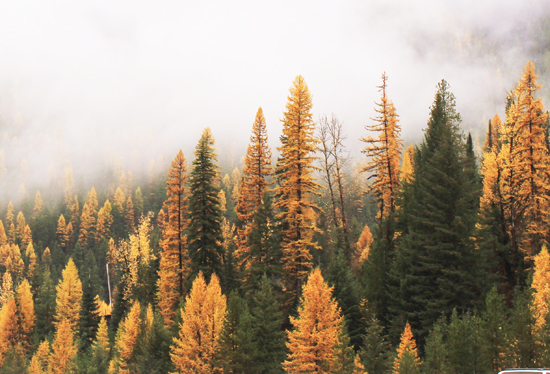 Hope you enjoyed getting a peek at our trip! I have so many more pictures and things I could say, but I didn't want this post to go on forever. If you're heading to any of these destinations and have questions, feel free to comment or email me!