Happy Friday! After being out of town for a couple of weekends in a row, I'm really looking forward to relaxing and being at home for this one. I have plenty to catch up on around the house and lots of blog posts and projects to work on, but the weather's supposed to be gorgeous...so I'm also planning to take a book down to the beach and get some sun! Speaking of which, do you have any suggestions? Here are a few of mine (both books and movies).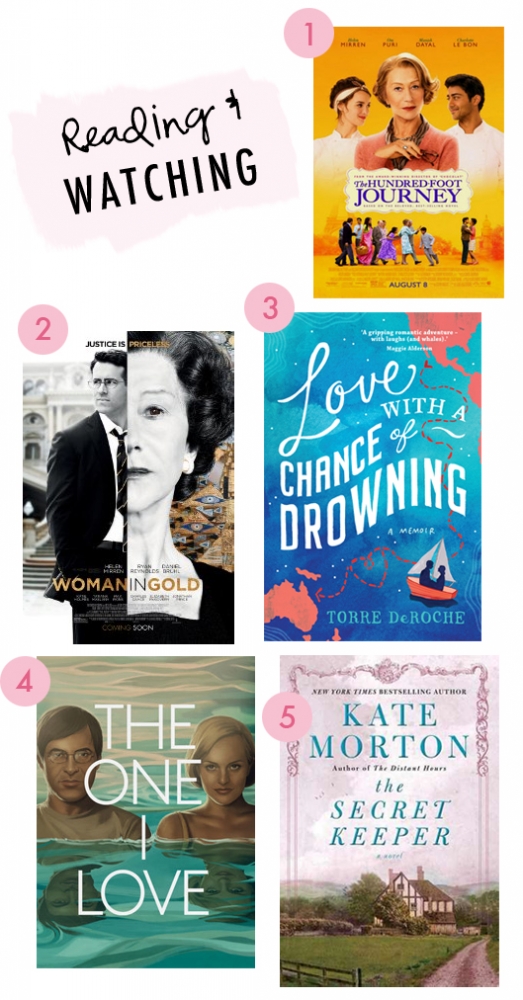 Recent faves: 1. Love with a Chance of Drowning: Loved this inspiring memoir--it definitely got me dreaming about adventures and travel! / 2. The Hundred-Foot Journey: A feel good storyline, beautiful setting, and delicious food. Win-win-win! / 3. Woman in Gold: Based on a fascinating true story. / 4. The Secret Keeper: An intriguing mystery, beautifully written, with a satisfying twist at the end. / 5. The One I Love: Not your typical romantic movie…it has an interesting premise that hooked me from the start. I didn't think the ending was totally satisfying, but I still liked the movie overall.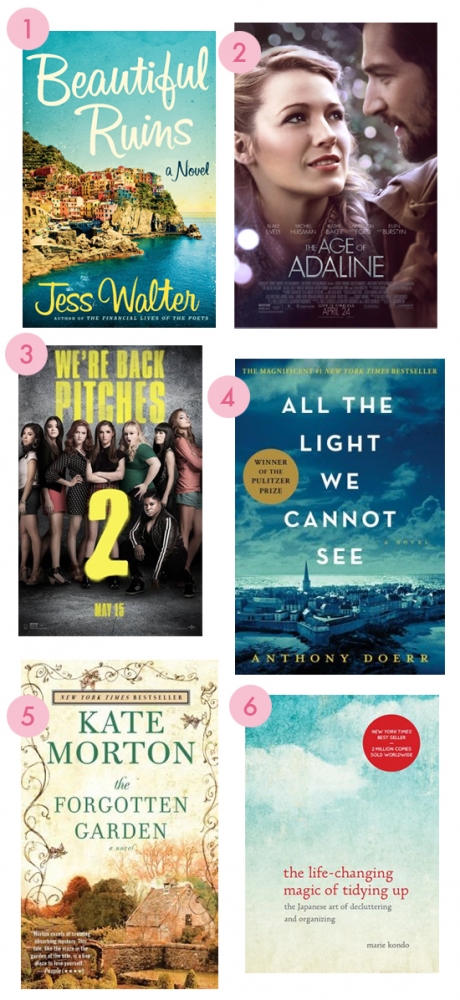 On my list: 1. Beautiful Ruins: I just got this from the library! It sounds interesting...plus we're going to Cinque Terre this fall, so obviously, I need to read it. / 2. All the Light We Cannot See: I've been hearing a lot about this book, set in Germany and France during WWII. It looks like a good one. / 3. Pitch Perfect 2: Duh! Can't wait to see this movie--I loved the first Pitch Perfect. / 4. The Age of Adaline: Intriguing premise, beautiful setting, and a love story? I'm in. / 5. The Forgotten Garden: Another book by Kate Morton, who wrote The Secret Keeper (from my list above). / 6. The Life-Changing Magic of Tidying Up: I've been seeing a LOT about this book on Instagram and other blogs. I thought a book about cleaning up and organizing might just stress me out, but I keep hearing good things, so maybe I should read it.
What have you been reading & watching lately? And what's on your list?