I absolutely love Caroline of Patchwork Harmony's style--I've posted about her here and here, and she wrote a guest post while I was on vacation all about copper (remember that one?). So when she shared a tour of her house, with photographs by Kasia Fiszer, I knew I was going to love it. And I was right! Caroline and her husband live in a 2 bedroom Edwardian maisonette. They've kept their walls mostly neutral and furnished it largely with items from vintage shops and markets. Caroline likes to mix contemporary finds with vintage treasures to give her home a more "modern vintage" feel--which is totally my style as well. I think she's done a wonderful job of it. Let me know what you think--I'm pretty sure you'll agree!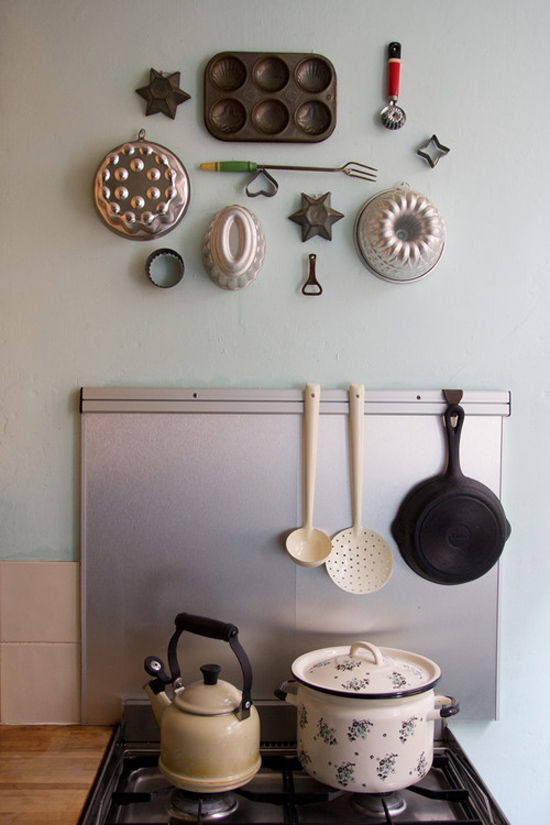 I love how she hung vintage utensils on the wall in the kitchen. Very cute--and functional too.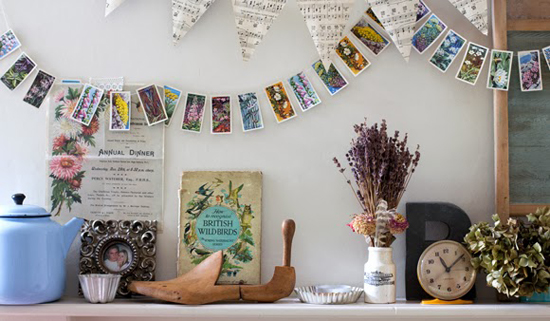 The photo above is a snippet from their dining room. The kitchen and dining room are getting renovated in January, so there aren't any other photos of them (but I can't to see them after the reno!). Caroline is the queen of finding great deals at thrift shops and flea markets. Almost all of her decor is thrifted--she got the typewriter below for £5, including it's carrying case!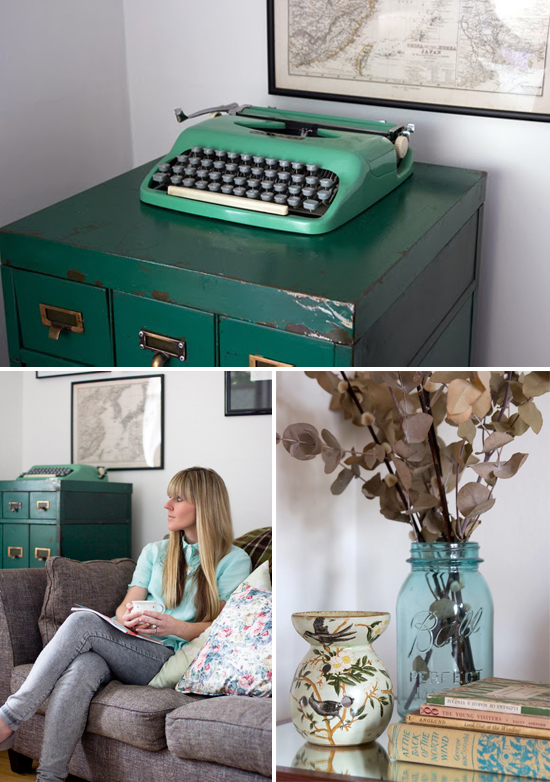 From Caroline, I think it's incredibly important to surround yourself with things that make you happy, whether that's people, a landscape or an interior. Your home is a reflection of your personality, or at least it should be. That's why I prefer homes that have been created over time and filled with objects with stories, as opposed to one that's been created in a week by an interior designer. I think that's why we love looking inside people's homes so much, as you find out lots about a person by how they've decorated and styled their home. So true! I much prefer "real" homes where the homeowner's style and personality shine through, versus a polished and magazine-perfect home that just reflects the designer's style. There's nothing wrong with getting help from a decorator, of course--but your home should feel like your home and not their portfolio piece. You know what I mean?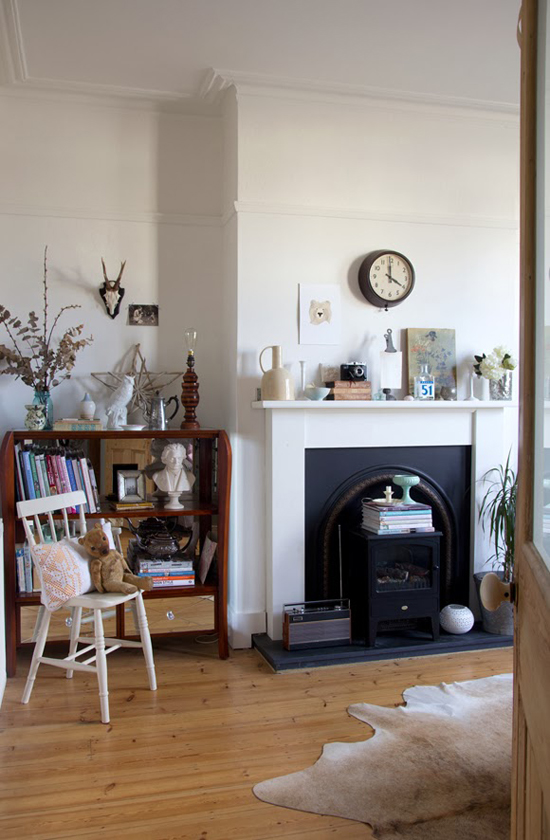 What's your favorite part of Caroline's home? I think mine might be her fireplace and mantel--but I also really love the pigeon wallpaper in her bedroom (which is funny, because I don't really like pigeons)!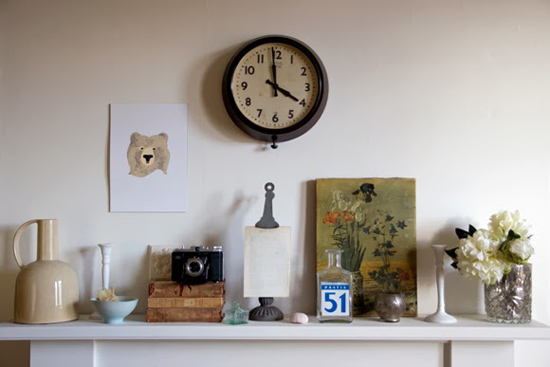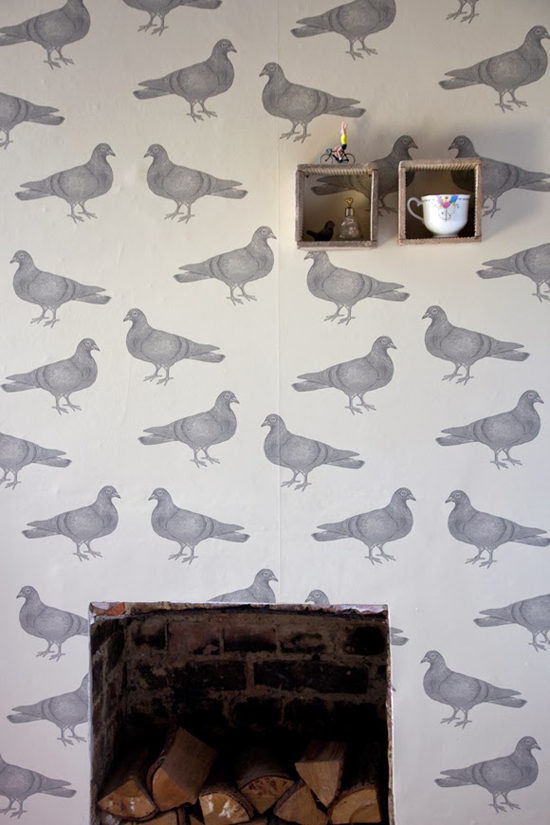 It's so cute, right? The wallpaper is by Thornback and Peel. I also quite like the frameless mirrors hung on the wall, and the stag coat hook from Caravan.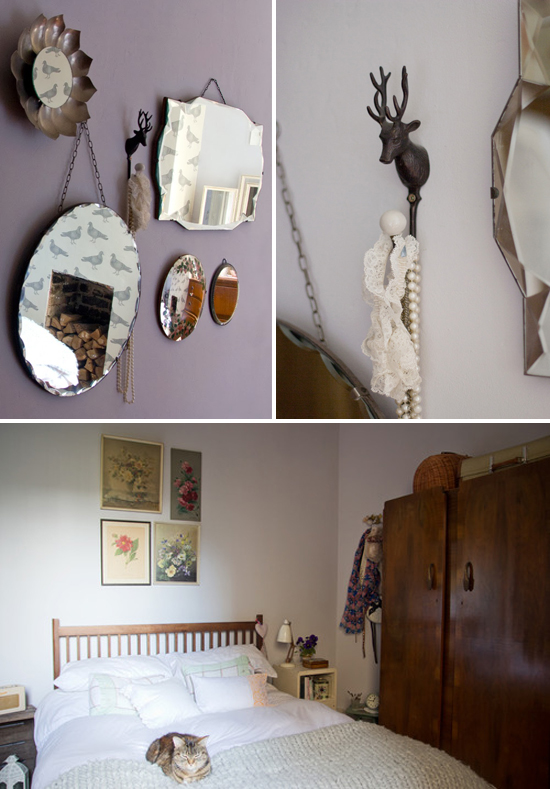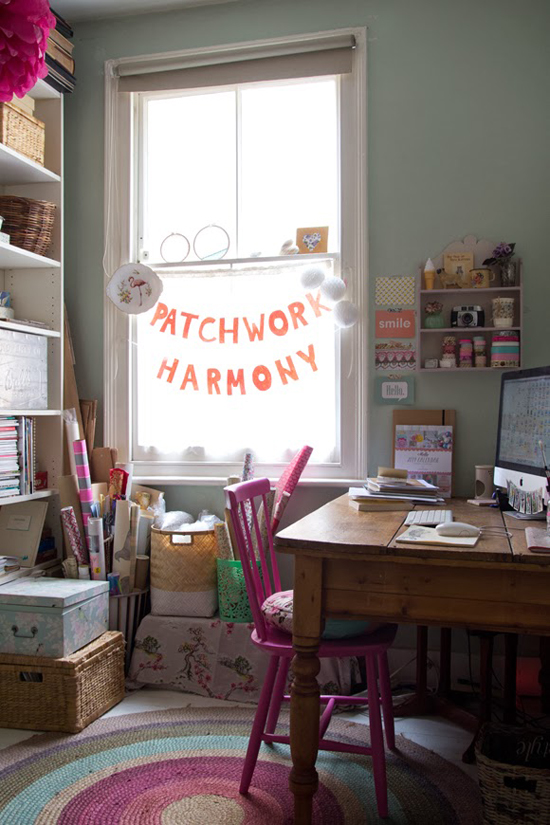 This area is Caroline's office, where she runs Patchwork Harmony and 91 Magazine. It's so bright, cheerful, and full of inspiration.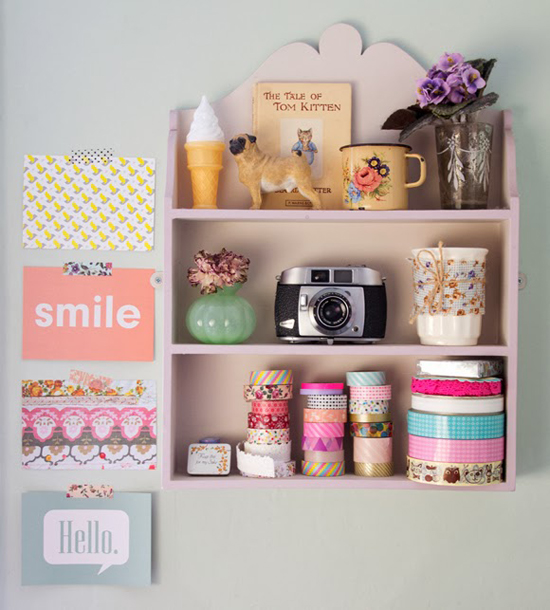 Love her little display of washi tapes, ribbons, and other treasures. The camera belonged to Caroline's grandfather!