This post is sponsored by Lamps Plus. All opinions are my own.
When we were house hunting, one of my friends advised me to find a house that we could be happy living in as-is. She said, you'll have tons of ideas for projects and home improvements to do, and you may end up doing them all eventually, but for most people renovations aren't a quick process like on TV. It's going to take longer (and cost more) than you think, so make sure you'll be happy in the meantime. That will make the process much more fun, and less stressful on your marriage. I can already see the wisdom in her advice, because even the small changes like painting and light fixtures are taking us way longer than I thought. BUT! We are making progress, slowly but surely, and with every little change I like our house even more. Recently, we finally switched out some of our old builder grade light fixtures for pretty new ones from Lamps Plus...and they look soooo much better. Can I get a watt watt? ;) If you don't have a lot of money to spend on house renovations, but still want to do something that will make a big difference immediately, I highly recommend upgrading your lighting. It will instantly make your house feel 10x more stylish and intentional. Such a big impact for something relatively low-cost!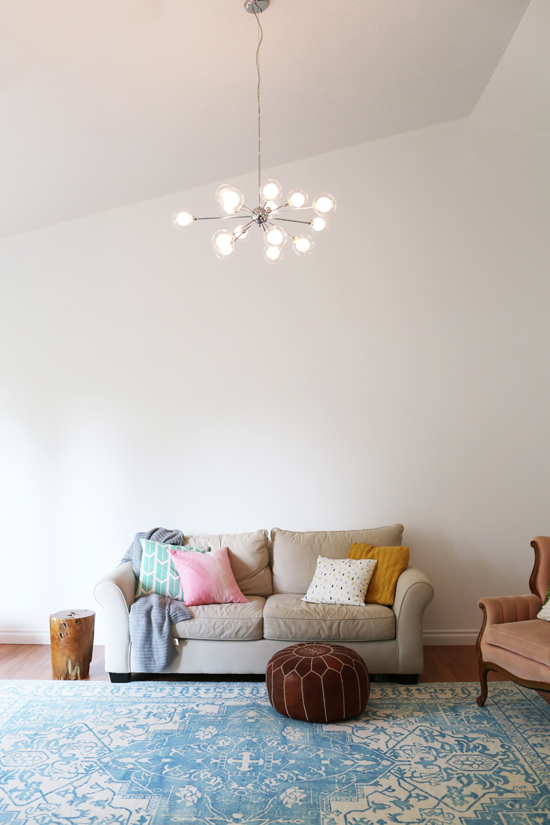 Lamps Plus is my go-to shop for beautiful-yet-affordable lights in every style, from close-to-ceiling lights to hanging pendants and chandeliers. Here's a round up of some fixtures that I considered for our house, and the ones I actually chose. These rooms are not even close to being done yet (the blank walls are so embarrassing!!!!), but I'm trying to celebrate every little bit of progress. So yeah, here's where we're at. I am CLEARLY not the kind of blogger who moves in and has everything remodeled and styled super cute within a month. I want to be that girl, but hey, life is busy right now...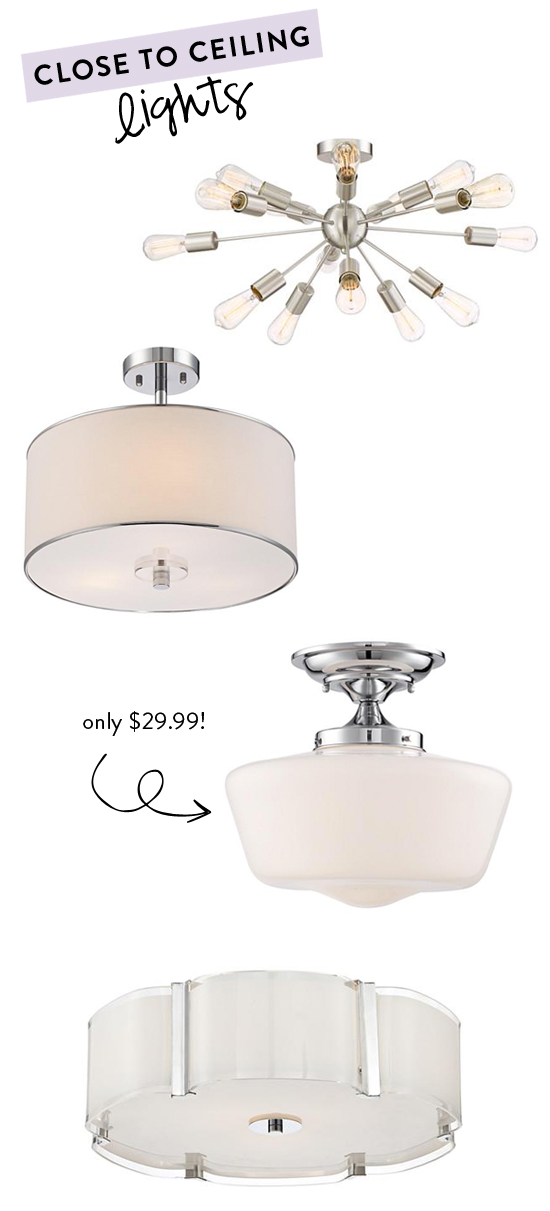 Close to ceiling lights: 1 / 2 / 3 / 4
For Ian's bedroom, I looked at ceiling lights to upgrade the standard "boob lights" our house came with. I loved the style of #1, the shape of #4, and the price of #3, but ended up choosing #2. It's a simple, classic style, a good size for the room, and a great price at $69.99. I might end up getting #3 for another room in our house though...it's hard to beat a timeless schoolhouse style light for under $30!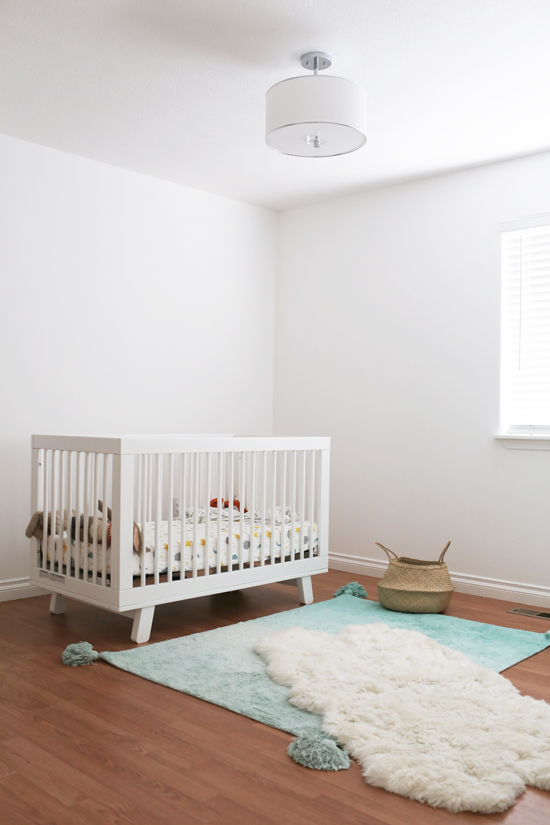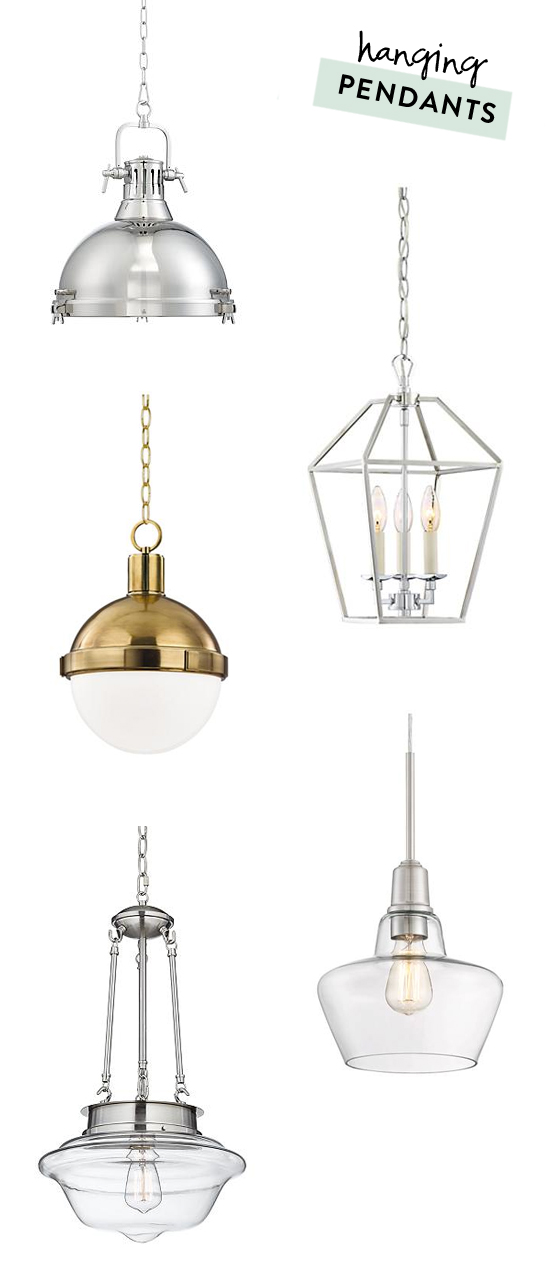 Hanging pendants: 1 / 2 / 3 / 4 / 5
For the kitchen, we had already removed some black track lighting when we painted the ceiling, and we needed something to replace it for now. Knowing that we're planning to remodel the kitchen soon, I wanted to pick something versatile since it won't stay in this spot for long. I looooved the look of #1 and #2, but decided to go with #4 because it was less expensive. It looks like it's currently sold out, but you can find lots of similar options under $200. When we remodel, I want to cut another window in the back wall and put a farmhouse sink under it. I'm thinking I will move this pendant to above the sink when that happens!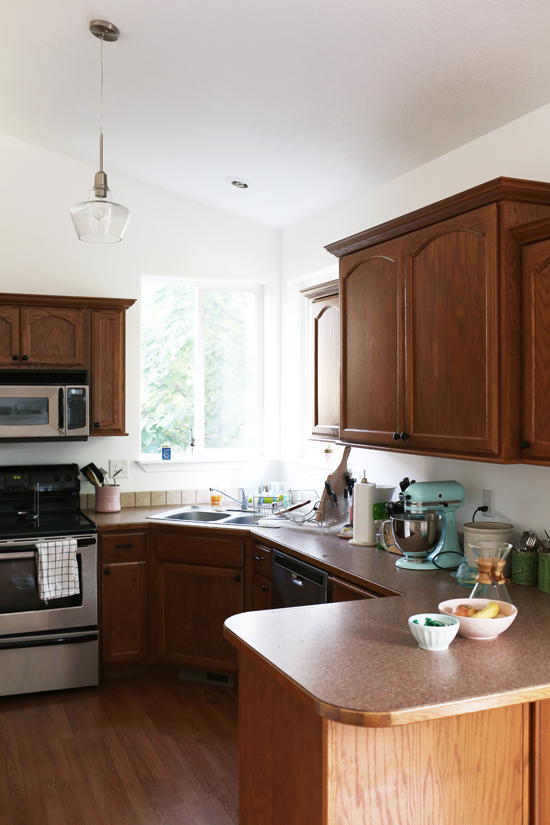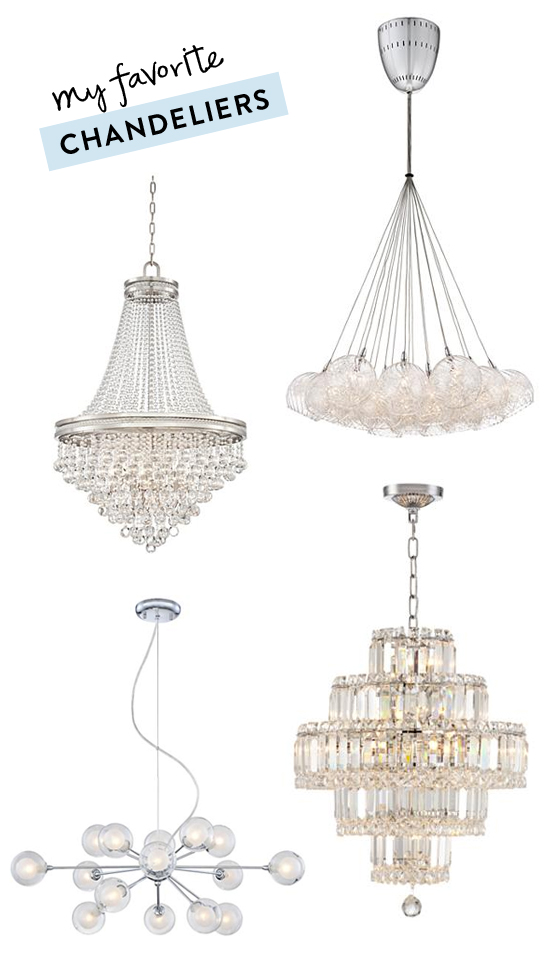 Lastly, we got a new living room chandelier to replace the boring 90's one that came with the house. It makes such a big difference! I ended up choosing #4 because it was a great deal (on sale for $299) and I love the look of Sputnik lights. It might be a bit trendy and less traditional, but it's really beautiful and it gives off a ton of light. We have it on a dimmer switch so we can turn down the brightness if we want to change the mood.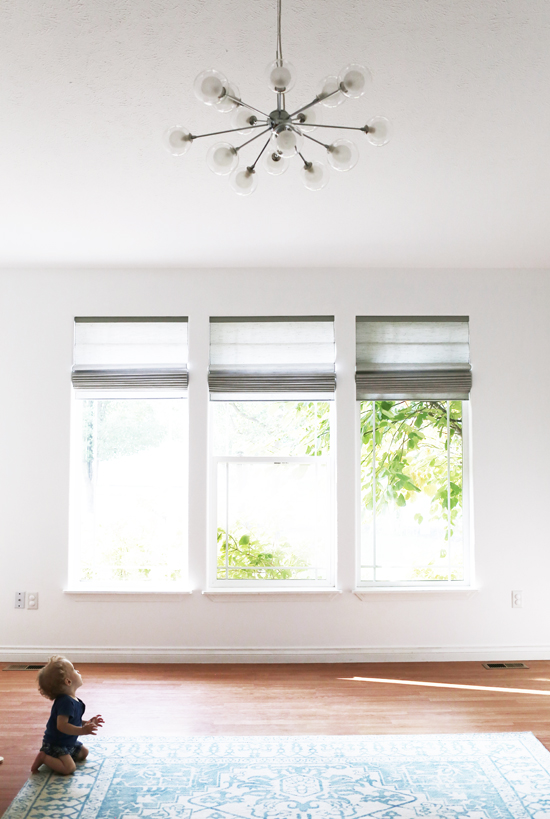 We still have a number of lights to switch out, so I'm keeping these lists handy for future reference! The next one on my list is the chandelier in our entryway. I did a little Photoshop work, and I think #2 from my chandelier round up would look amazing there. What do you think?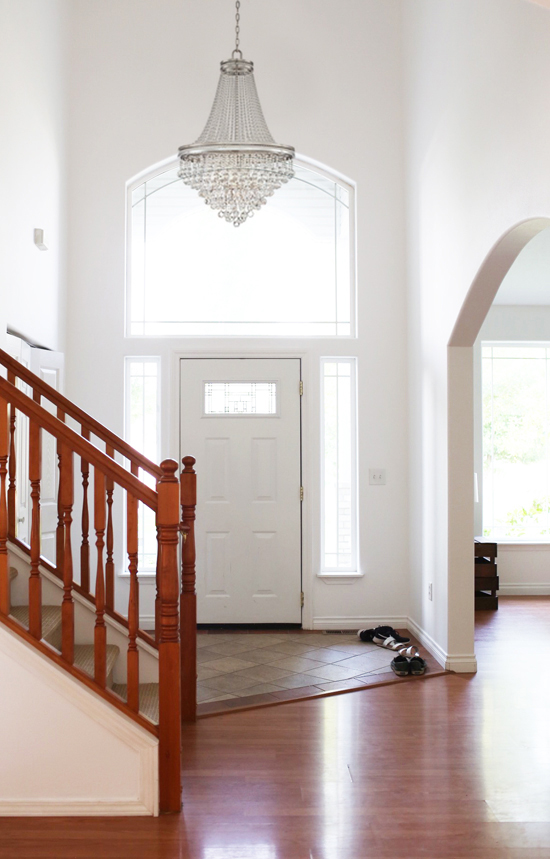 Do you have a favorite light from the ones above? What's your go-to source for lighting that's beautiful but not crazy expensive? I went to this local store that had SUCH gorgeous fixtures...but there were hardly any options under $1000!


Truth be told, I don't really miss our old apartment that much (except for its proximity to the beach). By the time we moved, we were sooo ready to be outta there. But I'm on Apartments.com today, talking about some common apartment woes and how to deal with them, and the pictures of our old place are making me feel a little bit nostalgic! I think it's because our current house is so unfinished (ugh). There's no art on the walls, the furniture hasn't been purposefully arranged, and we still need window treatments for most of the rooms...we're making changes slooowwwwwly. I thought I'd be able to get more done during the day while Ben's at work, but turns out that watching a busy one year old takes a lot of energy and attention (huh, imagine that), so we haven't been able to make a lot of progress except on weekends. And of course that's also when we also want to hang out and do fun stuff! Thank goodness we have a three-day weekend coming up. I have high hopes of knocking out a bunch of projects! Fingers crossed.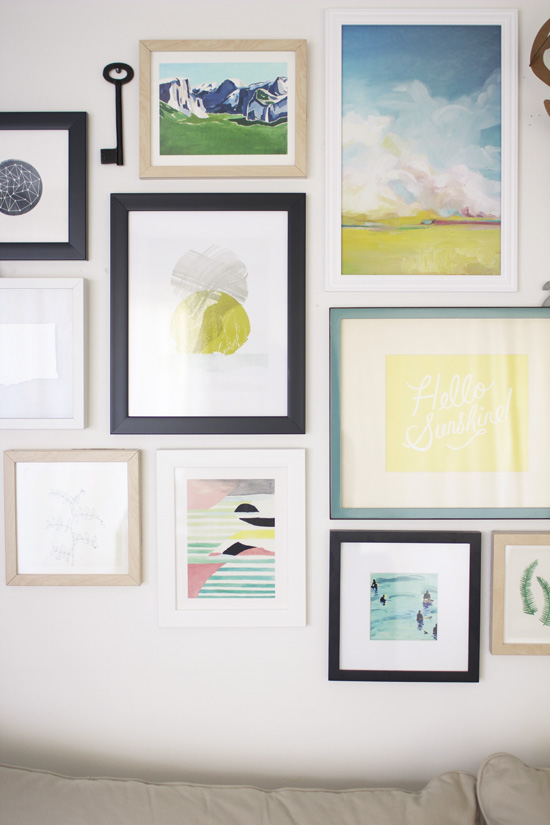 In the meantime, I'd love for you to check out my article: Five Common Apartment Woes & How to Fix Them. After living in rentals for the past 10 years, I feel like that's a topic I can talk about exhaustively! I also wrote an article for them last month that I forgot to share here: WHY It's Worth Making Upgrades to Your Rental Apartment.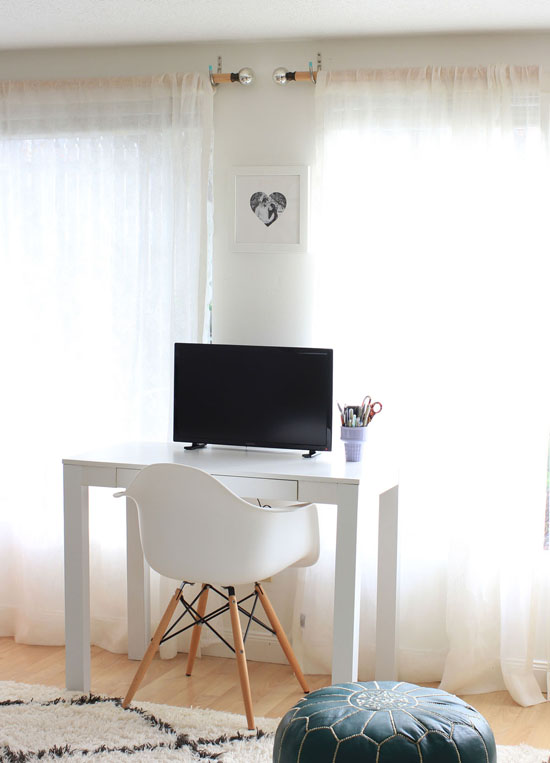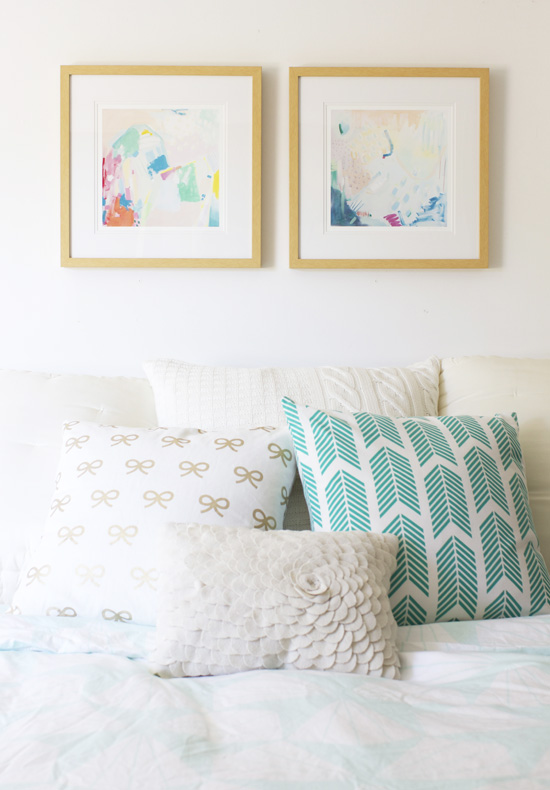 And while we're on the topic, I'm curious whether you guys are renters or homeowners...and if you're renting, is it because you choose to? Or because you're saving up to buy? For a long time we rented because we couldn't afford to buy a house. But now that I'm on the other side of the fence, I also miss some of the freedoms of renting: no lawn to mow, no spending money on expensive appliances, no paying for water & garbage, etc. I'd love to hear your reasons for renting or owning, if you're willing to share! I know, I'm so nosy...


Last month, we took back-to-back trips to the Washington coast and Oregon coast, with Ben's family and mine. The beaches in the PNW may not have palm trees, bright blue water, and white sand...but they do have their own stunning kind of beauty! Both vacations were really fun, and a good reminder that we don't have to go anywhere exotic to have a great time. We got our new camera right before we left, so I was kind of obsessed with taking pictures the whole time. I thought I'd share a few of my favorites here, in case any of you are planning a trip to the Washington or Oregon coast. It really is beautiful up here in the Northwest...come visit!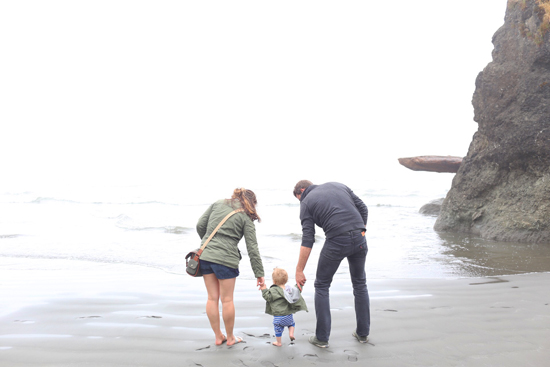 Our first trip was to the Washington coast with Ben's side of the family. It was Ian's first time seeing the ocean, and he was a little scared of the waves at first but he looooved the sand. We all stayed in a vacation rental near Ocean Shores, and took day trips to nearby attractions: Kalaloch, Ruby Beach, Lake Quinault Lodge, and Seabrook.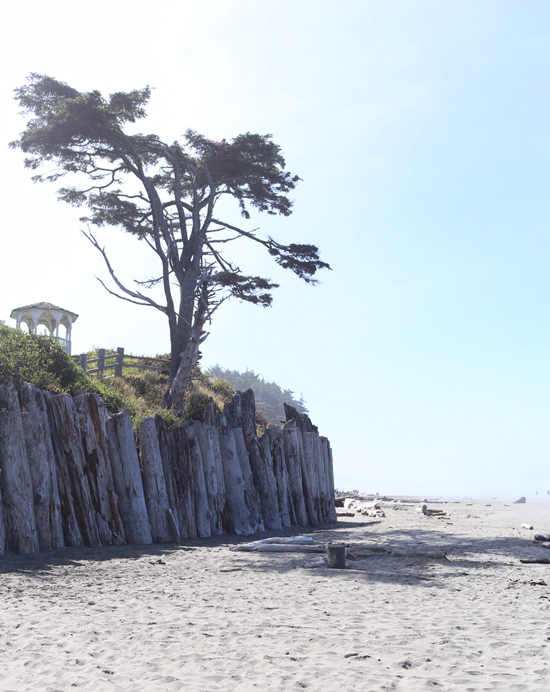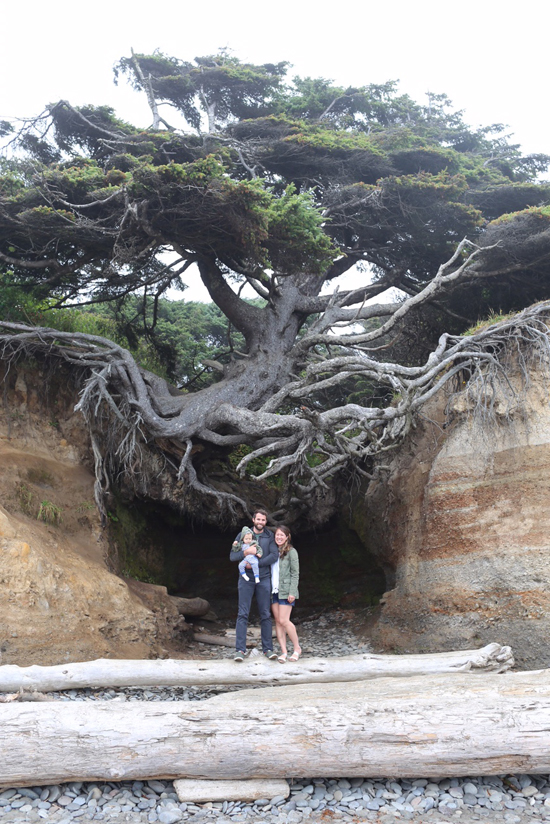 I loved this tree near Kalaloch, called "The Tree of Life" because it's tenaciously hanging on by its roots, and (amazingly) still alive even though the ground beneath it has washed out!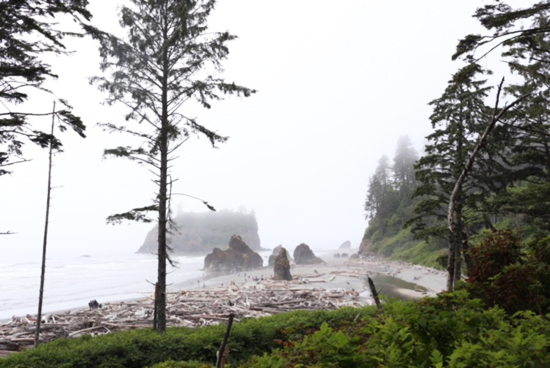 Ruby Beach has to be one of the most gorgeous beaches I've even seen, with all the seastacks and driftwood amidst the fog.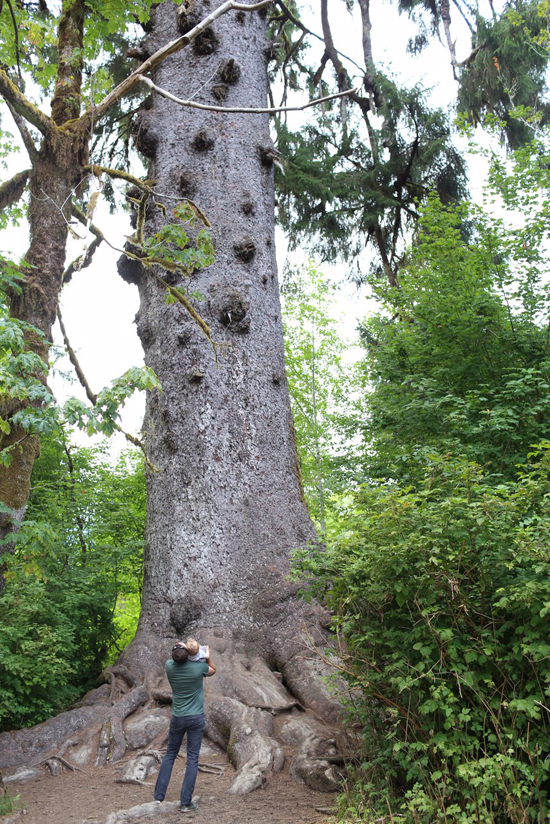 We also saw the world's largest Sitka spruce. There's a ton of rainfall on the Olympic Pensinsula, so it has tons of massive trees (and lots of waterfalls too).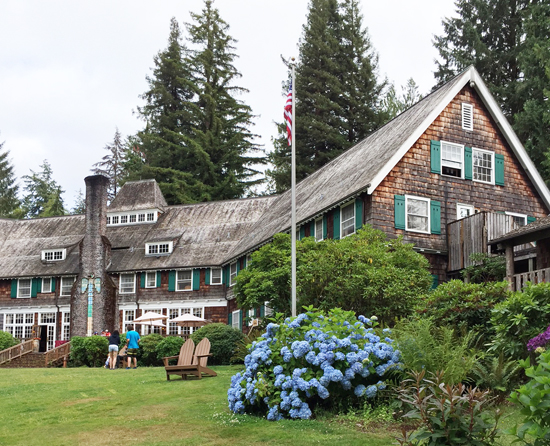 Lake Quinault Lodge was lovely and charming. We just dropped by to check it out, but one day I'd like to stay here.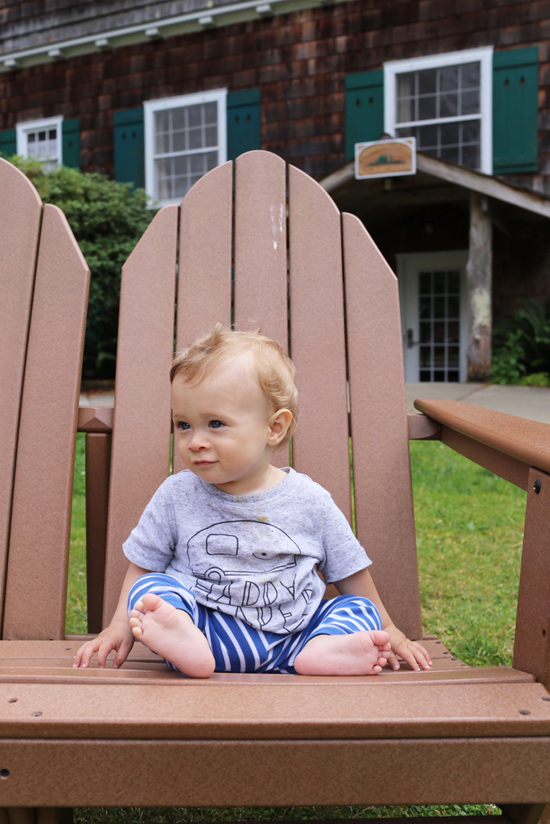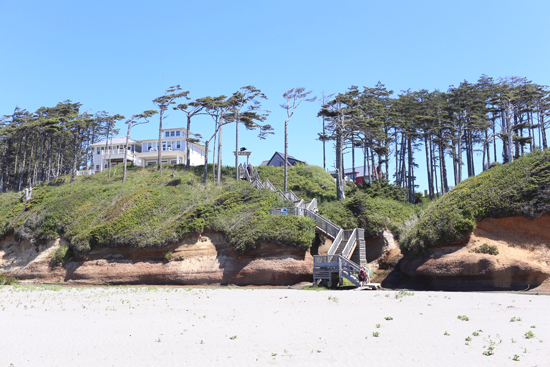 And I loved the town of Seabrook! It's a planned community, so it did feel a bit TOO perfect, almost like a movie set, but all the houses were just gorgeous and dreamy. Here's proof: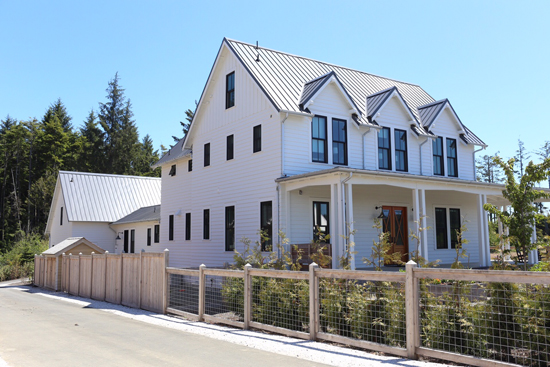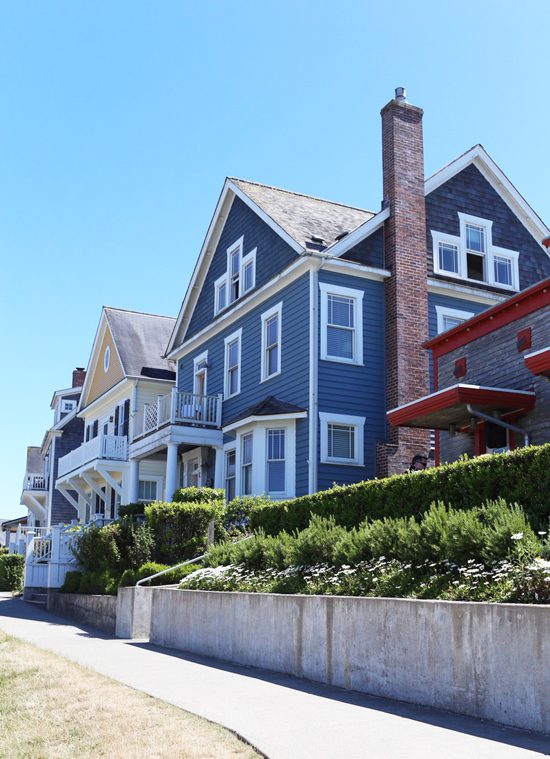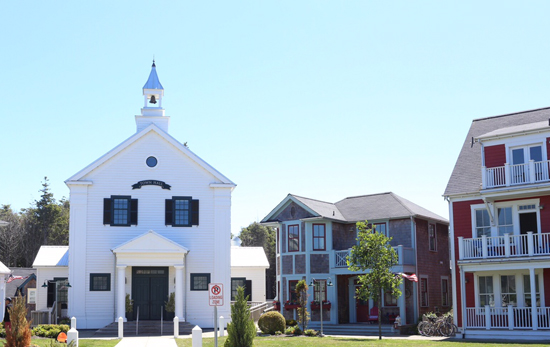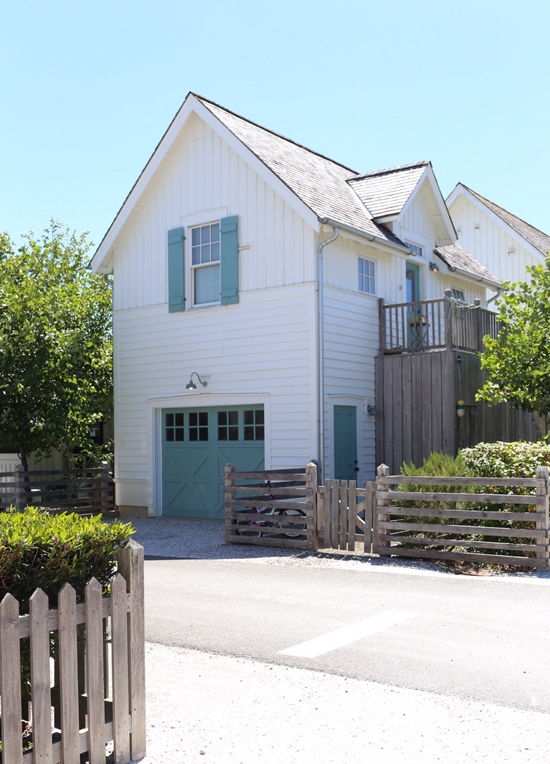 And those are only a few of my favorites. Picture-perfect, right?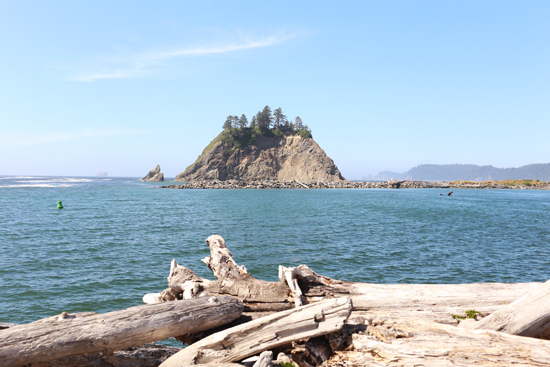 On our way out, Ben and I stopped by La Push (it's the beach in Twilight if it sounds familiar, right by Forks). I had never been there before...it's beautiful! You can actually camp on the beach there--maybe someday.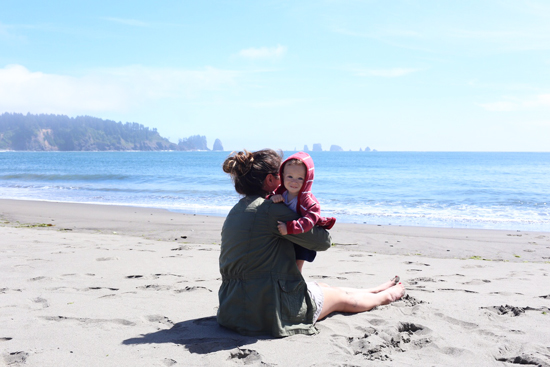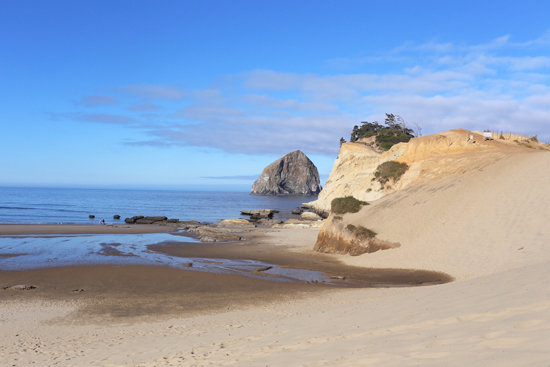 After that, we headed to the Oregon Coast for vacation time with my side of the family! We stayed in another rental house, this time on the beach in Pacific City, OR.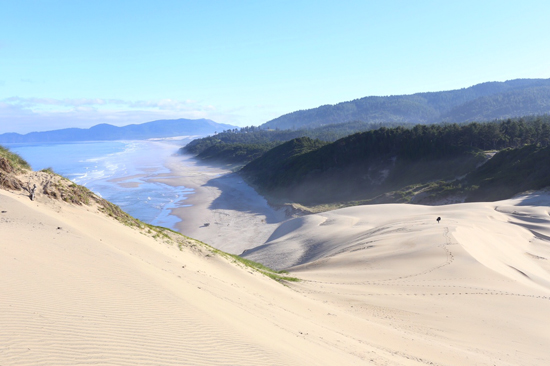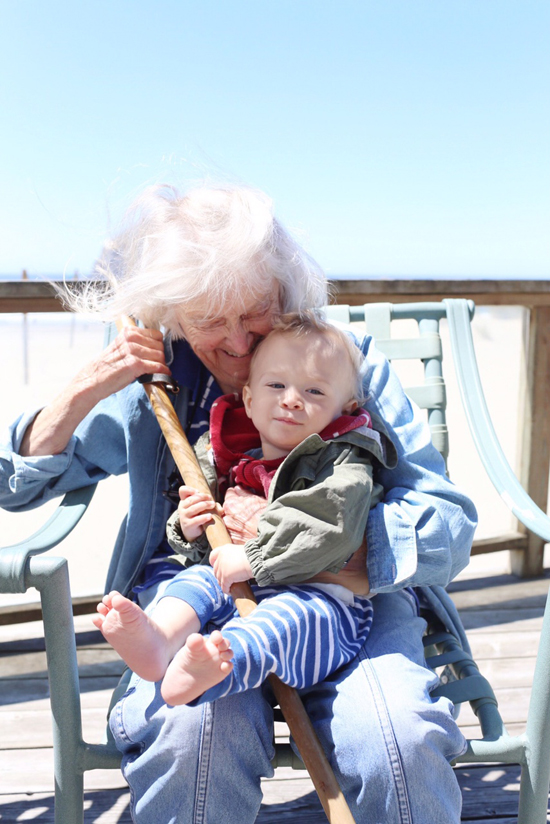 It warmed my heart to see Ian spend time with his great-grandparents. He's the first great-grandchild (and grandchild) on my side of the family, so he got a lot of attention the whole time. ;)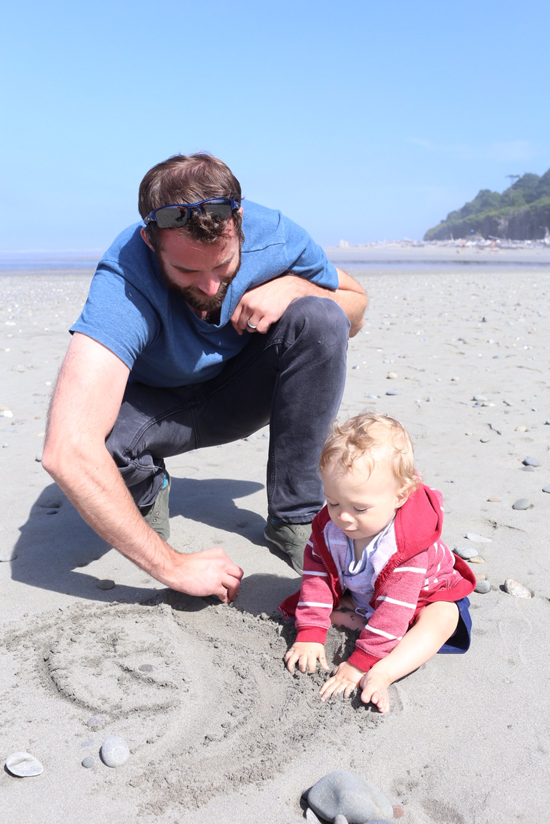 We didn't do any day trips with my family since my grandparents aren't as mobile as they used to be, but it was nice to relax and kick back at the beach. We played a lot of games, built a giant sandcastle, flew kites, and went for walks. And Ben and my siblings did some boogie boarding and skimboarding too.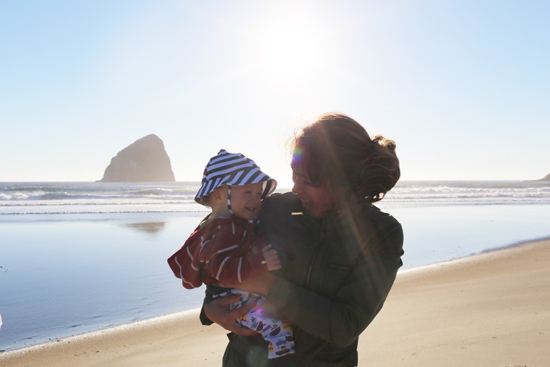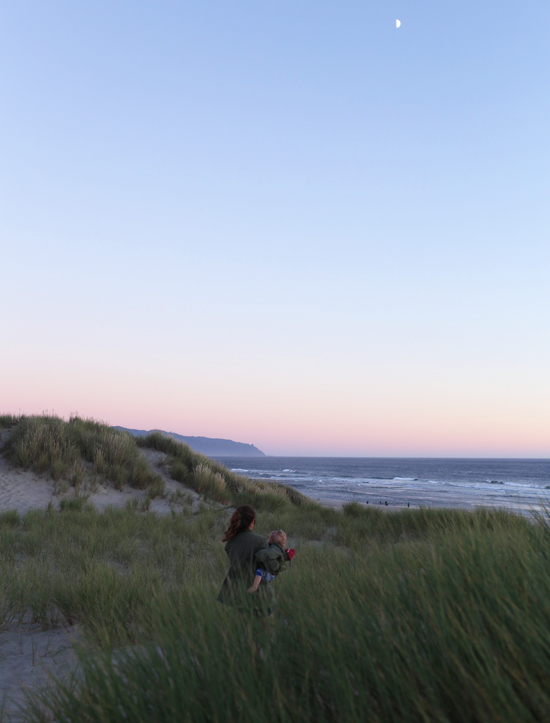 I can't believe how fast summer is going by! It feels like we just got back from this vacation, but it was actually a full month ago. And it's practically September already?! Say it ain't so!

We've owned our house for a little more than a month now, and I'm just getting around to posting pictures of it...FINALLY! I had originally planned to take some before pictures once our new camera arrived--but then some friends of ours needed a place to stay so we moved in a little sooner than planned. And then the house wasn't empty anymore and it was kind of messy (the way it is when you're in the middle of a move), so I kept putting off taking pictures until I could clean up. But the longer time went on, I started getting anxious about how I hadn't done a house tour yet sooooo I I had to remind myself that they're just BEFORE pictures anyways! I don't think anyone else gets stressed out about trying to get "the right kind" of before pictures, haha. I'm so weird! Anyways, I never had time to do a proper clean so you're seeing the house in a kind of embarrassing in-between state. We've moved in some stuff, but we haven't arranged everything the way we want, and we still have a lot of boxes in the garage, new furniture to buy, and art to hang on the walls. Promise me you'll look past all that stuff though, k?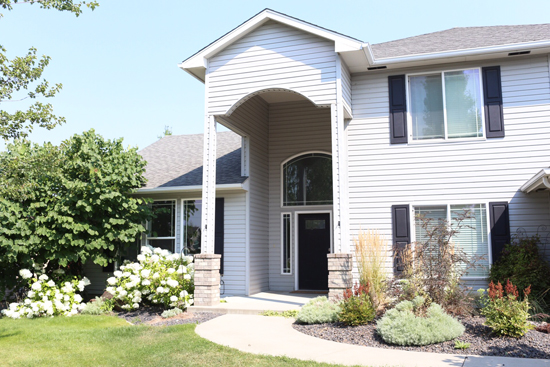 Here she is!!! We've dreamed of buying a house for so long, it still feels super surreal to me that we actually DID it...we bought a house! I think some of you (especially those that have been reading this blog for awhile) may be surprised by the house we chose, because it's certainly not what I initially wanted. I've always loved old charmers from the early 1900s, and we looked at a LOT of them here in Spokane. But although we're not afraid of a few DIYs here and there, major house renovations are way outside of our skill level. My hope was to find a solid old house that was in good shape and didn't need anything major, but every one we looked at needed quite a bit of work--more than we're capable of taking on. So eventually I agreed to look at some newer houses with Ben (which is what he wanted from the start). And we found one we both agreed on! It's not a cute old character home, but it feels right for us and our stage of life. It needs the perfect type of work (all cosmetic stuff), it has a good layout, and there's plenty of space for future kids. If you remember the three choices I told you about...we chose the new-ish house!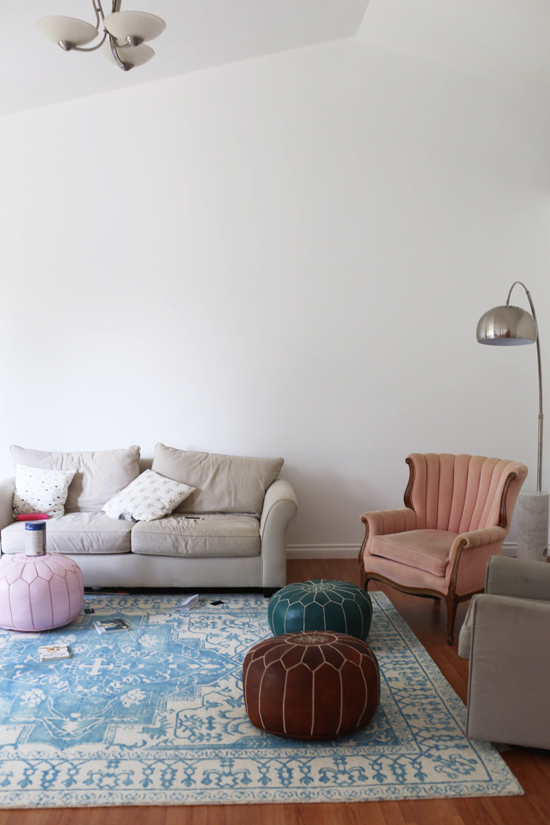 Our favorite things about it are the vaulted ceilings, the natural light, the open layout (that we plan to make even more open), and the fact that it has no basement!!! Haha. After years of living in a daylight basement, we are just sooo ready for tall ceilings and big windows. The house also has a pretty big yard that feels private, is in an excellent school district, and--best of all--it has no major issues to fix! So we can jump right into the fun stuff.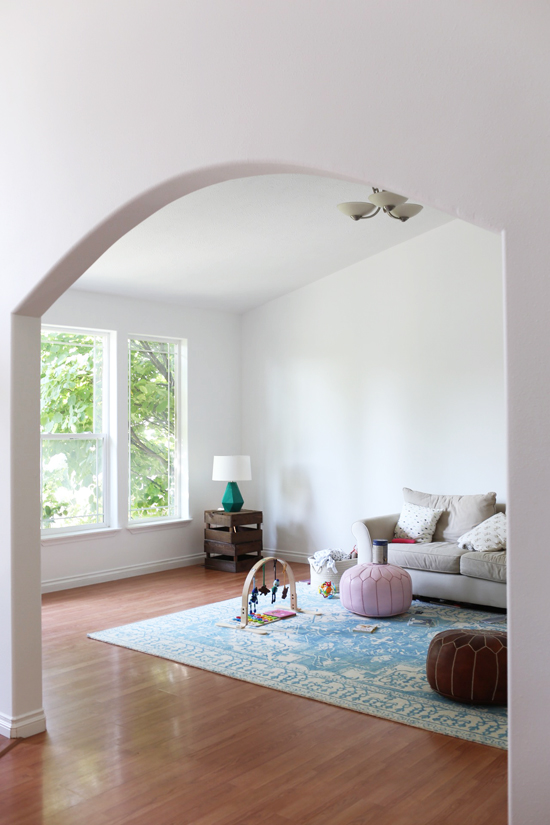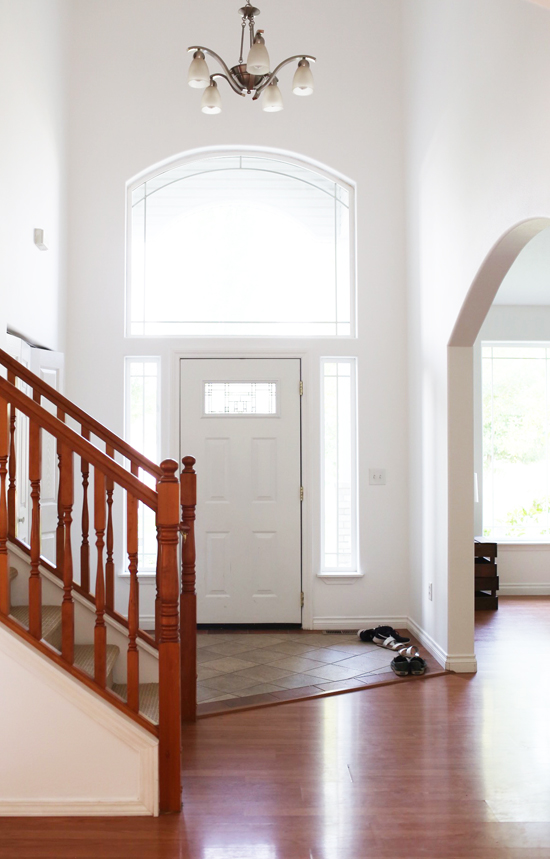 The first thing we wasted no time in doing was new paint. Before, the whole house, including the ceilings, was tan (the color that's still in the bathrooms and extra bedrooms). We gave ourselves a clean, fresh start and went WHITE (Behr Ultra Pure White to be exact). I know most people who go from renting to buying are probably eager to paint any color but white, but we're weird and white walls are our favorite! At least we both agree on that. :) I thought painting would be no big deal and we could knock it out in a couple days before moving in (ha!), but it actually turned out to be quite the ordeal due to the super tall ceilings in our entryway and living area. We finally figured out how to do it safely, without having to perch precariously on a ladder. The key is an extendable pole! All the effort was worth it--I love how clean and bright it is now.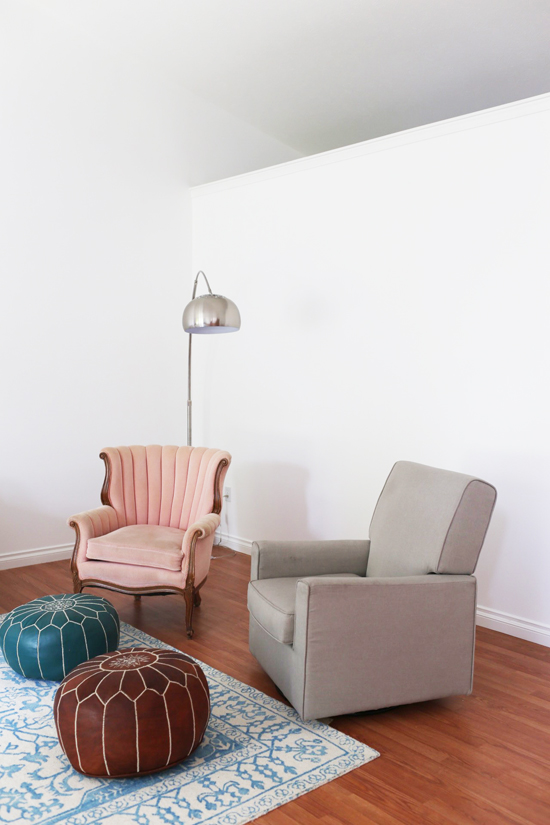 The next thing we want to do is tear down the weird wall in the living room (above) that's clearly not a support wall since it doesn't even go up to the ceiling. That will give us more an open concept kitchen, which I like. The kitchen's pretty dark right now and I'm not a fan of the wood cabinets. They're actually decent quality so maaaaybe we could reface them...but I also want to change the layout (why is the sink in the corner?!) so maybe not. We'd also like to cut a window in the back wall and put a big farmhouse sink under it--so we can see the backyard while we're cooking or washing dishes. And I want Shaker style cabinets, new hardware, and pretty quartz countertops. I'm chomping at the bit to get the kitchen remodel going, but Ben wants to wait and live in the house for awhile first. Soooo I'm currently measuring, dreaming, pinning, and pricing out different options so I'm ready to go when he gives me the green light. If you have any kitchen remodel advice, please share!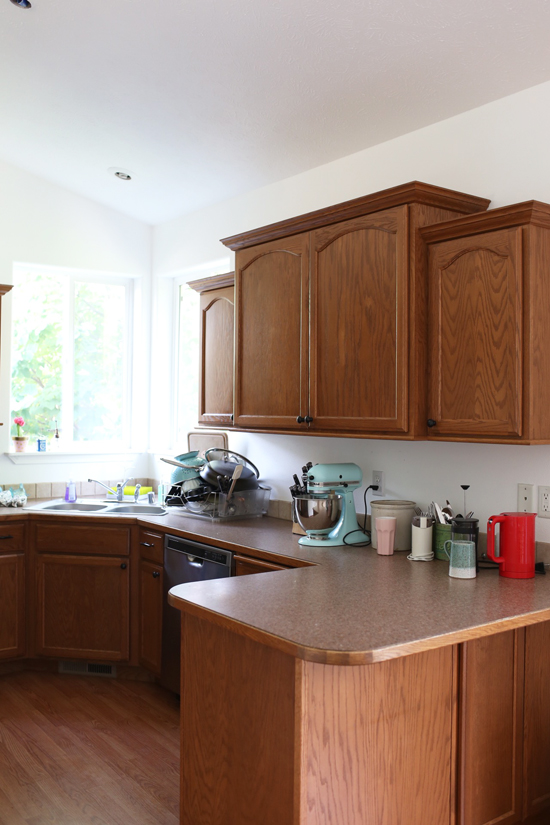 Further down the priority list, I also want to remodel all the bathrooms. We have three full baths (which is great!), but they all look pretty dated: tub-shower combos, honey wood cabinets, builder basic tile, and laminate counters.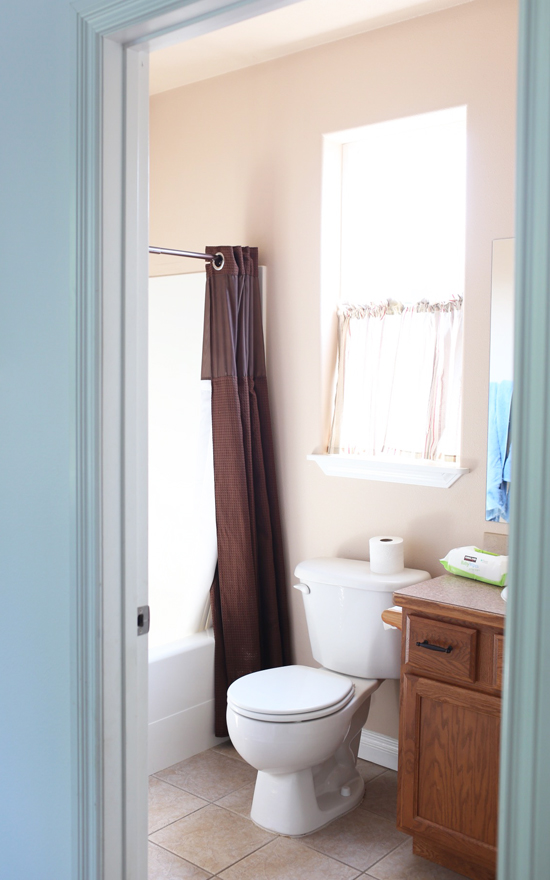 Here's bathroom one,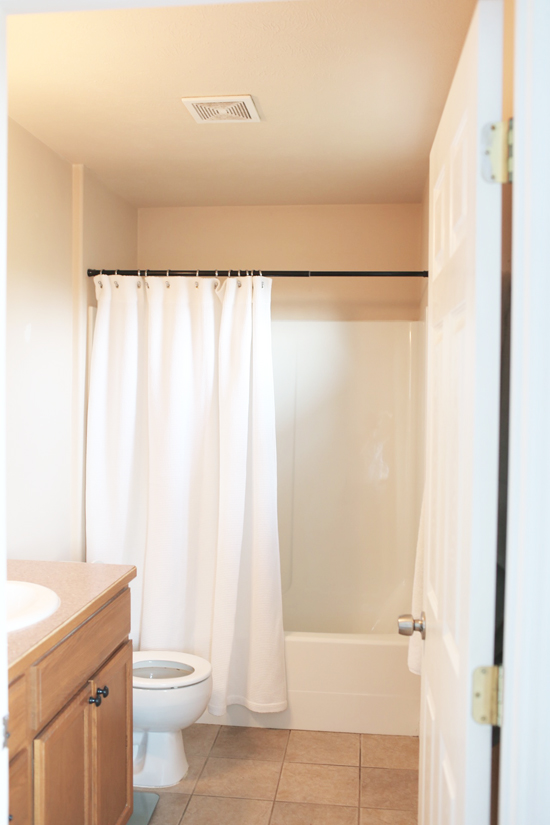 bathroom two ,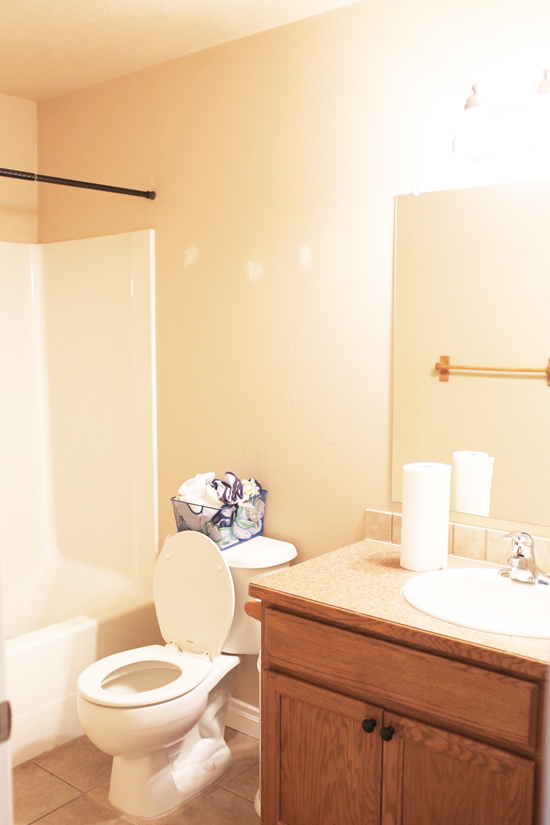 and bathroom three...see, don't they all look the same? Definitely not my style, but at least they function just fine, so we can save up to remodel them without any real urgency.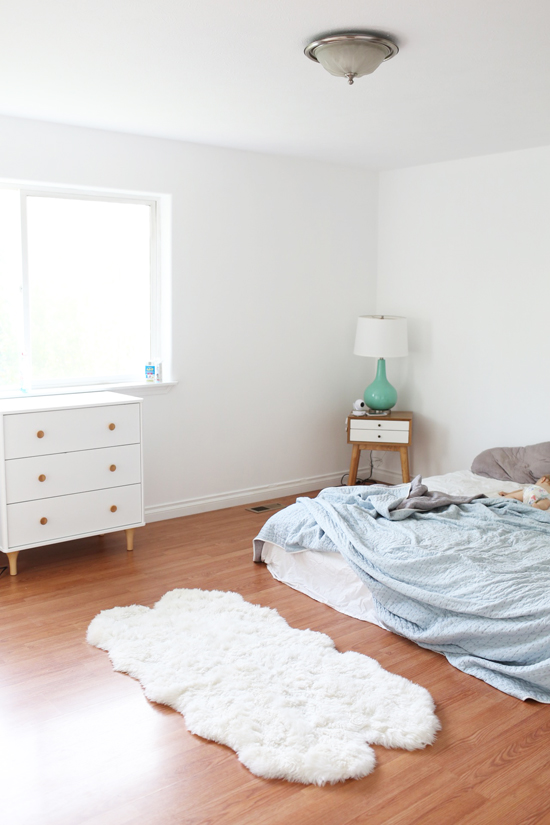 This is our master bedroom. We painted it white, but we still have a lot to do. As you can see, our mattress is currently on the floor...I'm hoping to get a new bed, dresser, and nightstands soon! I also want to paint the rest of the bedrooms (we have four total), which will probably happen sooner than later. A couple of them are prepped and ready, I'm just trying to decide if I want to go white in there as well, or if I want to do color in the extra bedrooms. After all, there's already a lot of white in our house!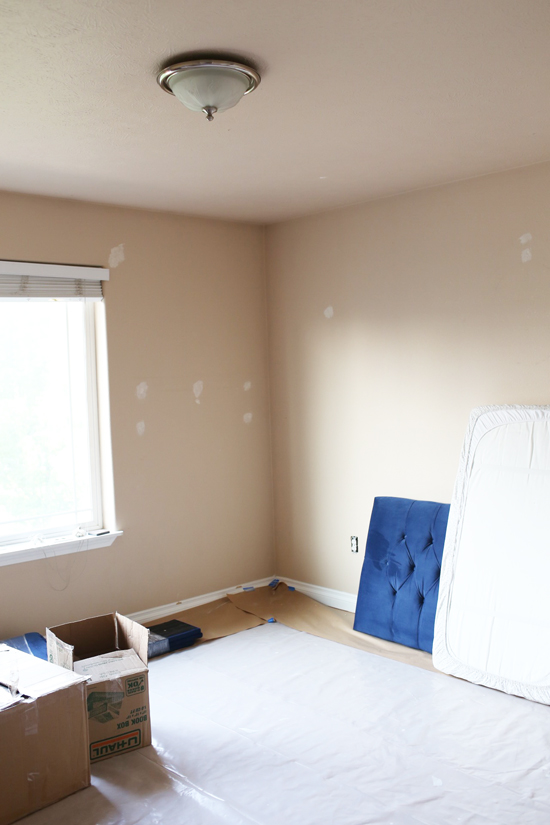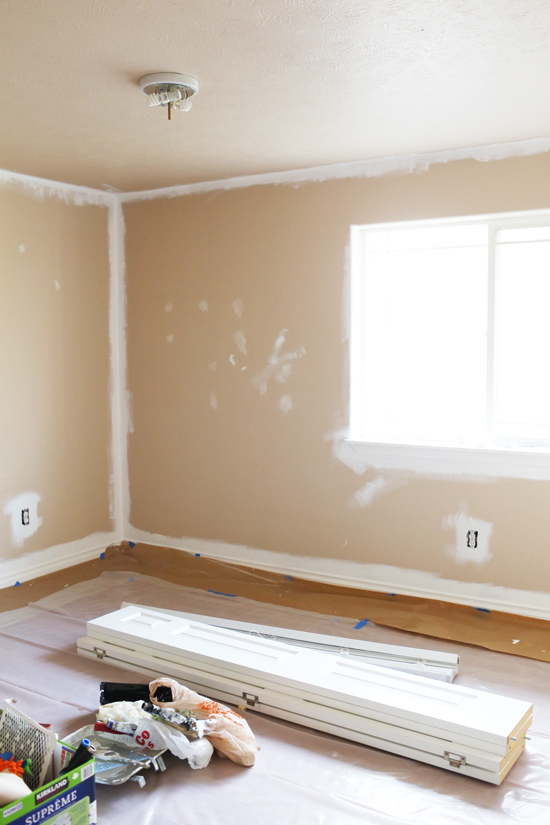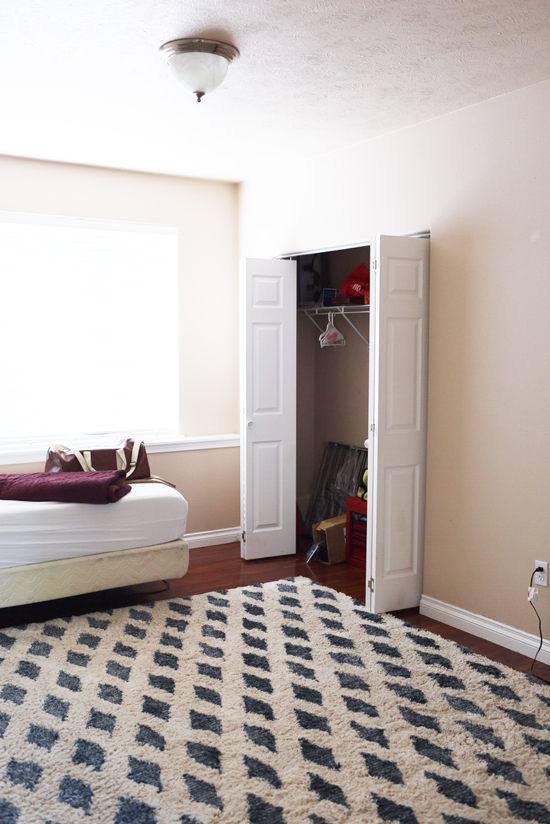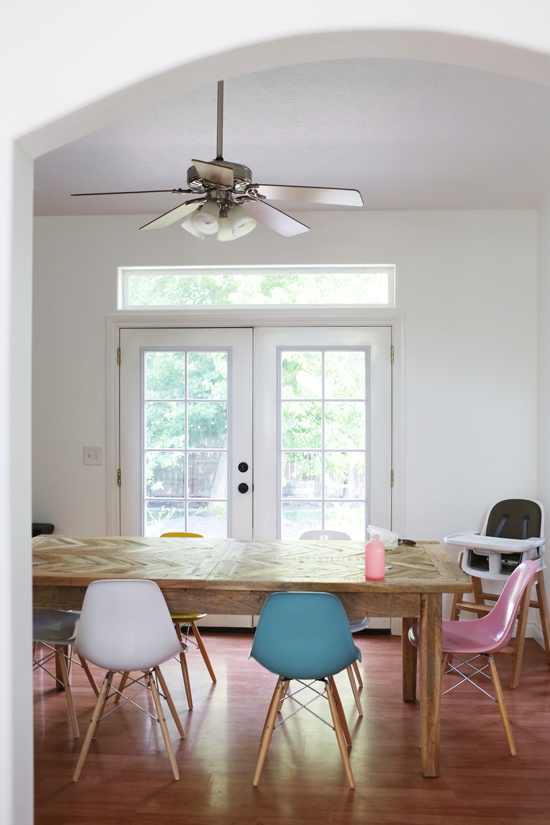 One of my favorite spaces right now is the dining room. I love the French doors, and the arched doorway that leads to it. It's not a huge space though, so once we tear down the wall between the kitchen and living room, I might move our dining table there and put a smaller round table here.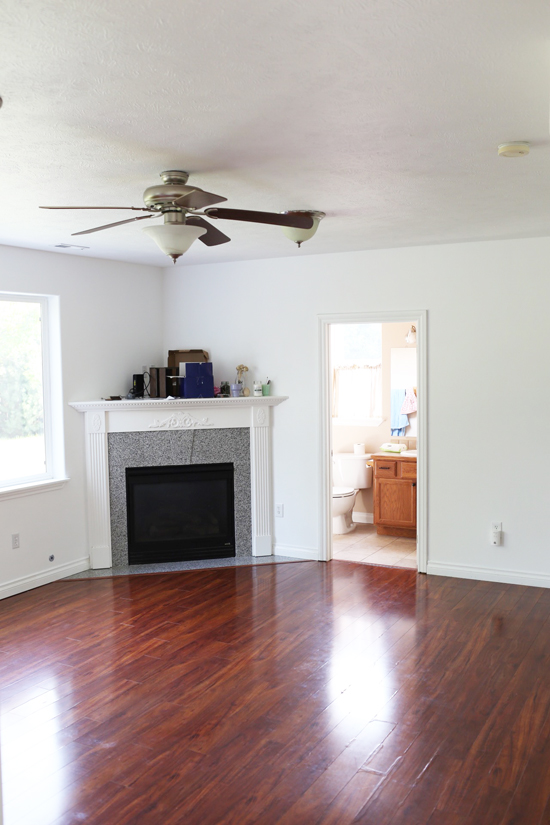 We also have a family room for the first time, which is exciting! This will probably be a den/kid's play room. We still need furniture, and we eventually want to replace the laminate flooring too (I hate how shiny it is, and it has some bubbling and damage).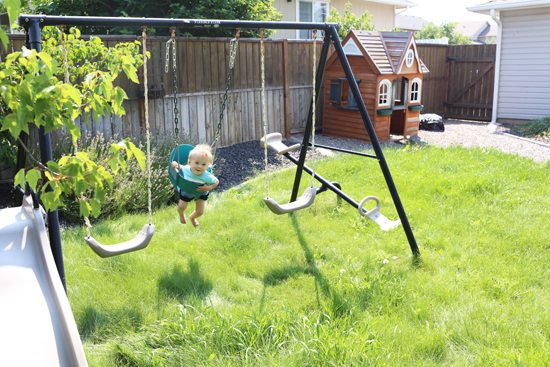 Lastly, we have a backyard!!! Yayyyyy. The previous owners left us a kid's playset and wooden playhouse, which was a nice bonus. Ian has enjoyed having his very own swing, and I have plans to paint that playhouse and make it cuter.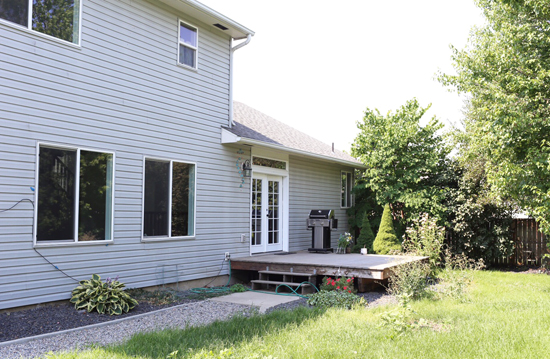 The yard is pretty much our last priority right now, but eventually we want to make it more our style...a new patio, hot tub, outdoor seating and string lights, etc. You can see some of my inspiration here.
Besides all the major to-dos, there's also lots of decorating that I'm excited to get started on: lighting fixtures to switch out (so many boob lights!!!), window treatments to choose and hang, rugs and furniture to buy, and decorative accessories to add the finishing touches. The plan is to take things slowly, though, so we're not just filling rooms with stuff for the sake of it.
After FIVE months of living in limbo (thanks Mom & Dad!) it's soooo nice to have our own space again...and it's even better that we OWN it and can change whatever we want!
What do you guys think? Did we make the right choice with the new-ish house? I'm sure I'll always feel a little twinge when I see a gorgeous old house for sale, but I'm also enjoying the peace of mind with knowing that our electrical, plumbing, and foundation are all up to today's standards. And while our house is pretty "builder basic" right now, I know we'll add more character as we remodel and decorate it. Can't wait to get started, and I'll be sure to blog about our progress!
P.S. Just for fun, here's the wish list we made when we started house hunting a year ago. We did pretty good! Obviously, moving to a less expensive area is what made that possible, but I'm pleasantly surprised when I see how many of our wish list items this house actually checks off.