Thanks to Micro Cotton for sending me these towels to review. All opinions are my own.
Happy Friday, and happy first day of fall! It definitely feels like the season has shifted here in Spokane. We've been fully enjoying taking walks in the cool, crisp air, eating warm soups and toasty bread, watching shows while it rains outside, and taking long hot baths at night. So ready for this season of "hygge" (that's a fun word to use). I wish we were remodeling our bathrooms this fall and getting a big soaker tub (my dream!), but unfortunately that's probably not gonna happen for awhile. In the meantime, I made our bathroom feel a little more cozy and luxurious by lighting a sandalwood scented candle, adding a vase of fresh eucalyptus, and getting some plush new towels.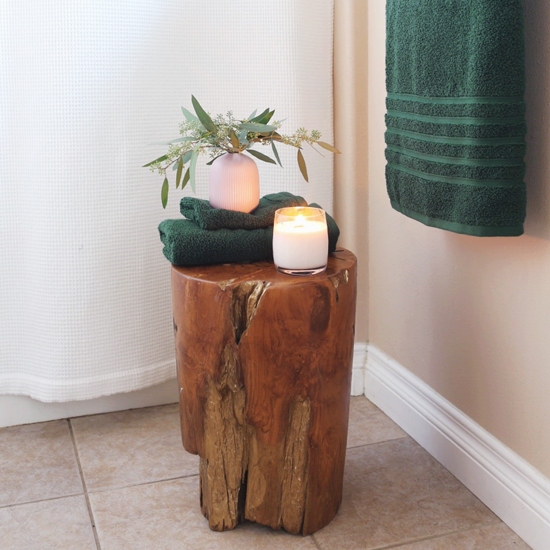 Ok, these towels! They are the Hotel Collection Ultimate Micro Cotton towels from Macy's, and they are not your average bath towel. They're super soft, extra-absorbent, and they make you feel like you're at a fancy hotel. They're definitely not cheap (they retail at $78 for a set), but they're majorly on sale right now so it's a great time to stock up. AND I get to give some away!
The Hotel Collection comes in classic neutrals, soft pastels, and rich jewel tones that are perfect for fall. I have the "pine" color above, which is a beautiful deep green...and I also snagged some white ones since you can never go wrong with white towels. The winner will get one set (a bath towel, hand towel, and washcloth) in the color of their choice.
To enter, leave a comment on this blog post and tell me how you're updating your home this fall! I'd love to hear about your projects, whether they're big exciting remodels or small cozy changes. This giveaway is only open to US residents and closes on 9/29. I'll announce the winner on 9/30!
UPDATE: This giveaway is now closed. The winner is Latanya!


Thanks to the companies linked to below for hosting us on this trip.
Last weekend we took a quick mini-vacay to the Seattle Southside. To be honest, I've never really considered that area as a vacation destination--unless you count starting a vacation by leaving from SeaTac Airport. But when we were invited to come stay for the weekend and explore, we couldn't turn down an excuse for a little getaway. And we had a blast! I was impressed with how many fun, family-friendly activities are there. Plus it was a nice, affordable launch pad for visiting the overall region, and less hectic than staying in downtown Seattle. In addition to our planned activities, we were able to meet our new nephew Seth (who was just born last month), see Ben's parents, and buy a few things from IKEA (Spokane doesn't have one yet). Worked out perfect!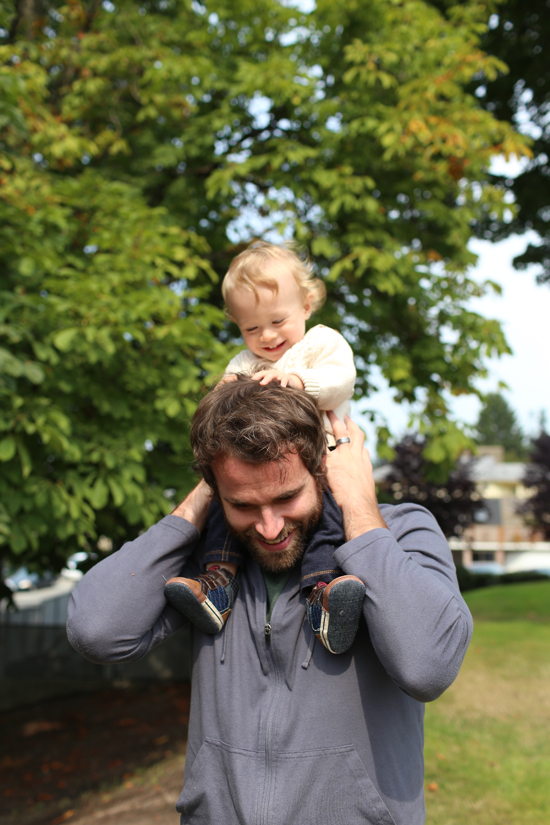 We stayed at the Marriott Courtyard right by Southcenter Mall. It was a convenient location, clean and modern inside, and their hotel breakfast was really good...instead of a continental buffet, they had made-to-order French toast, eggs and bacon, avocado toast, etc., plus Starbucks drinks. It was also located right by iFly, an indoor skydiving place that Ben has wanted to try. We didn't do it this time because of Ian (you have to be at least three), but maybe in the future!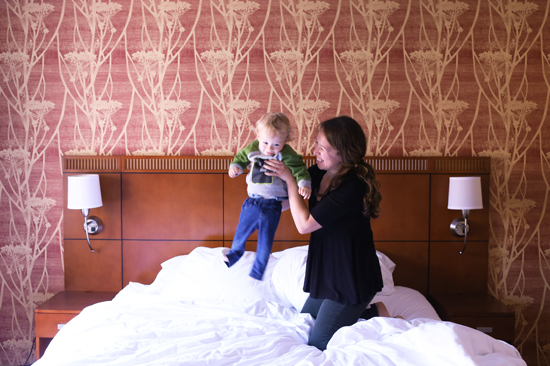 Our first morning there, we visited the Des Moines Farmer's Market, which is right on the harbor. Supposedly there's a great view of Mt. Rainier, but it was still really smoky in the air from all the fires in the Northwest so we couldn't see the mountain at all (thankfully it's rained since then and the air is MUCH clearer now). The farmer's market was really cute and reminded me a lot of the one in Edmonds, where we used to live: a charming waterfront community market with seasonal local crops, inexpensive bouquets of fresh flowers, and yummy food trucks. We got some hot kettle corn and a twice baked almond croissant, and I ogled the gorgeous dahlias.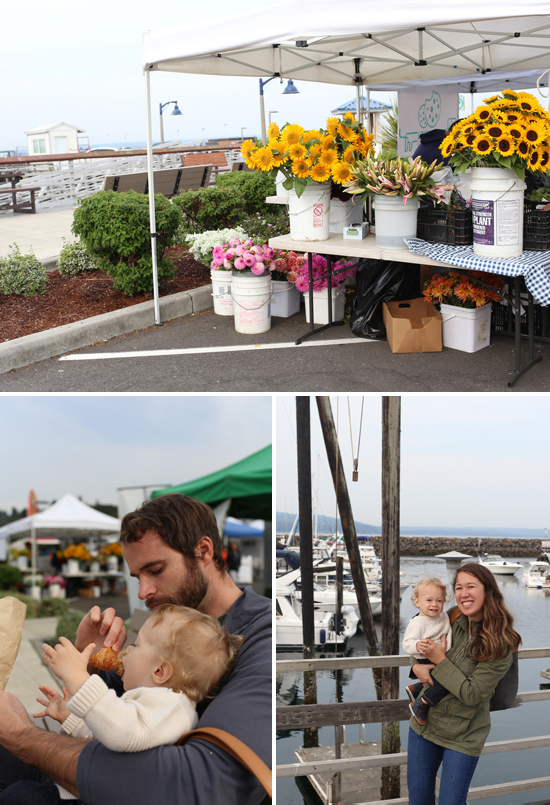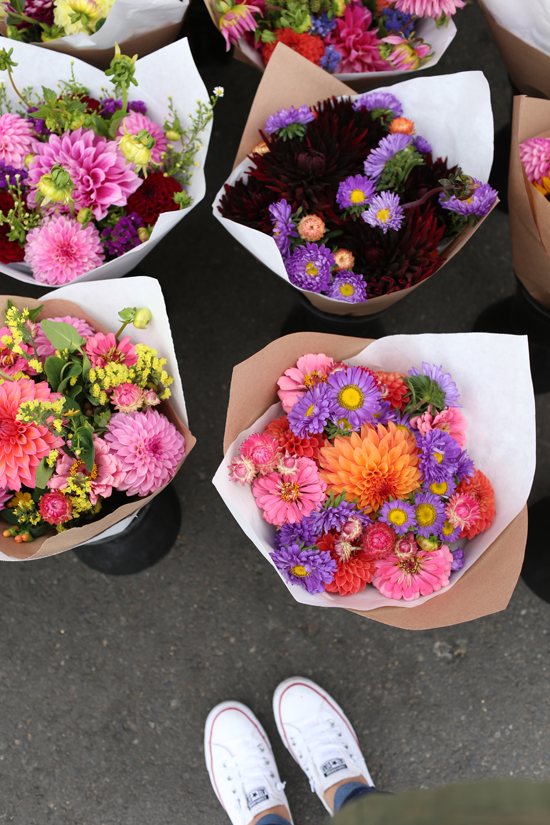 Then we headed to Redondo Beach, which is a short and scenic drive from Des Moines. We walked along the beach, Ben tried to teach Ian how to skip rocks (haha), and we visited the free aquarium (Ian loved seeing all the fish!).
The aquarium is right next to Salty's, where we got to eat their famous brunch. I'd never been there before, so I didn't really know what to expect...otherwise I would have tried to come hungrier! There was SO MUCH good food: pesto clams, fresh oysters, crab legs, salmon, clam chowder, prime rib, plus tons of yummy sides...and everything was all-you-can-eat. Not to mention, you can get made-to-order pastas, crepes, and unlimited coffee or soda. Oh, and there was a huge dessert spread too complete with a chocolate fountain! We ate a ton, and we still didn't try half of what they had.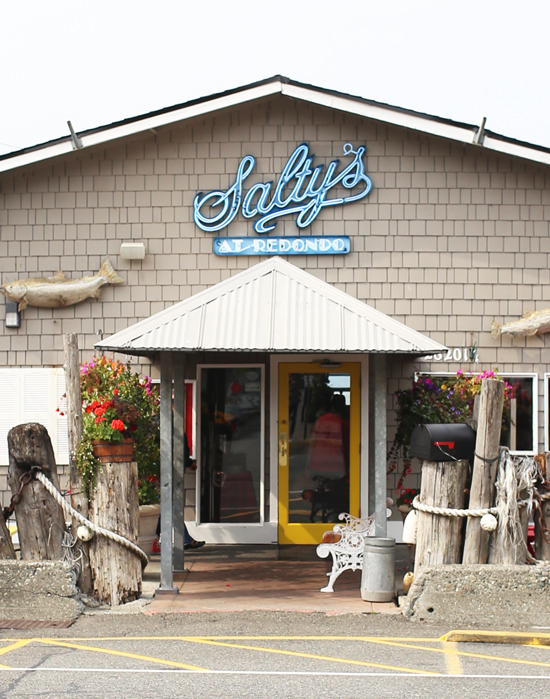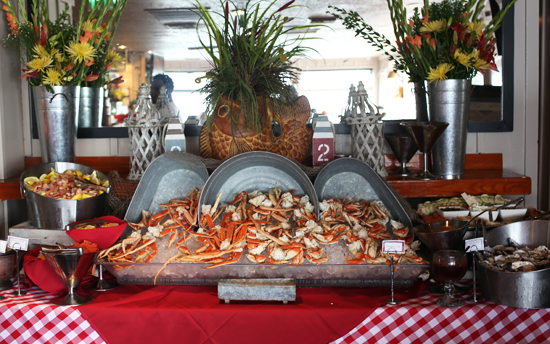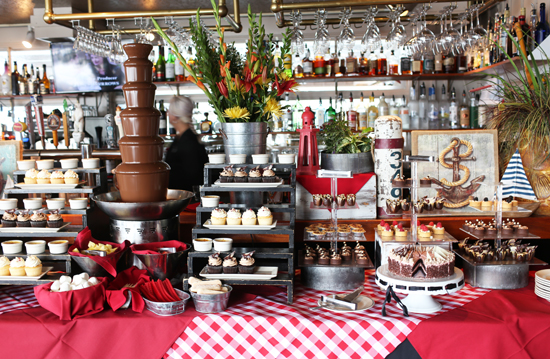 After that, we got to take a tour at the Seattle Chocolates factory in Tukwila. Seattle Chocolates is my favorite brand of chocolate (they have the most delicious flavors and their packaging is gorgeous), so it was fun to learn more about the company and see where the goodness is made. For example, I didn't know that they're 100% woman-owned, their ingredients are GMO-free, and their cocoa is Rainforest Alliance Certified. The tour included lots of chocolate tasting, from a melted chocolate shot to trying the raw ingredients, to eating samples of the finished truffles and bars. I had never tried the jcoco brand before, which uses more high-end foodie ingredients, and it was delicious! They had a white chocolate bar with cayenne and Veracruz orange which was soooo good and unlike any white chocolate I've ever eaten. I highly recommend the tour if you're a chocolate-lover! Super fun and yummy.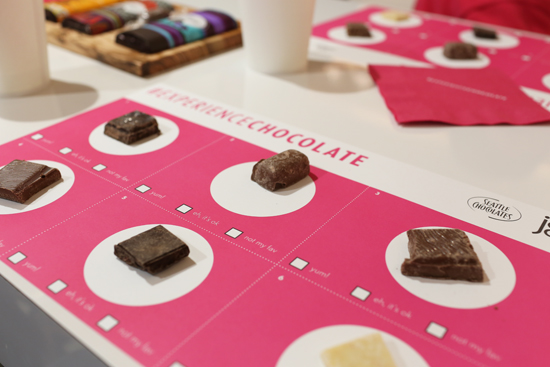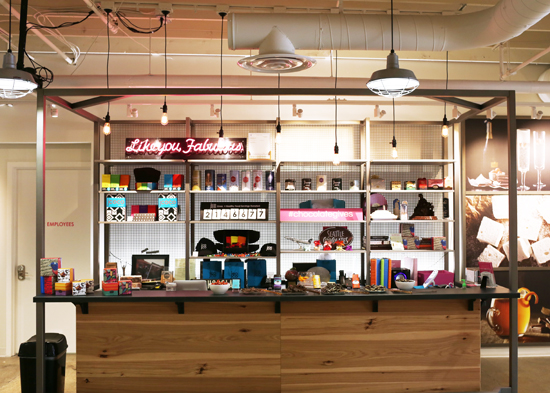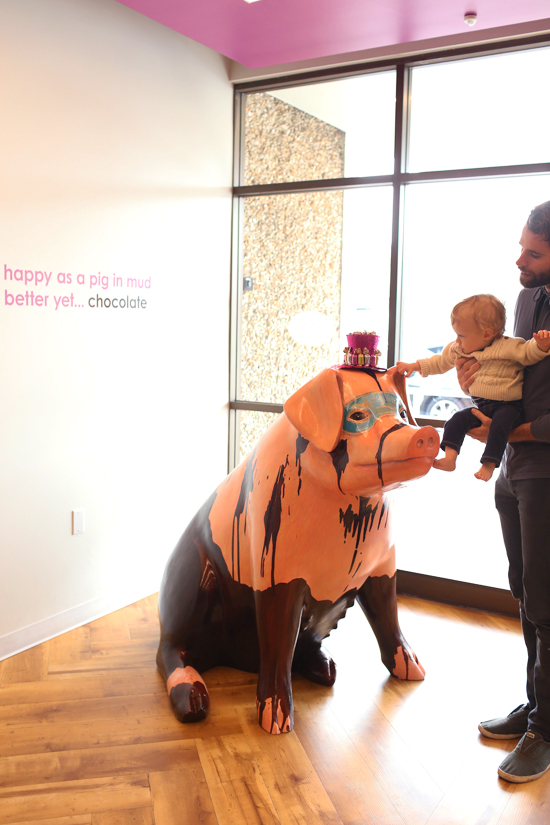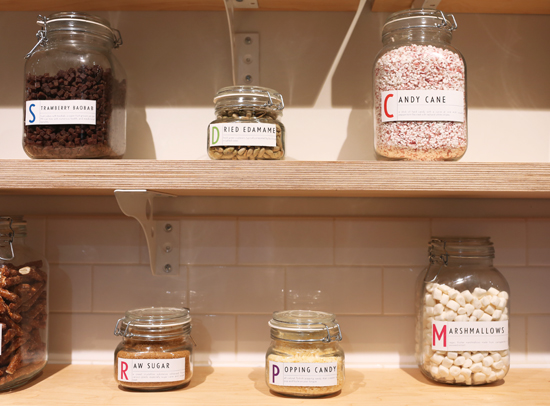 We spent Saturday evening with Ben's family, catching up with everyone. I put my camera away and didn't take a single picture (oops), but needless to say meeting little Seth was the highlight of the trip. I'm excited that Ian will have several cousins close in age to him; it's going to be fun to watch them grow up and start playing together!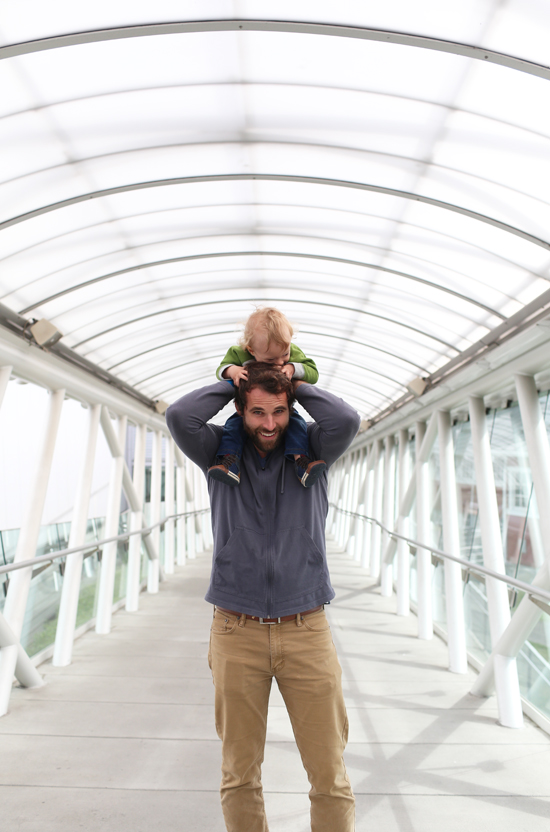 Sunday it poured, but luckily all our activities were indoors. First, we went to the Museum of Flight! Ian has been really interested in airplanes lately, so it was the perfect activity for him. He loooved looking up at all the planes on display there, and we got to go inside a number of decommissioned planes too, including a Concorde, a Dreamliner, and the first Air Force One that carried Eisenhower, Kennedy, Johnson, and Nixon. There's also a new space exhibit which has a full-scale mockup of a space shuttle. And the museum has SO many other things to see too (you could easily spend all day there). We had a great time! It's kind of funny that I lived in the Seattle area for ten years, but this is only the second time I've been to the Museum of Flight. It was nice being visitors this time, and shamelessly doing all the "touristy" things!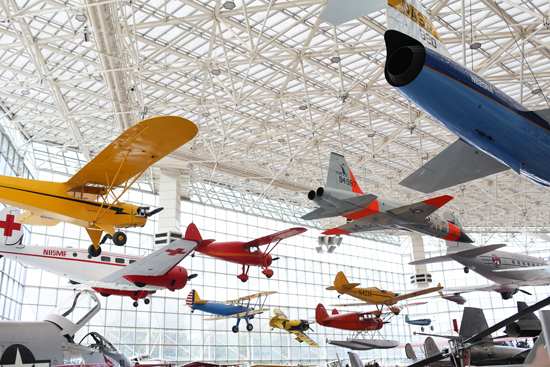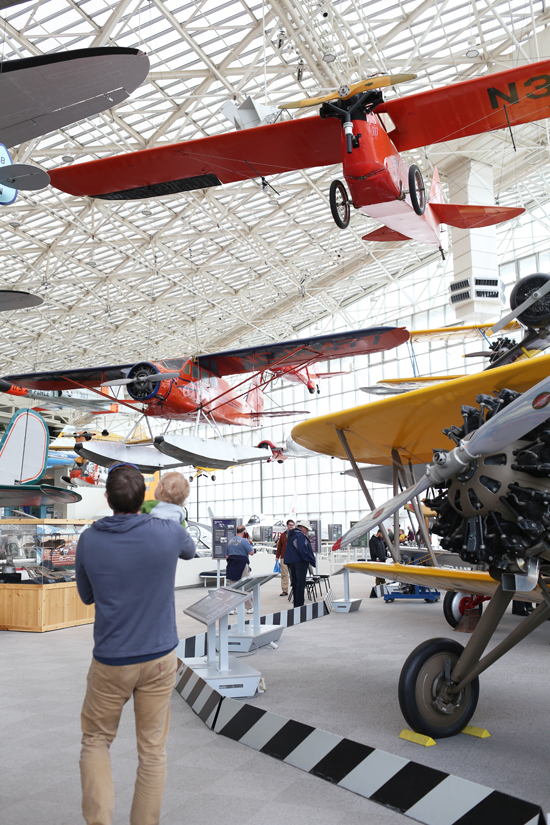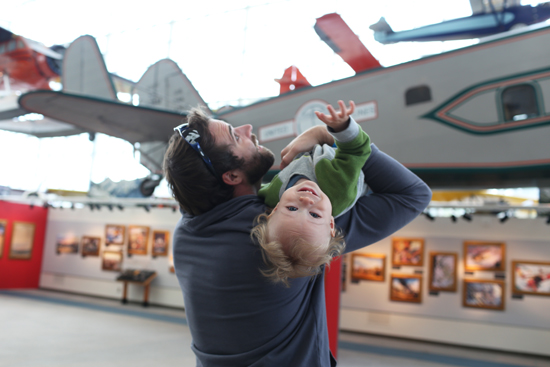 Then, we had a nice lunch at Bahama Breeze, which is known for fresh seafood, Caribbean-inspired dishes, and handcrafted tropical drinks. Ben got fish tacos and I got the jerk chicken pasta...both were yummy. And we got drinks served in pineapples too! After that, we met up with some friends at the new IKEA in Renton, where we checked out their kitchen cabinets (we're thinking about using them for our kitchen remodel), sat in some sofas (didn't find any we loved), and got a few things we need for the house. After that, we headed home!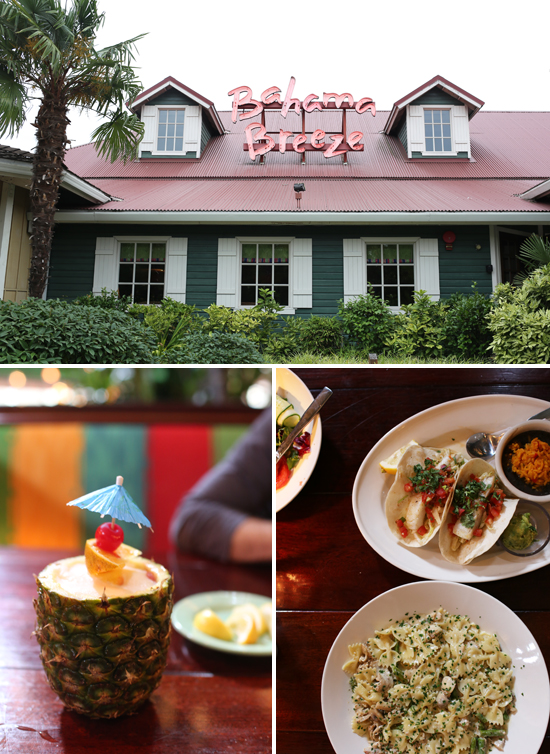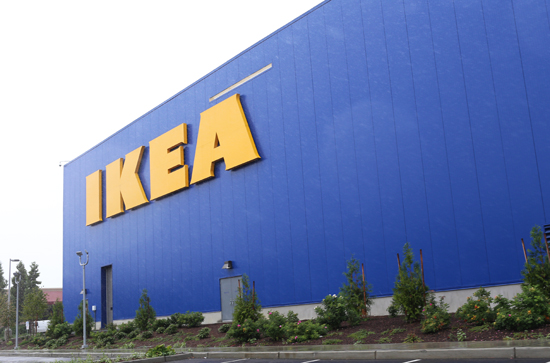 We packed a lot in one weekend and had so much fun. We would totally go back to explore more of the Seattle Southside sometime! I especially thought the Des Moines/Redondo Beach area was a hidden gem, and I was surprised that I'd never been there in all the time I lived nearby. A waterfront town near Seattle that still feels quiet and charming and undiscovered...now that is rare!


This post is sponsored by Magic Memories. All opinions are my own.
Ok, first of all: yes, Ian is already 14 months. So yes, I'm way behind with this post. But better late than never right??? I always wanted to make him a cute one year baby book, but we were so busy this summer that it slipped down the priority list. So when Magic Memories reached out to me last month about creating a photo book with them, I was super happy for the reminder (and the extra motivation to get it done). And I love how it turned out! I'm so glad I didn't give up on this idea just because it didn't get done before Ian's birthday. Also! I have TWO $50 gift cards to give away at the end of this post so you can create your own photo book (or calendar? jigsaw puzzle? canvas for your wall? There are lots of options, and they all would make really cute personalized gift ideas too).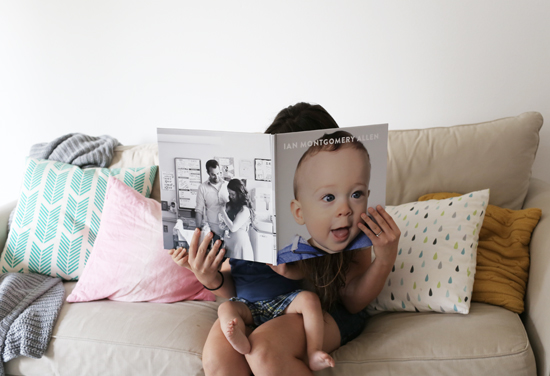 Magic Memories has a variety of pre-designed templates to choose from, for everything from baby books to wedding albums and more. They also have a "Blank" option that allows you to design your own book from start to finish. I went with the Blank for Ian's book, so I could have total control over the design, colors, number of photos, and everything. I'm used to working in Photoshop, so I created all the pages there, then uploaded them once I was happy with how they looked. But Magic Memories also has a built in editor you could use, with options to add text, photos, and effects. You can also save your progress as you go so you can work on your project over multiple days. And of course, if you prefer something that's less work on your end, they offer a number of cute templates that are ready to go.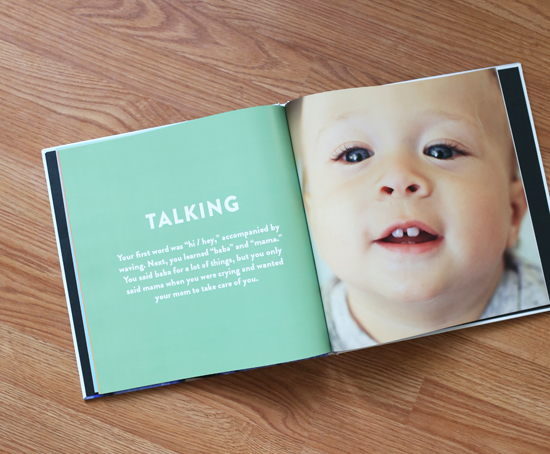 I chose to split the year up by different topics: the ultrasound, Ian's birth story, each season, and milestones like eating, growing, talking, etc...all the way up to his first birthday party. I created a template with a colorful background and descriptions in white, then I put full size photos on the opposite pages.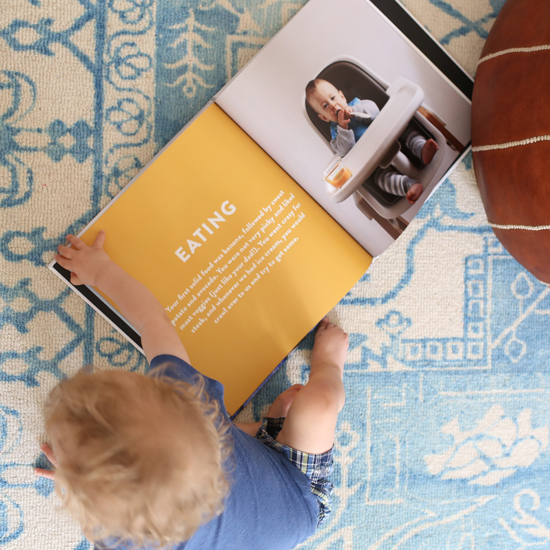 I was very impressed by the quality of the print job. Sometimes I feel like photos turn out darker than you expected, or the colors seem a little off. All of these photos looked amazing, and exactly how I expected them to look. Super happy with that.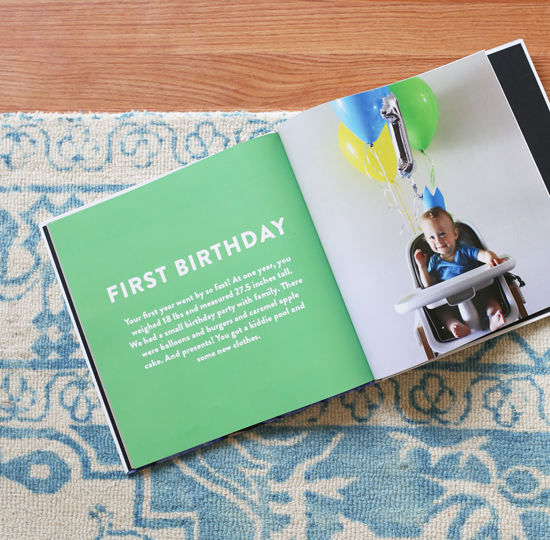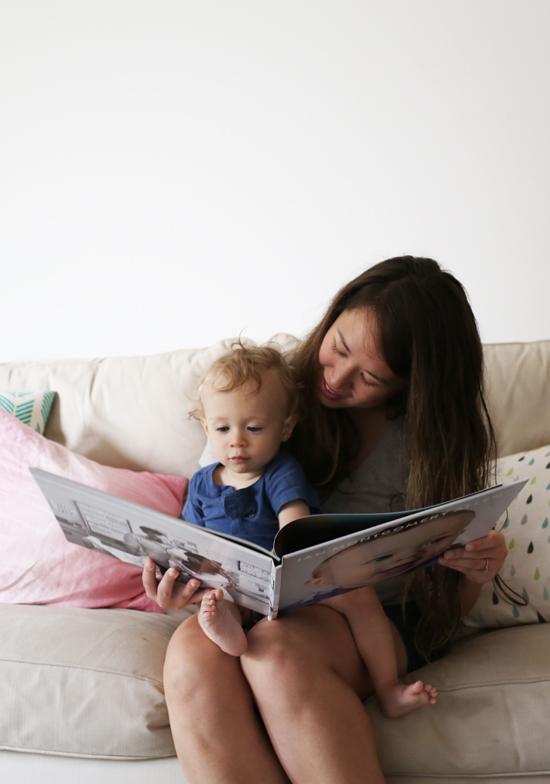 Ian loved flipping through his own personal book and seeing faces that he recognized. I think he was kind of unnerved at first by his big photo on the cover, haha!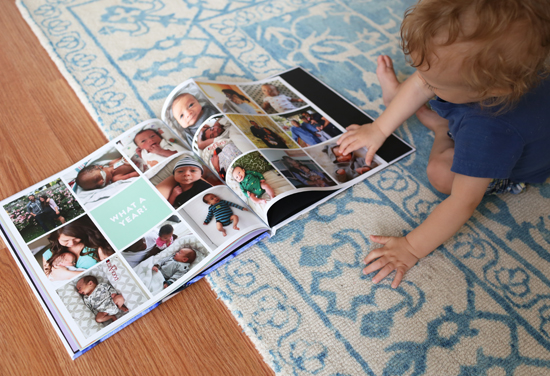 At the back of the book, I added a few collage pages of chronological photos to show Ian's growth over the year. It was a good way to squeeze in some cute photos that I wanted to show, without adding too many pages.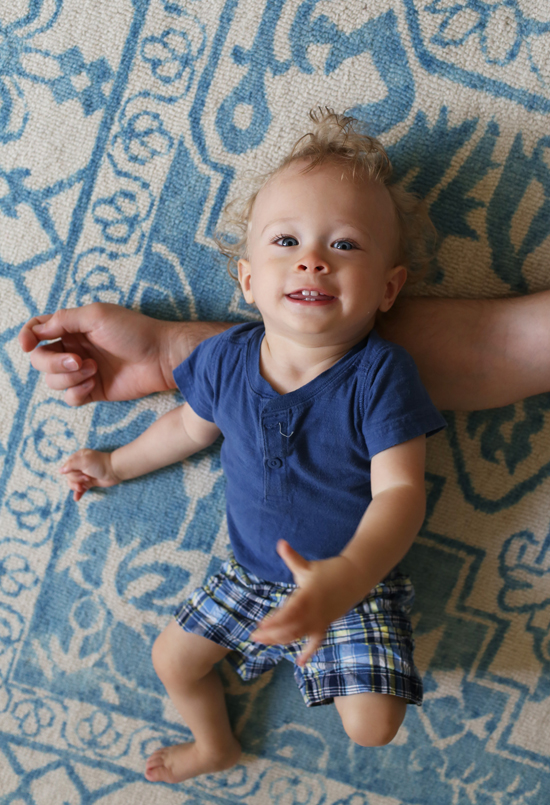 And I couldn't resist snapping a couple extra photos of Ian on the day we got this book. It's crazy how fast the year flew by! When I look at his tiny baby photos, they feel so fresh in my memory, but when I look at the boy in front of me now, he's a legit toddler! Time, you're gonna make me cry...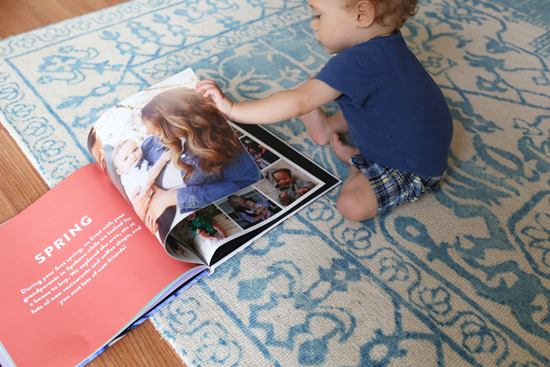 I just loved how our book turned out, and was really happy with the quality of Magic Memories and how customizable it was. I'm thinking next time I'll make a coffee table book of our travel photos (we'll see when I have time for that idea)!
Have you been wanting to make a photo book or some other photo project? Here's your extra push to get it done! Enter the giveaway by leaving a comment with what you would get if you won. I'll announce the two winners next week!
UPDATE: This giveaway is closed. The winners are Megan and Robyn!

I used to love thrifting for everything from clothes to furniture to books, but lately it just doesn't seem worth it to drive from store to store and treasure hunt through all the junk. Actually, it's not just thrifting...I would do ALL my shopping online these days if possible. It's just so much nicer to get a box at the door than to take Ian in and out of the car seat all day long! Swap.com offered to give me some store credit to try them out, and since I've already been discouraged with in-person thrifting, I said yes please. They are the largest online consignment shop and offer more than 2 million top quality secondhand items to choose from (brands like Gap, J.Crew, and more). It's mostly clothes, but they also have some toys, books and decor. The site really is like a GIANT online thrift store...there's a lot of stuff to sift through, and most of it I wouldn't buy. But there are also some gems! So you can still get the rush of a great find, without having to physically drive to a store and flip through a bunch of racks. And it's way easier to get to the good stuff because you're to able filter by so many more things: brand, size, gender, season, price, color, condition, etc. I was able to snag a bunch of cute fall stuff for Ian, most of it with tags still on...plus a few things for myself. :)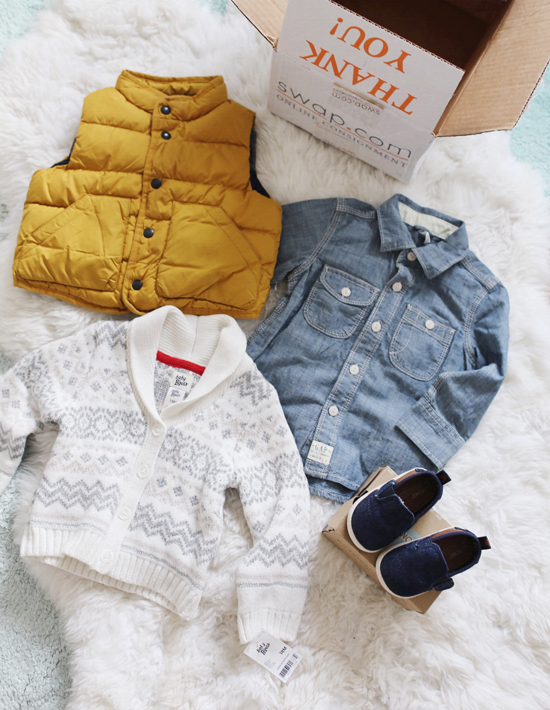 These are just a few of my favorite finds. Aren't those tiny Toms so cute? And the mustard yellow vest? Ahhh, I can't wait for colder weather to put him in that!
Like any thrift store, the majority of the items aren't that great, and it definitely takes some patience to dig through them all. And the presentation isn't as slick as if you were shopping for new clothes (the photos are obviously not as pretty as professional product shots)...BUT just like thrifting, if you're willing to do a little work you can find some amazing deals! And hey, at least you can do your treasure hunting from the comfort of your own sofa. Plus, to make the deals even sweeter, Swap.com is offering 25% off your first purchase, with the code 25OHBABY (expires December 31st). Let me know if you give them a try, and if you find anything good!
Happy shopping, and have a great weekend. :)