This post is written in partnership with Hayneedle.com. All opinions are my own.
I'm taking a break from gift guides to show you guys our living room, decked out for the holidays! I'm not a fan of storing bins of decor for eleven months out of the year, so I'm pretty moderate with how I decorate for Christmas--in fact, we actually don't even put up a tree (are you shocked?). Still, this is our first holiday season in the new house, so of course I couldn't resist doing something! I worked with Hayneedle.com to make our living room feel festive...but instead of classic red and green, I went with a cheerful, candy-colored palette of robin's egg blue, mint green, mustard yellow, and soft pink (basically the same colors I decorate with all year). I added in metallics, garlands of greenery, and cozy sheepskin, and I made some DIY yarn wrapped trees and accordion snowflakes to add budget-friendly winter cheer. I love the results--it still feels like Christmas, but in a way that fits my style and aesthetic.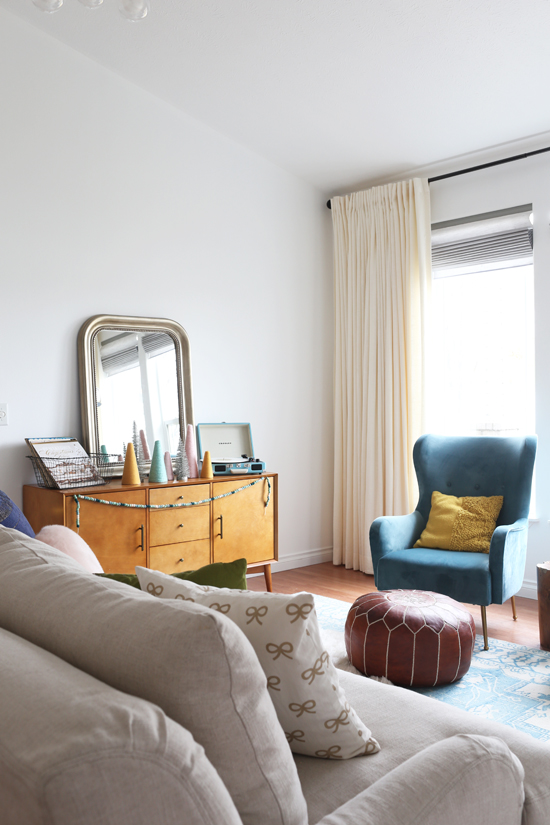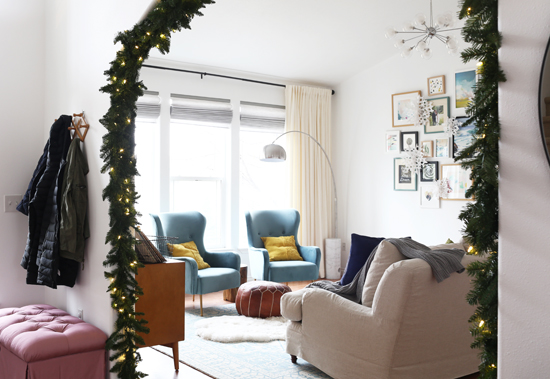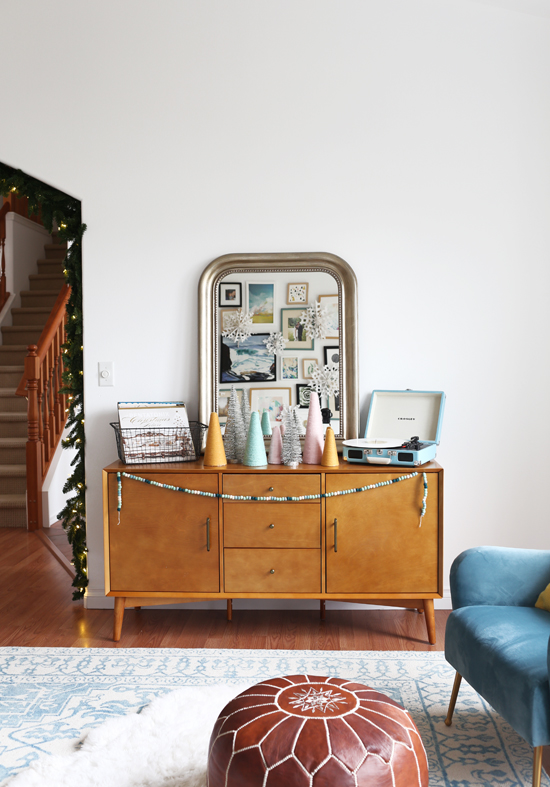 One of my favorite pieces we picked out is the Crosley Landon Buffet--a beautiful midcentury style table with room for storage. Eventually I plan to put it underneath the gallery wall, but for the holiday season I wanted to set up a station for playing Christmas music and setting out drinks and snacks when we have guests over. I topped it with a French-style mirror, our record player, and a basket of holiday vinyl records (there's just something nostalgic about records that is more fun than a playlist on your phone). I added some colorful yarn trees and silver bottle brush trees, and I strung a garland of cheerful green felt balls in the front.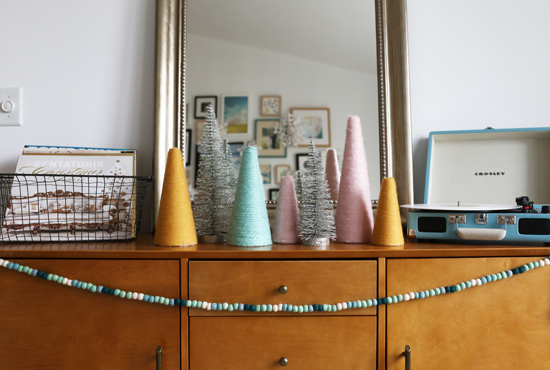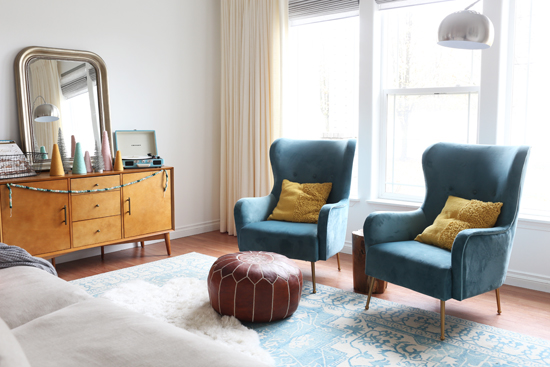 Another big change in our living room is the new velvet armchairs, by TŌV Furniture. They're an absolutely gorgeous color ("Sea Blue"), and they have cool brass legs that make them feel more unique. It's so nice to finally have a pair of armchairs, after years of mismatched ones! And these are super comfy too--I couldn't be happier with them.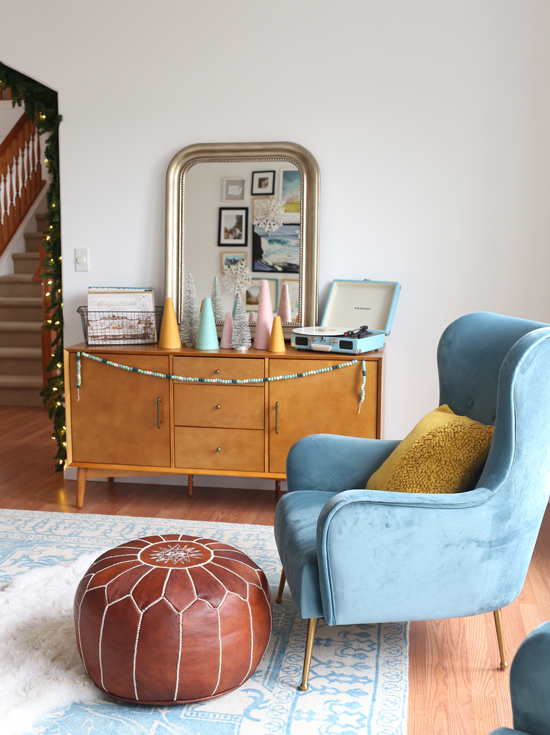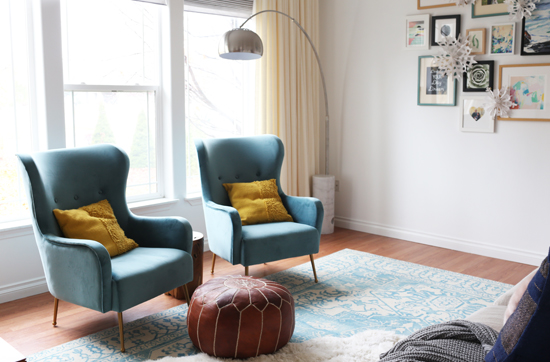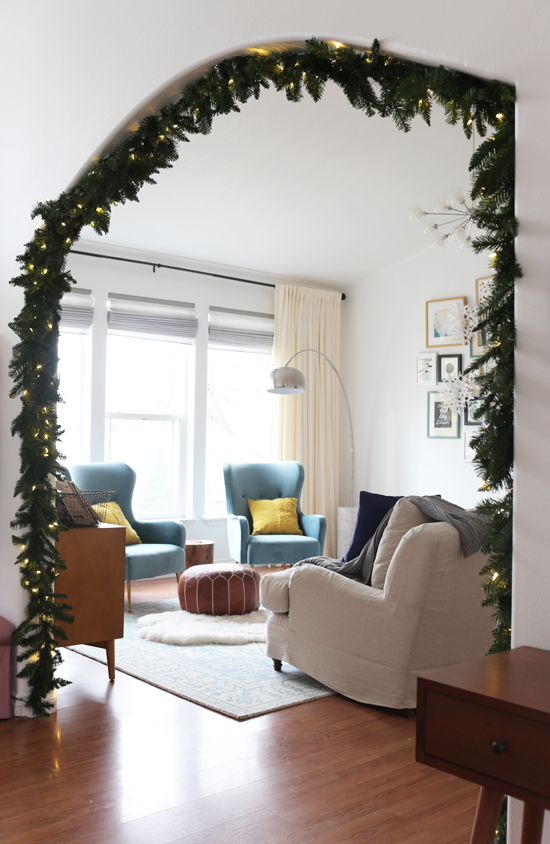 On the big arched doorway that leads into the living room from our foyer, we strung up this pre-lit spruce garland. I looove the effect it has...it instantly made the whole space feels so festive and grand. It's a faux garland, so we can use it year after year.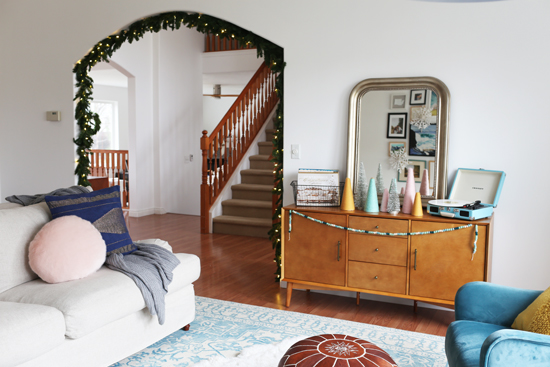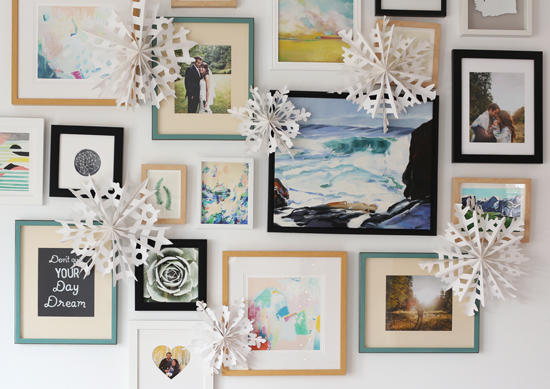 I also taped some large accordion paper snowflakes on our gallery wall, and added knit throws on the sofa and a soft sheepskin on the floor for cozy texture and warmth. I just love how this room turned out, and since most of it is more seasonal and wintry, I won't feel the need to take it down right after Christmas.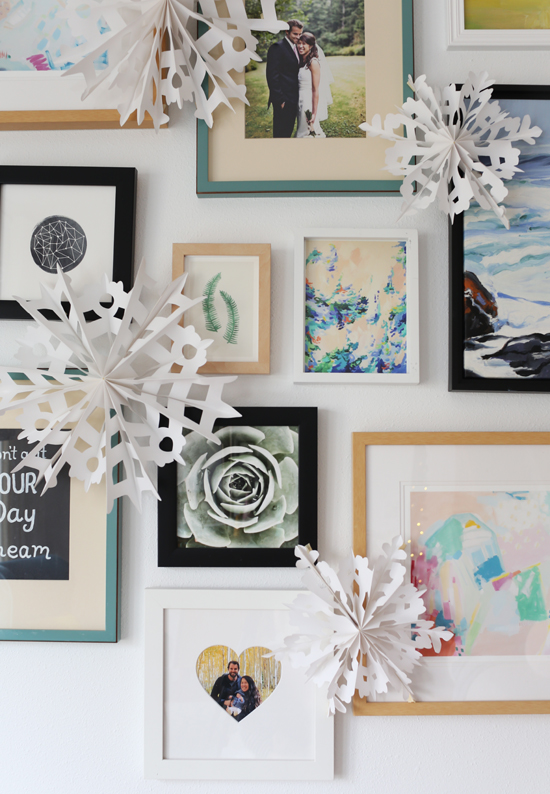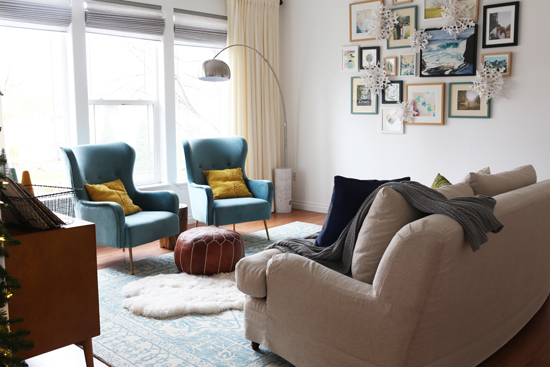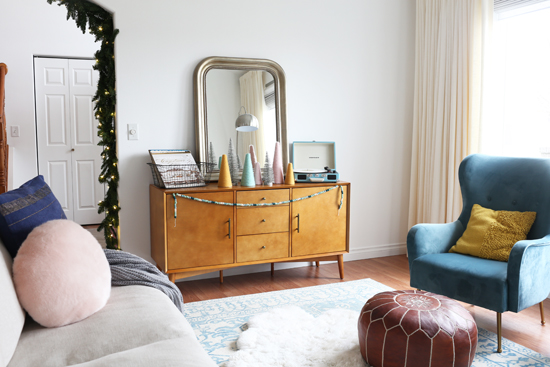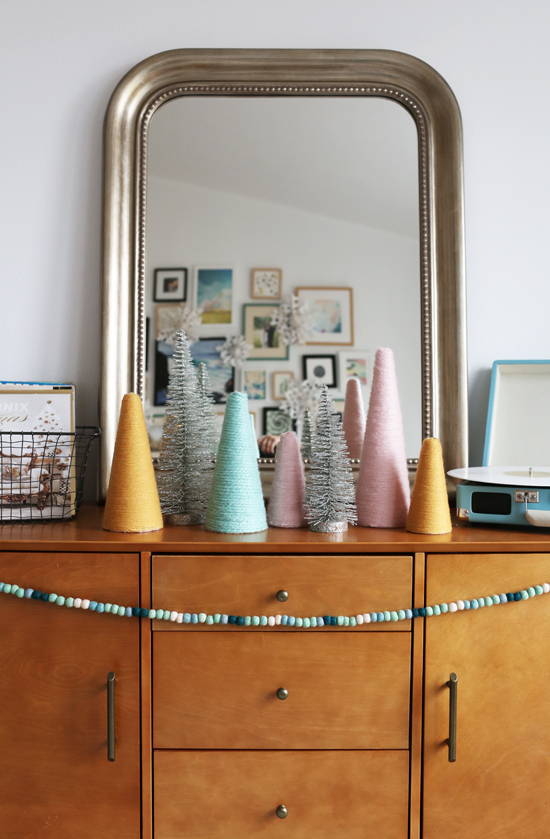 There's nothing wrong with going all out decorating for Christmas--a nativity scene, nutcrackers, Santa pillows, the whole nine yards. Especially if it brings you joy, go for it! But if that doesn't fit your style, I hope this gives you some ideas to decorate for the holidays in a more subtle way...no red and green plaid required. :)
P.S. See more on the Hayneedle blog.


I received some of these products to review. All opinions are my own.
Even though our baby won't be born until March, I couldn't resist making a gift guide for babies this year, because...is there anything sweeter and more fun to buy than tiny baby things? (The answer is no). This list is a mix of things I used and loved with Ian, and some new things that have come on my radar which I would love to get for baby no. 2! What are your favorite newborn essentials to give & receive?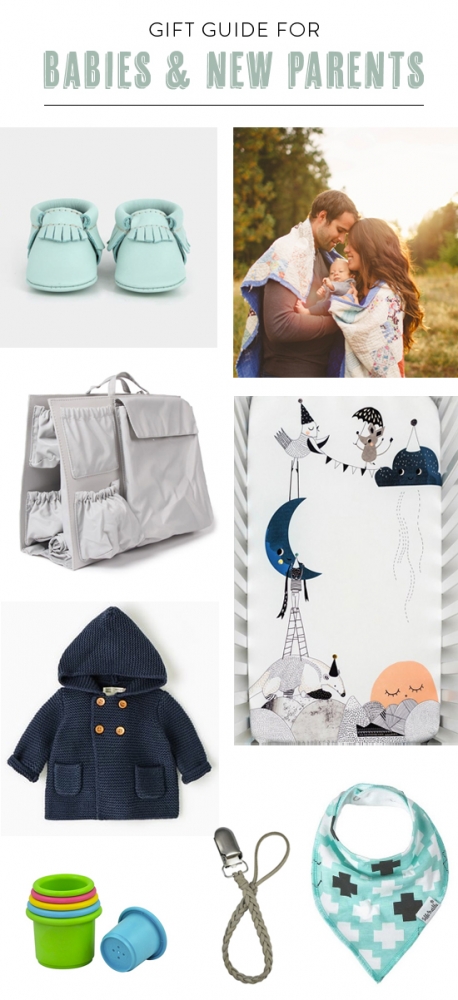 1. Moccasins - These are made especially for delicate baby feet, and they actually stay on! Lots of cute colors to choose from too.
2. Photo session - Help them capture this special time. Give them a newborn photo session or a new family session with a local photographer. Sweetest gift ever, you win.
3. ToteSavvy - For the new moms. This turns any bag into a diaper bag, so she doesn't have to sacrifice style for function. Fill it with diapers, a baby toy, etc.
4. Adorable crib sheet - An illustrated crib sheet turns baby's crib into a magical backdrop for photos. These come beautifully packaged for gifting too.
5. Knit sweater - The sweetest little baby sweater. They'll take about a million pictures every time he wears it.
6. Stacking cups - One of Ian's favorites. These cups stack, nest, and make good bath toys (they float and have little holes on the bottom for sprinkling water).
7. Braided pacifier clip - Keep baby's pacifier handy without detracting from his outfit.
8. Bandana bibs - Cute and easy to put on. Made of organic cotton with no chemical color fixatives--so you don't have to worry if baby sticks it in his mouth.

This post contains some affiliate links, and I was sent some products to review. All opinions are my own.
The saying "it's better to give than to receive" is never truer than when it comes to gifting toddlers. There's just something sooo fun about seeing their little faces light up and watching them discover how to do something new. Of course, you don't need fancy, expensive toys...a box of Kleenex, a stack of Tupperware, or an empty cardboard box will entertain them just as well. Ian has spent quite a lot of time playing with all of the above. But still, it's fun to get your kid a new (real) toy every once in awhile, and Christmas is the perfect excuse! Here are some toys we've either recently gotten and love, or have our eyes on for the near future.

1. Dreamy play kitchen - I want this adorable play kitchen for Ian, and I want a real-life kitchen like this for myself!
2. Toy shopping cart - This has been Ian's favorite toy for the past few months. He loves pushing it around and "shopping" our house.
3. Personalized books by Wonderbly - Put in your child's name and a few other details, and they create a custom, unique book with your kid as the hero. Such an awesome idea!
4. Play mat with roads - Add some wooden cars for a fun gift set that also looks good.
5. Water reveal coloring pads - A refillable water pen unveils hidden pictures, without any mess. Perfect for kids that are learning to draw and color, but are still too young for crayons (Ian just wants to eat them). Also genius for traveling!
6. Darling hot cocoa set - Part of Target's new "Hearth & Hand" line by Joanna Gaines. Super cute.
7. Building blocks - Ian can spend hours playing with these, and they're great for building up (ahaha) his coordination and imagination!
8. Ride-on fire truck - For your adorable little firefighter.
This post contains some affiliate links, and I was sent some products to review. All opinions are my own.
Happy December! It's time for gift guides! The ones that are most fun to write are the categories that I fall into (after all, it's pretty easy for me to brainstorm things that I would like to get), so I was excited to put together a gift guide for new homeowners. It seems like this year, SO many of our friends and family members bought houses, and I'm guessing you know a few people who jumped into homeownership this year too. Here are some gift ideas that would be great for Christmas, or as housewarming gifts anytime!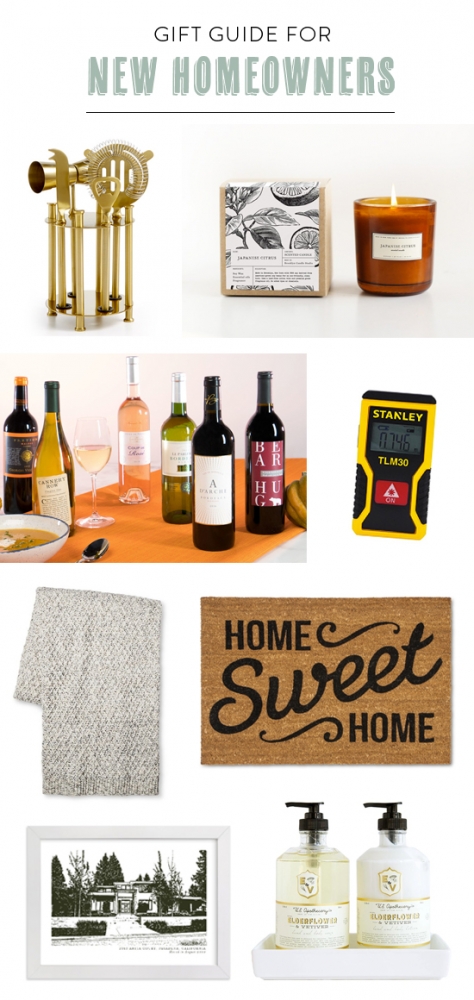 1. Pretty bar set - Because buying a house is something to celebrate!
2. Fancy candle - These smell SO good, plus I love the amber glass they come in.
3. Curated wine pack - Let an expert take the guesswork out of choosing which wine to give...these are all sure favorites.
4. Laser measurer - So handy for measuring rooms and spaces (you don't need someone else to hold the other end of the tape measure).
5. Cozy throw - Every home needs some soft and snuggly throw blankets!
6. Cute doormat - Because they probably got rid of their old doormat when they moved, plus this one is perfect for a new house.
7. Custom house portrait art - A really sweet and personalized idea that the new homeowners will treasure.
8. Good quality soap & lotion set - One of those things that everyone loves, but no one buys for themselves.