Tomorrow we'll have been in Spokane for one full week! It's still sinking in that we actually LIVE here now, and aren't just on a long visit...but so far we're having fun! It's been a very busy week full of carrying boxes, unpacking, meeting up with friends, and exploring new places. I'm very happy to be (pretty much) all set up at my parents house, and to be honest I'm not in a huge rush to move everything again when we buy a house ourselves. There's nothing that will make you get on the minimalist bandwagon faster than moving, I tell ya! We sold and donated some stuff before we left, and fit everything into a 16 ft moving truck (plus our car) but still...it felt like a lot.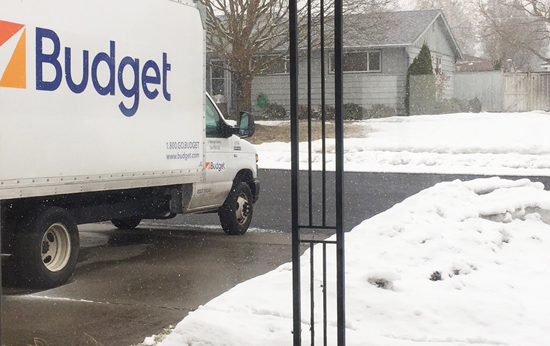 There's still a lot of snow on the ground here, but I'm hoping it will start melting soon. Hello, it's March!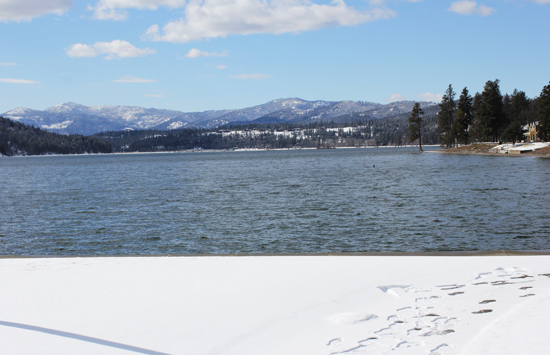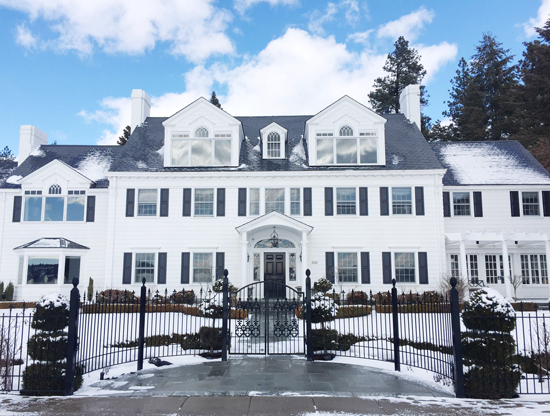 In the last week, we took day trips to Couer d'Alene and Cheney, and have gone all over Spokane to check out different neighborhoods and visit friends. There are so many new restaurants and coffee shops that have popped up since I last lived here, I keep wanting to eat out like we're on vacation! But I'm trying to resist the temptation since after all, we have plenty of time to check them out.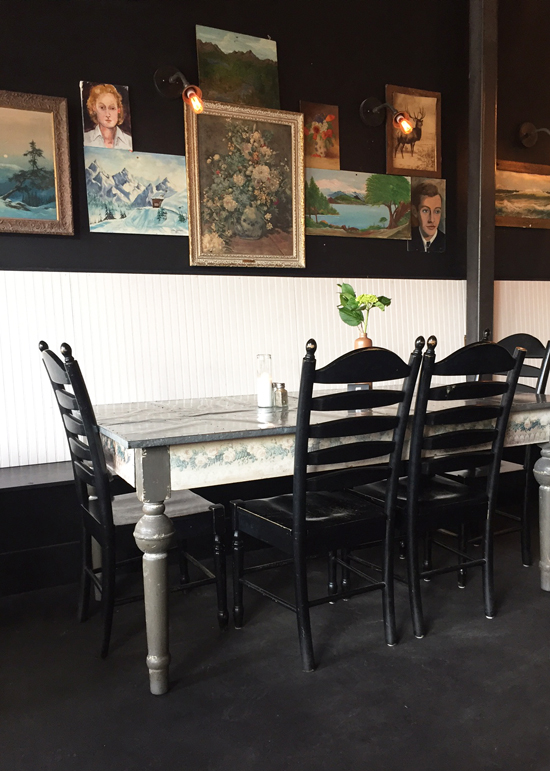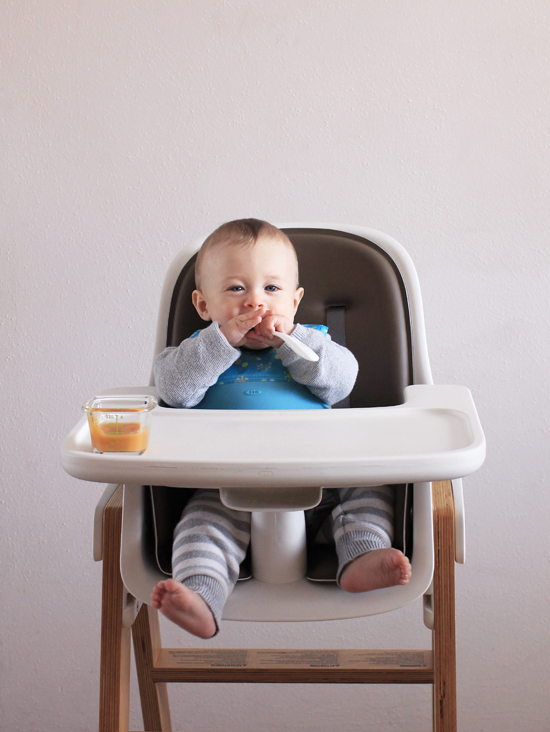 Speaking of food...we finally set up Ian's high chair! I got it awhile ago, but once we found out we'd be moving we decided to keep it boxed up until we got over here. It's from OxoTot and I really love the clean, modern design. It's nice to have a dedicated spot to put him during mealtimes, and he's really enjoying trying new foods--and holding the spoon himself! He's also using their wipeable rollup bib, feeding spoon, and glass baby food container in this photo.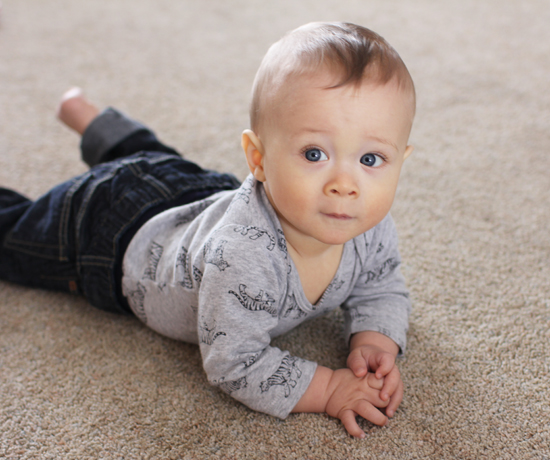 So far, it feels good to be over here! I'm excited to start house hunting in a couple months, but I'm also trying to enjoy this time to relax and spend time with my parents. Feels weird to be in their house again--but this time, with my husband and my baby!


This post is sponsored by Kohl's. I received the included panties as part of my compensation. The photos are from our old bedroom (I wrote this post before we decided to move).
At the risk of venturing into TMI, I'm getting a little personal today and talking about...underwear! This all started when I (finally) read the book, "The Life-Changing Magic of Tidying Up" by Marie Kondo. You've probably heard of it, but just in case, the idea is to get rid of ALL the things in your house that don't bring you joy. Then your life will be simpler, happier, calmer, and full of magical rainbows. I decided to give it a try as part of my "decluttering" goal for 2017, and was surprised by how quickly I could identify the things that irritate me, but I've kept for whatever reason: because I paid too much for it, because it was a gift, because it's still functional, etc. Underwear is a perfect example. I absolutely HATE undies that give me wedgies or panty lines and ones with tags or itchy lace...yet I had a bunch of them. Worst of all, I still had some tired-looking pairs that I kept for "period underwear"...even though I haven't had a period in over a year (thank you, pregnancy and breastfeeding!).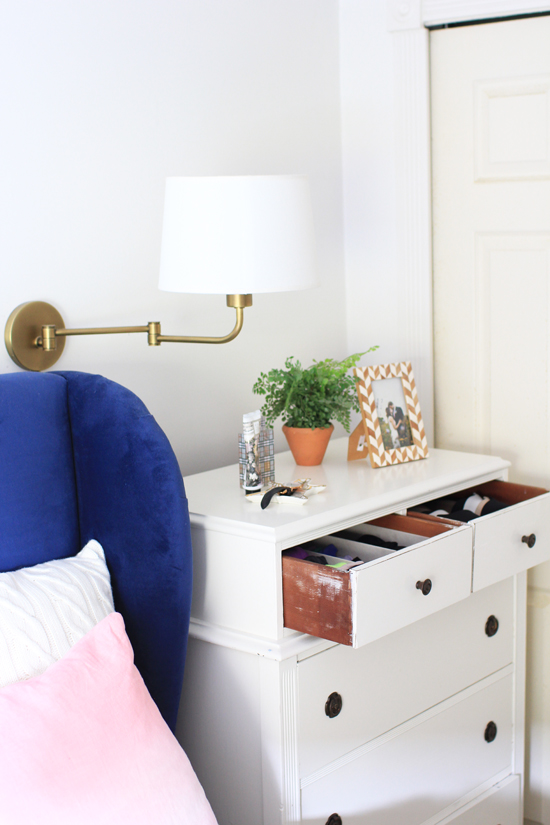 So I decided to get rid of ALL my panties except my very favorites, and give myself a fresh start. Now, my underwear drawer is entirely solid colors, seamless, and wedgie-free...and it makes me happier than I ever thought a drawer full of underwear could. For reals!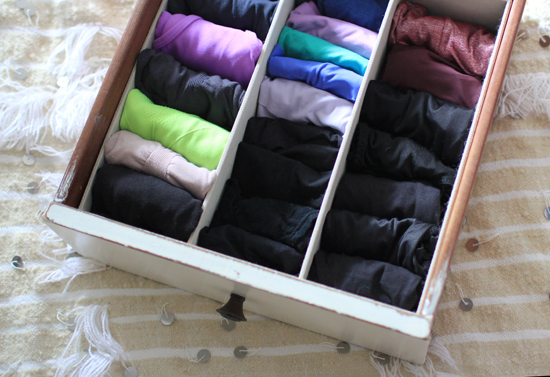 I'd get bored of wearing the same outfit every day, but when it comes to underwear, I'm all for keeping it simple and stress-free. It's one less decision in the morning! This kind of goes along with the post I wrote a couple months ago about upgrading my wardrobe to pieces that are comfortable and make me feel good. No more ill-fitting clothes, and no more scratchy, uncomfortable underwear.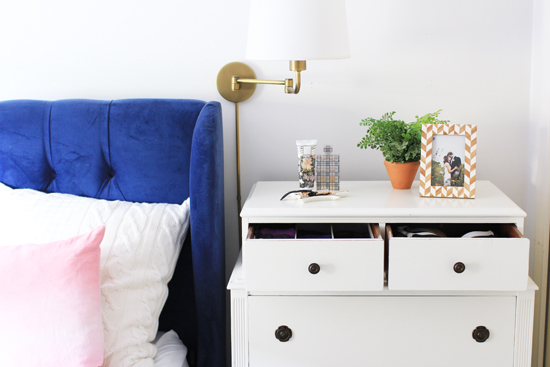 If your panty drawer also needs a overhaul, Kohl's is having an intimates sale from March 3rd - 26th (sale info below). They actually have a really nice selection and the prices are super affordable! The Warners brand is my new favorite--it's super comfy. I also used this drawer organizer to keep everything a little more neat & tidy, separating sports bras, thongs, and regular underwear to make getting ready even easier.
Sale info:
Use INTIMATES10 for $10 off $40 from 3/3-3/16
Bonus Buys are 3/3-3/12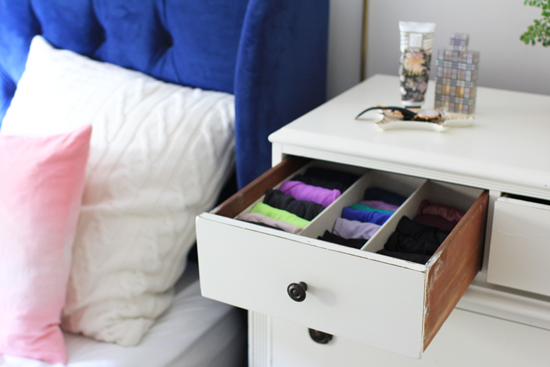 So there you go. It's awesome how something so small and simple has actually made a difference in my morning routine and my attitude throughout the day!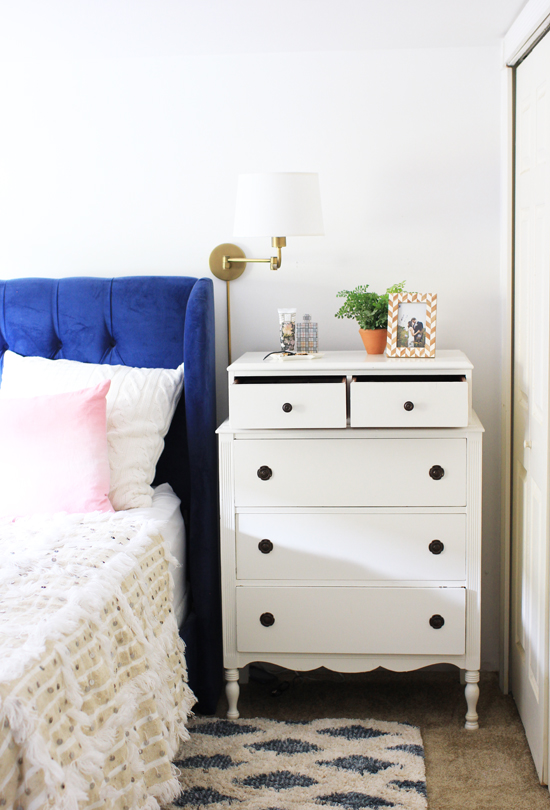 Have you read "The Life-Changing Magic of Tidying Up?" I read it in early January (you know--new year, new start) and it was perfect timing. Since we'd recently pared down all of our stuff, moving was sooo much easier than it could have been. And so far, I haven't missed a single thing that we got rid of!
My blog may contain links to other websites. I am not responsible for the privacy policies of those other websites. When you click on a link, your information may be collected by those websites so I encourage you to read their privacy policies. These affiliate links are not associated with Kohl's.


If you've been wondering why my posts have slowed down (again) recently...where's why: we're moving! We're checking off #1 on my 2017 goals and moving across the state to Spokane, WA, the city where I grew up. When I left for college 10 years ago, I honestly didn't expect to move back. But a lot of things happened last year that caused me to open my heart to the idea (the main ones: having a baby, quitting my job, our rent going up, housing prices shooting through the roof in Seattle, and a persistent plumbing problem at our current place). Suddenly, Spokane felt right for our stage in life, and we found that it fit most of our criteria for a place to live. It's way more affordable than Seattle, there's beautiful nature nearby, we have lots of friends there--including friends with babies, and it's close to both of our families. The last piece of the puzzle was getting Ben a job, which I thought would be a challenge as Spokane's job market is almost entirely healthcare. But everything fell in place pretty quickly and Ben actually got the first job he interviewed for! Thank you, Lord. After that, things continued to align really quickly, which felt like confirmation that this is the right move for us. On the exact same day that Ben got his job offer, our landlord gave us permission to break our lease early (which he had been resistant to before). And all of our family was supportive of the idea--we'll actually be living with my parents for the first few months over there.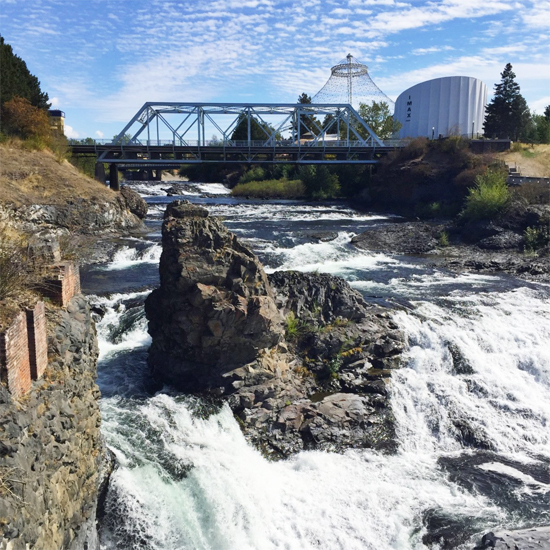 I'm really excited for this next chapter in our lives! We've spent the last couple weeks packing up all of our stuff, hanging out with our Seattle friends, spending time with Ben's family, and going to some of favorite spots one "last" time (actually, Ben's parents still live here so I'm sure we'll be back a lot).
With everything going on, I feel like blogging probably won't be a huge priority over the next month or so...which has been the theme of my life over the last year. I've been considering that, and how to let go of some of the guilt and pressure I put on myself to be a good mom, a good wife, a good friend, a good daughter, AND a good blogger. When I evaluate what makes me really happy, spending time with people definitely comes first. I still love blogging, so I want to keep it up...but it just isn't my top priority right now. And I'm realizing that I'm ok with that. I'm ok with not churning out tons of content. I haven't been doing a very good job of "keeping up" anyways. :)
So I'm going to try the "slow blogging" thing. Instead of trying to blog at least once or twice a week, I'm just going to post when I have something I really want to say--which might be once a week, once a month, who knows. In those posts, I want to try and share more of my thoughts and personal life, and make the posts more writing-heavy and less reliant on photos. Quality over quantity, you know?
As I'm adjusting to my new role as a mom, I'm realizing that those are the kind of posts I'm drawn to on other blogs. They're the ones that seem worth my time to read, and make me excited to write. They also feel more genuine to the stage of life that I'm in right now. I'm not hopping on every interior design trend, and I'm not buying a ton of stuff for our home...so trends and wish lists feel a little off. And I'd like to get a little more personal with you guys!
So anyways...I went off on a tangent. The point is...we're moving!!! Wish us luck, and if you're in Spokane, give us your suggestions for what to do over there! I'm super excited to rediscover the area. It's been over 10 years since I lived there, daaaang...

This post is sponsored by Mixbook.
Happy February! Valentine's Day is coming right up, so I wanted to share this quick and easy idea for a fun, oversized "card" that's not overly cheesy. Since V-Day comes so soon after the New Year, I thought it would be fun to celebrate all of my favorite dates, vacations, and everyday moments with Ben from the past year. I printed out some 5x5 photos on Mixbook, then taped them to the wall in a heart. And because I love games, I decided to quiz Ben and see how many of the photos he could recognize. It was a fun way to look back on an amazing year, and relive some of our memories.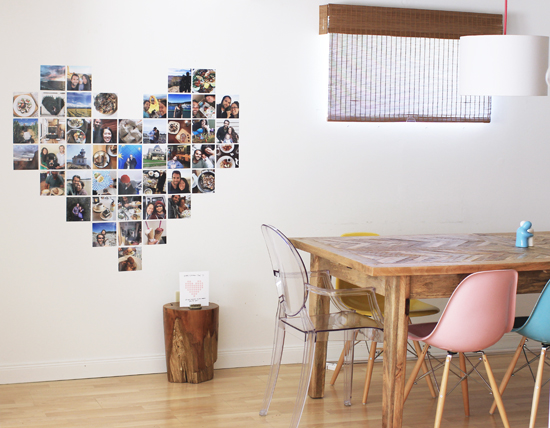 All you need for this project is a blank wall, some tape, and a stack of photos. Mixbook prints square photos, which makes it super easy, but you could also cut rectangular pictures into squares.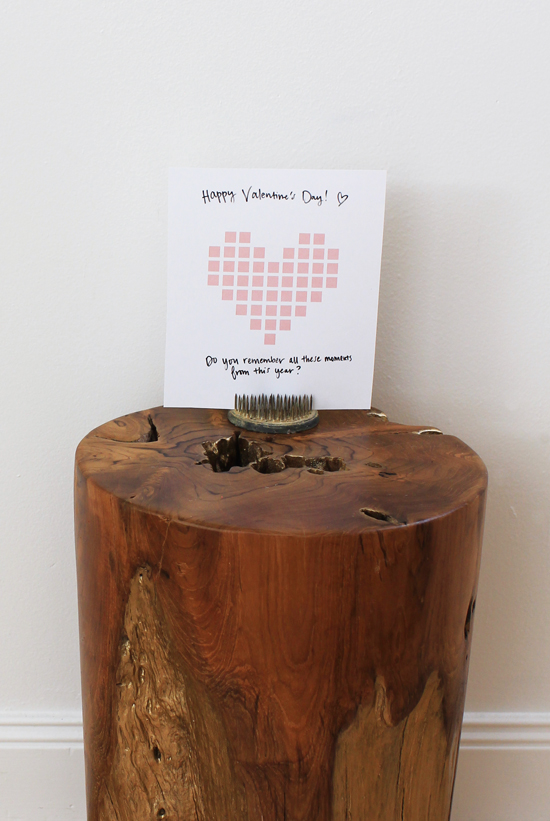 I made a heart graphic with little squares representing each photo (46 squares total), and used it as a key to make sure I put the photos up in the right shape. Download the heart graphic here, if you'd like to use it.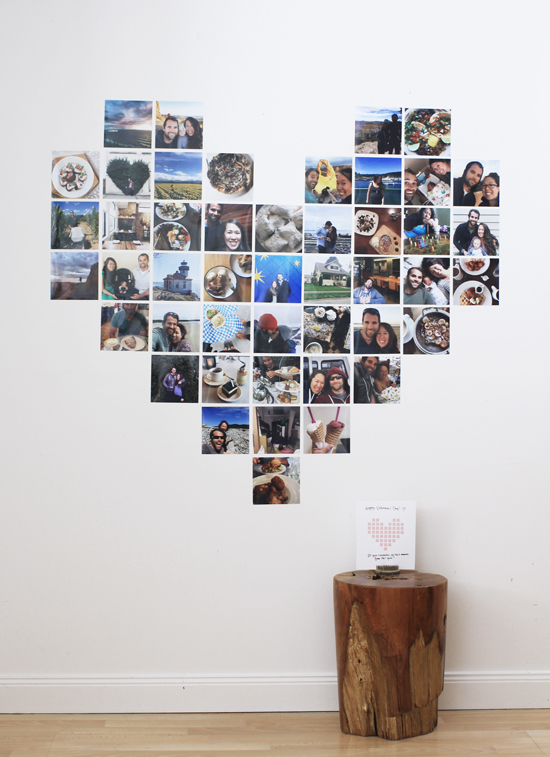 It would also be fun to do this with photos from the beginning of your relationship til now...especially if you've been together for a long time!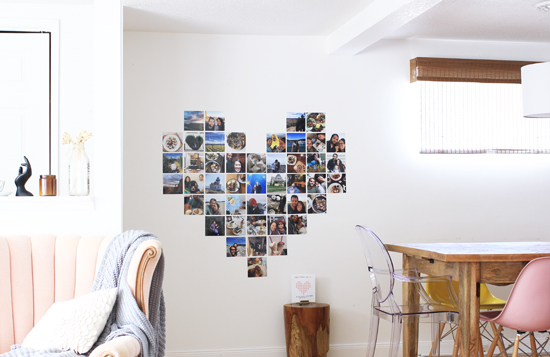 It was so much fun creating this giant valentine to surprise Ben with. I originally planned to take the photos down after Valentine's Day and put them in an album, but it's kind of sweet to walk by everyday. Maybe the heart wall will stay for awhile longer!