Newton provided a mattress for me to review. All opinions are my own.
When I was gathering baby gear for Ian, I have to admit that I made a lot of decisions based on style or design. But once we took him home from the hospital, I quickly realized I should have paid more attention to products that were designed for baby's safety and comfort, and less to aesthetics. This time around, I'm a little smarter. Safety and quality are the top priorities for any purchase I make, above color, pattern, shape, or how "cute" it is. This is especially true for the crib mattress.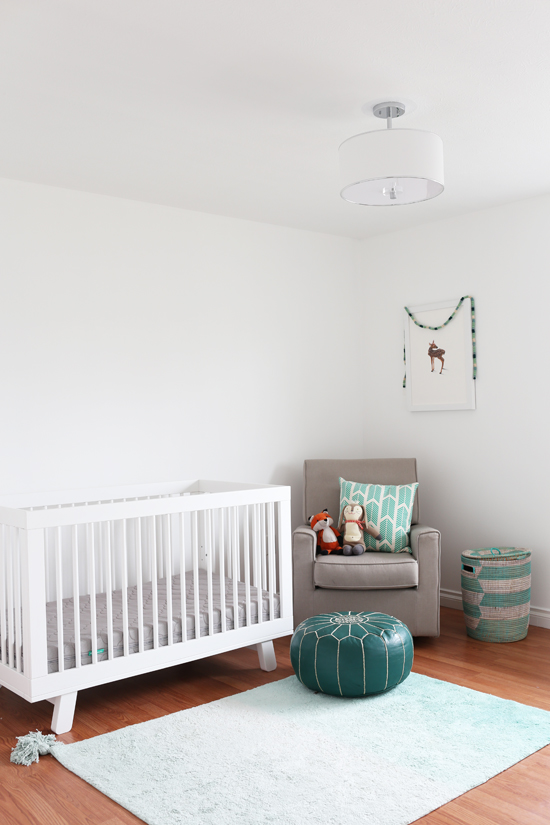 The first time around, Ian's crib was one of our biggest purchases, and I spent a lot of time researching it and deciding which style would fit his nursery the best. But when it came to the crib mattress, I just bought a basic, moderately priced one and didn't give it another thought. Until we got the opportunity to review the Newton crib mattress.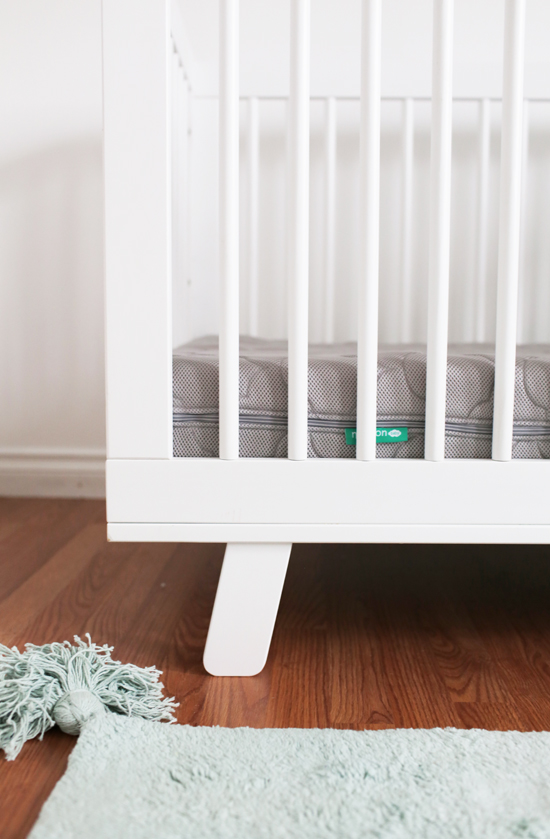 This is a really cool and innovative mattress, and most importantly...it's the safest one I've seen on the market. It's 100% breathable, so you can literally smush your face into the mattress and still be able to breathe (we tried it!). This is HUGE. Every parent is terrified of SIDS, but especially if your baby keeps flipping over to sleep on his stomach. With the Newton crib mattress, you have peace of mind knowing that your baby can still breathe, even if he's facedown.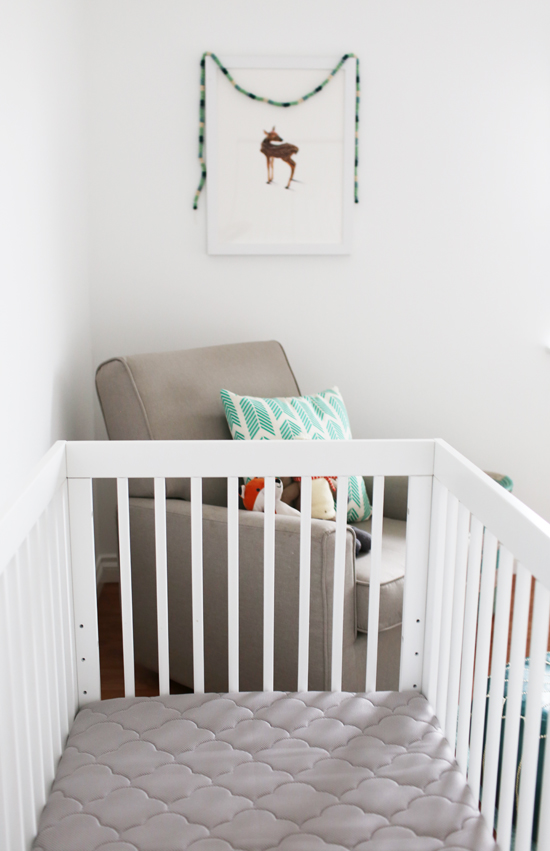 The Newton is also 100% washable, which is awesome. The cover fully unzips and can be washed in the washing machine, and the mattress itself can be washed in the tub. This is great for those inevitable accidents, and so you can keep the mattress looking fresh and new throughout multiple kids. The core is made up of 90% air and 10% recyclable food-grade polymer called Wovenaire. It's hypoallergenic, and doesn't off-gas or leach toxic chemicals like foam and latex can. Plus it contains no springs, glue, or allergens!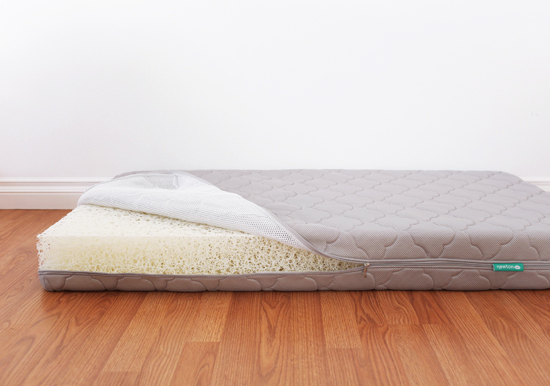 At $300, this is undeniably one of the more expensive crib mattresses on the market. But consider this: adult mattresses usually cost 3x that, and babies spend way more time sleeping than we do (newborns sleep 16 hours a day!). So of all the places to splurge on baby gear, the crib mattress makes sense--especially when you consider the safety and peace of mind this mattress gives you. You and baby will both breathe easier and get better sleep, and we all know sleep is THE most precious thing for new parents. :)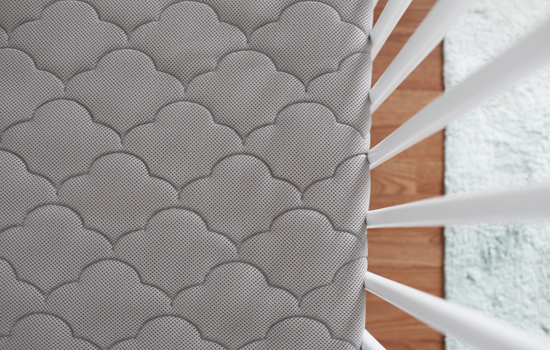 Besides the price, the only "con" I see is that you can't use this mattress with a waterproof mattress protector, since it interferes with the breathability. You can use a crib sheet (they recommend muslin or cotton), and like I said the mattress itself is washable. They also sell extra mattress covers for late night changes, but they cost $80.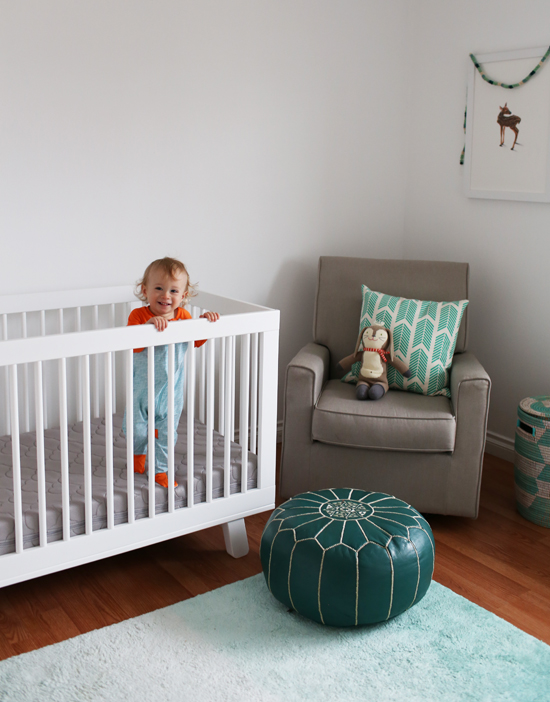 Overall, I feel really good about the Newton crib mattress and I'm super glad we found it in time for baby number two! In the meantime, Ian approves.

This post is sponsored by Bali Blinds. All opinions are my own.
Now that the guest room, living room, and family room are basically finished, I'm excited to get started on our own bedroom! We've made the mistake in the past of making the master bedroom our last priority since "no one sees it but us." That's not actually true (everyone wants to see a tour of the house, which obviously includes the master bedroom), but even if it were...our bedroom is where we start and end each day. So I want it to be a restful, beautiful space that we enjoy! We haven't done much so far, but here's what the room looks like now, and what our plans are for the future.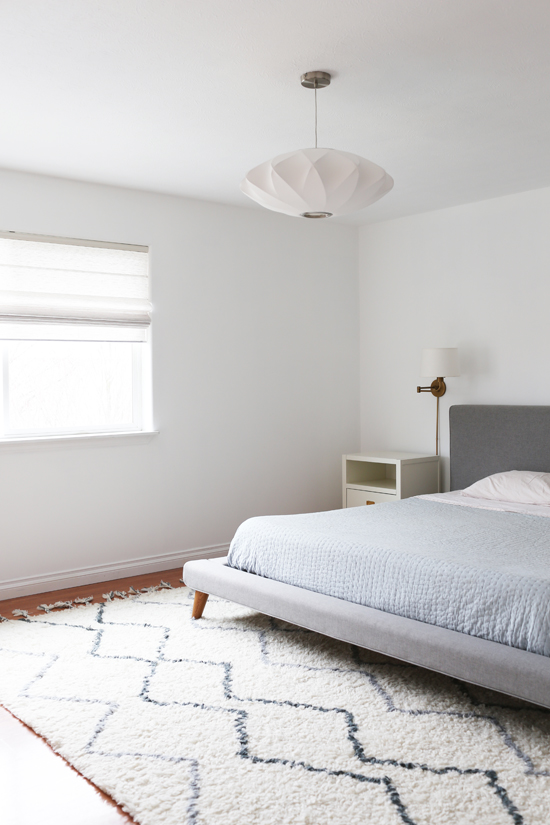 We co-slept with Ian for most of his first year, and once he started scooting I was always nervous about him falling off the bed during naps. Knowing we have another baby coming, we decided to get the Mod Upholstered Platform Bed from West Elm. It's lower to the ground since it doesn't require a box spring, and the design is simple yet beautiful. Ian uses the extra step around the edge of the bed to get up and down easily, and I think the neutral grey fabric will suit us for longer than our blue velvet bed did.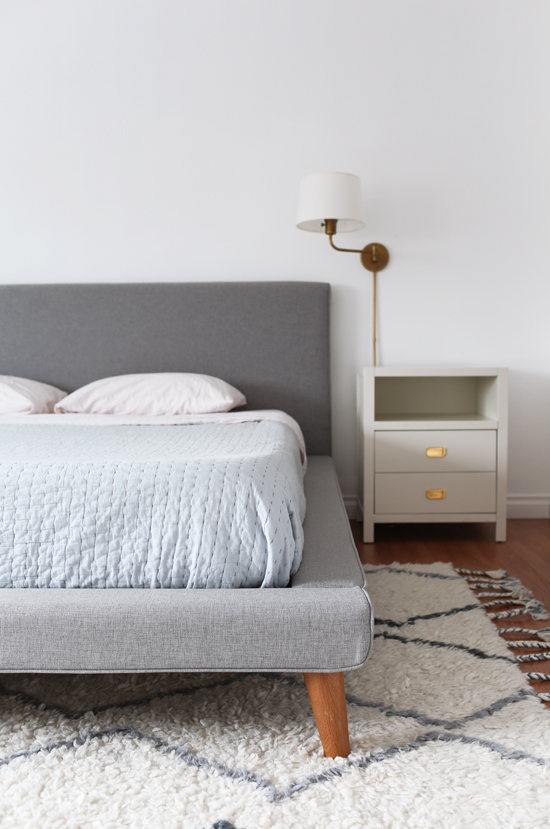 On either side of the bed, we installed the same sconces from our old bedroom. I still love them! And sconces are nice with a toddler--no worrying about him knocking a table lamp off the nightstand.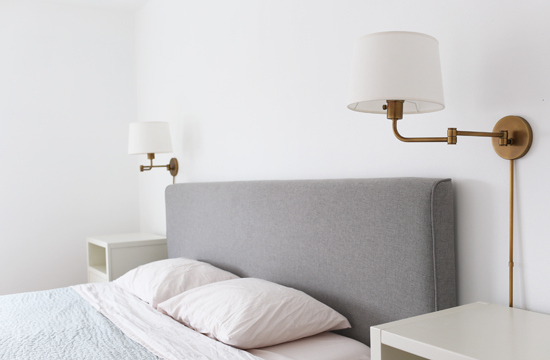 Above the bed, we hung the Flower Cloud pendant from Lamps Plus, which I love. I'm thinking of adding a fancy ceiling medallion to juxtapose with the modern design...what do you think?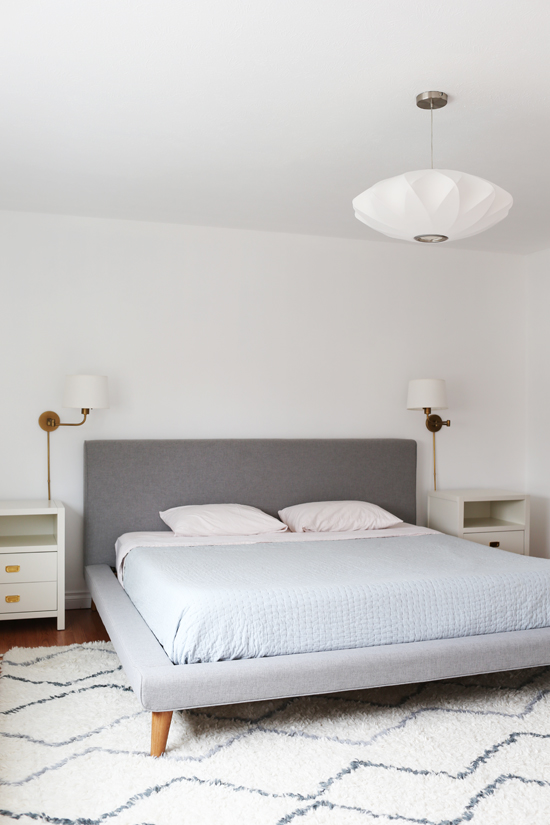 For our bedroom window, we got a classic Roman shade from Bali Blinds in the Dunes Pearl fabric. It's a beautiful fabric with a subtle but interesting texture. The Pearl color mixes in strands of grey, ivory, and beige so I'm confident that it'll blend with any decor we choose for this room. We chose the cordless lift to keep it safe for kids--plus it's really convenient and looks nice and clean. No unsightly and annoying cords, yay!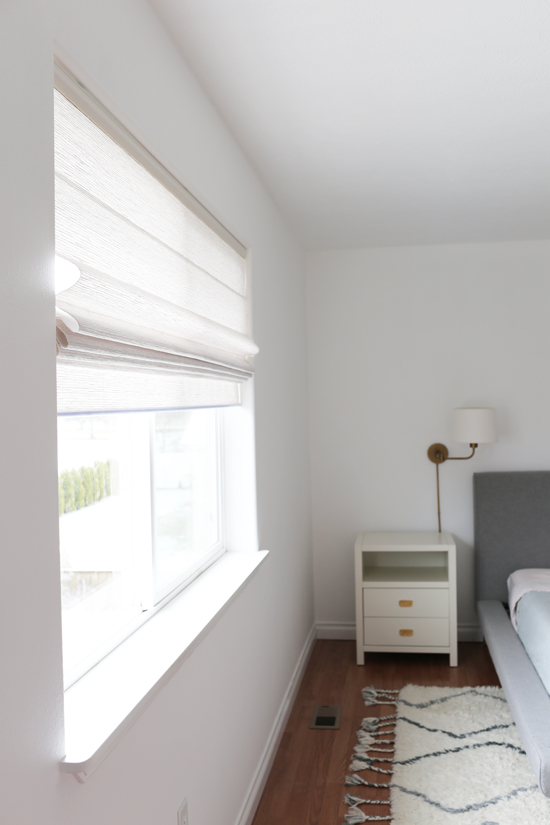 Roman shades have become my go-to window treatments. They blend with a variety of different styles, from modern to traditional. They're easy to open and close. They work for just about any size of window. And they look great on their own, or layered with drapes (like in our living room!). I'm actually considering getting drapes for our bedroom too, since I love the ones in our living room so much. And maybe instead of white or ivory, I'll try a soft color this time! Blush pink? Pistachio green? Dusty blue? Who knows.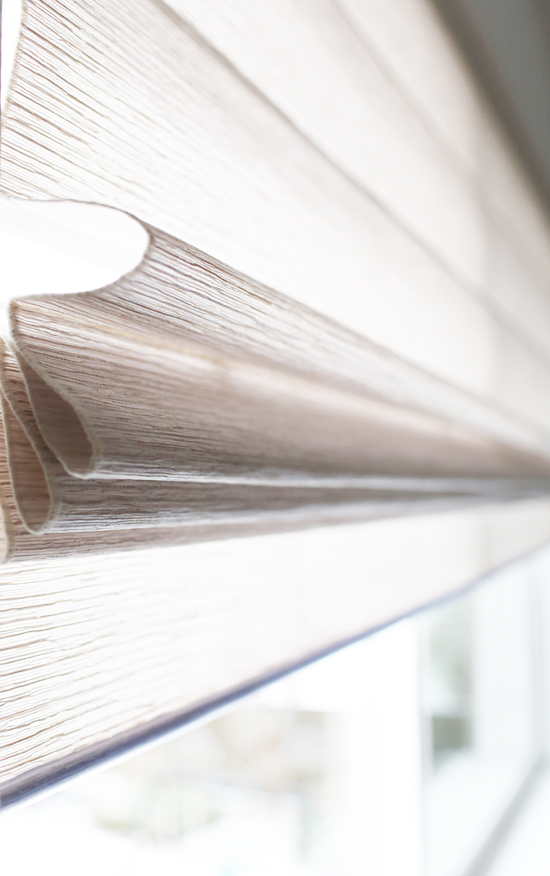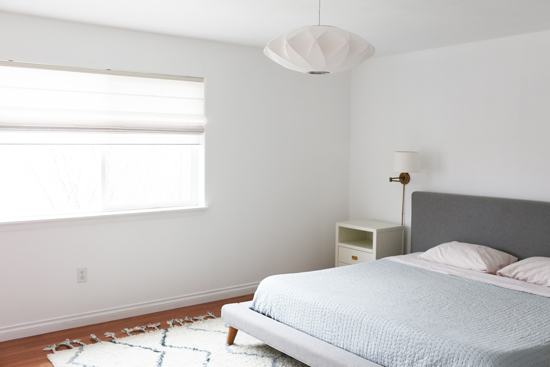 This is what our bedroom looked like before, so we've made some progress--but there's still a lot left to do! Everything in this room is pretty neutral right now, which is nice and peaceful, but also a little boring and plain. I would say this is Phase One of our bedroom: getting the basics in place.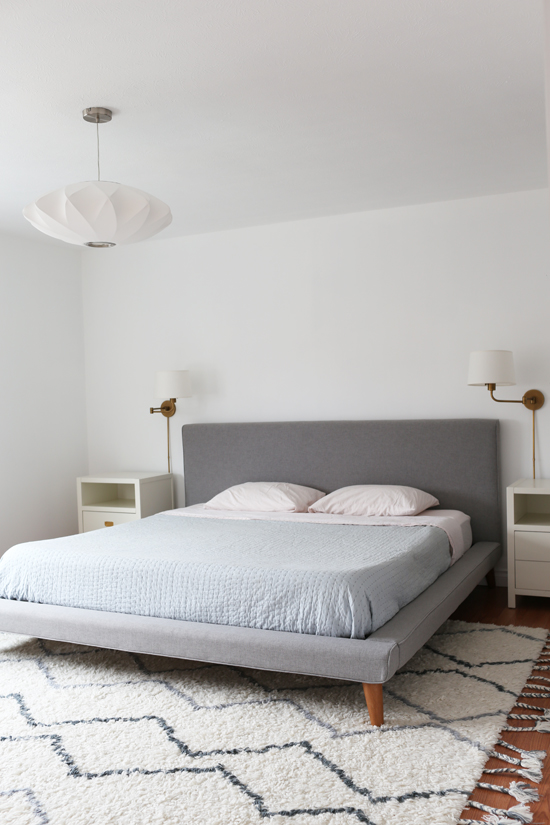 For Phase Two, we need to hang art on the walls and bring in some color and personality with throw pillows, books, and accessories. I'd love to get a big chunky knit blanket to lay over the foot of the bed, hygge-style. And we're getting a new dresser and some x-benches for the foot of the bed, plus I'm on the hunt for a big pretty floor mirror.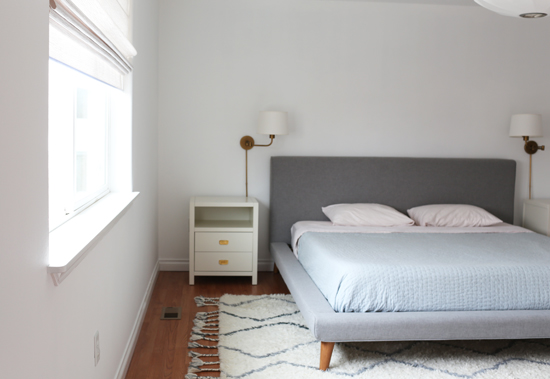 What do you think? Is a neutral bedroom lifeless? Or calm and restful? Should we get drapes for the windows, or keep them simple with just the Roman shades? Anything else this room is missing? Gimme all your opinions.

This post contains some affiliate links, and I was sent some products to review. All opinions are my own.
Ok, here's the last gift guide I put together this year (and one of my favorites)...stocking stuffers! Good things come in small, cute packages. All of these are totally affordable, but are still items that they'll actually be excited to receive--not just cheap throwaways.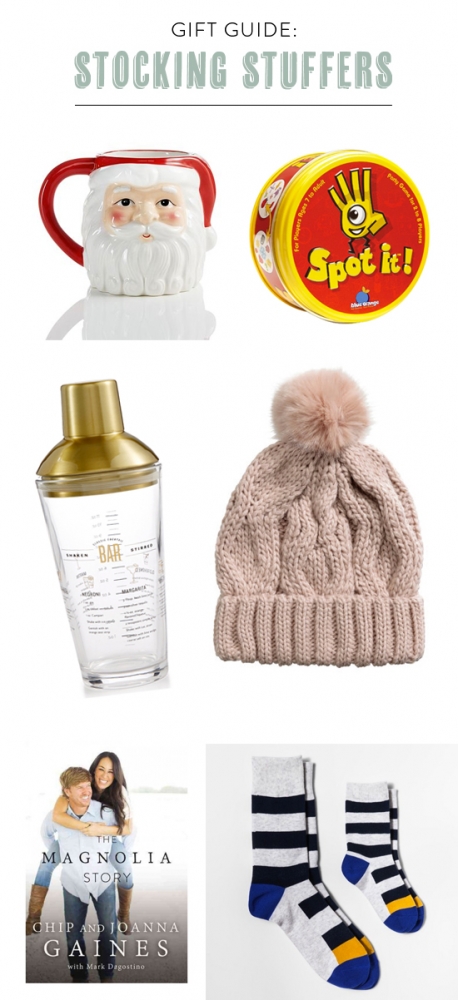 1. Santa mug - Fun and festive. Fill it with hot cocoa and marshmallows or a gift card to their favorite coffeeshop.
2. Card game - Spot It is one of our favorites. Other good ones: Monopoly Deal, Fluxx, and No Thanks.
3. Cocktail shaker - This one is beautiful, plus it has recipes for classic cocktails on the side.
4. Pom pom beanie - In millennial pink, the year's trendiest color.
5. A book they've been wanting to read - Just make sure it'll fit in their stocking.
6. Father & son socks - They're the best of pairs, and now they have matching socks to prove it! Too cute.
Happy Friday, everyone! I hope you've enjoyed these gift guides and maybe found some ideas for the people on your list. I'll be back to regular blog posts next week! :)

This post is written in partnership with Hayneedle.com. All opinions are my own.
I'm taking a break from gift guides to show you guys our living room, decked out for the holidays! I'm not a fan of storing bins of decor for eleven months out of the year, so I'm pretty moderate with how I decorate for Christmas--in fact, we actually don't even put up a tree (are you shocked?). Still, this is our first holiday season in the new house, so of course I couldn't resist doing something! I worked with Hayneedle.com to make our living room feel festive...but instead of classic red and green, I went with a cheerful, candy-colored palette of robin's egg blue, mint green, mustard yellow, and soft pink (basically the same colors I decorate with all year). I added in metallics, garlands of greenery, and cozy sheepskin, and I made some DIY yarn wrapped trees and accordion snowflakes to add budget-friendly winter cheer. I love the results--it still feels like Christmas, but in a way that fits my style and aesthetic.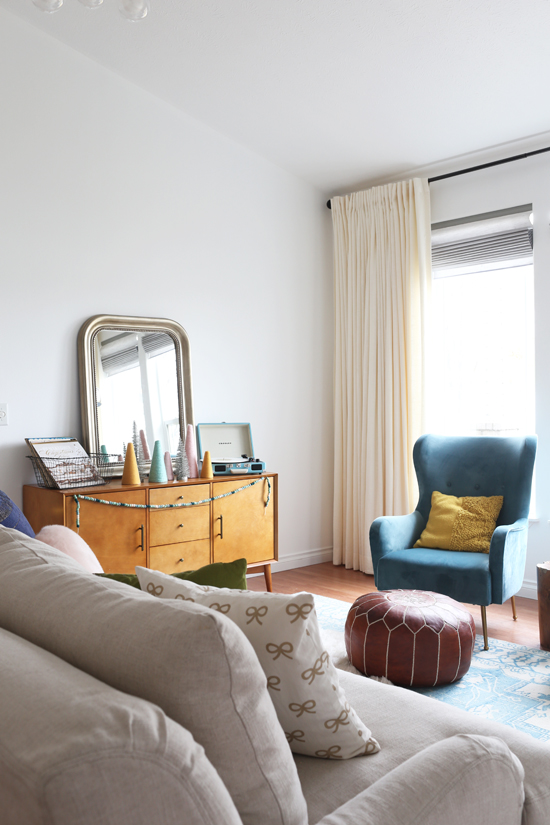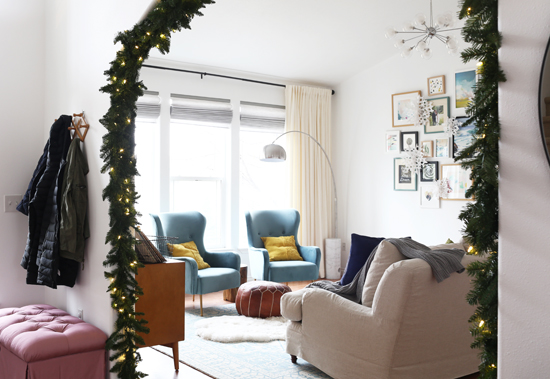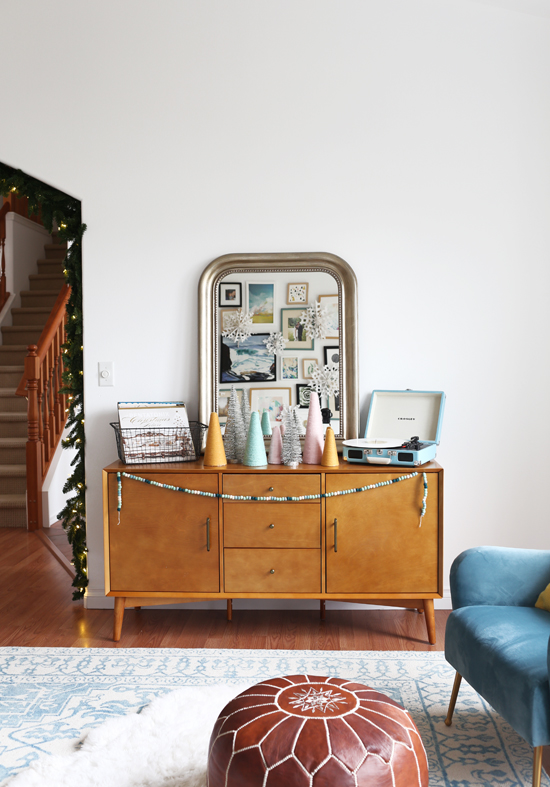 One of my favorite pieces we picked out is the Crosley Landon Buffet--a beautiful midcentury style table with room for storage. Eventually I plan to put it underneath the gallery wall, but for the holiday season I wanted to set up a station for playing Christmas music and setting out drinks and snacks when we have guests over. I topped it with a French-style mirror, our record player, and a basket of holiday vinyl records (there's just something nostalgic about records that is more fun than a playlist on your phone). I added some colorful yarn trees and silver bottle brush trees, and I strung a garland of cheerful green felt balls in the front.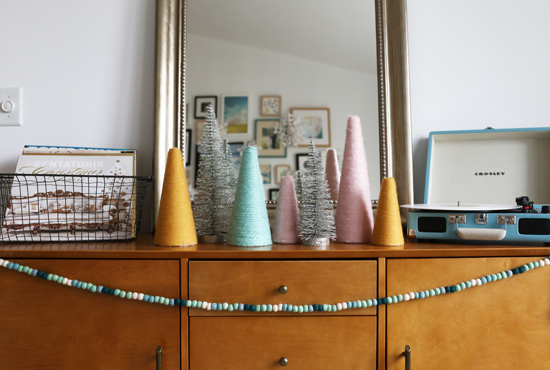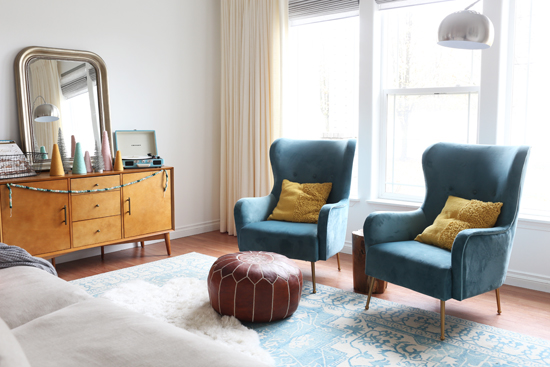 Another big change in our living room is the new velvet armchairs, by TŌV Furniture. They're an absolutely gorgeous color ("Sea Blue"), and they have cool brass legs that make them feel more unique. It's so nice to finally have a pair of armchairs, after years of mismatched ones! And these are super comfy too--I couldn't be happier with them.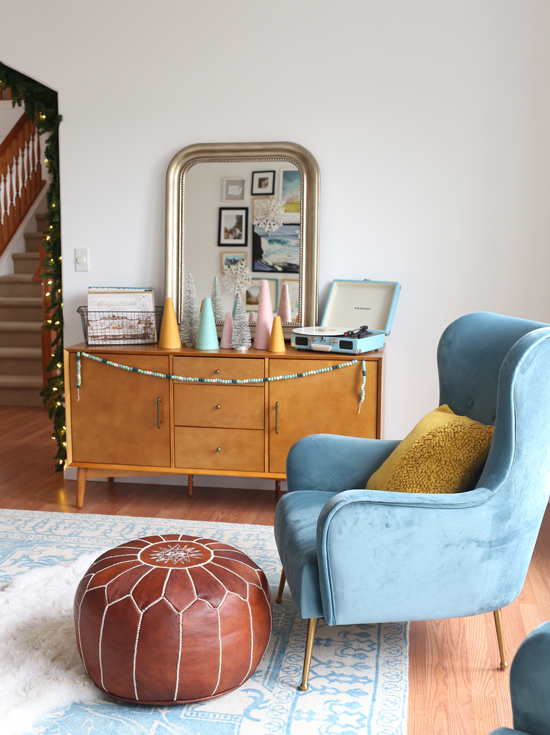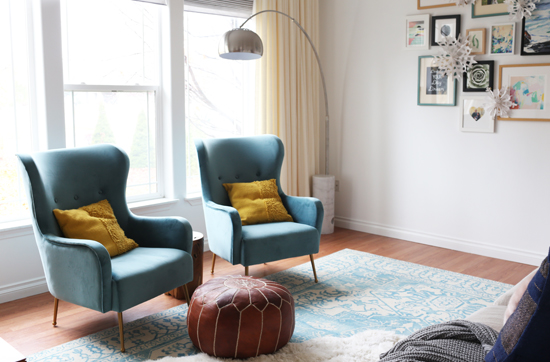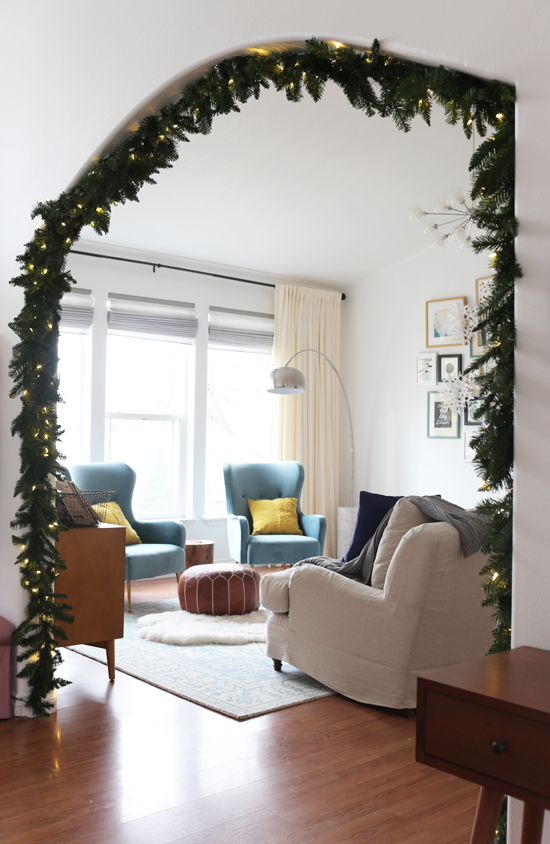 On the big arched doorway that leads into the living room from our foyer, we strung up this pre-lit spruce garland. I looove the effect it has...it instantly made the whole space feels so festive and grand. It's a faux garland, so we can use it year after year.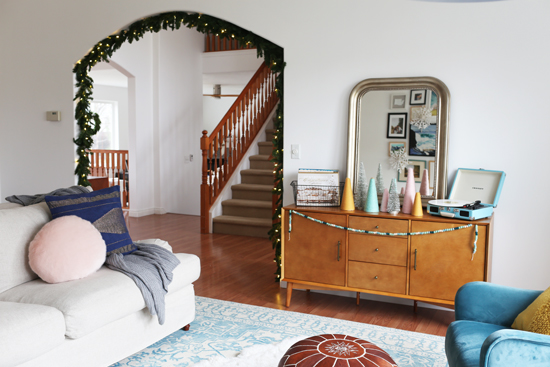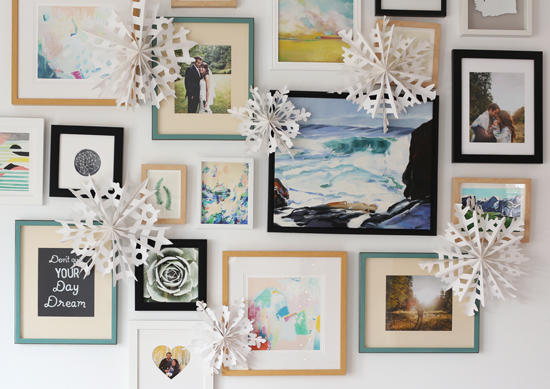 I also taped some large accordion paper snowflakes on our gallery wall, and added knit throws on the sofa and a soft sheepskin on the floor for cozy texture and warmth. I just love how this room turned out, and since most of it is more seasonal and wintry, I won't feel the need to take it down right after Christmas.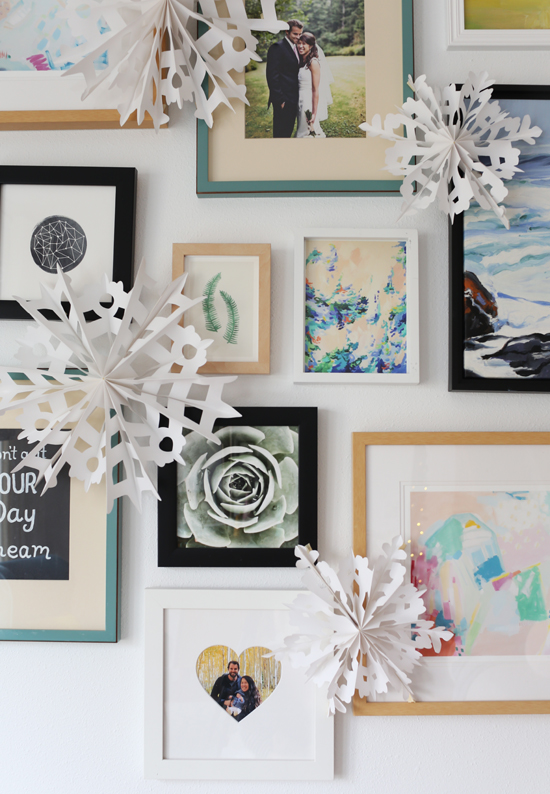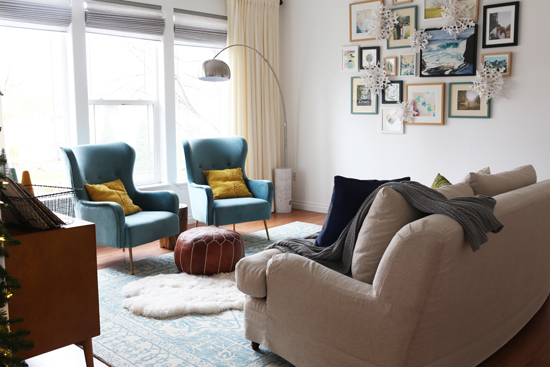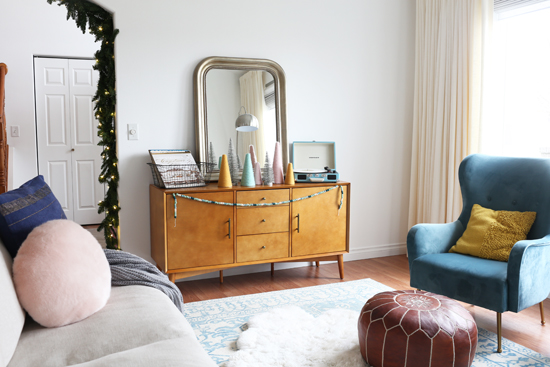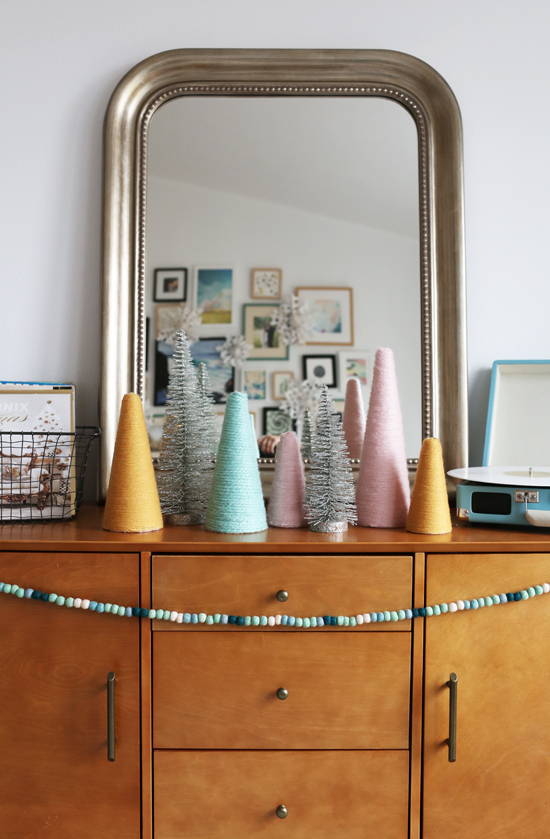 There's nothing wrong with going all out decorating for Christmas--a nativity scene, nutcrackers, Santa pillows, the whole nine yards. Especially if it brings you joy, go for it! But if that doesn't fit your style, I hope this gives you some ideas to decorate for the holidays in a more subtle way...no red and green plaid required. :)
P.S. See more on the Hayneedle blog.