Mondays are never my favorite day, but I have just the thing to brighten this one: a $150 giveaway to DecorPlanet so you can give you bathroom a mini-makeover! I picked five bathrooms that I really love--each with a different style--and rounded up some items to get the look. And renters, don't count yourself out of this one. You can still update your bathroom with some pretty new accessories, and your landlord never has to know! If you switch out the mirror or lighting, just stash the old ones somewhere so you can replace them when you move out.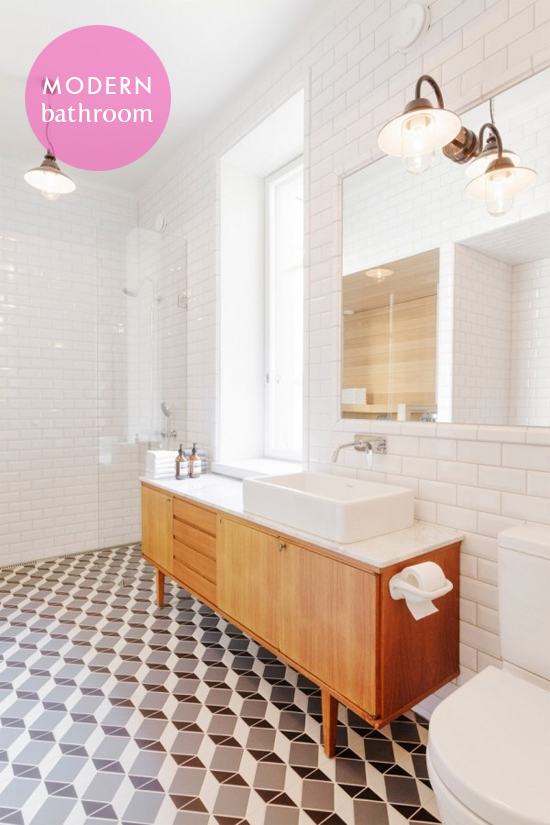 1. Modern bathroom: This is my kind of modern. It looks contemporary and clean, but still warm and homey. The tiled floor is awesome, and so is that raised sink. Ben saw me writing this post, and immediately said, "I love that sink!"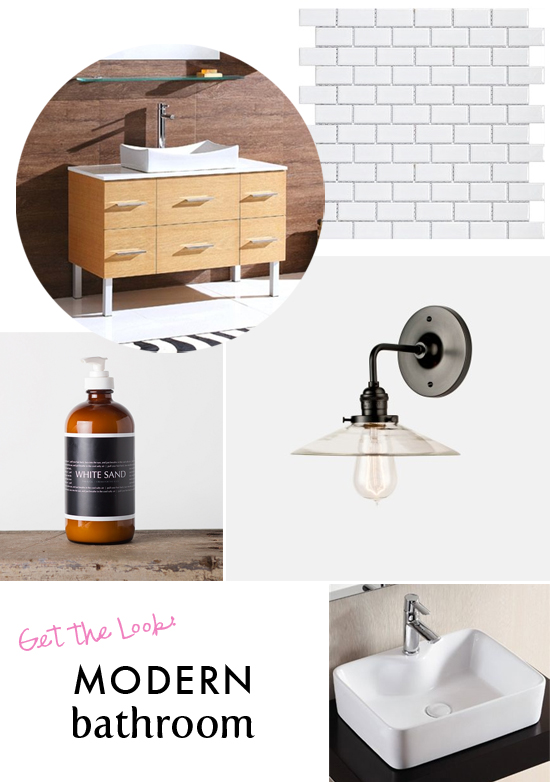 Get the Look: Wood vanity from DecorPlanet / Subway tile from Overstock / Body cream from K.Colette / Pendant lighting from Schoolhouse Electric / Raised sink from DecorPlanet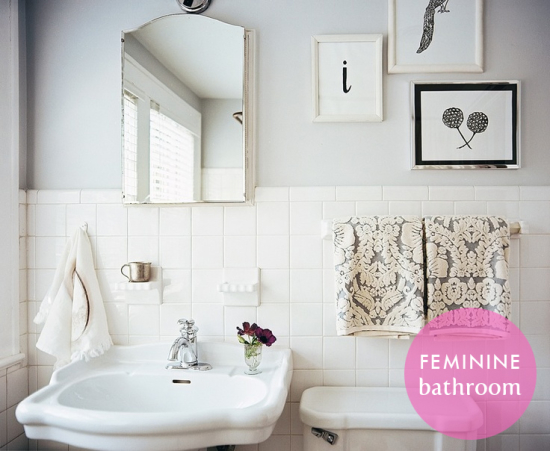 2. Feminine bathroom: This type of bathroom is definitely my style. A frameless mirror, pedestal sink, sculpted towels (I have ones that look just like this), and framed art. Plus fresh flowers, of course.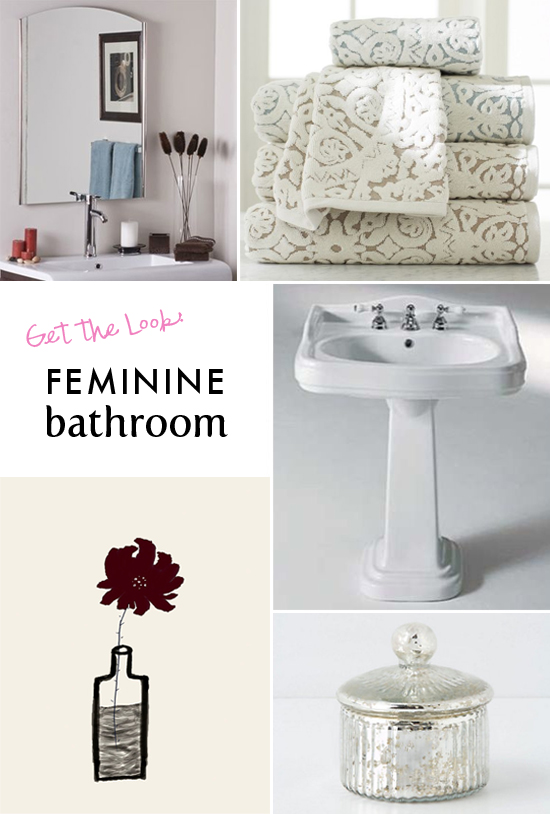 Get the Look: Frameless mirror from DecorPlanet / Sculpted towels from Pottery Barn / Pedestal sink from DecorPlanet / Black and white art from Etsy / Mercury glass canister from Anthropologie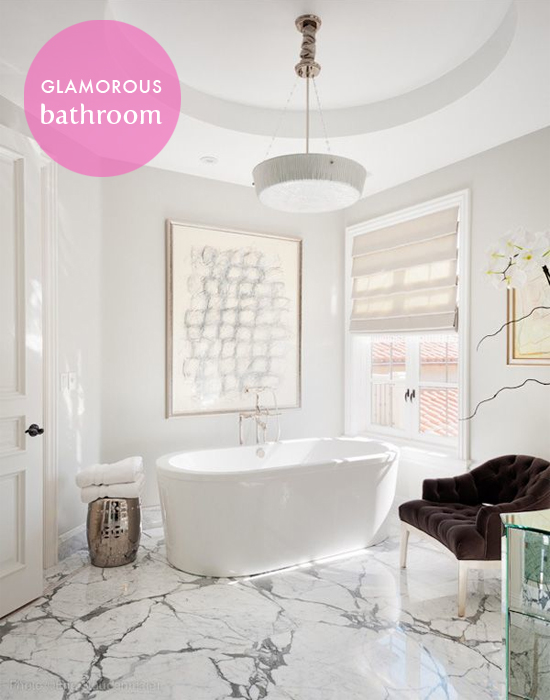 3. Glamorous bathroom: This bathroom definitely has some major wow-factor going on! It looks like a luxurious spa, with that marble floor, a freestanding tub, and even a tufted armchair to relax in.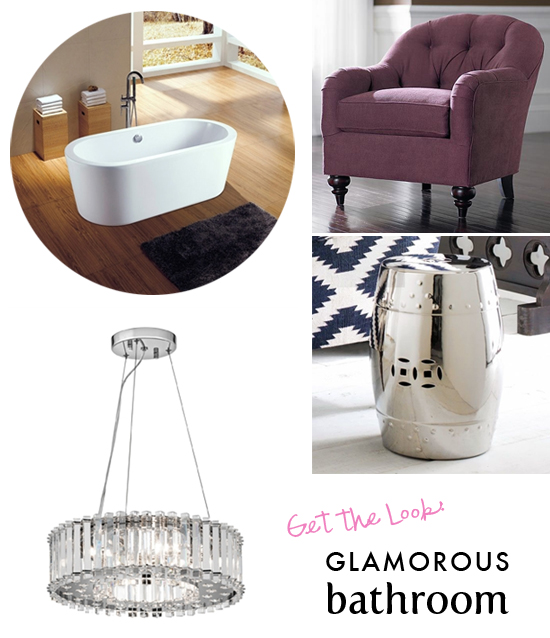 Get the Look: Freestanding oval tub from DecorPlanet / Tufted chair from Bassett / Chandelier pendant from DecorPlanet / Chinese garden stool from Wisteria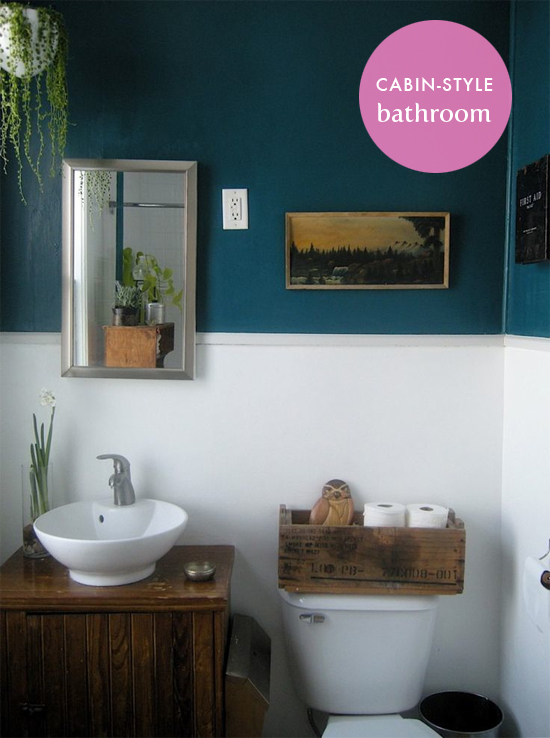 4. Cabin-style bathroom: This bathroom would be perfect for my someday lake cabin. Another raised sink, lots of plants, and a wooden crate on top of the toilet to hold toilet paper and other necessities!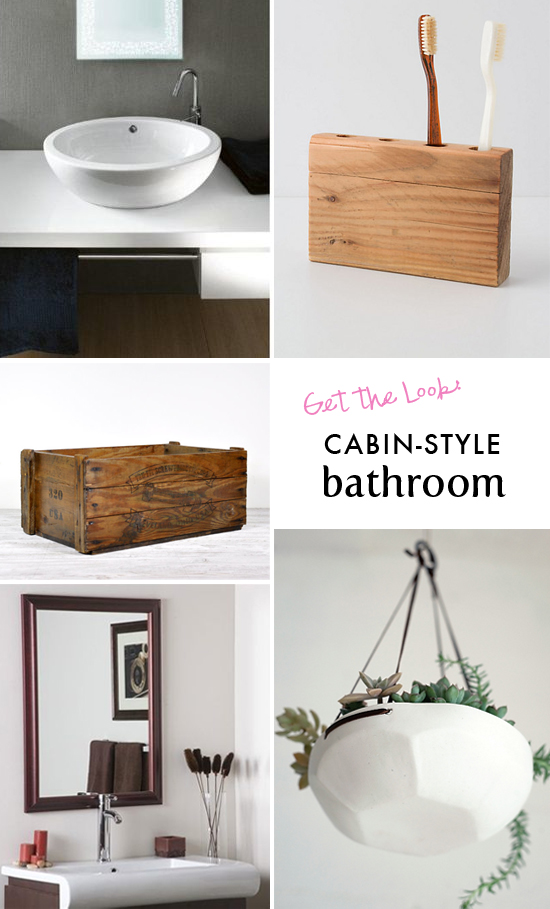 Get the Look: Above counter sink from DecorPlanet / Wooden toothbrush holder from Anthropologie / Wooden crate from Etsy / Simple framed mirror from DecorPlanet / White hanging planter from Pigeon Toe Ceramics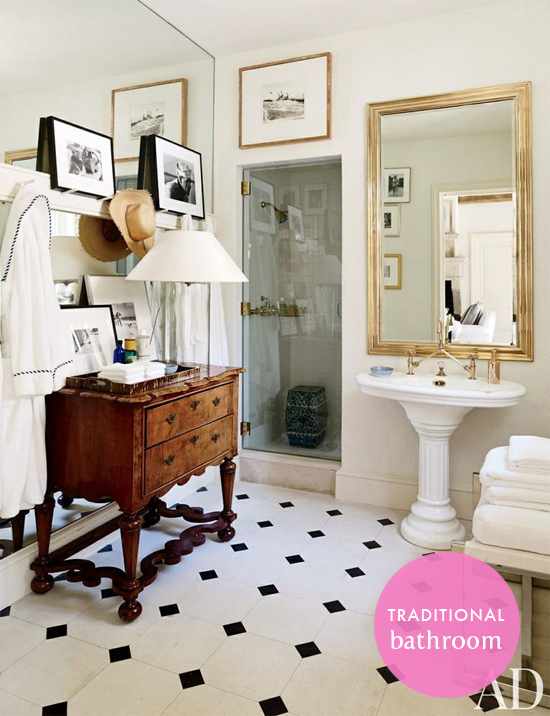 5. Traditional bathroom: This traditional bathroom is absolutely beautiful, with black and white flooring, plush white towels, a gold framed mirror, and a wooden vanity.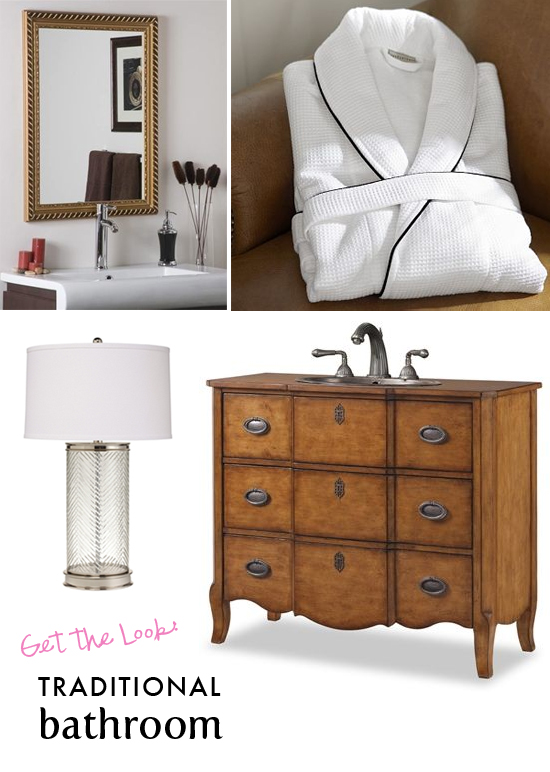 Get the Look: Gold framed mirror from DecorPlanet / Piped bathrobe from Pottery Barn / Table lamp from DecorPlanet / Wooden vanity from DecorPlanet.
So, ready to give your bathroom a little refresh? Enter the giveaway below! There are several ways to earn entries. Good luck!
This post was written in partnership with DecorPlanet.


Hello, friends! I hope you all had a good week and are looking forward to a fun and relaxing weekend (I am). But before we kick the weekend off, here are some of my favorite links from around the web this week. I'd love for you to chime in and share your favorite blog posts as well! Or a great book you read, an interesting news article, a funny Youtube video, a movie that you loved, a new shop you discovered…whatever caught your eye this week! I always love getting people's recommendations and being introduced to something new.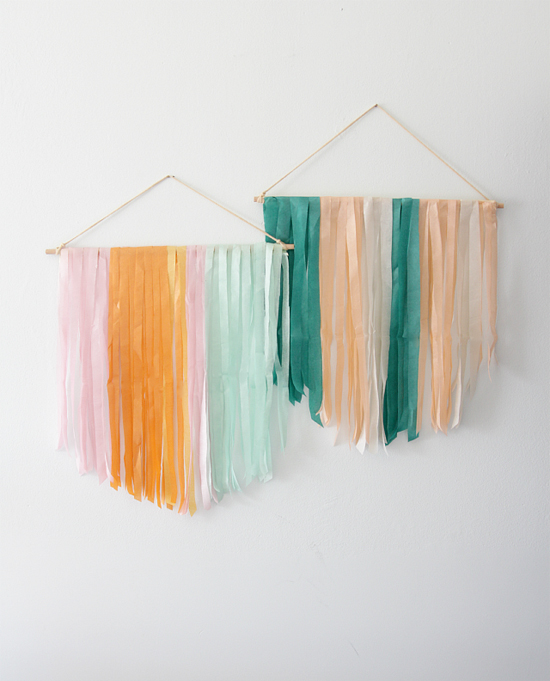 Speaking of new, I just came across the blog The Lovely Cupboard this week. And I love it!!! This tissue paper banner looks super easy, and oh-so-cute. Side note: did you know you could iron tissue paper to get out the creases? So cool! I'm genuinely excited about that discovery.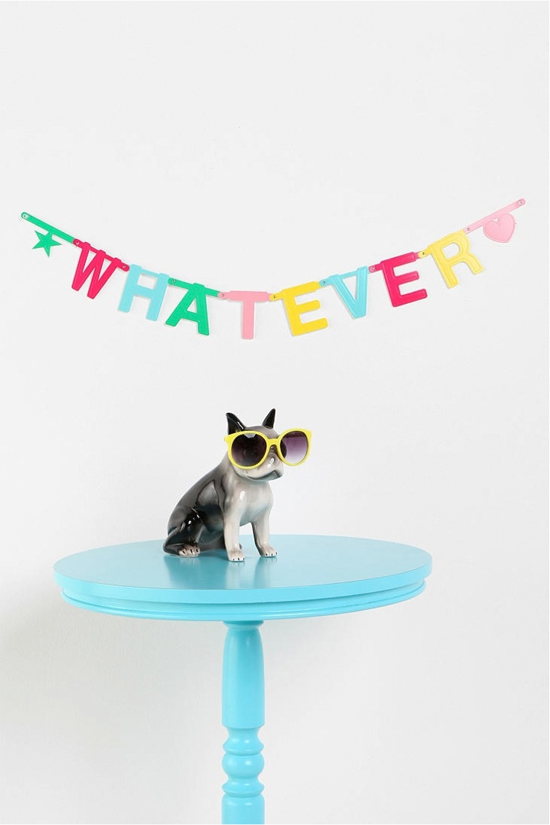 Audrey of This Little Street wrote an adorable post about winter being overrated and feeling ready for spring and summer (with a round up of bright and cheery photos). Those are my feelings exactly! I do like winter a little bit--it can be fun to drink hot cocoa and play games or watch a movie indoors while it's cold and blustery outside. And of course, the first snow is always magical...but by this time of year I am soooooo over it. So ready to bust out some dresses without having to wear tights, so ready to wear some sandals and no coat, and SO ready for some sunshine!!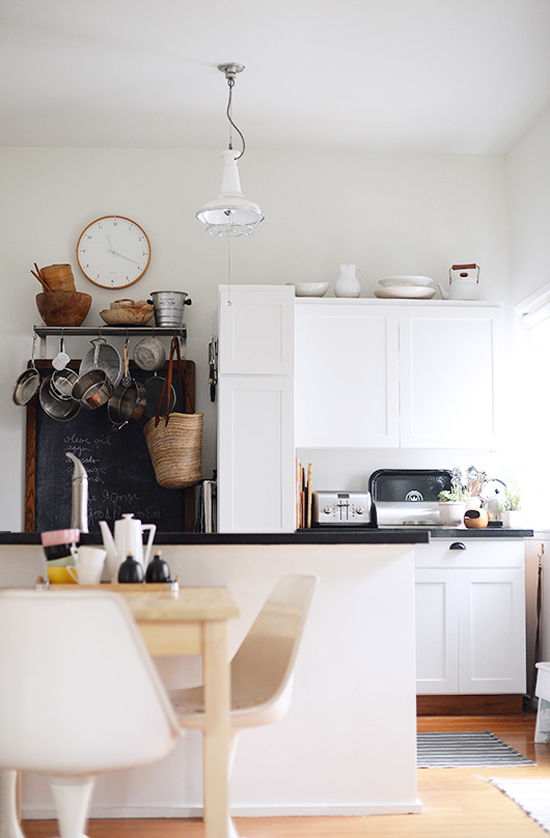 Victoria of Sfgirlbybay shared some photos of her kitchen, which she revamped with a coat of white paint, some drawer pulls, and new accessories like rugs. I really like that she wasn't afraid to invest a little time and money to make her kitchen into a space she loved, even though it's a rental. And why not? If you plan on living somewhere for awhile, why make do with something you hate just because you're renting? Ask your landlord if you can change a few things so it's more your style. Especially if you offer to put in the work and buy the paint yourself (like Victoria did), he might say yes!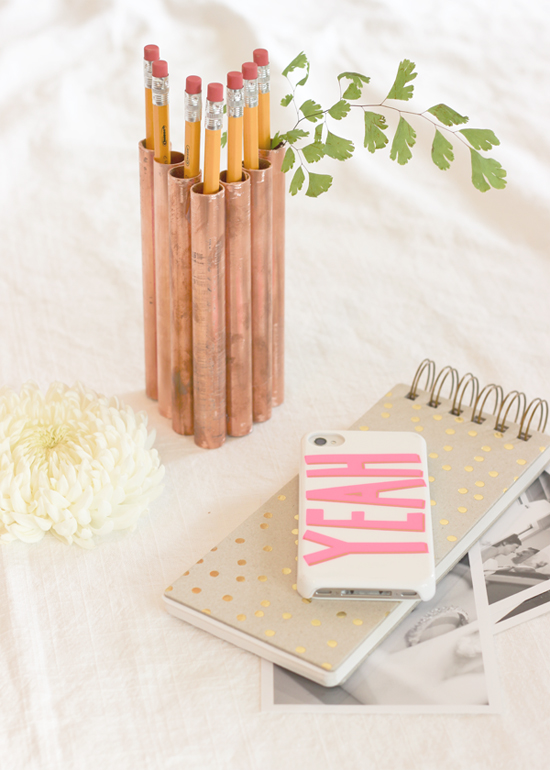 Quick, simple, and cheap are my favorite words when it comes to DIYs (well, I guess pretty and successful would also be up there). This copper pipe pencil holder, from A Fabulous Fete, is all of those words and more. I lurve it.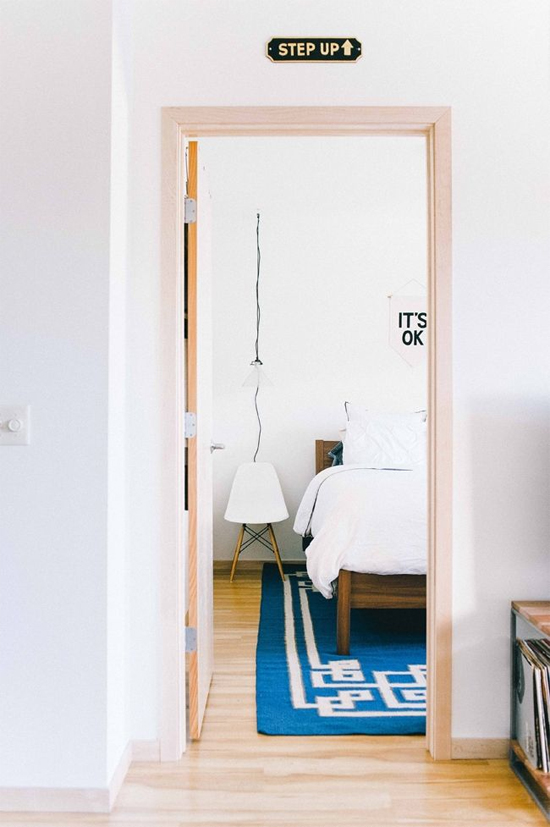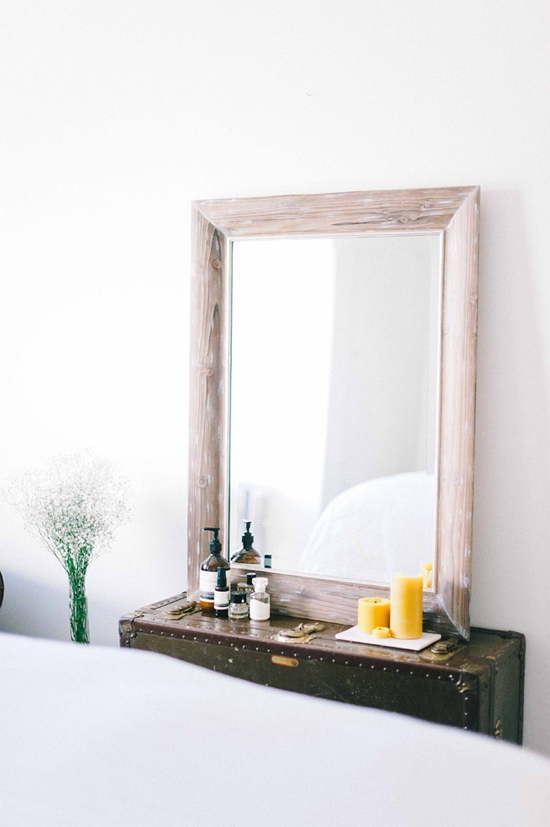 The Everygirl always has the best house hours, and Kate Arends' apartment is no exception. It's gorgeous. I'm guessing you may have already seen some of the photos floating around Pinterest, but do yourself a favor and check out the whole tour if you haven't already!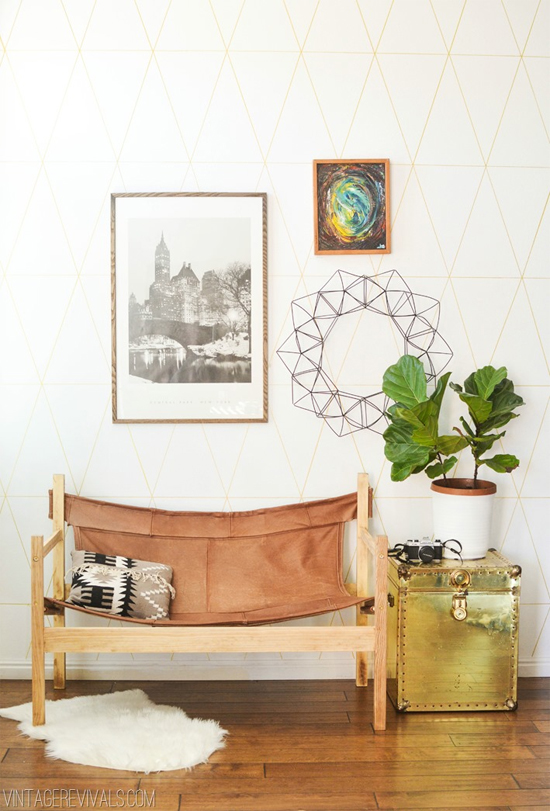 Mandi of Vintage Revivals took DIY to the next level with this project--an ugly leather sofa upcycled into an awesome safari sling bench! I've never thought of buying a leather sofa at a thrift store solely for the leather, but it's actually a genius idea. Leather is expensive!!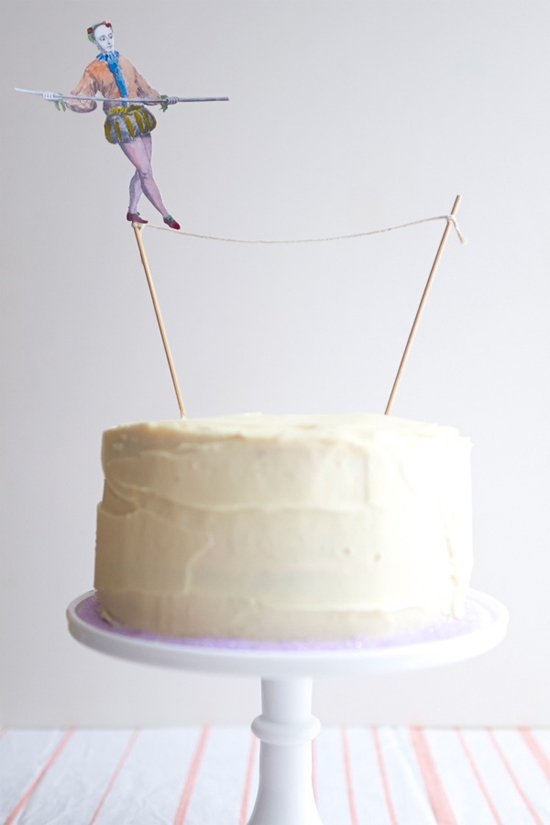 If simple DIYs are more your thing, I loved this adorable tightrope walker cake topper from Oh Happy Day. I've definitely seen my fair share of "two-sticks-and-a-piece-of-string-cake toppers", as she puts it, and didn't think I could get particularly excited about another version. But I was wrong. This is so cute, and clever and funny…and I like it a lot.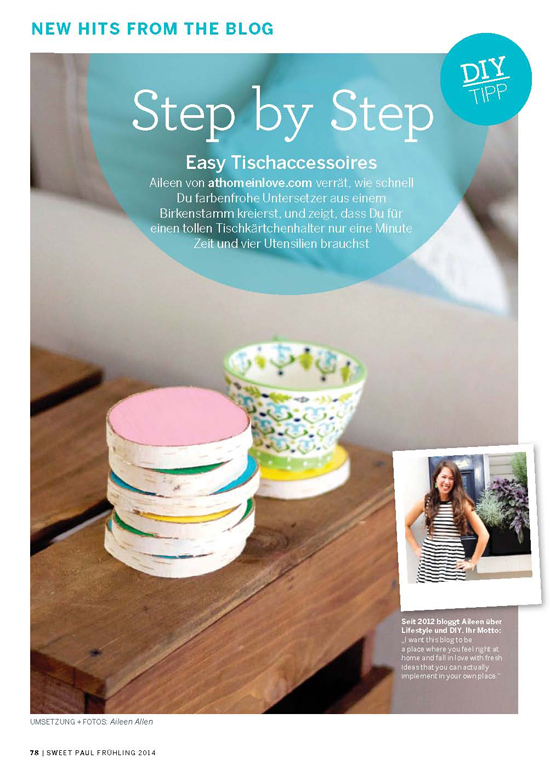 Last but not least, I wanted to share a couple photos from the German Sweet Paul magazine. Yep--that's me in there! You may remember my DIY wood round coasters and my drawer knob place card holders from past posts (the coasters were actually the first DIY project I ever posted on this blog). I was really happy when someone from Sweet Paul reached out about featuring them in their newest issue. I can't read a lick of German, but that's not stopping me from being super excited about it. There's my face! In a German magazine! If any of you speak German, maybe you can translate for me :)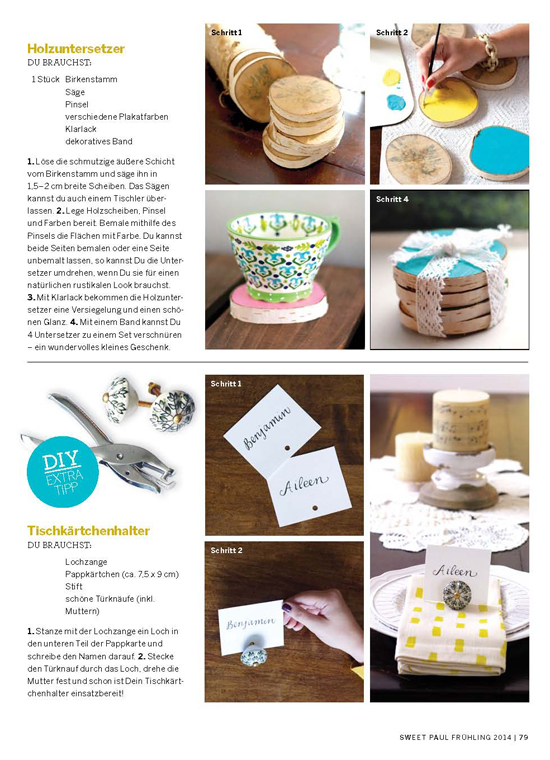 So that about sums it up! Don't forget to leave me your favorite links from the week in the comments--or just tell me what your favorite is out of all the links I posted here.
Happy weekend!


I have another gorgeous house tour for you guys! I came across Gwen of The Makerista just last week through the BHG Blogger Awards. I thought her house was so beautiful, so I immediately reached out to see if I could share it with you all. I was especially impressed because she talks a lot about decorating on a budget--and she has two kids!! So I thought it would be interesting to get her advice and find out a little bit about how she does it. Ready? Let's go.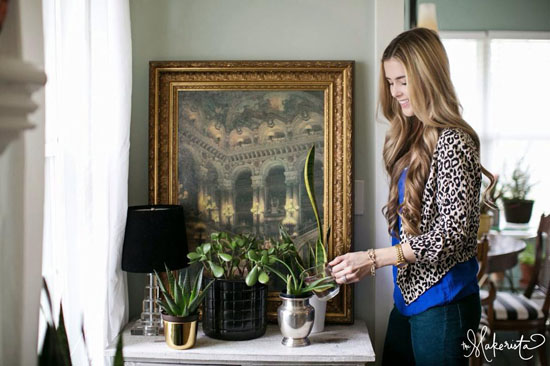 1. Can you tell me a little bit of your background, and how you got started with The Makerista?
I've always loved creating and learning.  When I became a stay at home mom about 4 years ago I started reading blogs.  I fell in love with the women and what they were doing, but I also realized I was doing a lot of the same things, just not documenting them.  I finally took the plunge last summer after lots of planning.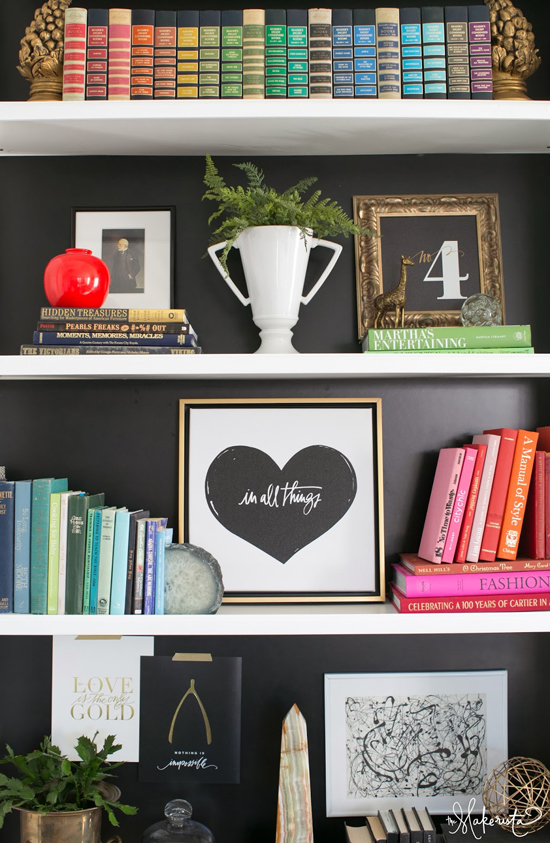 2. Your house is so beautiful! Do you have a favorite room or a favorite spot? 
I think the living area is the best reflection of my personal style, and I just really enjoy spending time in it.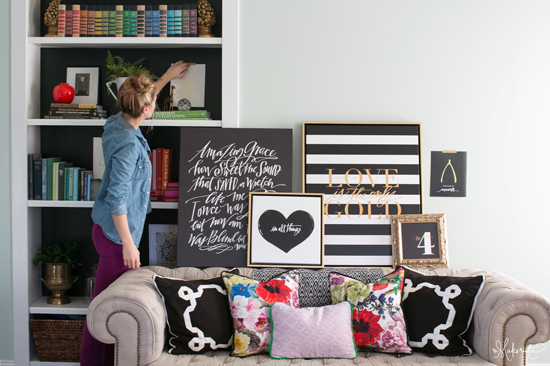 3. How would you describe your style?
I consider my style neo-traditional with a touch of the unexpected.  I like clean and classic lines, but I also love something a bit off, whether it be art or the color pallet.  It needs some personality and energy.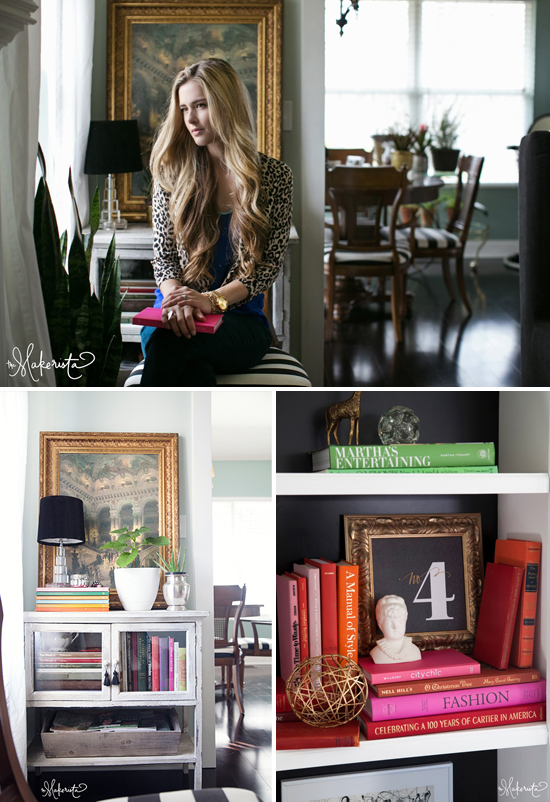 4. What are some trends that you're loving right now?
I love tone on tone color right now.  I've always been more of a mixer than a matcher anyway, so mixing shades of reds and pinks or blues and greens is totally up my alley.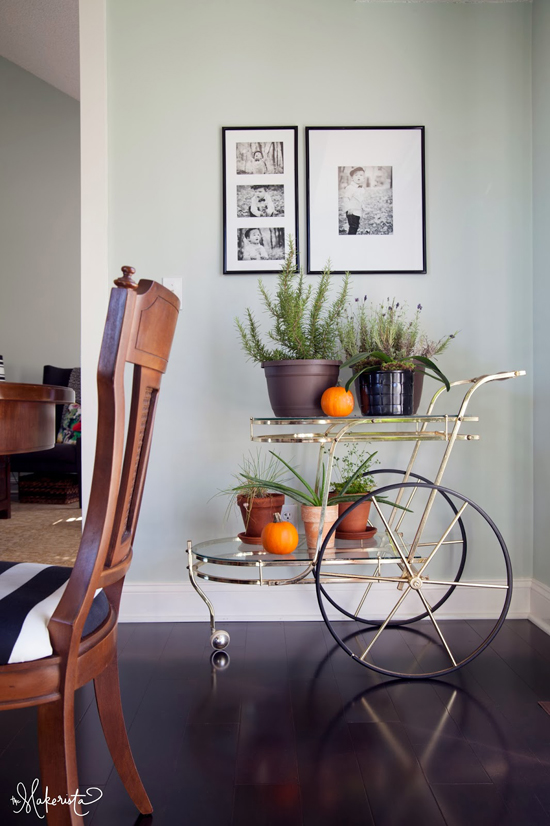 5. How do you go about decorating a room? Do you have a process?
I usually start with an inspiration piece, whether some fabric, a piece of art, or a collection of inspiration photos, and go from there.  I try to start with wall color and larger pieces first, but I also attempt to keep the big picture in mind and be open to finding things in any order.  Especially when you're thrifting and searching through one of a kind pieces, you can't mull over choices.  If you see a great side table, but you haven't found the couch yet, you don't have the luxury with thrifting of thinking about it for a few days.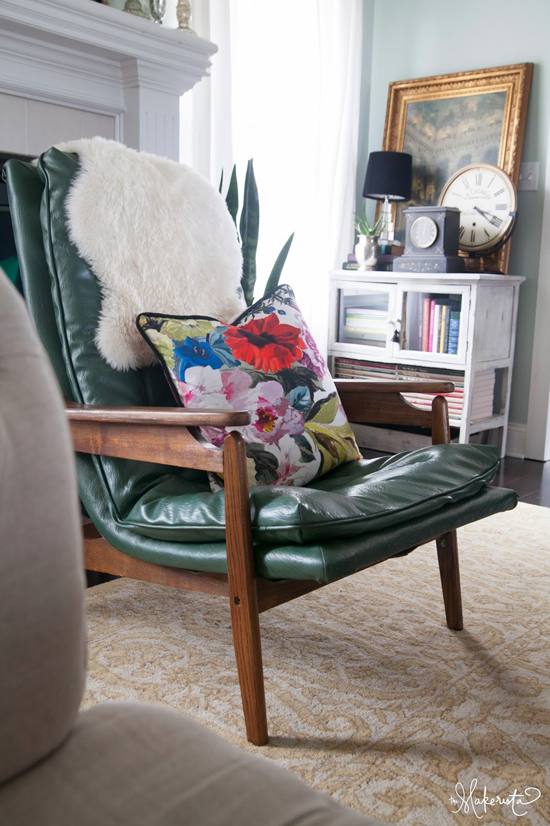 6. A lot of my favorite items in your home are from thrift stores and Craigslist. Do you have any tips for thrifting or finding awesome stuff at antique stores, Craigslist, etc.?
I actually just posted some thoughts on that here.  Consistency is key though.  The more you look, the more likely you are to stumble upon something amazing! (P.S. Gwen got both the green chair above and the peacock chair below from thrift stores)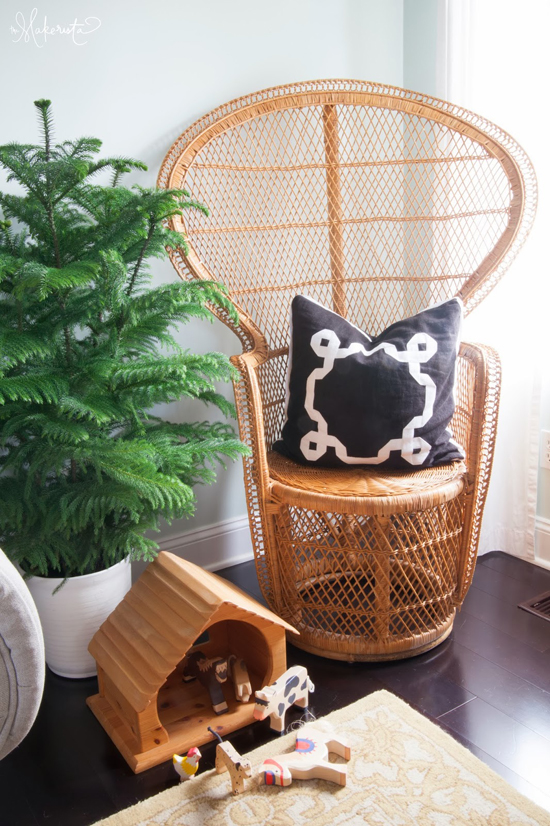 7. Your blog is all about making things yourself. What's your favorite thing that you've made so far?
The blog is about making things, and making a home is probably my favorite thing to do.  I've so enjoyed renovating our home and decorating it.  The most popular thing I've made is this baby swing for my daughter Milly's first birthday.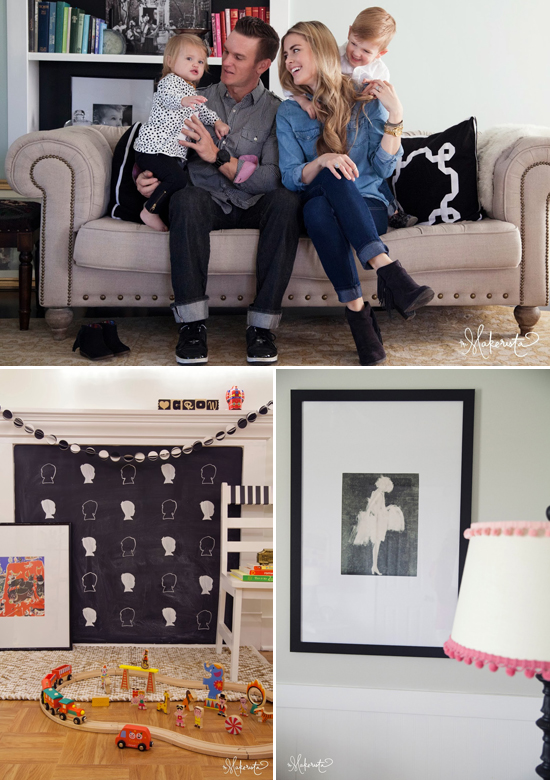 8. Do you have any tips for making a house kid-friendly but still stylish? I feel like you've nailed it.
Well, thanks.  It works out for me that I'm on a budget, so I don't have anything too expensive for the kids to destroy.  But they know what they can and can't touch.  It takes time to teach them that, but it can be done.  I have quite a few brass figures that they enjoy playing with, but they know to stay away from the glass objects.  As far as the furniture, keeping eating in the kitchen or occasionally in the basement helps and as far as toys: keeping the bigger things pretty and not plastic and lots of bins and baskets for the smaller toys is key.  I want my kids to feel like this is their house too, but I also want them to know limits, restrictions and manners.  I hope that because we work on respecting things in our own house, that they will do the same elsewhere.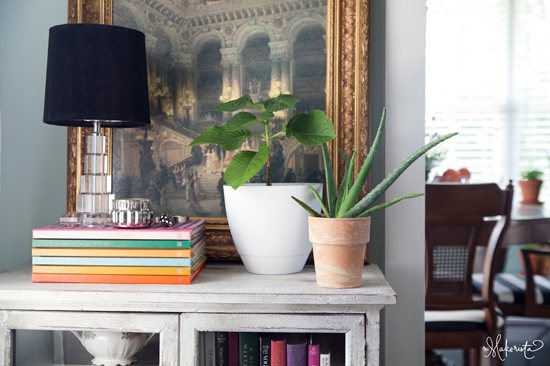 9. Where do you find your inspiration?
Everywhere.  Literally.  From photos that show up in my Instagram feed to a church floor in the Dominican Rupublic.  Can you tell I'm a bit obsessed with Instagram?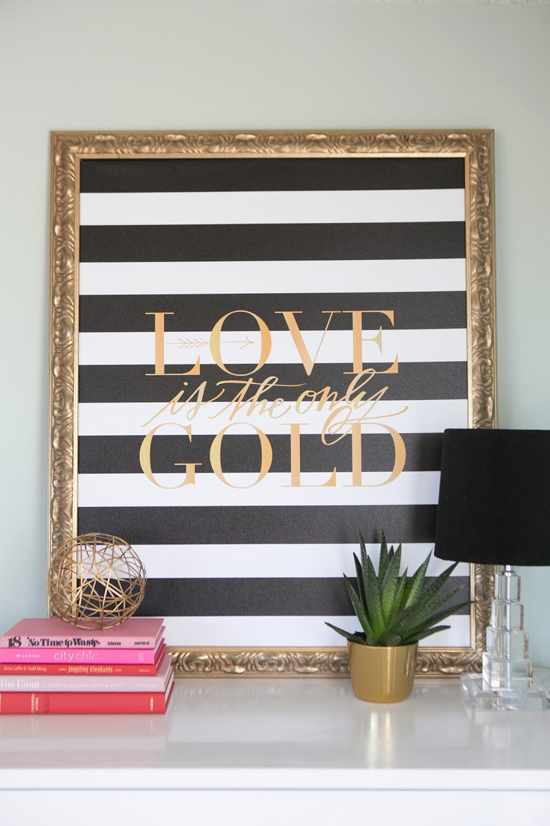 10. What are three books, movies, and blogs that you recommend?
I wish I made more time for these things!  I'm currently doing a study on the book of James but as a young mom, curling up with a book isn't something I do very often.  Movies aren't really my thing, but I love Masterpiece on PBS.  I read more than a few blogs, but some of my favorites off the top of my head are Little Green Notebook, The Hunted Interior, and FROM THE RIGHT BANK.  Those girls KILL it and are fearless and innovative.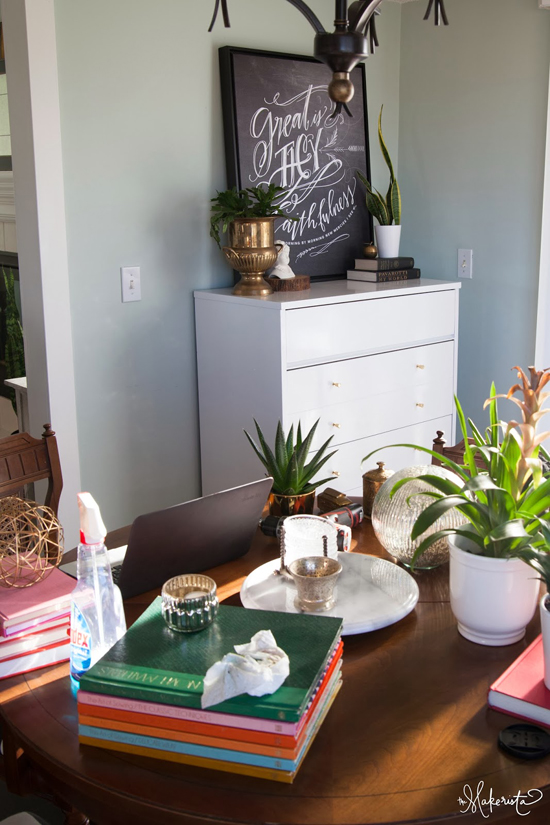 11. What about favorite places to shop for your home?
Thrift stores, antique malls and craigslist definitely take the cake, but you can often find me at Home Depot, Homegoods and Target quite often too.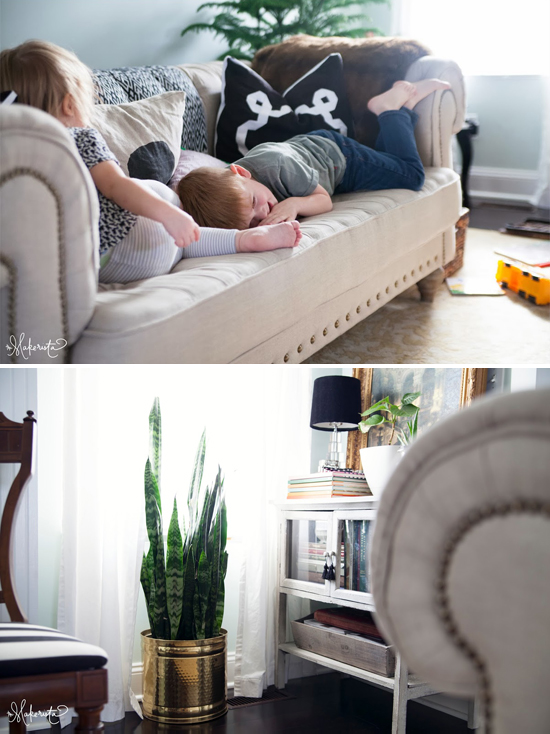 12. What future plans, projects, and goals have you most excited right now?
We are currently refreshing our master bedroom and we have some plans in the works for the master bath.  I'm really excited about both of those projects, and also enjoying being apart of the Better Homes and Gardens Blogger Awards right now.  What an honor!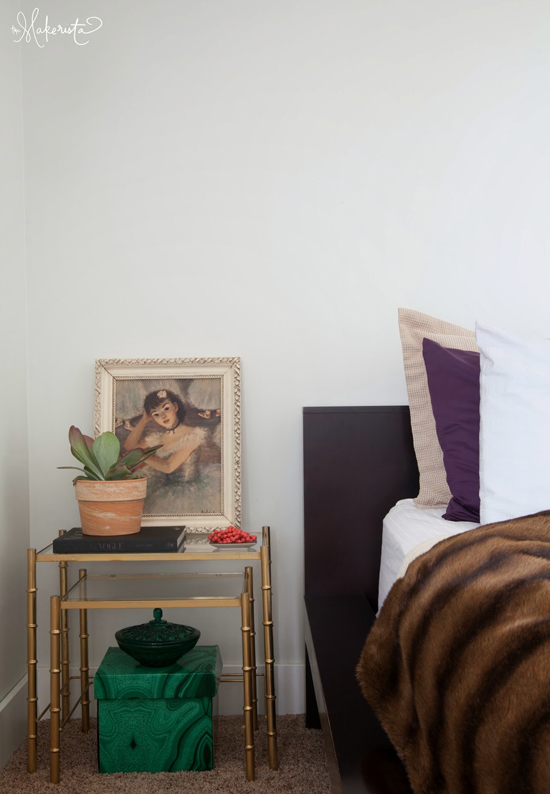 Isn't she awesome? I'm totally inspired by not just her home, but by Gwen herself.
What's your favorite thing about this house, or about the interview with Gwen? My favorite is probably all the plants throughout her house. And the living room. Did you love those shelves? She used black foam board for the back of them--so smart!
All photos via The Makerista.

For awhile, I felt like dark colors were everywhere--dark wood floors, dark furniture, dark leather, etc. But lately, I've been seeing a resurgence in pale shades. Light wood floors, natural blonde wood frames, and pale, vegetable tanned leather. I'm not really into dark interiors, so I'm really happy about this trend and hope it sticks around! What do you think? Have you noticed this shift as well?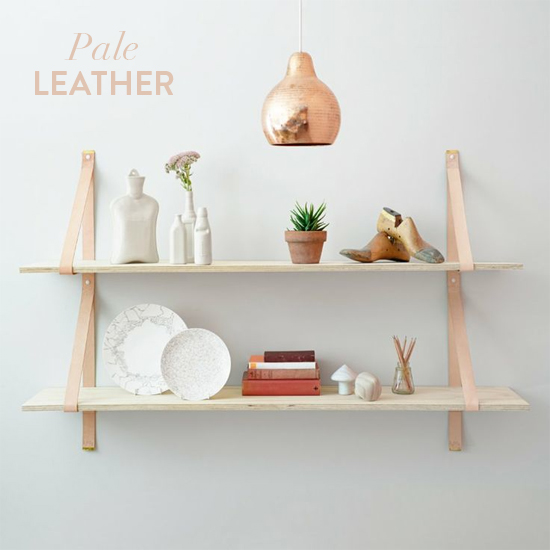 I've always loved these double shelves hanging from blush-colored leather straps. They were the inspiration for my DIY belt strap shelves!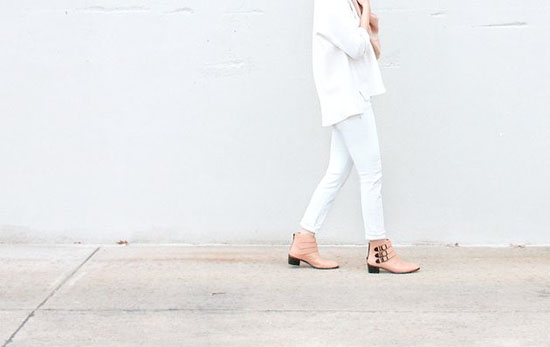 And this outfit is so soft and pretty!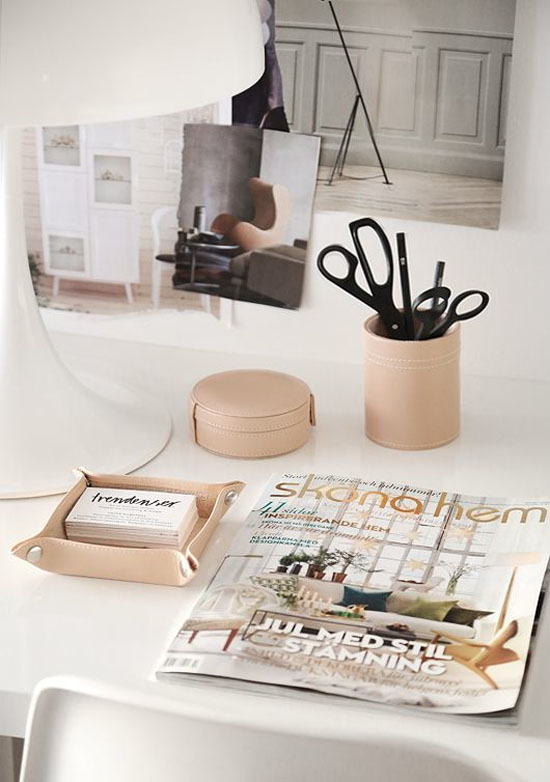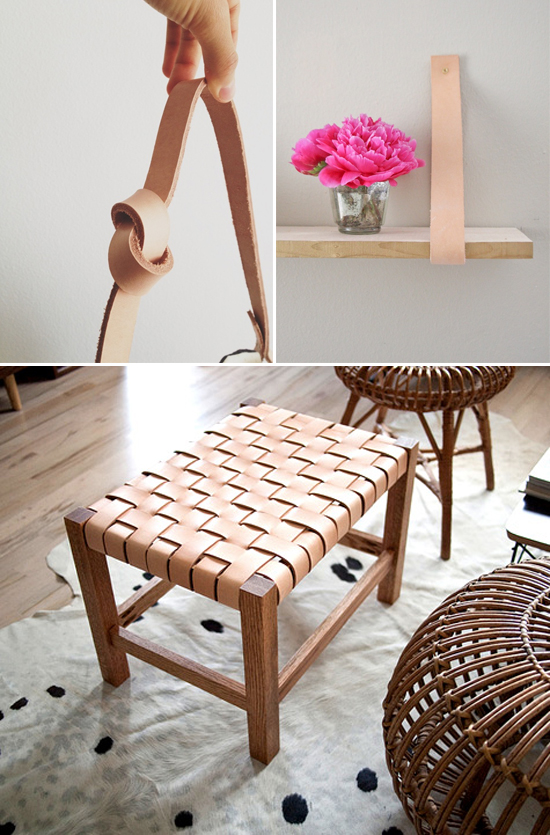 Love all these ideas. The hanging shelf and the bench above are both DIYs. And the ideas below could definitely be DIY'd as well. I really like that mirror, but it's super pricey. $620? Definitely not in the budget. So maybe I'll try making one myself. The leather strap drawer pulls are really lovely too (do you remember them from this post?)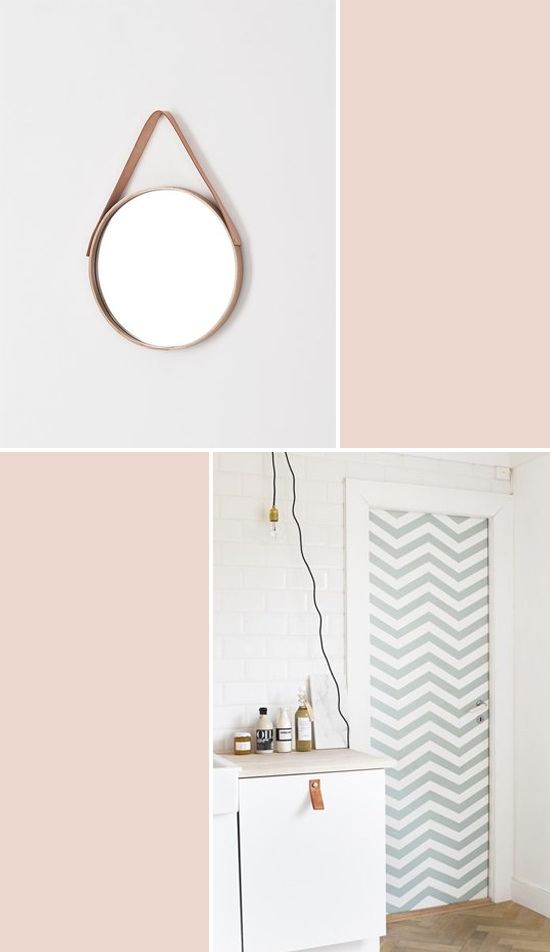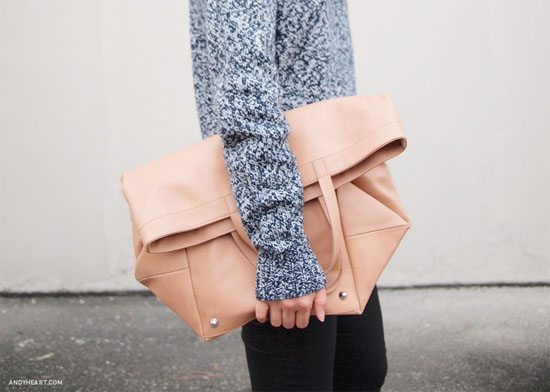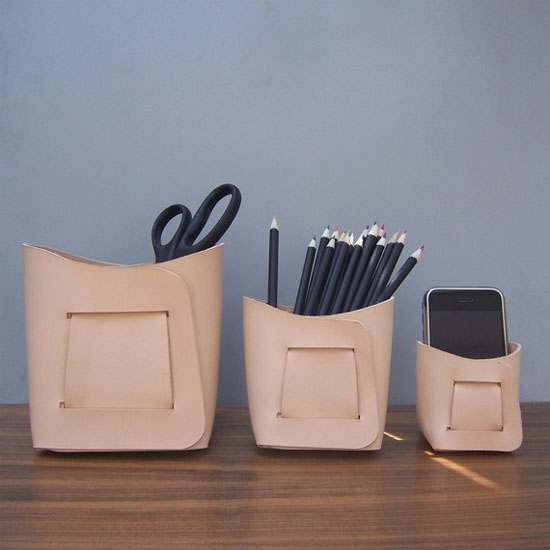 1 / 2 / 3 / 4 / 5 / 6 / 7 / 8 / 9 / 10 / 11
I also thought it would be fun to pull together some products you can buy to get the look. These are some of my favorite pale leather pieces--for your home or your wardrobe! I think they're all so elegant and chic. Warning: some of them aren't cheap, but at the very least they can serve as inspiration, right?