Every year, I like to set myself some big, overarching goals for the year, as well as some smaller, fun "resolutions" that are easy to accomplish. For example, last year I got my first balayage, signed up for a gym membership, and hosted my first Friendsgiving (among other things). This year, I decided to pick some simple resolutions related to decorating. I chose five specific goals that I'm excited about working on, and confident that I can successfully finish this year. In fact, I've already tackled #3--the guest room! It's good to think about the big things you want to accomplish and change in your life...but it's also worthwhile to write down fun little things. It's kind of like a "30 before 30" list. By keeping your to-do items light-hearted, simple, and super doable, you get the satisfaction of actually crossing them off your list! Which feels sooo good.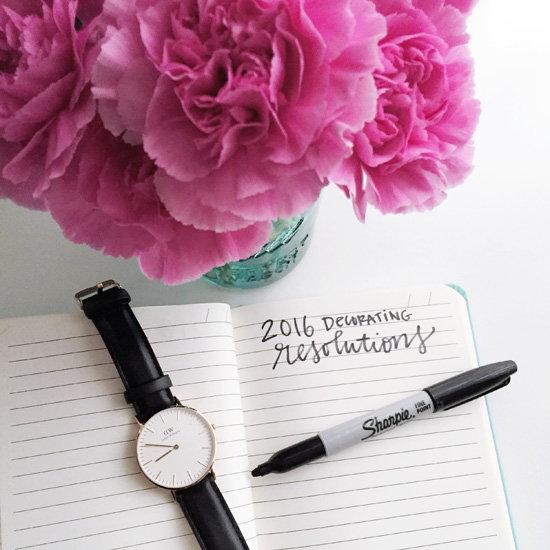 Check out all five of my 2016 decorating resolutions over on Bali Blinds, so you can keep me accountable. And I'd love to know, do you set yourself fun goals for the year, in addition to serious ones? Do you have a "30 before 30" list? (or "40 before 40", etc.)? If so, what are some of the items that you're looking forward to checking off?


I've always wanted to have a nice guest room for friends and family who come and stay with us, but until now our extra bedroom has been crammed full of "storage" (aka junk). I've tried to work on it a couple times, but it was so overwhelming I just couldn't muster up the energy to continue. After organizing my craft cabinet a couple weeks ago, I decided it was finally time to tackle the guest room--and finish it. Sometimes it takes a small win to give you the encouragement and motivation needed to take on the next big thing! Our guest room is pretty small, so we have a twin bed in there for now. Eventually, when we have a bigger house, I want a a nice queen bed for couples...but at least this is a huge step in the right direction. After all, we still have a lot of single friends and siblings that come to stay with us. I partnered with Kohl's to furnish this room--did you know they have an awesome home department? I had never thought to shop there before, and I was impressed with the variety of stylish pieces they carry. I'm giving away a $100 Kohl's gift card at the bottom of this post, so don't miss it!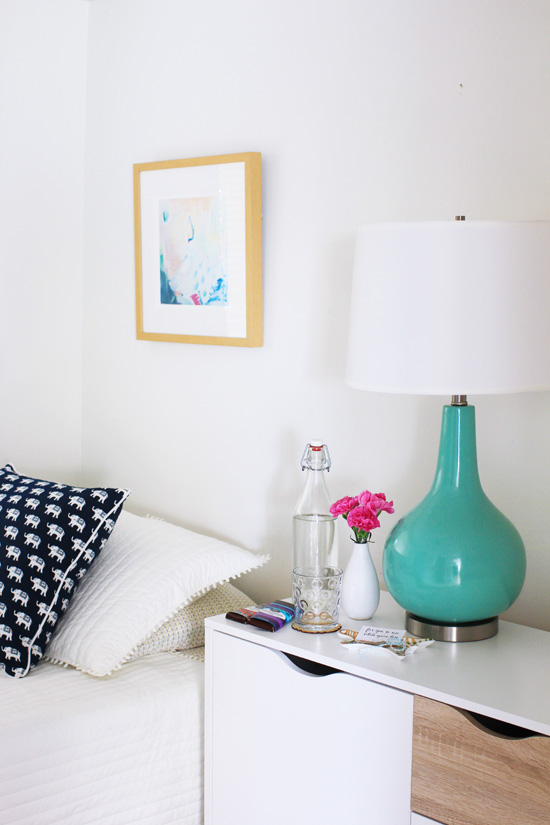 I forgot to take a before picture of the guest room, but trust me when I say it was SO BAD. There was barely any floor space to walk on--boxes, furniture, half-finished projects, and random junk covered every surface. We'd basically treated it like a storage unit for three years! So first things first, we took everything out of the room and sold, donated, or threw away as much as possible.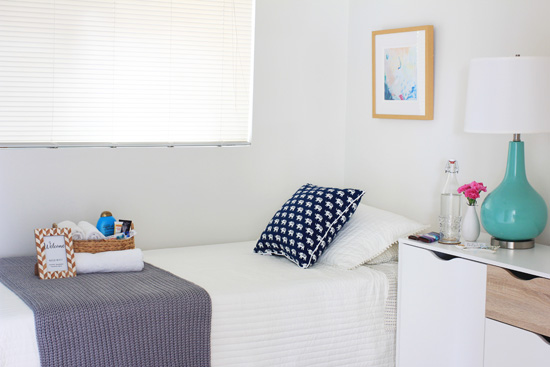 Then it was time for the fun part--decorating! I got some cute, gender-neutral bedding from Kohl's and hung some art on the wall.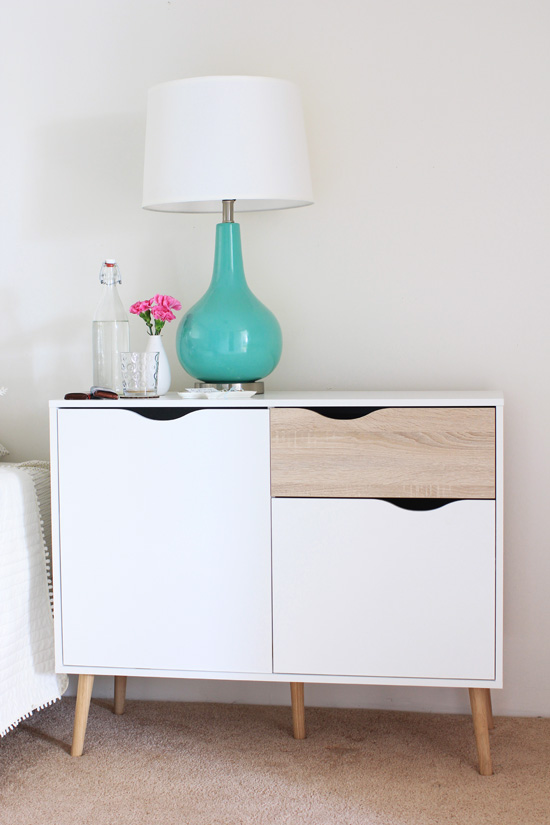 Instead of a nightstand, I picked out a gorgeous, modern cabinet. Since our bedroom is a small space, it's great to have one multi-tasking piece of furniture that can do double duty as storage and a bedside table.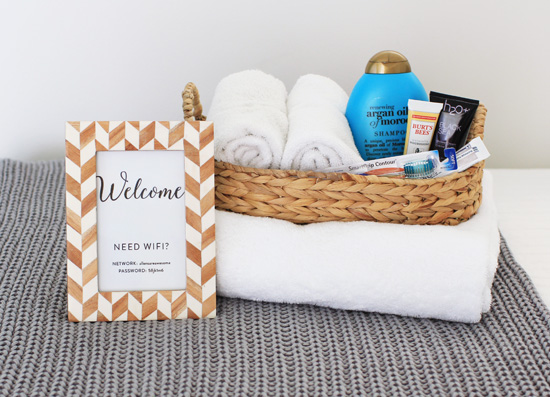 Lastly, I added some accessories to make the room feel more welcoming, like a throw blanket for extra warmth, a small frame with the Wifi password, and a basket filled with toiletries and essentials, in case guests forget something.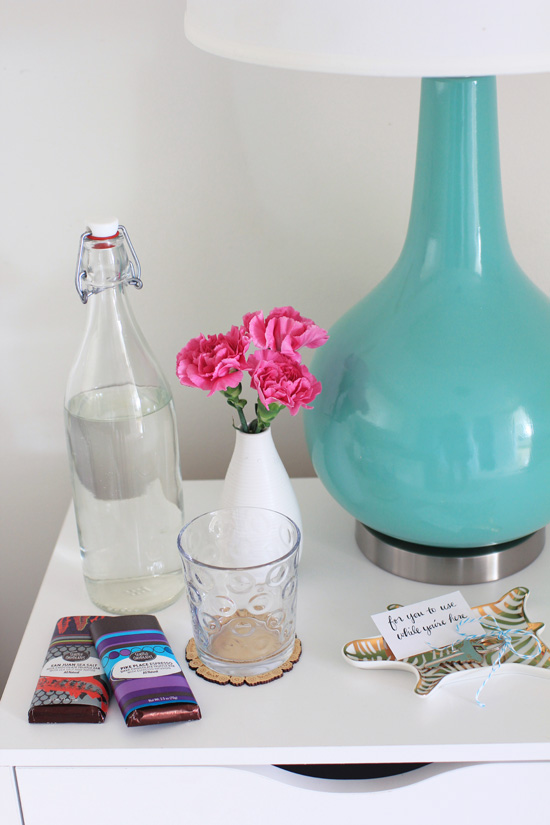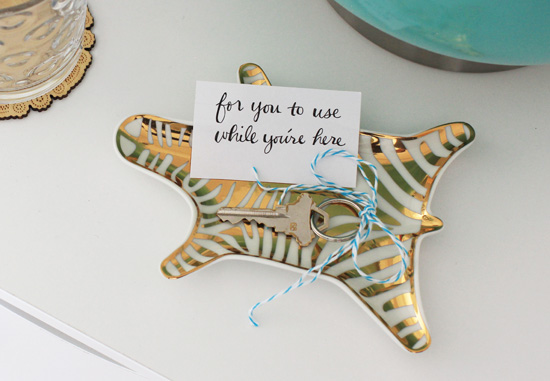 A few other nice touches? Provide a water pitcher so guests don't have to tiptoe into the kitchen at night, give them a spare key so they can come and go as they please, and add some flowers on the nightstand to make the room cheerier. If guests are from out of state, I also like providing them with some local snacks to welcome them to Washington.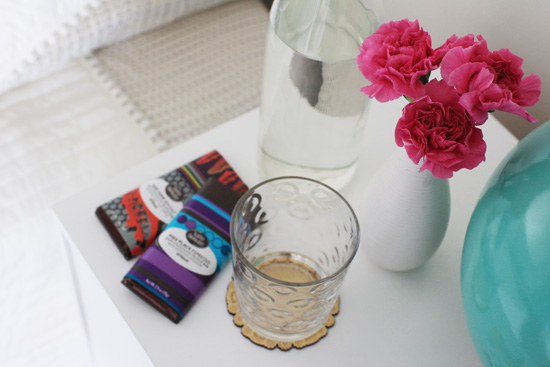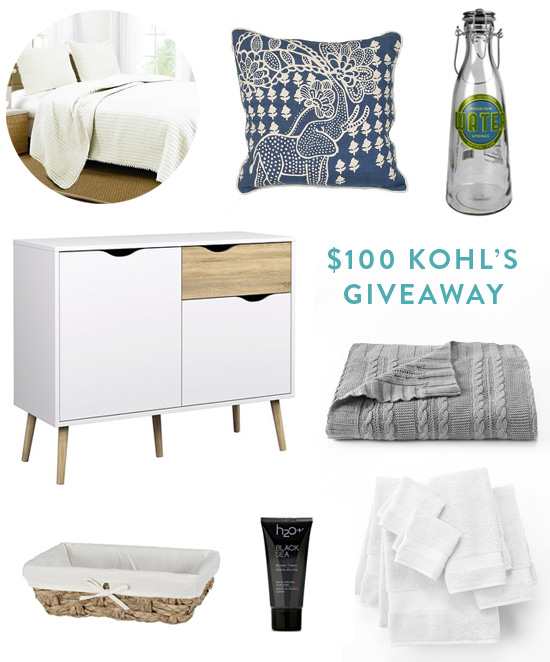 Shop this room: Quilt / Pillow (similar) / Carafe (similar) / Cabinet / Throw / Basket (similar) / Body wash / Towels
Our guest room still isn't perfect (a twin bed isn't ideal, and those blinds need to go), but it's come a loooong way. Do you have a room that's in dire need of a makeover? Be sure to enter the giveaway below. You could win $100 to spend at Kohl's!
Even if you don't win, be sure to check out these two big sales they have coming up on 1/29: $10 off a $50 home purchase with the promo code HOME10, and 20% off using the promo code FORYOU20. And good news: the codes can be stacked!
Thank you to Kohl's for partnering with me on this post.



I have the urge to switch things up a little in our house. New year, new look, and all that. I'm not going to make a lot of changes because a) we're in a rental and we're hoping to move this year, b) we can't afford to do a huge dramatic makeover and c) I'm mostly happy with everything in our house anyways. But I'd like to rearrange and add some new things to the mix, so it feels fresh. One of my favorite ways to add newness is with art...so I've rounded up some of my favorite pieces!

Cup of tea / Neon philodendron / Baby deer / Out to sea / Moon and back / Tulum / Enjoy the little things / Swoop
What are some of your favorite (inexpensive) ways to switch things up, when you get sick of the same old decor? And where do you shop for art? I'd love to know!

Almost exactly a year ago, we went on a weekend getaway with some friends to Camano Island, and stayed in these darling cabins on Cama Beach. We had so much fun, we decided to do it again this year...and again, it was a blast! It might seem weird to do a beach vacation in the winter, but the cabins are heated and we have a good time sitting inside and playing games while the rain patters outside. Plus this year, we unexpectedly got a sunny Saturday! We took advantage of it, exploring the island, combing the beach for seaglass, sitting outside and chatting, and having a campfire at night. It was especially nice to see all the stars out, since last year it was foggy the entire time. That's one of my favorite things about getting away from the city! We also saw lots of bald eagles, a seal, llamas, and wild bunnies...but of course, the best part was hanging out with each other.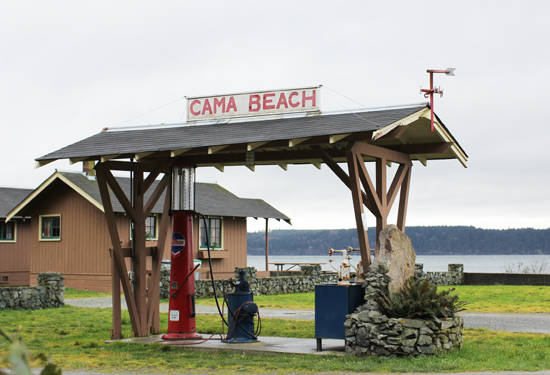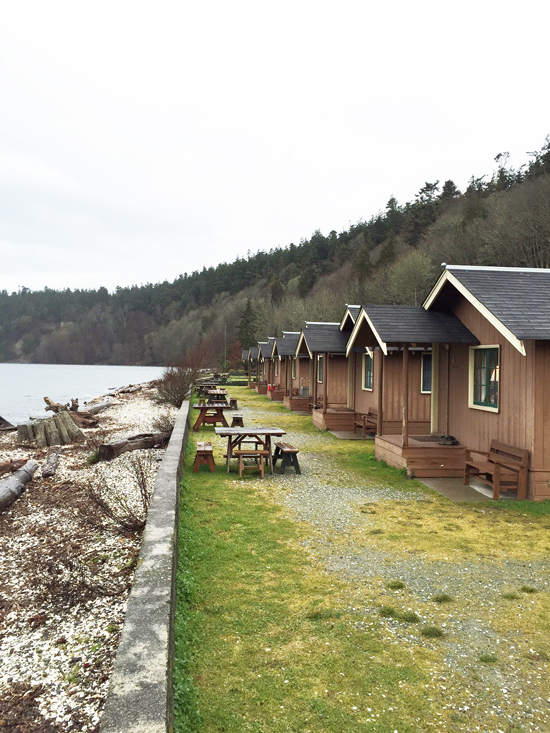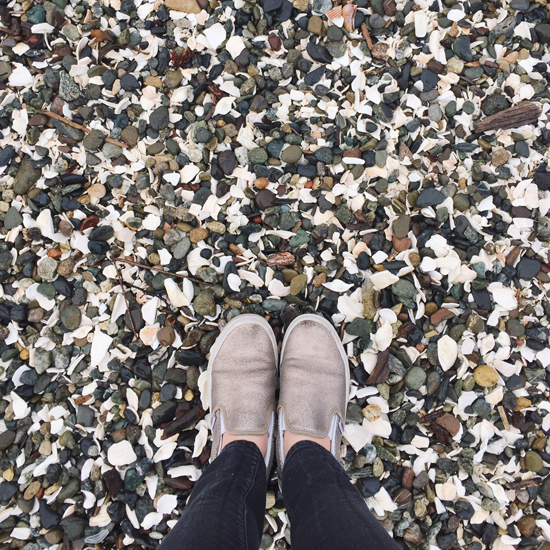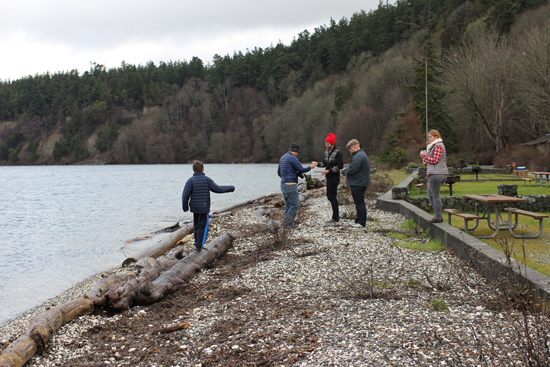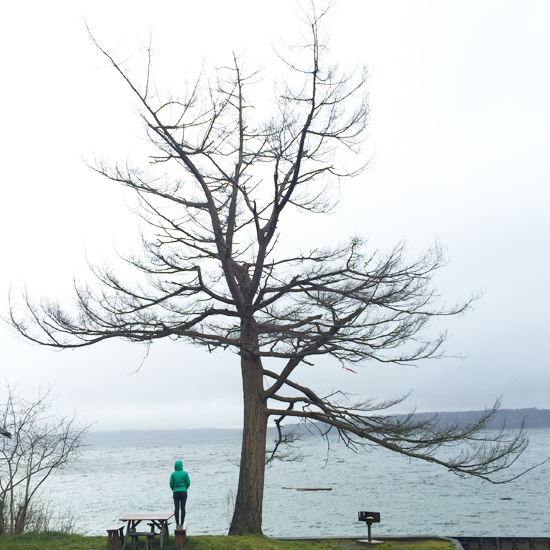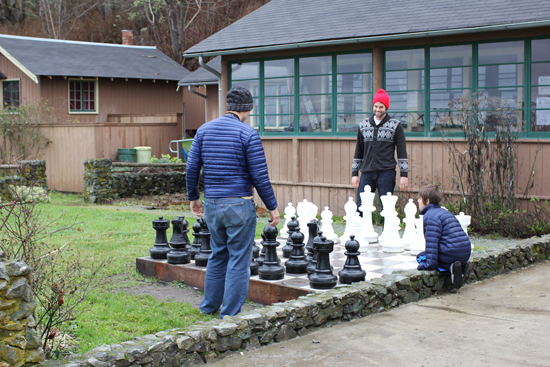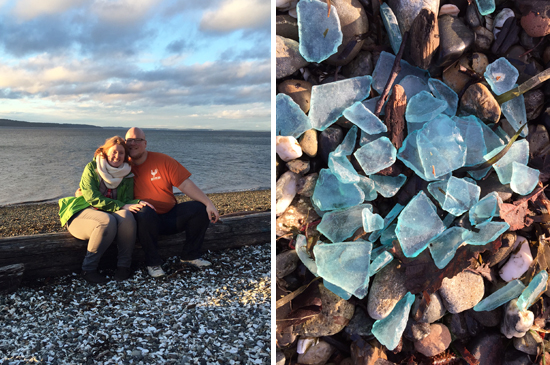 Our friends Peter and Hannah are moving to Germany soon, so it was especially nice to spend some quality time with them. We are really going to miss them (sniff!).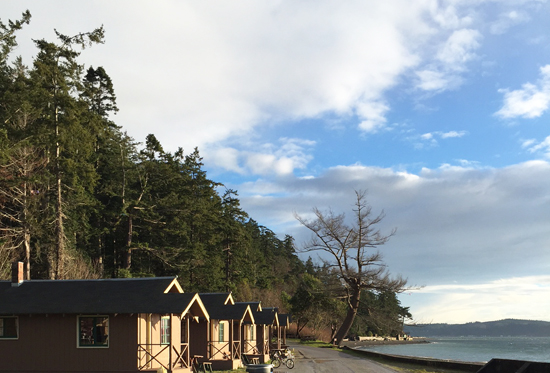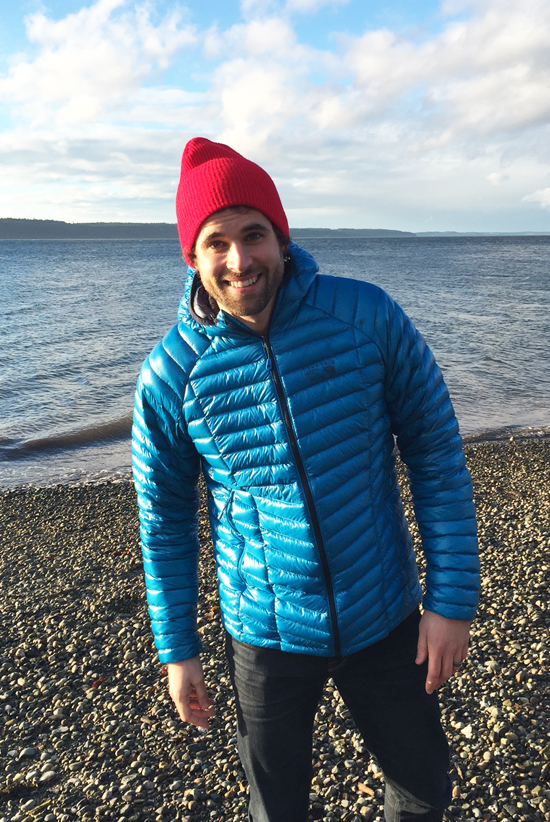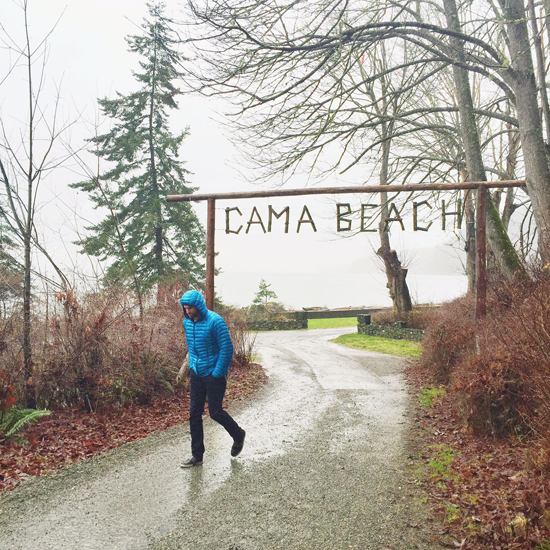 So there you go! Some pictures from our weekend. It wasn't a fancy vacation or anything, but it was really fun. And I'm trying to do a better job of documenting our everyday life, friends, and family...the stuff I want to remember and look back on, not just "Instagram-worthy" shots of pretty things.
How was your weekend? What did you do?