So I realize, there probably aren't that many people who actually care about what color Pantone picks as the color of the year. But last year I wrote about emerald after it was picked for 2013 (and I truly loved that color choice), so I was kind of excited to find out what they'd pick for this year. And the color for 2014 is...radiant orchid? I'll admit, my first reaction was more along the lines of  "eeeww" than "oooh!" But I thought I'd give it a try and pull together some images using this shade of pinky-purple as inspiration.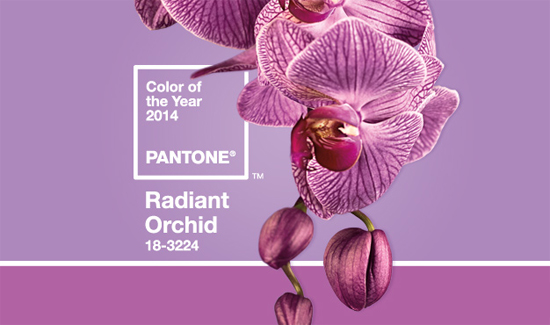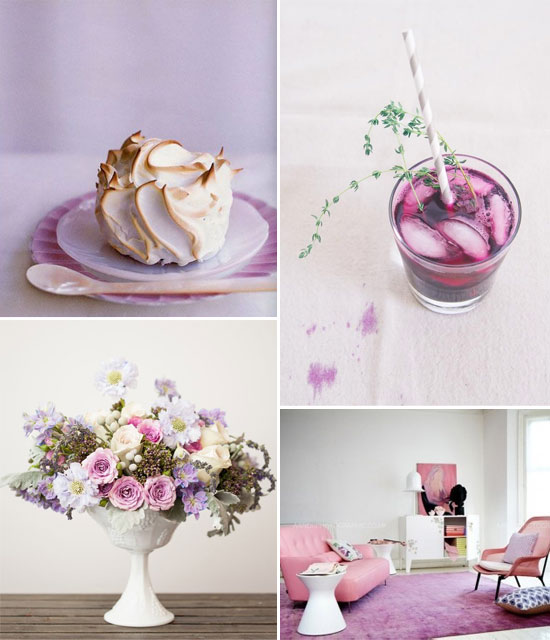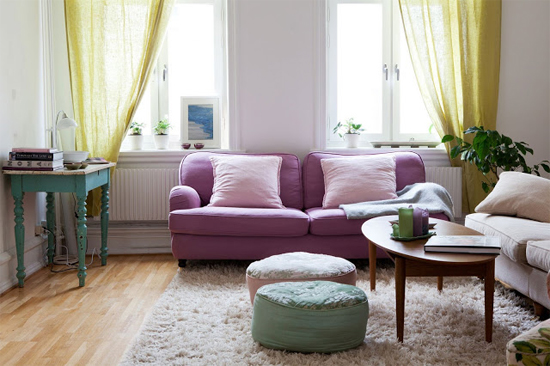 I actually love that purple roll-arm sofa paired with the mint green pouf--it reminds me of this post I wrote about lavender + mint.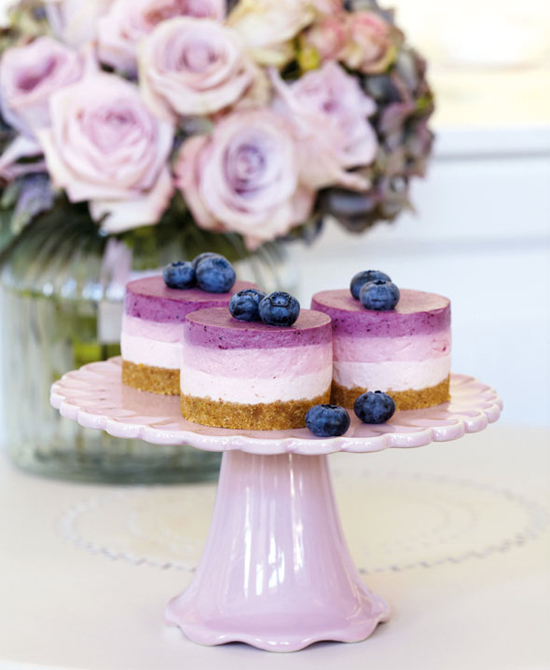 And these blueberry cheesecakes look delish!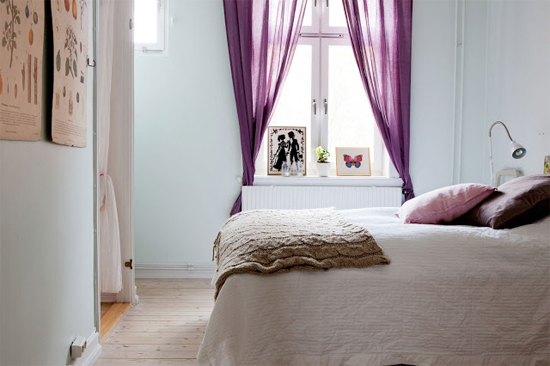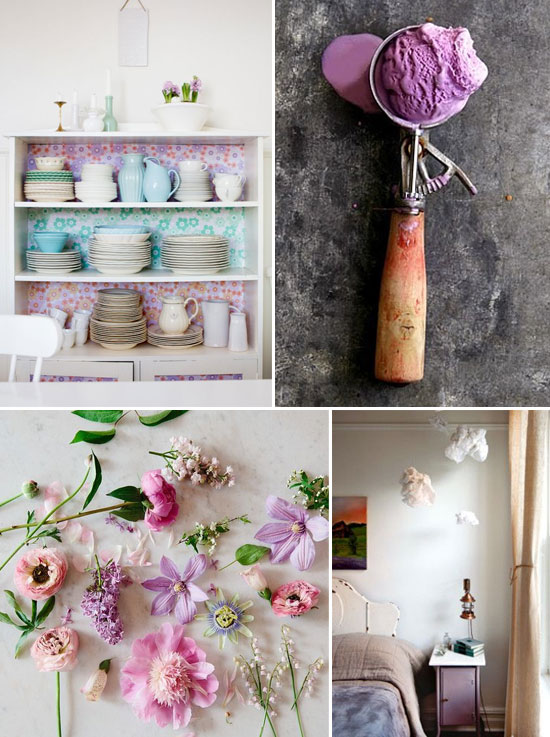 Would I paint a whole wall in radiant orchid? No way. But a little nightstand or wallpaper on the back of a hutch? That I would do. And of course, flowers are one of the best ways to infuse some pretty color.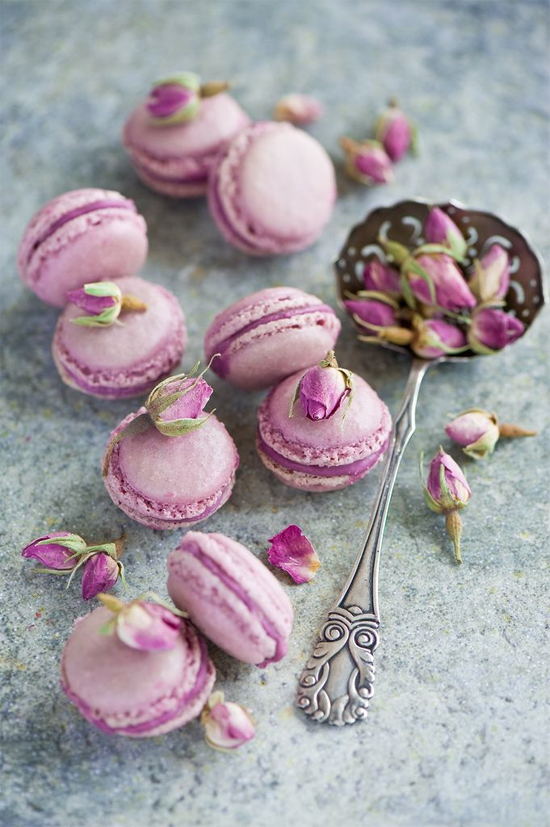 In the end, you should always pick colors based on your tastes, not what is trending or what someone else says. But I'm still curious, what do you guys think of radiant orchid as the color of the year? Do you love it? Hate it? Are you totally indifferent? Tell me about it.
P.S. Today's 24 Merry Days giveaway is over on The Sweetest Occasion!
1 / 2 / 3 / 4 / 5 / 6 / 7 / 8 / 9 / 10 / 11 / 12 / 13


I absolutely love Caroline of Patchwork Harmony's style--I've posted about her here and here, and she wrote a guest post while I was on vacation all about copper (remember that one?). So when she shared a tour of her house, with photographs by Kasia Fiszer, I knew I was going to love it. And I was right! Caroline and her husband live in a 2 bedroom Edwardian maisonette. They've kept their walls mostly neutral and furnished it largely with items from vintage shops and markets. Caroline likes to mix contemporary finds with vintage treasures to give her home a more "modern vintage" feel--which is totally my style as well. I think she's done a wonderful job of it. Let me know what you think--I'm pretty sure you'll agree!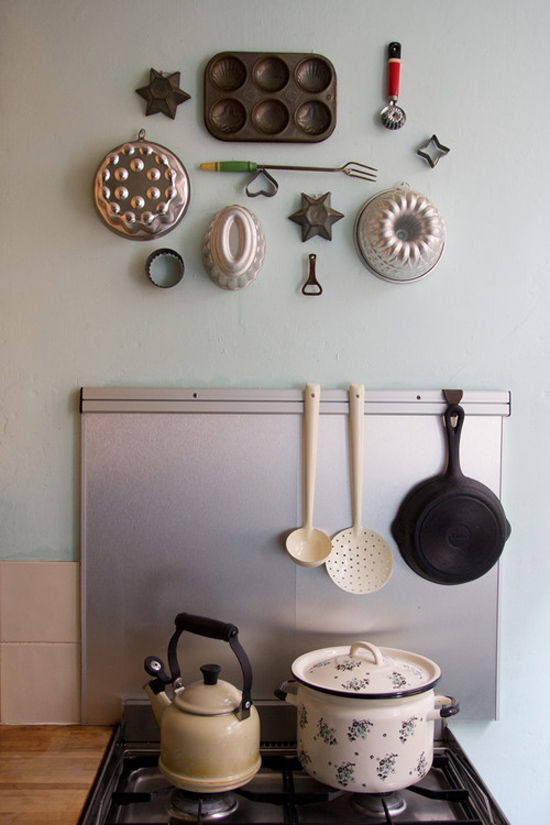 I love how she hung vintage utensils on the wall in the kitchen. Very cute--and functional too.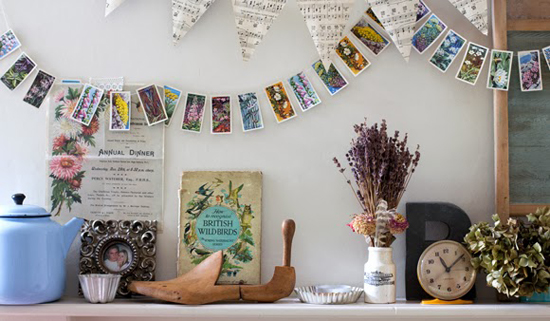 The photo above is a snippet from their dining room. The kitchen and dining room are getting renovated in January, so there aren't any other photos of them (but I can't to see them after the reno!). Caroline is the queen of finding great deals at thrift shops and flea markets. Almost all of her decor is thrifted--she got the typewriter below for £5, including it's carrying case!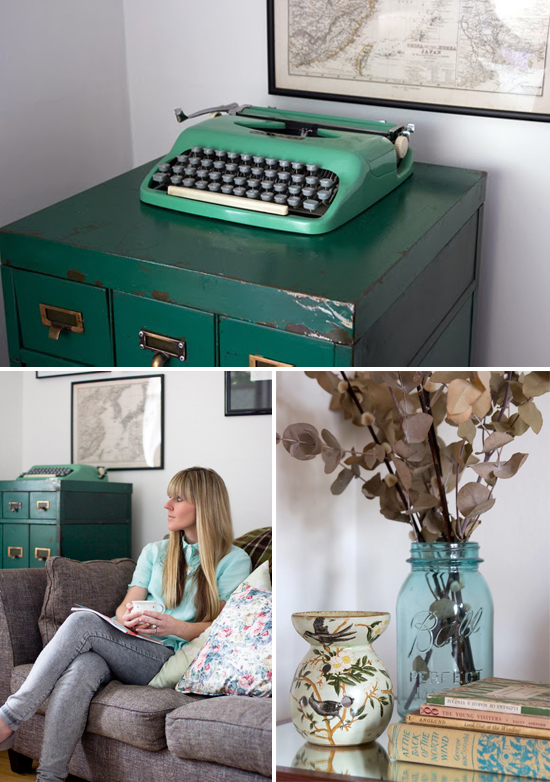 From Caroline, I think it's incredibly important to surround yourself with things that make you happy, whether that's people, a landscape or an interior. Your home is a reflection of your personality, or at least it should be. That's why I prefer homes that have been created over time and filled with objects with stories, as opposed to one that's been created in a week by an interior designer. I think that's why we love looking inside people's homes so much, as you find out lots about a person by how they've decorated and styled their home. So true! I much prefer "real" homes where the homeowner's style and personality shine through, versus a polished and magazine-perfect home that just reflects the designer's style. There's nothing wrong with getting help from a decorator, of course--but your home should feel like your home and not their portfolio piece. You know what I mean?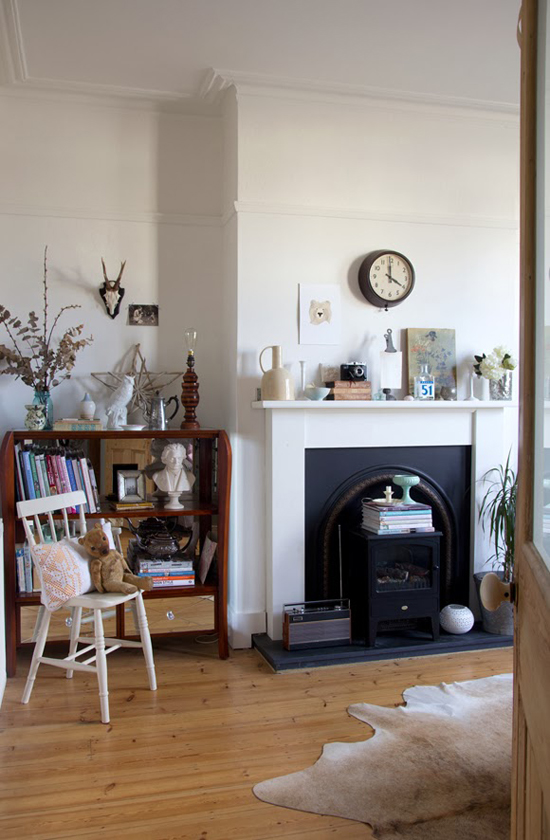 What's your favorite part of Caroline's home? I think mine might be her fireplace and mantel--but I also really love the pigeon wallpaper in her bedroom (which is funny, because I don't really like pigeons)!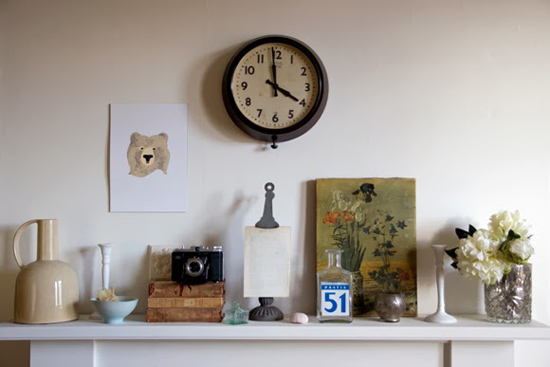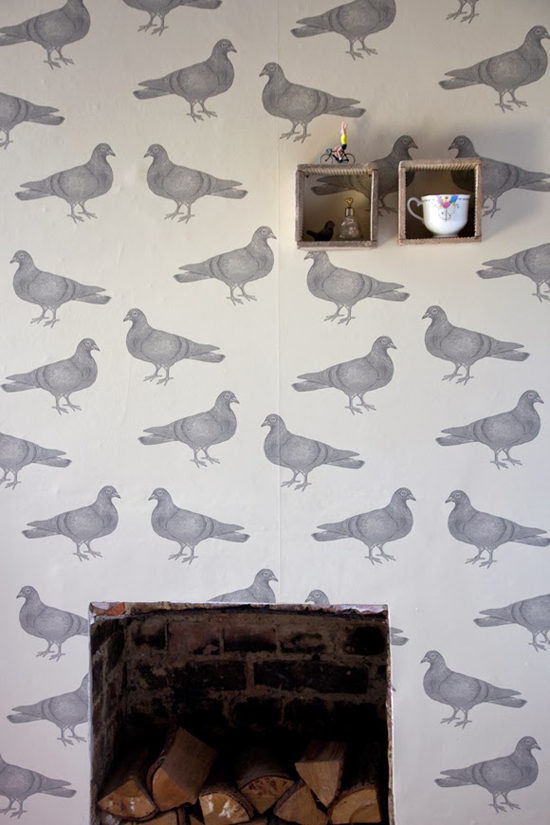 It's so cute, right? The wallpaper is by Thornback and Peel. I also quite like the frameless mirrors hung on the wall, and the stag coat hook from Caravan.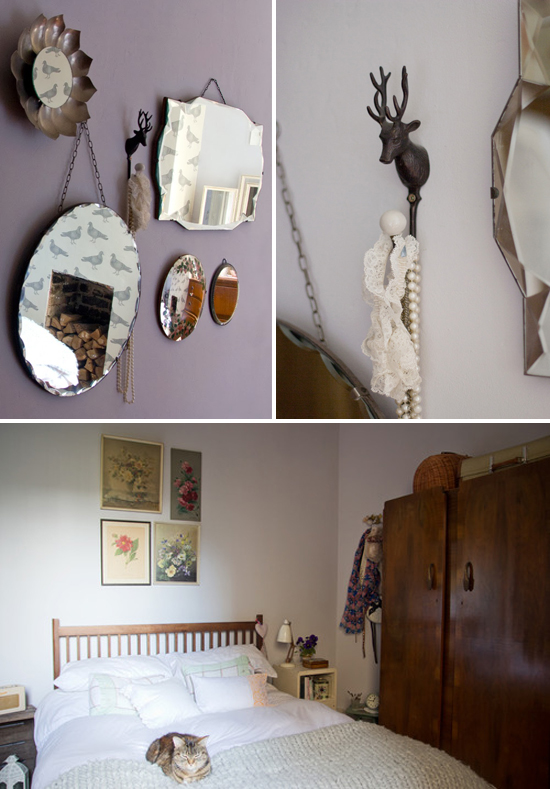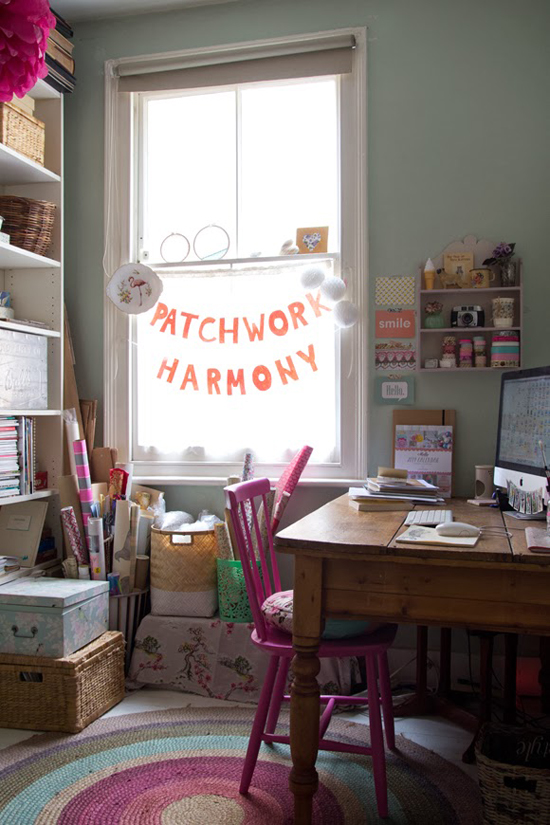 This area is Caroline's office, where she runs Patchwork Harmony and 91 Magazine. It's so bright, cheerful, and full of inspiration.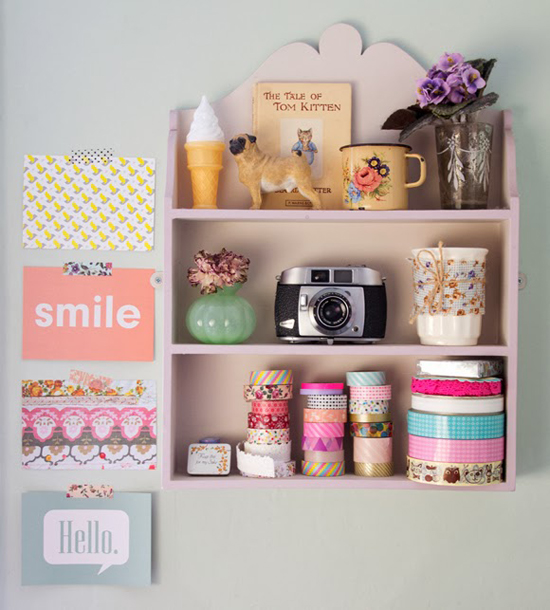 Love her little display of washi tapes, ribbons, and other treasures. The camera belonged to Caroline's grandfather!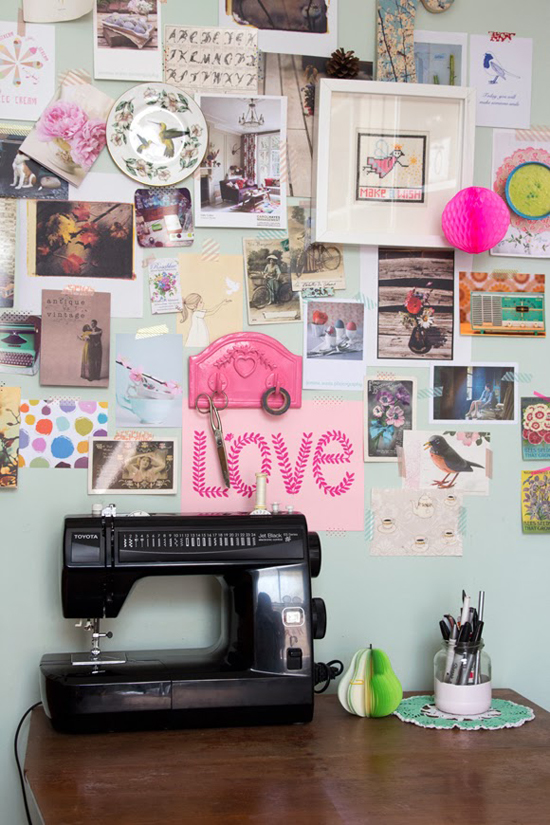 Do you guys send out holiday cards? Honestly, Ben and I never have...maybe once we have kids, we'll do them, but right now it doesn't feel all that necessary. But if we were doing holiday cards, you'd better believe I'd be DIYing my own with the help of some cute free fonts! So I've rounded up some pretty options that would be perfect for whatever project you're working on, whether it's holiday cards, gift tags, or invitations for a Christmas party!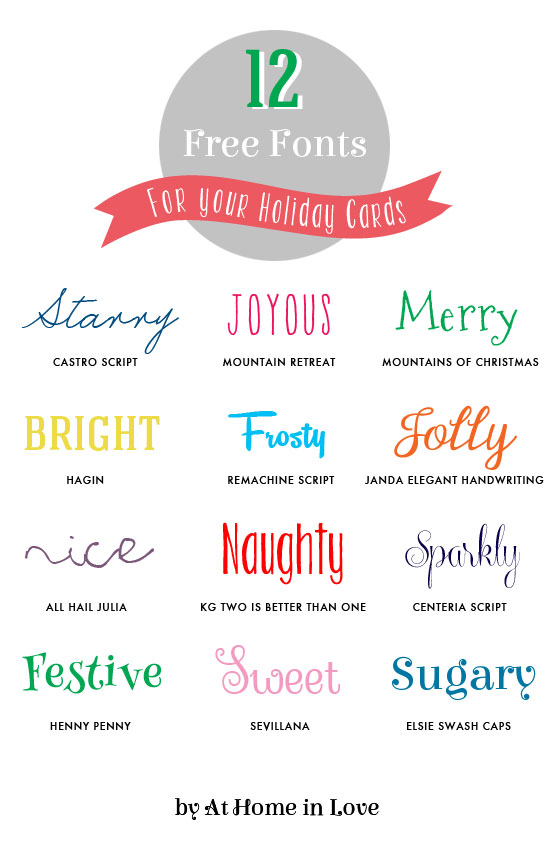 1. Castro Script  / 2. Mountain Retreat / 3. Mountains of Christmas  / 4.  Hagin / 5. Remachine Script / 6. Janda Elegant Handwriting / 7. All Hail Julia / 8. KG Two is Better Than One / 9. Centeria Script / 10. Henny Penny  / 11. Sevillana / 12. Elsie Swash Caps
You can also find more of my favorite free fonts here and here!
Oh, and I had someone ask me for directions on how to download fonts. I use a Mac and it's super easy. Just open the downloaded folder and double click on the .otf or .ttf file. This will open a preview box. Click the button on the bottom right corner that says "Install font." And that's it! I'm not as familiar with what to do for a PC, so I found a tutorial for you PC-users. Trust me, once you figure it out, you'll be hooked. There are so many fun free fonts out there--there's no reason you should be stuck with just the fonts that came with your computer (bo-ring!)
Are any of you designing holiday cards this year? Any other typographic projects you've got going on?
Don't forget to enter today's 24 Merry Days giveaway on 1000 Threads. Have you guys been entering these? If not, better get on it! Visit the website to catch up.

It's December and Thanksgiving is over, so to me that means winter is officially here! Officially officially the first day is December 21st, but the weather waits for no calendar. It hasn't snowed in Seattle yet, but it's been freeeezing cold and I've heard it may snow this week. How about where you are?
Now, I know a lot of people are super excited for winter because of all the holiday festivities (I love the holidays too!), but honestly, winter is my least favorite season. Cold mornings, dry skin, high heat bills...and I hate that it's dark when I head to work and dark when I get off. So today I rounded up some images that give me warm, cozy feelings about winter. Because I'm choosing to welcome winter this year instead of dread it. Who's with me?!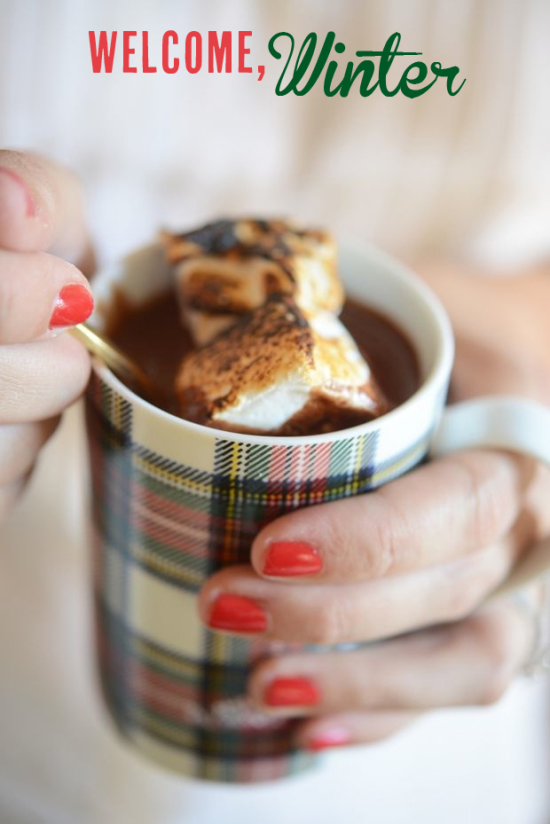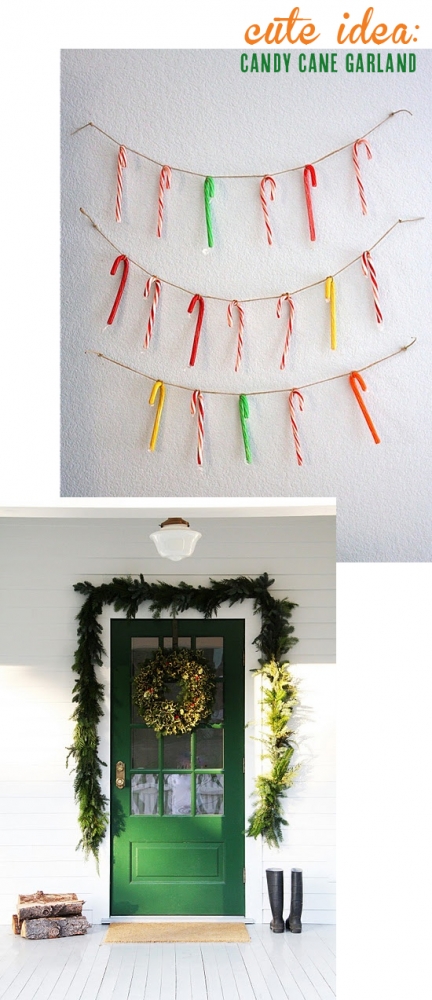 I love the idea of a candy cane garland. So easy and cute, and candy canes come in tons of colors so you can make your garland fit whatever color scheme you've got going on! That bright green door is festive and cheery as well--see my post on a-door-able front doors here.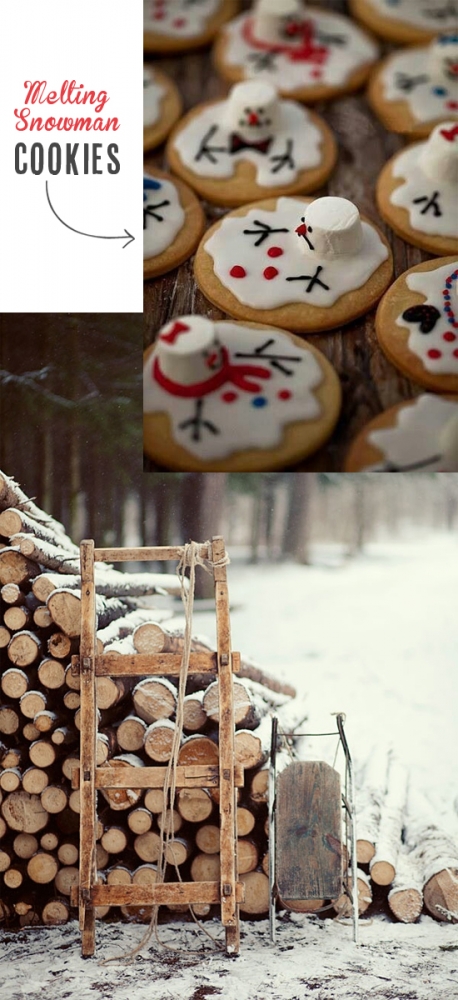 Melting snowman cookies? Adorable!!! I've got to make some this season.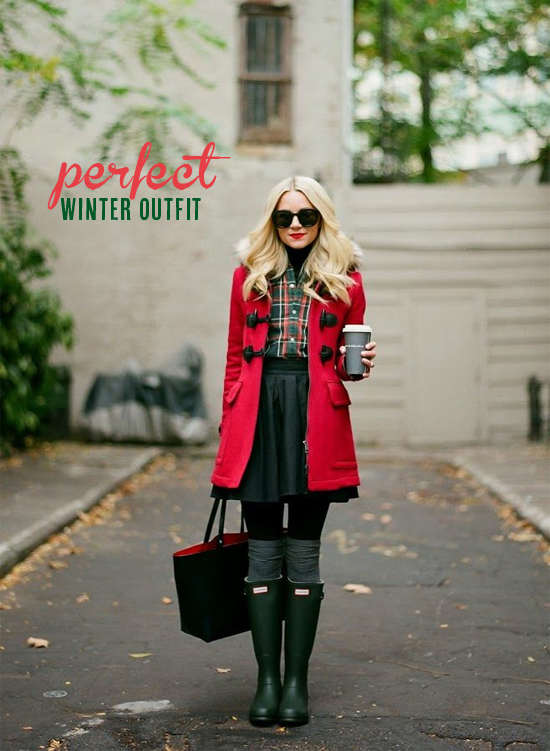 This is the perfect winter outfit--a bright red peacoat, a plaid shirt, a pair of Hunters with boot socks, and a cup of coffee (the best accessory)!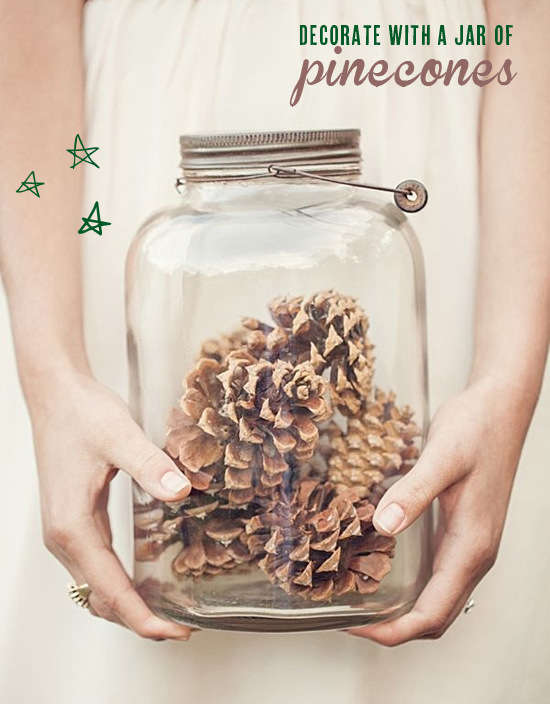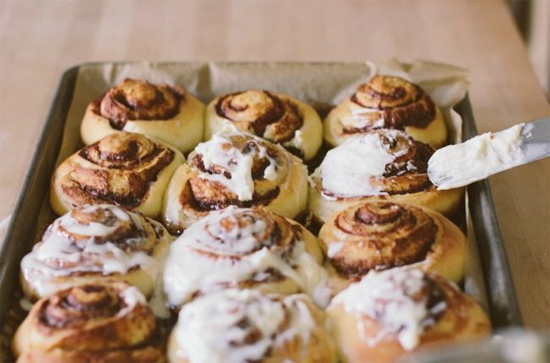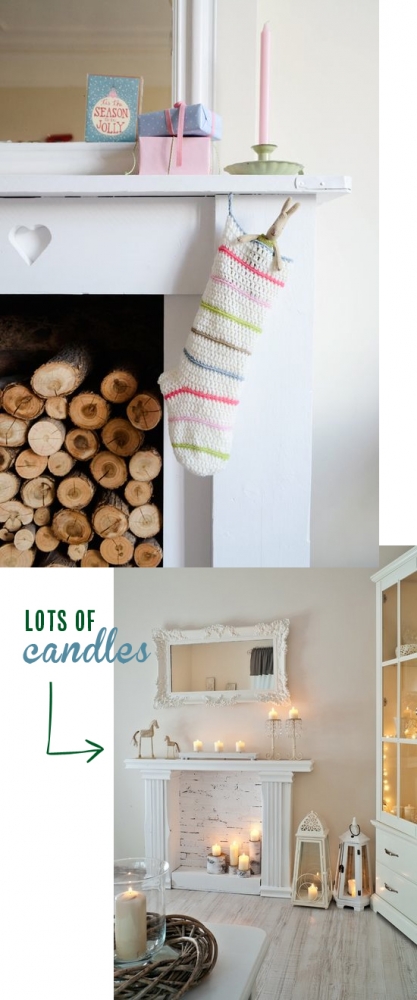 I love the pastel take on holiday decorating, above. Who says you have to go all red and green? In fact, last year I wrote a post on a merry & bright Christmas incorporating neon. I also love soft whites and neutrals…with lots of candles, of course! So pretty.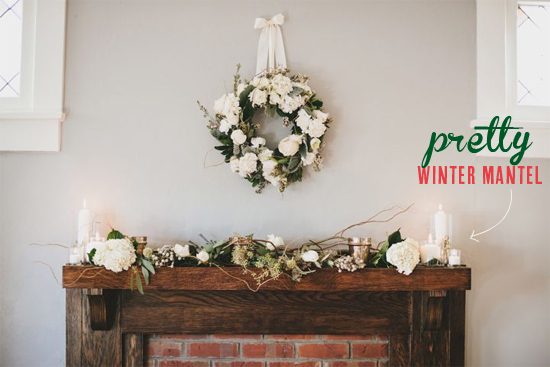 What are you looking forward to this winter?
See more cozy winter photos in my Winter board on Pinterest. And don't forget to enter today's 24 Merry Days giveaway--a darling bike on The House that Lars Built.
1 / 2 / 3 / 4 / 5 / 6 / 7 / 8 / 9 / 10 / 11