Well, that's it friends! Another year on the books, and what a year it was. Before we move on, I wanted to pause and reflect on 2017, both personally and with regard to this blog. I always strive to be honest with you guys, and while I don't think it's healthy to be introspective all the time, I do like taking time for reflection every now and then. The first day of a new year is a natural time for this, and it's a one of my favorite traditions...to quiet myself, pause all my activity, consider what my goals and priorities really are, and make sure I'm doing things with intention and not just on auto-pilot.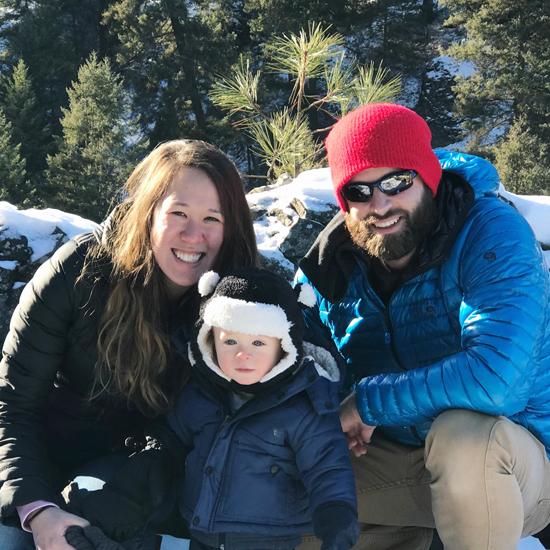 Truth be told, 2017 was the hardest year for me yet with blogging. Early in the year, I got an email asking me to remove a photo that (though properly credited) I hadn't asked permission to share. They threatened legal action, which scared me enough to go through my archives and delete any posts with photos that weren't my own. Needless to say, that took out a big chunk of my old blog posts, since I used to love sharing inspiration, trends, and ideas. I know many people are happy to have their photos shared (with credit, of course)...and I know I could reach out and get permission ahead of time for blog posts moving forward, but I felt like the safest course of action was just to stick with my own photography.
However, this made each blog post pretty time-intensive this year. Taking my own photos requires me to plan ahead so I can shoot when there's good natural light (and this year, there was the added necessity of shooting during Ian's naptime). Besides the photography itself, it also takes time to style the room, edit photos, crop and resize, and upload them...a lot more work than simply posting inspiration photos and writing about why they caught my eye. You may have noticed that most of the posts I managed to publish this year were sponsored posts. That's not because I was indiscriminately accepting any sponsorships that came my way (I still turned down a lot)...it's because I just did not have time for additional blog posts besides the ones with deadlines.
I don't mean to complain...blogging is still a DREAM job and I realize how lucky I am to get paid for something I love. But I have to admit, this year there were multiple times that I considered throwing in the towel...for multiple reasons. One of them is that I'm just not that excited about DIY projects anymore--and that used to be a big part of this blog. I used to spend hours thinking of ideas, planning them out, and executing them. And I had fun doing it! But this year that just seemed exhausting, and I found that I'd rather simply buy something I love rather than try and recreate it myself. So my DIY posts pretty much died this year.
Another reason I felt defeated in 2017 was the (very unhealthy and detrimental) habit of comparing myself to other bloggers. Being an "influencer" (although I hate that word) has become such a common thing. Now there are an endless number of people with huge Instagram followings, and that's what a lot of brands care about when deciding who to work with. It's hard not to feel like your worth is defined by a number--and meanwhile, my Instagram barely grew this year. So I felt, often, that I would fall behind, unless I wanted to devote a bunch of time to strategies for gaining followers (which feels weird and unnatural to me--plus, I was trying to spend LESS time on my phone).
Lastly, the biggest reason is a positive one--becoming a mom! When Ian was born and I quit working full-time, I naively thought that I'd have more time for blogging since I would be home all day. And when he was a newborn, that was true. But as he got older, he got more interactive and busy, and he took less naps. Now he's down to one nap a day, which is also the time I use for prepping dinner, cleaning, and (occasionally) relaxing with a book or a show. I don't want him to see me on my laptop all the time, and I also don't want to spend my whole day blogging anyways. Ian loves getting out of the house and going to the library or the grocery store or the park (when it's not winter!) and I love planning playdates with my friends and their kids (lots of my friends in Spokane are also stay-at-home moms, which has been really nice). So I just haven't been focusing on blogging as much as I thought I would this year. And that's a good thing! It's been a joy spending time with Ian and watching him grow and learn. This is such a fun stage of life, and I wouldn't trade it for more work, that's for sure.
So 2017 wasn't the best year for me as a blogger...but it was a great year for me personally. I managed to accomplish a lot of my 2017 goals (moving to a more affordable city, buying a house, traveling as much as possible, getting out of the house and spending more time with friends). I didn't lose weight, but I did get pregnant again, so I give myself a pass on that one. :) I'm already in my third trimester as of yesterday--it's going by so fast!!! So far, no warning signs of preeclampsia so that's a good thing too.
I feel like this time of life is so precious, I really want to soak it in and enjoy.  I have goals and plans and ideas, of course...but I also want to live in the moment, be content, and spend lots of time with friends and family in 2018. I don't want to worry so much about the direction of this blog, whether I'm falling behind, or what my next step is career-wise. Those things will come. When I really reflect on what brought me joy last year, it was the personal stuff. So my goals for 2018 will probably be mostly personal stuff as well (I'm working on a post with all of them right now). I still plan to keep blogging in 2018 (we have lots of house projects planned, which I'm excited about!), but I'll be honest...it's probably gonna be another year where blogging isn't my first priority.
Anyways, I could go on but I feel like this post is already really long. If you actually read the whole thing, I hope I didn't come off sounding negative! I still love blogging! But I wanted to be honest, and share some of the struggles I've had with it in 2017. I'd love to get your thoughts, whether you're a fellow blogger, small business owner, or blog reader. Thanks for bearing with me on a wordy, reflective post...I don't do these too often but I always feel the urge around the start of a new year!

This is a sponsored conversation with ARM & HAMMER. All opinions are my own.
After all the noise and hubbub of Christmas, I'm ready to simplify and get a fresh, clean start for the new year. And with our second baby coming in March, it's especially important to get as much as possible taken care of now, so it will be easier to stay on top of all the little daily tasks when we have less time for them. Throughout the year, my tendency is to deal with the things that are immediately necessary (like paying bills), really obvious (like a pile of dirty laundry), or fun to do (decorating and shopping!)...and I procrastinate the rest. But once in awhile, I actually get motivated to deep clean, organize, and tackle the stuff that I've been putting off. And it usually feels really good. So while I'm in a productive mood, I'm gonna try to cross off as much of my to-do list as possible...before I revert back to my lazy procrastinating ways. :)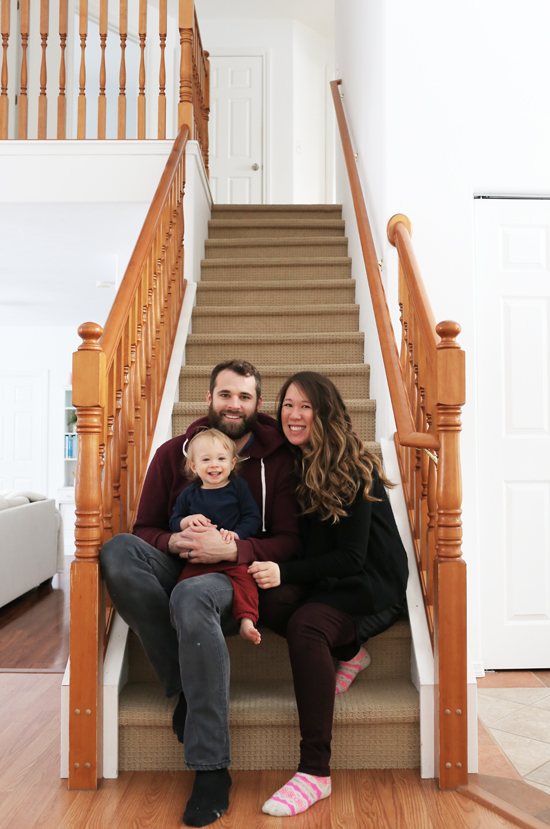 In the last week, I've washed our windows, wiped down the appliances, dusted baseboards and lighting fixtures, cleaned the dishwasher, replaced vacuum bags, removed stains from Ian's old baby clothes, and cleaned the carpet on the stairs...all things that are necessary to do, but easy to procrastinate. Maybe it's nesting, maybe it's just the start of the new year...but either way, I'm on a roll and actually enjoying it!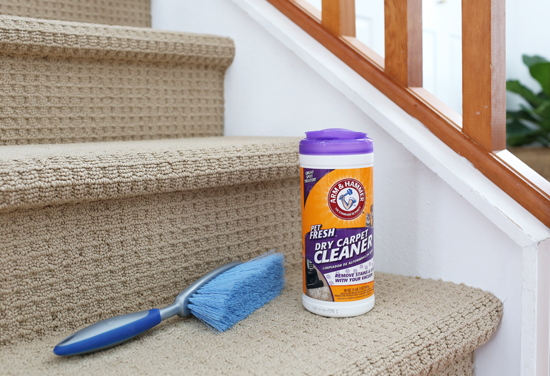 The funny thing is, I normally hate cleaning...but there's something really satisfying about these once-in-awhile tasks that I don't get from doing the dishes or hanging up laundry. There's the rewarding sense of being DONE, instead of an exhausting, never-ending cycle. I'm gonna try to stay on top of all these little things in 2018, so we can keep our clean home happening. That way, we can spend our weekends enjoying LIFE instead of catching up on housework!
To help me with that goal, I'm all about products that are quick, easy, and effective...like ARM & HAMMER™ Pet Fresh Carpet Cleaner (available at Walmart stores and Walmart.com). It absorbs allergens, eliminates pet odors, and breaks down stains. You just sprinkle the powder, brush it into the carpet, wait 30 minutes, and vacuum it up--leaving your carpets clean, dry, and smelling fresh!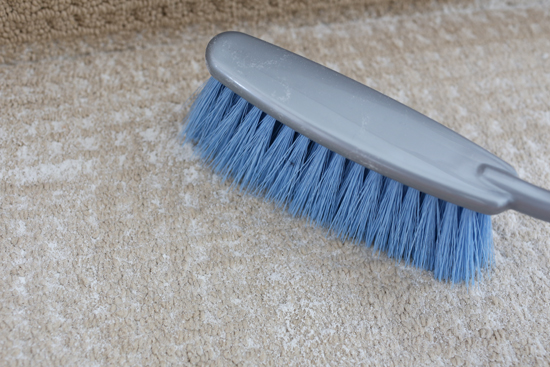 Ben's always been the cleaner in our relationship, and I've always been the messy one. Well, to give myself some credit I do most of the grocery shopping, cooking, and laundry...but in our seven years of marriage I have NEVER cleaned the bathrooms. I know, I'm lucky! But now that I'm a stay-at-home mom, I want to learn how to do these things so I can knock them out during the week, and save our precious weekend time for the fun stuff. Ben's always said that he doesn't mind cleaning and finds it therapeutic--which I thought was extremely weird. Now I (kind of) get it. I don't think I'll ever LOVE cleaning, but I do enjoy crossing things off my list and feeling productive. And most tasks are actually less daunting and time-intensive than I think they'll be...especially when I can listen to a good podcast while I'm at it. :)
I've been thinking more about the rest of my goals for 2018, and I'll do a post about them soon. In the meantime, this is probably my last post of 2017, so Happy New Year!!!

This post is in partnership with Minted. Some links are affiliate. All opinions are my own.
Did you notice the art above our nightstands in yesterday's post? They're from Minted (my favorite resource for art)! I actually really struggled with the art in this room. At first I thought maybe a gallery wall above the bed or one BIG piece of art. But I've been feeling kind of uninspired by gallery walls lately, and I couldn't find one piece of art that I wanted as the focal point of the room. I also originally thought I'd get something colorful to add energy to the room. But I noticed that I kept getting drawn to bedrooms with simple, neutral art above the nightstands (see my Pinterest board here). So that's what we decided to do! I got these understated botanical drawings, matted in a slim black metal frame. And I'm really happy with how they turned out--simple, but pretty.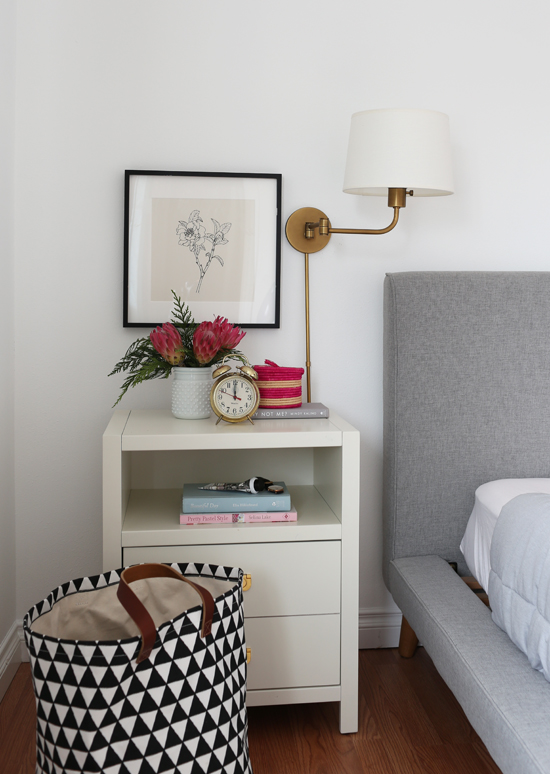 I also got this cute printed hamper and I'm keeping it by my side of the bed for clothes that I've worn a little, but don't need to wash yet (a pair of jeans, PJs from the night before, etc.). I got the idea from Homey Oh My and I love it--it's so convenient, and much more visually appealing than leaving those same clothes on the floor or tossing them on top of my dresser...which is totally what I would do otherwise.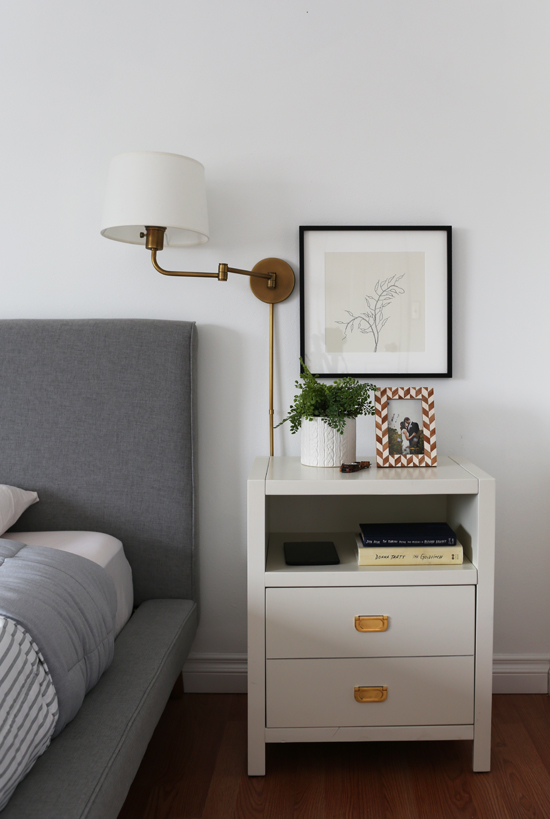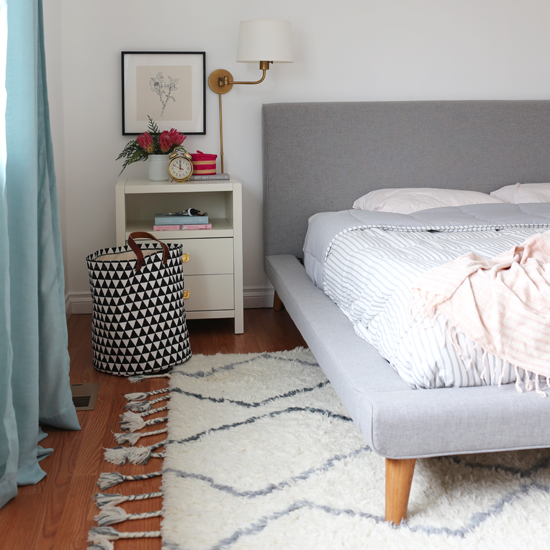 Sneak peek...we also got drapes! We went with this misty blue color, and I love it. I'm planning to bring in a little more blue with throw pillows and accessories to tie the drapes in, and I'll do a post with sources to everything when it's a little more "done." Little by little, this room is coming together!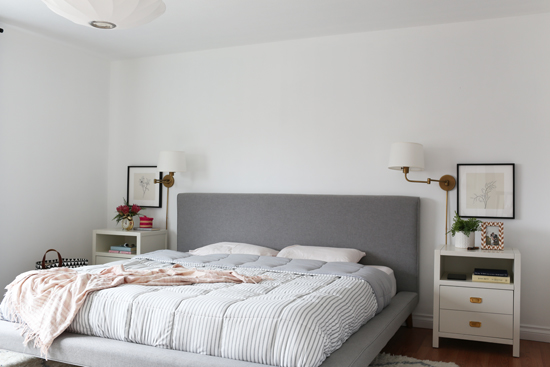 Minted has a huge selection of art, so it was easy to find individual pieces that I love. But it wasn't as easy to find two perfectly coordinated pieces to hang together. So I thought I'd share a round up of some beautiful art pairings from Minted, some of which we considered for our bedroom--and others which I just think are super cute.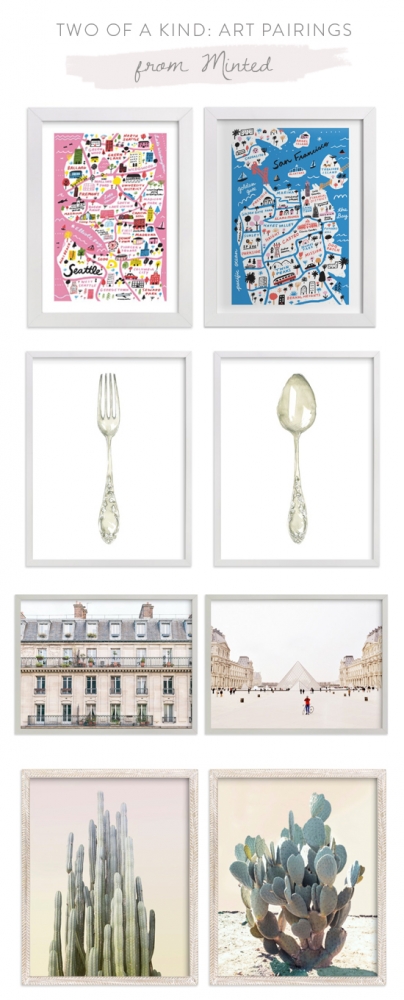 Seattle & San Francisco - Would be super cute to get a map for each of your hometowns.
Fork & Spoon - For the dining room or kitchen.
Paris & Louvre - Perfect if your honeymoon was in Paris. <3
Summer Cactus & Blue Cactus - Aren't these colors dreamy?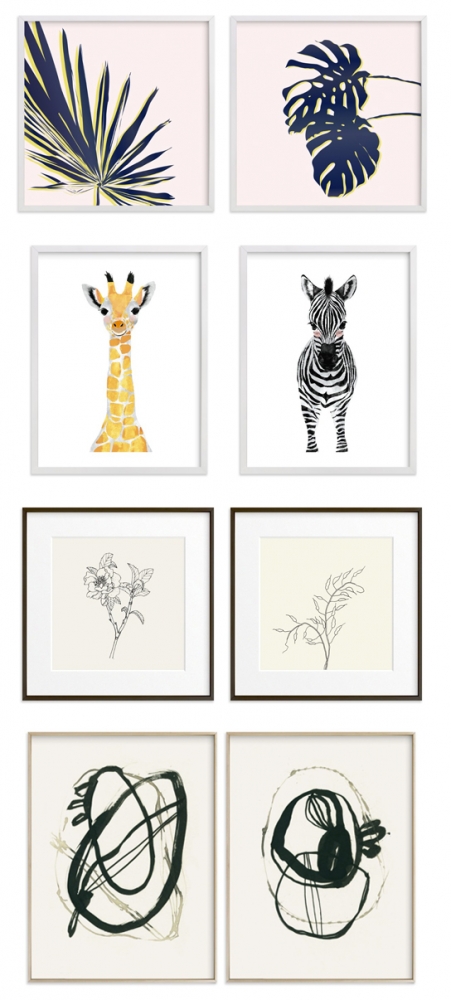 Palm Leaf & Monstera Leaf - Love these.
Giraffe & Zebra - Adorable for a nursery.
Camellia & Wild Radish - These are the ones we chose!
Abstract 1 & Abstract 2 - Beautiful and chic.
One nice thing about a pair of art (vs. one huge statement piece) is that they're more versatile. If we eventually want to do something else here in the bedroom, these botanical drawings will easily fit into a gallery wall or another space. I also like that we don't have any glass frames above our heads, just in case there's an earthquake!
I'm curious, what do you have for art in your bedroom? Personal photos, a big painting that you love, a framed pair of drawings...or something else?

This post is written in partnership with Casper. I received the mattress free of charge to facilitate my review. Some links are affiliate links. All opinions are my own.
After getting a new guest room mattress and upgrading Ian's crib mattress in the last few months, it's finally OUR turn! We've had the same mattress since we got married seven years ago (back when you'd go to a mattress store and awkwardly lay on a bunch of options trying to figure out what felt comfortable). Our old mattress was a typical spring mattress, which supposedly has a lifespan of 7-10 years...and I could tell we were reaching the end of that. It had been starting to "taco" so we always felt like we were going to roll into the middle, and I would get annoyed every time Ben moved (even slightly) because I could really feel it, even if we were each on our own side of the bed. I wanted to try out a memory foam mattress and see if we'd sleep better on it...and since we were hitting the end of our mattress' lifespan, I didn't feel that guilty getting rid of it. We decided to try Casper for our own bed, and ironically I'm pretty sure it was less expensive than the old mattress we originally bought seven years ago!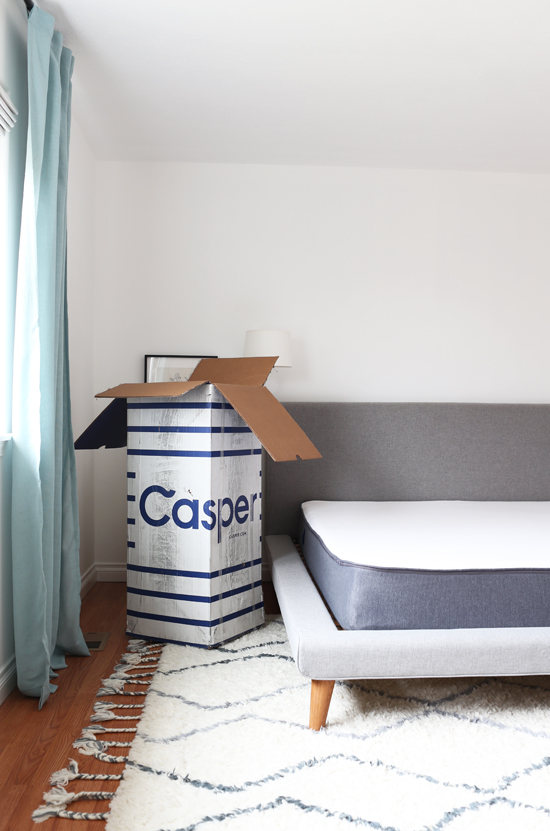 Casper has three different mattresses to choose from. We chose the Casper, their medium-priced option (it's $1150 for a King). It arrived in a box delivered straight to our front door, another thing that's so much better nowadays than seven years ago. No arranging delivery times and no wrangling a huge king size mattress up a narrow flight of stairs. Once we unboxed it, it expanded really quickly and was ready for us to test out. First impressions: sooo comfy!!! I immediately had Ben get on the other side and move around, and it's amazing the difference. I don't notice him adjusting from side to side at all, and even when he moves around dramatically I barely feel it.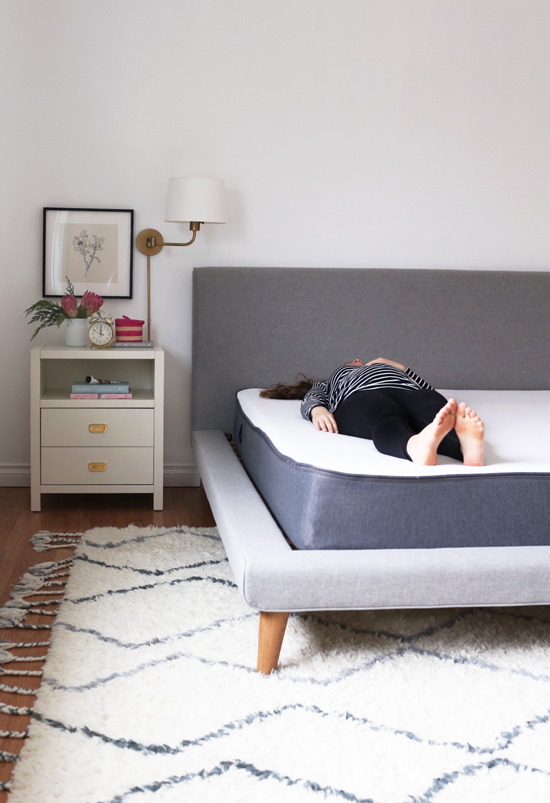 We've been sleeping on our Casper mattress for a few weeks now and we love it! It's perfect timing with me being pregnant--I'm getting better sleep, and I'm not angrily whispering "STOP MOVING!" at Ben when the poor guy is just trying to get comfy. :) We're both super happy we made the upgrade. The only downside I've found so far is that the Casper has less edge support than our old mattress did. Not a big deal with a king size mattress, since we're rarely over at the very edge anyways...but worth mentioning in case that's important to you.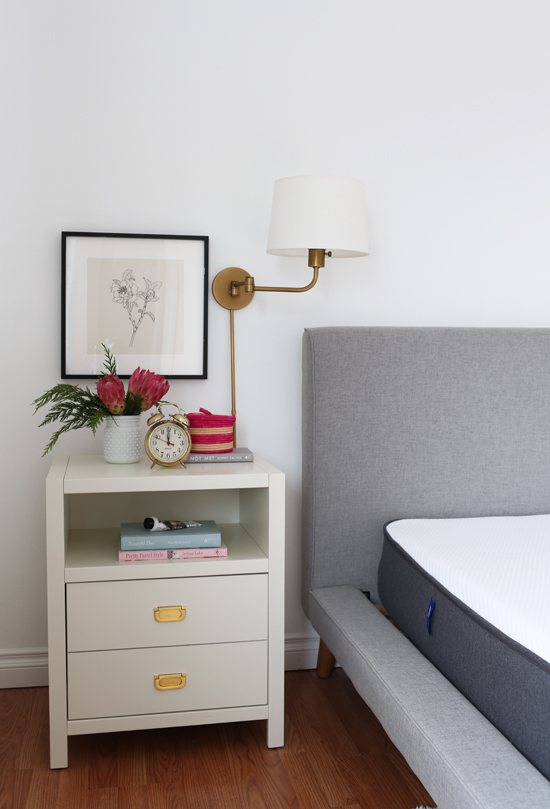 Ben and I both like fairly firm mattresses, and we found the Casper has a perfect blend of support & softness. Another detail I really like is that the cover zips off so you can easily wash it. A nice touch, since that was one of my pet peeves with our old mattress--there was no good way to clean off spills so it started looking embarrassing and stained. A few other things about the Casper that I like: it's designed and assembled in the USA, it's Certi-Pur certified, and there's a risk-free 100 night trial (so what do you have to lose?!). Also worth noting is that the Casper is designed to sleep cool, unlike traditional memory foam mattresses. Ben tends to sleep hot, and he is perfectly comfortable on it. So yay! It passes all our tests and we'll be keeping it for sure.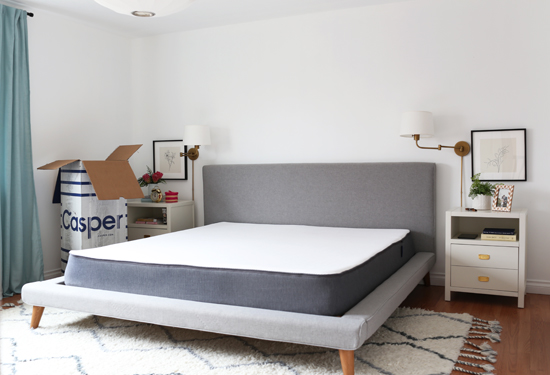 Want to give yourself the gift of better sleep? Get $50 any Casper mattress with the code ATHOMEINLOVE.