Ben and I have actually never done holiday cards together. I guess I always thought that we'd start sending them once we had kids. But when Allie from Allie Way Design offered to hook me up with one of her pretty designs, I thought "why not?!" My friend Corlana of Lana Jenae Photography took some photos for us, and I got the cards printed at Mpix.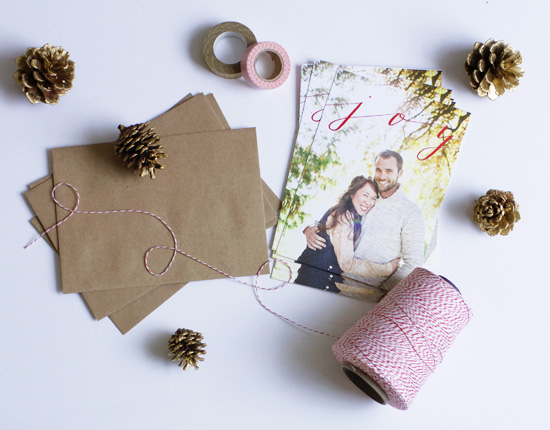 I think they turned out super cute! Now I just need to get these all addressed and sent out. If you're still looking for a holiday card design, you should definitely check out Allie's shop. She's super talented, and also the sweetest. And I'd totally recommend Mpix for printing as well!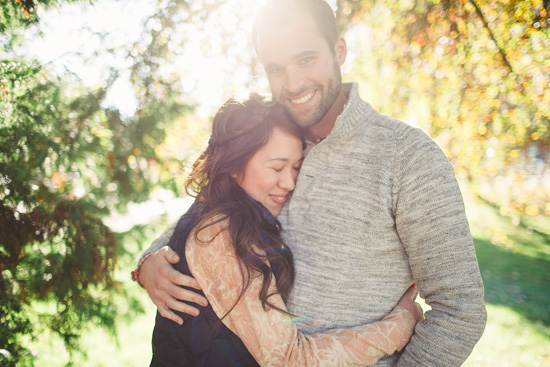 Plus, I thought I'd share a few of the other photos that Corlana took of Ben and I. She does photography for weddings, engagements, family sessions, and all that jazz…hit her up if you're looking for a photographer!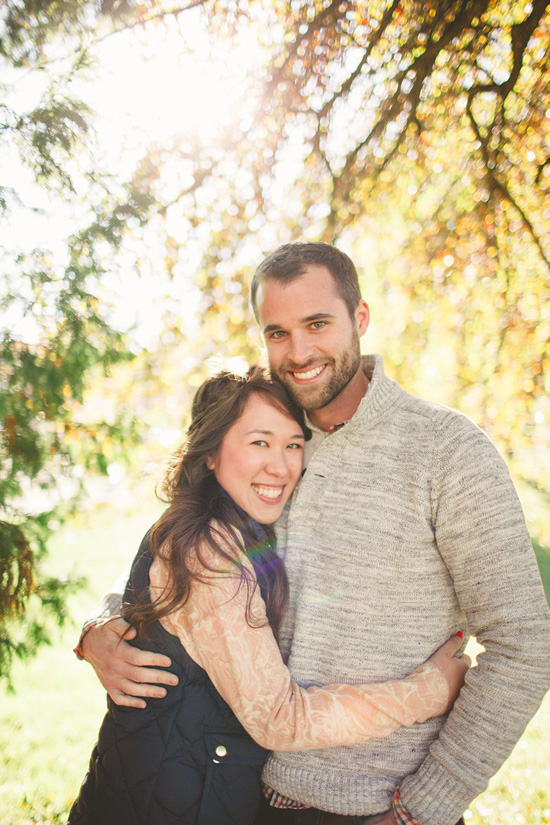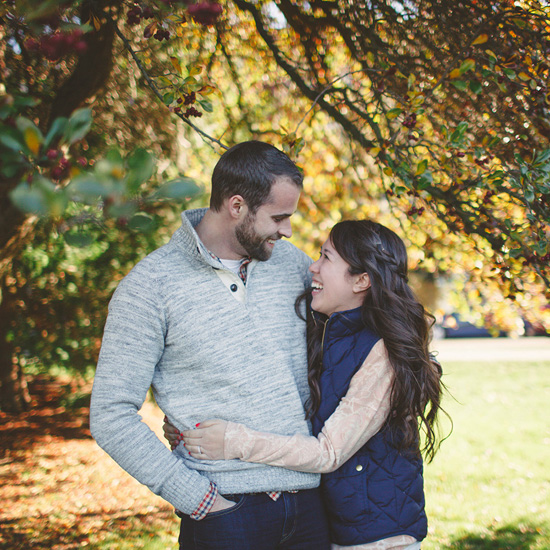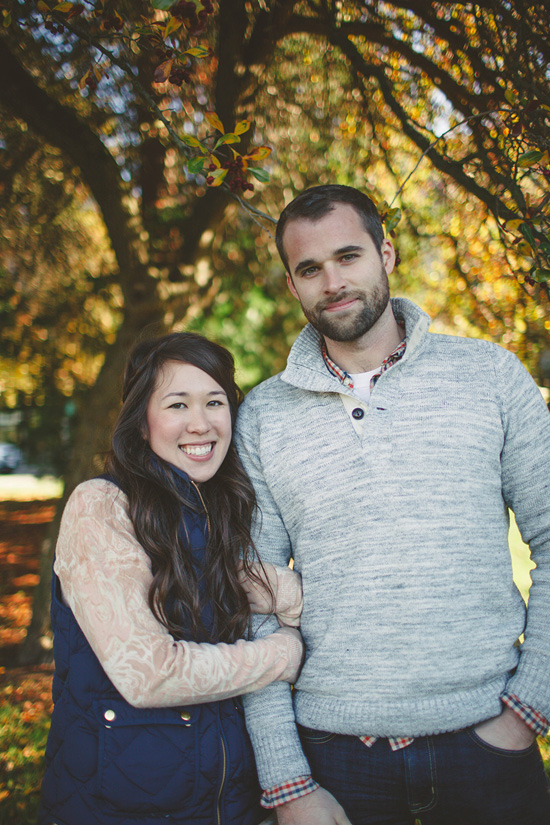 Plus, look how pretty she made my hair! Corlana is the best at braids.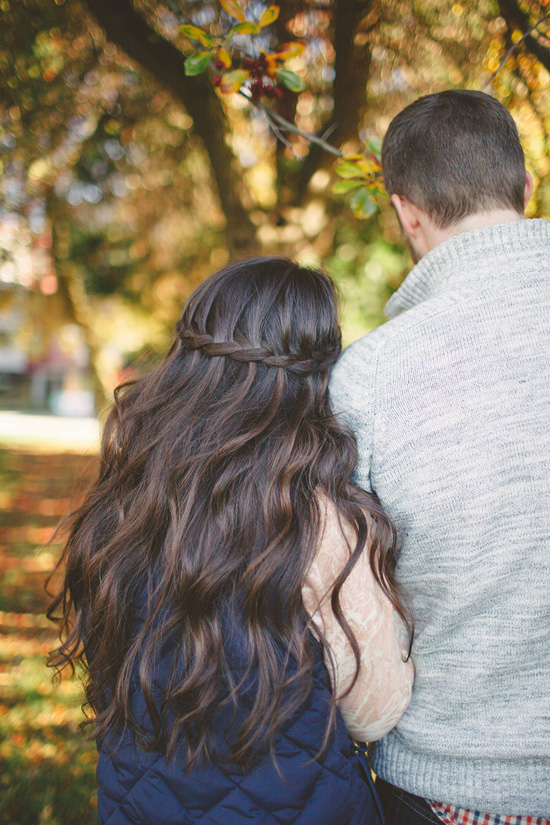 Have you done your holiday cards yet this year??
P.S. Enter today's 24 Merry Days giveaway today on Design Crush. And in case you missed it, my giveaway was yesterday…so enter that too. Pluuus, I wrote a post for Bali Blinds about creative gift wrap ideas. You can check that out right over here!


It's time for my 24 Merry Days giveaway! YAY! I'm super happy to be teamed up with Artsy Modern, one of my favorite shops for unique home goods and accessories. They're giving away a $150 shop credit…so I thought I'd do a little virtual shopping and show you what I would get if I won this. Unfortunately for me, I can't enter…but fortunately for you, you can! And you totally should. I'm already jealous of the lucky duck that wins this.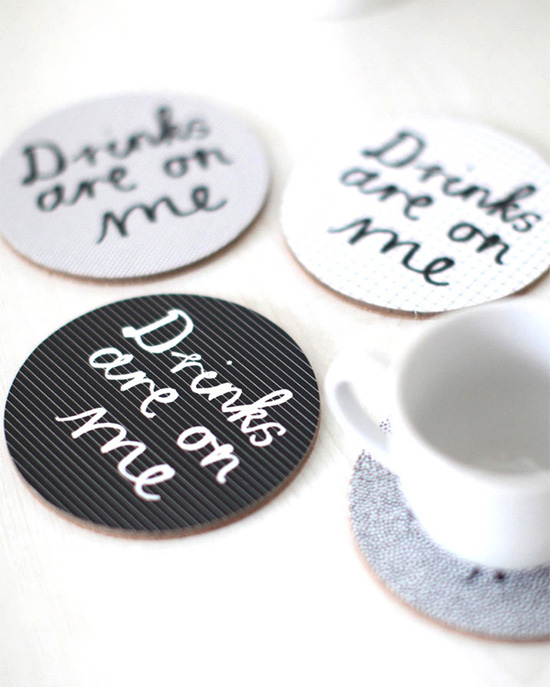 1. One of the first things that caught my eye were these "Drinks are on me" coasters. They're exactly my sense of humor.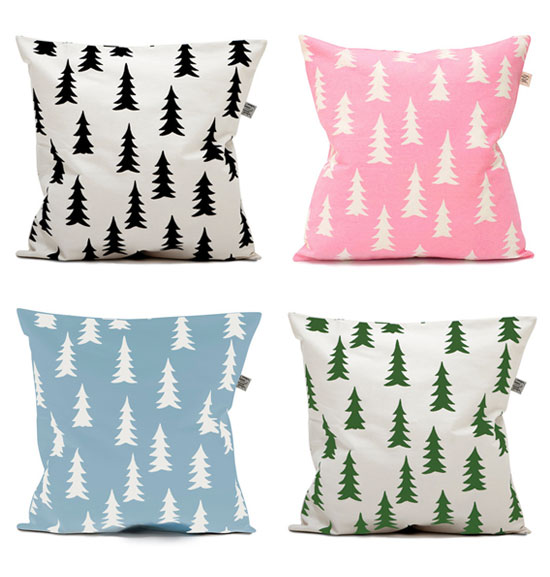 2. I'm also OBSESSED with these Gran pillows and would definitely get at least one. The only question is, which color? Black / Pink / Blue / Green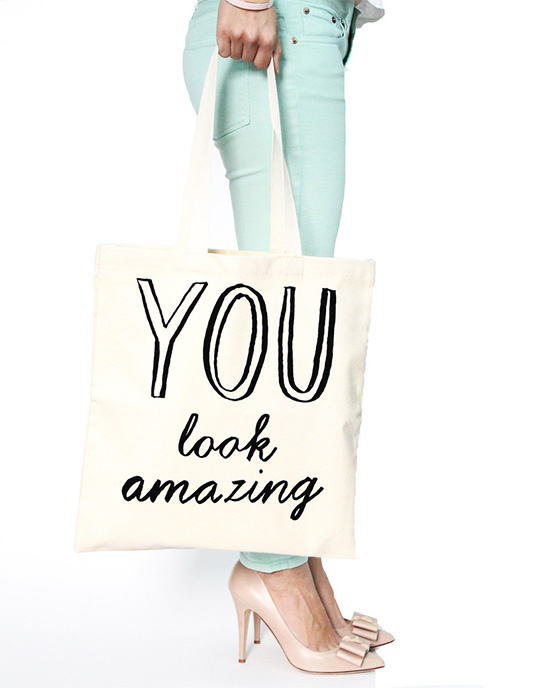 3. I looove this "You look amazing" tote. It would be fun to fill it with some extra goodies and give it to a girlfriend.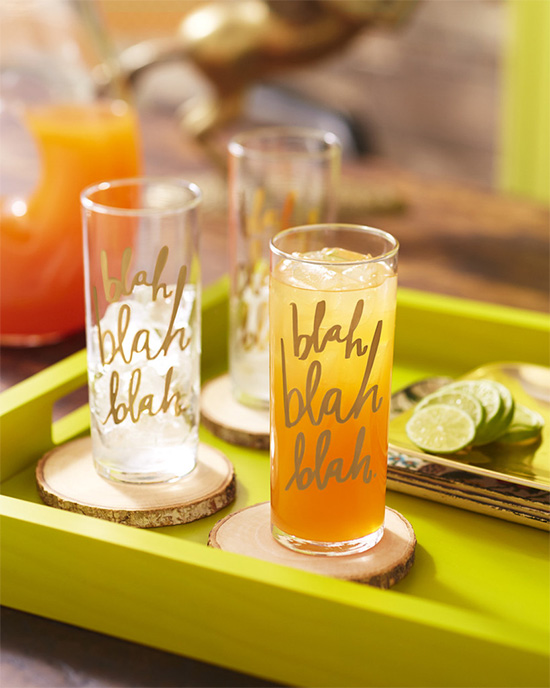 4. These "blah blah blah" glasses are so chic and pretty! They also have an "Easy tiger" version that I would totally get for Ben.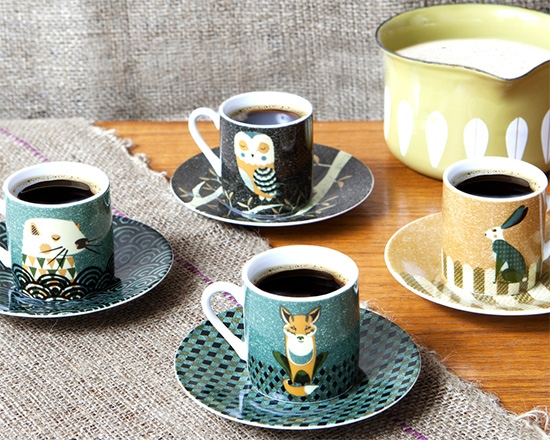 5. This wildlife espresso set is so freaking cute! I think the owl is my favorite…no wait, maybe the otter…no wait…I can't decide. Good thing I don't have to, because the set comes with all four.
And that's how I would spend $150 at Artsy Modern!
Enter the giveaway below…PLUS, you can get 15% off orders of $100+ with the code MERRYAM15 from now until 12/20. 
This giveaway is open to people worldwide. Must be over 18 years old to participate.
P.S. If you're new to 24 Merry Days, there are 24 awesome giveaways going on this month on 24 different blogs. If you head to the website, you can click through and enter the previous giveaways to get caught up. And you can also like the 24 Merry Days page on Facebook to make sure you don't miss any of the future ones…cuz that would be tragic! They are all too good to miss.


I saw a quote one time that said, "The first five days after the weekend are always the hardest." That's definitely how I felt this week! It's always hard to get back in the swing of things, but it's especially hard after a long holiday weekend. So much to catch up on…so little time. I feel like this holiday season is slipping through my fingers so quickly! I keep seeing all these photos of Christmas trees and wreaths and ornaments filling up my Instagram feed…and I still have my acorn garland up! Whoops…#badblogger. Oh well...I'm really glad it's Friday! Maybe I'll get a lot done this weekend and cross a bunch of things off my (ginormous) to-do list…or maybe we'll just relax and hang out with friends. Either way, IT'S FRIDAY. And today is even better because I get to share a gorgeous house tour with you guys!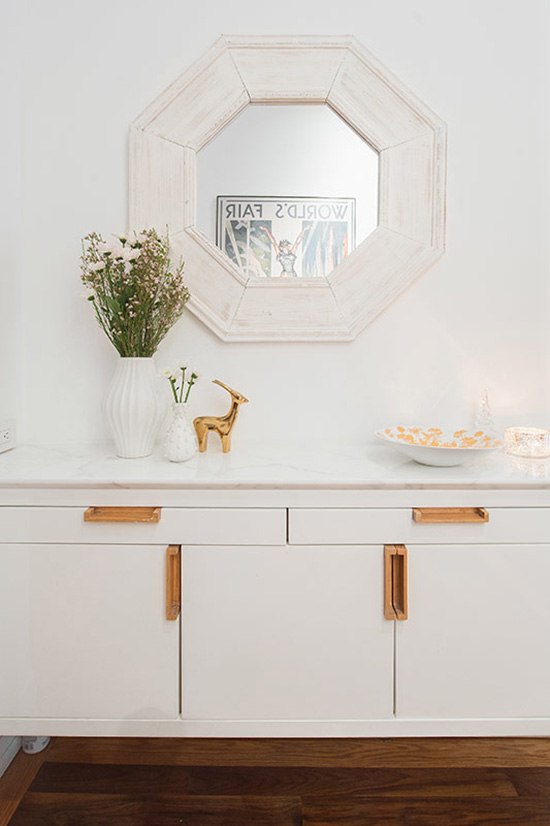 I love this eclectic, colorful home. But it wasn't always so cheerful and inviting! Melissa and Josh wanted their Brooklyn brownstone to have a fun, young vibe…but with all the antiques they own and the way their place was set up before, it felt stuffy. So they hired Kevin, a Homepolish designer, to help them out. In case you haven't heard of Homepolish, it's pretty awesome. Instead of commissions and product markups (which are typical for the design industry), they charge a flat hourly fee, so it's really flexible to your needs and budget. And their designers are all amazingly talented!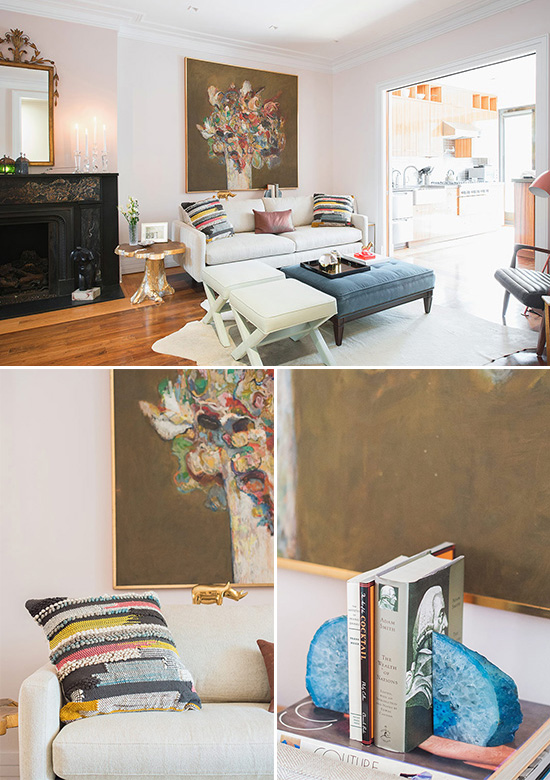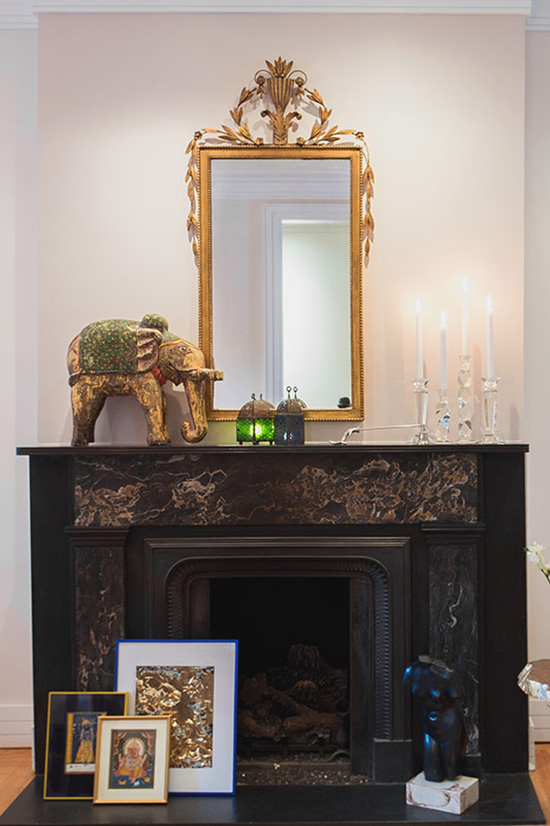 For this project, Melissa and Josh purchased a 20 hour package for their living room and dining room. They told Kevin that they wanted their antiques and heirlooms to feel less stuffy and more cool. And by the looks of these photos, I'd say Kevin totally rose to that challenge!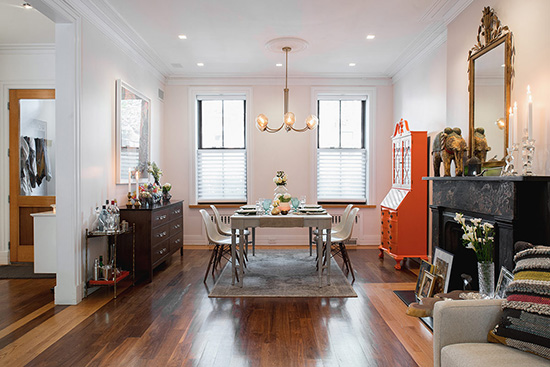 He started by switching everything from the dining room into the living room (and vice versa) to better take advantage of the "initial perspective" (what you see when you walk in the front door). Changing the focal point of the room from the dining table to the seating area made the space immediately feel more inviting and cozy. As he says, "Before it was all, 'You're intruding on our dinner.' And now it's all, 'Hello! Come sit down and join in on our riveting conversation!'"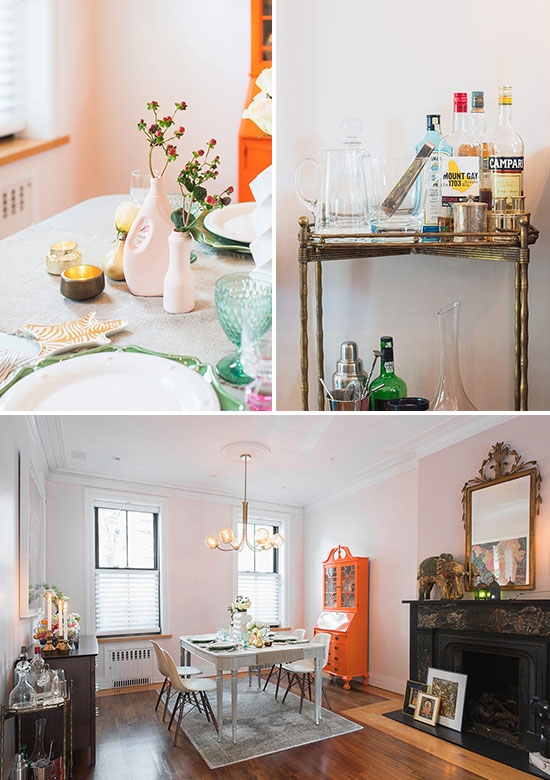 I love how something like flipping your floor plan can make such a big difference! And it's a great way to stay on budget, too. Before you go out and buy a bunch of new stuff, try rearranging the stuff you already own.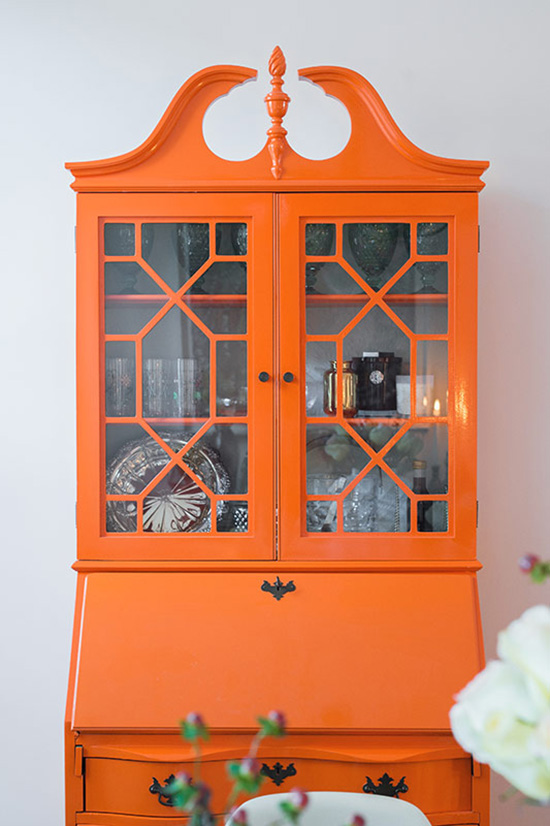 P.S. How great is that bright orange hutch? It makes me want to go paint something...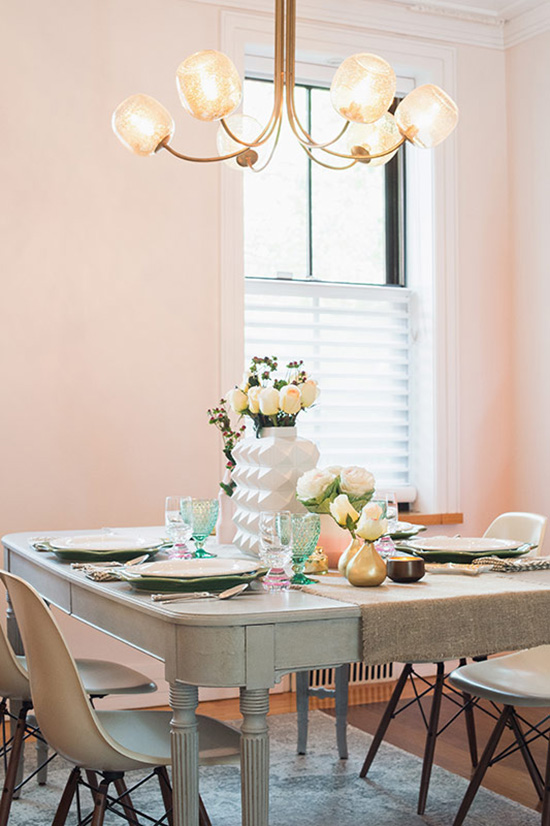 What do you think of this home? Do you have a favorite detail?
Photographer: Samantha Goh
Designer: Kevin Clark, Homepolish Designer.
P.S. Be sure to enter today's 24 Merry Days giveaway on Apartment 34. And in case you missed yesterday's, enter that too--over on Little White Whale. I'll be posting my giveaway this Sunday...so I'll see you then!

In November, my sister-in-law and I challenged each other to post an Instagram every day of the month...and we both did it! It was kind of tough some days when I totally forgot about it until late at night and had no idea what to post. But looking back, it's fun to see so many pictures from the month. I don't think I'll hold myself to one a day in December, but I do want to try to post more regularly than I used to. I have a tendency to think that I should only post on Instagram if I have something particularly special or noteworthy to share...but along the lines of the quote I posted on Thanksgiving, I want to try to think of every day as being special and noteworthy. I want to take time to appreciate what I have now in my normal, everyday life. I want to document the moments that are fun and memorable and real, even if they're not necessarily the prettiest.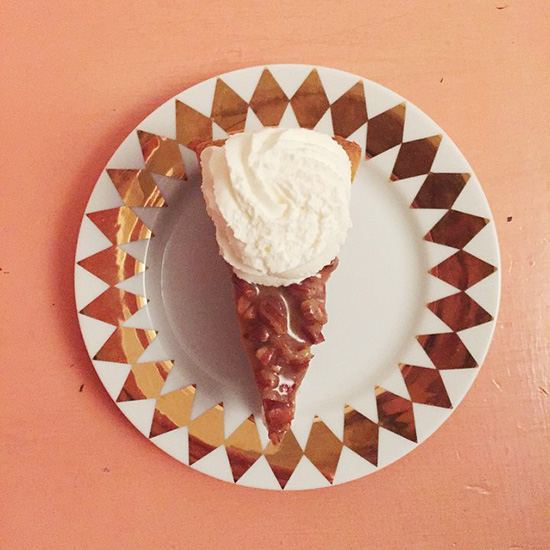 I remember when I first got on Instagram, I thought it would be really great to see the casual, behind-the-scenes photos of some of my favorite bloggers--sort of like when you flip through a magazine to the "Celebrities--they're just like us!" page. But I feel like Instagram is now full of polished content--the same photos that people are posting on their blogs, taken on DSLRs, carefully edited and cropped into squares--instead of quick phone snaps. I totally understand why...I usually get a lot more "likes" when I post a photo that I took on my real camera rather than an iPhone one. And I think a lot of people use Instagram to keep up with blogs, instead of checking all the blogs they follow every day. But anyways, I've just been thinking about it a little. I know that social media is not that big of a deal in the grand scheme of things (like, at all), but I still think it's worth talking about. Because I'm guessing you've noticed some of the same things too, especially if you're also a blogger!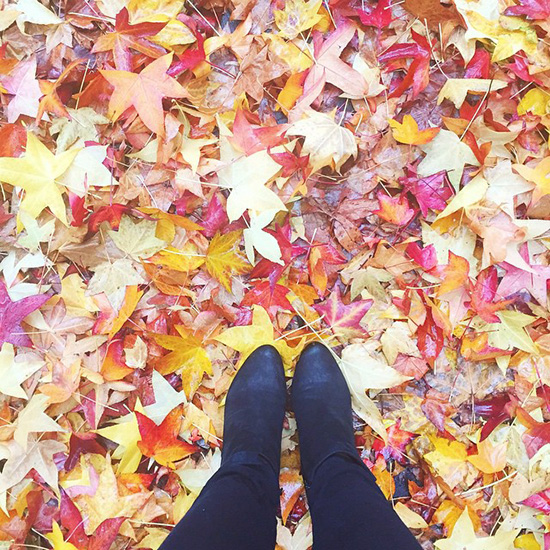 Sometimes I take a photo of something I want to remember, but then I decide not to post it because it's not pretty. So I guess that begs the question--what's Instagram for? Sharing the prettiest moments (even if they're a bit staged), or the memorable ones (even if they're a bit ugly)? Both are valid, and maybe the best answer is a healthy mix. I know that I, for one, love seeing the more imperfect and unstaged "real life" photos, because they're so relatable. But I definitely like the pretty stuff, too (who doesn't!?). Anyways, those are just a few of the things I've been thinking about around social media. I know, leave it to me to start try and turn Instagram into something deep, right? Ha! What this post was supposed to be was just a few of my Instagrams from November. So let's get on with that. If you want to see more, I'd love for you to follow me.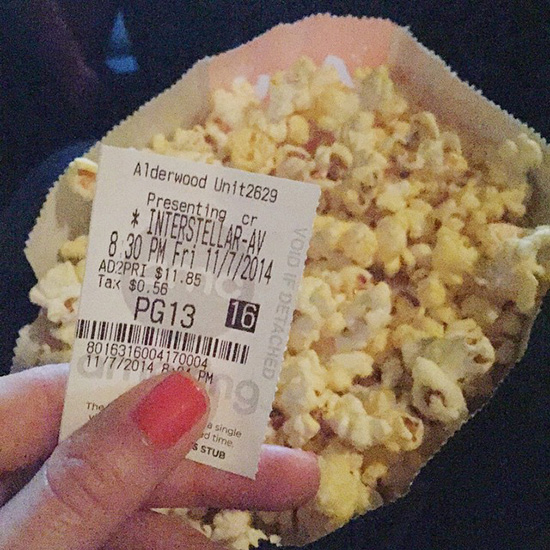 We went to a couple movies this month--Ben's pick was Interstellar and mine was St. Vincent. Both were good!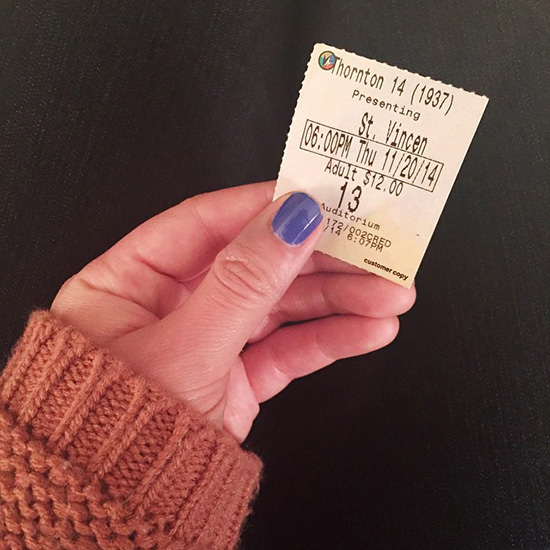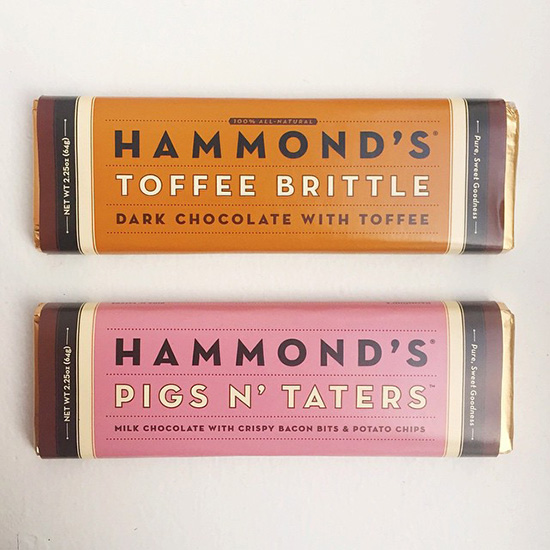 We found some fancy chocolates at a local store and had to give them a try. I mean, look at how pretty the packaging is--and the flavors?! So fun. To be honest, I wasn't a huge fan of the bacon bits (too bad) but I did love the toffee brittle.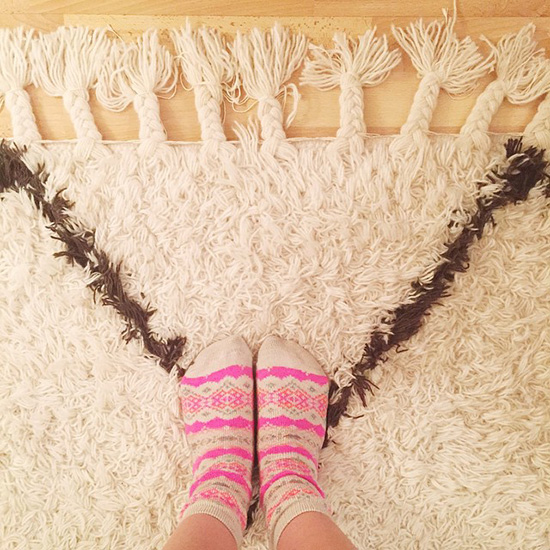 This month was really, reeeaaaallly cold so our evening activity of choice has been turning on the fire as soon as we get home and hanging out right by it for warmth. We've also been watching a lot of Gilmore Girls and drinking tons of hot apple cider.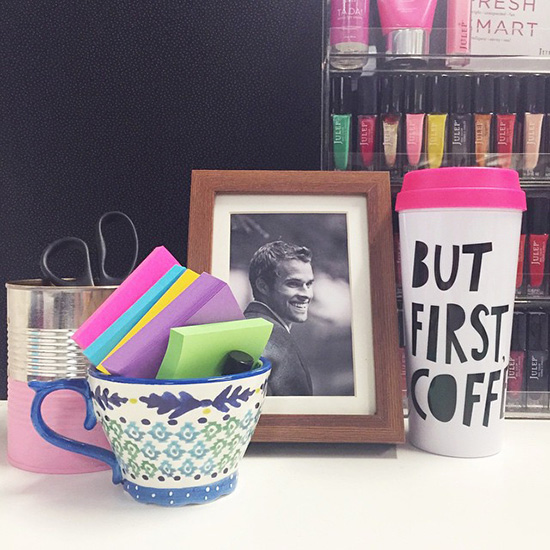 This is my desk at work (see all the Julep polishes in the back?). The mug is from Ban.do and it's advice is very wise indeed--"but first, coffee."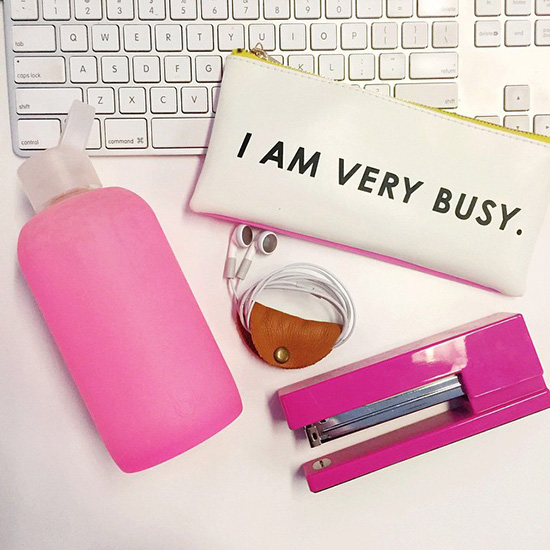 These are a few of my other favorite desk accessories/essentials. I'm sure it's not obvious at all what my favorite color is.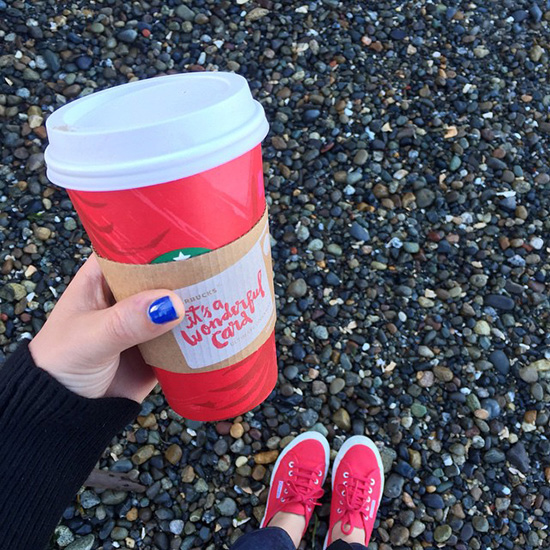 I got many a red cup this month. There's just something about them that makes me want to order coffee more! Smart strategy, Starbucks...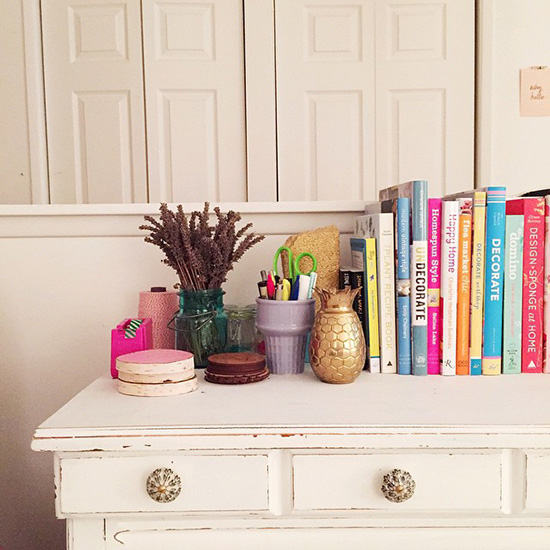 This is a little corner of our living room. If you can read the spines of any of those design books, I recommend them all.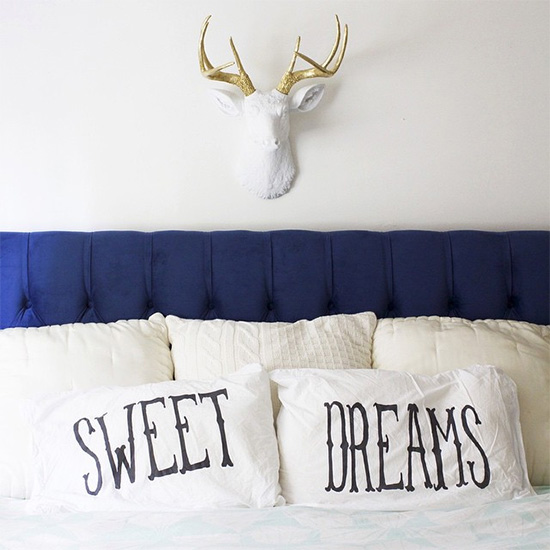 We hung up our new deer head from White Faux Taxidermy this month! The "Sweet Dreams" pillow cases are from Uncommon Goods.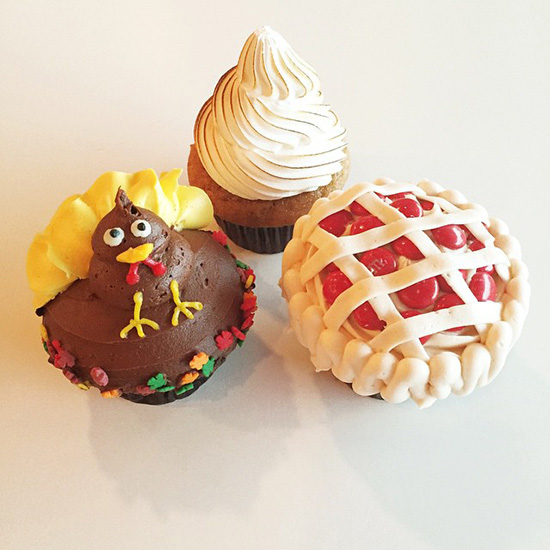 The week of Thanksgiving, I got to play around with these adorable Trophy cupcakes at work. You can see the results here and here.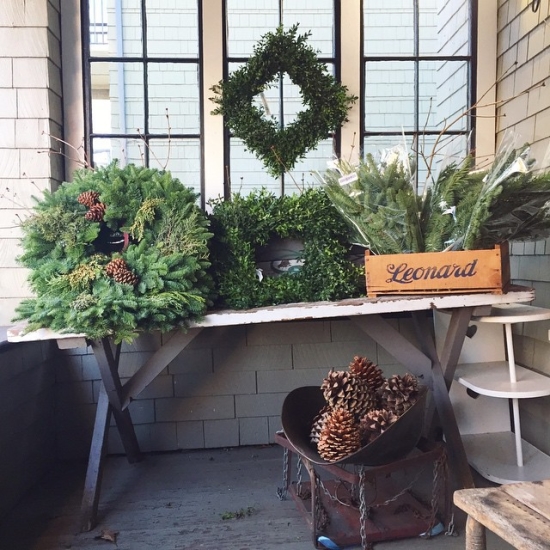 And this past weekend, we went shopping and I got inspired to decorate for winter! I still haven't done anything yet (whoops!) but hopefully this weekend I'll get a chance to.
How was your month? I'd love to hear. And if you have any thoughts on the whole balance of real life/pretty stuff on social media, I'd love to hear that too!
P.S. Check out today's 24 Merry Days giveaway over on In Honor of Design! It's a super cute bar cart + $100 to accessorize it with. I totally want that!