This post is sponsored by Kohl's. I received the included outfits as part of my compensation.
I forgot how much I love the transition to spring in Spokane. All that waiting for the snow to melt makes the sunshine and warm weather all the more sweet. And unlike Seattle, where spring = lots of rain, there's actually sun and blue skies here almost every day! I've been going on long walks, taking Ian to the park, and putting him in the baby swing (at first he wasn't sure what to think, but now he's loving it). The cherry blossoms are finally in bloom, and flowers are starting to poke up in people's garden beds. I'm loving every minute of this season!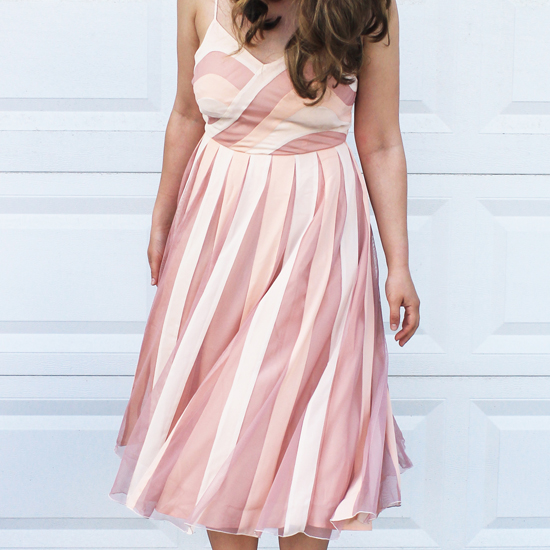 Something about the transition from cold weather to warm makes me reeeaaaally want to go shopping for new clothes. And the urge is especially strong this year, since last year I was pregnant all spring! So when Kohl's reached out with an opportunity to get some new spring dresses and the shapewear for underneath, I said yes please. To be honest, I've never worn shapewear and used to think it was only for older women and plus size ladies. But a friend (a young, skinny friend) recently told me that it's her secret for keeping everything smooth and tight under dresses. So I figured I'd give it a try!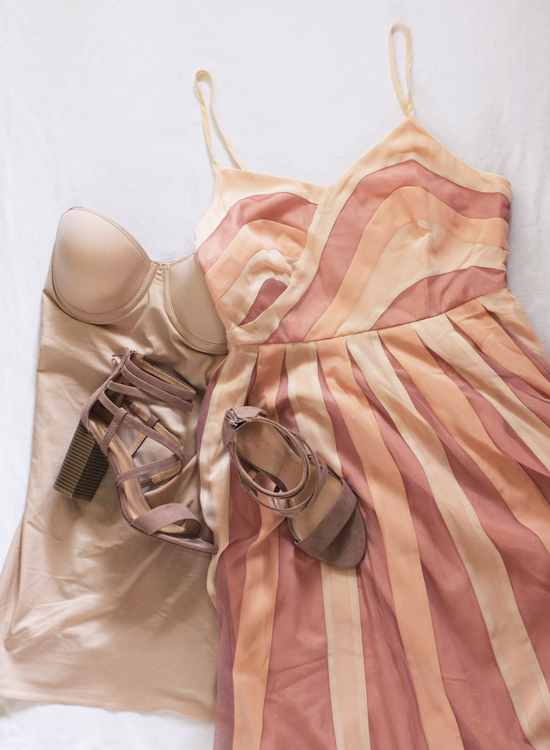 Outfit 1: A blush pink dress and strappy nude heels, with a skin-toned slip underneath. I looove this dress--it makes me want to twirl. I think it will be perfect for some weddings and special occasions we have coming up!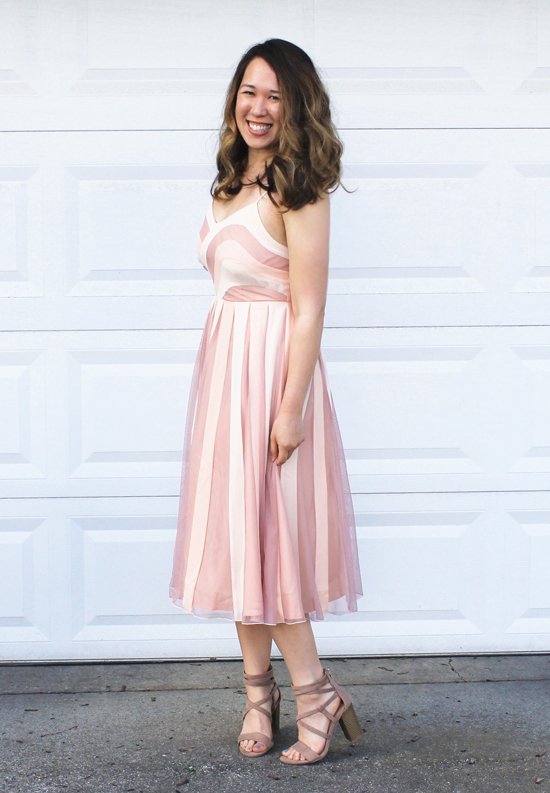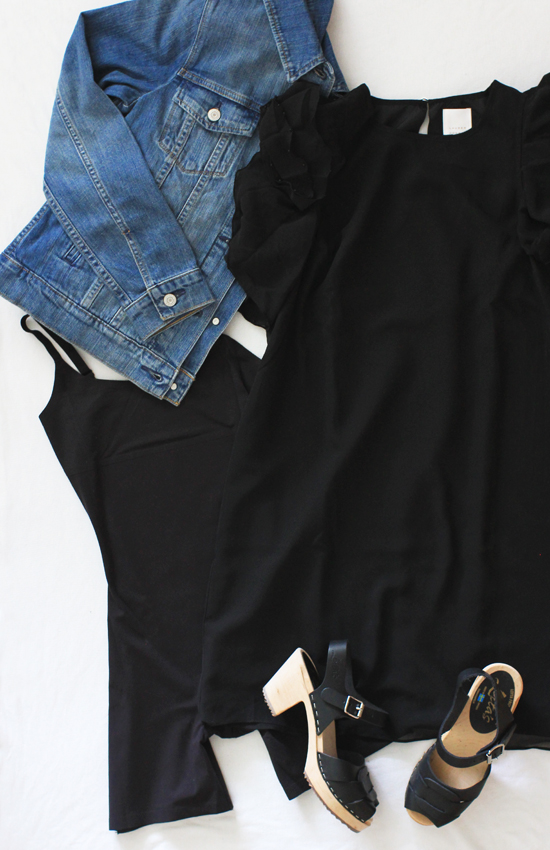 Outfit 2: Black shift dress, peep toe clogs, and a denim jacket, with a black shaper underneath. I'm on the fence about this dress since it's a little short for running around after a baby. But the black shaper is perfect for underneath, to make sure I don't flash anyone on accident!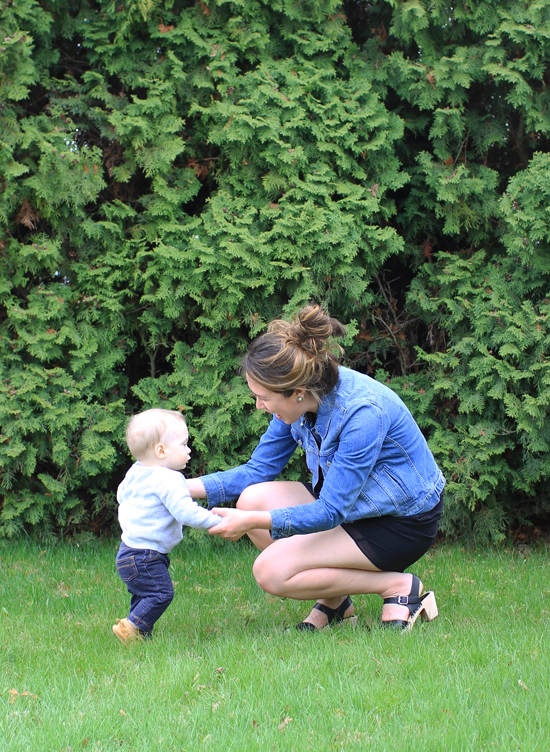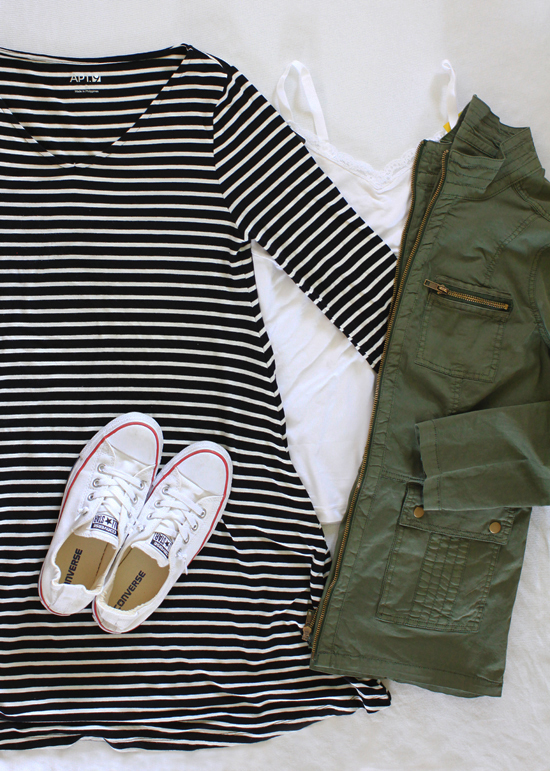 Outfit 3: A comfy striped dress, white Converse, and a green army jacket, with a white shaping camisole underneath. I'm usually a casual dresser, so this is my favorite outfit. I've already been wearing each of the different pieces quite a lot. The jacket is my new favorite for spring...so nice and lightweight!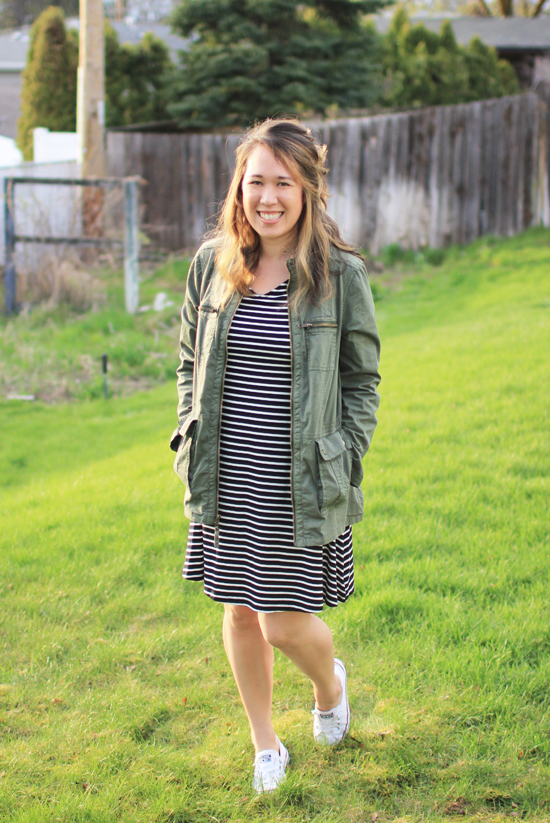 I'm obviously not a fashion blogger (ha!) but it was fun playing dress up for a day and trying out shapewear for the first time. My verdict? It's like putting on base coat before nail polish, or priming before painting. Not the most fun part of the process...but if you take the time to do it, you can for sure see a difference!
I've barely done any clothes shopping over the last year, so it was nice to pick up a few new pieces. I'm really trying to be more mindful of the things I add to my closet, and to choose pieces that I think I'll actually wear again and again. I have the hardest time with clothes. Maybe because I prefer to shop online, so I'm not trying things on first? I always end up with clothes that sit in my closet for years, unworn except for a handful of times. Hopefully that won't happen with these! I tried to think through different occasions where I'd actually wear them, and choose things that are neutral enough to mix and match with other pieces.
I'm curious. Do you have a method for selecting clothes that you'll actually wear & love? Do you do your shopping online or in-store? And what are you shopping for this spring??
My blog may contain links to other websites. I am not responsible for the privacy policies of those other websites. When you click on a link, your information may be collected by those websites so I encourage you to read their privacy policies. These affiliate links are not associated with Kohl's.

I've been thinking more about my favorite topic...you guessed it...houses! Lol. We're just about ready to start house hunting in Spokane, and we're super excited to actually have options in our price range this time around. So we've been asking ourselves some "would you rather" questions.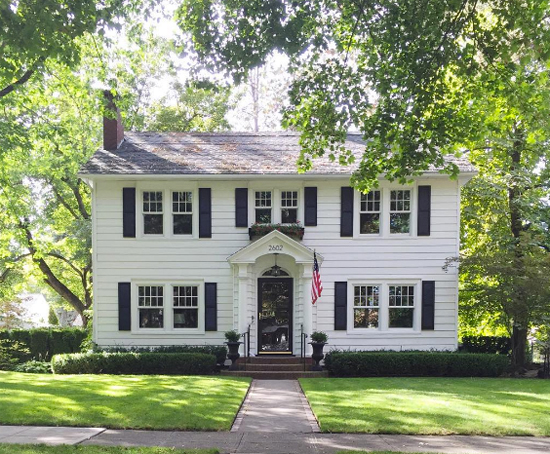 - Would you rather get a smaller, plain house that's very comfortable financially OR one that's big and cute, but at the top of our price range?
- Would you rather be in the country where we have privacy and land OR in a neighborhood where we can walk to parks and coffee shops?
- Would you rather get a house where we can raise our family and stay for awhile OR get a house that's a smart investment and could eventually be turned into a rental?
- Would you rather get an old house with charm that needs fixing up OR a new house that's move-in ready but kind of boring?
- Would you rather get an okay house in a great neighborhood with a great school district OR a great house in a okay neighborhood?
I'm curious to hear what your priorities were when you were house hunting. Do you have an opinion about any of those questions, whether from personal experience or stories you've heard? Any factors we should consider that aren't so obvious?
One thing my dad pointed out is that here in Spokane, if we live in the country we will likely end up having to deal with snow ourselves, whereas in the city they plow the streets. Something we didn't think about since Seattle doesn't really have snow.
I also notice myself getting drawn to the houses at the very tip-top of our price range (of course--doesn't it always work that way?) and am reeeaally trying to rein myself in and remember that a house is, first and foremost, a dwelling place for our family. Not a showcase for blog content and interior design. :)
Anyways, having been on the other side where we just wanted something (anything!) halfway decent that we could afford, we're thrilled to be in a position where we actually get to make some choices...I just hope we make the right ones for us!


Thank you to Mama & Little for partnering with me on this post. Use the promo code ATHOMEINLOVE to get 15% off your order.
One of the hardest parts of moving is finding new favorites all over again. But it's also one of the most fun parts! I lived in Seattle for ten years and Ben grew up there, so we had our routines down. Favorite restaurants, coffee shops, walking routes, etc. We didn't try new places often enough, because it was too easy to go somewhere familiar that we knew we liked. So it's been kind of fun to start over fresh here, and have an excuse to try lots of new places in the name of research. :) Parenthood is kind of the same. We had our go-to date nights, a comfortable rhythm, and a familiar routine before Ian. Now, we're having to re-figure it all out with a baby. Some days, that's tough and I miss our old routines. But actually, it's kind of nice to do something different. Routines can easily turn into ruts, so I think it's healthy to shake things up every now and again.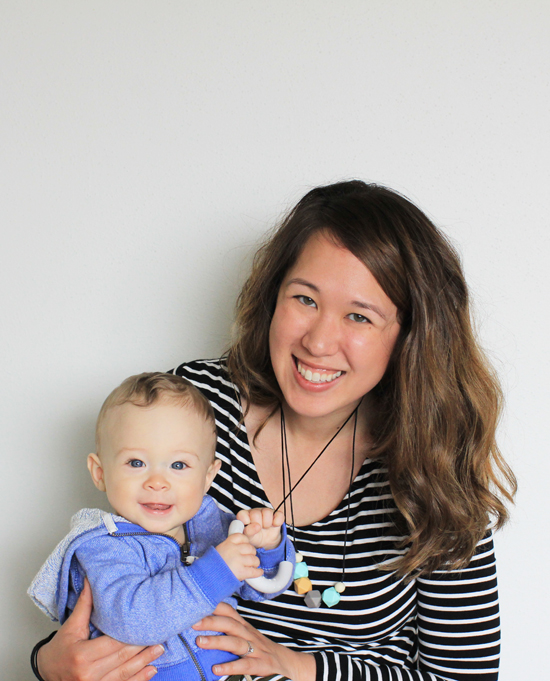 One area where I've definitely had to find new favorites post-baby is jewelry. Ian is at a stage where he grabs everrrryyyything and puts it in his mouth, so dangly earrings and delicate necklaces are a no. A friend told me about teething jewelry, and I found Mama & Little. Necklaces that are actually meant for babies to put in their mouths?! And they're actually cute? Win-win, yes please.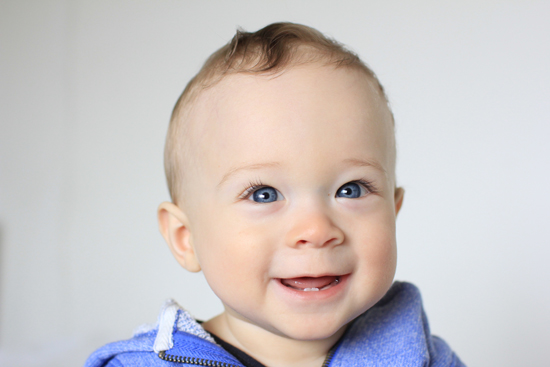 I'm doing a giveaway with them on Instagram today, so head over there and enter if you're interested!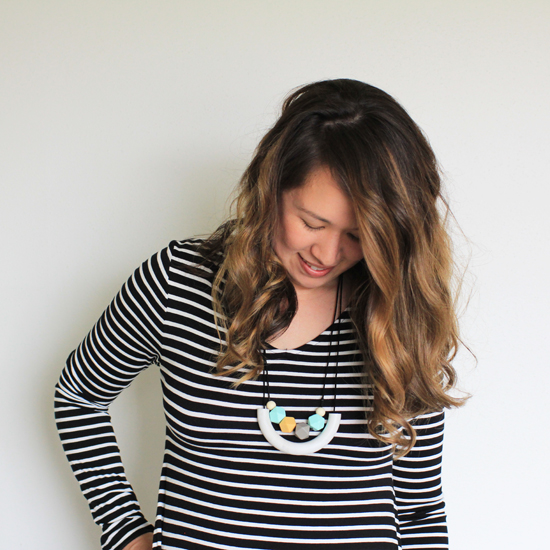 I also found a new hair stylist and chopped off about a foot of hair (!!!!). It was right after this post, if you wanna see a before for comparison. I also got some caramel balayage for spring/summer because it was about time for a change--it had been over a year since I did anything to my hair! If you're in the Spokane area and a new hair girl, look up Emily Krause at Tease Salon. Tell her I referred you, and we'll both get a little discount. ;)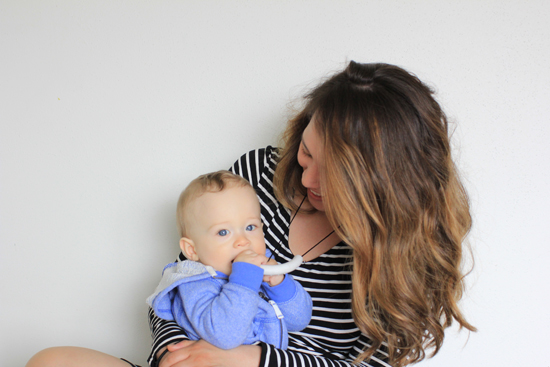 I'm also starting to build a list of favorite restaurants and things to do around here. Would you be interested if I post that? I recognize that Spokane is a relatively small city and not exactly a tourist destination, so it's probably not relevant to the majority of you. But I'd be happy to share.
Don't forget to enter my giveaway with Mama & Little on Instagram, or use the promo code ATHOMEINLOVE for 15% off your order! Ian looooves their necklaces (especially the Alexa one, which is my favorite as well). If you have a teething babe, I bet he/she will love them too.
Oh, I love spring. Now that the snow has melted and the weather is getting warmer, it feels like so many possibilities have opened up for things to do around here! And we are itching to get out of the house and go on some hikes/day trips/weekend getaways. Since it's been years since I lived on this side of the state, I've been asking around and compiling a list of things to do in Spokane in the spring. Here are five ideas that I definitely want to check out soon! And since I know most of you don't live here, I hope this list gives you ideas for something similar in your area. Fun runs, parks, orchards, and lakes...these things exist everywhere.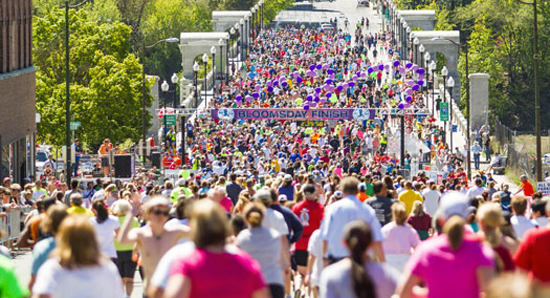 1. Bloomsday - This is a huge event in Spokane--over 50,000 people run/walk the 7.45 mile course. Ben's running it this year, and I'll be walking with a friend...with Ian in the stroller! I'm hoping to sign up for a few more runs this year to motivate me to get back in shape. Maybe even a half marathon??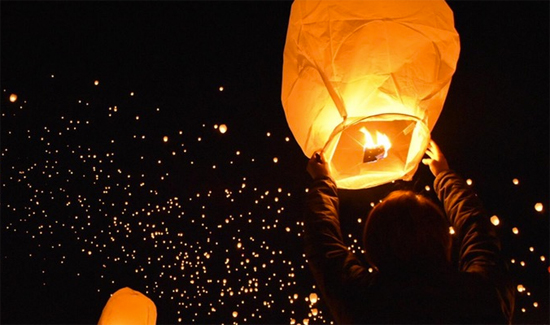 2. LanternFest - This is a big paper lantern festival that's coming to Spokane on my birthday (so serendipitous, right?). If you're interested in going, you can use the promo code ATHOMEINLOVE for 20% off. They travel around the country, so even if you're not in Spokane, check their site to see if there's an event near you!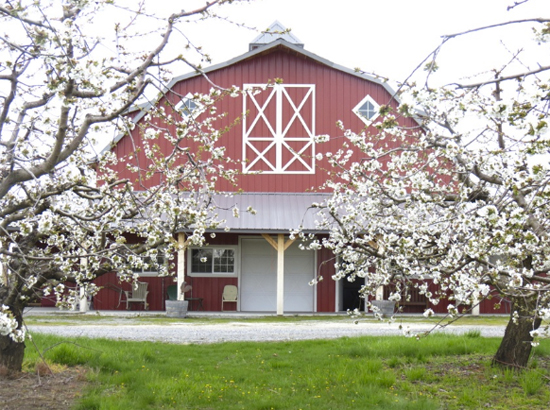 3. Green Bluff - I have fond memories of going to Green Bluff every year when I was growing up. It's a community of farms in north Spokane, and they have something for every season: berries and peaches in the summer, pumpkins and apples in the fall, Christmas trees in the winter, and in the spring...blossoming cherry trees!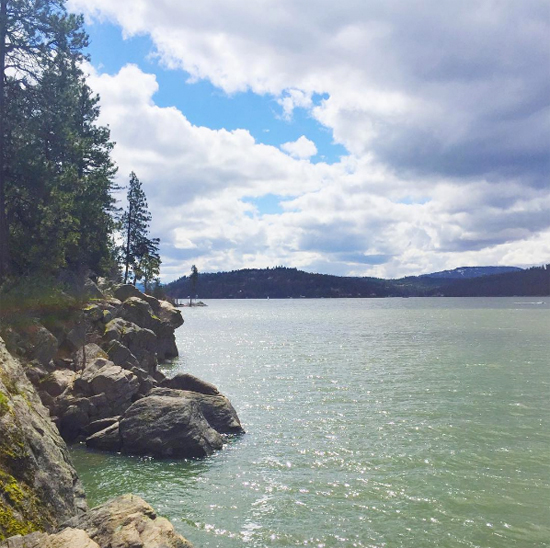 4. Lakes - We miss the Puget Sound, but luckily there are lots of lakes around Spokane so we can get still get out on the water. Couer d'Alene is the nearest big lake, but there's also Priest Lake, Pend O'Reille, and many others.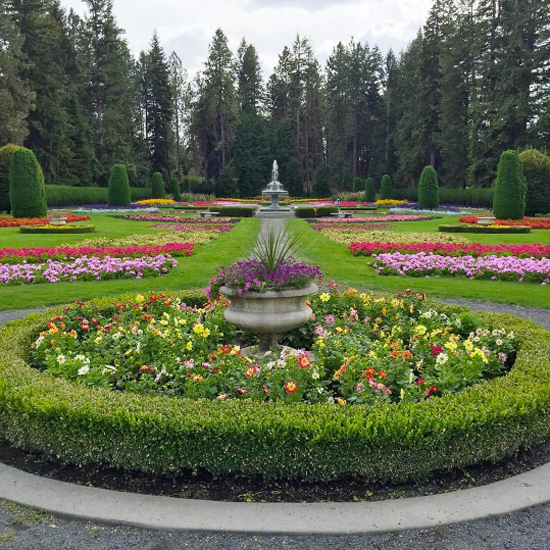 5. Manito Park - There are lots of parks in the area, but in the spring, Manito is far and away the best (imho). It's like a free version of Victoria's Butchart Gardens, with a rose garden, Japanese garden, sunken garden, and indoor conservatory, plus lots of walking trails, playgrounds, and ponds.
Other things I want to do this spring: discover new hiking trails, go to some farmer's markets, catch an outdoor movie, and take a weekend getaway somewhere nearby.
What are your favorite spring activities??