I've had my new phone for a couple weeks now, but I've put off getting a case for it because I want to get a cute one and a lot of my favorite stores don't have iPhone 6 cases yet. But I'm kind of a klutz and I'm afraid if I don't get a case, I'm going to drop my phone and crack the screen! So I did a little digging around to see if I could find some iPhone 6 cases that I like. Good news, I found a few contenders! What do you think? Do you have a favorite out of all of these? Have you seen any other stores that are selling cute iPhone 6 cases? If so, please share--the pickings are kind of slim right now…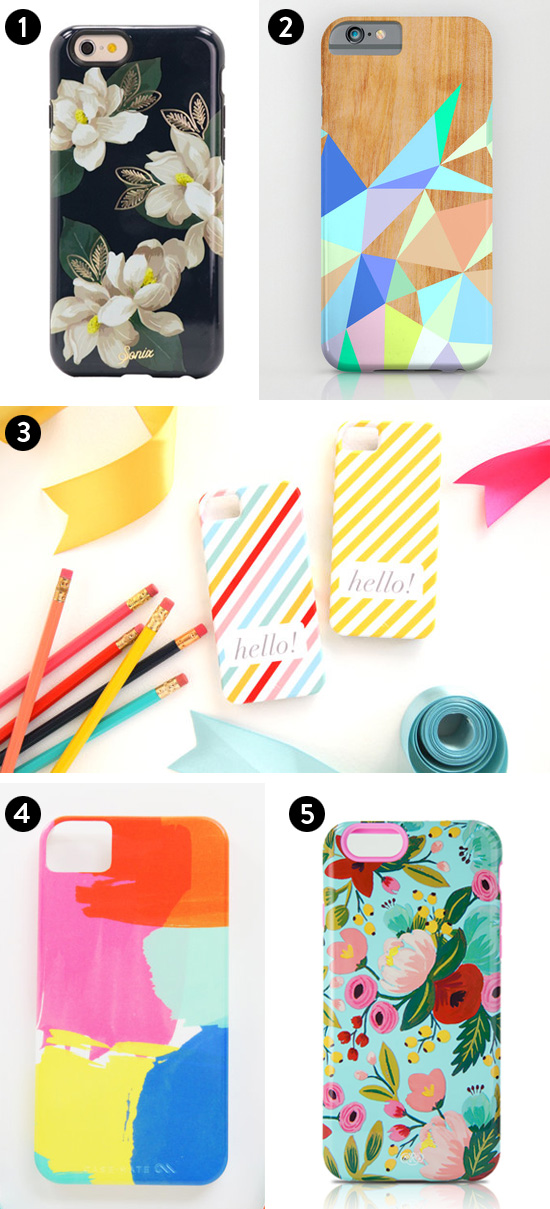 1. Dahlia - $39.99 / 2. Wooden Geo - $35 / 3. Neapolitan Stripe - $28.50 / 4. Painter's palette - $28.50 / 5. Garden Blooms - $35
I have to say, even though there aren't a ton of options out there, I do think all of these are pretty cute and I would be happy with any of them. I'm kind of leaning towards 4 or 5 right now. Opinions?


Hey guys, happy Monday! Hope you all had a great weekend. Ours was fun, but it went by way too fast! Since I didn't have a ton of time to put together today's post, I thought it would be the perfect time to share these guides that I've been working on for eBay. I told you guys about my first one, How to Decorate an All-White Room, in this post, but I've written a bunch more since then that you probably haven't seen yet. I'd love for you to check them out!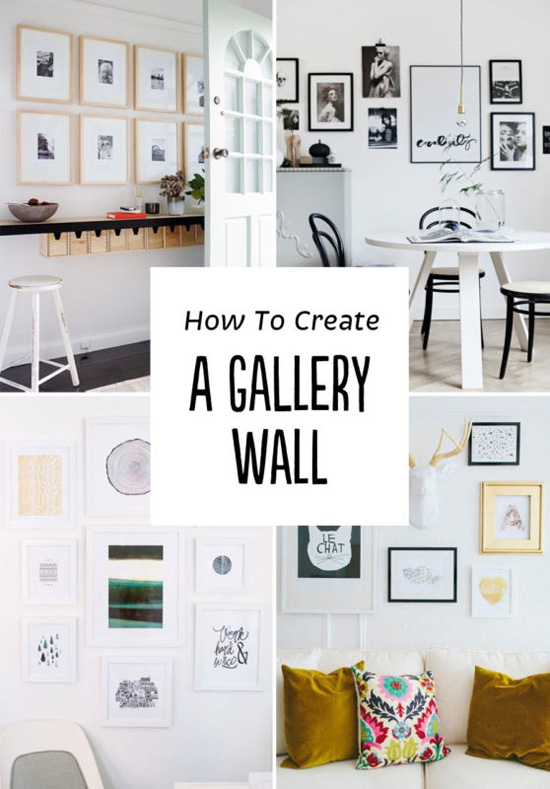 1. How to Create a Gallery Wall: I mentioned this guide when I shared photos of my new gallery wall. If you're feeling a bit unsure with how to begin your own gallery wall, definitely give this a read.
2. 15 Super Easy Ways to Decorate for Halloween: If you don't like to spend a lot of money on seasonal decor, this guide is for you. These ideas are all cute and clever…and most of them can be made with supplies you already have in your house (or can easily get online). The ghost fridge is my favorite. So easy for a party (all you need is black paper)…and the result is immediately recognizable!
3. How to Take Better iPhone Photos: I'm definitely not an expert on the topic--there are tons of people whose iPhone photos put mine to shame--but I've learned a few things along the way so I thought I'd share a few simple tips.
4. 15 Creative Ideas for a Fall Wedding: I rounded up 15 easy and beautiful ideas that would be perfect for a fall wedding. My favorite? Probably the cable knit wedding cake. Or the s'mores. I really want someone to have a wedding where there's a bonfire and s'mores at the end…and I want to be invited. Okay?
5. How to Plan a Baby Shower: I wrote this one while I was planning my sister-in-law's baby shower. We actually did a rain shower theme (complete with a clear umbrella) and we also did the game with the plastic babies frozen inside ice cubes. If that sounds weird, you'll have to check out my guide to see the context :)
6. 7 Decorating Rules to Break: Rules, schmules! When it comes to decorating, there is no one "right way" to do it. From brightly colored furniture to painted ceilings to mismatched anything, I say if you love it, go for it.
7. 13 Creative No-Carve Pumpkins: I honestly hate carving pumpkins. Maybe it's because I'm too ambitious, but I always go in thinking it's going to be awesome and end up irritated and frustrated, with a pumpkin that looks nowhere near what I intended. Sooo I love all these no-carve ideas. Paint, glitter, or drilling holes…those I can handle.
8. 10 Must-Read Decorating Books: This list is a mix of books that I own and love and ones that I really want to get. Have you read any of them? Do you have other suggestions for books that I should read?
See all the guides I've written for eBay here. Hope you like 'em!


Well, you guys, I'm sooo happy we made it to Friday! Lately, I feel like every week is simultaneously dragging by and going way too fast. Like, I'm really tired so I can't wait for the weekend...but at the same time, I can never make it through my to-do list, so I feel like I need more time in the week. Does that make sense? One of the things I always wish I had more time to do is read other blogs and take the time to comment on them. Your comments here always make my day and encourage me to keep blogging--so I want to spread the love! But sadly, blog-browsing usually gets pushed to the bottom of my to-do list (and like I mentioned before, it's a long list and I never seem to make it to the bottom). So yesterday, I decided to carve out some time for myself and see what some of the beautiful and creative people of the internet have been up to! The answer: Lots of good stuff. Here are just a few of my favorite links that I found. What were your favorite links from this week?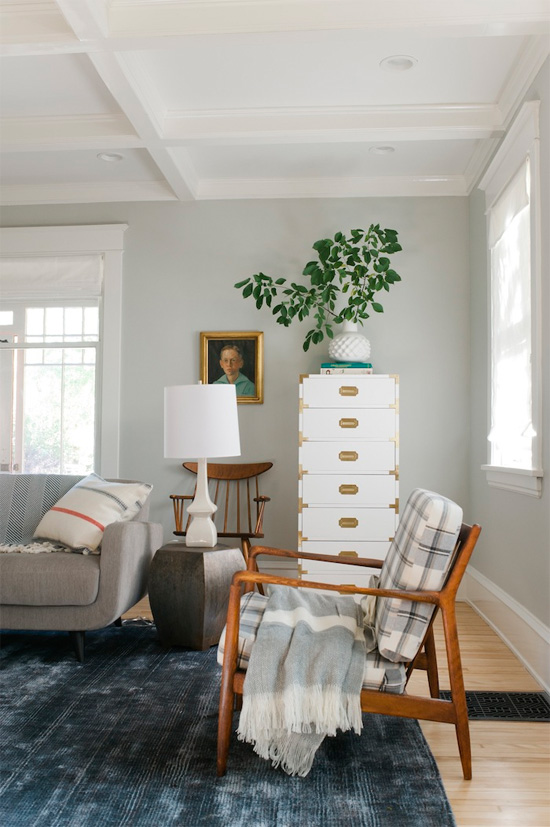 I loved Amy of Homey Oh My!'s post on plaid for the home on. Everyone knows plaid is a wardrobe staple in the fall, but it can also look fabulous in your house--and no, not just if you live in a log cabin. Plain can totally work with modern decor! Just look at the evidence above. I also wrote a post about plaid here (way back in 2012, yo!)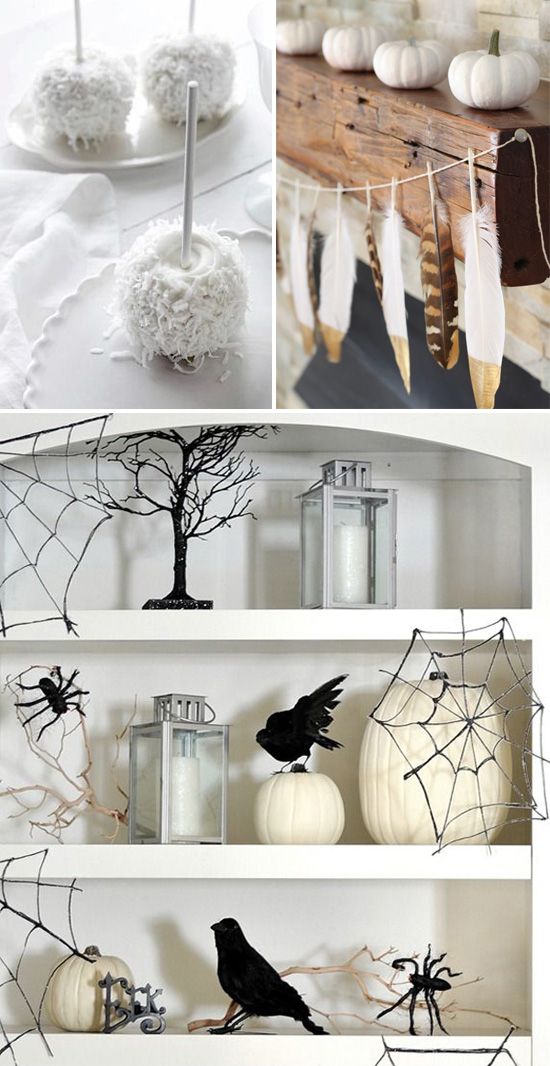 Courtney of HIBRID posted ideas for a modern white Halloween. I love this color scheme; it's such a chic and grown-up take on Halloween! And I like that it's more pretty than scary. Those white chocolate + coconut candy apples are pretty amazing, huh?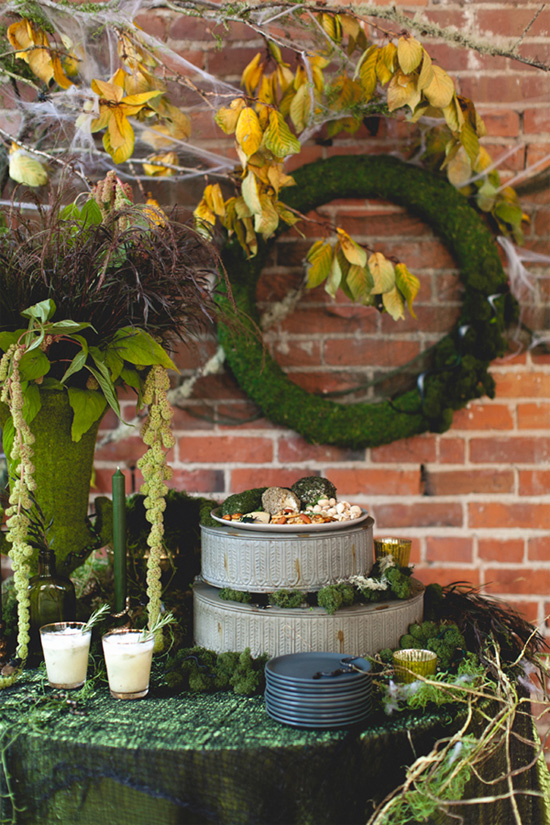 Speaking of a sophisticated Halloween, how cool is this swamp soiree on Coco + Kelley? She also shared DIY instructions for the creepy crawly wreath, if you'd like to make your own.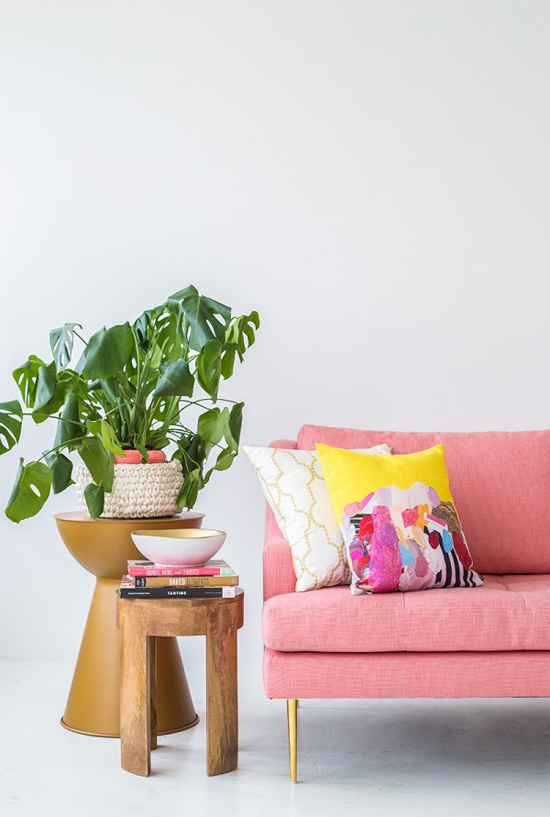 And I found an awesome pillow that I want in Studio DIY's colorful reading nook. We have plenty of pillows, but this one is so cute and only $20! Sigghhhh. Pillows are my weakness…well, one of them.
And that is it, folks! Tonight, I'm off to Whidbey Island and I'll be there all weekend long. I will try my bestest to have a blog post ready for you all on Monday morning. Hope you all have a great weekend! Don't forget to share your favorite links from the week in the comments (if you so choose).

Did you think that you had to paint your walls in one color from top to bottom? Wrong!!  I mean, you totally can, of course…but you certainly don't "have to." There are tons of other things you can do to create a more unique and creative accent wall (or hey, all four walls, if you wish). Some of these ideas are pretty time-intensive, but others are super easy. Like, even easier than actually painting your wall the "normal" way. And once you free yourself of thinking that a wall has to be one solid color, you'll probably come up with even more great ideas than the ones I rounded up here. Because seriously...the possibilities are endless.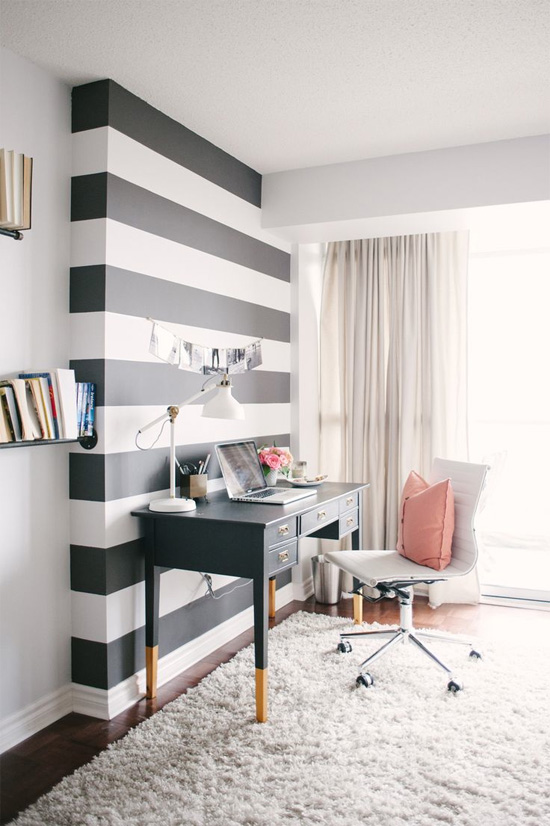 1. Wide stripes. This is a pretty simple way to try something a little different, since stripes are such a classic. As long as you make your stripes fairly wide, you won't have to do too much taping off.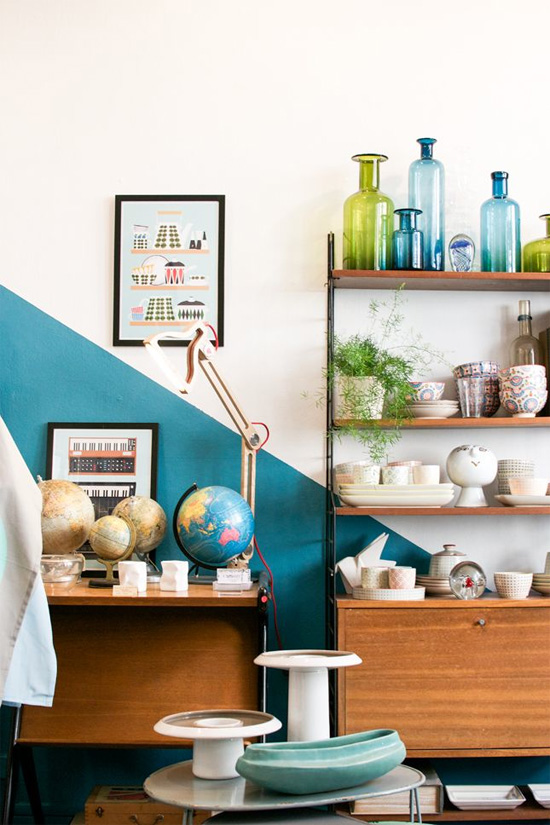 2. Diagonal. This idea is fun, and won't require too much work either. After you've painted the wall your first color, place a long, diagonal strip of tape from corner to corner (or wherever you want the line to be), then paint your second color up to the tape. Easy! See more examples here and here.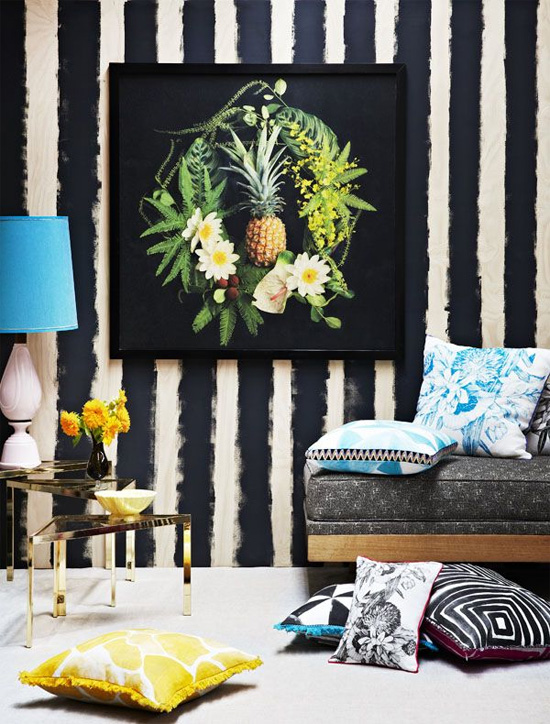 3. Messy stripes. I love this idea because there's no taping or measuring required at all! Perfect for me, the anti-measurer. Just take a small roller and roll on stripes from the ceiling to the floor. They don't need to be perfect or exact--in fact, part of the charm is that each one will be a little different.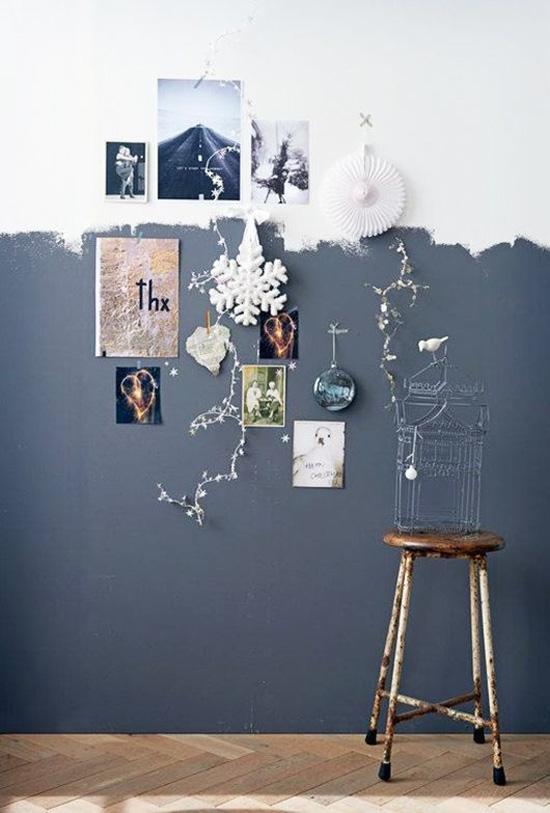 4. Messy halfway. This is similar to the stripes above, but (dare I say?) even easier. Just roll the paint about halfway up the wall, or to whatever level looks good to you. Then stop. Perfect if you're almost out of paint but don't want to buy another gallon…haha! But to be honest, I'm not sure if I could handle the unfinished look in my own house.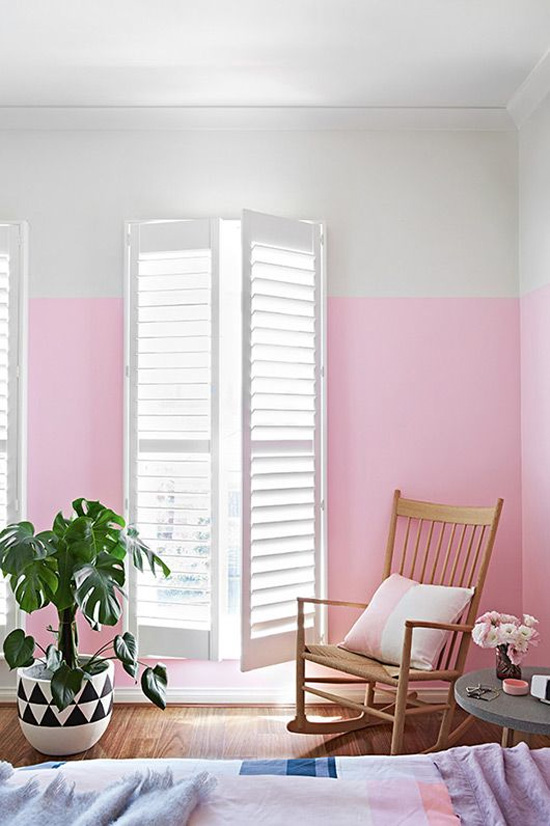 5. Half painted. If you like the idea of a halfway painted wall, but want it to look more finished than the one above, here's an example with neat, crisp edges. I also wrote a whole post about the half painted trend here. This is definitely one of my favorite looks...I would totally do this!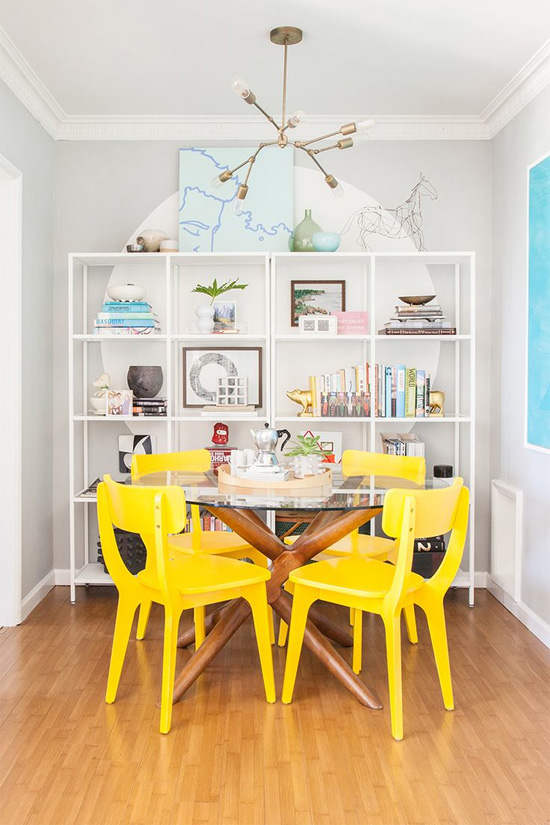 6. Painted Circle. I really like the idea of a big circle on an accent wall. It almost looks like a big full moon, doesn't it? And it's still pretty subtle, if you want to try something unique but don't want to do anything too "crazy." You can make this by putting a pin in the center of the wall, tying a piece of string to it, and tying a pencil to the other end. Then just keep the string tight and trace the pencil around in a circle. Your circle will end up with a diameter that's twice the length of the string (does that make sense?)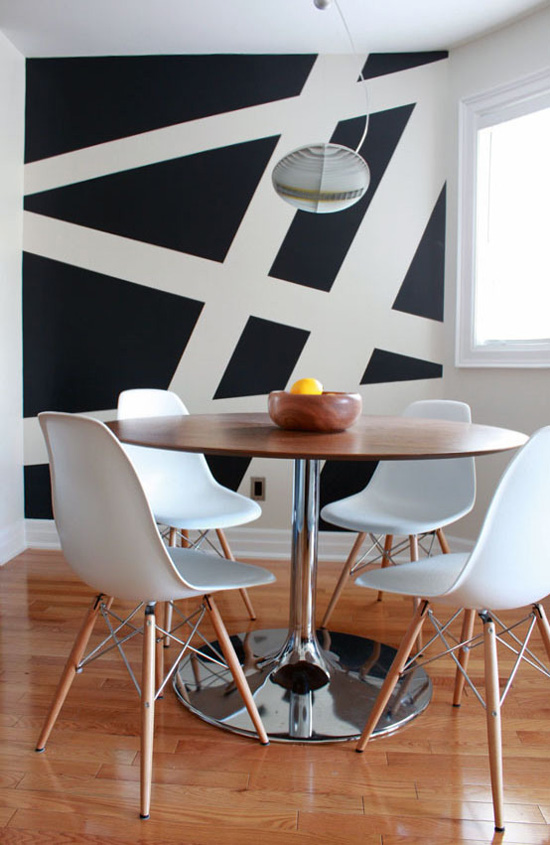 7. Geometric pattern. This geometric wall is gorgeous, and would be pretty easy to make with some extra thick tape.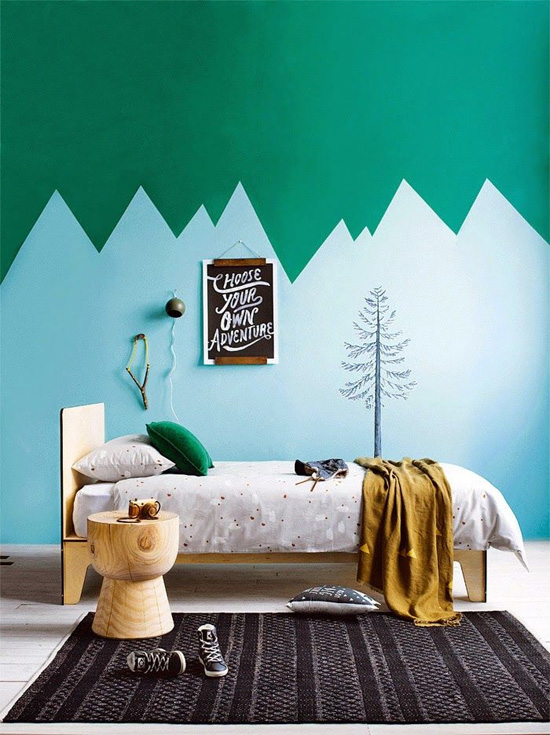 8. Mountains. I wrote a whole post about mountain (or zigzag) walls here, and I'm still loving this trend! Perfect for an adventurous kid's room…or really, any room.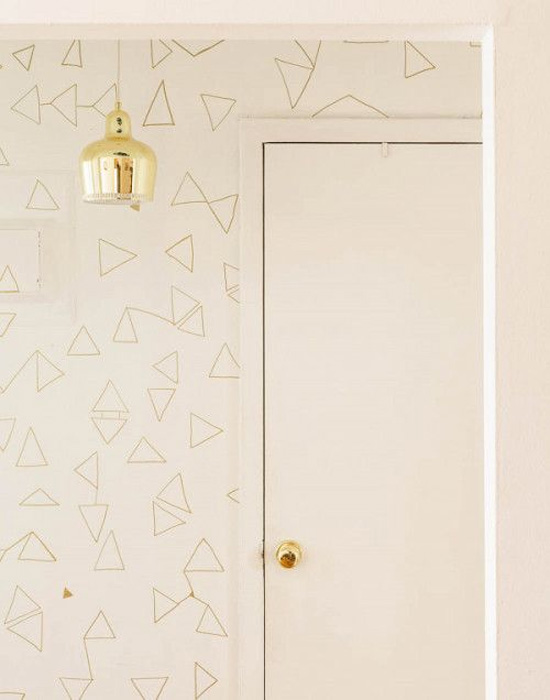 9. Sharpie wall art. What if you didn't have to bust out the paintbrush at all? It's hard to believe, but the wall above was created using a gold Sharpie. I know!!! It looks like a fancy designer wallpaper! This is an idea I would totally try.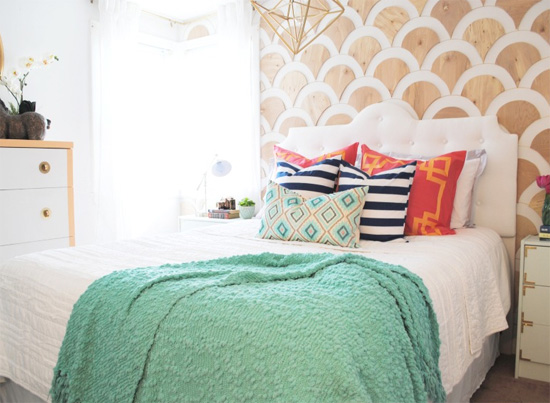 10. Scalloped plywood wall: Now, this idea will definitely require a little more time…but if you have the patience for it, the end result is pretty amazing! The scallops were cut out of plywood panels with a jigsaw.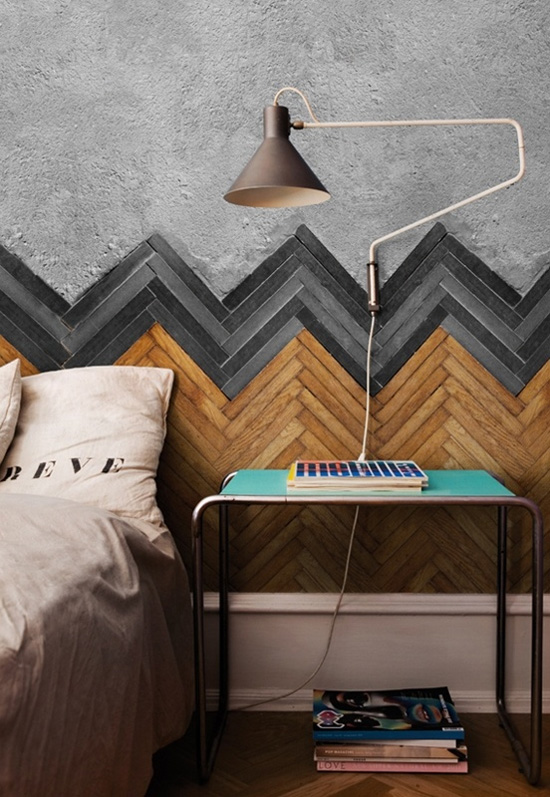 11. Wooden chevrons. This idea is a little easier than the scallops, especially if you only cover half the wall…and you still get that cool texture from the wood! I'm pretty over chevron in general, since it was everywhere for the last few years, but this idea still feels very fresh and not too overdone. So I'm down with it! I would totally do this.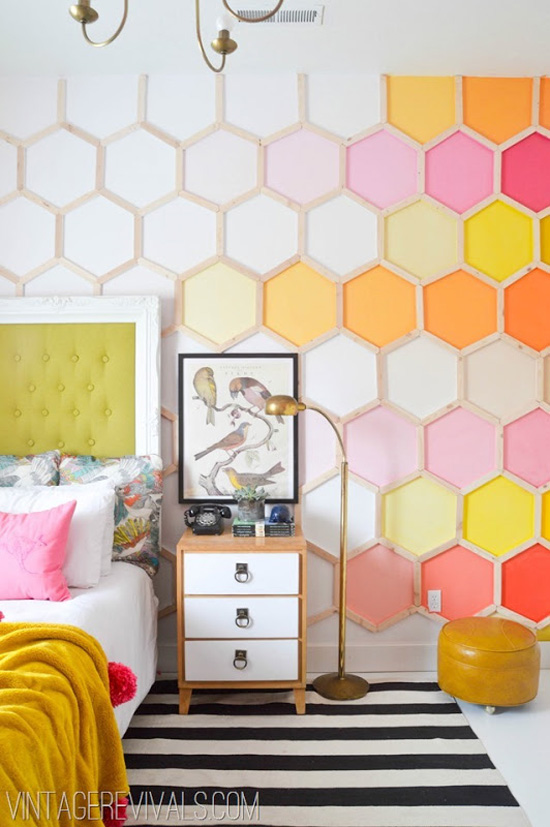 13. Honeycomb wall. Last but not least, you've probably seen this amaaaazing honeycomb wall by Vintage Revivals, right? I love it! It would definitely be a labor of love, but so worth it. Pro tip: she used white paint to "ombre out" the colors on the wall--so you don't have to buy as much paint as you might think!
See more ideas in my "Walls" board on Pinterest. Which one is your favorite?