I absolutely love books, especially decorating & design books. Someone asked me the other day whether I actually read my books, since I can always hop on Pinterest for inspiration nowadays. I'll admit, I do love Pinterest, and I definitely use it more often--especially when I'm searching for a specific idea. But when I just want some inspiration in general, a book cannot be beat! There's something so relaxing and satisfying about sitting down and flipping through some actual printed pages filled with prettiness. Books feel substantial, permanent, and real...something worth collecting and coming back to time and again. Plus, a collection of books is beautiful and serves as decor in it's own right. Just look at these rooms if you need proof of that! One trend that I've especially been loving is color coded bookshelves. This looks best with a large collection of books, but even if yours is pretty small, you can still play around with arranging your books by color. Just follow these 10 simple tips!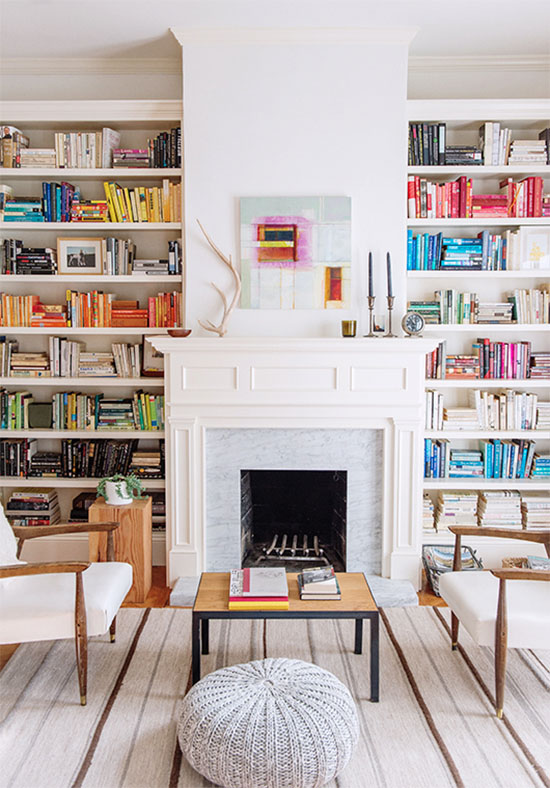 1. Color blocked shelves: Grouping your books together by color will instantly make them feel more organized and intentional. But if you arrange a big collection in ROYGBIV order, it can look a little cheesy. Instead, block your shelves out by color, but mix up the order of the colors...yellow next to blue, orange next to green, etc. And don't feel like all your books of one color have to live together. If the majority of your books are blue, you can have multiple "chunks" of blue books, so your shelves still feel balanced.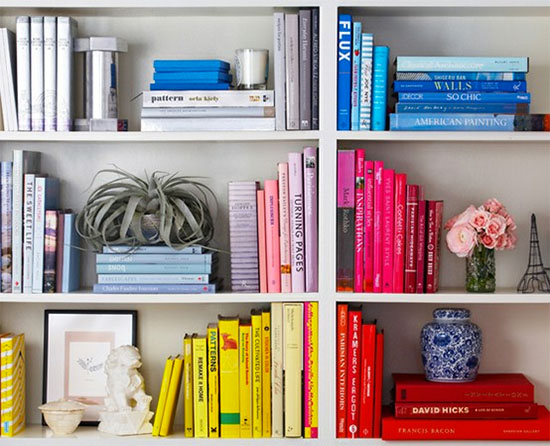 2. Mix up the orientation of your stacks. This is one of my favorite tips for styling bookshelves, regardless of whether they're arranged by color or not. Mixing horizontal stacks with vertical ones will keep the eye moving around and add visual interest. Plus, if you don't have that many books, the horizontal stacks can help to fill up space, so your shelves doesn't look empty. Adding decorative items like frames, candles, and plants will fill your shelves up even further, and add more variety.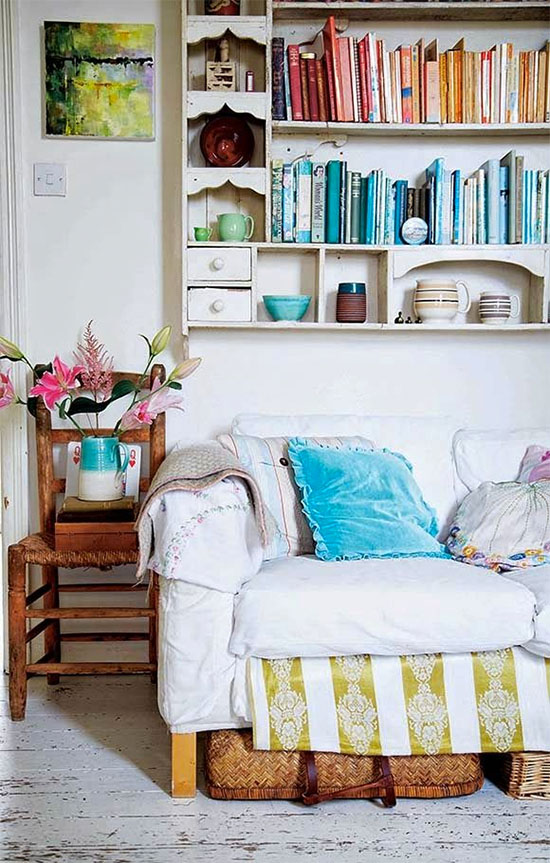 3. Separate warm and cool colors. Rather than separating your books by their specific colors, put all your warm colored books on one shelf and all your cool colored books on another. This is great if, for example, you only have a couple yellow books. Rather than having the yellow section feel sad and small, just mix it in with all your red and orange books. It will still feel like a cohesive collection, visually.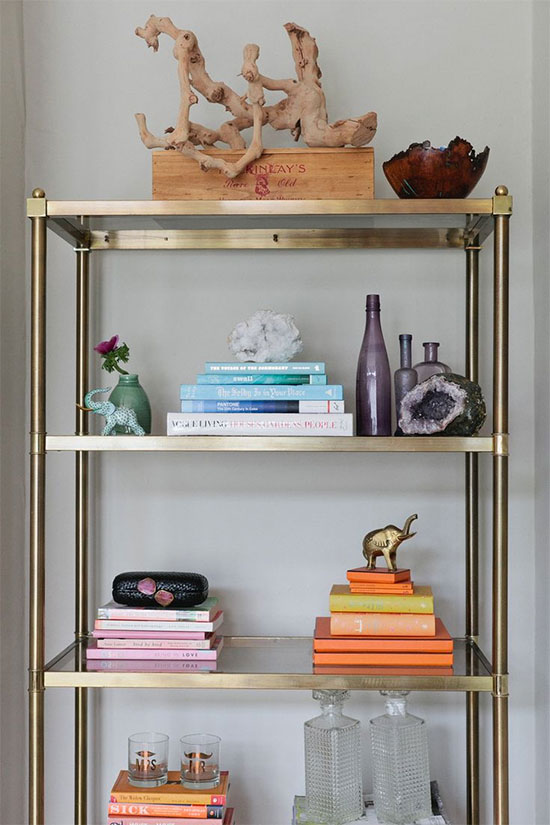 4. Stack books horizontally and mix them with other objects. Honestly, this look isn't my favorite--I prefer a mix of horizontal and vertical books. But if you don't have a large collection or if you're using an open-sided etagere instead of a bookshelf, this might be a good method to try. Be sure to stagger your stacks so each shelf feels different. For example, here they have one stack of books in the middle of the top shelf and two stacks on either side of the shelf underneath. That way, it keeps the eye moving around. For this look, you definitely need to have other objects mixed in or the stacks of books will look weird by themselves. I like how they grouped the decorative objects by color, as well as the books!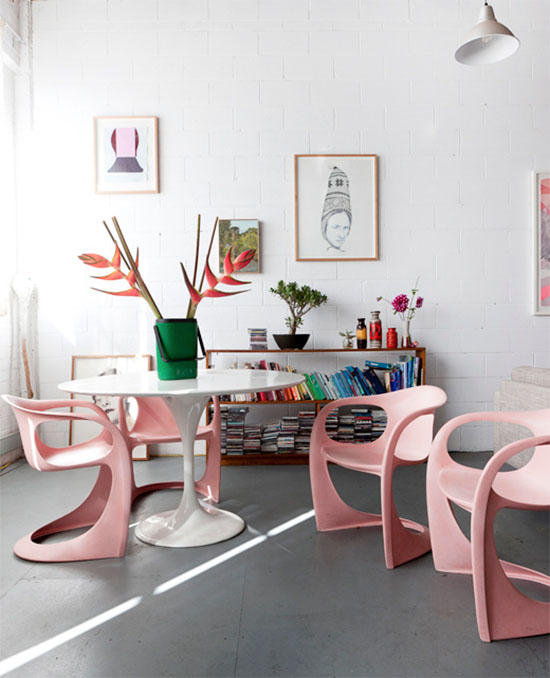 5. Arrange your books in rainbow order. This is probably the most obvious way to arrange your books by color. But there are still some tricks to it! I think rainbow books look best with a medium sized collection that fills just one shelf from end to end, with at least three books in every color. If your collection is unbalanced (ie: you have 20 red books and only 3 green ones), I wouldn't put all of the red books on the shelf. You don't have to have the exact same number of books in every color--in fact, that would look kind of forced--but it should feel somewhat balanced.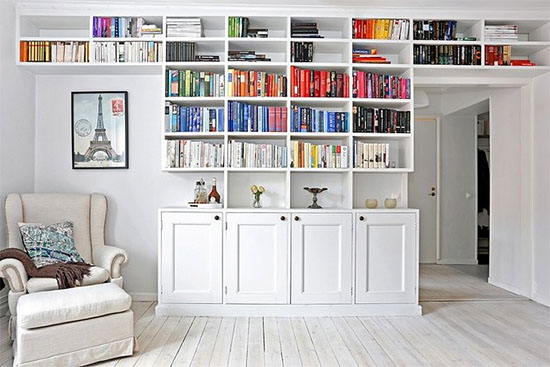 6. Let the books be the centerpiece of the room. If you have a large collection of books and you decide to arrange them by color, it's going to make a statement...no doubt about it. Having a lot of competing elements like colorful walls and statement art can make it look like there's just way too much going on. I think color coded bookshelves look best when the rest of the room is fairly simple and neutral, letting the books take center stage. I've seen examples with dark walls and lots of color everywhere, but if you ask me, the best way to pull this trend off is with white walls and white bookshelves.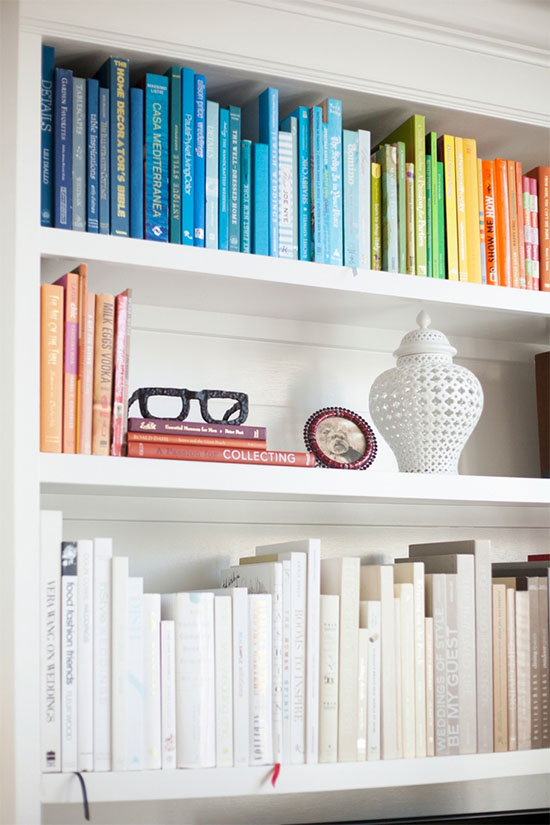 7. Restrict yourself to just a couple colorful shelves. Then again, even if the rest of the room is neutral, a huge color-coded home library can still be overwhelming. One way to play around with this trend without turning your room into a rainbow explosion, is to restrict yourself to one color coded shelf (or two). Pick your favorite books with the prettiest spines, then cover the rest with white paper and mix them in with your neutral books (write the titles on the spines after you cover them, so it's still easy to find the book you're looking for). There...that's a little easier on the eyes.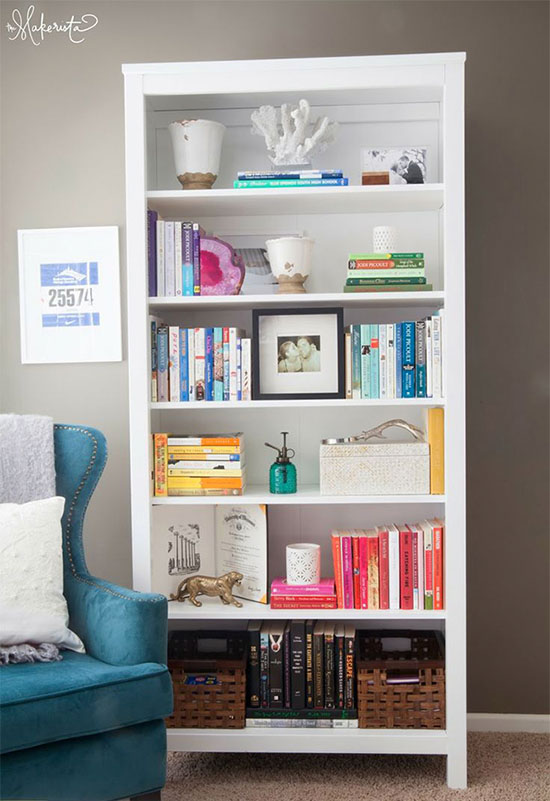 8. Mix some white books in with each color group (and keep the black at the bottom). Arranging books by color is a great way to make them feel organized and intentional...but solid blocks of color can also feel a bit "staged." One way to keep the overall effect, while toning it down and making it appear more natural, is to mix in some books with white spines along with each color group. That way, it doesn't look too perfect. I also like how in this example, they put all the black books on the bottom shelf, so the top shelves feel light, bright, and fresh, while the bottom shelf feels grounded.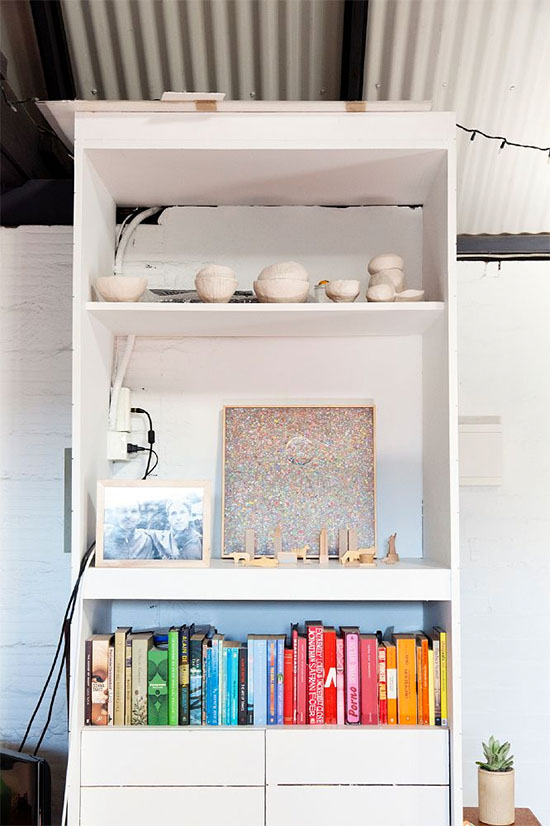 9. Arrange the colors in whatever order you like. If starting with red and going on down the rainbow is too cheesy for you, try arranging your books in a way that is visually appealing...but not ROYGBIV. Play around with it until it feels right to you. I love how this shelf looks, and the colors do a great job of transitioning into each other, even though it's not the typical rainbow order.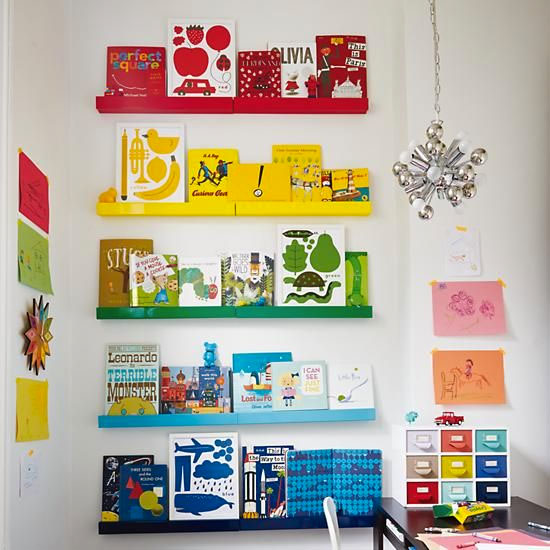 10. Try it in a kid's room. If you're still not convinced to try color coded bookshelves in your living space, consider doing them in a kid's room. After all, kids don't categorize their books by author or genre. In fact, color is probably the most logical way to organize them. And who knows, it might even help your kid to learn the colors faster! 

What do you think of this idea? Would you color-code your books?
P.S. If you're a fan of beautiful bookshelves, you should also check out this post and this Pinterest board.
1 / 2 / 3 / 4 / 5 / 6 / 7 / 8 / 9 / 10


Ok, so I don't technically know if any of these questions were actually yours. But remember how last week, I said that I was going to be doing a Q&A on Decorist? Well I did, and it was a blast! I'm sharing a few of the questions (and my answers) below. Head over to Decorist for more of them! Also, this got me thinking...I'm always brainstorming ideas for blog posts, but I haven't asked you guys in awhile. What would you like to see me talk about? Any questions, trends, color palettes, or decorating dilemmas that you want me to tackle? Leave a comment with your suggestion(s)--or shoot me an email!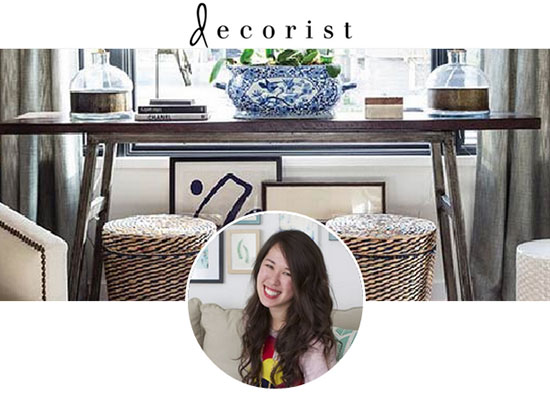 Liz's question: I want to add a little bit of my personality to my office cubicle, but I don't know what to add besides office supply organizers. I don't want to spend a ton of money. Oh, and my office is modern - white & orange. 
My answer: I think it's so important to have an office space that feels energizing and inspiring. So my biggest piece of advice is, don't feel restricted to the things that you typically think of as "office decor." Because let's be honest, they are usually bo-ring! Feel free to mix in the types of things that you'd decorate with in any other room: art, pillows, blankets, baskets, cute lamps, etc. Some small and inexpensive ways to add personality and color are: an inspiring print, a mug that makes you smile, and some flowers or plants. P.S. If you have a green thumb, try getting an air plant. I'm the worst at keeping plants alive and I have air plants that are going on a year strong now.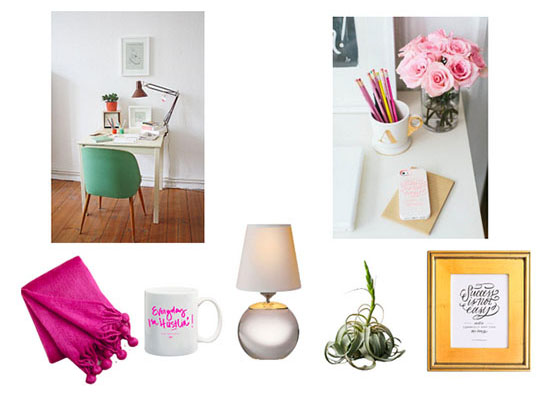 Tami's question:  I would love some ideas on what to put on the wall above my bed.
My answer: Framed art, a mirror, or a gallery wall would all look great. But if you live in an area where there are earthquakes, you might not want to hang glass over the bed--or maybe you just like the idea of doing something a little different. Luckily, you have lots of other options! Some ideas that I like are: faux taxidermy, a woven wall hanging, an African juju hat, etc. Think about your hobbies and what you already own, too. I've seen a room with a pair of wooden oars over the bed, and I've also seen a bedroom with a bunch of cowboy hats hung on the wall. It can be fun to have "art" that's a little more sentimental.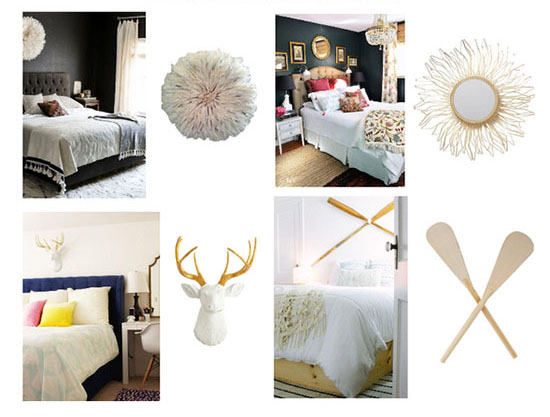 Connie's question: Right now my bedroom colors are blues and browns. I'd like to make a change. What light soothing colors would you recommend? 
My answer: Blue is such a common color for bedrooms, since it's considered soothing and restful. But lately, I've been really loving a combination of soft, muted pink with neutrals like brass, grey, light wood, and ivory. Plus, when it comes to how color affects our mood, pink is typically associated with romance…so that works out well! If you're not a fan of pink, I also really love all neutrals in the bedroom. You can use texture like knit blankets, a tufted headboard, and a cushy rug to keep it from being boring…and it makes a great blank canvas to layer in accent colors seasonally, if you like to switch things up.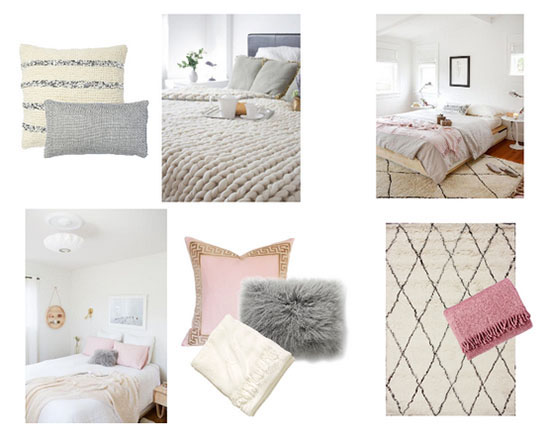 Christa's question: I just moved into a brand new townhouse and I need help decorating my living room. I have light colored hardwoods and high ceilings. I need help finding the right media console, but don't want for it to be the focus of my room. I have eclectic style with souvenirs from all of my travels - mostly african masks and beautiful colorful wall hangings and fabrics. Any ideas?
My answer: For your eclectic style, I think a midcentury style media console would fit in well. Midcentury pieces are absolutely gorgeous, and they tend to mix well with all different styles. Plus, their clean lines and simple shape won't compete with your beautiful wall hangings and souvenirs. Hope that helps!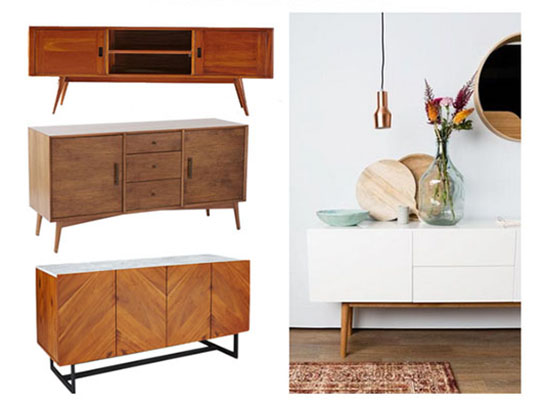 Hope you found this Q&A interesting and helpful! If you're interested in trying out Decorist, my promo code with them is still live--use decoristathome to get $10 off a makeover.
Have a great weekend!


I don't know about you, but I am sooo ready for SPRING! Warm weather, sandals, flowers, and spring colors...bring 'em on, the sooner the better! For a brief second this winter, I thought maybe I wanted to try out some more muted colors and "earthy" colors like marsala in my house. But I'm over it...I don't feel like that color palette is really me, and I think I'd just be trying to force it. I do think it's good to step out of my comfort zone sometimes...but I'm also trying to do a better job of identifying my style (independent of trends) and sticking to it. That way, hopefully I won't make as many purchases that I later regret. It seems like every spring, I inevitably end up with a big pile of stuff to donate to Goodwill...which is fine. It's good to clean up and pare down. But it's also a sign that I accumulate too much stuff throughout the year! And I keep thinking of all the money we could have saved if I just didn't make those dumb purchases in the first place. So this year, my goal is to buy less and buy smarter...so hopefully we won't have such a big pile to donate next year!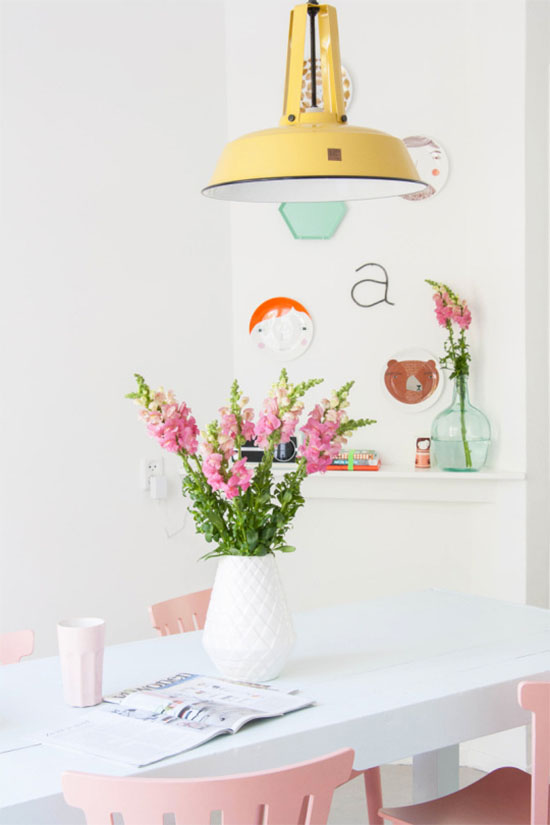 In keeping with that, if I was to pick a color palette that feels very "me," this would be it. Pastels and bright, cheery colors are my sweet spot. Pink, coral, and yellow, mixed with some mint green and robin's egg blue, and a good dose of white. All my faves! I don't think I'll ever get sick of these colors, so maybe I should just embrace them and stop trying to branch out. What do you think?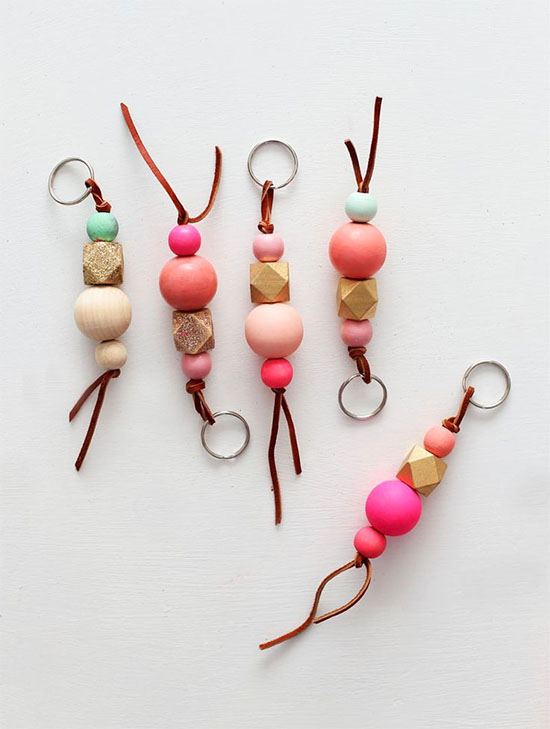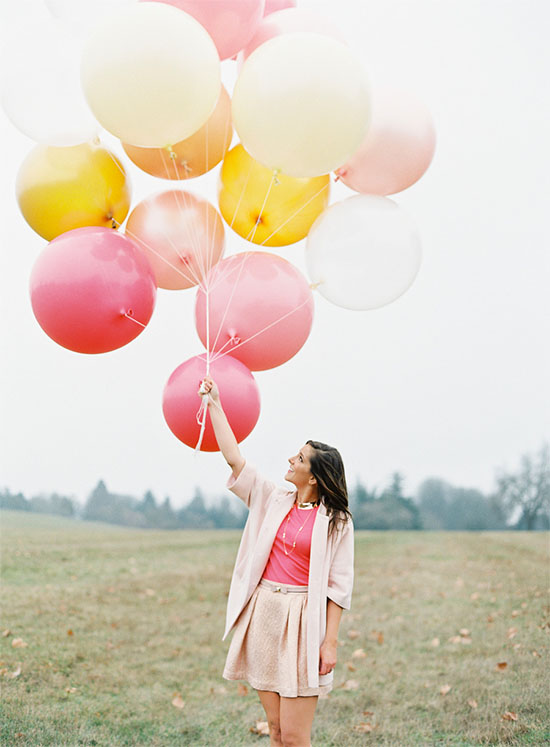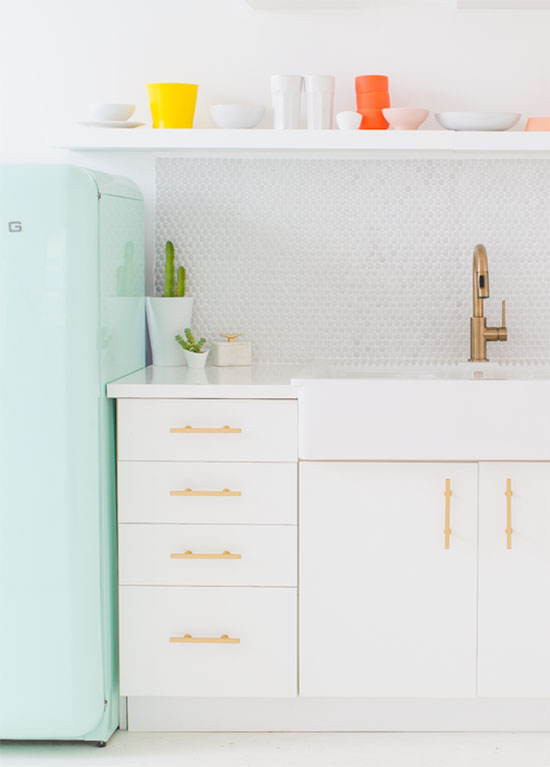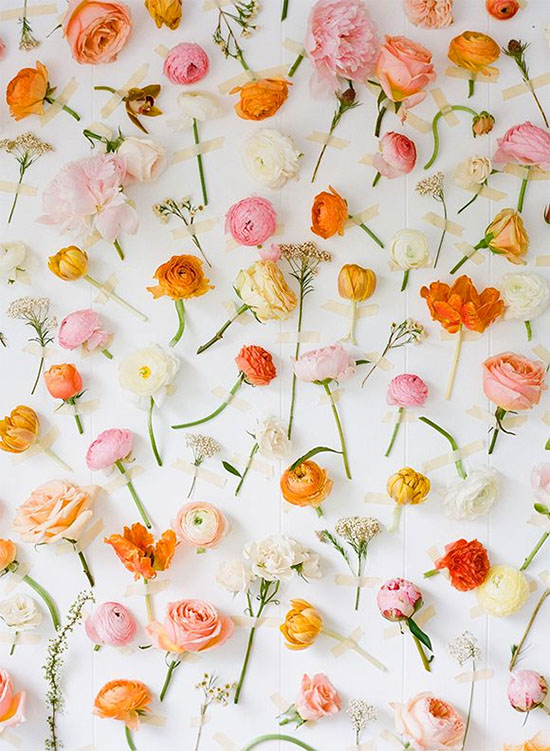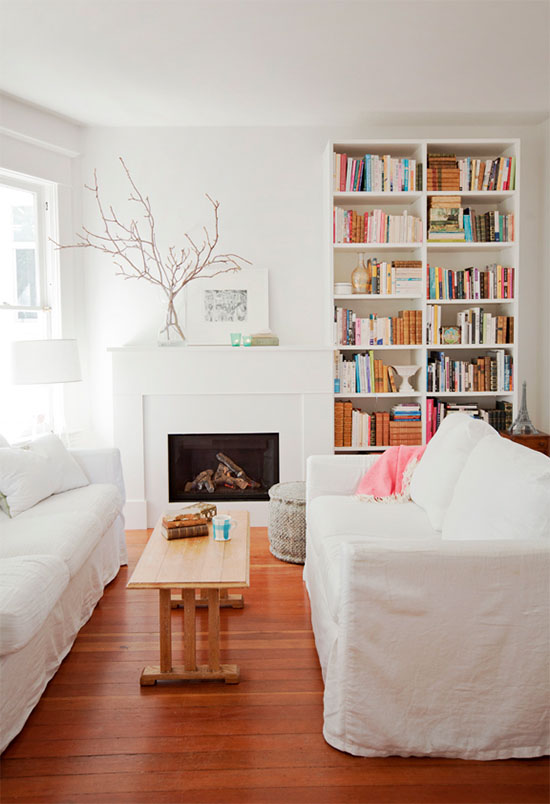 What's your "comfort zone" when it comes to colors? Do you always stick with the same color palette, or do you try to branch out sometimes? And if you've tried to do something bold and different, did you end up loving it, or did you later regret it and feel like it wasn't "you?" I'm really interested in the whole balance between trying new things, and feeling comfortable with your own style. 

Our new window treatments are up! If you remember, I shared the fabric swatches and styles that we picked out in this post. Now our new shades are installed, and I'm sharing how they look over on Bali Blinds! Here are the "before" photos of our bedroom and kitchen. Head on over to see the "after" ones.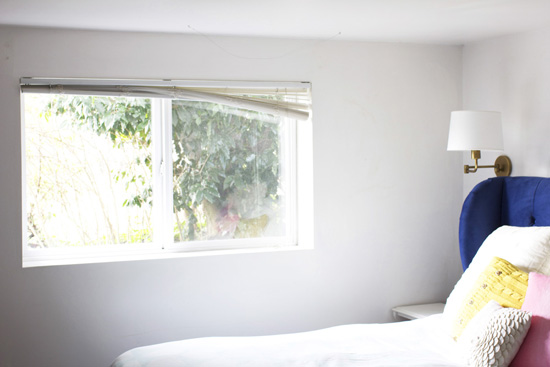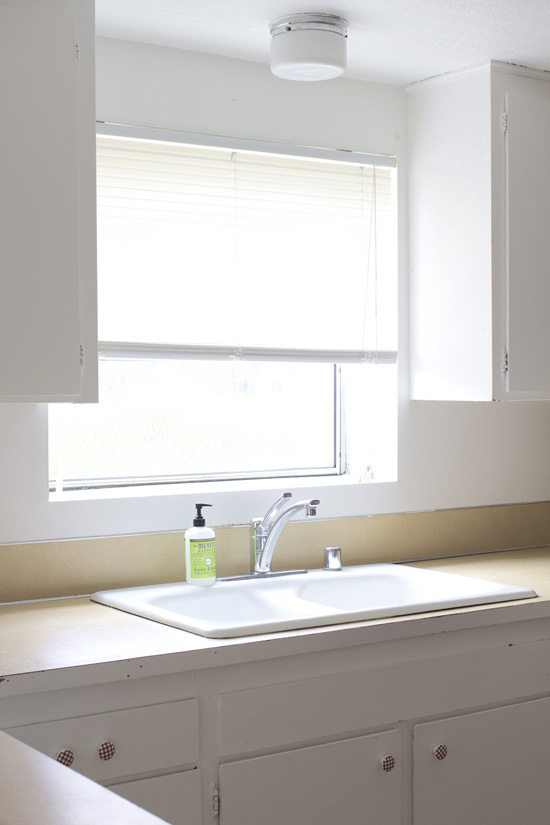 YAY for no more broken, crooked blinds! The ones in our bedroom seriously needed to go.
Hope you guys agree, our new window treatments are so much better.