If there's one DIY project I've seen about a million times, it's a garland. It's such an easy concept, and there are seemingly endless ways to make a garland that will fit whatever the theme of your party is. You can find tons of ideas out there, but today I thought I'd pull together ten of my favorites! My criteria for picking these was how cute they are for the amount of time and money it would take to create them. Because I've seen some ideas out there that look great, but would cost a small fortune (no thanks) or take about half a year to make (I'm exaggerating, but still…no thanks).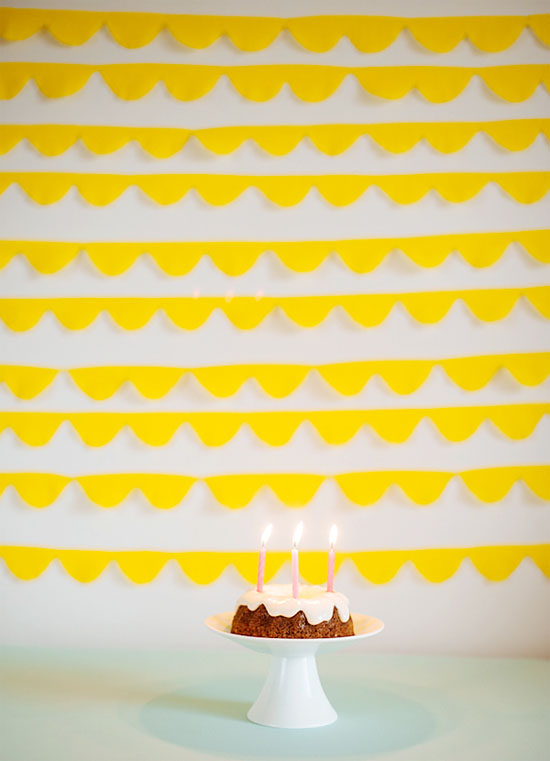 1. Scalloped streamer garlands. This idea is amazing if you need to make a bunch of garlands in bulk. Instead of cutting out individual shapes, you just take some crepe paper streamers, fold 'em up, cut out one "scallop" shape, and unfold. Scissors can cut through a lot of layers of crepe paper, so you can get a lot of garlands done in just a few minutes!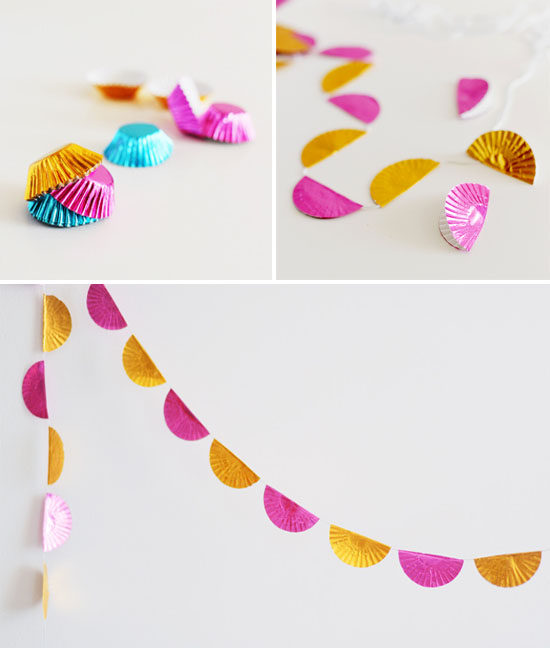 2. Cupcake liner garland. This idea totally wins for simplicity and cuteness. Fold foil cupcake liners in half, glue on string, and voila! You've got yourself a garland.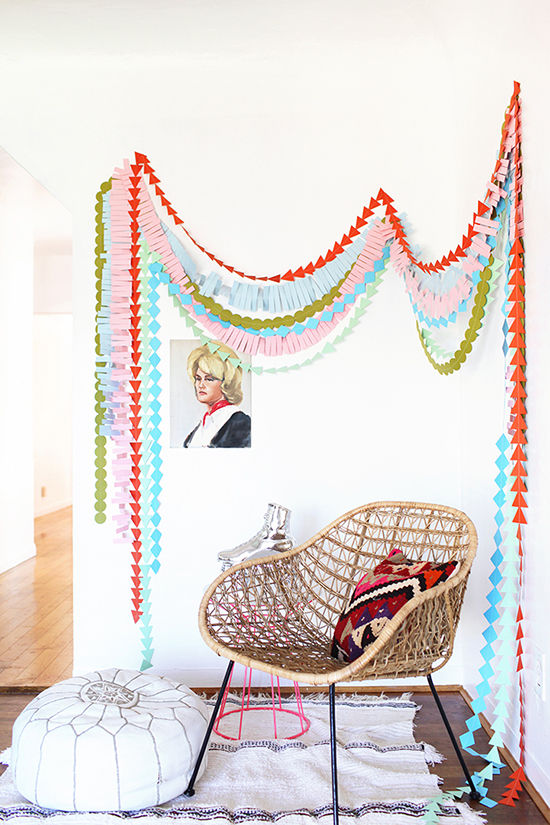 3. Paper shapes garland. I absolutely love this garland, especially all the layers of different colors and shapes. It'll definitely take you a little longer than the first two, but the results are so stunning I think it's worth it. The project basically involves cutting out shapes from paper, then sewing them together.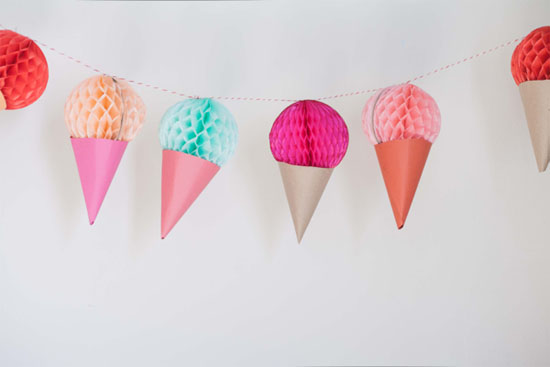 4. Ice cream cone garland. So cute! And pretty self-explanatory: honeycomb balls + paper cones. I've also seen this idea with balloons as the ice cream scoop. And you could use real ice cream cones or paper cone water cups if you don't want to deal with making your own cones.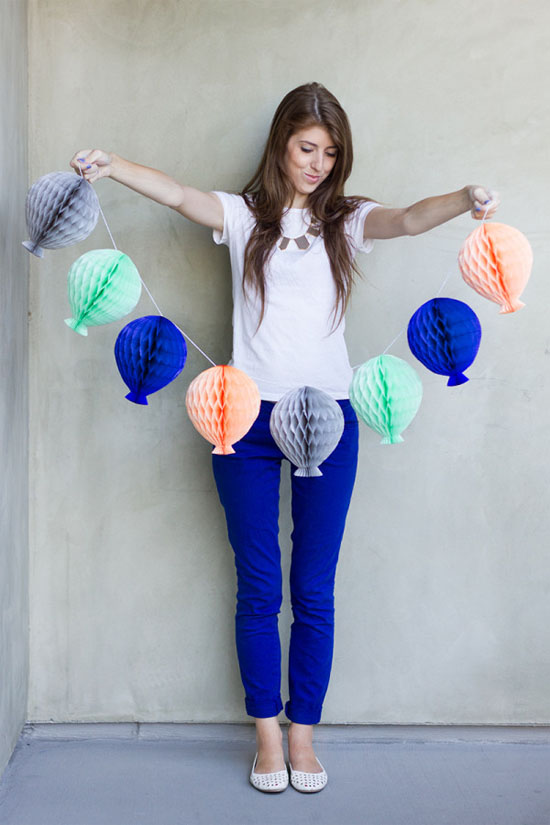 5. Honeycomb balloon garland. Here's another garland you can make with honeycomb balls. This time, before you unfold your balls, cut them into balloon shapes. The result is so fun, festive, and best of all…easy!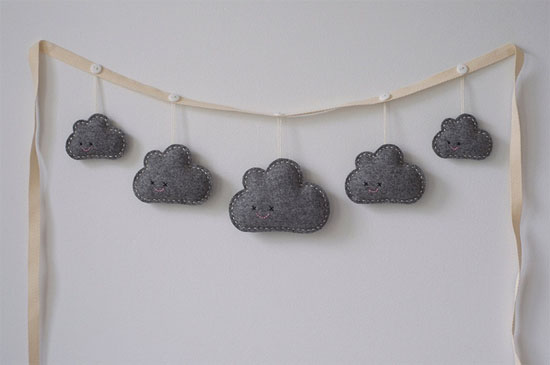 6. Cloud garland. This one's actually not a DIY, but if you're the crafty type, you can totally make it yourself. Cut out cloud shapes from felt, stuff with some batting, and sew around the edges. I think the faces are cute if you'd like to add them, but they're not really necessary. This garland might take a little longer than some of the others, but it's sooo cute and would last for a long time as decor in your baby's room. So it's worth taking a little more time than you would for a simple party garland!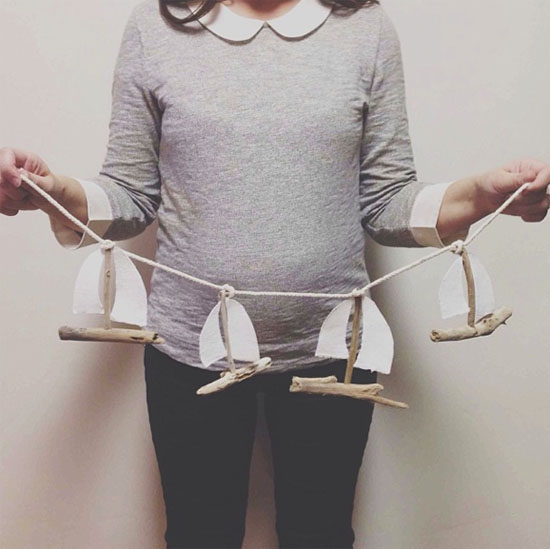 7. Sailboat garland. Here's another idea that's perfect for decor in a baby's room (or at a baby shower): driftwood sailboats! Adorable. And not that hard (or expensive) to make--just gather small pieces of driftwood, glue together, and add canvas sails.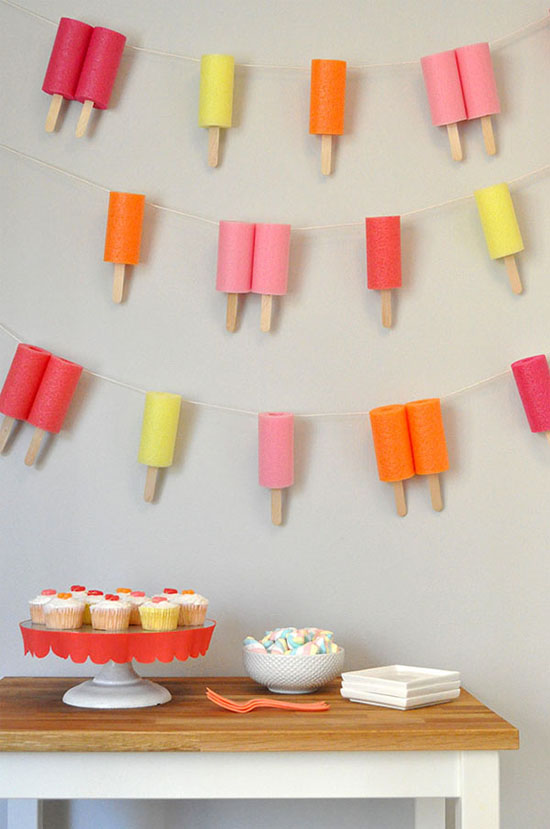 8. Popsicle garland. This idea is actually really easy--easier than you might think at first glance. These jumbo "popsicles" are made up of chopped up pool noodles + giant popsicle sticks! So cute!! And perfect for summer parties.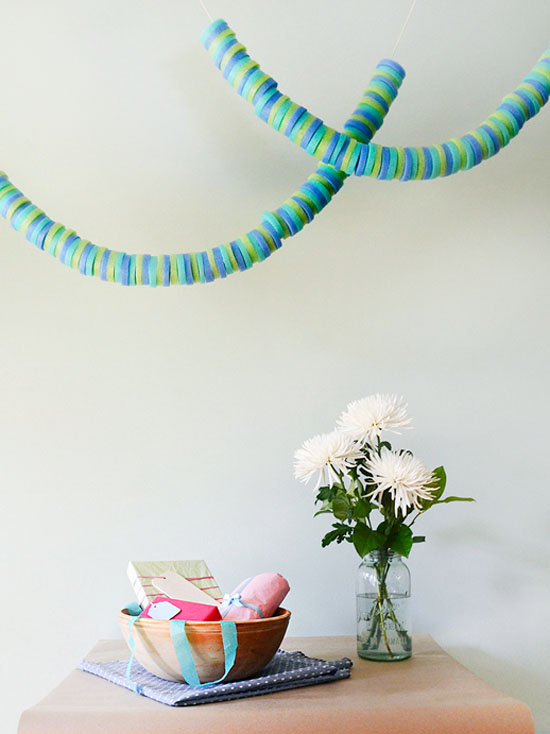 9. Pool noodle garland. Here's another genius idea with pool noodles (who knew they were the next big crafting supply, right?!) Chop them into ½" slices and slide them on some string. Easy peasy.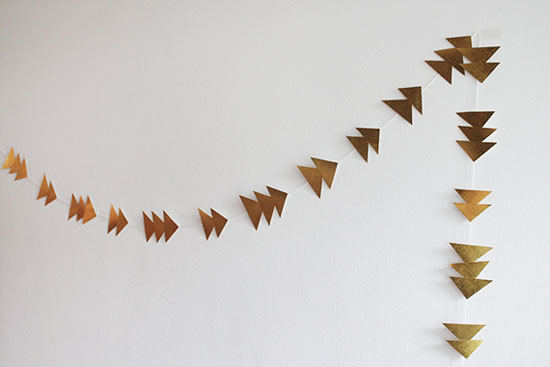 10. Gold triangle garland. Last but not least, this idea is pretty similar to #3, but instead of sewing all the shapes together, simply tape the triangles on the back in groups of two of three. I like the gold too!
Which of these ideas is your fave? Have you made any awesome garlands of your own?


Kate Spade is one of my favorite designers--she does a great job of marrying bright colors, great shapes, and fun prints. But I'm also a cheapskate, so ever since I heard of Kate Spade Saturday, I've been intrigued. In case you haven't checked it out yet, Saturday is Kate Spade's less expensive and more casual sister store. I haven't bought anything yet, but I heard they were having a sale so I did a little online (window) shopping. And I found a lot of things I loved! The only thing is, the reviews were a little unenthusiastic, so I thought I'd ask…have any of you bought anything from Kate Spade Saturday before? If so, how was the quality and fit?

1. Reversible dress - $55 / 2. Circles & squares necklace - $26 / 3. Saturday phone case - $16.25 / 4. Trapeze top in pebble - $42.50 / 5. Reversible striped tee - $30 / 6. Great shapes bracelet - $19.50 / 7. Black & white outdoor tray - $10
Also, let me know if any other stores are doing big sales! I have this week off and want to do a little shopping, but I hate to buy things full price…


I've been seeing these beautiful, breezy, oversized cotton lamps quite a bit, so the other day I dug around a bit and found out what they are: the Z1 lamps by Ay Illuminate. I'm obsessed! They're definitely gorgeous, but they're not cheap ($510 on Bodie and Fou). So as much as I love this lamp, for now I'll just have to stick to drooling over photos. Maybe one day I'll try to make my own DIY version!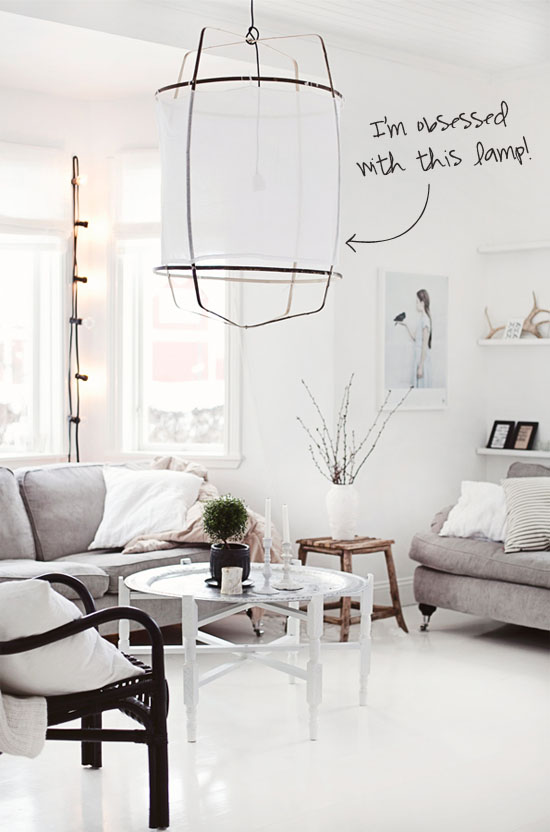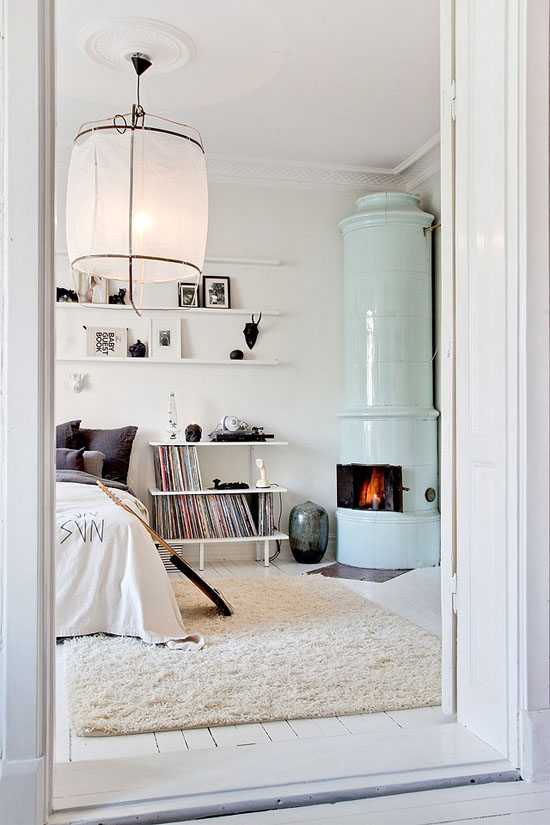 The Z1 is so light and airy…it's like a cloud floating in the room!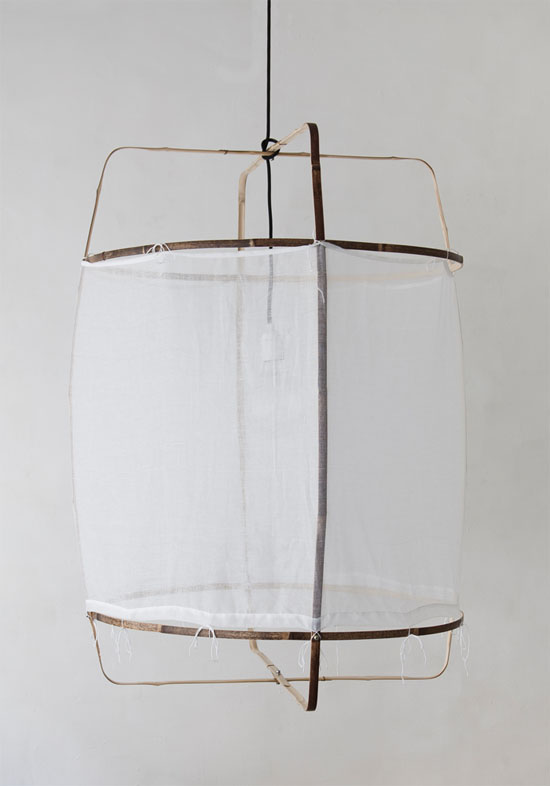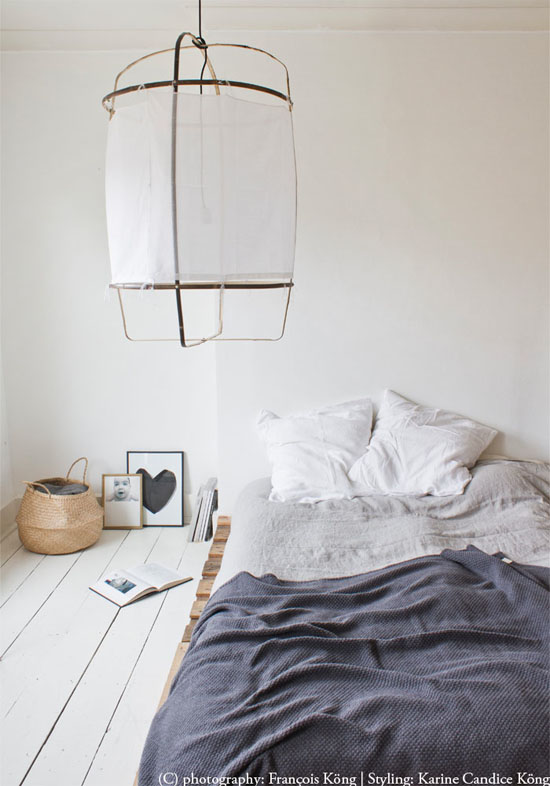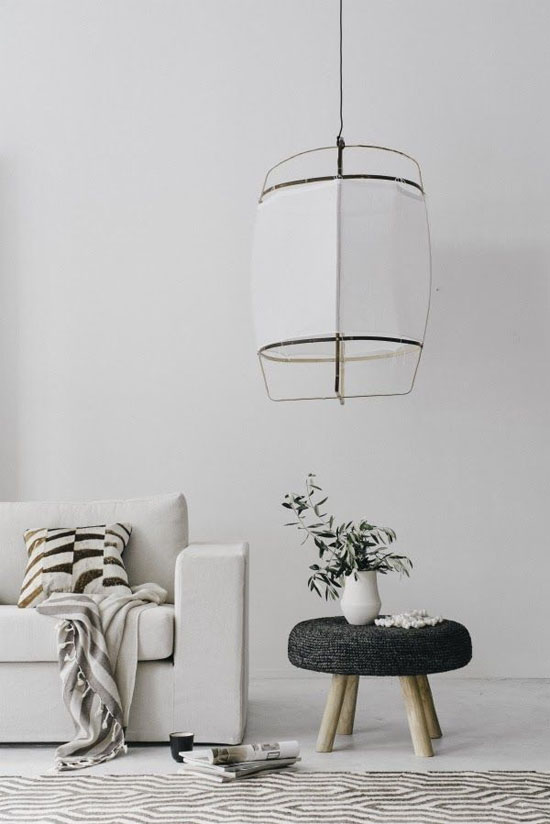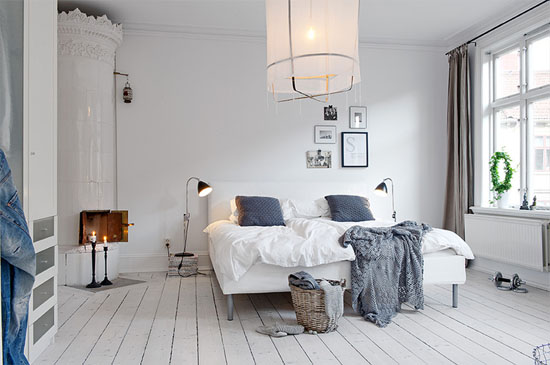 So pretty! That freestanding fireplace is pretty great too, huh?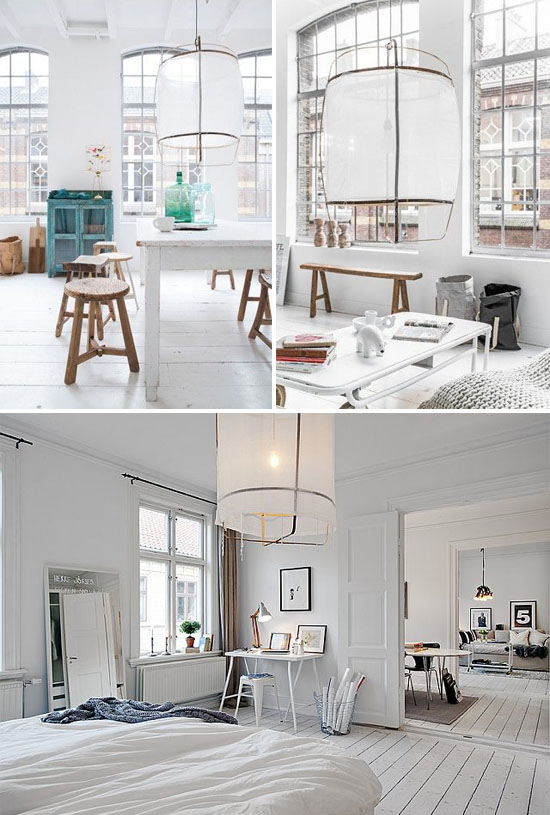 What do you think of this lamp? Is it worth splurging on? Does it look possible to DIY?
1 / 2 / 3 / 4 & 5 / 6 / 7 / 8 & 9 / 10

I recently came across the blog Hammer and Heels and instantly LOVED it. Amanda is so cute, and her apartment is beautiful and super inspiring…and then there's the fact that she decorated the whole thing for $500. Whaaaaat?! I know. As soon as I read that, I knew I had to find out more about this girl, so I asked Amanda if she could share some of her insight and advice with us. I think you all are going to love her (and her apartment) too!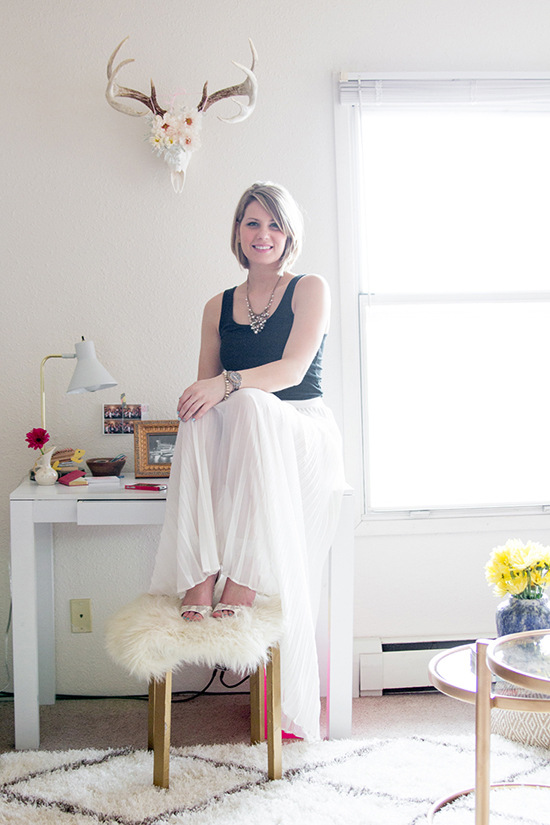 1. Can you tell me a little bit of your background, and how you got started with Hammer and Heels?
I grew up on a farm in Iowa and loved decorating and DIYing ever since I was a kid. I remember flipping through the JCPenney catalog and picking out all of the home furnishing I wanted for my future home. I was always decorating my family home and rearranging my bedroom. I went on to school and got my degree in marketing. While in school I had a few internships. One in particular was an eye-opener for my career and made me realize I really wanted to do something creative that I'm passionate about. During that time I started reading blogs and I admired how close-knit and inspiring women were in the blogging industry. I decided to start my blog, Hammer and Heels, as my own space on the Internet to share my passions with others. It's one of the best decisions I've made!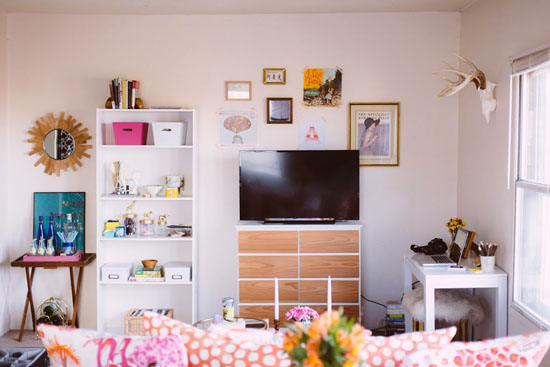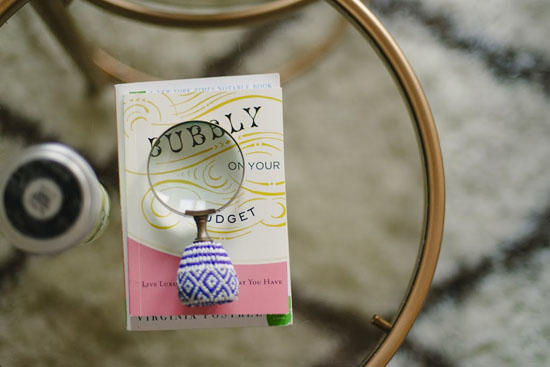 2. You decorated your whole place for $500 (Whoa! So impressive!) Do you have any tips for thrifting and finding awesome deals?
Patience! I search for items I love and watch them like a hawk until they go on sale. As for thrifting, I have to give most of the credit to luck. I spend lots of time searching Craigslist and hitting the thrift stores until I score something great. It's important to keep an open mind when thrifting and think about how you can make something work with a little TLC. Most importantly, I know my budget so I do my best to stick to stores that are in my price range. I like the challenge of decorating on a budget!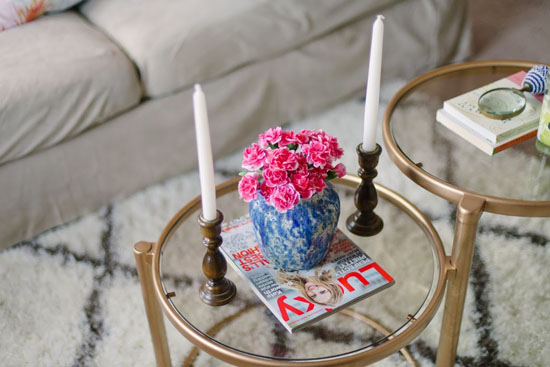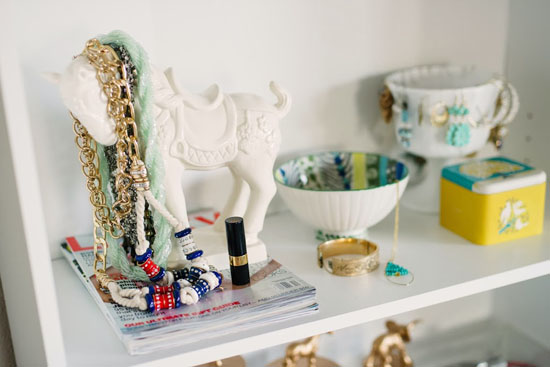 3. How do you go about decorating a room? Do you have a process?
I wish I had a good process! It usually starts with inspiration photos. I look on Pinterest and create an inspiration board of images that reflect the look and feel I want to achieve with the space. Then I start online shopping! I browse all kinds of sites for furniture, textiles, and decor to find what I like. This helps me visualize decor for the space and see what's out there. This is where the patience comes in! I usually try to come up with DIY knock offs of decor and things I've seen online, or find something similar on Craigslist. In decorating, I tend to find one piece I love for the room, whether it's a rug or fabric, and then work around that. It's also important to settle on a floor plan and furniture early on, and then follow with the smaller things like lighting, accessories, pillows, etc.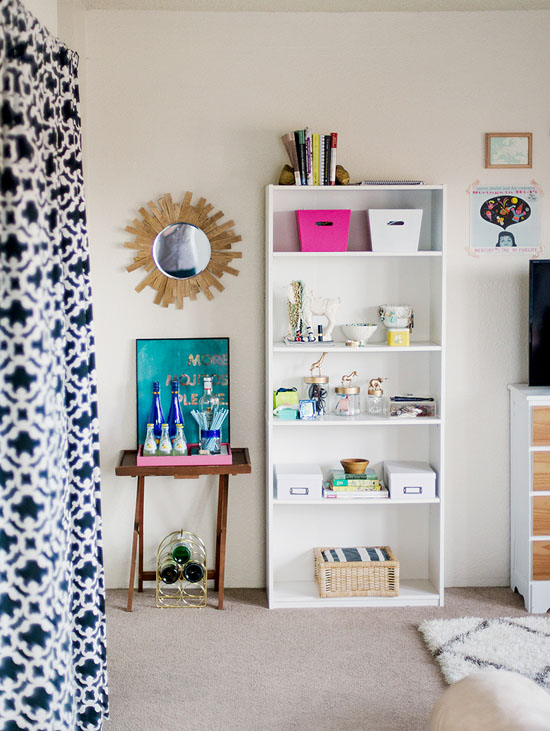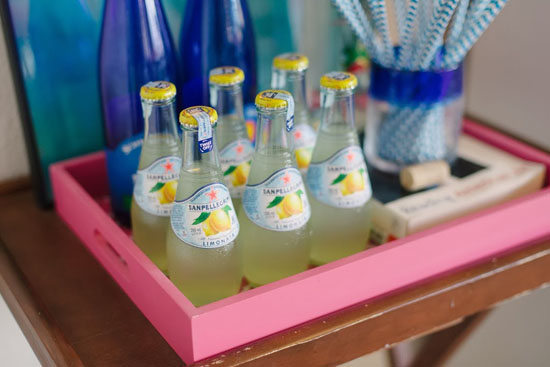 4.. What are some trends that you're loving right now?
I'm totally into clean, modern with a touch of mid-century and rustic. As with any trend, everything in moderation. It's important to mix and match styles and trends so nothing is too "perfect". A space that reflects just one style can feel stale. I'm all about a lived-in feel that doesn't look like you're trying too hard. It's kind of like fashion. You wouldn't wear an outfit that combines all of the latest trends. That's just too much going on. Pick and choose the ones you love, and mix them for a balanced look.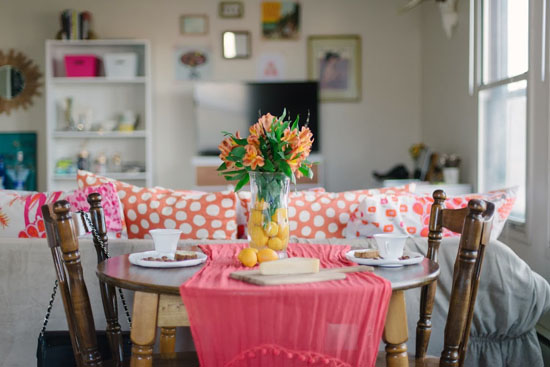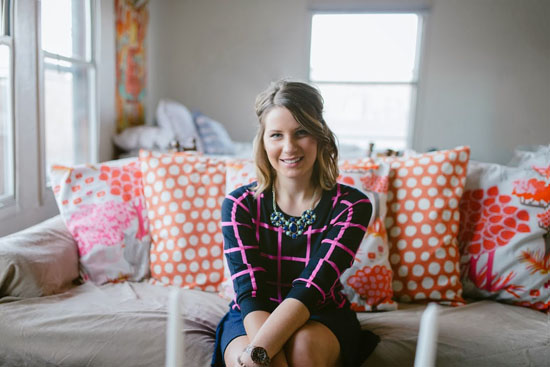 Thanks so much, Amanda, for letting me share your home!
See more photos and shopping sources
here
.