Hats off to whoever started this clever trend...it's budget-friendly, functional and beautiful! If you already have a collection of hats, you can easily recreate this look in about ten minutes--just take them out of storage and hang them on your wall as art.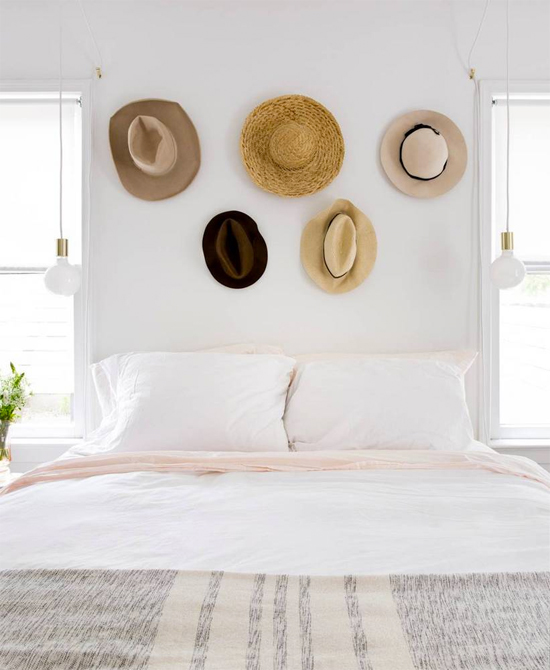 To be honest, I don't own very many hats...I've always felt kind of self-conscious wearing them. But lately I've been wanting to get a few, and I think putting them on display like this would remind me to wear them more often! After all, hats make simple outfits look more put together, hide a bad hair day, and are just plain fun.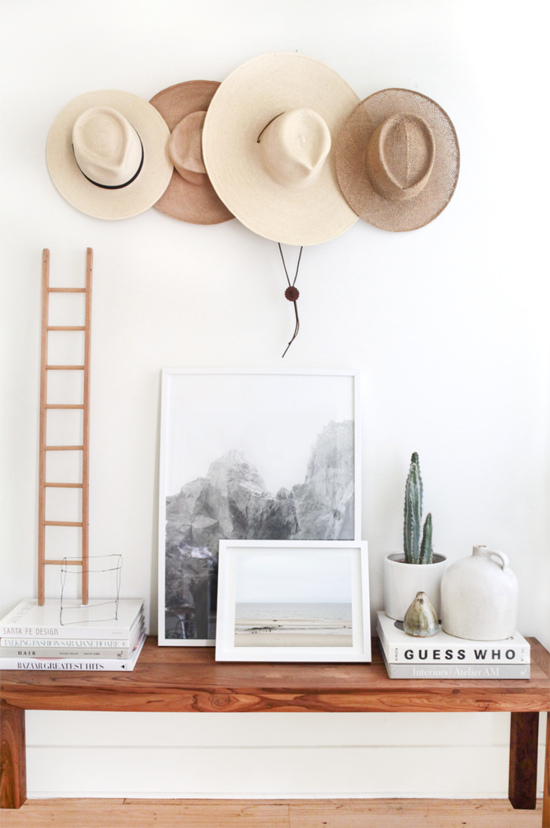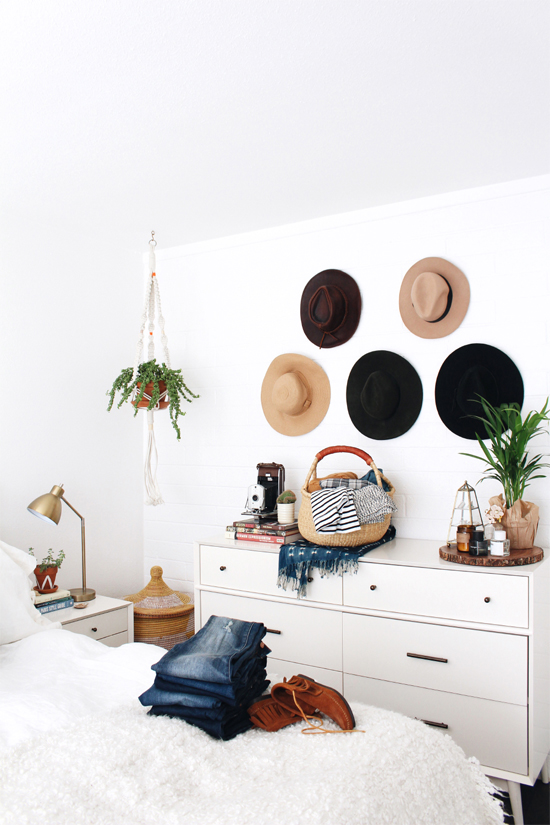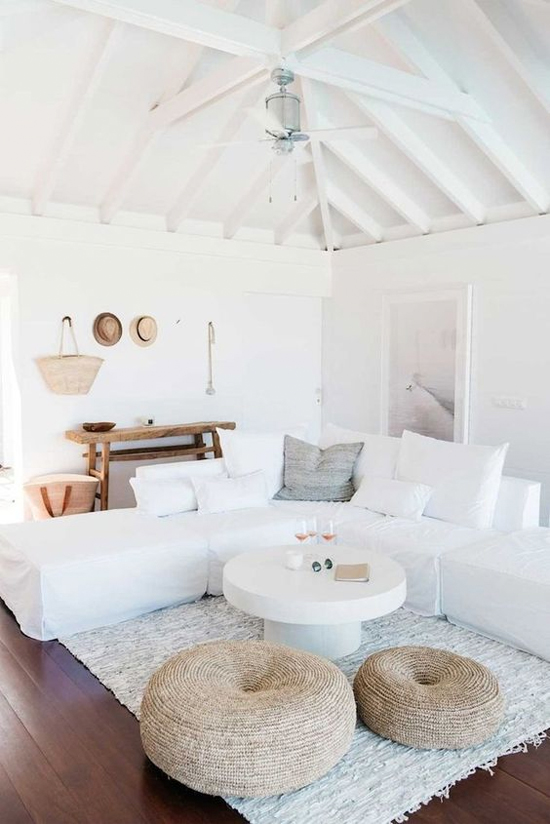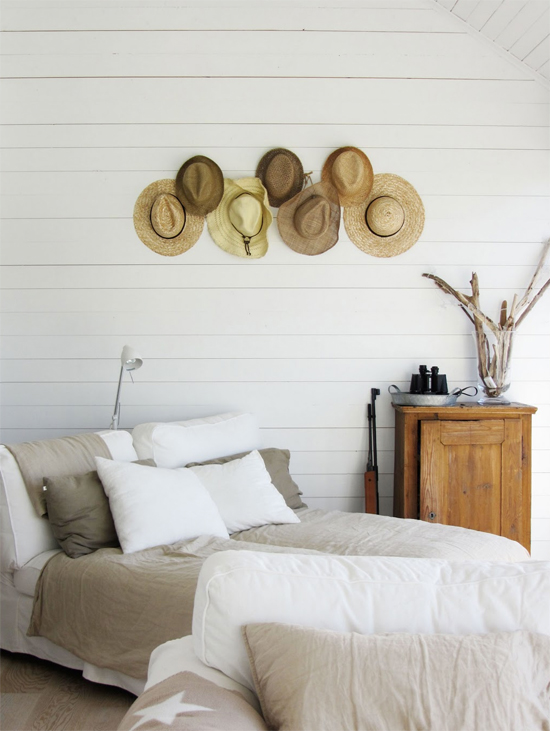 Whether you hang your hats horizontally, vertically, or in a grid...you really can't go wrong! Easiest weekend project.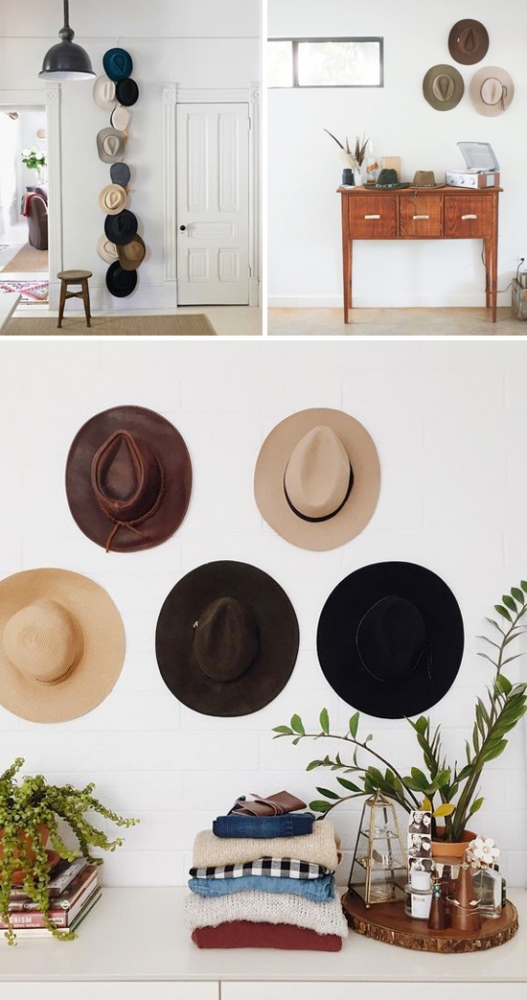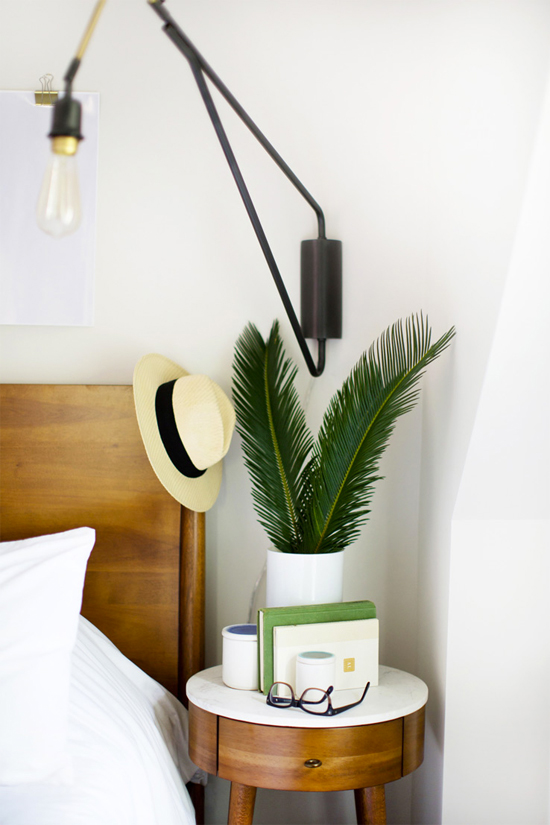 Even if you only have one or two hats, you can still include them in your decor. Putting them on display means you can enjoy them daily and have easy access!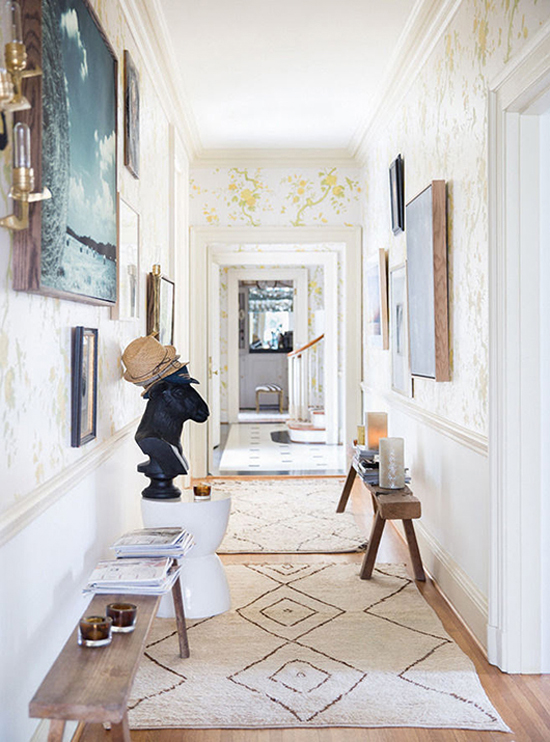 What do you think of this trend? Do you wear hats, and if so, where do you store them?
1 / 2 / 3 / 4 / 5 / 6 / 7 / 8 / 9 / 10



The other day, Ben and I were looking through our baby pictures, trying to decide who Ian most resembles...which led to a fun afternoon of looking through a bunch of old photos from our childhoods and the early days of our relationship. One thing we were both struck by is how much simpler life used to be...not just way back when we were little kids, but even a few years ago (2006) when we first started seeing each other. When we went on a date and just talked to each other, without checking our phones or taking pictures for Instagram at the same time (this is mostly on me, but Ben is guilty sometimes too). When we watched a movie and just cuddled, without simultaneously folding laundry or (again) checking our phones. When we baked together, painted, built elaborate snowmen, laid on the floor listening to music, went on hikes, and tossed the frisbee at the park--just for fun. I feel like the last few years of my life I've become so efficient, productive, and busy that I've become a lot less fun, spontaneous, and relaxed. I know some of that comes with growing up, working a full-time job, and having less free time than I did as a kid. But I suspect that smartphones also contribute a lot to the constant busyness that so many of us feel. There's always something new to check, something to "do" when there's a lull in conversation or a quiet moment.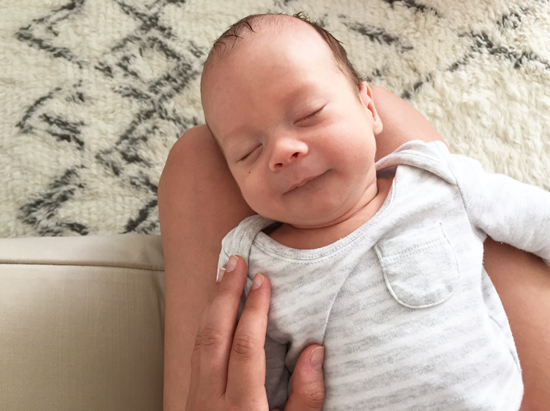 I want to get back to the simplicity of living "in the moment" and doing one thing at a time whole-heartedly, rather than trying to pack in a bunch of activities that only get a fraction of my attention. When Ian was first born, my priorities were recalibrated in a really good way and it was easy to focus on him and let everything else go. But now that we're home and getting back into a normal routine, I feel my old, busy self creeping back in. When I'm hanging out with him, I have this nagging feeling that I should be doing something more--paying medical bills, cleaning the house, writing thank you cards, etc. And all those things do need to get done...but if I'm spending time with Ian? That is ALL I need to be doing. So I want to make a conscious effort to embrace slow living, to do one thing at a time without guilt or anxiety, and to enjoy what I am currently doing without thinking about everything else that needs to get done.
I know motherhood, and life in general, does involve wearing lots of hats. But I feel like there's a culture today that glorifies being hectically busy, stretched in so many different directions, and yet still, miraculously, getting it all done (hurrah! #girlboss!). But maybe, instead of trying so hard to "do it all," it's better to just pick a few things and do them well.
Anyways, that's what I've been thinking about. For Ian's sake, Ben's sake, and honestly for my own sake, I am going to really try to slow down and savor this stage of life. And maybe stop picking my phone up every five minutes...


I want to get back into posting decorating inspiration from around the web, along with trends I notice and tips for implementing them in your own home. Today I thought I'd share my favorite formula for a stylish living room: a fireplace flanked by two bookshelves. I love this look! It's popular right now, but is also a classic combination so you don't have to worry about it going out of style. Built-ins are the way to go if you can swing them, but this look can also be done with floating shelves or standing bookcases.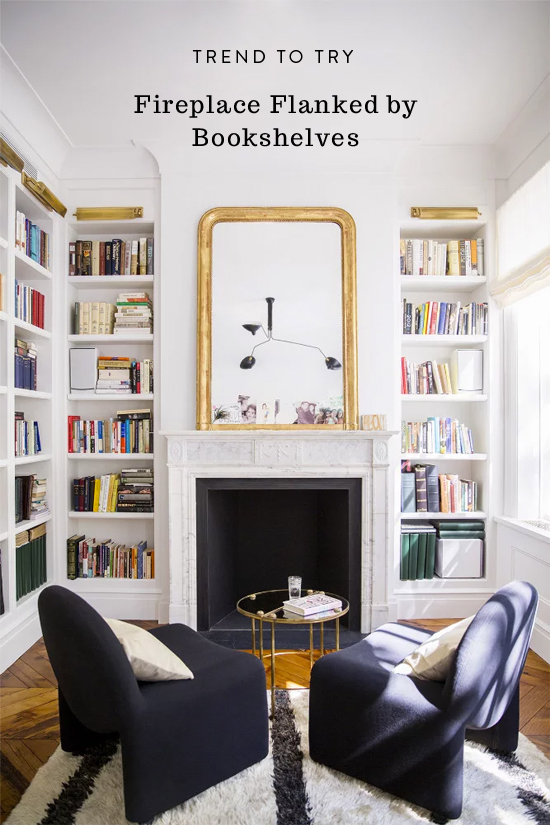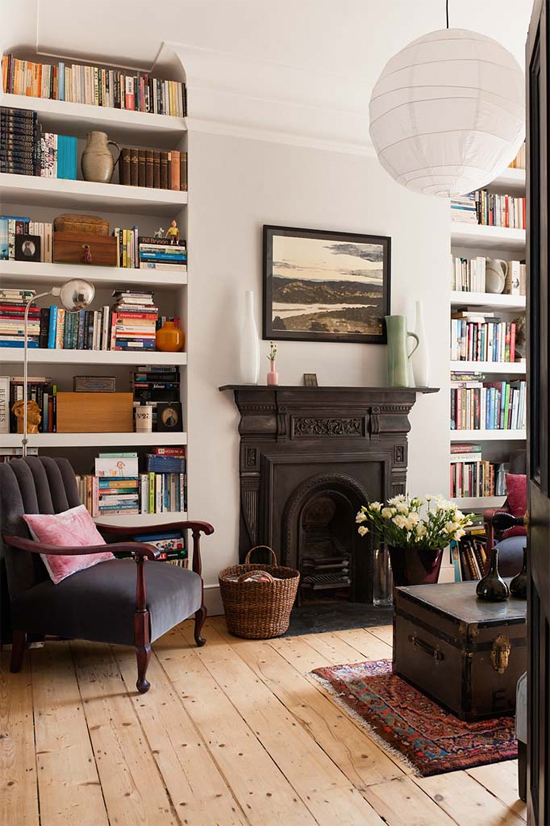 For the fireplace itself, I looove antique cast iron inserts like the one above, but since I'm not likely to ever have one ($$$), I also love the humble, modern fireplace below. And I have to admit, after living in a house with a gas fireplace, it's really nice and convenient to have a roaring fire with just the click of a button. So that's probably what we'll do in our future house.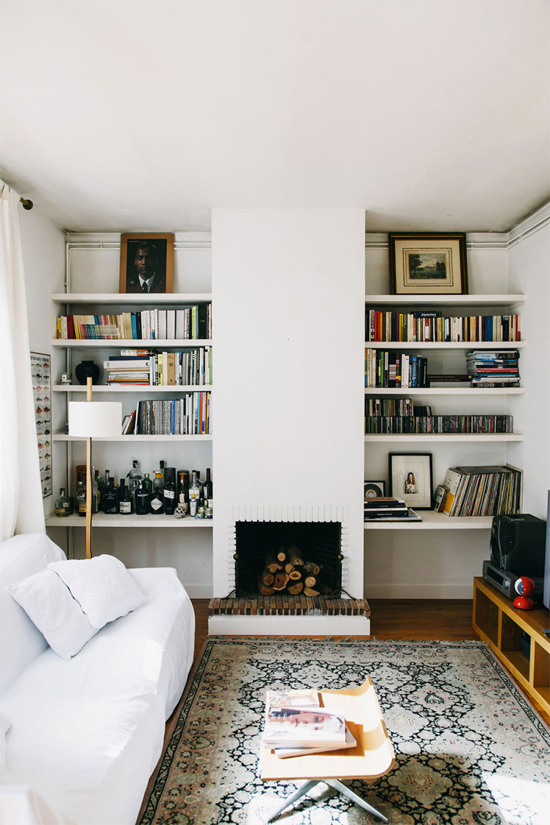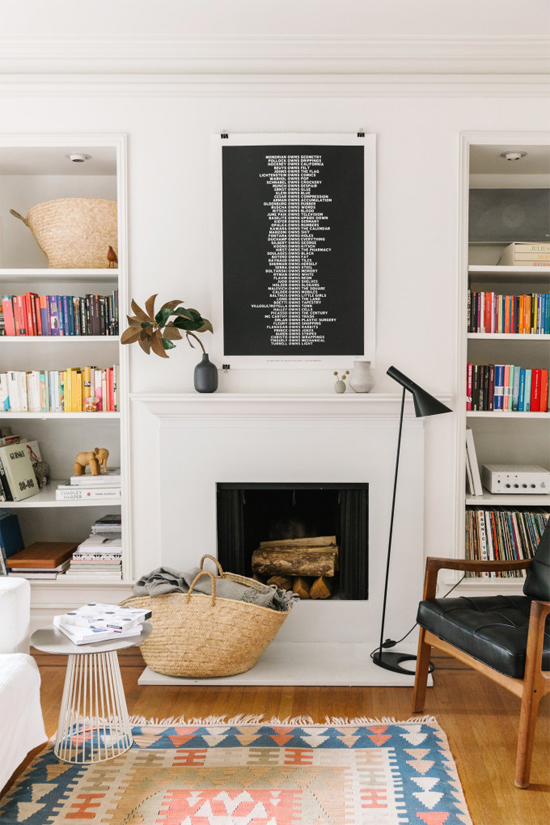 For the bookshelves, I love the look of floor to ceiling built-ins. There are plenty of DIY tutorials for these, if you're looking to save money.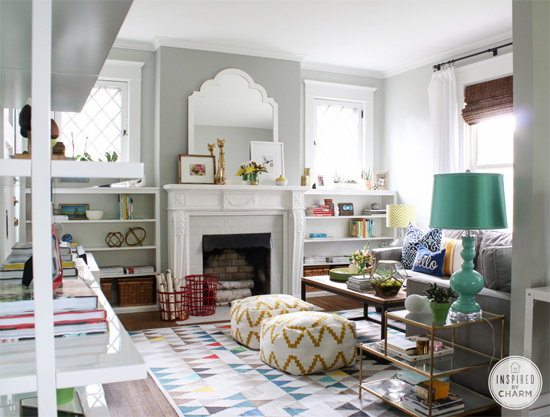 But if you have windows that you don't want to block, or if you decide to go with floating shelves, you might want to install your shelves just to the height of the mantel. This is an option that could work even for renters! You'll just have to take the shelves out before you move.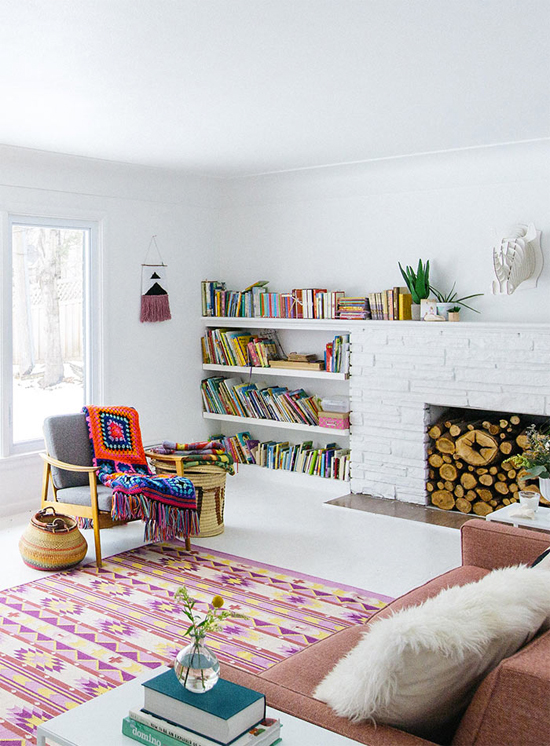 Side note: If you have a nonfunctioning fireplace, check out this post for some ideas of what to do with it.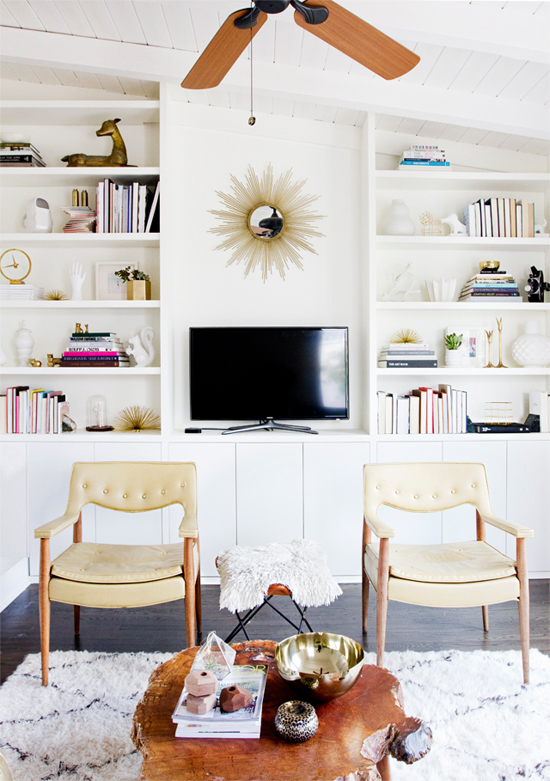 Don't have a fireplace at all? You can get a similar look by flanking your TV with bookshelves. After all, the TV is sort of the modern fireplace--the focal point that everyone gathers around (like it or not).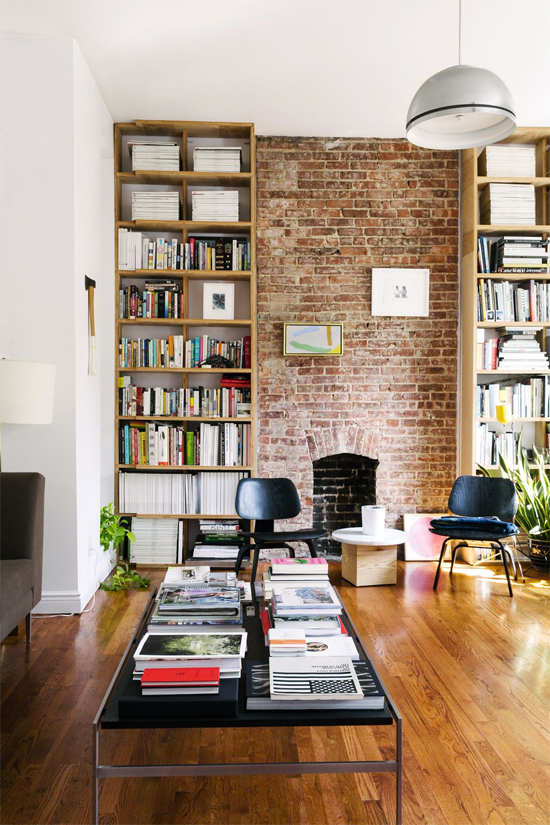 Which of these rooms is your favorite? And are there any trends you've seen that you'd like me to write about?

Happy Friday! I'm taking a break from all the baby stuff to talk about one of my favorite pieces of lighting AND give one away to a lucky reader! George Nelson bubble lamps are a modern design classic that come in several shapes and sizes. They're so simple and yet so beautiful, which makes them a versatile piece that can work in a variety of different spaces, from offices to boutiques to stylish homes. You've seen them around, yes? If you've ever wanted to get your hands on one, this is the perfect time because Modernica is doing a clearance sale on all their open-stock and floor model bubble lamps. I pulled together some inspiration photos to convince Ben that we totally need one. ;)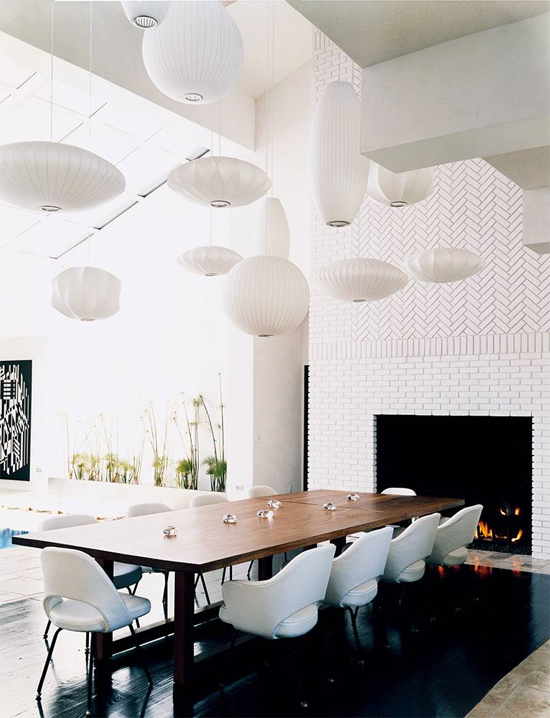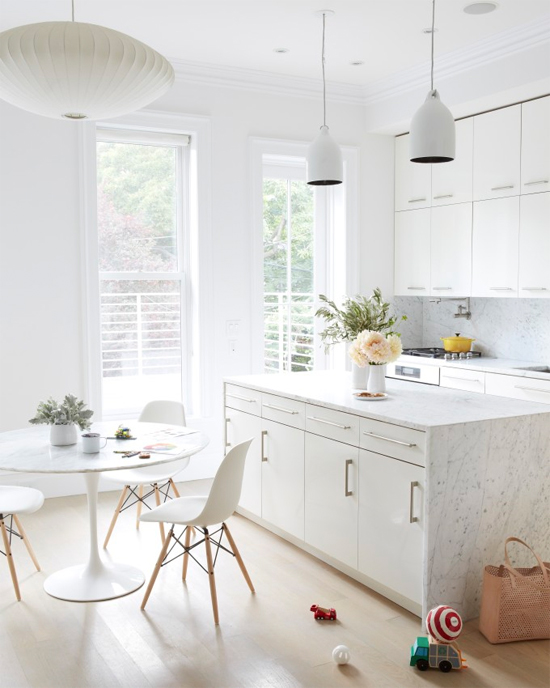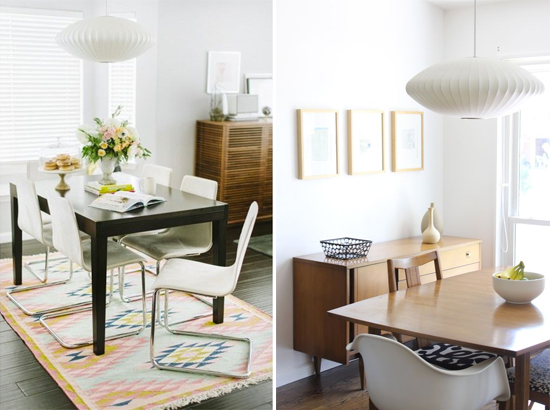 We snagged ourselves a saucer, which I'm planning to hang over our dining table like the examples above...but bubble lamps also look awesome in the bedroom, living room--wherever.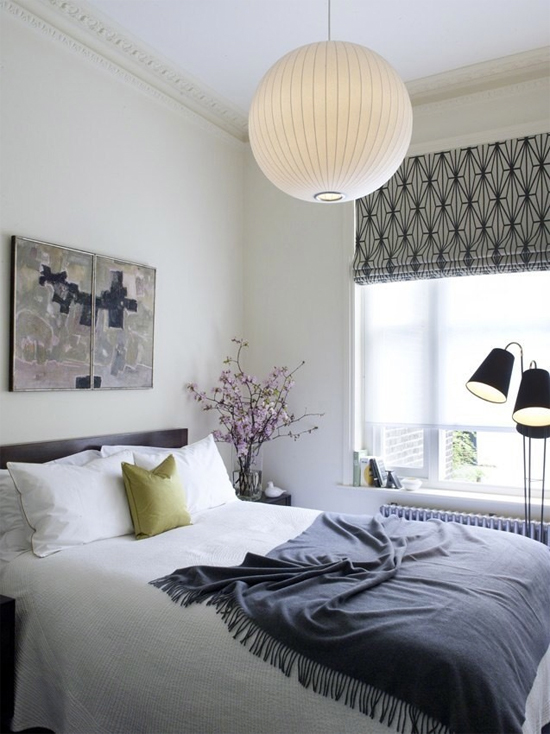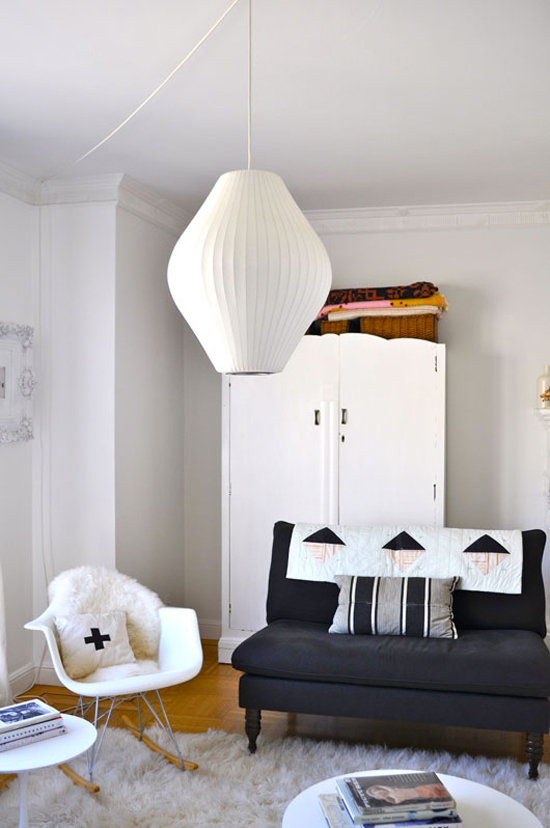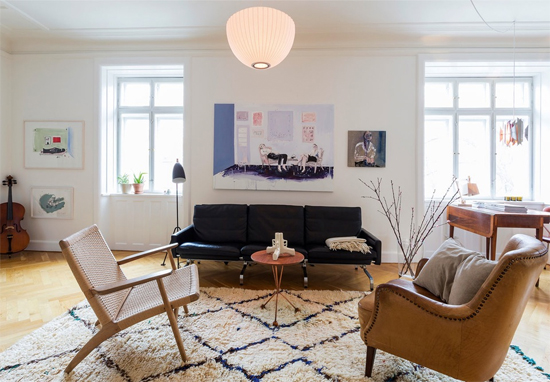 So pretty, right? I just love these lamps. They're like the grown-up version of a Japanese paper lantern. Enter the giveaway below for a chance to win a bubble lamp of your choice from Modernica's clearance sale!
And I'd love to know, what's your favorite style of bubble lamp?
Sources: 1 / 2 / 3 / 4 / 5 / 6 / 7
Thanks to Modernica for partnering with me on this post!