It was probably fairly obvious from last Wednesday's post, but we've decided to go the mostly-neutral route for our nursery. Especially since this is our first baby, I want to stick with simple and classic items, so they'll still be "in style" for all our future kids, and will work just as well for a girl. So we're going to start with a nice, neutral backdrop--most of the furniture and major pieces will be white, grey, or taupe. Then, to add some personality and color, we're doing an adventure, outdoorsy theme. I'm collecting pieces with stars, clouds, mountains, trees, water, ocean creatures, and forest animals. All of those things coexist in Washington state (where we live) so hopefully they'll also mesh together well in the room. As for color, I'm mostly using soft shades of blue, green and yellow. I'm sure we'll get some toys with primary colors too, but for the decor I'm sticking with that color palette. When I decorate a new room, I like to start with an inspiration board to help me visualize everything and make purchasing decisions. It's really helpful! I'll often Photoshop in two different options that I'm considering, so I can compare them right there and see what fits better (I've already done this with the glider, artwork, etc.) Here's our nursery inspiration board...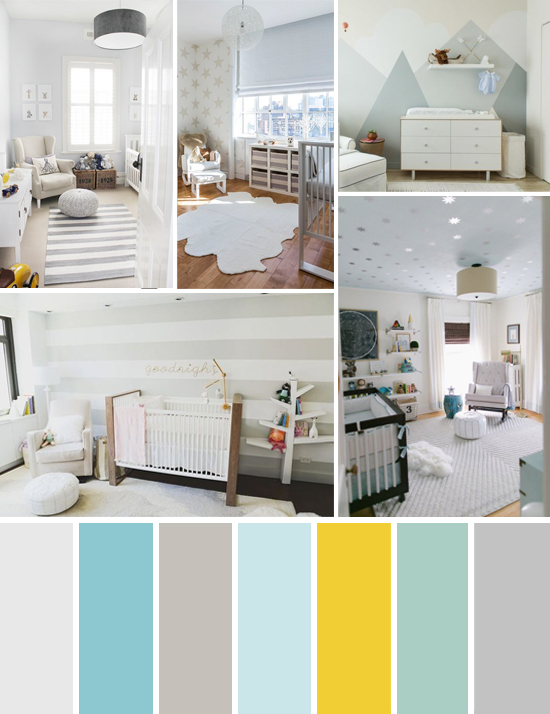 What do you think? I really like the soft and serene vibe, with a little bit of color thrown in. Hopefully everything will come together well in real life!
Since we're house hunting, I've been waiting to set up our nursery so we don't end up doing it twice...so we have a bunch of boxes in there now, with items waiting to be assembled. At this point, however, it seems pretty likely that we'll be continue to rent our current house. We have to decide whether to renew our lease by the end of May, and since we haven't found a house to buy yet, I'm guessing we'll renew. The plus side is, we should be able to start decorating our nursery by June! That will be fun and exciting, whether it's in a new house or not.
Image sources: 1 / 2 / 3 / 4 / 5