One can never have too many air plants, right? I hope you'll agree with me because…I got more! Lots more. Remember my DIY mini pallets that I mounted on the wall? Well, the air plants I originally bought to keep there have gotten too big for the pallets (yay, they're growing!). Which means I've had empty pallets hanging on the wall for about a month. So when Air Plant Design Studio reached out to me to see if I'd be interested in reviewing their plants, it took me all of about 2 seconds to say "yes, please!" They sent me a huge assortment of air plants, all in great condition and each one so unique. I love that about air plants…they each seem to have their own personality! They also sent me a couple of glass terrariums. I'm not sure where I'll end up hanging the terrariums, but for now I looped them over the finials of our curtain rods and made a little layered display with the pallets. I like it alright, but I have a feeling I'll end up moving the terrariums eventually. They're definitely cute enough to be on their own!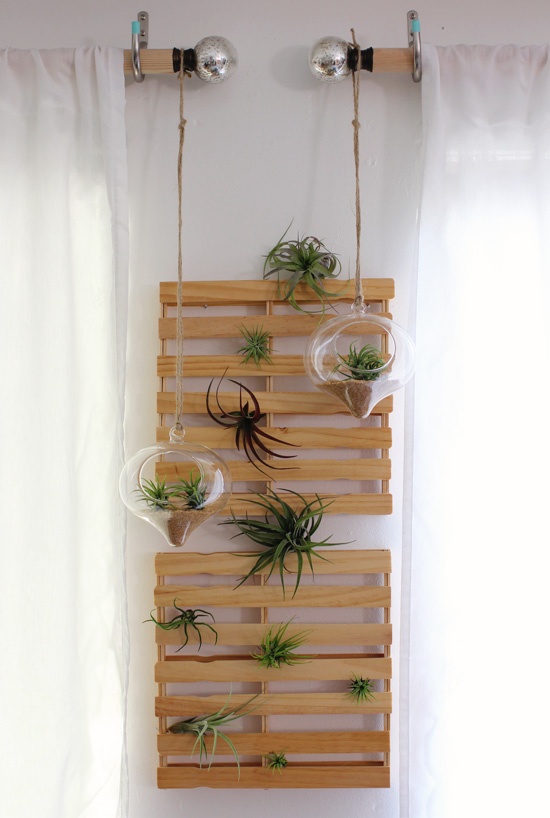 I also thought I'd share the care instructions that Air Plant Design Studio included with my air plants, in case any of you have had questions about how to keep yours in good shape. They're very thorough and helpful (and if you want more info, they have even more in-depth instructions here):
Upon receiving your air plants, soak plants for about 20 minutes face down in bowl, sink, or other container. Gently shake off any excess water and leave out to dry. Use rain water, aquarium water, or pond water when possible. Most tap water will be fine as well, however do not use softened or distilled water. Soak plants once or twice a week with occasional misting as needed. Depending on how dry or humid the environment may be, longer or more frequent watering may be needed. Never allow air plants to sit in water, it will make them rot!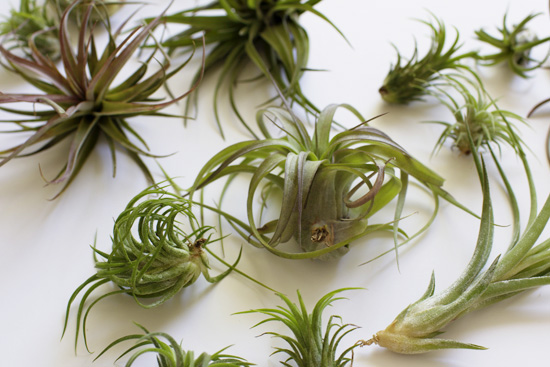 Plants will do best with indirect sunlight but will be fine with good artificial lighting. An east or west facing window will allow plenty of indirect light. Keep plants away from direct sunlight, as most varieties will burn easily. Depending on your environment, air plants will be happy outside on a nice shady tree or porch. Give air plants good air circulation, as they get a lot of nutrients from the air. After watering, plants should be able to dry within 4 hours. Bring plants indoors if temperatures drop below 50 degrees.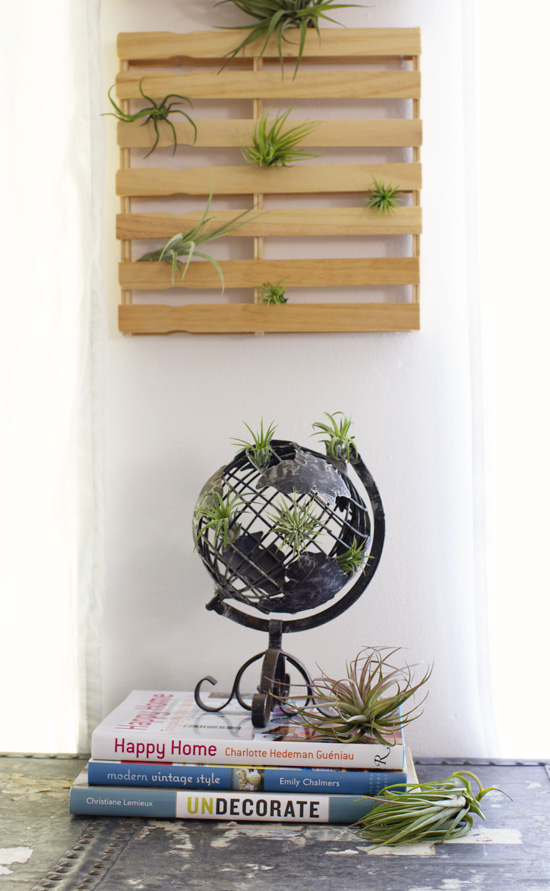 I tucked some of my new air plants into my pallets, and I put the rest in a metal globe we have, which used to be on our mantel. Now it looks like the air plants are taking over the world!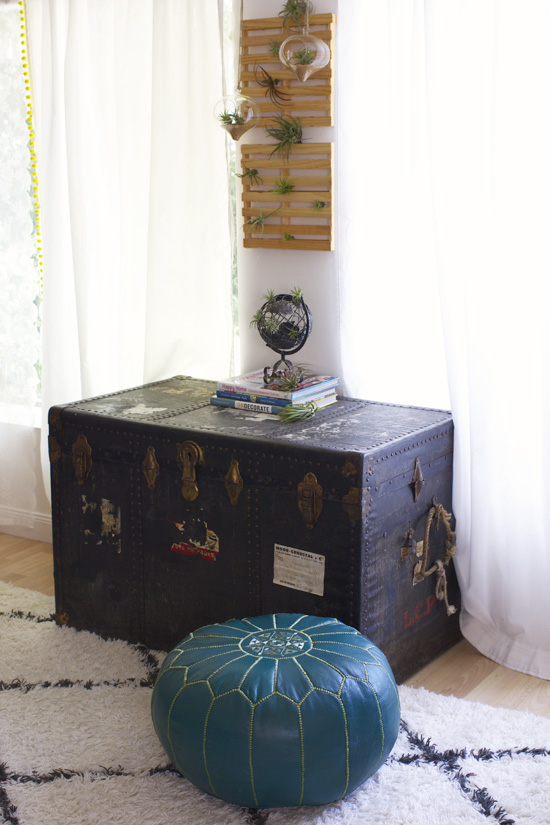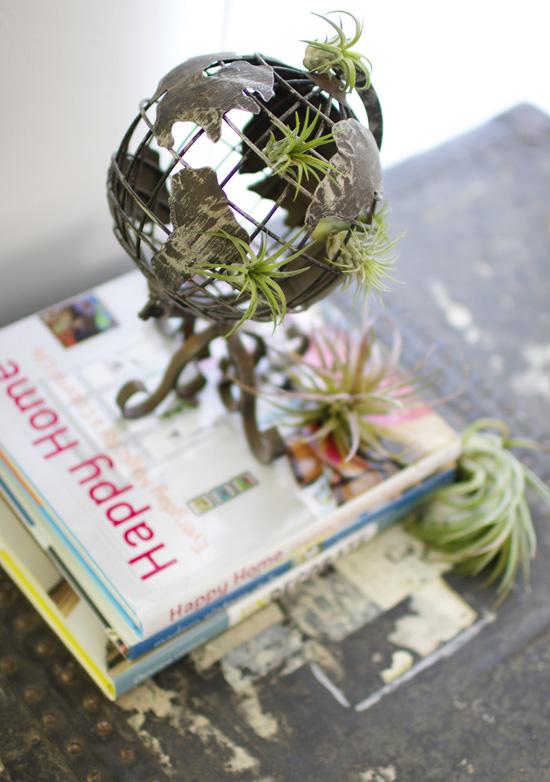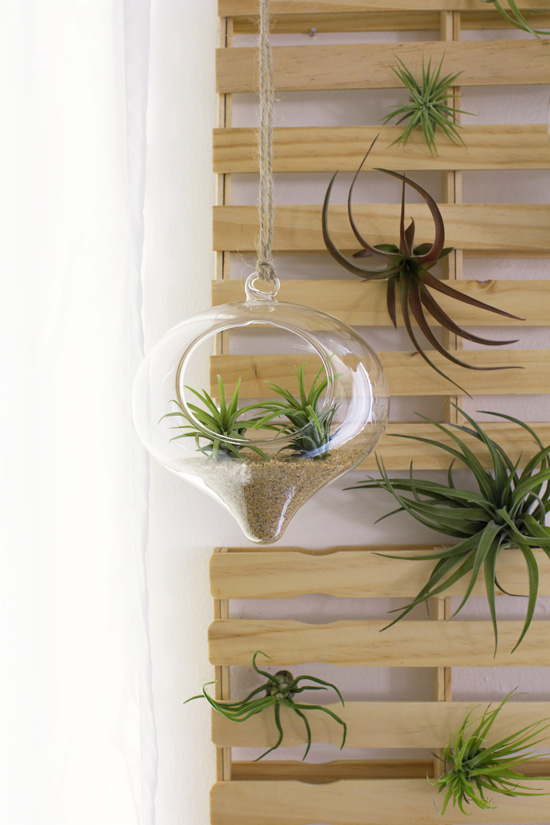 I think it turned out pretty cute! And now, my fellow air plant lovers…it's your lucky day! Two of you will win a hanging air plant kit, which includes a glass hanging terrarium, three air plants, white sand, and hemp string, as well as an air plant starter kit, which includes five extra air plants. Good prize, huh? You've got to enter! There are eight easy ways, below.
Note: This contest is only open to readers within the US, due to customs regulations on live plants.
P.S. You still have today left to enter the Bombshell Bar Goods giveaway, so if you haven't entered it yet, do it now!
Thanks to Air Plant Design Studio for partnering with me on this post.