Well you guys, May flew right by, didn't it? I had a really great month. We used my birthday as an excuse to do lots of fun things (and probably spend a little too much money). And we had so many sunny days here in Seattle! I'm really hoping the good weather continues and we don't get a dreaded "Junuary." Here are some of my favorite Instagrams from the month of May. How was your month? What were some of your highlights and favorite things you did?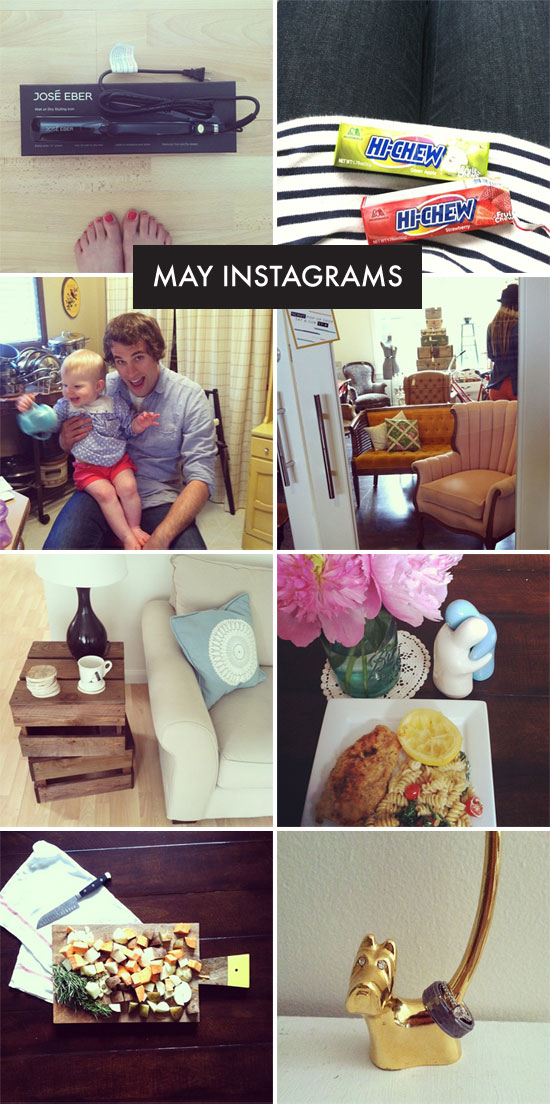 I won a new flat iron from a giveaway! // We found Hi-chew at our local grocery store. We used to get these in California all the time but we hadn't seen them here yet. They're like Starbursts...but better. // Ben and our niece, Pippa, at my in-law's house. // Waiting in line for the Scout pop-up shop. I got that light pink channel-back armchair in the front. // Lots of DIYs in this photo: our crate side tables, a doily pillow, and the beginning of my wood round coasters. // Our hugging salt and pepper shakers (aren't they cute?) and a yummy dinner we made. // Chopping veggies is more fun on my new cutting/serving board. // Our adorable little ring holder.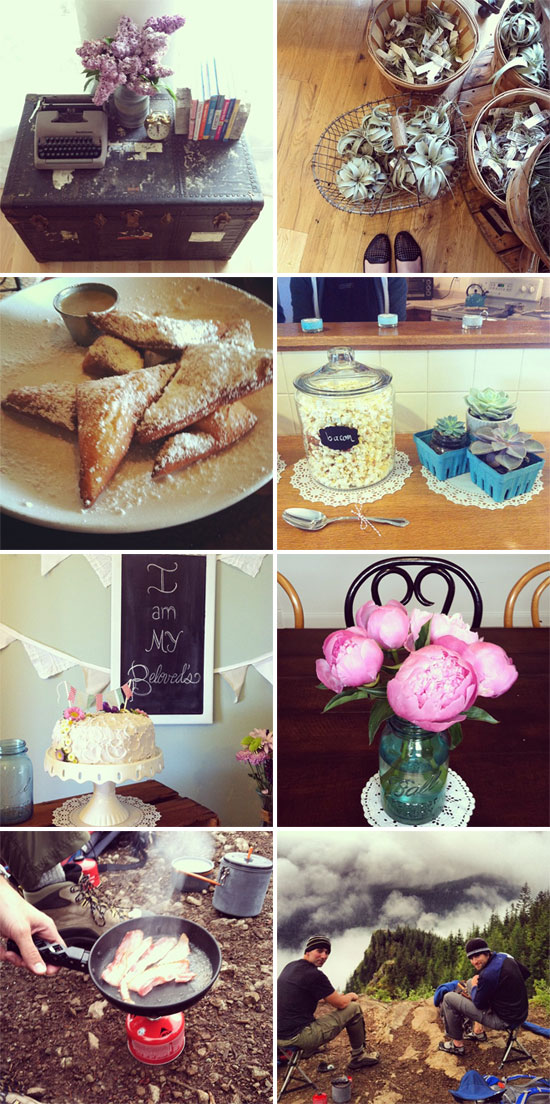 A little rearranging and styling in our house. // Air plants at West Elm. // Ben and I got a craving for beignets so we went looking for them in Seattle and had breakfast at Toulouse Petit. The beignets were alright, but my caramel french toast was amazing. // I went to a bridal shower for my friend Sarah. I loved the different flavored popcorns and the lavender Earl Grey cake! // It's peony season! One more reason to love May. This is a bouquet that my sweet husband brought home for me. // I went for an early morning hike (as in, leave at 4:00 am) with Ben and his friend Ken. We even made bacon at the top!
I really like Instagram--it's my favorite form of social media besides Pinterest. If you have one, I'd love if you follow me and say hello! I'm @athomeinlove.