Can you guys believe it's April already?? It actually finally started to feel like spring this weekend...and what a great weekend it was! We went for walks every day in the sun, with no coat...glorious. We also watched the Hobbit with Ben's family, had people over for dinner (I made pot roast for the first time), and saw a bunch of bald eagles and sea lions down at Edmonds Beach, where we live. It was lovely! And the best part is, our weekend isn't even over (we're taking today off of work)! I think I've convinced Ben to take me to Ikea...and after that, hopefully we'll just be relaxing in the sun some more, getting recharged for the week. But enough about my weekend...today I wanted to share some of my Instagrams from the month of March. What have you guys been up to lately?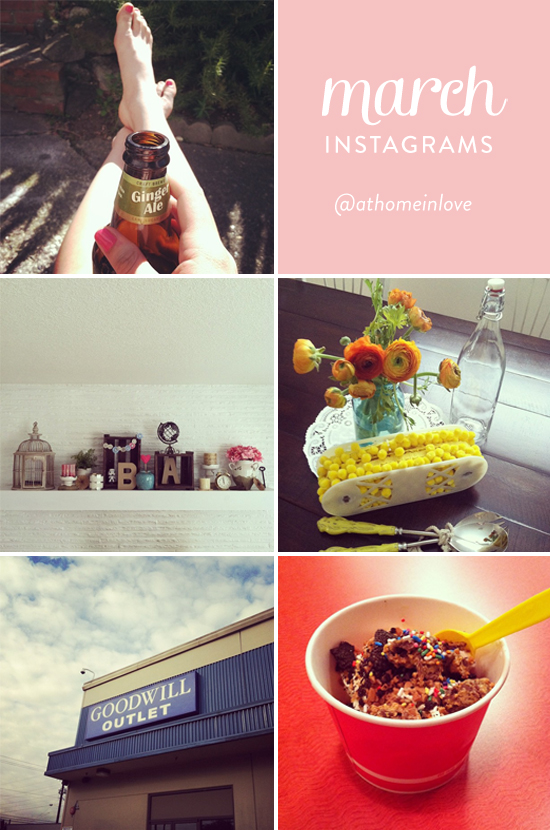 Our sunny weekend also included me painting my nails, drinking ginger ale on the porch, and wearing shorts!! Exciting stuff / Our mantel in progress / Bright and cheerful purchases / The Goodwill Outlet near my work (since Goodwill is obviously not cheap enough) / Froyo! Ben always gets fruit on top and it looks so healthy. Me, I like chocolate...peanut butter cups, crushed Oreo, and toffee bits...so mine always looks kind of gross.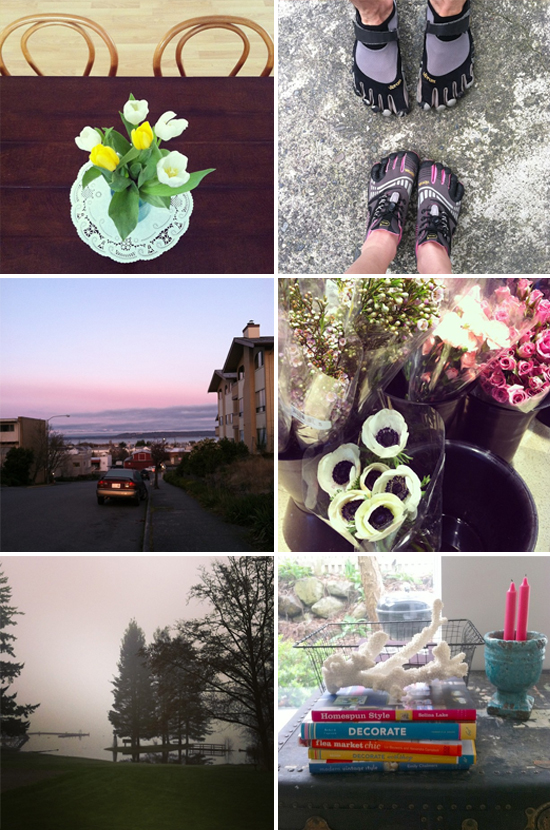 Tulips on the table / Matching five finger shoes (Ben tried to convince me to get these for years--I finally caved this past summer) / The view out of our front door as we leave for work / Pretty flowers at the grocery store (anemones are one of my favorites--I'll probably do a post about them soon!) / Fog at Whidbey Island, where we served in the kitchen at a high school retreat / My stack of decorating books.
By the way, y'all know today is April Fool's Day, right? Any tricks up your sleeve? What are some of the best tricks that you've ever played on someone (or been played on you)?