Happy Friday!! We made it! I, for one, could not be more excited for the weekend. I have no big plans for this one, and I'm quite happy about that. Sometimes it's nice not to have everything all planned out, you know what I mean? The most definite thing on our schedule is that tonight we're having people over for dinner...my friend from high school who I haven't seen in a long time (and is pregnant!), and her husband. Other than that...we'll probably do some shopping one of the days (we both have things we desperately need for summer), Ben might go for a hike tomorrow morning, and I have a few projects I'd love to tackle around the house (what's new?). Oh, I also want to make waffles so I can eat them with speculoos. We just tried speculoos for the first time last weekend, and we went right out and bought a jar for ourselves. The stuff is amaaazing. I know, the name is a little off-putting, but give it a try--it's like ground up ginger cookies made into a spread with a peanut butter consistency...and Trader Joe's sells a version of it called cookie butter
! Alright, now that I've gone off on a food tangent (what can I say, I love to eat), let's get started with today's post. This week, I found so many inspiring gems around the blogosphere, so I decided to share some of my favorites to make sure none of you missed out! Without further rambling...some lovely links to send you off on your weekends.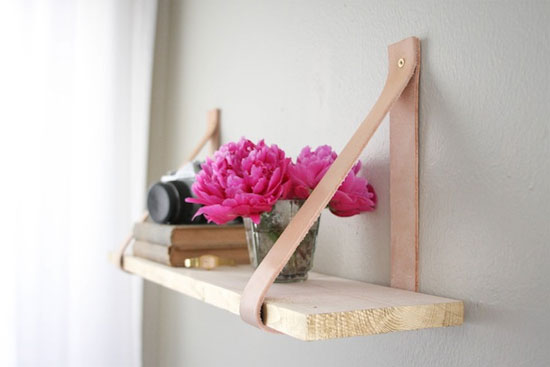 First off, this genius shelf that I am totally making myself. Leather straps, a wooden board, some gold paint, and drywall anchors...and you've got yourself an extremely easy and stylish ledge! I love it.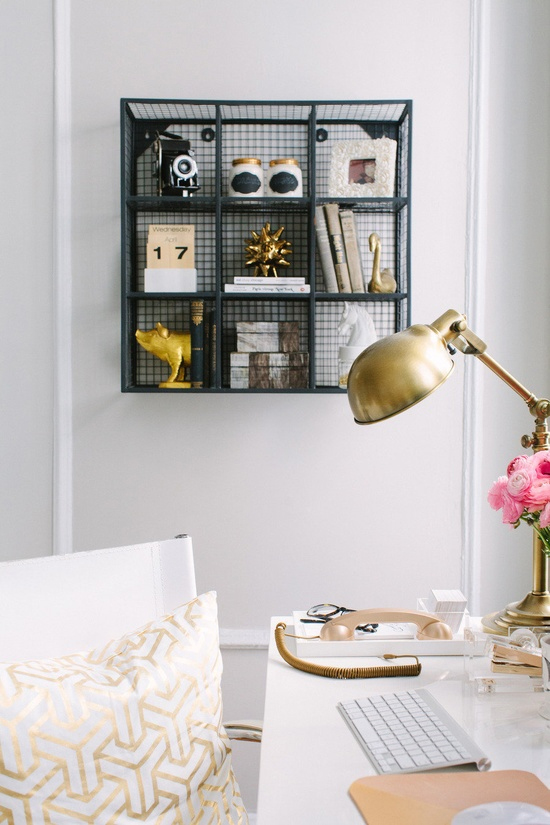 I'm sure everyone who has gotten married recently (or is in the wedding industry) knows of Style Me Pretty...but did you know they also have a lifestyle blog? Yep, they do--and it's chock full of the same pretty, feminine style that you'd expect! I especially loved the house tour of Danielle Moss from the Everygirl (see the full feature here). The mix of gold, black, and white is gorgeous, and I want pretty much everything in this photo. Isn't that gold phone just adorable?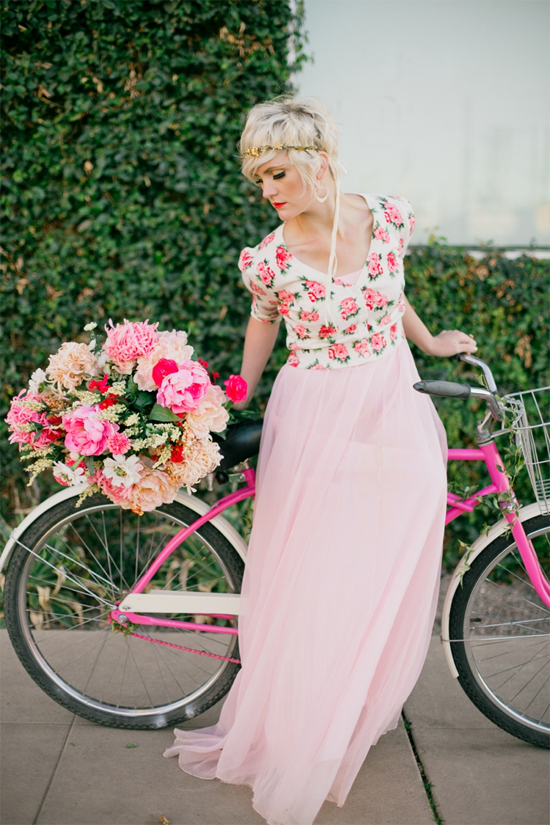 I think I gasped audibly when I saw this feminine & whimsical bicycle shoot, originally spotted on Creature Comforts. The adorable outfit is actually a vintage prom dress (which belonged to the model's mother) with a cardigan on top. Cuuuute! And the pink cruiser? A Craigslist score. I'm jealous...and I'm totally trying to think of a viable reason why I should wear an outfit like this out and about.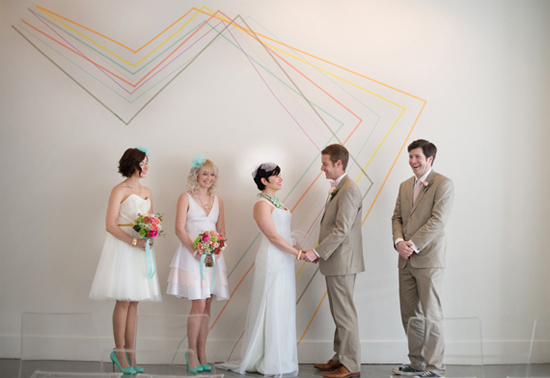 For those of you getting married, I thought this ceremony backdrop made with strips of colorful washi tape was so smart. Inexpensive, and it looks amazing! This idea would also work great for behind the dessert table at a bridal shower or birthday party. Check out the full post for more fun geometric ideas, and some half-painted flatware too! I especially loved the faceted terrariums used as candy bowls, so I had to include a picture of those as well (below).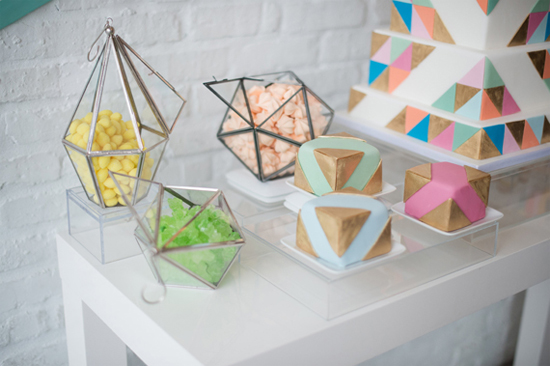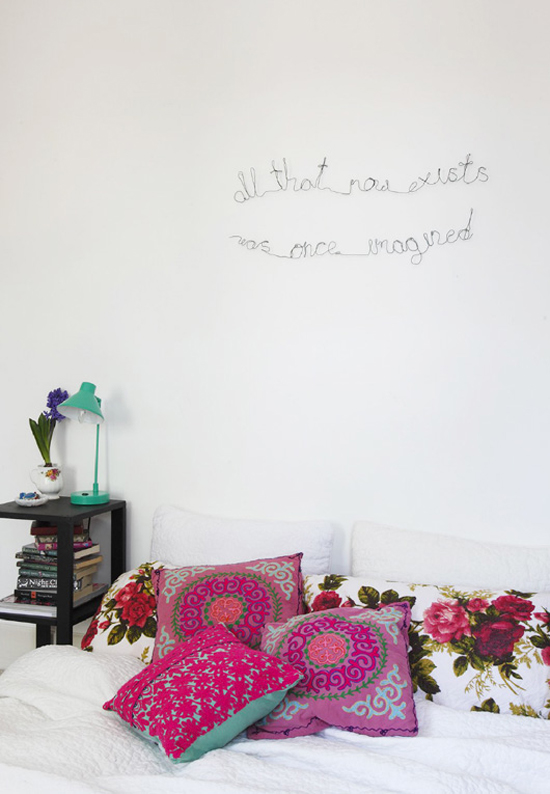 I thought this piece of artwork made with wire and wire cutters was really intriguing and lovely. It says: "all that now exists was once imagined"--a great quote, and a great idea for some budget-friendly art!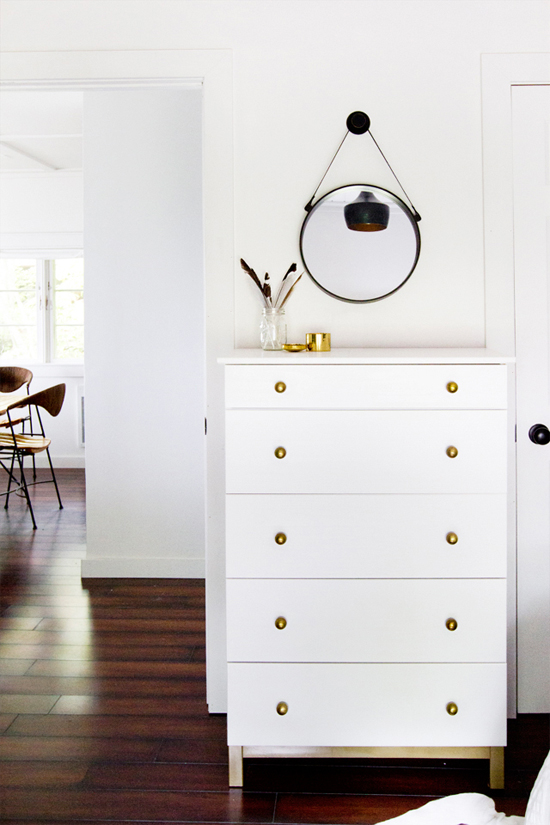 Last but not least, I've been eagerly following Smitten Studio's cabin renovation (see more here and here). When I saw this pretty dresser, I could hardly believe it was a $99 Ikea piece! Of course, Sarah made a few changes to it...she's kind of a genius at making Ikea pieces look high-end.
What are you lovely ladies (and gentlemen) up to this weekend? Don't forget, Sunday is Father's Day!!